Fun + Games – Super Bowl Recipes
[dropcap letter="H"]ailing fron NOLA, Chef Ryan Rondeno is an ATOD Favorite. He is the chef we work with for Supper Club Sundays and White Lies + Alibis. His culinary skills shine and every dish is made with thoughtfulness, big flavor, and innovative technique so when we put a call out to some of our chef friends to submit Super Bowl recipes, we were thrilled he submitted the recipes below. You are guaranteed to be happy come Super Bowl Sunday! [separator type="thin"]
Grassfed Beef Sliders, Smoked Gouda, Bacon Marmalade
Makes 16 sliders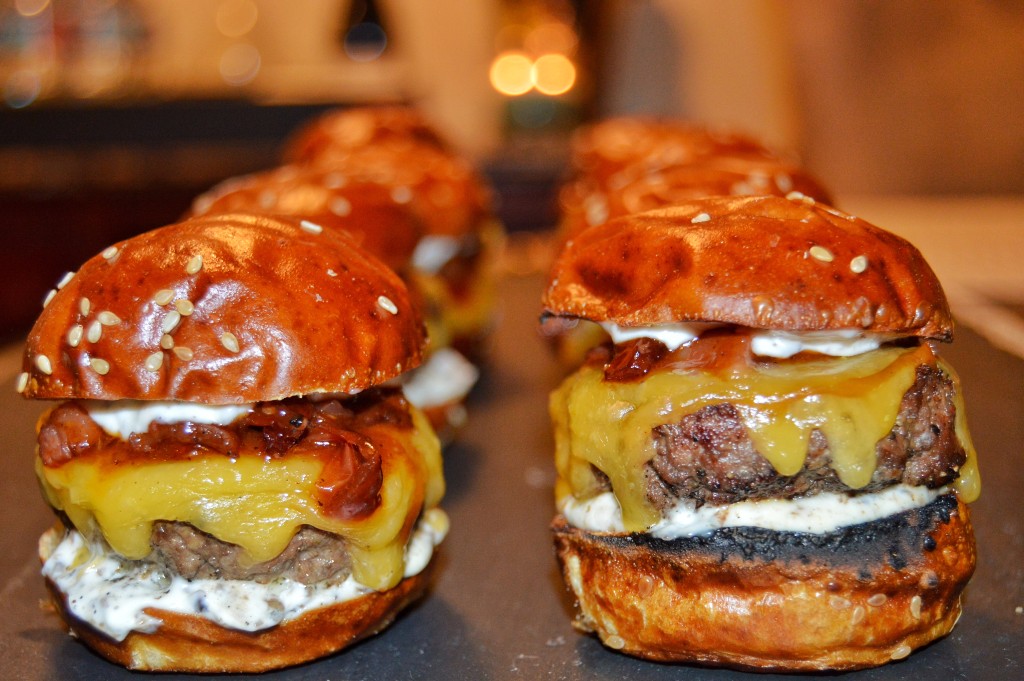 INGREDIENTS
For the Sliders
16 pretzel slider buns
2 lbs.  80-20 grassfed ground beef
Salt
Pepper
For the Smoked Gouda Cheese
8 slices of smoked gouda cheese, each slice cut into quarter pieces
For the Truffle Aioli
1 cup of Mayonnaise
2-3 cloves of garlic,chopped
2 tbs Black Truffles, chopped
juice of 1 lemon
Salt
Pepper
For the Bacon Marmalade
1 lb. of hickory smoked bacon, small dice
1 small onion, small dice
2-3 cloves of garlic, chopped
2 cups of cherry tomatoes, quartered
1 cup of red wine
1/3 cup sugar
2 tbs red wine vinegar
salt
black pepper
INSTRUCTIONS
Truffle Aioli: In a medium bowl, combine mayonnaise, garlic, black truffle, and lemon juice. Whisk until incorporated. Season with salt and pepper.
Bacon Marmalade: In a medium saucepan, sauté bacon for 6-8 minutes on medium heat. Add onion and garlic. Saute for 4-5 minutes. Add tomatoes. Cook for a 3 minutes. Season with salt and pepper. Add red wine, sugar, red wine vinegar. Cook for 20-25 minutes or until it develops a thicken consistency. Taste to adjust seasoning.
Meanwhile, make the sliders: Divide the ground beef into eight 2-oz. (60-g) balls and form into patties. Season on both sides with salt and pepper. Grill each patty for 2 minutes on each side. Add two pieces of smoked gouda cheese for each patty. Once melted, set aside. Toast pretzel buns on the grill for ten seconds.
Assemble: Apply aioli on bottom and top bun. Add beef patty and  1 tablespoon of bacon marmalade. Enjoy!
[separator type="thin"]
Scallop Carpaccio, Blood Orange, Smoked Creme fraiche, Avocado
Serves 4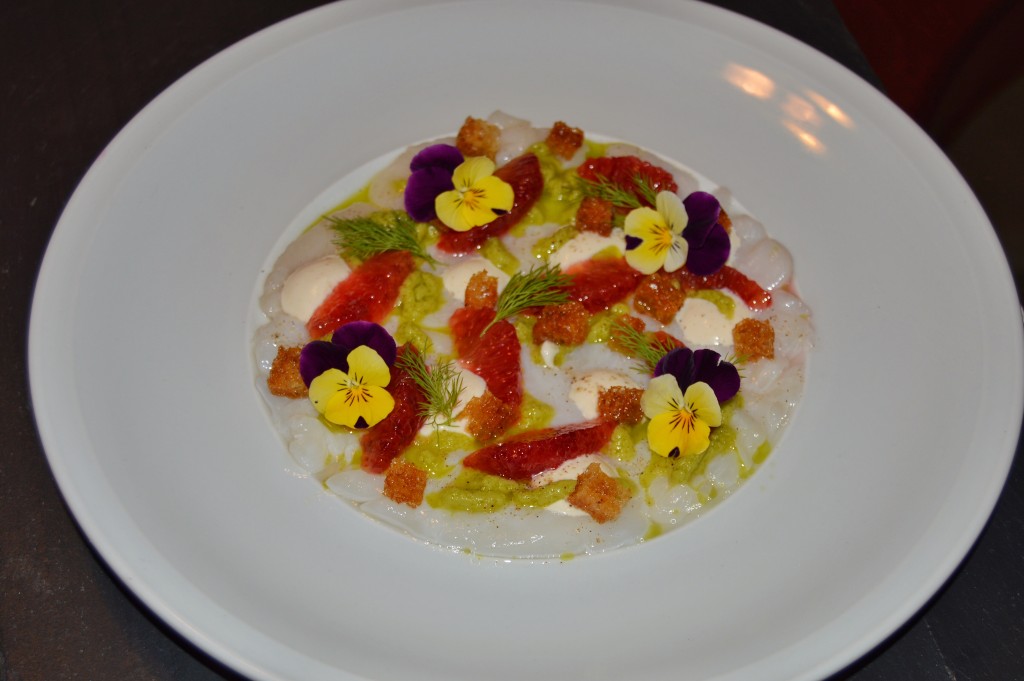 INGREDIENTS
Scallops
12 diver scallops
juice of 1 lemon
1 tbs of Frantoia Olive oil
Salt
Pepper
Smoked Creme Fraiche
4oz creme fraiche
1/8 tps hickory smoke powder
1 tps lemon juice
1/2 tps prepared horseradish
1/4 tps honey
salt
white pepper
Avocado Puree
2 medium avocados
1 shallot
2-3 cloves of garlic
juice of 1/2 lemon
3/4 cup olive oil
salt
pepper
Blood oranges
2 blood oranges, segmented
Croutons
1 cup of sourdough bread, small dice
2 tbs olive oil
1 tbs butter
salt
pepper
Garnish
Fresh dill
Edible flowers
INSTRUCTIONS
For the scallops: For each serving, cut three scallops in half. Line with plastic wrap covering the bottom and top of scallops. Carefully pound the scallops with the flat side of a meat mallet. Once it resembles the thickness of carpaccio, remove the top of the plastic wrap. Carefully  invert the crude onto a chilled plate and remove the plastic wrap. Refrigerate .
For the smoked creme fraiche: In a bowl, combine creme fraiche, smoked powder, lemon juice, horseradish, and honey. Whisk until incorporated.  Season with salt and pepper. Taste to adjust seasoning.
For the avocado puree: In a blender, add avocado, shallot, garlic, olive oil, lemon juice, salt, and pepper. Blend until smooth. Taste to adjust seasoning.
For the blood orange segments: Using small sharp knife, cut off peel and white pith from oranges. Working over small bowl, cut between membranes to release orange segments.
For the croutons: In a saute pan, melt butter and olive oil. Saute bread until crisp and golden brown. Pour croutons in a handheld strainer. Season with salt and pepper.
Assemble: Season scallops with lemon juice, olive oil, salt and pepper. Add small dollops of smoked creme fraiche. Repeat with avocado puree. Add blood orange segments. It's ok if some blood orange juice is added. Spread croutons around the carpaccio. Garnish with sprigs of dill and edible flowers. Enjoy!
[separator type="thin"]
To see more of Chefs Creations, check out our PopUp Gourmet Dinner Series: White Lies + Alibis
Photo Gallery Below by Tram Tran©