LIVE FIRE! BRINGS ON THE SIZZLE WITH TOP CHEFS & FIRE MASTERY
Menu Announced, Tickets on Sale Now!
23 Chefs Battle the Flames at Salt Lick BBQ Pavilion
40 Wine, Spirit & Craft Brew Selections Featured
The Live Fire Challenge at one of Austin's most beautiful outer city locations, Salt Lick BBQ, is one of the highlights in the entire Food & Wine Festival. With its off-the-beaten-path locale and the smells of meat cooking thick in the air surrounding every pocket of air over the surrounding mile, well, one can't help but find an insatiable appetite looming.
With a beautiful layout, countless chefs battling it out with their most clever versions of BBQ – this is one of those events you HAVE to experience.
---
AUSTIN, TX  – The Austin Food and Wine Alliance announced today the full chef lineup and menu for the return of Austin's most anticipated celebration of all things meat, Live Fire! In its fourth year, the event will be held at the famed Salt Lick Bar-B-Que Pavilion in the Texas Hill Country on Thursday, April 17, 6:30 – 9 pm, and will raise funds for culinary grants. Tickets are $75 each and are on sale now at austinfoodwinealliance.org.
One of the country's foremost celebrations of beef, Live Fire! showcases a chef congress second to none that highlights the talent, skill and commitment to Texas' favorite protein cooked over live fire by award-winning chefs hailing from Austin, Dallas, San Antonio and Pearland. Tickets are expected to sell out again this year and are available for online purchase.
"Live Fire! is truly one of the country's foremost celebrations of beef," said Paul Barnes, president of the Austin Food and Wine Alliance. "In addition to having a supreme lineup of chef mastery and amazing wine, artisan spirits and craft brews, we're excited that the funds raised will directly benefit our community with culinary grants for chefs, farmers, artisan producers and non-profits."
With a backdrop of the pristine Texas Hill Country and set along the banks of Onion Creek, Live Fire! is an evening filled with curated chef specialties, premium wine, spirits and craft brews and live music. New this year, and in collaboration with Congress Austin, Live Fire! will feature a table of wines curated by sommelier Paula Rester that will represent the familiar and the esoteric – all complementing the chefs' dishes.
Attendees will have the opportunity to skip the 25-minute drive from downtown Austin and be chauffeured to the event in a charter bus with Park & Ride from Palmer Events Center for an additional $20 fee.
Local singer-songwriter Leo Rondeau brings his signature brand of energized country music to the unique Air Stream stage featured at this year's Live Fire! One year after becoming a full-time musician, Rondeau was named Singer Songwriter of the Year by the Academy of Texas Music in 2010.
The menu for Live Fire! promises the best in beef skillfulness from Mongolian Beef Jerky, Spicy Mexican Beef Stew and Beef Taquitos with Ribeye to off-the-charts Brisket and Short Ribs. Chef specialties include:
Aaron Franklin of Franklin Barbecue (Austin)
Named the best barbecue in the U.S. by Bon Appétit Magazine, Franklin will make his fourth appearance at Live Fire! and attendees will be treated to his famed Beef Plate with Ribs & Smoked Pimiento Cheese.
Matt McCallister of FT33 (Dallas)
Recently named among Food & Wine magazine's Top 10 Best New Chefs, McCallister makes his first appearance at Live Fire! with Beef Morcilla, Tallow Fried Potatoes with Smoked Beef Fat Aioli and Pickled Wild Onion Puree.
Jason Dady of Jason Dady Restaurants (San Antonio)
One of the original chefs to participate in this event, along with every signature Alliance event since the organization began, Dady makes his fourth appearance at Live Fire! and will prepare New York Strip Tiger Cry Salad with Fresh Red Curry Paste, Cucumber, Mint and Red Boat Fish Sauce.
Timothy Rattray of The Granary 'Cue and Brew (San Antonio)
With Esquire magazine citing Rattray as the "future of BBQ," The Granary is being recognized among the best barbecue restaurants in the state. Rattray will feature Smoke-Grilled Beef Cheeks, Plantain and Chimichurri.
Rene Ortiz & Laura Sawicki of Angry Bear (Austin)
Introducing their newest culinary venture, Ortiz and Sawicki will debut Angry Bear at Live Fire! with
Tien Tsing Beef & Tofu with Yellow Rock Sugar and Daikon Numbing Salt.
Ronnie Killen of Killen's Barbecue (Pearland)
One of the Houston-area's most anticipated openings, Killen's Barbecue opened in February with continuous long lines attesting to the popularity of its brisket. Live Fire! attendees will get to sample Killen's Beef Ribs & Brisket.
Jesse Perez of Arcade Midtown Kitchen (San Antonio)
One of San Antonio's most acclaimed chefs, Perez will serve Toasted Chile and Garlic Skirt Steak with Jalapeno Jelly, Cherry Tomato Relish and Toasted Pumpkin Seeds.
Josh Watkins of The Carillon (Austin)
Watkins and his award-winning team will wow Live Fire! crowds with Sugar Cane-Skewered Beef Tongue, Jalapeno Chutney, Fish Sauce Laquer, Black Garlic BBQ & Thai Basil.
Rick Lopez of La Condesa (Austin)
From Austin favorite La Condesa, Lopez will feature Beef Taquitos with Ribeye, Carrot Top Chimichurri served with Bacon Fat Tortillas.
Kendall Melton of Contigo (Austin)
Contigo Austin returns to Live Fire! with Buckwheat Biscuit, Charred Lardo Marshmallow and Texas Blackberries.
Lawrence Kocurek of Trace (Austin)
A proponent of using all local ingredients when available, Kocurek will create Beef Tongue & Sweetbread Skewers with Pickled Vegetables.
Brandon Fuller of Café Josie (Austin)
For the first time at Live Fire!, the popular Café Josie will be represented and serve Braised Short Rib and Sweet Potato with Chili Aioli.
Kristine Kittrell of WeatherUp (Austin)
A favorite at Live Fire! Kittrell will prepare Beef Torchon with Escargot and Grilled Green Garlic Butter.
Ben Runkle, Bryan Butler and Josh Jones of Salt & Time Butcher Shop and Salumeria (Austin)
An Austin Food & Wine Alliance 2013 Grant Winner, Salt & Time will present Premium Rotisserie Cuts.
Mari Soto and Mark Morales of Whole Foods Market (Austin)
Whole Foods Market chefs will feature Roasted Bone Marrow with Sriracha Vinaigrette and Mongolian Beef Jerky.
Scott Roberts of Salt Lick Bar-B-Que (Driftwood)
Cookbook author and famed owner of the Salt Lick, Roberts will share his celebrated Moist Brisket served on Fresh-patted Flour Tortillas roasted over the Brisket Fire.
Jeff Martinez of El Chile Café y Cantina (Austin)
From Austin's favorite, El Chile, Martinez will prepare Mole de Res with Charred Jalapenos and Epazote.
Monica Glenn of Qui (Austin)
From one of the nation's most celebrated restaurants, Glenn will create Champurrado (chocolate-based drink) with Chocolate Mousse, Coconut Rice Pudding and Charred Orange Peel.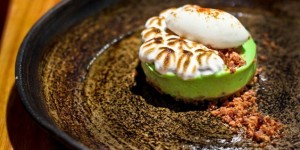 Callie Speer of Swift's Attic (Austin)
Acclaimed pastry chef Speer will present Banana Cream, Malted Chocolate Stout, Hazelnut Beer Brittle and Banana Bubbles.
Premium wines are a signature of Live Fire! and this year's offerings include selections from the Hess Family Collection, Lapostolle (Chile), Becker Vineyards (Texas), Marchetti Verdicchio (Italy), Palama Salice Salentino (Italy), La Quercia Montepulcino (Italy,) The Seeker Malbec (Argentina), St. Francis Chardonnay (Sonoma), Llano Estacado (Texas), William Hill Estate Winery (Napa), Rotari (Italy), Stemmari (Sicily), Goosebump (Sicily), Alexander Valley Vineyards (Sonoma), Brady Vineyards (Paso Robles), Picket Fence Vineyards (Sonoma), Clayhouse Wines (Paso Robles), Rainstorm Winery (Oregon), Coyam (Chile) and Bolla (Italy).
Sommelier Paula Rester of Congress Austin will be providing a special collection of wines to complement the variety of flavors at Live Fire! – Hahn Family GSM 2011, Robert Biale Black Chicken Zinfandel 2011, A to Z Rose 2013, Domaines Ott Chateau Romassan Bandol Coeur de Grain Rosè 2012 and Duchman Family Dolcetto.
Spirit makers will be on hand to pour Treaty Oak Distilling spirits, Dripping Springs Vodka, White Hat Rum, Dulce Vida Organic Tequila and Paula's Texas Orange & Lemon.
Live Fire! will feature two cutting-edge craft breweries including Twisted X Brewing Company and Saint Arnold Brewing Company. In addition, Argus Cidery, winner of an Austin Food & Wine Alliance grant in 2012, will sample premium ciders.
Live Fire! is a fundraising benefit for the Austin Food & Wine Alliance (AFWA), Central Texas' newest culinary nonprofit, which is dedicated to fostering awareness and innovation in the Central Texas food and beverage community. AFWA gives back to the local culinary community through a vibrant grant program for chefs, farmers, artisan producers and nonprofits by funding projects focused on culinary innovation.
The AFWA hosts engaging culinary events throughout the year to raise funds for the grants, the nation's first grant program based on culinary innovation. Since 2012, the AFWA awarded $45,000 in grants to fund local culinary projects that give back to the community.
As the key beneficiary of the Austin FOOD & WINE Festival April 25 – 27, the AFWA features educational programming and culinary events showcasing Central Texas' chef talent along with artisan and local producers, world-class wine and spirit makers, and craft brewers.
The AFWA enjoys tremendous community support with Whole Foods Market® as presenting sponsor and other key supporters including the Austin Food & Wine Festival, Texas Beef Council, Texas Monthly, AT&T Executive Education & Conference Center, Greenling, Twin Liquors, Republic National Distributing Company, Glazer's, ABC Bank, FreshPoint, Terlato International, Fresa's Chicken al Carbon, CultureMap Austin, Giant Noise, Max Photography, Freeman, Premiere Tents & Events, Butler Wood, Texas Tea, Hess Family Collection, Balcones Resources, Rolling Fete, CFO By Design and Field Branding & Design.
For more information about the AFWA, visit AustinFoodWineAlliance.org, call 512.348.6847 or email Info@AustinFoodWineAlliance.org. Stay up to date with Austin Food & Wine Alliance happenings on Facebook and Twitter
The Austin Food & Wine Alliance is a nonprofit organization dedicated to fostering awareness and innovation in the Central Texas culinary community through grants, educational programming and events. Guided by an all-volunteer board of directors and committees made up of culinary-and-community-minded professionals, the Alliance's commitment is to promote Texas food, wine, spirits and craft brews and to increase appreciation of Texas' culinary impact. The AFWA is the designated beneficiary of the Austin FOOD & WINE Festival. For more information about the Austin Food & Wine Alliance, visit AustinFoodWineAlliance.org.
Follow ATOD Magazine™

Brought to you by: