Culinary Gems at Parkside Projects in Austin
Olive & June | the Backspace | Bullfight
by Lauren Annette
[dropcap letter="I"]t's no secret that Austin Texas is booming with diversity and culinary gems. It's the place you've heard about, where you want to go, and what you need to experience. I had the opportunity to explore what is known as the
Parkside Projects
. Chef Shawn Cirkiel is the man Austin can thank for spear-heading the farm-to table and gastropub trend that now flourishes in Austin. When he opened Parkside, his first project, his premise was based on "ingredient-inspired" food. From there, it led to opening three more restaurants coined the
"Parkside Projects"
. Chef's projects have a palpable passion for creating a community around great food. I had the pleasure of dining at the three locations that followed the original
Parkside
;
Olive and June
,
The Backspace
, and the latest addition,
Bullfight
.
Each restaurant stands alone; whether it's a candle lit dinner, a timeless gem, or a modern motif, the delivery and tone are all unique. These restaurants are perfect for those who indulge in the "experience" of dining. By no means should these meals be rushed. Ingredients are sourced locally or imported from the inspiration of Spain or Italy themselves! Much effort has been put forward to develop each distinguished vibe that favors fostered appetites.
[separator type="thin"]
Olive & June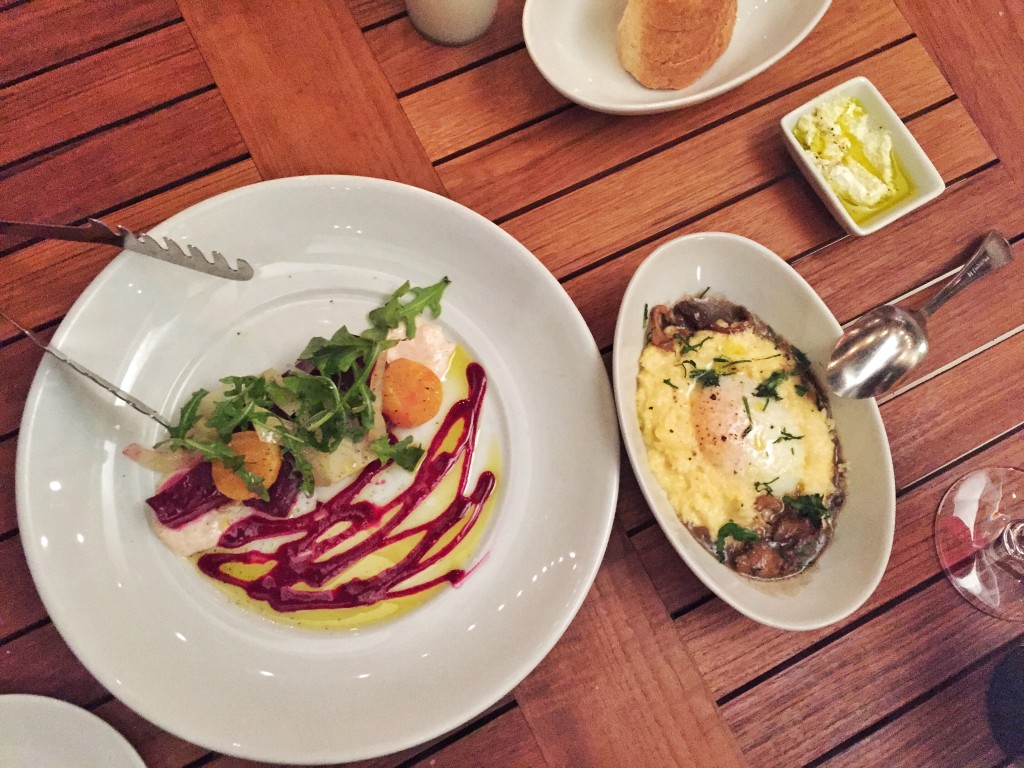 Upon entering we were welcomed in with the sound of relaxing jazz, the unmistakable smell of fresh seafood, and a flanked patio with flaming heaters. Inspired by Southern Italy, Olive and June showcases an extensive wine list, and in true authentic fashion they feature the Italian liquor Amari. The relaxed leather bound menus open up to a connoisseurs dream and encourages guests to be "surprised by every sip".
One of the most unique traits of Olive and June is the 200-year-old oak tree that stands center stage, creating an atmosphere of leisurely luxury. I recommend sitting outside on the second tier, where you can enjoy the canopy view and have a private setting. Perfect for special occasions.
Fresh bread and subtle ricotta spread welcomed us to our table. Eager to begin our Parkside project experience we started off with the "house staple" farm egg fare and the beat salad. Recommended to be stirred and enjoyed with bread, the slow cooked egg is served with polenta and foraged mushrooms. It's fluffy texture went down effortlessly though we wished it had been served warmer, it was deliciously rich. The beat salad did not disappoint. Served fresh, the beats are artfully displayed with spicy arugula, pickled onions, and plated over raspberry sauce and oil. This seemingly simple serving left us eager for more.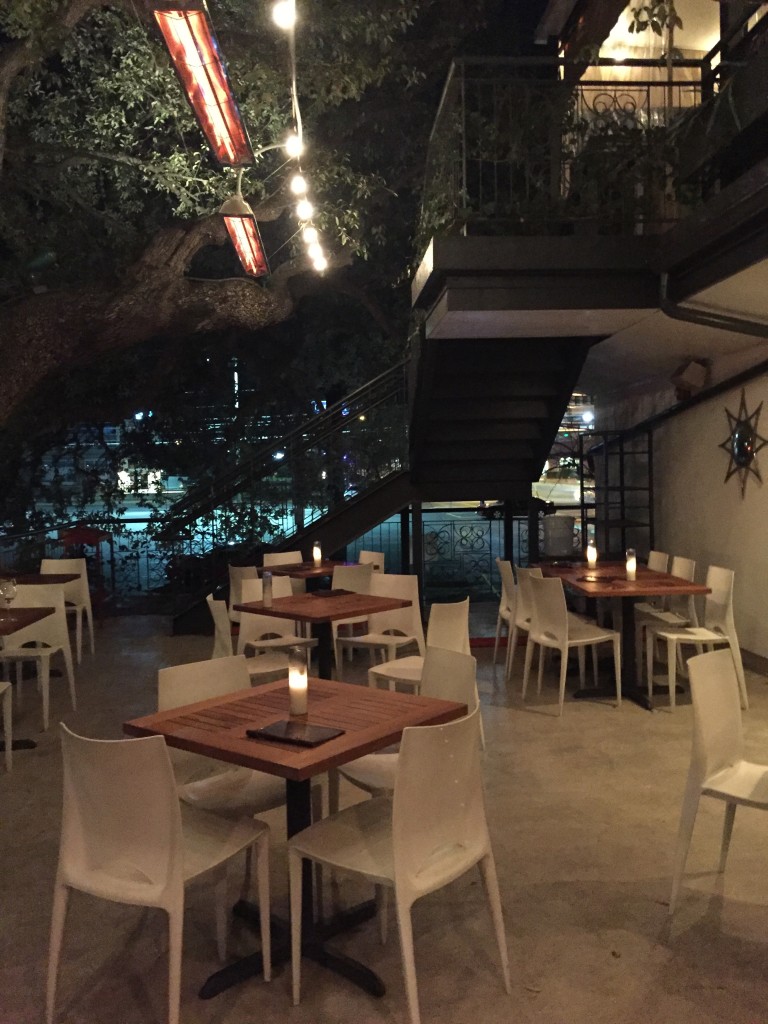 Since Olive and June prides itself on preparing specialty in-house pasta daily; I had to try the staple Italian cuisine. I chose to indulge in the linguine Nero. Staying true to Texan manner, we also honored Austin by sampling the braised lamb shoulder. The authentic squid-ink infused seafood pasta is served mixed with arugula and red onion, topped off with a light serving of rock shrimp and calamari. The pasta was flavorful, though served moderately warm again, almost tepid. I couldn't help but notice that I was searching for that undeniable feeling of satisfaction when twisting pasta and you see the steam released. Whether the chicken is before the egg, or in this case, the Nero before the lamb, it was my impression that my dish had been waiting a bit too long in the kitchen and as a result, wasn't served hot.
The lamb was tightly plated with bok choy, basil, and pearl onions, and carried a distinct aroma. We made sure to pace ourselves. This tender and juicy dish offered notes of rosemary and mustard. Contrary to most predispositions towards Italian restaurants, these hand-crafted dishes will not, I repeat, will not leave you loosening your belt. We found ourselves delighted to end our candle-lit dinner with the recommended dessert of a churro pastry filled with Nutella mousse! It was accompanied with pomegranate sorbet and burnt sugar crisps. Divine! All in all Olive and June's creates an ambience that can't be beat.
[separator type="thin"]
the BACKSPACE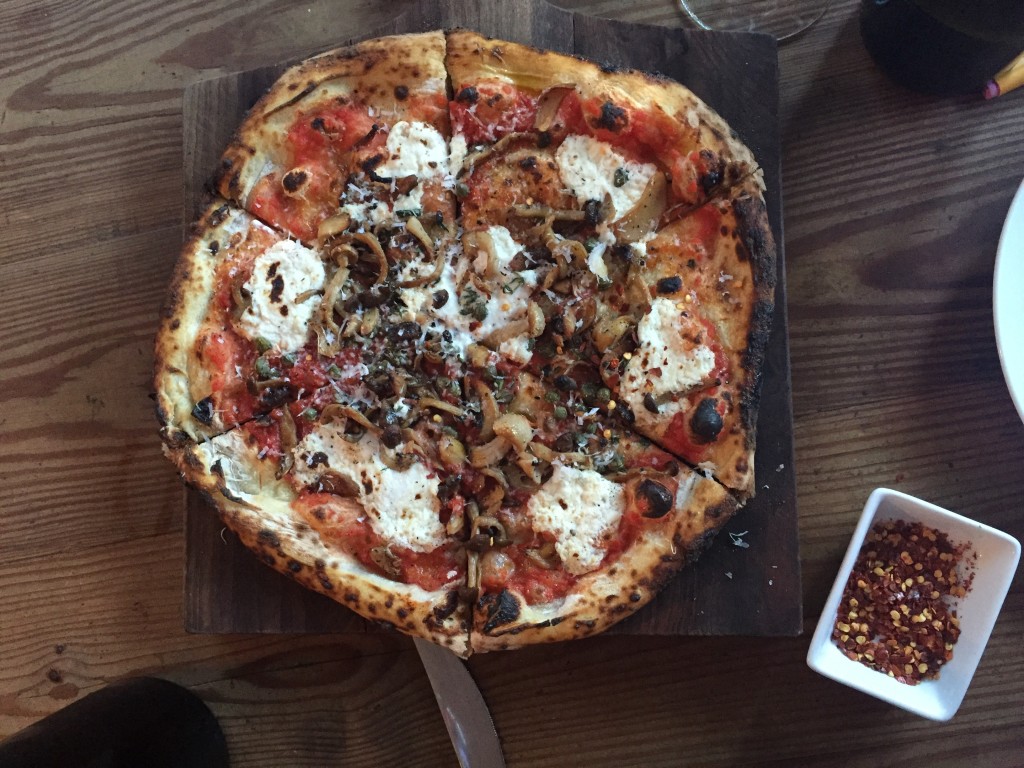 The next day we set out towards our Parkside Project experience #2. Located near the capital and directly behind the original project of Parkside, you'll find Austin's Neapolitan pizzeria, The Backspace. This known gem of downtown has mastered oven-roasted pizza! It's "tucked-away" vibe speaks to the working craftsman. With cleverly pealing paint, friendly service, and a sturdy wooden bar, guests can feel at ease here.
Our table boasted a view of the open brick oven and we kicked off our meal with eggplant caponata and drinks. The vegetable caponata was dynamic with notes of sweet, savory, and spicy; this little number was a favorite! I felt sparkly with the Lambrusco blend, it was deliciously delicate, and exactly what one looks for in an afternoon rosé. My fiancé stayed true to the Italian classic beer, Peroni.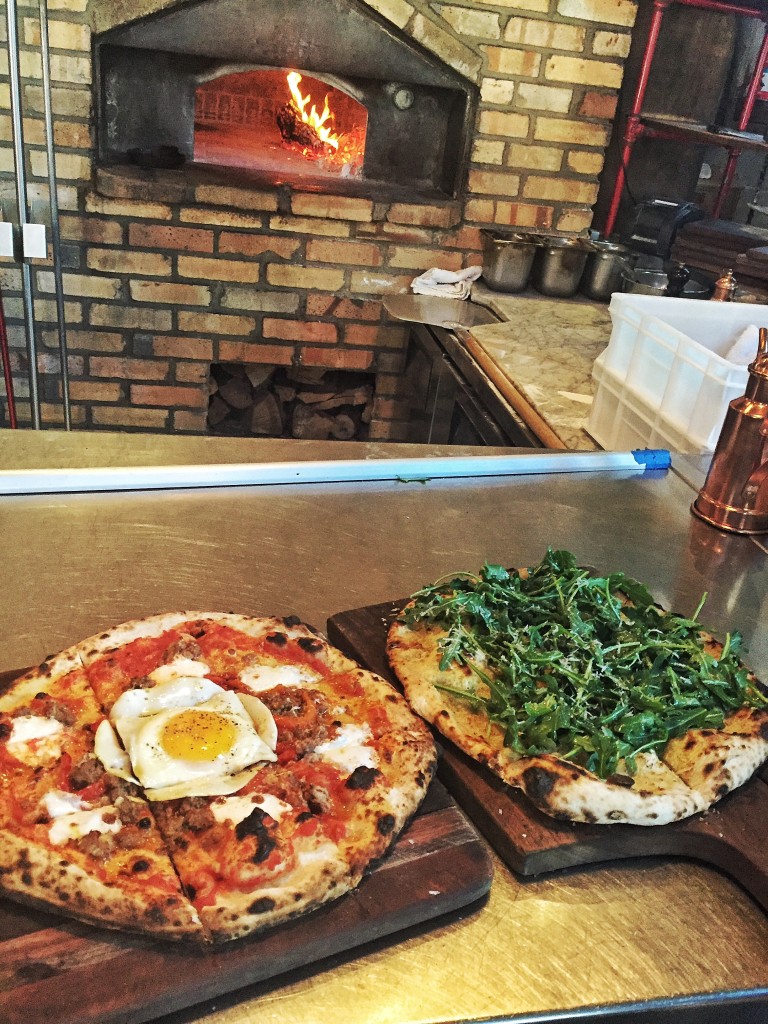 Ogling over orders coming from the kitchen, the straight-forward menu is ridiculously tempting. Honestly, it was hard decipher which item to melt over. With the option to have a hearty meat plate, top our freshly baked pizza with a soft egg, or get in our greens with a mound of arugula atop the Bianca pizza, we knew we couldn't lose. We decided on the roasted mushroom pizza with red sauce, ricotta, tomato, capers and thyme. Each pie has a charred thin crust and since the distance of travel from kitchen to table is minimal, they are served piping hot on a personal wooden board. Perfecto! The ooey-gooey deliciousness of The Backspace pizza has nailed the 80/20 rule, you are guaranteed to come back for more! This charming restaurant offers a leisurely lunch experience within 45 minutes leaving you feeling relaxed, refreshed, and more than satisfied.
[separator type="thin"]
BULLFIGHT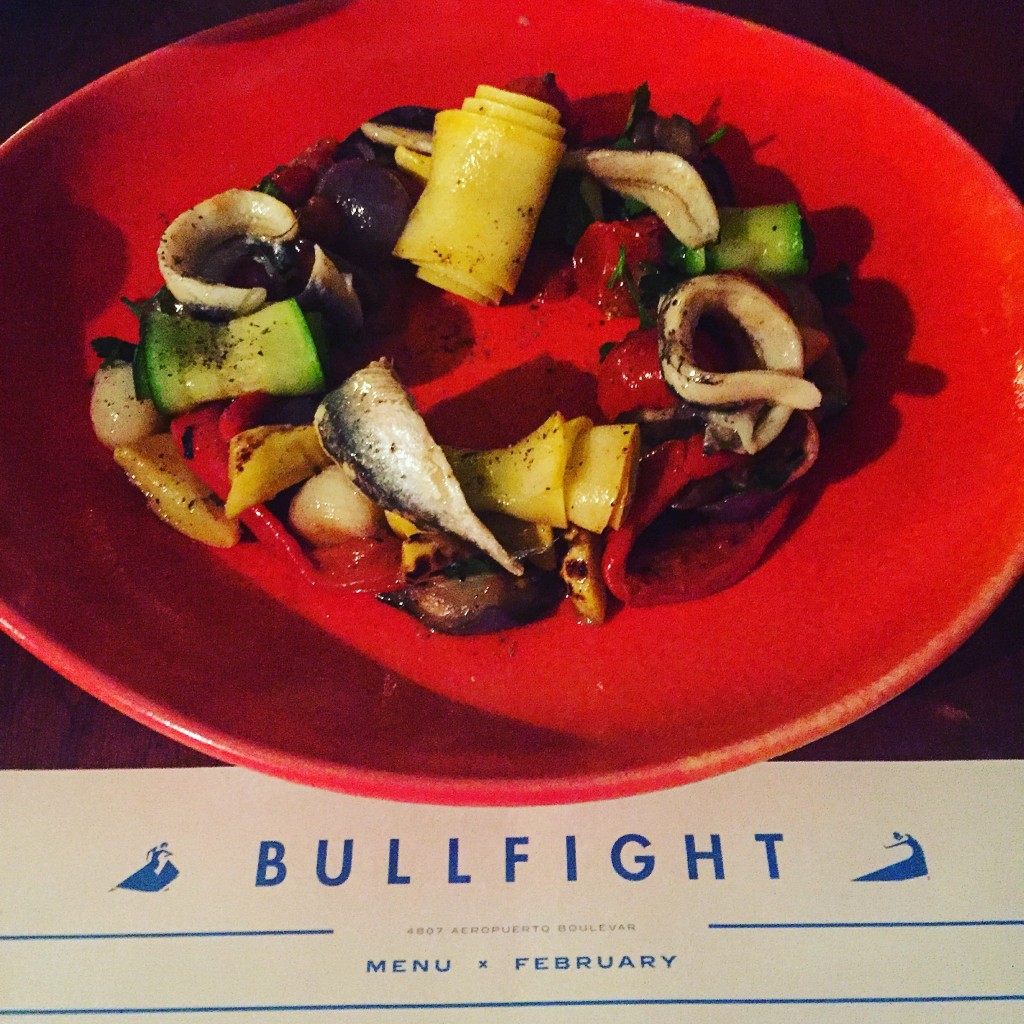 We wrapped up our tasting tour with the latest addition to the Parkside projects, Bullfight. Tapas is the name of the game so expect to get a few bites of each dish. I would highly recommend Bullfight for techies and aficionados looking to seal a deal. With complementary valet and it's name in lights, Bullfight has a vibe of hip-chic, almost club-esque upon arrival.
With hip hop playing, the modern esthetic invites guests to sit either at the community table; perfect for large parties or at the side by side single tables for an intimate meal. Either way you can admire and be inspired by what your neighbor is indulging in. It's the ideal place to dive into the unknown, try something new, or the right spot to show off your foodie skills. With it's finely tuned selection of wine and ingredients, the menu can actually be a little overwhelming, but not to worry, the uncharted territory of Bullfight's menu is guided seamlessly by the servers who have the expertise. It changes monthly so do not hesitate to ask about specific ingredients, perfect pairings, or specials.
We kicked off our experience with marinated olives, and the Erscalivada, which was paired perfectly with the Fino sherry (Thanks Arron!). Anchovies can be intimidating, but their signature salty profile was balanced with the sweet notes of red peppers, parsley, and a sharp vinaigrette; a very flavorful start to our meal! Next we went for the chef's choice of five cheeses. Wow! Served with two fruit jams and crackers, this plate was probably the highlight of the meal. I had only one request: the Mahón from Menorca. An absolutely delicious Spanish cheese that is made from unpasteurized cow's milk, aged for one year. It has a crystalized texture, with a taste that is the artisanal mix between sharp and slightly salty. And that was just one of the five excellent cheeses we had the pleasure to self gratify our palates with! Between the Ovelha Amanteigado sheep's milk cheese from Portugal, and the Ibores goat's milk cheese from Extremadura we experienced textures and tastes that left a lasting impression. #bestcheeseboardever.

We fashioned our main corse with two glasses of the 2013 Carińena blend by Cellers Can Blau. It was smooth and paired excellently with something tried and true, as well as something new; the chef's special: Lobster and grilled quail. Once it arrived, we were surprised to find the lobster in an un-noted salad form. A plate "big enough to share" left me with a raised brow. We had about two small bites each of this precisely blanched shellfish; it was served sprinkled on fluffy greens and topped off with a subtle vinegar. Despite it's unanticipated presentation it was tasty, but we eagerly welcomed our next dish.
Having quail for the first time, I didn't know what to expect, but let me tell you, this was quite the intro! Served on a half-plated dish, these four darling legs where grilled with a date glaze, served over a butternut squash puré, and tenderly topped with apples, mint, and salt, then rounded out with coriander seeds. They were delicate and distinctive. From start to finish, Bullfight showcased an exquisite menagerie of wines, ingredients, and expertise.
Whether it was Olive & June's lighting, the courtesy of The Backspace's bar purse-hooks, or Bullfight's convenient table side menu-magnets, the through-line of each restaurant is simple: ATTENTION TO DETAIL. These restaurants are orchestrated in aesthetic and taste. Guests are bound to brush up on Italian or Spanish upon dining with The Parkside Projects, as each menu offers an array of detailed recipes in their native tongue. Great happy hour specials are also available, as well as fun happenings. Not everything is bigger in Texas, but if you're looking for quality and an experience you wont forget, The Parkside Project are a must-try for a true balance between inspirational authentic roots, and Chef Shawn Cirkiel's personalized precision of "ingredient- driven" food.
Thank you to Shawn Cirkiel for arranging everything.