5 Vegan + Vegetarian Restaurants Angelenos Will Be Ecstatic About
Angelenos have a good reason to get their veggie on …
story by Stephanie Kordan | photos by Eddie Lin + Stephanie Kordan
[dropcap letter="L"]os Angeles is a hot spot for vegan and vegetarian dining; in fact, it could be considered a veritable mecca of all plant-based cuisines. Given that LA is a melting pot of Thai, Vietnamese, Japanese, Mediterranean, Mexican and a multitude of cultural cuisine, the vegan and vegetarian options are growing beyond the garden
and into the main course
. With an influx of diners wanting a more plant-based, health conscious way of eating, the one thing that seems to be lacking is the one thing herbivores and carnivores alike love and desire: good old fashioned comfort food. With an ever increasing amount of casual eateries, juice bars, and the like becoming popular fixes in our daily intake, the quest to find amazing vegetarian restaurants that meet both the casual and fine dining needs of Los Angeles' savvy eaters is on. And so, to start, we wanted to share these five vegetarian restaurants that will make you ecstatic with each bite, from casual to chic, as your palate indulges in "good food" that tastes like heaven (and won't make you miss the meat!). [separator type="thin"]
Sun Café Organic
[columns_row width="half"] [column]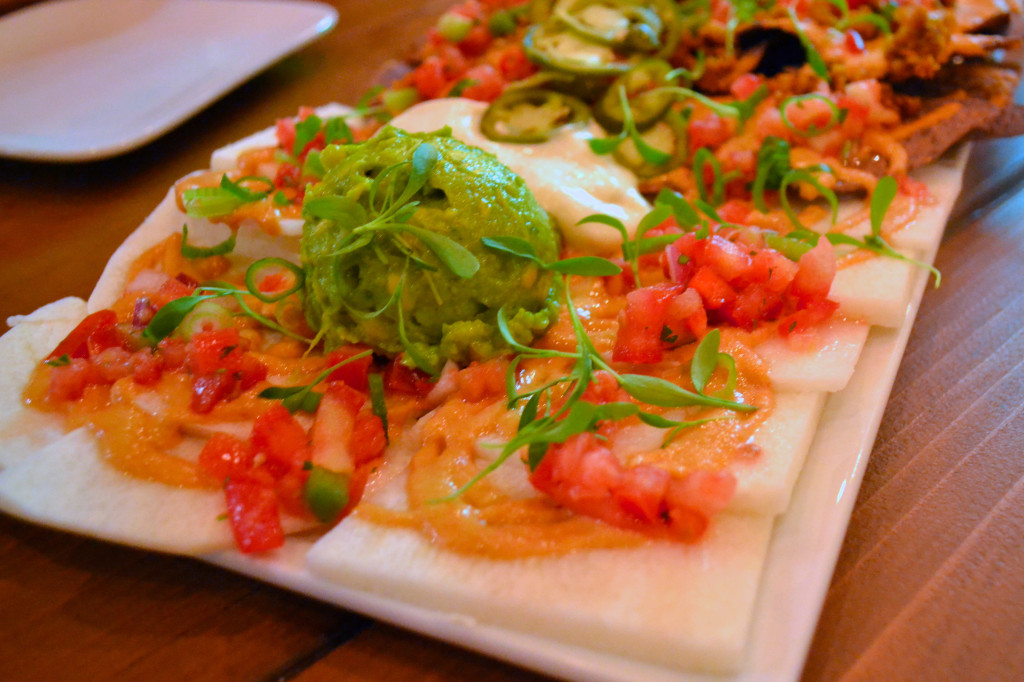 [/column] [column]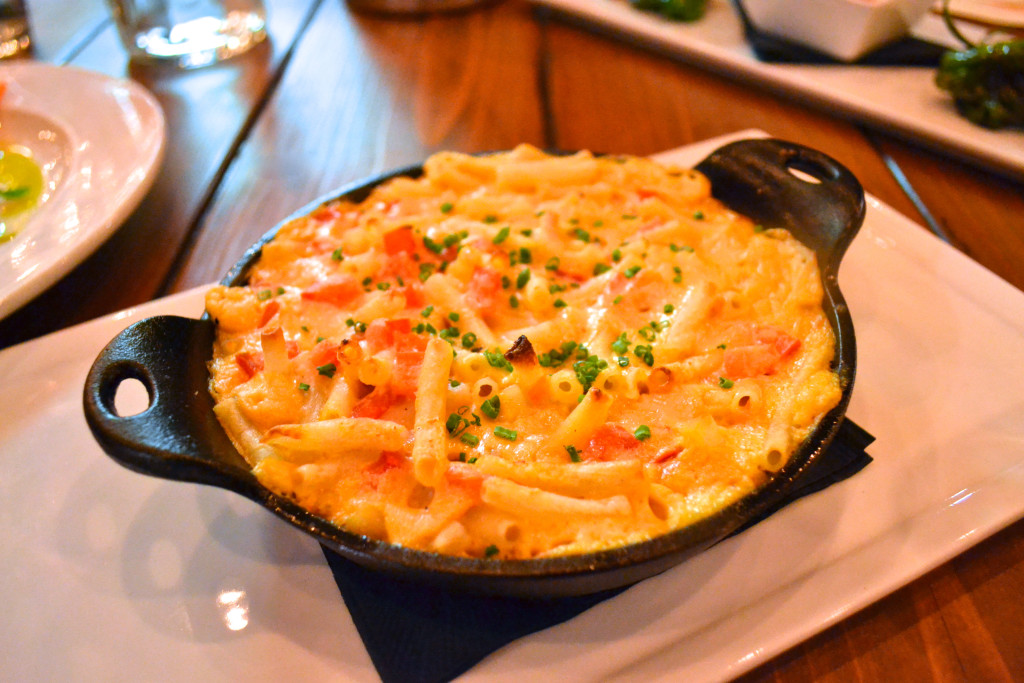 [/column] [/columns_row]
You know good mac and cheese: the classic stovetop béchamel sauce mixed with cheese and al dente pasta. Mac and cheese is one of childhood's greatest comfort foods when we were blissfully unaware of calories, lactose intolerance and bad cholesterol. Therefore, we expect much out of a good bowl of mac, even when we've gone off dairy and joined the vegan brigade. Though it's not true cheesy macaroni and cheese, it comes close enough. Sun Café in Studio City has a vegan mac and cheese made with quinoa pasta, gooey chewy cashew cheese sauce, enhanced by tomato and smoky paprika. An even more decadent Alfredo version is on the special menu: Alfredo mac and cheese topped with charred broccolini and salty roasted mushrooms. Both mac and cheese dishes are served in a cast iron skillet, which gives it an authentic touch. If the vegan mac and cheese isn't indulgent enough, dive into the dessert menu. The 'seasonal' desserts are all about the cheesecake: mint chocolate chip cheesecake, pistachio cookie dough cheesecake, almond butter cheesecake— dense, rich and satisfying versions of what you'd regret if it were actual cheesecake. Sun Café is where to go when you want anything with the word cheese in it, sans vrai fromage. The patio is romantic with twinkly lights and a fire pit at night (cozy couches and blankets available for cuddling up) and the rustic interior feels just like home.
10820 Ventura Blvd. | Studio City 91604
818-927-4100
[separator type="thin"]
Crossroads Kitchen
[columns_row width="third"] [column]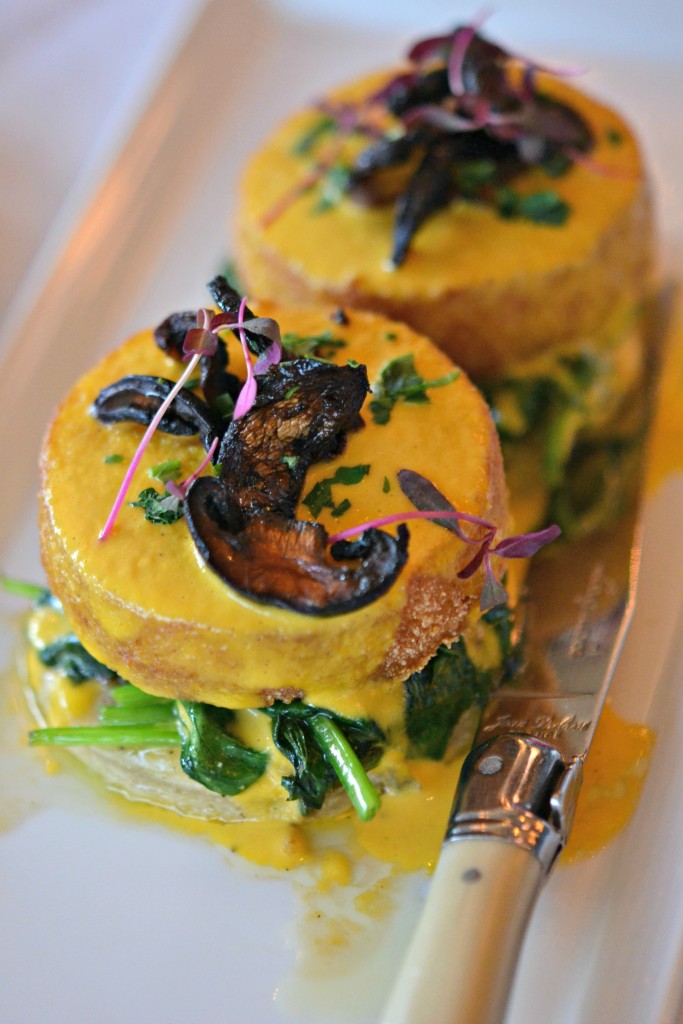 [/column] [column]
[/column] [column]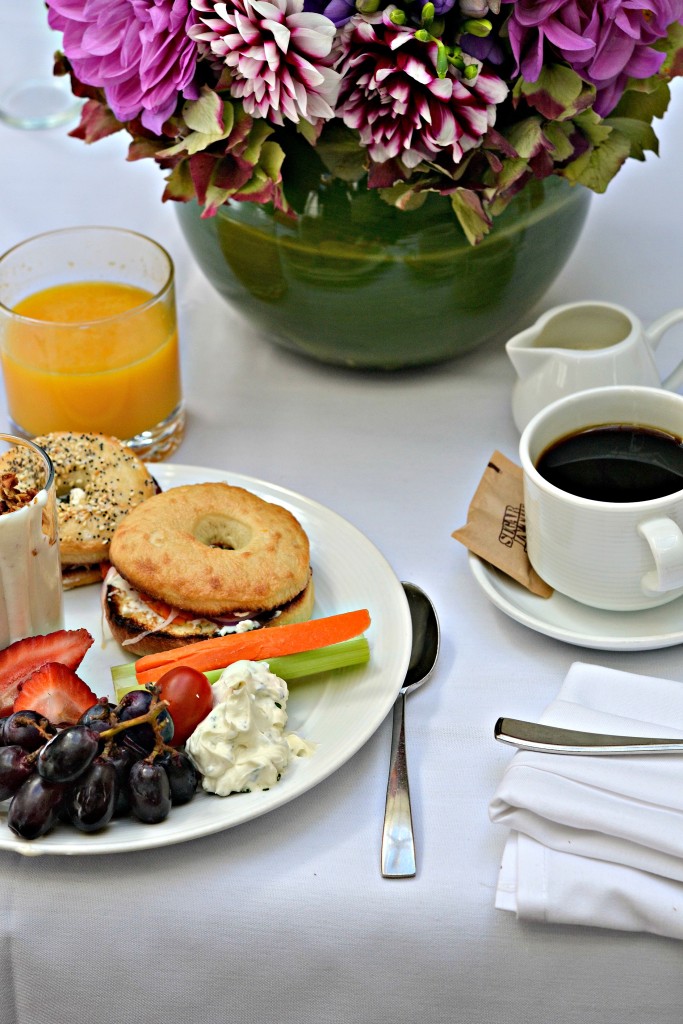 [/column] [/columns_row]
Just because you've gone vegan doesn't mean you have to live without brunch. Crossroads Kitchen serves bagels schmeared with Kite Hill Cream Cheese piled high with slivers of red onion, capers and carrot "lox."
"How can carrot taste like lox? Executive Chef Scot Jones shared his process: roast, wrap in nori, then smoke to get that loxy flavor. Et voila: you have vegan bagel and cream cheese with carrot lox on a toasted, gluten-free (almost) everything bagel in your hot little hands."
The Crossroads Benedict is stacked with fire-roasted flat rounds at the base, layered with herb chickpea panisse, sautéed kale, shiitake bacon and sauced with a tomato hollandaise. Scrambles with porcini or veggie chorizo are the vegan answer to eggs. Since your plate (and your belly) expects more than kale, sink your teeth into chicken and waffles done vegan style. The fried "chicken" is unbelievably convincing, served with waffles and warm maple hot sauce. Luscious Bloody Mary cocktails made with in-house mix, 360 vodka, horseradish, Tabasco, and that ubiquitous celery stalk. Optional vodkas and garnishes are available for an additional charge, such as Fair Quinoa and Grey Goose vodkas, and garnish for your gorgeous Bloody Mary: caper berries, pickled carrots, dehydrated tomato wheels, roasted balsamic cipollini onions, cornichon stuffed olives, and truffle dill cheese. Mimosas and other cocktails (Aperol Spritz, Old Cuban, Hangover Kir, Maid Service) are available just in case you need a little something to help that hangover. If you eat slowly and indulge in a cocktail or two, just hang out for the entire afternoon and check out the dinner menu. The artichoke oysters and crab cakes are both heavenly ways to forget the fruits de la mer and revel in the garden of earthly delights. Artichoke oysters are made with crispy oyster mushrooms, yellow tomato béarnaise, warm artichoke puree, and topped with kelp caviar. The taste is so intoxicating to the senses … the kelp caviar adds briny tang to fool your palate into believing it's of oceanic origin.
Set in a fine dining ambiance, Crossroads is subtle about their plant-based menu. Rather than plunking the v-word down on every description of their cuisine at this vegan-chic establishment, an elegant, relaxed and stylish interior invites the diner to the table without mentioning its green cuisine roots. Chef Tal Ronnen's approach to plant-based vegetarian cooking is steeped in his Israeli upbringing, influenced by the Mediterranean palate, while his Executive Chef Scot Jones comes from a classical Northern Italian and French trained background. The brunch and dinner menus are sure to delight diners to the point of plant-induced ecstasy.
8284 Melrose Avenue | Los Angeles, 90046
323-782-9245
[separator type="thin"]
VeStation
[columns_row width="half"] [column]
[/column] [column]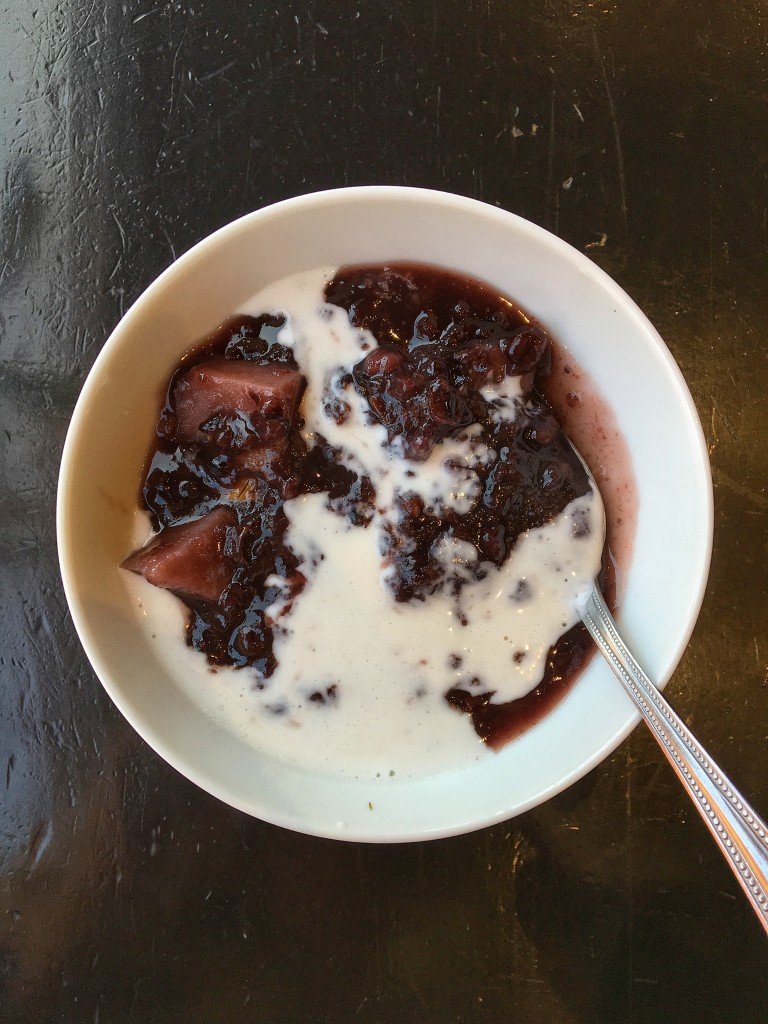 [/column] [/columns_row]
Ve-Station is a casual place tucked away off of Ventura Boulevard, the interior is calm, low-key and cozy. Fresh coconuts, Thai and herbal teas, fizzy kombucha drinks, and other libations are offered as you scan through an extensive list of curries, noodles, rice dishes and other Asian-inspired vegan choices. The salads are enough for a meal alone, but go ahead and try the curries: Massaman, yellow, red and green curries are silky and sumptuous over brown rice. You'll find that Thai reigns here. Try rama veggies: spinach, broccoli, kale and peanut sauce or spicy basil leaves with a choice of organic tofu, soy chicken, soy fish, soy steak, or organic tempeh.
Pad See Ew, Pad Thai noodles and other Thai style dishes are on the menu without the egg, fish or meats. Just ask for your choice of mock meats, tofu or extra veggies. The Superfoods Salad is my absolute favorite: a bowlful of kale, spinach and mixed greens topped with avocado, curry almonds, cherry tomatoes and sunflower sprouts in pomegranate sunflower pesto dressing. If you have the desire for dessert, their warm black rice pudding with taro and lotus seeds in coconut cream is heavenly good.
14435 Ventura Bl. | Sherman Oaks, 91423
818-784-8388
[separator type="thin"]
Vinh Loi Tofu
[columns_row width="half"] [column]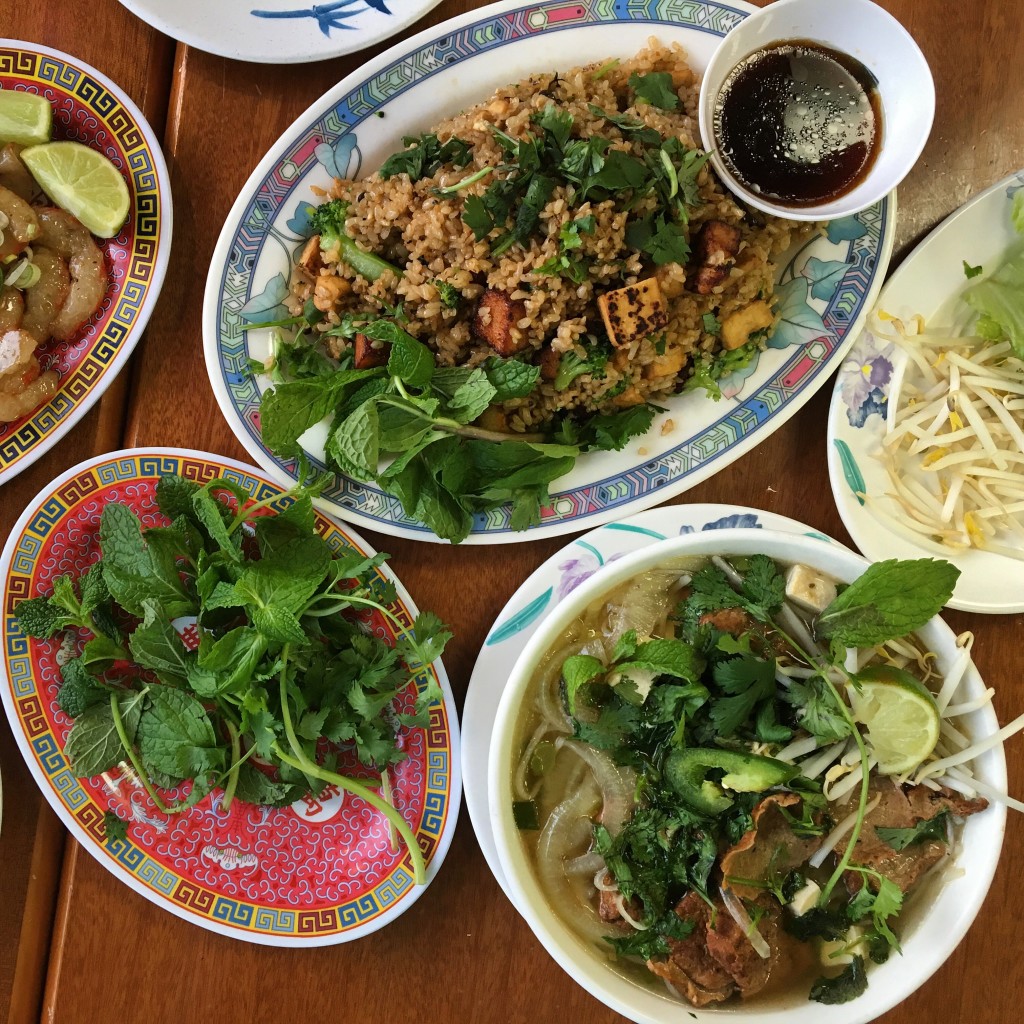 [/column] [column]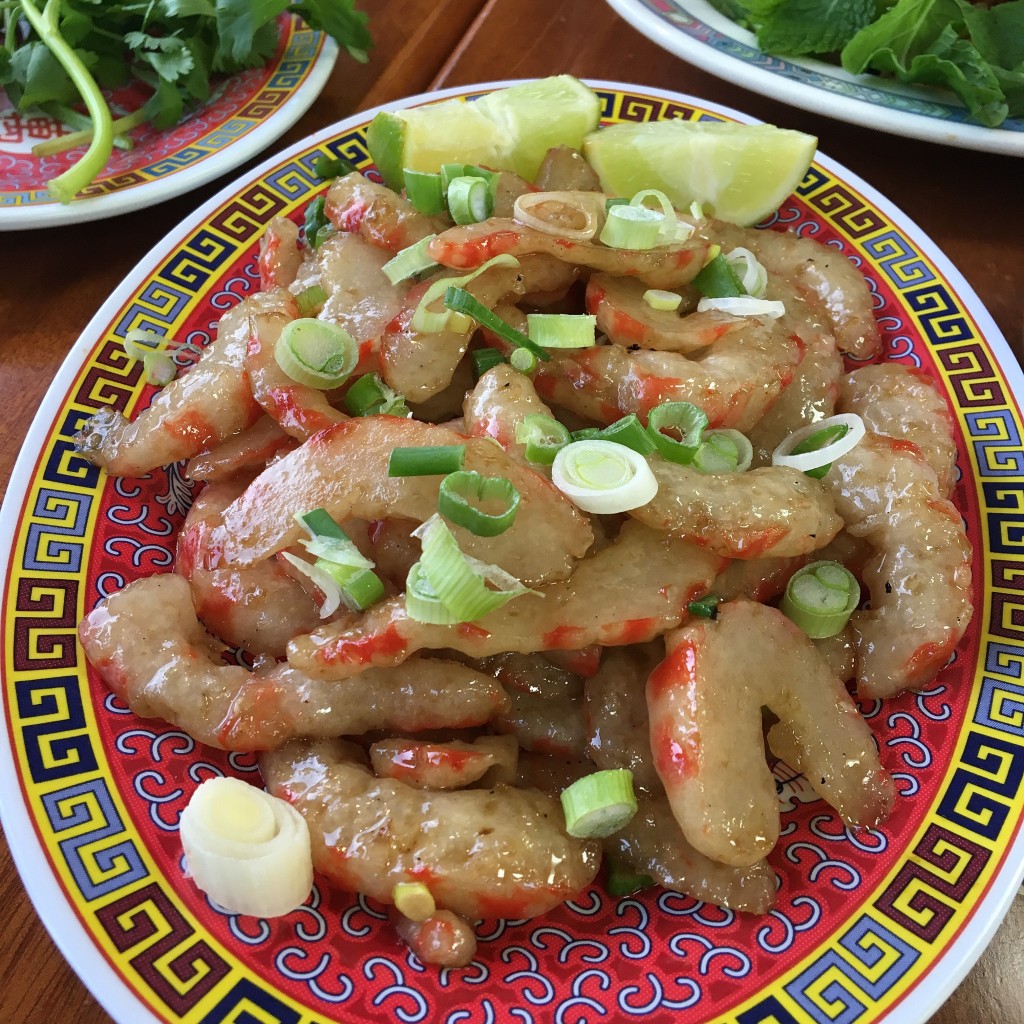 [/column] [/columns_row]
This little hole in the wall spot will surprise you. In the heart of Reseda, located in a mini mall that you just might drive by without notice, shines the little gem of Vinh Loi Tofu. Once you enter, the brightly painted colors and a wall covered with the food porn of tofu and mock meats will open your eyes wide. So many choices, but you won't need to choose if owner Kevin Tran, vegan and triathlete, is there. Just tell Kevin what you are craving, whether a hearty pho soup or dry noodles (Bun Bi Thit Nuong or Curry Chicken with Rice Noodles), salads (BBQ Chicken Salad), or fried rice (vegan BBQ duck) — and he will order up "The Kevin Special" for you. They make their own tofu in the kitchen, while the vegan meats— duck, chicken, shrimp, fish, beef— are quality sourced. Tofu is the main ingredient here, and there's an entire section for it, such as lemongrass and chili tofu, mushroom and noodle tofu, fresh plain tofu, seasoned tofu, tofu nuggets. Rice porridge with mushrooms served with Chinese donuts, spring rolls and other Vietnamese dishes can be had vegan style. What makes me ecstatically happy is the vegan pho in any combination. A big bowl of hot soup noodles fragrant with cilantro and a squeeze of lime. All you need to do is dig some chopsticks into the heft of steaming bun noodles, as the tangy aroma of broth wafts into your nose. The tofu-based animal proteins are firm and sweet, giving you the idea of meat without the fuss.
18625 Sherman Way #101 | Reseda, 91335
818-996-9779
[separator type="thin"]
Shojin
At Shojin, a Japanese vegan restaurant, you will find everything organic with a macrobiotic sensibility. Shojin's specialty is vegan "sushi," and while that is not unusual in Los Angeles, in Japan, shojin ryori translates as "Buddhist temple cuisine," vegan food prepared with a certain aesthetic, using monastic ingredients to create gourmet dishes. Truly, to dine at Shojin is a lesson in the culinary possibilities of all things vegetable. For instance, Crunchy Tiger Hidden Dragon roll is made with BBQ seitan, tempura asparagus, avocado, crispy potato, served with wasabi mayo and sweet tamari sauce. The Green Dynamite Roll has avocado, asparagus, carrot inside the roll, served with lemon, chili, cilantro, and green chili sauce. Executive Chef Jun Matoshiro wields anime powers over the vegan sushi and their name creations: "Yellow Magic Orchestra" and "Pirates of the Crunchy" to name a few. You will find lotus root, hijiki and gobo are used in many of the rolls and dishes, giving an earthy crunch and seaweed element, as well as gluten-free, sesame-free, soy-free, and onion-garlic-free options. Some of the specialty rolls are torched tableside, such as the spicy baked scallop roll: smoky mushrooms and onions, spicy tofu and avocado, and hijiki, drizzled with house made dynamite sauce. The menu also includes Maple glazed Brussels sprouts, "crab cake" tartar, spicy "tuna" on crispy rice, seaweed, and kelp noodle salads, French onion and mushroom miso soups, even meatloaf, of all things (veggies and tamari red wine sauce). You'll find yourself fishing for more reasons to try both of their locations in Culver City and Downtown LA.
12406 Washington Blvd. | Culver City, 90066
310-390-0033
[separator type="thin"]