5 SPRING COCKTAIL Recipes to Delight …
S
pring is meant for crisp bright colors and fragrant ingredients and as the warm sun peeks through the rain clouds, we figured we would inspire you with a few recipes to get you …
in the mood
. Rather than go for the boring same ole, we searched for some genuinely inventive libations to make that afternoon escape all the more delightful.
Beach Day
by Troy Clarke @1224Cocktails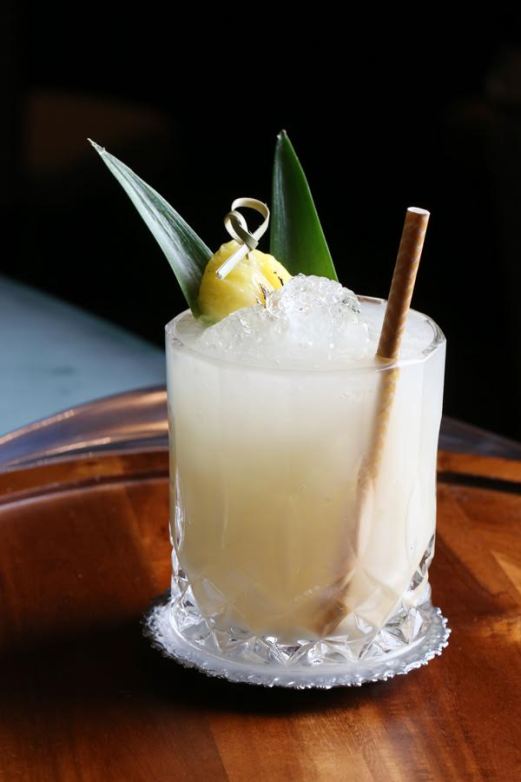 INGREDIENTS
2 oz Boodles gin
.5 oz Licor 43
1.5 oz coconut water
.5 lime juice
2 bar spoons of pineapple preserves
INSTRUCTIONS
Shake all ingredients and strain into a chilled double rocks glass that's been rimmed with coconut palm sugar. Troy also made the umbrella, beach towel and surfboard to match the drink's beachy theme.
Cucumber-Rosemary Gin and Tonic
INGREDIENTS
1 cucumber
1 lime
3 sprigs rosemary
2 oz. Hendrick's Gin
4 oz. tonic water (preferably Q or Fever-Tree)
ice
INSTRUCTIONS
Peel one half of a cucumber, and slice a lime into eight wedges. In a highball glass, add three slices of peeled cucumber, 1 sprig rosemary, juice from a lime wedge and 1 ounce gin. Muddle with the back of a spoon.
Strain through a mesh strainer into a second highball glass. Add several cubes of ice, and three slices of unpeeled cucumber. Top with remaining gin and tonic, and serve garnished with rosemary sprigs.
After-Dinner Turmeric Spritzer
Recipe by Kelsey Bulat
INGREDIENTS
3 sage leaves
1 sprig mint
1 sprig rosemary
1 (1-inch) piece fresh ginger
1/4 teaspoon turmeric powder
Juice of 1 medium orange
1 cup club soda (or water)
1 tablespoon apple cider vinegar
1 tablespoon honey
1 to 2 teaspoons digestive or aromatic bitters
INSTRUCTIONS
In a glass, muddle the first five ingredients. Stir in the remaining ingredients until combined. Strain and serve over ice. Serve this drink over ice with a fresh sprig of rosemary for stirring.
BLACK WIDOW COCKTAIL

INGREDIENTS
2 Blackberries
3 Basil leaves
1.5 oz Don Julio Blanco Tequila
1 ozFresh lime juice
1 tsp
Agave nectar
Garnish: 1 Blackberry and basil leaf
INSTRUCTIONS
In a shaker, muddle the blackberries and basil. Add the remaining ingredients and fill with ice. Shake well and strain into a stemless Martini glass filled with fresh ice. Garnish with a blackberry and basil leaf on a toothpick.
KHURMA COCKTAIL
Orson Salicetti, mixologist at Ariana in Soho, NYC, created this floral concoction.
INGREDIENTS
1½ oz. Persimmon-infused vodka
½ oz. 1889 by Geijer Glogg Swedish holiday liqueur
½ Apple cider
¾ oz. Lime juice
½ Agave nectar
1 Sprig rosemary
INSTRUCTIONS
Cut four to five persimmons cut into chunks and infuse them in a liter of vodka for two to three days. Pour all ingredients into a shaker and shake with ice. Strain into a highball glass with fresh ice, top with a splash of soda water and garnish with a rosemary sprig.