Vanessa Lianne | #Tuesday Talks
[dropcap letter="V"]
anessa Lianne
. I met Vanessa at the Grammy's and from the minute I saw her insanely beautiful designs, I was hooked. There is a true artisan feel to what she does – and yes, she makes each piece by hand. She has an energy and passion when she talks about her designs and her quest to find unique gems and fine metals draws you in from the onset and once you really get in and take a closer look at her pieces? You can see the love that goes into every single one. It's no wonder celebs like Katy Perry, Constance Zimmer, and Lenny Kravitz are donning her designs. My personal favorite and my everyday staple is the
gold Fiona Ring long
. It's delicate and empowering all at once. Everything about VL Designs speaks to the inner artist in all of us. Whether you're looking for a simple stack of hammered gold or you want some badass cufflinks or you want to see a beautiful gem housed with handmade love, her pieces are the ones you hang on to. I sat down with Vanessa to talk about design, inspiration, the challenges of running your own business and most importantly the pure love behind what she does.
Your contrast of elements are ever apparent in your pieces. What metal do you find to be the most challenging and intriguing?
I love working with yellow gold, it is more malleable then other metals like silver or brass and it solders very smoothly. I also really enjoy mixing metals – this is a unique challenge as each metal reacts differently to heat. I have to be very careful to respect the different melting points, it isn't easy but when it works it is remarkable.
As a goldsmith apprentice prior to the launch of your collection in 2012, what do you think were some of the most valuable tools you learned that you applied to your own designs?
As a goldsmith I learned how to create settings for precious gem stones and about the different properties of precious and semi- precious stones. I also learned to use my torch like a paintbrush – gently stroking the metal with heat. This gives me more control over the temperature and prevents melting. Goldsmithing is an art and every artist has their own techniques, so it is always valuable to learn from a master goldsmith and pick-up tips that work for you. Mostly I learned practice; it takes years of repetition, practice and more practice. I would remake pieces constantly and by the third or fourth time I would always be much faster and better. Plus, you never forget your mistakes!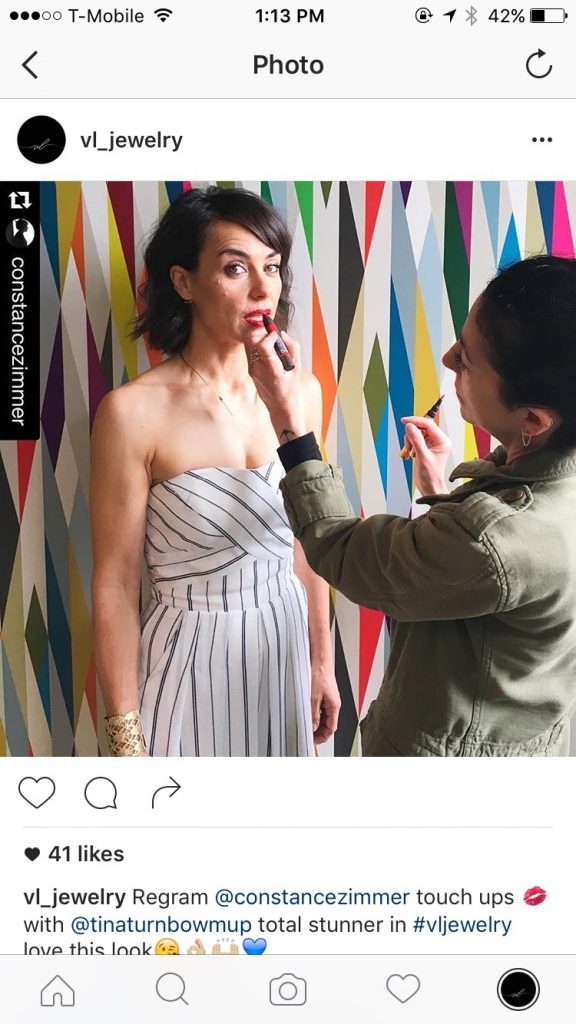 Creating pieces meant to be an extension of the wearer, what are some of your own favorite pieces?
The majority of the Vanessa Lianne Jewelry collection was designed as pieces that I wanted to wear. I rotate my bling and often come back to a piece that I haven't worn in years and start wearing it again. These days my everyday jewels consist of: the Inez diamond eternity band with grey diamonds and the Kate band. The subtle curve of the Kate band with it's simple yet textured design pairs really well in a stack. Lately, I've been wearing the faceted Labradorite Sloan ring to complete the stack. The Labradorite stone glows and feels perfect for the warmer weather. I also wear my signet WTF pinky ring daily because it makes me feel fierce yet glam. The Kate necklace is another staple of mine because it is easily layered and sits perfectly on my collarbone. For earrings, the Inez ear jacket are my current favorite because they are delicate and unusual and I love the way they hug the earlobe. In my second piercing, I wear the Inez claw earring, it so comfortable and looks badass.
What have been some of your greatest vintage finds that you crafted into your own line?
The best vintage finds for me have always been pieces that are meaningful. I have a lot of jewelry that I made when I was young from pieces of old costume jewelry my grandmother gave me that I reconstructed. I used to love playing in her jewelry box and she was very encouraging and would give me jewelry to take apart and recreate. She was very supportive of me following my dreams to become a jewelry designer.
When you're designing, what's your creative ritual? Coffee, music, wine, nature, whatever?
I always start my day with a strong cup of coffee. When I am dreaming up new designs I like to listen mellow music or nothing at all. I do a lot of designing in really quiet moments like just before I am about to fall asleep or when I am sitting on the train, listening to tunes. Ideas will just come to me and sometimes it has nothing to do with where I am. Once I have an idea, I do a lot of the final designing while I am in the process of making the new piece. I always start with a concept and rough sketch but it is while I am playing and manipulating the metal, that new ideas or solutions to any problems I have encountered will come to me. While I am making jewelry I get in a zone that feels meditative and peaceful. I find that time seems to stand still and when I am done I have no idea what time it is or how long I have been working. A guilty pleasure of mine is designing during Vinyasa after a good yoga class. I know I am supposed to be clearing my mind  but I love letting my creativity flow without restrictions – it is really fun to see where it takes me.
When I am feeling stuck and the creativity isn't flowing, I always go back to nature. I love being in natural surroundings, traveling or just going for a long hike or walk in the woods. I grew up on the Pacific Ocean and I crave that visual space. In New York that is often hard to come by, but when I do have the chance to sit by the ocean I am consistently inspired. It will be something like a dead leaf that will develop into a new, unexpected idea.
What is something you feel inspires the innovation of fashion and style today?
My collection is made with traditional techniques but I think innovations in new materials and technology are really changing style today. There is an emphasis on casual wear, athletic wear and designing for durability as well as simplicity. Consumers are so inundated with fast fashion and being sold new low quality, low priced goods that there is a rejection of that and a focus on well designed, high quality materials and beautifully created pieces.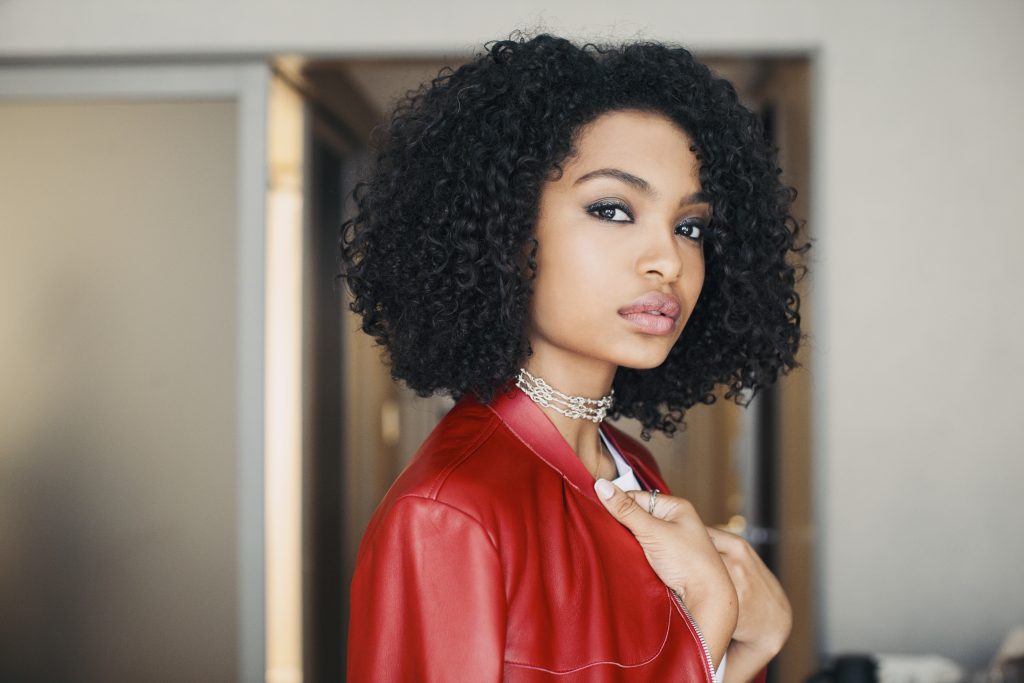 Katy Perry and Lenny Kravitz have both donned your jewelry. Who would you absolutely love to see wear your line?
I feel so fortunate to have some amazing celebrities, who wear my collection and are true fans of Vanessa Lianne Jewelry. Constance Zimmer, Yara Shahidi and Felicity Jones are some woman I admire, who are currently building their Vanessa Lianne collection. Constance has been amazingly supportive, she has an ever growing VL collection of her own, she bought VL for Christmas last year, and she is wearing the VL WTF signet ring on the new season of the hit show UnrealTV. She was just here in New York on a press tour for Unreal and she invited me to help get her ready with VL jewels. Yara Shahidi is an inspiring young woman, who wears VL everyday as well as on her show Black-ish. I also dressed her while she was in New York for the Black Girls Rock event.  Felicity Jones has recently become a regular customer of Vanessa Lianne Jewelry and I couldn't be happier because I absolutely love her style. Her VL collection is really coming along and she looks spectacular in it! Look out for her rocking VL on the red carpet!
Jewelry can be very personal and when you connect with a piece it can be a gateway to forming a connection beyond the jewels. I love the friendships that have developed through my jewelry. I would love to see Emma Watson rocking Vanessa Lianne Jewelry. I really believe in what she stands for and I think some delicate armor would compliment her aesthetic and look amazing on her. I also think Jennifer Lawrence has great style and would wear Vanessa Lianne really well.
What is your guilty pleasure?
I really love sharing a meal with friends whether at home entertaining or going out for dinner – enjoying a really delicious meal paired with a nice bottle of wine or a strong cocktail plus good company is probably my favorite thing in the world. If I can do that and be traveling, then that's perfection.
If you could travel anywhere for inspiration, where would you go and why?
There are so many places I want to travel, its hard to choose just one but on the top of my list right now is definitely Japan. I would love to see Tokyo but I really want to explore the Japanese countryside. Japanese ceramics, fabrics and art have always been a source of inspiration. I would love to go to a small town where they still make traditional kimonos and hand die the silk. The Japanese aesthetic of seeing the beauty in imperfection while paying keen attention to detail makes my heart sing. I find the textures endlessly inspiring.
Jewelry design is an art form. One that immediately takes up residency against the body who wears it. What artist do you find yourself drawn to?
There are a number of artists that I am drawn to. I love staring at a really large scale Rothko painting and getting lost in it. I love the colors and the shapes of Gustav Klimt's work and the imagery and natural lines of Georgia O'Keefe. I also am inspired by Rodin sculptures. Living in New York I feel so lucky to have access to so much amazing art. I am also lucky enough to be constantly inspired by emerging artist in my own community who make incredible work.
Biggest challenge you've faced?
I feel like I face challenges everyday! A big part of running your own business is being able to don whichever hat is needed in the moment and being able to problem solve. At the moment the biggest challenge is that I run Vanessa Lianne Jewelry without any investment. Designing and making the jewelry comes naturally to me but running a profitable business has been something I have definitely had to learn and I am continuing to learn everyday.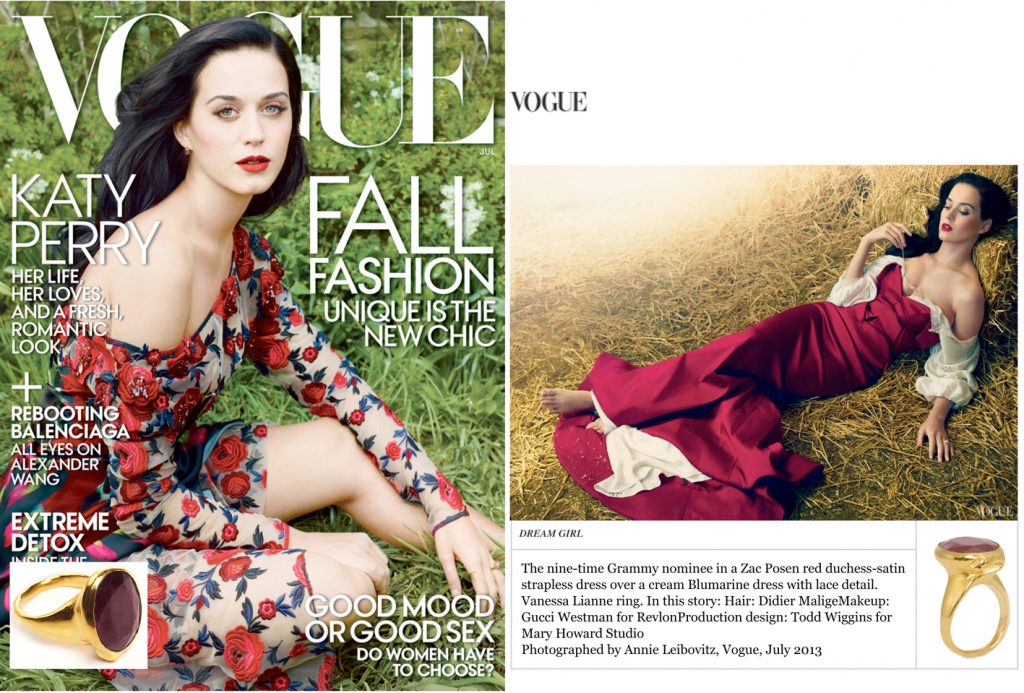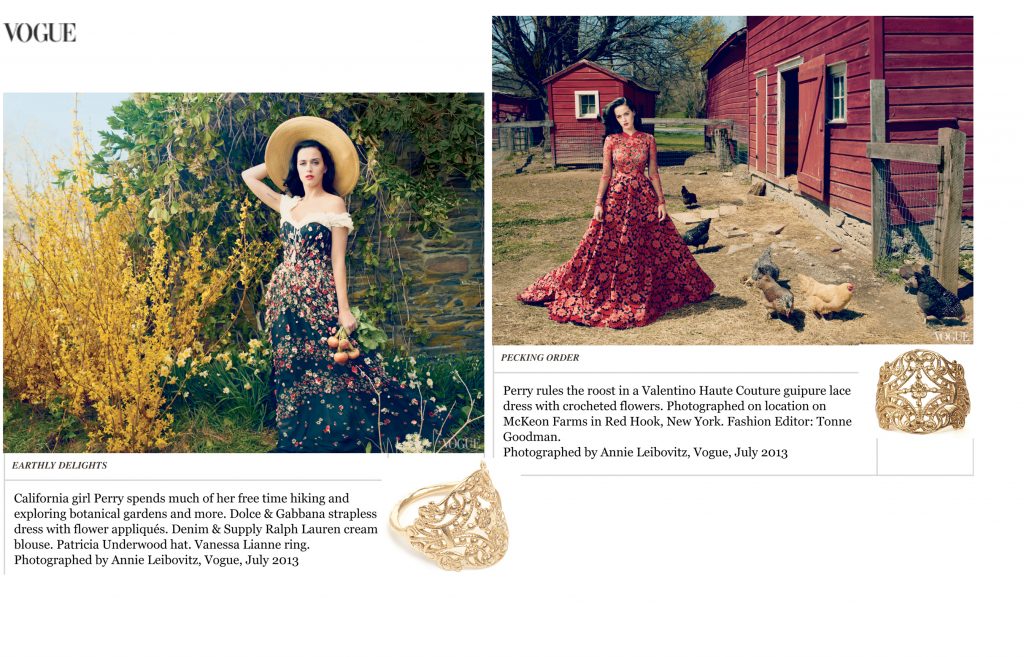 Greatest moment thus far?
My greatest moment so far would have to be the moment I saw my Ruby Snake ring on the cover of Vogue magazine for the first time. It was during my first season and I was working full time and trying to make the leap to launch my own collection. I knew that Vogue had borrowed some items and that they were using them but I did NOT know that my ring had made the cover!! I was at the grocery store and I couldn't believe I was seeing Katy Perry wearing my Ruby Snake ring on the cover of Vogue Magazine (the cashier was not quite as excited). That was a really cool moment, one of those times when you can feel that what you are doing is truly right. This is your calling and you need to just go for it.
Were you at all scared to start your own line?
I don't remember really being scared partly because I was so excited and partly because it had been my plan to become a jewelry designer since I was really young. Even while I was in school or working as a goldsmith I was already making jewelry for my own line. I think if I had known how difficult it is to start an independent jewelry brand than I would have been scared, however I made the decision really early in my life and didn't know how hard it truly is. All I knew was that it was my true passion in life and that I had to try – years later here I am.
If you could be paired with any fashion designer for an entirely original photoshoot, what designer (or designers) would you want to work with?
I am a huge fan of Helmut Lang, I feel like Vanessa Lianne Jewelry would really compliment the sleek, modern downtown feel of the brand. Stella McCartney is also a designer I dream to work with.
Tell me something that makes you feel beautiful …
Honestly, nothing makes me feel more beautiful then jewelry. Sometimes I look down at my rings and I just feel so good – I love the way they sparkle and glow; I like the way the stack of rings come together – it makes me so happy. I don't know if that counts as feeling beautiful but it definitely makes me feel amazing when I know my jewelry game is on point.
Vanessa Lianne is a woman whose drive and pure craftsmanship is something to be admired. You can browse her line at www.vanessalianne.com 
About Vanessa
Vanessa Lianne Jewelry is a study in contrasts: striking and understated, industrial and delicate, timeless and modern. The handmade pieces draw equal inspiration from the primitive grace of the natural world and the innovative aesthetics of contemporary design.
Like a favorite cashmere sweater, the collection exudes both luxury and familiarity. Rings, earrings, bracelets and necklaces are made to be layered, inviting the wearer to personalize a look through endless possible combinations. The effect is one of rustic elegance: instead of serving as adornments, pieces become a native extension of the woman who wears them.
Vanessa hand-forges all work in her Brooklyn studio, a palpable craftsmanship that can be seen and felt in every piece. One of her signature processes is an unusual torched-metal technique that produces a rich topographic texture. Using sustainably and ethically sourced metals and diamonds, she creates pieces with an unmistakable heirloom quality—future keepsakes to be worn for a lifetime and beyond.
Vanessa has had a life-long passion for jewelry and always knew it was her calling.
After graduating from University with a BA in Art History and Philosophy she moved to New York City to study jewelry design at The Fashion Institute of Technology. She then went on to hone her skills and work in the fine jewelry industry as a goldsmith until she launched her own collection in 2012.
The collection has been extremely well received and in its first season was featured on the cover of Vogue magazine with Grammy-winning artist Katie Perry wearing select pieces. Vanessa Lianne Jewelry has been seen in Vogue, Instyle, Cosmopolitan, Life & Style, Vogue Brazil, Martha Stewart Weddings, Refinery 29 and many more. It has gained a loyal celebrity following and can often be seen worn on the red carpet.