Searsucker San Diego: Setting the New Vogue

by Alexis Murine | Photos by Alexis Murine | Cover Photo courtesy of Searsucker
Searsucker | 611 5th Avenue | San Diego, CA | 619.233.7372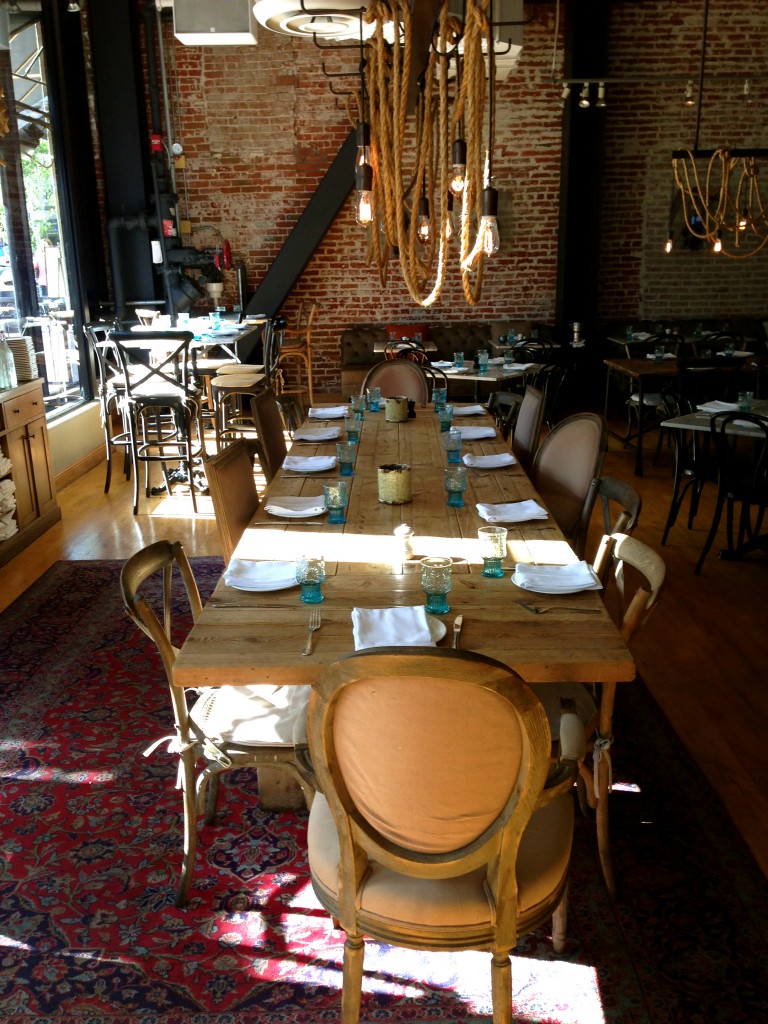 This last week, my stepbrother Danny was out visiting from the East Coast, and although he has been out to California a few times now, he had never been to San Diego. So, this coupled with a beautiful Friday forecast made for excellent day trip material. After hearing about Chef Brian Malarkey's amazing taco that Dawn was able to enjoy at the "Rock Your Taco" event in Austin, I was eager for a chance to try any of his restaurants.
After traversing through Old Town, we arrived early in the Gas Lamp Quarter for our 5:45pm reservations at Searsucker. The sun was just starting to dip back behind the buildings, a cool ocean breeze cooling our warm bodies as we walked from the parking structure to the corner of 5th Avenue and Market Street. Searsucker is in a prime location, the corner of a beautiful brick building with a charming round sign hanging out front. Even though we were early, the hostess accommodates us at a table on the left side of the restaurant. Mock chandeliers of rope and exposed light bulbs hung from metal frames, emanating a casual, rustic feel. Marble topped and wooden tables with mismatched tawny chairs were arranged throughout, couches and booths interspersed, pulled together by blue water glasses on the various surfaces. The kitchen was partially visible from where I was seated, so I was able to watch the staff move through the space with utensils in hand, spits of fire leaping up from the stove in preparation.
Since we weren't hungry enough for our own entrees, we decided that between the five of us dining, that we would try 4 different cocktails and 4 different "smalls" to get a decent sampling of flavors and textures. Our server greeted us as we perused the drink menu, and he set down a small metal bucket in the middle of our table. Tucked inside were delicious Cheddar Puffers, steam still rising from the round dough, carrying the smell of fresh baked biscuits and sharp cheddar. They were light and flaky on the outside, while the inside was moist and chewy, a great alternative to typical "bread and butter".
In the mood for beer, I ordered the Malarkey Hunter Ale. It was slightly hoppy with a mellow finish, refreshing and complimentary to our food, rather than competing with it. My stepbrother Danny ordered the Coyote, made with Cinnamon Bourbon, lime, ginger beer, and bitters. Between the spice of cinnamon and ginger, it had an almost apple cider like flavor, which made it very smooth and almost dangerously easy to drink. My stepfather Will ordered a Skinny Ginny, which tasted like a lighter Moscow Mule, and my mother Renee and friend Whitney ordered a Snake in the Grass, a "better" mojito, made with Cucumber gin, fresh bruised mint, lime and soda.
I'm not sure if it was my giving a business card to the server that spooked him, but after delivering our drinks we met Jamie, who would complete the rest of our order. That being said, the other gentleman was nice enough to stop by a few times to check on us. Jamie introduced himself, saying that he had just been in Austin for a month with Brian Malarkey, preparing for the open of that Searsucker location, so I knew that we were in capable hands if we had any questions about the menu. We decided to order the Crab Cake, Artichoke Hearts, Clams and with Jamie's suggestion, the egg + bacon "pork belly".
Searsucker was the first of the Malarkey restaurants, and obviously popular. Just in 20 minutes of being seated, the restaurant went from practically empty, minus the staff, to completely packed with people waiting outside. The couches that had previously lain dormant were quickly filled by diners waiting for their meals, women chatting to men sipping on cocktails with suit jackets unbuttoned and ties loosened.
While we were absorbing the last remnants of sun through the windows and quietly enjoying our beverages, the food seemed to arrive at a rapid, and welcomed pace.
The Crab Cake was the first to arrive. Beautiful in its simplicity, it was cylinder of pure jumbo lump crab, absolutely no "filler", with tiny beads of Tabasco sauce "caviar" perched on top. All of us nodded our heads, eyes closed to how good it tasted. Pure, unadulterated crab. The natural sweetness in the meat paired with the delicate melting heat of the Tabasco was a winning combination, especially on a warm summer evening. Both Danny and Will agreed it was the best crab cake they had ever had, which is saying something considering their home state of Delaware is pretty knowledgeable when it comes to seafood.
Next was the Artichoke dip, presented in a small cast iron tray, tomato peeking out under a layer of leopard-spotted gruyere. The rich, creamy texture was complimented by crusty sourdough bread. Although some of the artichoke leaves near the edges of the tray were tougher, the majority was tender, with the tang you come to expect from the dish.
The Clams closely followed, arranged as a deconstructed chowder. Steamy clams were surrounded by a smoky white wine broth, firm and buttery potato wedges, bacon, and crisp pieces of sliced fennel. Laid on top were more slices of toasted bread, and small sections of mustard flowers that were both decorative and delectable. It was the perfect balance of brine and natural sweetness.
Lastly came the Egg + Bacon "Pork Belly".  Essentially a fancier version of Eggs Benedict, it was a hearty hunk of tender meat, a poached egg draped across it, Hollandaise sauce, Apple Cider gastrique and a dripping of parsley oil for color. It was Pork Belly like I had never had before, reminiscent of tender ham, melded with the decadent fattiness associated with pork belly. Brioche bread replaced traditional English Muffin, adding a slight sweet flavor to an otherwise savory dish. The apple cider's tartness cut the heaviness of the rich hollandaise sauce, and the velvety texture of the poached egg. I had to stop myself from inhaling the whole plate, putting my fork just out of reach.
My mom asked about the Disco Ball that seemed to be out of place with the more rustic décor, and Jamie explained that every Malarkey restaurant in the evenings on Thursday, Friday and Saturday is what's called "Social Dining", featuring a DJ and dancing until closing time.
My card must have been shuffled around, because as we were merrily moaning over the delectable morsels in our mouths, a dark haired gentleman in a vest appeared.
"How's your note taking going?" he asked, hovering above my shoulder as I scribbled. I swallowed and smiled, and he introduced himself as Matt Cope, the "co-conspirator" of Searsucker. He went on to explain the significance of the textile-derived names, noting the traditional use and wear of seersucker fabric, as well as the intentional food-related puns (the "sear" in "Searsucker" spelled as such to conjure images of seared meat, and "Herringbone" used for a primarily fish related menu). He also explained some changes are being made (locations like Burlap closing), that they are testing new avenues with tried and true hits by taking Searsucker to new places. He handed me his card, and prompted us to return to our feast as he made his way through the restaurant to greet other diners.
Our stomachs full and contented, we stopped before we could get ahead of ourselves, and were given cherry "suckers" as a clever parting treat.
Everything on the menu sounded fantastic, and to do it justice, I feel I would have to go back and spend a few hours eating my way through several courses to get the full Malarkey experience. But, I feel as though the sampling we ordered was a great mixture of comforting classics all presented in intelligent and playful ways.
Thank you to Jamie, Matt Cope, and everyone at Searsucker who made us feel welcome, taken care of, our minds and bellies satiated.
(Dawn Garcia: Thank you to Chef Malarkey for your continued attention to detail. As promised, I'll be coming to Herringbone hopefully next week!)