Pizza + Cocktails
[dropcap letter="S"]ure, it sounds strange … or does it?! Pizza is an American staple. It saved us in college, saves us as parents when kids are hungry and we're too tired to cook, it fills us up, everyone loves it and there are a million ways to make it. So while the quest for vegetarian, gluten free, super power enriched pizza ensues, two of our favorite local LA restaurants and one hungry writer gave us recipes for how to make their pizza at home (date nights just got a whole lot more interesting …)! We also decided to pair it with two cocktails that you can make to impress your pizza loving guests or just enjoy all on your own.
Go have fun you crazy kids … and take pictures and tag us on Instagram @atasteofdawn #theATOD5 #pizzaanddrinks
---
Pear, Brie + Bacon!
PIZZA: Thin Crust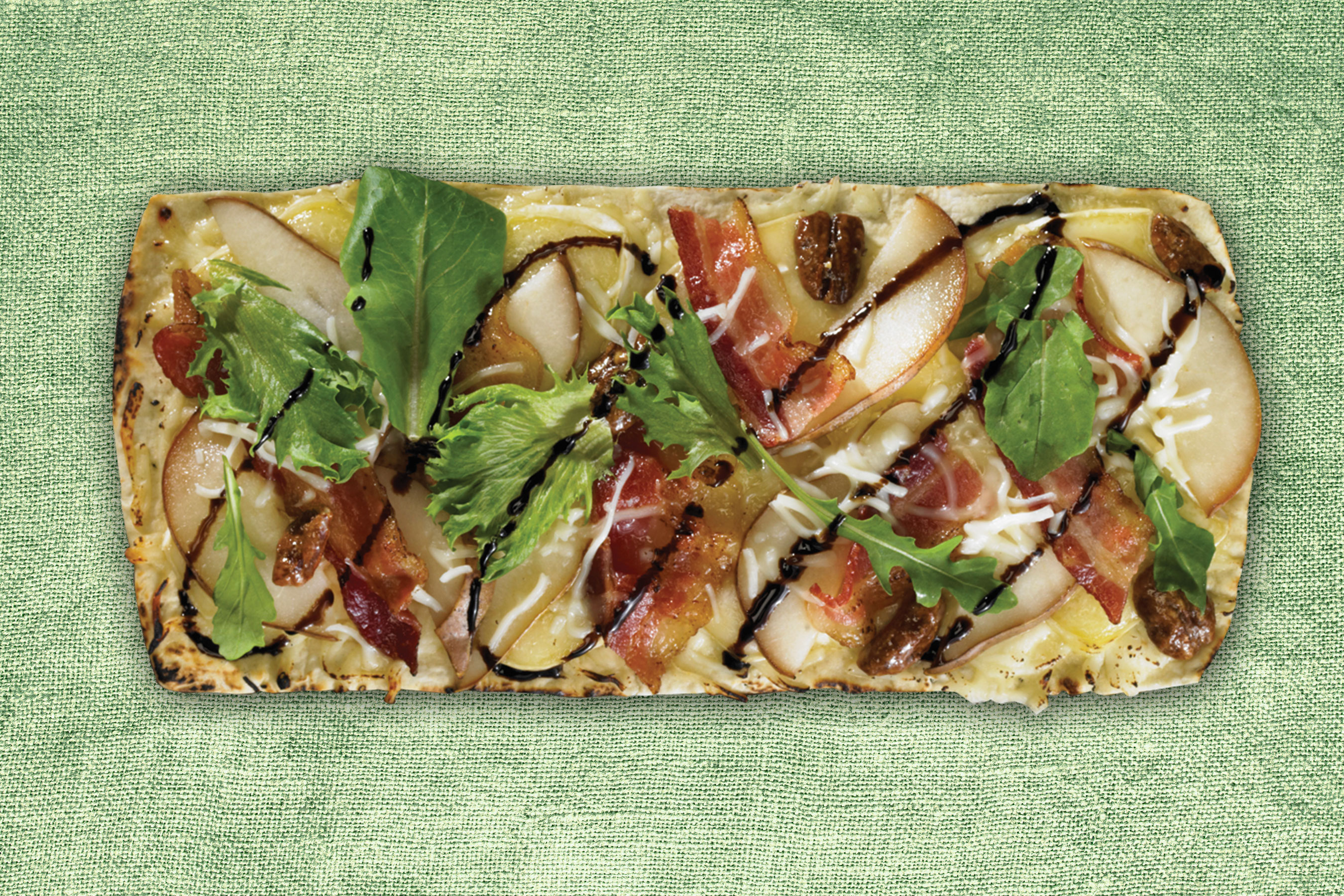 What You NEED
1 Flatout® Flatbread Artisan Thin Pizza Crust
2 tbsp. balsamic glaze
1/2 pear, sliced
3 slices cooked bacon, halved
2 Tbsp. candied pecan pieces
4 oz. brie, sliced thin
1/4 cup mozzarella cheese, shredded
1/2 cup mixed arugula
How to MAKE
Place flatbread on a cookie sheet. Bake at 375 degrees for two minutes. Remove and top with cheeses, pear and bacon. bake 4 more minutes or until cheese melts. Remove from oven. Top with greens and drizzle with Balsamic.
Grilling method: Preheat grill to 375 degrees. Pre-bake the flatbread on the grill for 1-2 minutes. Remove flatbread from grill. Top with cheeses, pear and bacon. Return flatbread. Close lid. l Grill for 4 more minutes or until cheese melts.. Top with greens and drizzle with Balsamic.
---
ORiGINaL BOuRBON COCKtaIL
What You NEED
1 1/2 ounces bourbon
1/2 ounce freshly squeezed lemon juice
1/4 ounce Bénédictine D.O.M.
1/4 ounce Cointreau
Ice
Angostura bitters
Lemon twist, for garnish
How To MAKE
Place a cocktail glass in the freezer to chill.
2Combine the bourbon, lemon juice, Bénédictine, and Cointreau in a cocktail shaker and fill it halfway with ice. Shake vigorously until the outside of the shaker is frosted. Strain into the chilled cocktail glass, top with a dash of bitters, and garnish with the lemon twist.
---
PIZZA: Tuscan Black Kale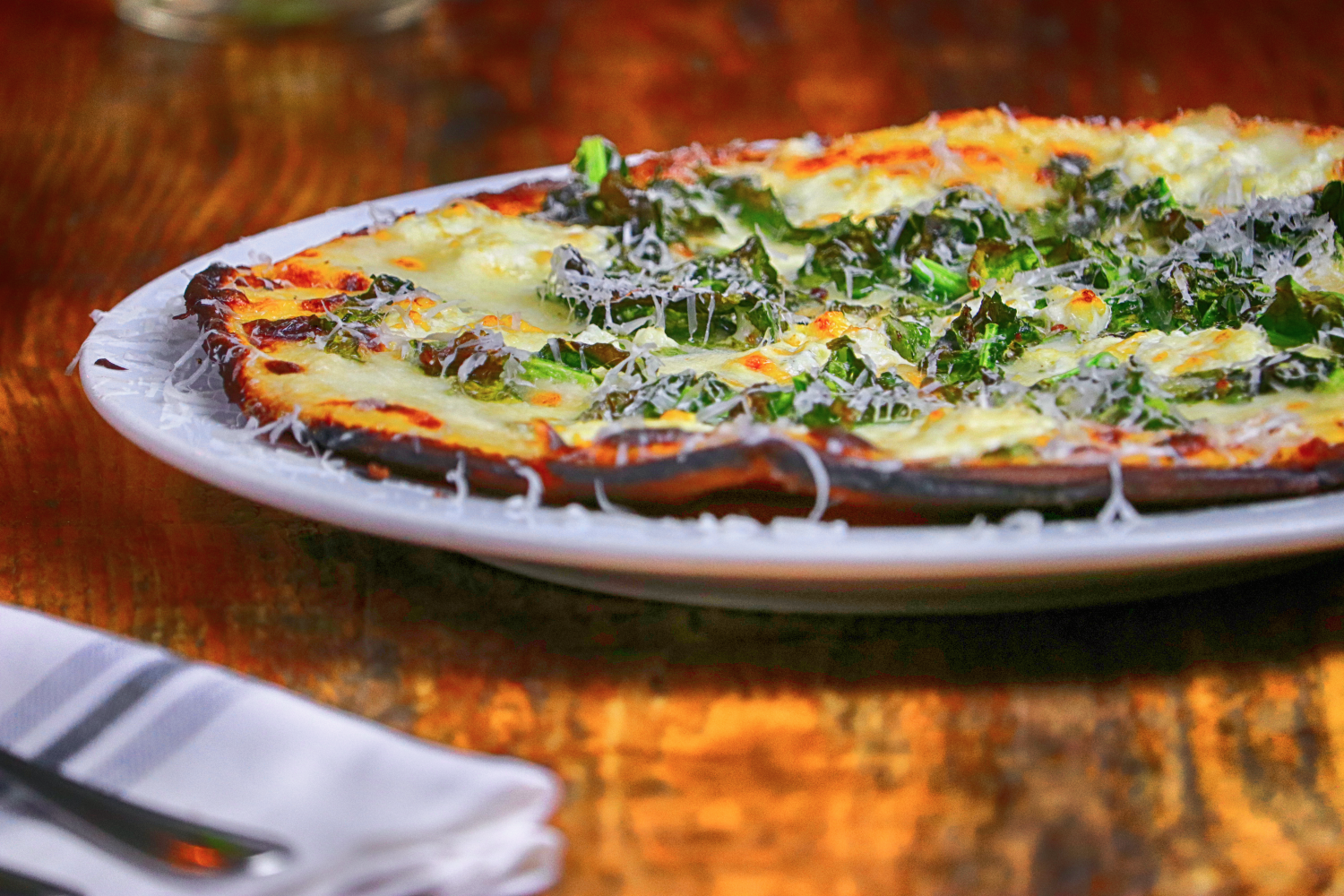 What You NEED
1 – 10 oz Pizza Dough *
2 oz Taleggio Cream Sauce **
6 oz Tuscan Black Kale (Shredded)
2 oz Goat Cheese
1 oz Fontina Cheese
1 oz Parmesan Cheese
1-2 oz raw pine nuts
How To MAKE
* The Churchill makes the dough from scratch, in a huge batch. Not sure how to pre this down to making 1 pie dough. Their dough is a yeasted pizza dough that uses both high gluten and whole wheat flower, with honey added. (also offer this in a gluten free, thin crust as well). If you're making this at home, this recipe from the food network will get you in the right ballpark: http://www.foodnetwork.com/recipes/whole-wheat-pizza-dough-recipe.html
** They also make the tallegio cream in large batches. For a smaller batch (which will still be too much for just one pizza) it's recommend using Taleggio Cheese in your favorite Mornay Sauce recipe.
---
SHeRRY PENiCILLIN
What You NEED
2 slices fresh ginger
1 Tbsp. jam
1½ oz. dry sherry, preferably fino
¾ oz. fresh lime juice
3 ice cubes, plus more for serving
½ oz. mezcal
Candied ginger, skewered onto a pick, for garnish
How To MAKE
In a cocktail shaker, muddle the ginger and jam. Add the sherry, juice, and ice. Shake well, then strain into a chilled rocks glass filled with ice. Using a bar spoon, carefully float the mezcal on top of the cocktail by slowly pouring it onto the spoon. Garnish with the candied ginger and serve.
---
PIZZA: Carbonara Pizza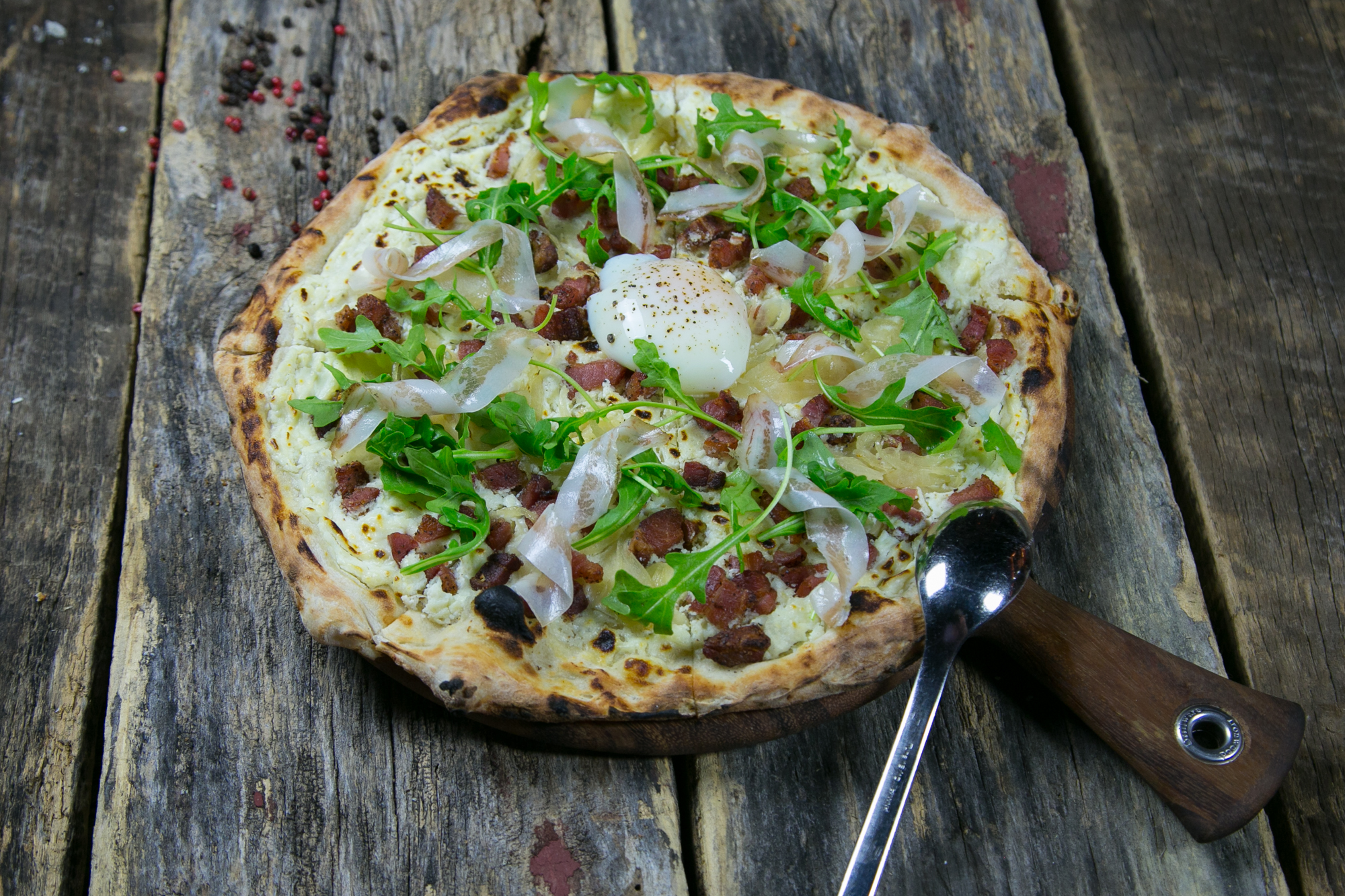 What You NEED
1 Pizza dough
4 oz. Ricotta Pancetta
2 tbs. Sautéed onions
2 tbs. Diced Pancetta
1 oz. Arugula
2 oz. Guanciale
1 Slow Cooked Egg
How To MAKE
Dice Pancetta and cook, rendering out the fat. In a food processor combine fresh ricotta with the rendered pancetta fat, season with salt and pepper. Slow poach the eggs in a circulator at 62 Celsius for an hour, or soft poach an egg in simmering water.
Prepare the pizza oven or stone to as high as possible or 900 in a wood burning oven. Roll out a 6 oz. pizza dough, cover with the ricotta pancetta. Garnish the pizza with the sautéed onions and cooked pancetta. Bake the pizza, remove and cut into eight slices. Finish garnishing with the arugula, sliced guancialli and the cooked egg directly in the center.