Eating My Way Through Santa Barbara
Written + Photographed by Allison Levine
Cover Photo courtesy of Santa Barbara Public Market
D
owntown Santa Barbara was not a city I was very familiar with despite its proximity to Los Angeles. Typical weekend trips usually consisted of bypassing the city to go to wine country north of there. So when a friend asked me to house-sit for a week in the city of Santa Barbara, I took it as the perfect opportunity to explore and see what the culinary and spirits scene was all about! Honestly, there's no better way to get to know a city than to eat and drink your way through so, for an entire week, I lived bite by bite and sip by sip to get a feel for it all.
In some ways the city is exactly as I remember it as a UCSB college student. The Spanish-inspired architecture, State Street, the Paseo Nuevo shopping center and the Arlington Theater haven't changed since I first saw them. Landmark restaurants like La Super-Rica Taqueria, famous for being Julia Child's favorite spot, still garner long lines but over the last decade, the city has really expanded. The Funk Zone, a vibrant destination located between the 101 Highway and the beach, is comprised of ten walkable blocks of winery tasting rooms and restaurants, including new wine bars appealing to us foodies and beloved winos.
Below is a look at all of the stops, the eateries, the bars, the tasting rooms and all the in-betweens.
---
38 West Victoria Street & Chapala
The Santa Barbara Public Market is an urban marketplace featuring locally sourced food, wine and beer. Think Ferry Building in San Francisco, Oxbow Market in Napa or Grand Central Market in downtown Los Angeles. This was the place that I made my "remote" office for the week. Everyday I would walk a mile to the public market and with so many choices, I enjoyed both breakfast and lunch there.
(Hours: Mon – Sat: 7:30am to 8pm; Sun: 8am to 8pm)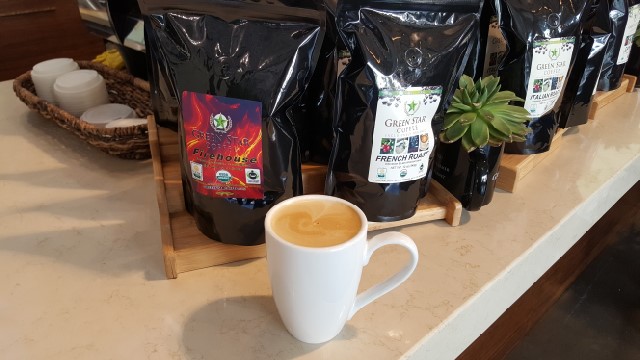 Born locally in Goleta, Green Star coffee is a local roaster that offers 100% certified organic fair-trade coffee beans. The staff is super friendly and I started each day with a smooth, rich cappuccino as I went through my emails.
(Hours: Mon-Fri 8:00 to 8:00; Sat-Sun, 9:00 to 8:00)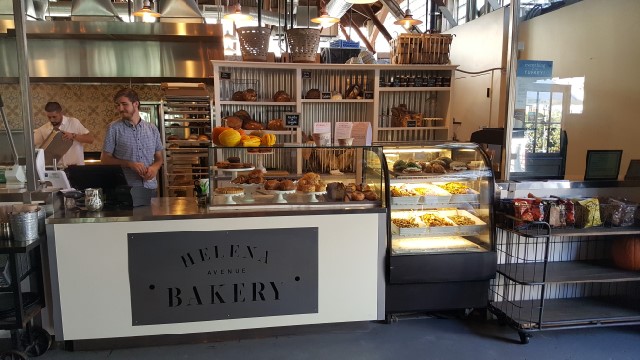 Focused on high-quality ingredients, Flagstone Pantry offers a menu of whole, natural foods organic and sustainably sourced. I made this my breakfast destination daily. While I was tempted by the fresh baked pastries and breakfast sandwiches, I stuck with a healthy parfait made with Greek yogurt topped with granola, dried apricots and fresh strawberry jam.
For lunch the choices seemed endless. From tasty noodles at Empty Bowl Gourmet Noodle Bar to fresh fish at I`a Fish Market to The Garden, a beer garden with 41 craft beers on tap and an elevated bar menu, I made my way around the marketplace each day.
(Hours: Sun – Thurs 11am to 9pm; Fri – Sat 11am to 10pm)
I found myself at Corazon Cucina on multiple days in order to try different mouthwatering items. I first tried Chef Ramon Velazquez's inventive Mexican cuisine of tacos and ceviches last year when he had a weekend pop-up at the Three Pickles Deli in Santa Barbara. I was thrilled to see him in a permanent spot in the Santa Barbara Public Market.
The Sal de Mar ceviche made with yellowtail is dressed with watermelon, pomegranate, cucumber, avocado, Fresno chile and hibiscus aqua chile is a beautiful combination of sweet, tart, creamy and crunchy with just a touch of heat. The tacos are served on large house-made flour tortillas. I loved the Norteno taco with grilled skirt steak asada, oaxaca cheese, guacamole, beans, salsa mugrosa and cilantro. The chicken mole was another favorite. But the open faced guesadilla? Really there is nothing you can go wrong with at Corazon Cucina.
(Hours: Mon – Thurs 11am to 10pm; Fri 11am to 11pm; Sat 10am to 11pm; Sun 10am to 10pm)
I can never say no to ice cream, especially when it is as pure and simple as the organic ice cream at Rori's. Made in small batches, the ice cream is made with milk, cream and the ingredients for the flavor. It is that simple, that pure and that good. From the fresh mint patty, in which the mint is steeped in the cream for two days and the mint patties are made in-house, to the brown sugar banana and more, I made this an afternoon snack almost every day. But there was less guilt as Rori's offers a children's scoop which is the perfect size if eating ice cream daily. Rori's also has additional locations in Montecito and Los Angeles.
---
When it came to dinner, I left the Santa Barbara Public Market to venture out. There are two must eat at locations in Santa Barbara.
202 State Street (on the corner of Yanonali)| Santa Barbara
Loquita brings Spain to Santa Barbara. The newest restaurant to open in the city is located at the entrance to the Funk Zone, across the street from the train station in the downtown Waterfront District. Loquita is a blend of the Old Spanish Santa Barbara and modern. The menu features the food of Spain with a contemporary California spin. With a menu of small plates, except for the paella, it's easy to order a lot of different dishes. We started with the must-have plate of thinly sliced jamón ibérico de bellota, the finest type of jamón, and served with pan con tomate.
Another not-to-miss dish is the tortilla españolo. At Loquita, the potato omelet is delicate and creamy. The carpaccio de carne, a large plate of thinly sliced Wagyu beef topped with manzanilla, pickled mustard seed, jerez sherry and parsley, melts in the mouth. I also enjoyed the Spanish octopus with black garlic aioli, potato and pickled red onion and the gambas al ajillo. Loquita has a great cocktail list, as well as a wine list of almost entirely Spanish wines. The energy in the restaurant is vibrant and the outdoor patio is cozy and romantic with jacaranda and cassia trees, bougainvillea and a fire pit.
205 W. Canon Perdido | Santa Barbara
Barbareno is a love letter to Santa Barbara where every dish tells a story about the history of the city. For example, did you know that McDonald's Egg McMuffin was invited in 1972 at a franchise location in Santa Barbara? As an homage, Barbareno serves a cured egg, Seascape cheese and speck on a bellini.
Or did you know that the first avocado tree to ever fruit in the U.S. was in 1871 in Santa Barbara? As a tribute, they offer a delicious avocado roulade, avocado wrapped around Hamachi crudo and served with nori lime vinaigrette, orange-vanilla gel and coconut oolong milk. With each dish, your server will explain the thought behind the dish and connect you to the history of the city. Informative and tasty makes eating at Barbareno a great experience.
---
On the weekend, brunch is a must and the place to go is Les Marchands Wine Bar & Merchant.
131 Anacapa St, Suite B | Santa Barbara
During the week, Les Marchands is a fantastic wine bar/retail shop in the heart of the Funk Zone that, in addition to wine tasting, offer a cheese plate or small bites as well. But on the weekends, they serve a gluten-happy brunch. Sourcing delicious bread from their next-door bakery, Helena Avenue Bakery, the apricot and earl grey morning bun, the smashed avocado with orange, furikake, radish and scallion on sourdough bread and the scrambled egg with house-made bacon sandwich are must haves.
Some of my other favorites are the shakshuka with baked eggs, tomatoes, charred peppers and onions, feta and cilantro and the house made ricotta with strawberry jam. Both dishes are also served with bread, of course. To make brunch complete, enjoy a glass of Champagne or a flight of white wine. I did both!
---
Wine Bars
In addition to eating, I also spent some time tasting, or sipping, wine. The Funk Zone is filled with wine tasting rooms. Les Marchands features local and international wine selections. And next door to Les Marchands is the Santa Barbara Wine Collective, a communal tasting room for a group of producers. The Santa Barbara Collective shares their space with the Helena Avenue Bakery so you can pick up a sandwich or pastry while tasting wine. Walk around the Funk Zone to find more wine tasting options, including winemaker Dave Potter's Municipal Winemakers tasting room, or head a mile east to The Mill, a local artisan marketplace where Potek, Dave Potter's other label, is produced.
7 W. Haley St. | Santa Barbara
When you want some sparkling wine, check out Santa Barbara's newest wine bar, The Champagne Room. This little bar is located off of State Street, just a few blocks north of the Funk Zone. Owners Scott Mansar and Damian Gover have created an old-Hollywood lounge where they serve all things bubbles – Champagne, Cava, Prosecco, cremant, and sparkling wine. Personally, I can never say no to bubbles so a bar dedicated to sparkling wine is calling my name.
The city of Santa Barbara is a manageable city in that everything is close by and easily accessible whether you're walking, driving, or catching an Uber.
In other words, when you're in search of a great place to visit for a few days, Santa Barbara is an ideal staycation for those of us in LA and a beautiful (and tasty) stop when you want something fun and different regardless of where you're traveling from.
---