DRINKING MY WAY THROUGH OKC
A look at the sips shared in a city full of diversity
photos by Dawn Garcia
[dropcap letter="F"]inding a good watering hole can often feel like being stuck in the middle of a monstrous crowd with no clear way out, where nothing seems quite as familiar as it should. With thousands of new bars and restaurants opening constantly around the country, finding something unique, elegant, divy, or whatever you're looking for can be down right trying.
I make it my mission to lessen the burden so you can find libations at locales that create an experience. I know, it's a tough gig! Still, if it means you don't have to think too hard abut where to go, the endless tastings I do are worth it.
That said, earlier this month I spent a week in the gorgeous, crisp Oklahoma City and as the evening crept in, I came upon a few bars and watering holes that really impressed me. Below is a look at where you should grab your next glass or cocktail – especially as NYE creeps around that corner with lightning speed!
[columns_row width="half"] [column]
[/column] [column]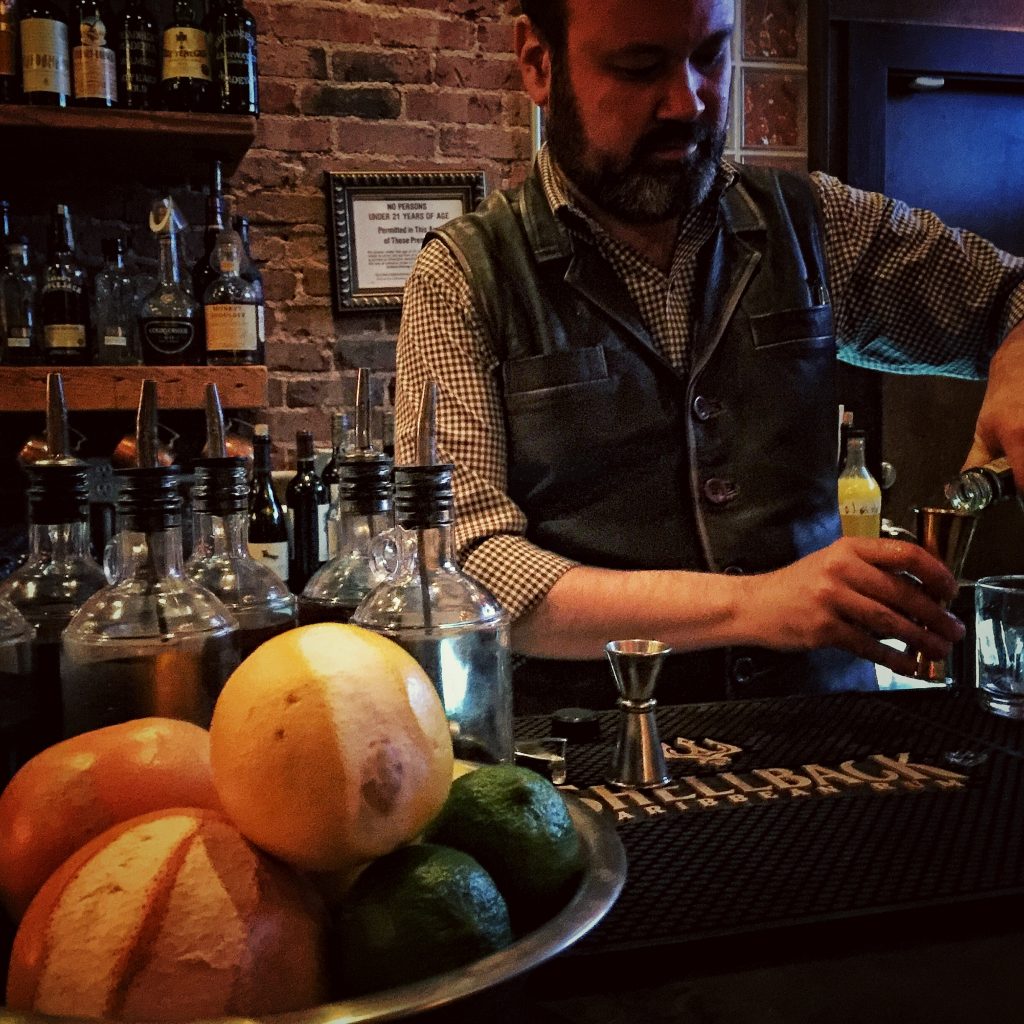 [/column] [/columns_row]
---
1. VAST
VAST | 333 W Sheridan Ave, 49th Floor | Oklahoma City, OK 73102
Located inside one of the most prominent buildings lining the OKC skyline, VAST is at the top of the famed Devon Tower. An architectural wonderment amidst the high rises, VAST stands above the rest … literally. Once you enter through the main floor of the restaurant, the design is modern and elegant with an air of contemporary. With full views of the city, you won't be at a loss for eye candy while you sip. So, that leads me to the wine list.
While their cocktails are certainly worth trying, it is their unique wine list – by the glass – that caught my eye. With rare small batch wines brought in from Italy or California or Spain or France, Chile, you name it? They will have something for you. The passion for the wines they pour is evident and the glass I had of a small production Cabernet from Italy was something that woke up my palate. Robust, earthy yet sensual and silky, this is the place I'll go for unique wines by the glass.
TIP: Ask the bartender what wine they just got in. Chances are it will be one you've never even heard of … and it will become your new favorite.
---
2. OAK & ORE
Oak & Ore | 1732 NW 16th Street | OKC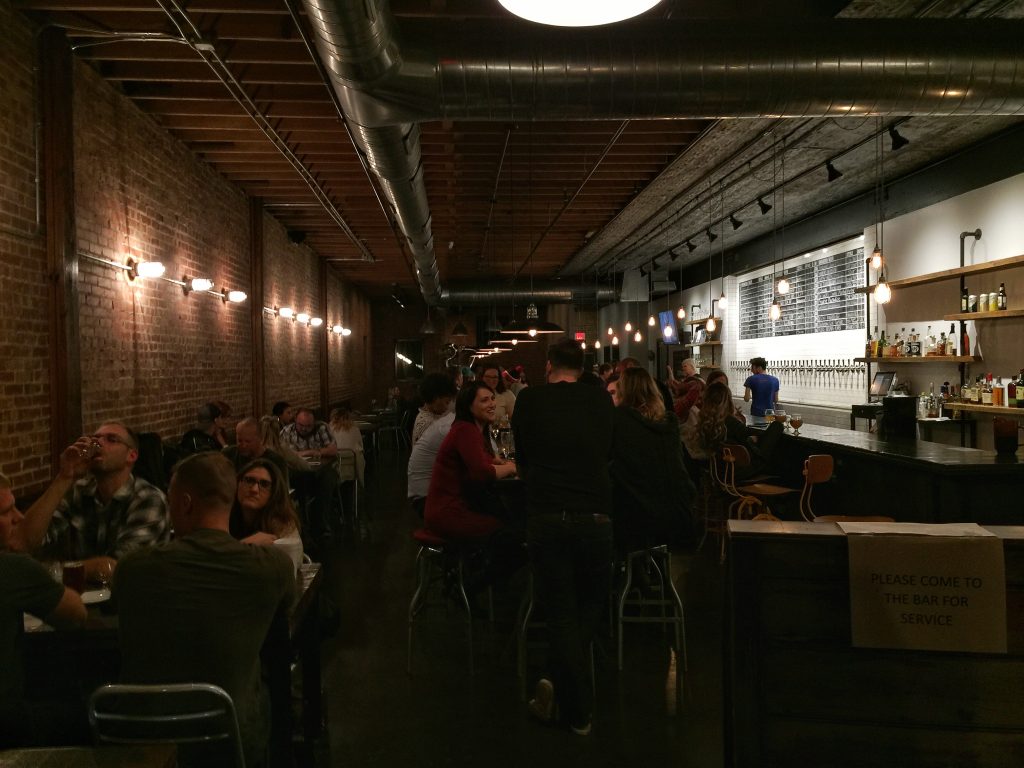 Welcome to the land of infinite beer on tap. Oak & Ore can only be described as a craft brew lover's wet dream. There is a wall behind the bar that has at least fifty different wines on tap. All of which have a story, an origin, some crafty notes and they're more than ready for you to drink up. The decor is rustic meets sophisticated with wooden stools and industrial accents, subway tiled backsplash against the stream of flowing beer taps.
Should you need a bite while you sip, try the fried chicken, the Cubano or Korean BBQ. You can travel the world while you drink beer, enjoying international comfort food in the process. Point at this brew pub is to heed the call of adventure and try as much as you can.
TIP: Do the beer flights before committing to just one.
---
3. SAINTS
SAINTS | 1715 NW 16th St | Oklahoma City, Oklahoma
A neighborhood staple since the reinvention of the local areas, SAINTS is a local Irish pub that boasts that whole "Cheers" ideology with a familiarity and ease you'd hope to find at your nearby bar in the historic district on 16th Street. With a menu with things like cornish game hen and loaded fries, the drink menu will find a steady place to dwell. Beers like ales and stouts are your offerings as are staples like a French 75 and Old Fashioned's. Either way, this corner stop has that welcomed vibe with a touch of class.
Plus, it's an Irish pub and no one ever walked into an Irish pub without walking out with a smile on their face. (It's the truth!)
TIP: Come ready to stay a while!
---
4. BARRIOS
BARRIOS | 1000 N. Hudson St. | Oklahoma City, Oklahoma 73102
[columns_row width="half"] [column]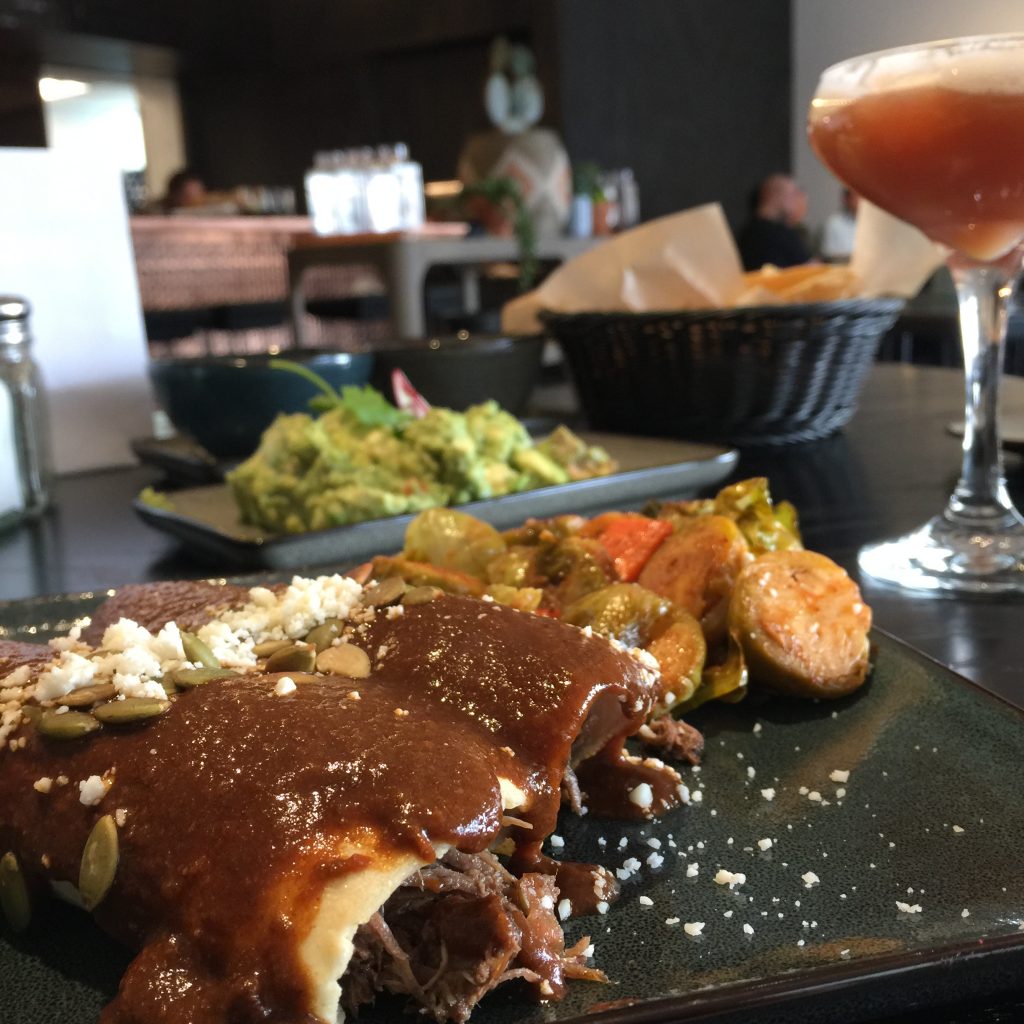 [/column] [column]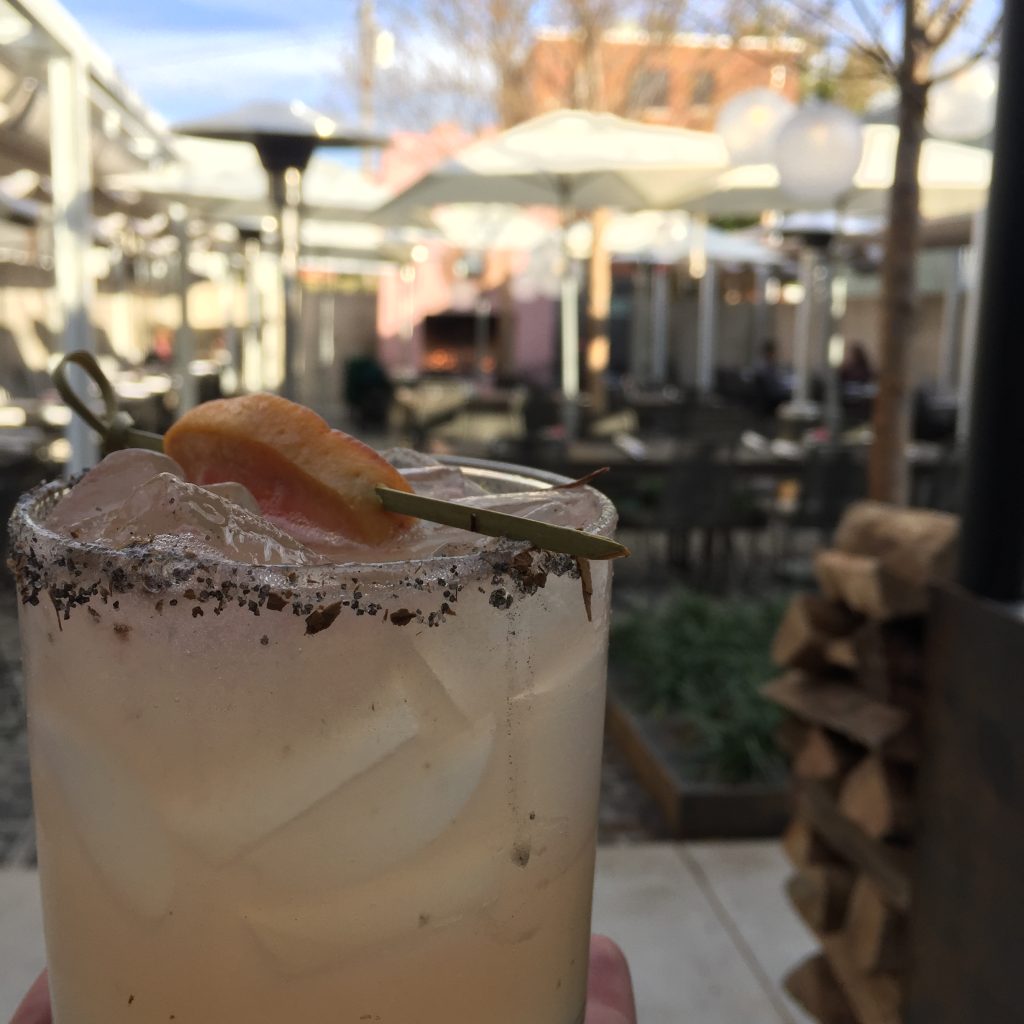 [/column] [/columns_row]
New to the city's dining landscape, this is a culinary and libation gem that the city really needs to revel in. Modeled after an outdoor patio reminiscent of an LA find, Gracias Madre, BARRIOS has margaritas to make you drool and food to make you happily reminisce. The bar program is beautifully laid out with a range of margaritas that appeal to even the most discerning mixology lover. My favorite is the guava-habanero with habanero-infused tapatio reposado and guava puree el camino foam. It's inventive and balanced with savory, sweet and a kick of heat.
Barrios is fine, fresh, made-with-love Mexican food. Whether you sit down out on the well dressed patio or take residence near the fireplace or enjoy the cozy, colorful interior decor, it feels like home. This is hospitality well done …
TIP: Get the chips and guacamole, tacos and come thirsty!
---
5. LUDIVINE
LUDIVINE | 805 N. Hudson | Oklahoma City, OK 73102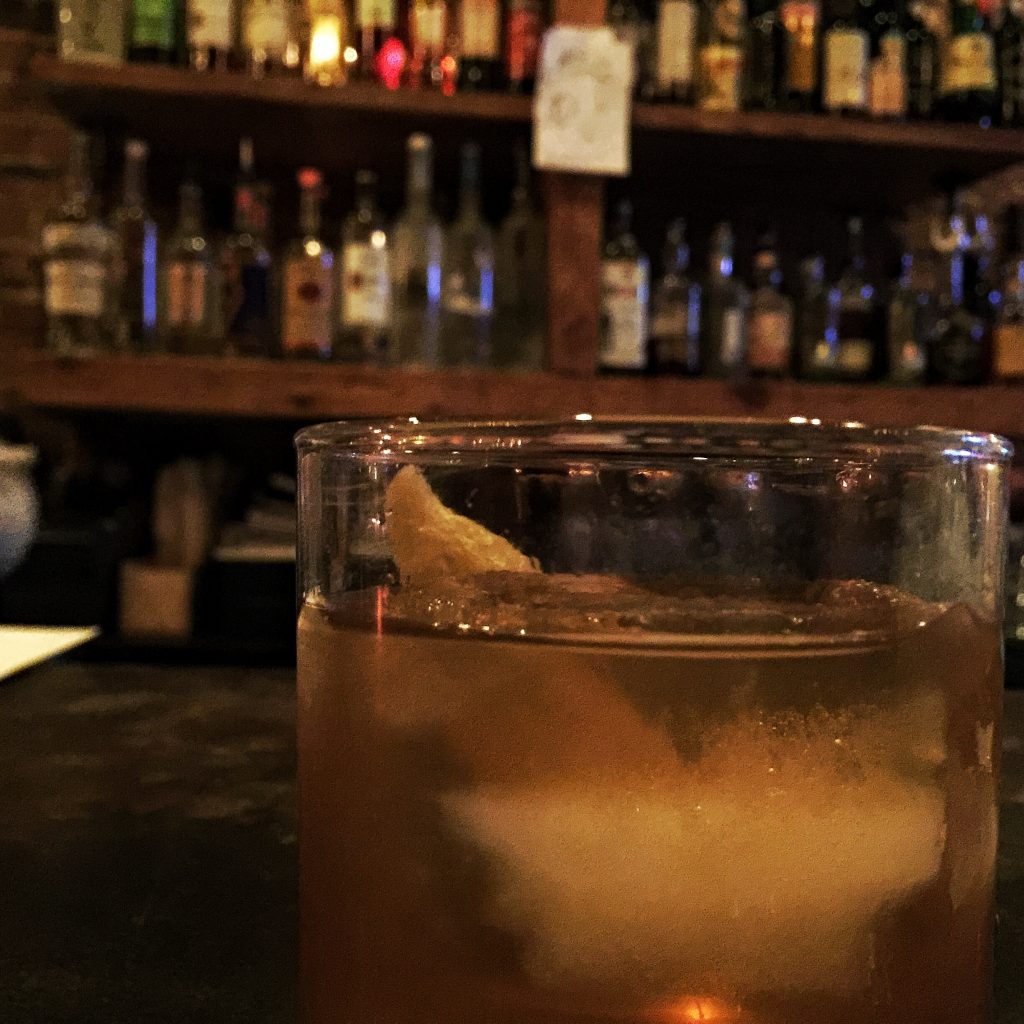 One of OKC's best restaurants also happens to have a rather fun bar! Ludivine is not only a local award-winning eatery but it also has a bar program crafted by Chris Barrett that's just oozing a tremendous amount of passion and skill that are showcased in the drinks they serve. With a menu that changes on the regular, I happen to be there this month and their theme follows a very Hollywood-esque homage to old gangsters! The names of the cocktails are inventive and imaginative (on their menu are My Bonnie, … And Clyde, Pretty Boy, Scarface, Jack Rabbit and my personal choice: Bumpy Road).
Bumpy Road is a twist of woodsy meets sugar. Ingredients are Broadbent Rainwater Madeira, Monkey Shoulder Blended Scotch, Amaro Montenegro, Tomato, Honey, Salt, and Winship's Aromatic Bitters. It's not meant to be gulped but the sips sure go down easier than you'd think!
TIP: Come hungry so you can start with drinks at the bar and then scoot on over to enjoy Chef Russ' tasting menu. (Review of that coming soon!)
---
Overall, there are small spots popping up all over town. Be willing to divert from the regular joints and enjoy the art of exploration. Even if you stumble onto a place too divy for words, you'll definitely have a great story to tell. Besides, who doesn't want a great drunken story to share – especially when you're a few cocktails in?!
For more ideas:
Eating My Way Through OKC | Dinner