Rum: The New Sultry Ingredient
PHOTOS COURTESY of Flor de Caña
[dropcap letter="F"]
lor de Caña Rum
is one of the deep, sultry spirits making up the William Grant & Sons portfolio. While rum has most of us feeling like a combination of Captain Jack Sparrow (aka pirates) or island fun, it has a deeply embedded history of land and water and it seems is a lot more sophisticated – and far more interesting – that initially thought.
As Angelenos came together one crisp winter evening, we ventured into an architectural landmark in the heart of Koreatown: The Normandie Club. A local watering hole with tales so intriguing, you'll want to sneak on in and be a fly on the wall, this was the perfect place to introduce us to a newfound sense of mixology adventuring. Thanks to the Chicago mixology team at famed popup, The Aviary, they headed west to give us a taste of some uniquely tasty drinks made with Flor de Caña Rum that would do far more than wet our whistle … they'd spark conversation and a thirst for showmanship.
[columns_row width="half"] [column]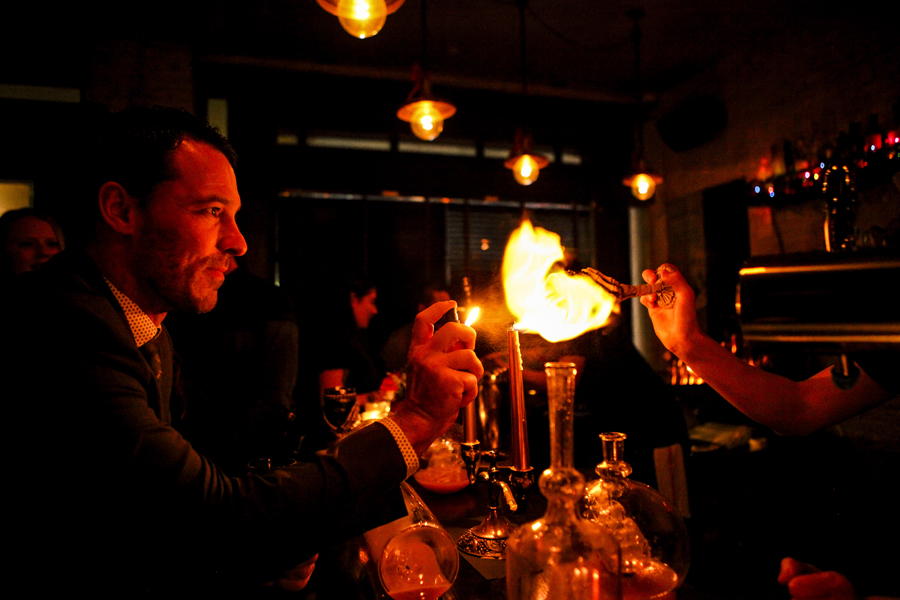 [/column] [column]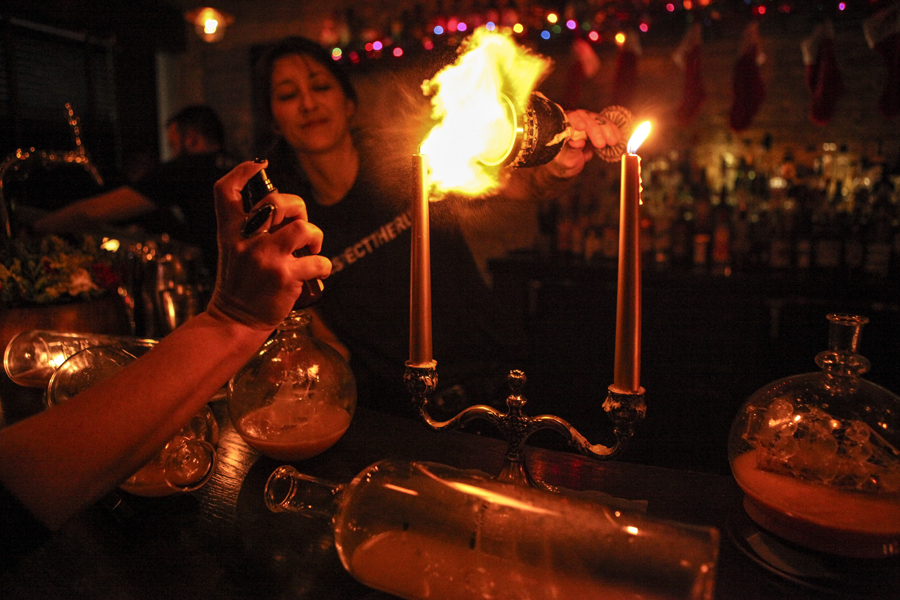 [/column] [/columns_row]
The Normandie Club is made up of two bars: one that you can enter through a small discreet door located off of the very busy Downtown Los Angeles streets and the other? One you can sneak in through the hallway that attaches to the Hotel Normandie. With rich woods and decor that transports you to the eras past when prohibition was all the rage and discretion was cooler than Humphrey Bogart's Casablanca lines, the Normandie will take you back to a place in time when sipping your rum was an actual experience.
Flor de Cana Rum has a range of flavor but most prominently, it's the caramel notes with crisp amber clove undertones that makes this a spirit one you can play with. And the Aviary team did precisely that. Working much like mad scientists, they had everything from cryovac machines to beakers filled with dried ice, copper housed decanters and even a glass ship inside a wine bottle swimming in liqueur. Each cocktail is hand crafted and full of infusions that would never overcomplicate your palate or under simplify your desire for something new.
[columns_row width="half"] [column]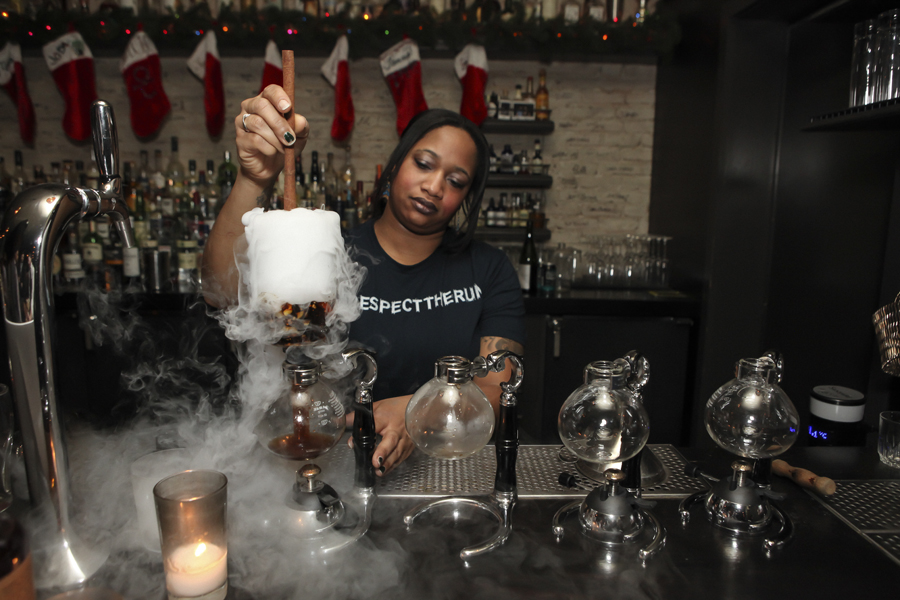 [/column] [column]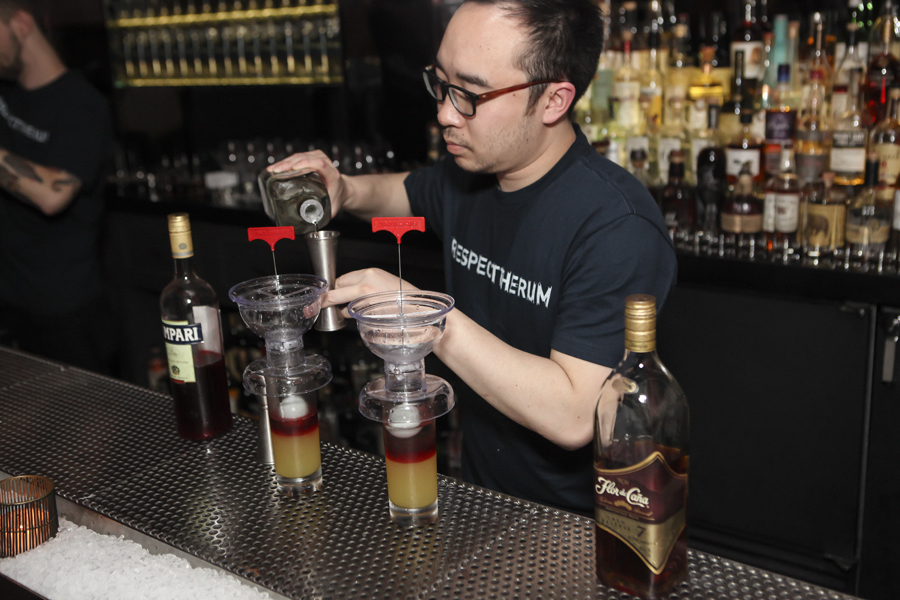 [/column] [/columns_row]
Flor de Caña (FdC) has a story of its own. FdC was born at the base of the San Cristobal volcano, one of the most active volcanoes in Latin America, in a highly fertile and mineral-rich soil that produces rich molasses and a smooth and balanced rum. In addition, the volcanic climate and water contribute to the rum's unique flavor. This distinction is why Flor de Caña is known as the rum of the land of lakes and volcanoes (Nicaragua).
Below is a look at some inspiring cocktails crafted by the Aviary mixologists on that crisp winter eve that you can create at home. The only suggestion? Be prepared for an unforgettable night.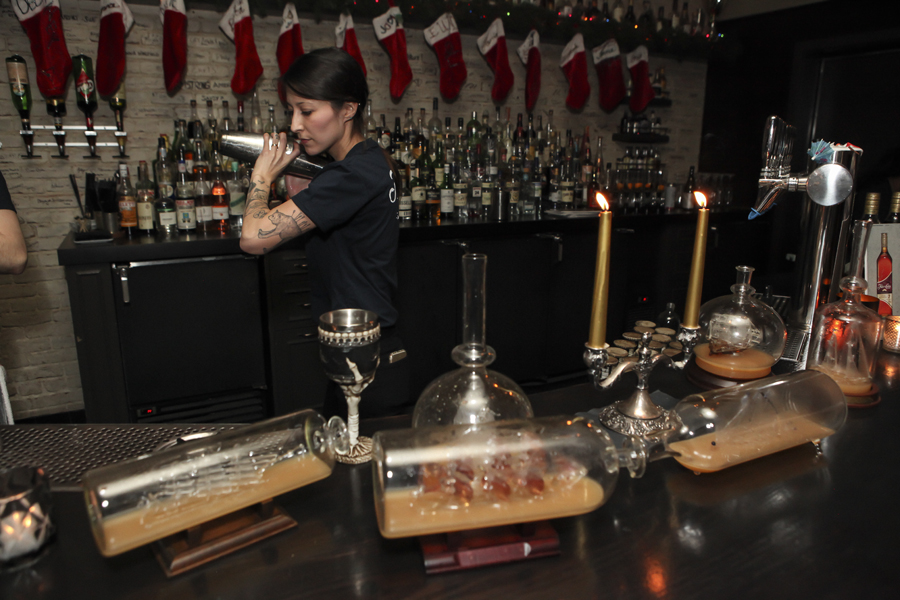 Jungle Bird
FdC 4
FdC 7 rum balls
Pineapple
Campari
The ingredients are layered in the glass according to density. Use large glass straw to mix layers of the cocktail.  Rum balls go up through the straw and pop in your mouth as you drink the cocktail.
---
Edison Square
FdC 7
Hudson Rye
Ancho Reyes
Solerno
Pistachio
Roobios
The liquid ingredients are batched together and kept warm in a sous vide. Use a Japanese coffee pot to percolate the warm cocktail to the top chamber to be infused with orange peel, pistachio and rooibos. Serve hot.
---
Loaded to the Gunwalls
FdC 7
Cumin
Hazelnut
Lime Juice
Boston Bittahs
The ingredients are batched and served in the ship in a bottle. Use the candle to flame the bitters into the glass. Cocktail is shaken and double strained.
---
Montombo
FdC 18
PX Sherry
Rum Aroma
Angostura bitters
The ingredients are stirred and served neat. The cocktail is served in a plastic bag filled with baking spice, vanilla and other rum like aromas. Slice the bag open, take in the aroma, and sip the cocktail.
---
For Giuseppe
FdC 25
Clove, cinnamon
Kola nut
Chai tea
Oranges
The spices, nuts, tea and oranges are carefully arranged in the mini porthole. FdC 25 is poured into the porthole and infused with the ingredients. Served over a large cube of ice with an orange twist.
A HUGE thanks to the FdC team, The Aviary and the Normandie Club for hosting an evening of consumption that wowed and woke up sensuality within.
NORMANDIE CLUB | 3612 W 6th St. | Los Angeles, CA 90005
See where we've been and what we're up to on INSTAGRAM. Follow our adventures below …
[wdi_feed id="1″]