Eating + Drinking My Way Through Tokyo
10 Spots to Check Out – Bite by Bite, Sip by Glorious Sip
Photos by  Dawn Garcia
[dropcap letter="T"]here is no greater gateway to the world of others than through their cuisine. It is the most personal and in-depth look at a people's history, tradition, evolution and innovation. So when it came time to head back to Tokyo this winter, the allure of getting a much closer look at the food and drink scene was overwhelming and so, the tasting journey began.
---
Fishing For Our Food
The very first evening we were in Tokyo, we dined at a restaurant called Zauo Shibuya. As you wander through the streets of Shibuya, you come upon double sliding glass doors that open and in you go! To your left is a large pond-like display with fresh water fish of multiple varietals swimming in their respective areas. In front of them are green nets but to the right of it on a wall? Rows of small plastic fishing poles equipped with two things: fishing line and a hook. No reel, no fancy equipment, no bait, just the basics. If you can catch your own fish? You eat it and it costs much less than cheating by using the net. Make no mistake: this is entertaining and horrifying all at once. So I decided the only way to properly acclimate to being back in Japan was to take part in the most challenging "fish for food" scenario. Thus I went, hesitantly, in search of the perfect fish. There were the oddball looking fish, a tiger shark there to clean up the bottom of the tank, small fish, and then the one that catches my eye: the rockfish. Yes, in the spirit of things I'm going to catch me a rockfish … by hand … sort of. First thing you should know about me is I'm highly competitive so this only amplifies when I'm competing against myself. After about thirty minutes of planning my move, I finally catch the wiggly guy and immediately, guilt sets in. Let's just say this is certainly the way to earn respect and appreciate nature and the food we're fortunate enough to eat. I fried that bad boy up (more because I didn't want it to suffer) and it was tasty. Somehow, fishing and catching it myself made it taste all the better. To accompany this tiny feast, it's also highly recommended (by me) to order yourself a sake flight. The pours are generous and the selection is impressive.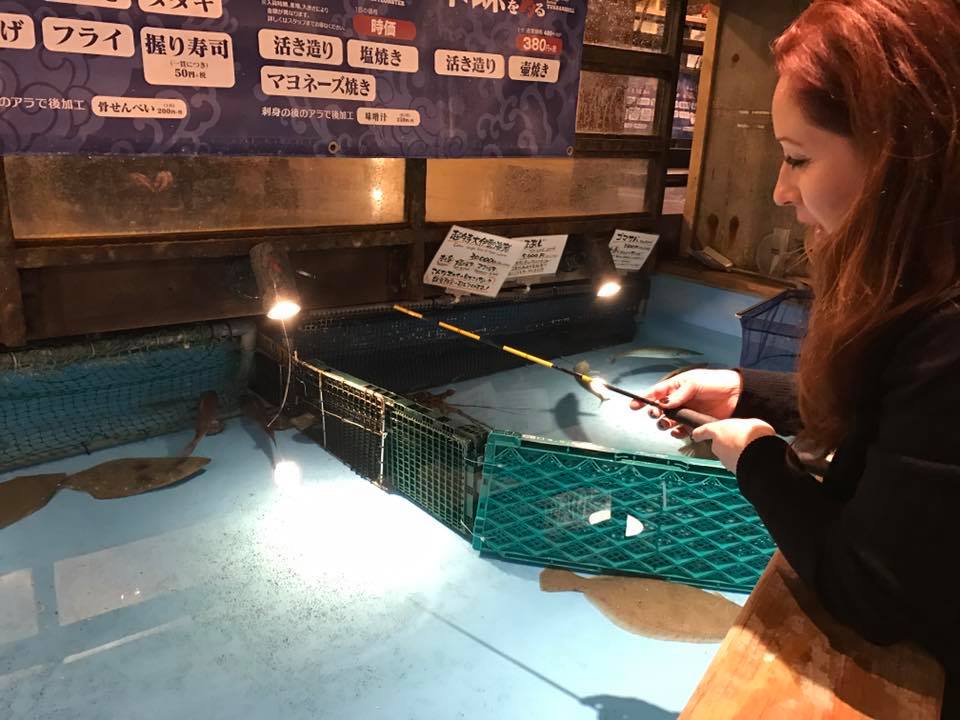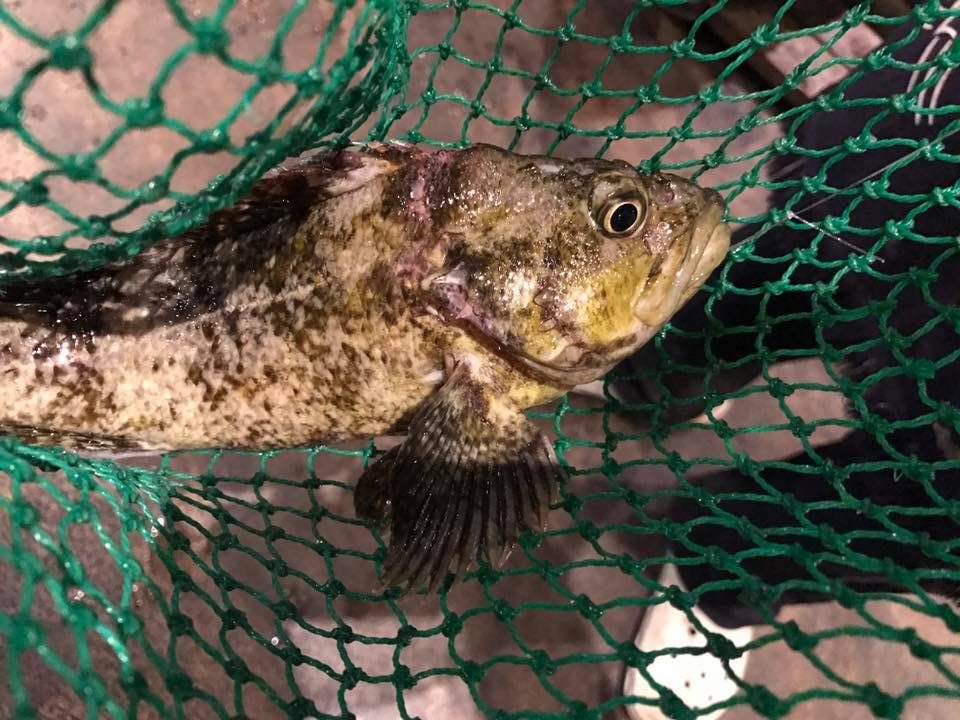 ---
Sake + Udon
Ishikaya Brewery is located in Fussa, Tokyo. It is one of the longest standing distilleries, with generations of the Ishikaya family brewing over the decades. In fact the family still lives on the property. This is where I learned the meaning behind the sugidama (cedar ball) that hangs in front of most entries of sake distilleries. It seems the cedar represents the sake and when it's brown that means it's ready for consumption (keep in mind that once opened, it must be consumed within a month). When it's green? It means it's only just beginning of the aging process. The brewery has survived some of Tokyo's largest earthquakes without sustaining any real damage which makes it a marvel. After finishing the tour (which you should do!) we head into the restaurant to partake of tasty spring water, sake and homemade udon and soba! The menu is expansive and we try the basket of shrimp, pork belly, tempura vegetables, and a variety of udon and soba noodles. I opt for the udon and I'm so glad I did! The kakejiru broth is perfection.
Ishikaya Brewery | 1 Kumagawa, Fussa, Tokyo 197-0003, Japan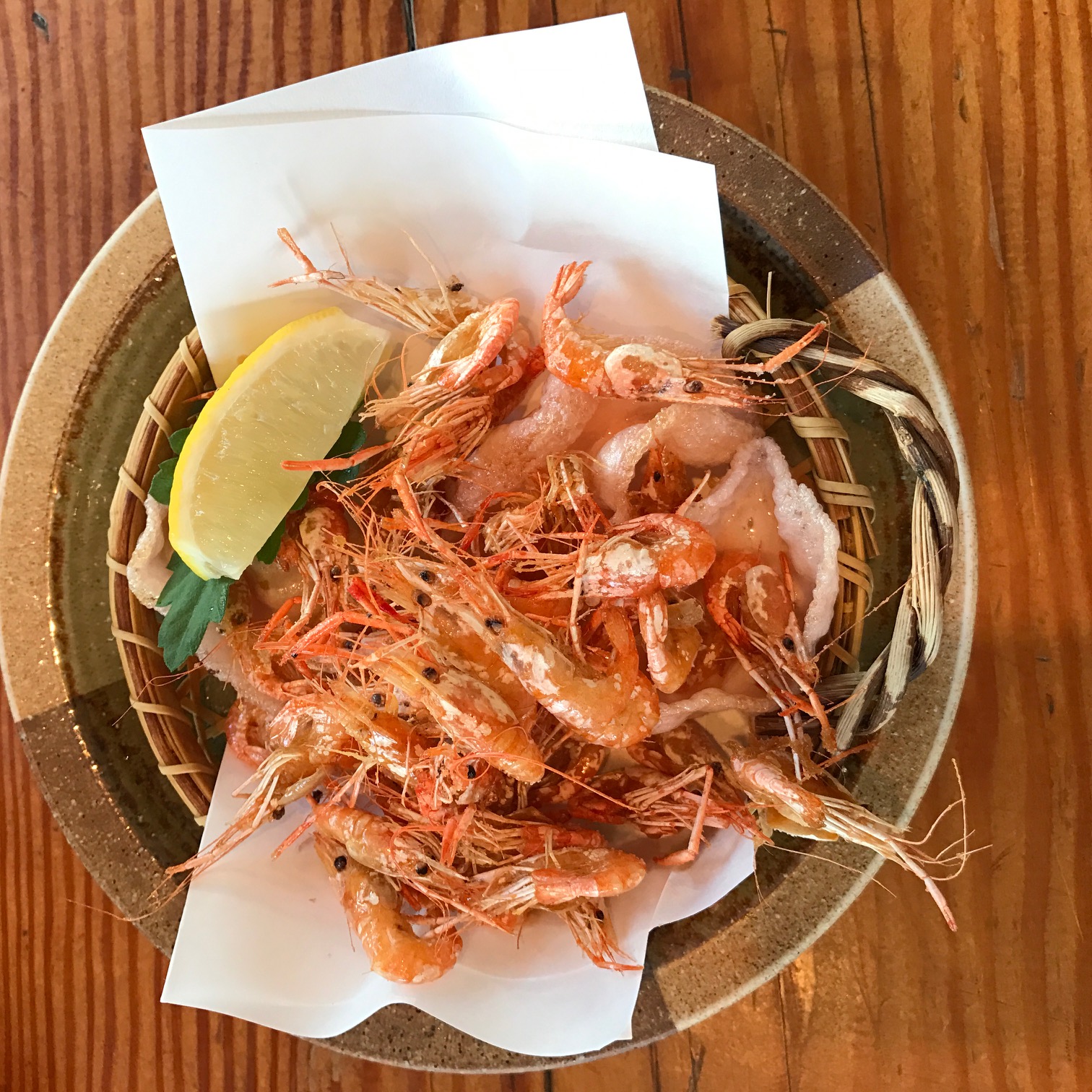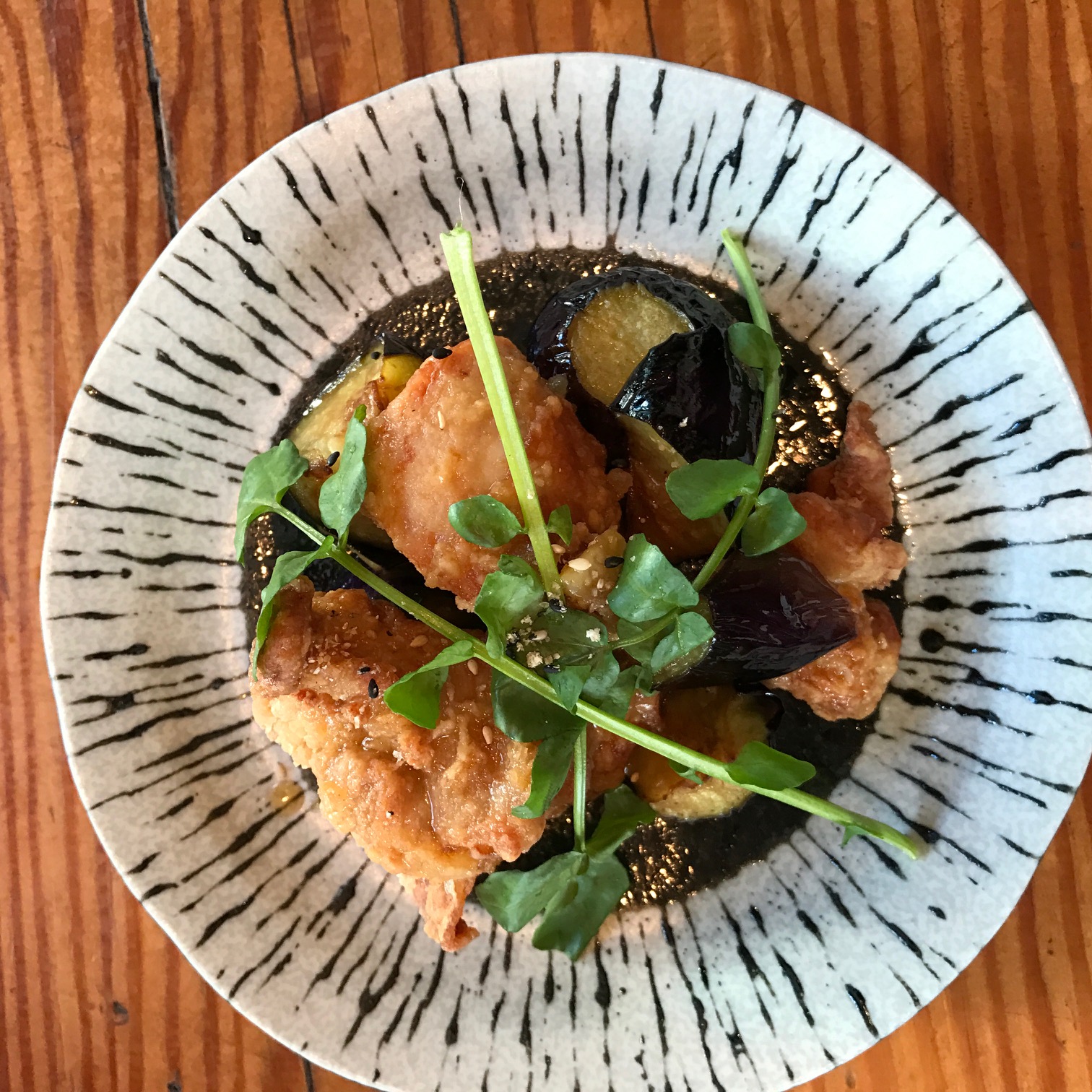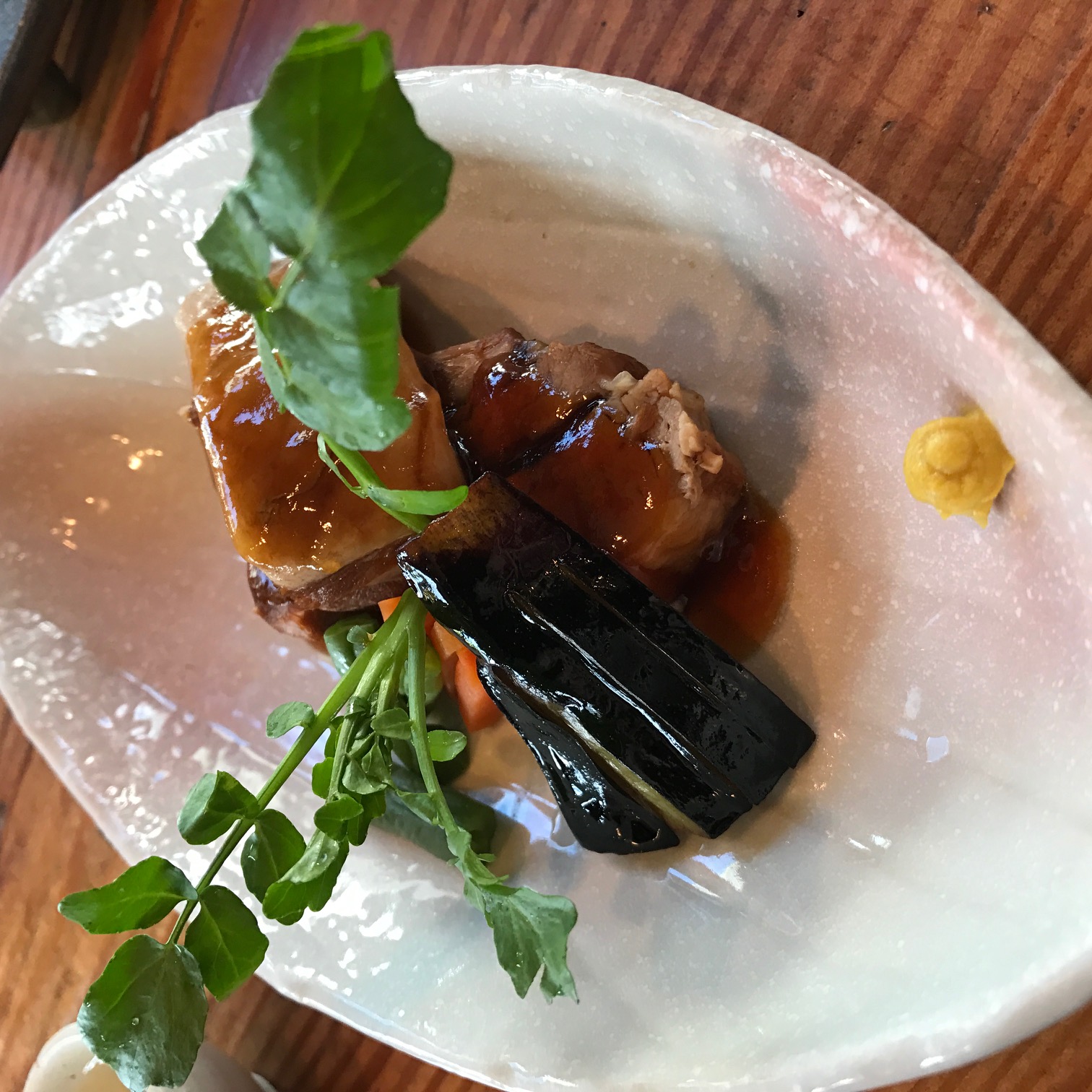 ---
Sushi + Tofu
Next up is dining at restaurants that offer the traditional dining experience of Japan: shoes removed, individual room for you and your guests, private servers wearing traditional kimonos, and a feast that comes in waves. First we have dinner at Shoku Douraku in Kagurazaka. Dinner conists of a more shabu shabu type of meal with three burners to cook our thin cuts of Wagyu beef (oh how wonderful it is!) with a variety of vegetables (mushroom, leek, mizuna greens, and tofu). We share some sake and the evening commences. Our next traditional experience comes when we venture to Tofuya Ukai for what would be the most prolific meal outside of our dinner at Hoshinoya (read about that dinner here).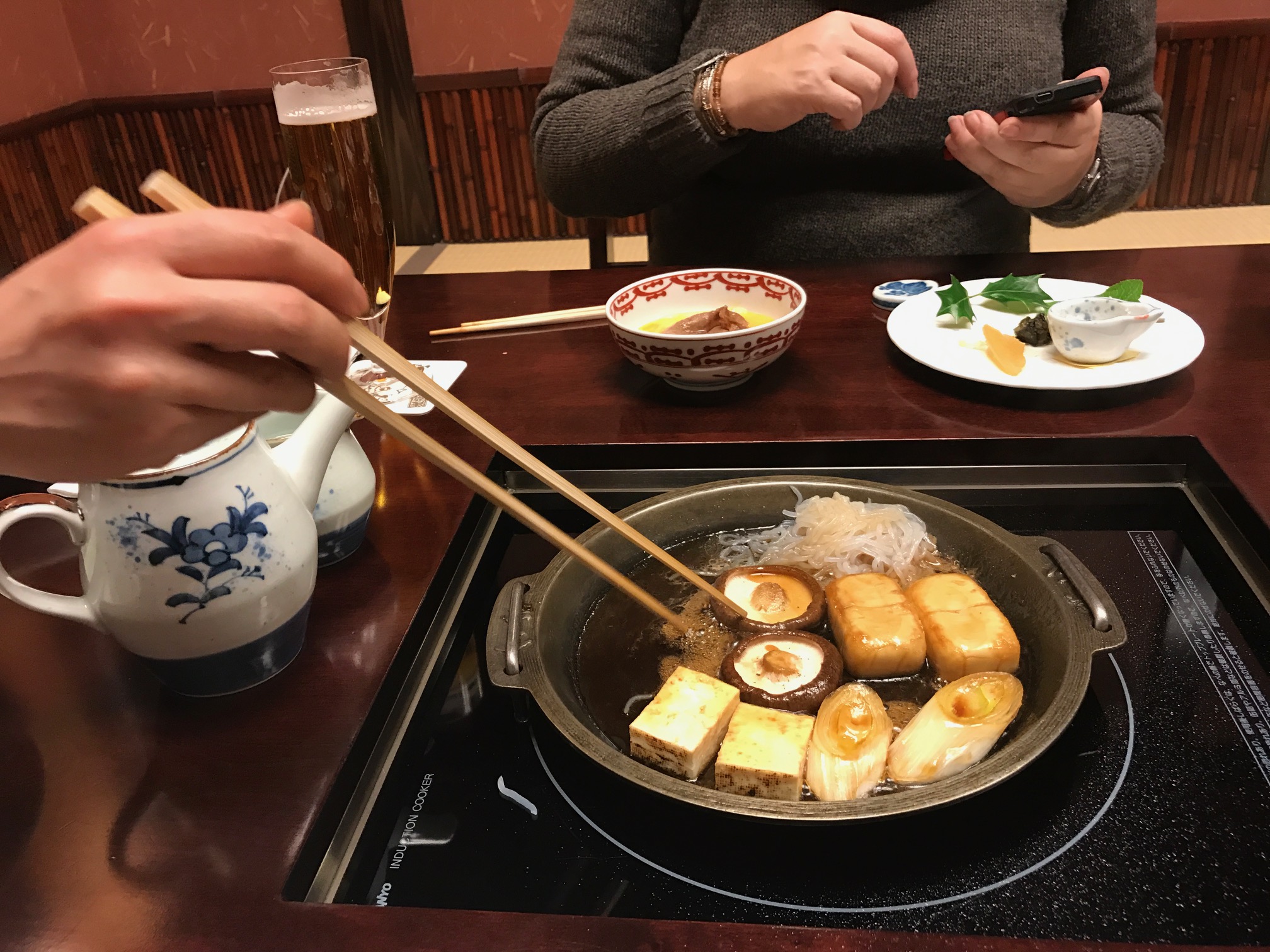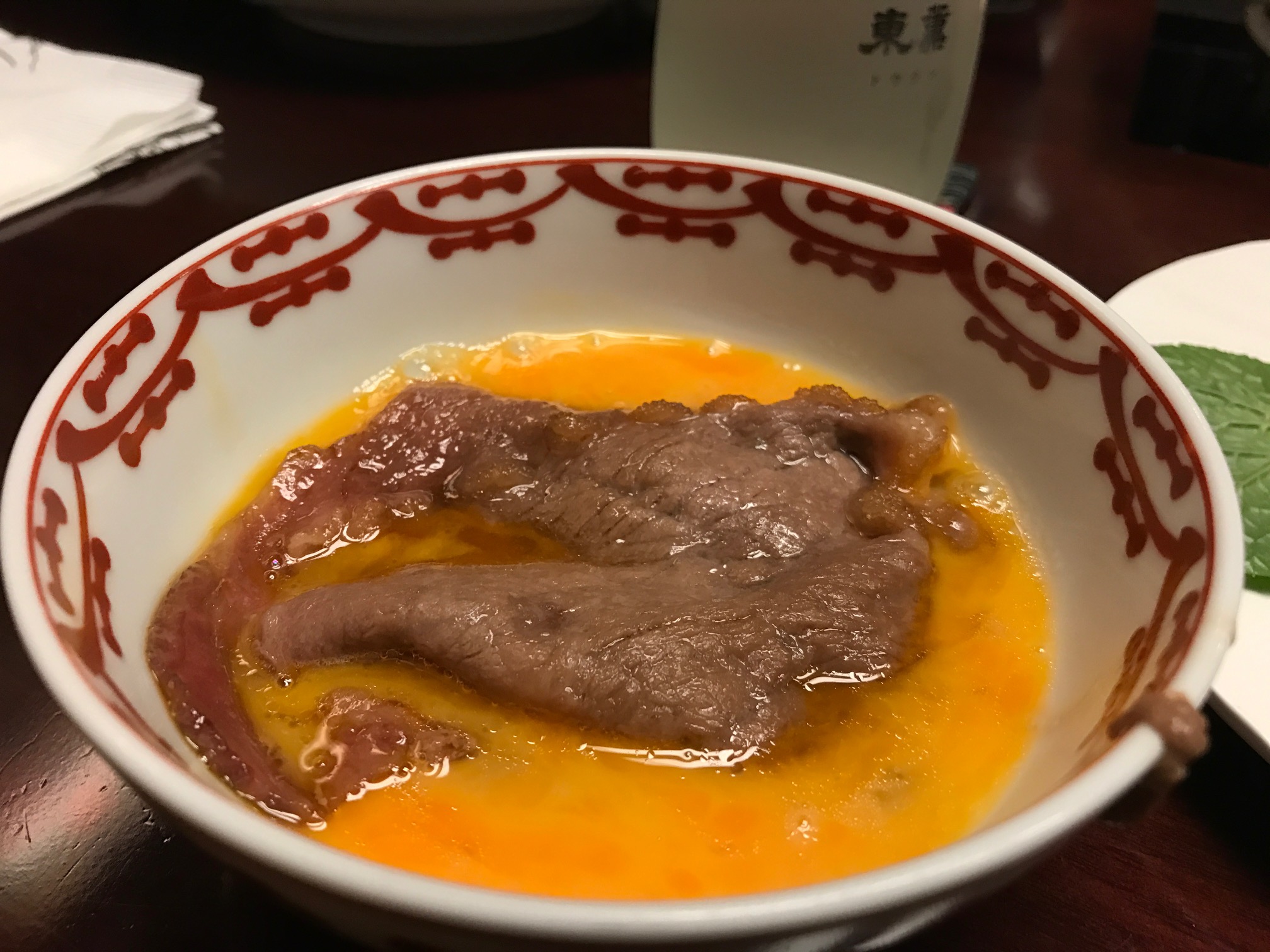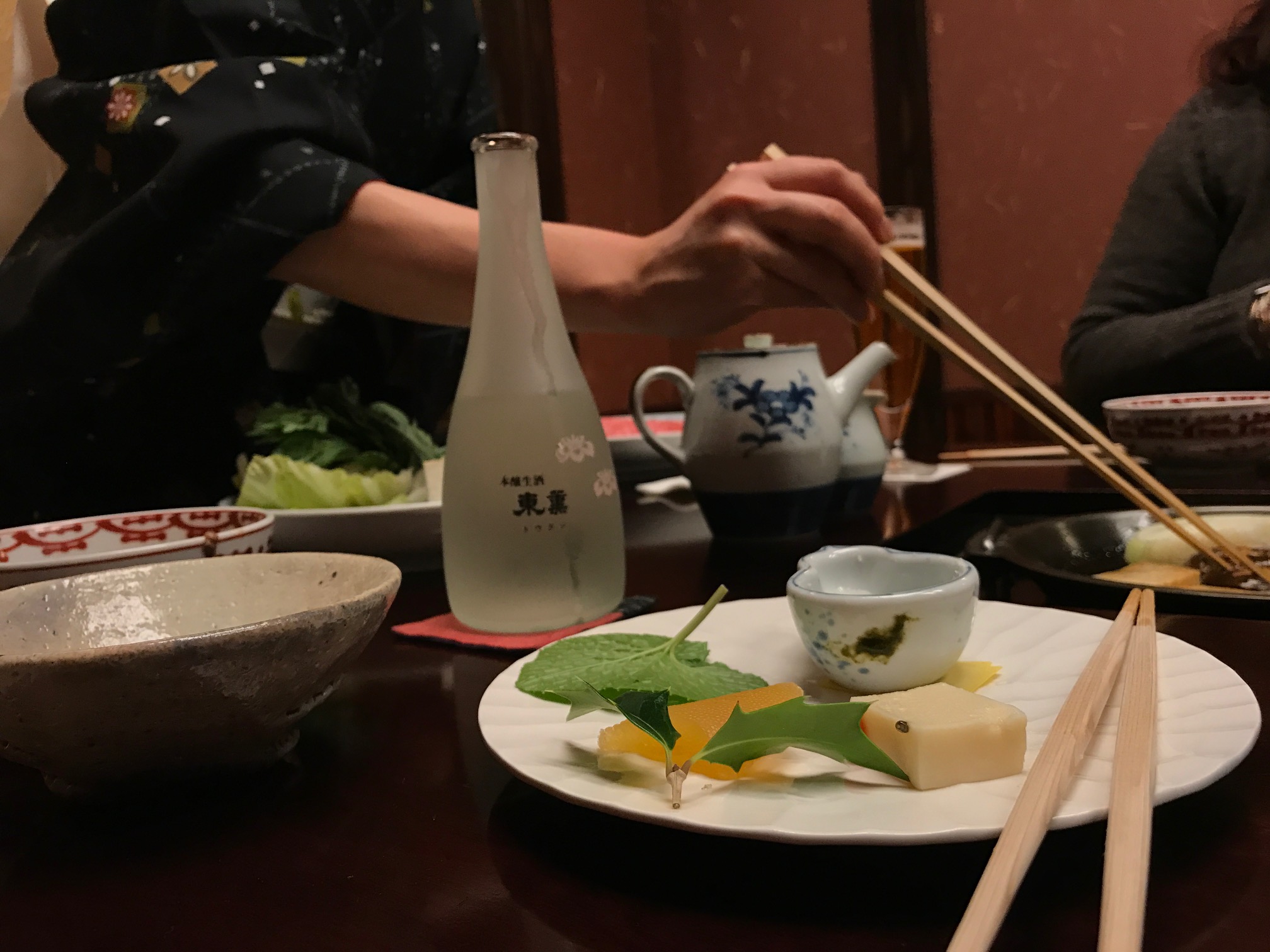 Passing in front of the garden lantern and waterwheel and walking on the steppingstones, you will find yourself back in time in the town of Edo, the Tokyo of 200 years ago.
It's true. The moment you step foot onto the property, something magnificent takes hold and you can be certain this will be one delectable afternoon. Shades of red line the entry, a garden beginning to have blossoms bloom, reminders of the past and your host guiding you to the room where you will dine. The room is gorgeous, with a grand window giving way to the grandiose Japanese gardens just outside with a view of the Tokyo Tower. We opened the windows and let the crisp air seep in while we took picture after picture. Soon the meal began and it is nothing short of transcendent. While it would seem tofu wouldn't necessarily be the star of any dish, turns out here? The tofu is decisive in terms of being the focal ingredient and it's delicious!!
Our menu was the Tsuki menu (¥13,500 pp). The most prominent dishes were the otsukuri which was tuna, age dengaku (deep-fried tofu served with miso), and the tosui soup. Flavor, texture and presentation are on point. The age dengaku is like no tofu I've ever had. It is crispy, milky and earthy without being bland in any way. Make time for their in-house sangria and strawberry drink (when in season). The strawberry drink is made out of pure strawberries which were as perfectly ripe as one could desire and as the sun burst in, ended up being the most prose worthy sip. The most essential part of the cuisine is the process and effortlessness that happens when each dish arrives. There is so much precision in each step, including when the tosui soup is prepared right before your eyes.
Tokyo Shiba Tofuya Ukai | 4-4-13 Shiba-koen, Minato-ku | Tokyo 105-0011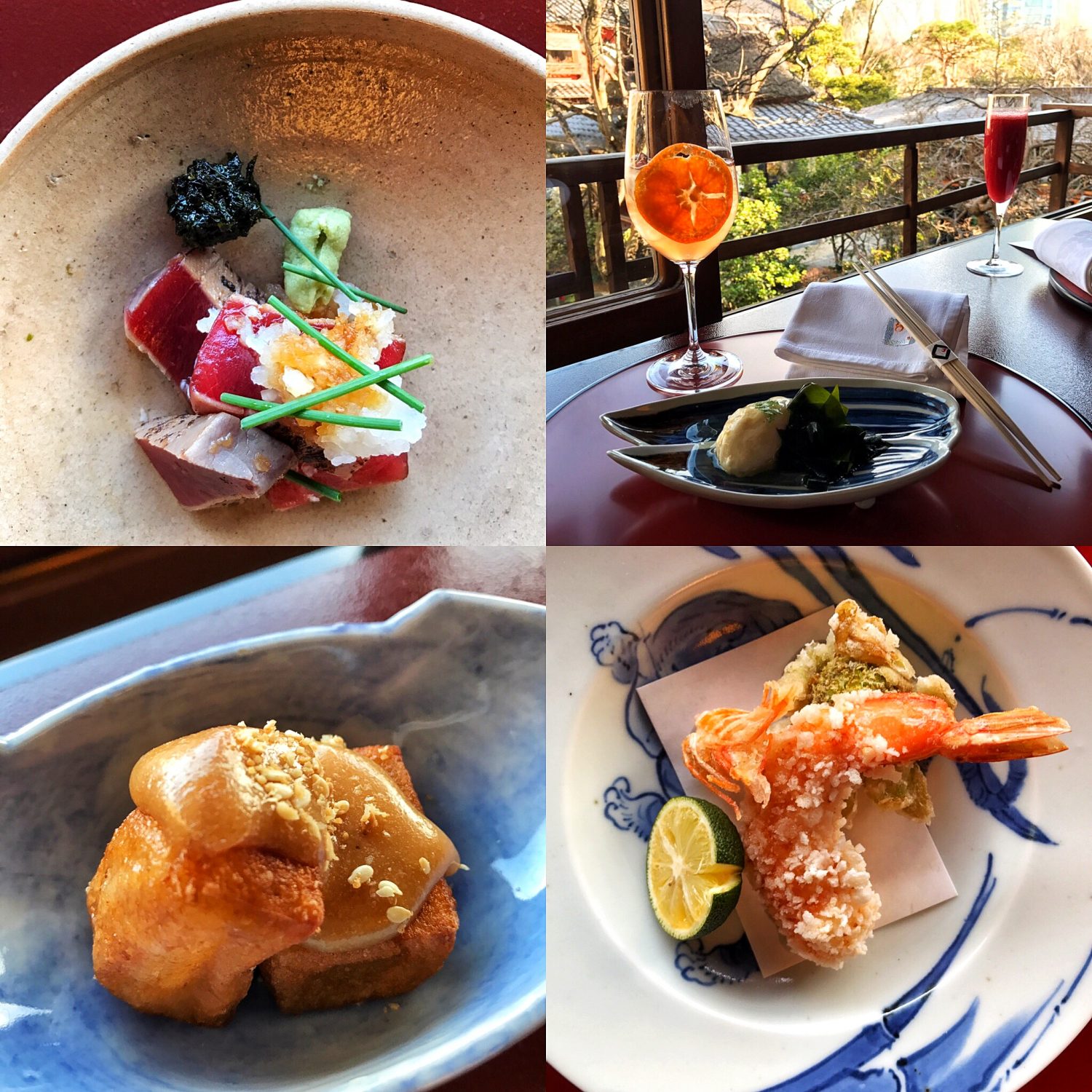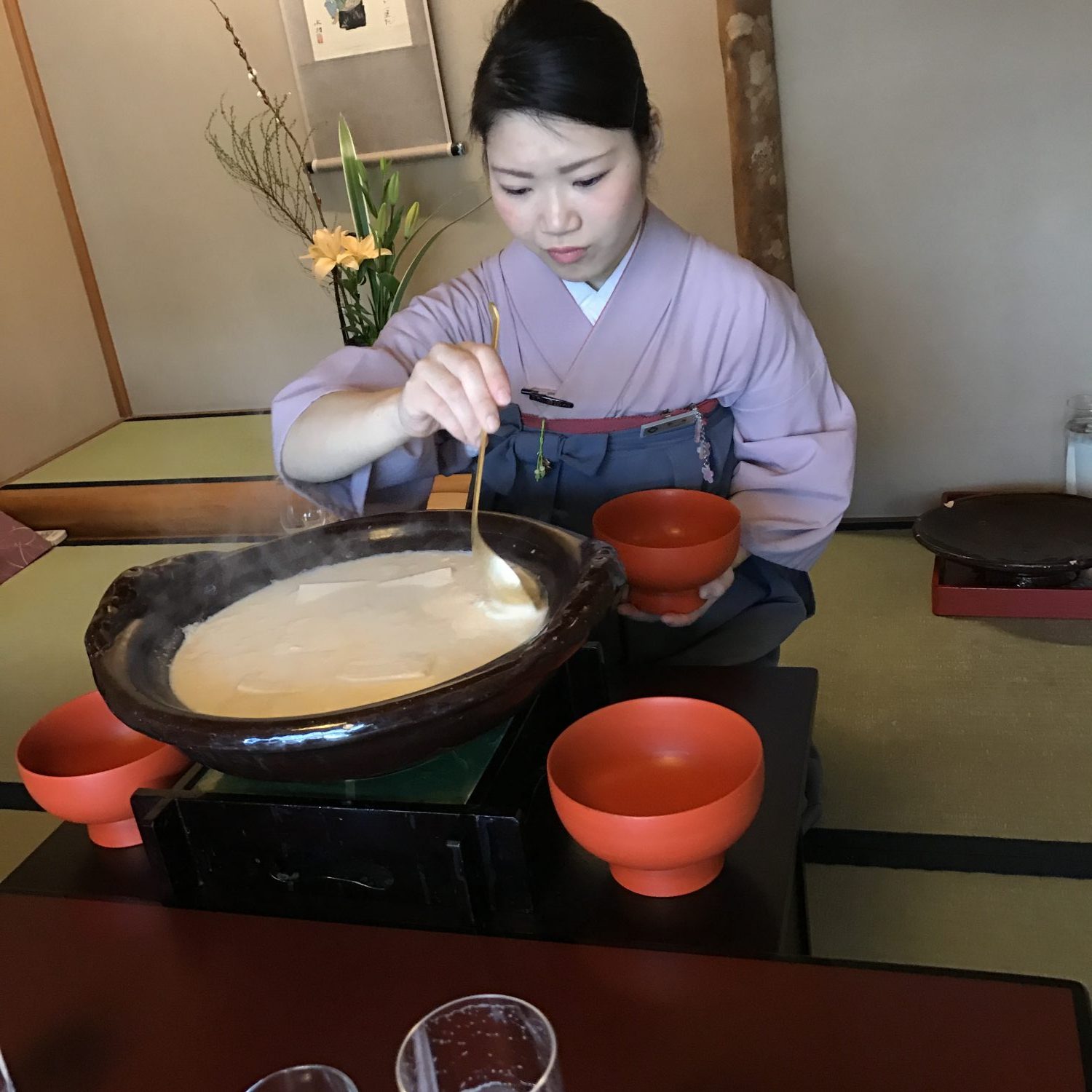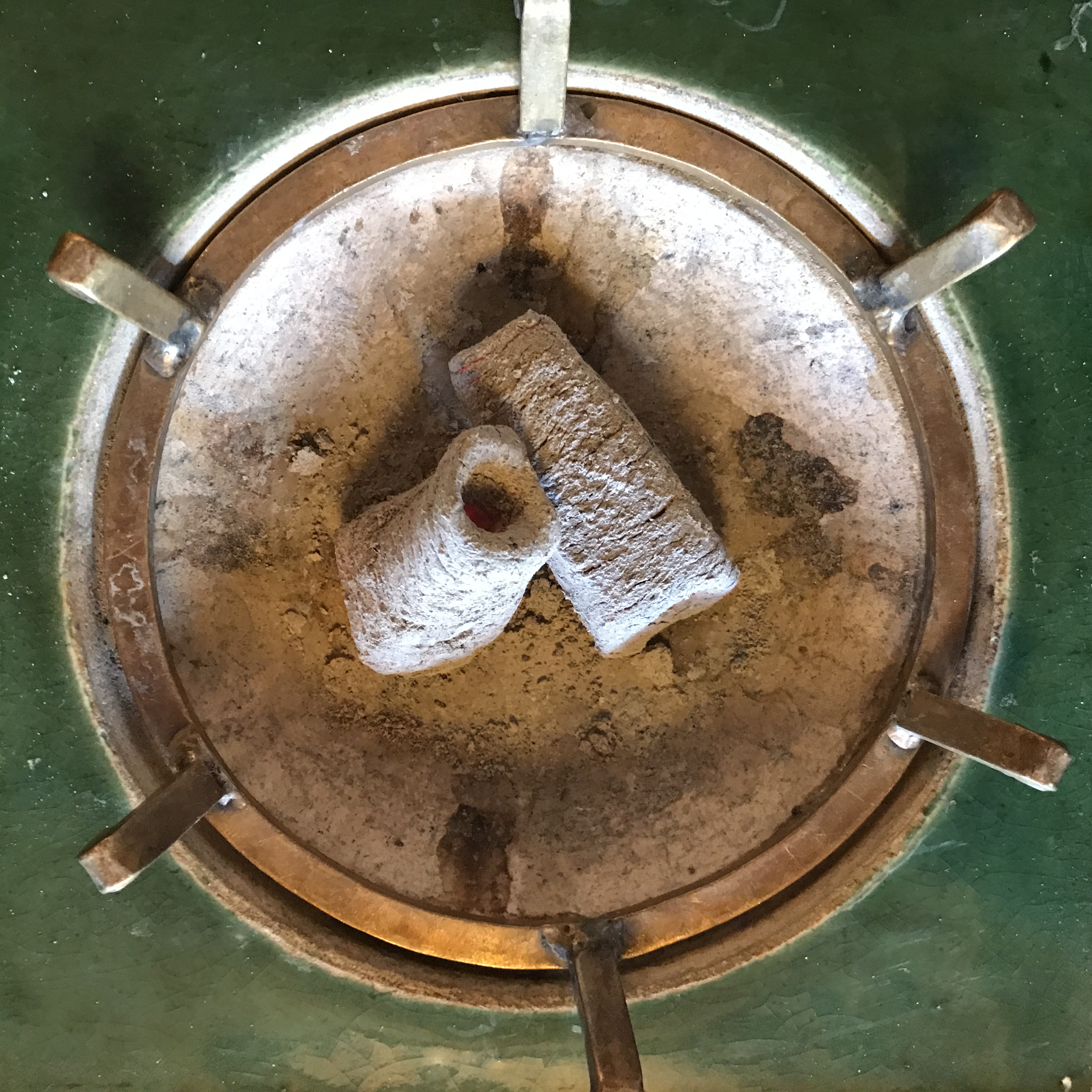 ---
WHEN YOU WANT SOMETHING FAMILIAR
The Ivy Place is set in the heart of Daikanyama which is a the more high end district with chic boutique stores, cafés (including a pâtisserie + French culinary schools for baking), clean lines and a brighter, more Bohemian and artsy style. Ivy Place is a Tysons & Company eatery. The design is rustic meets modern with a twist of Japanese lines and minimalism. It phrases itself as nostalgic and I can see why. It does feel like you are in a cafe in the middle of everything and the greenery surrounding it makes you feel calm and romantic. The menu has cappuccinos, a pretty impressive cocktail list, brunch items that you know and love, and service that exemplifies Japan. I order the fried eggs and sautéed kale with spiced garbanzo beans and tomatoes with their homemade bread. The flavors are abundant with a hint of heat, a balance of sea salt and kale that tastes like it was taken moments before from the garden. Even the eggs were perfect! I did manage to have a morning cocktail to begin and the Ivy Sangria tastes like summer in a glass! It has hints of citrus, mint, and a refreshing burst of vino.
The restaurant is packed at any given time and has four different dining areas: bar, patio, main dining and private. All of which are splendid.
IVY PLACE | 16-15 Sarugaku-cho, Shibuya-ku | Tokyo 150-0033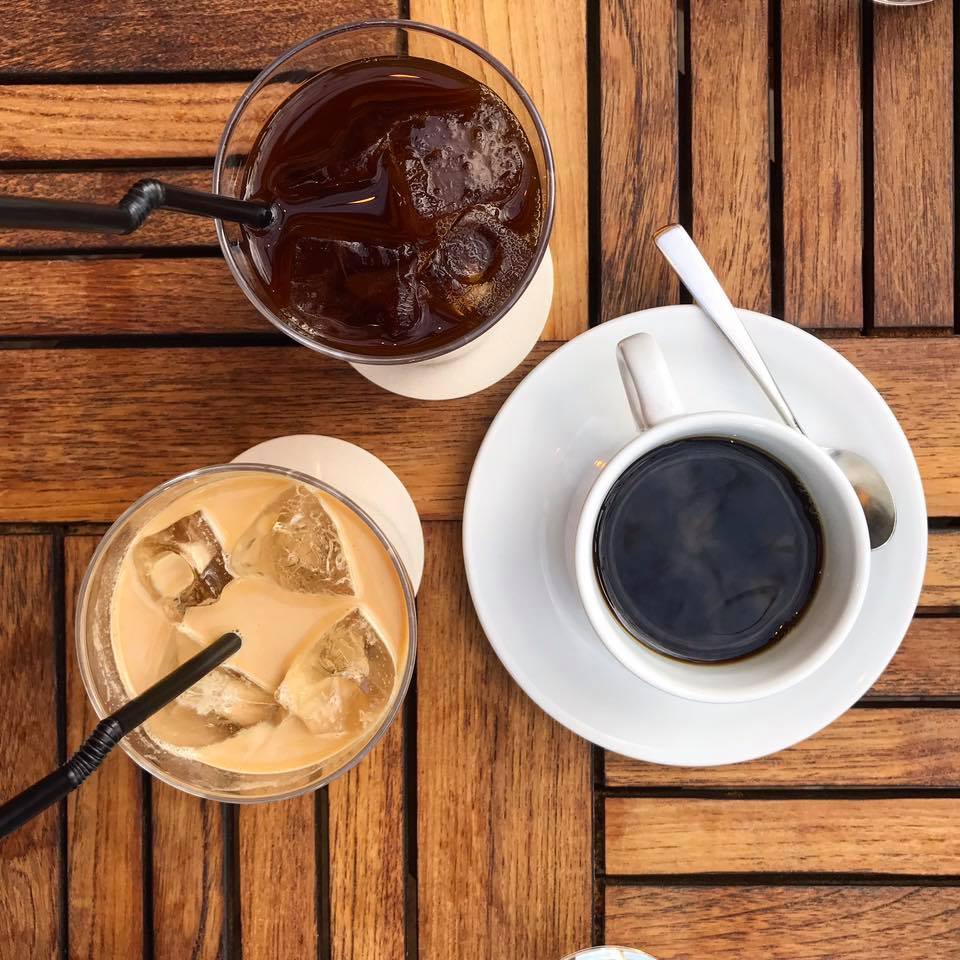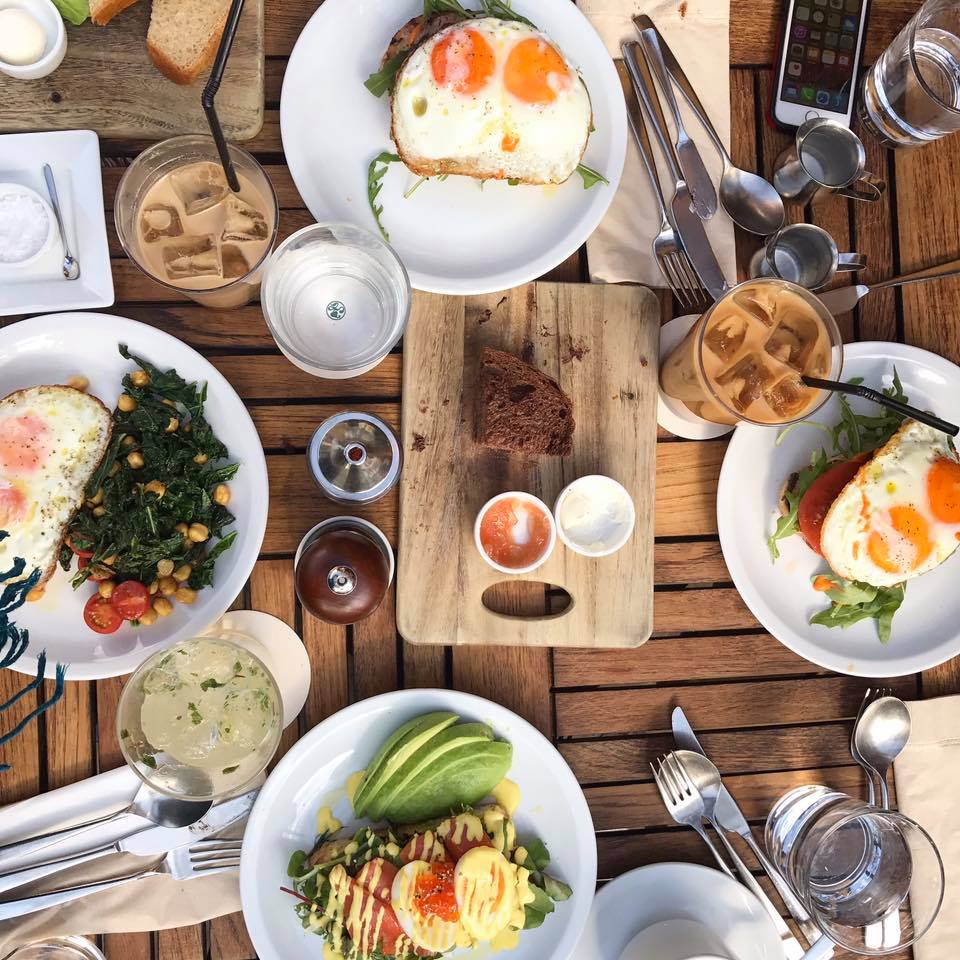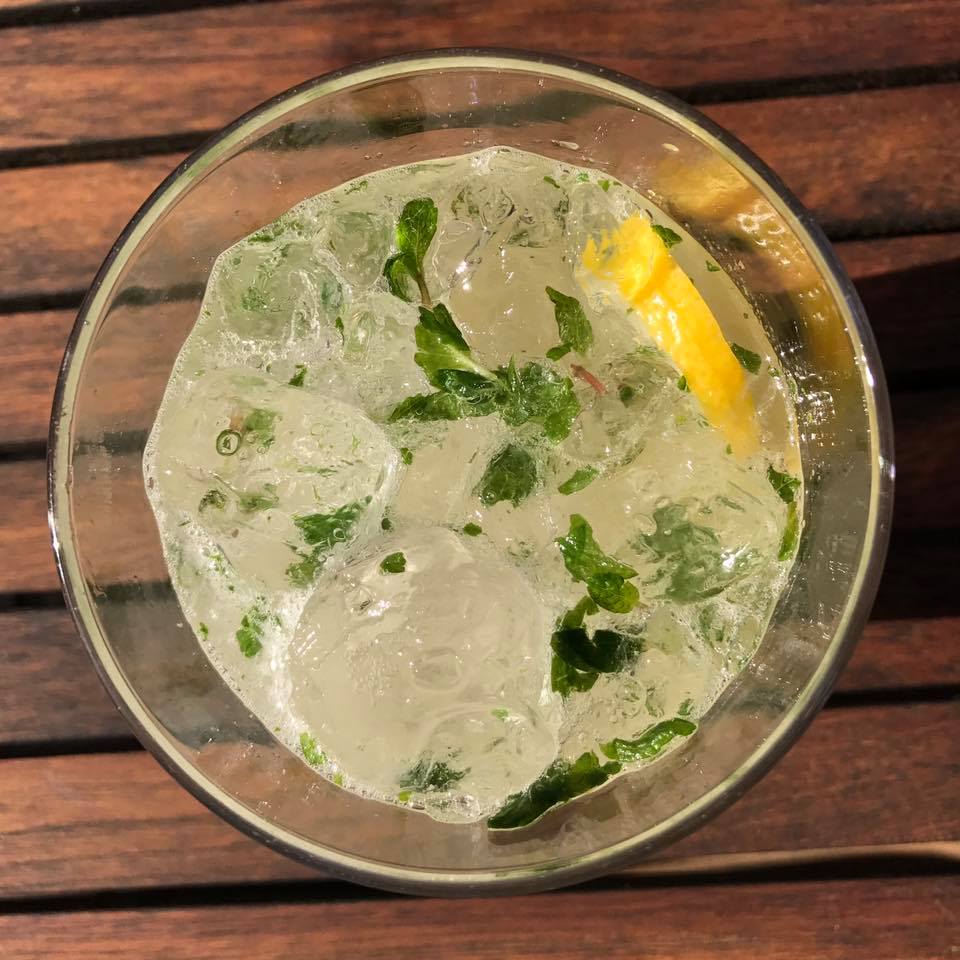 ---
BEST BARS IN TOWN
Golden Gai is perhaps the coolest drinking hub in the world. Six tiny alleys line the streets in the heart of Shinjuku, housing over 150 bars spanning maybe a half mile radius. Each bar has its own decor, cocktail list, specialty and ambiance and every single one is worth stepping inside. The kicker is? They can usually only seat 5-10 people max which makes any one of the bars you're able to get into, the bar to be at! We walked through Akihabara to make our way to Golden Gai and in truth, walking through Akihabara at night is pretty incredible. Vendors have left, crowds have dispersed and what's left is the beauty of art, story and lanterns lining the walkways. When you do arrive at Golden Gai, you should first stroll through the alleyways to really get a sense of what's there. Eventually you'll find the bar you want to be at. We stopped at one that had just enough seats for us to fit into and we ordered whiskeys, scotches, and a jalapeño infused mezcal. The decor was luxurious yet reminded me of a mini version of Bar Marmont.Golden Gai is a known locals go-to. If there is one prominent aspect of this area, its that you'll never want to leave and when you do, you'll never forget it!
Golden Gai | 1 Chome Kabukicho, Shinjuku | Tokyo 160-0021, Japan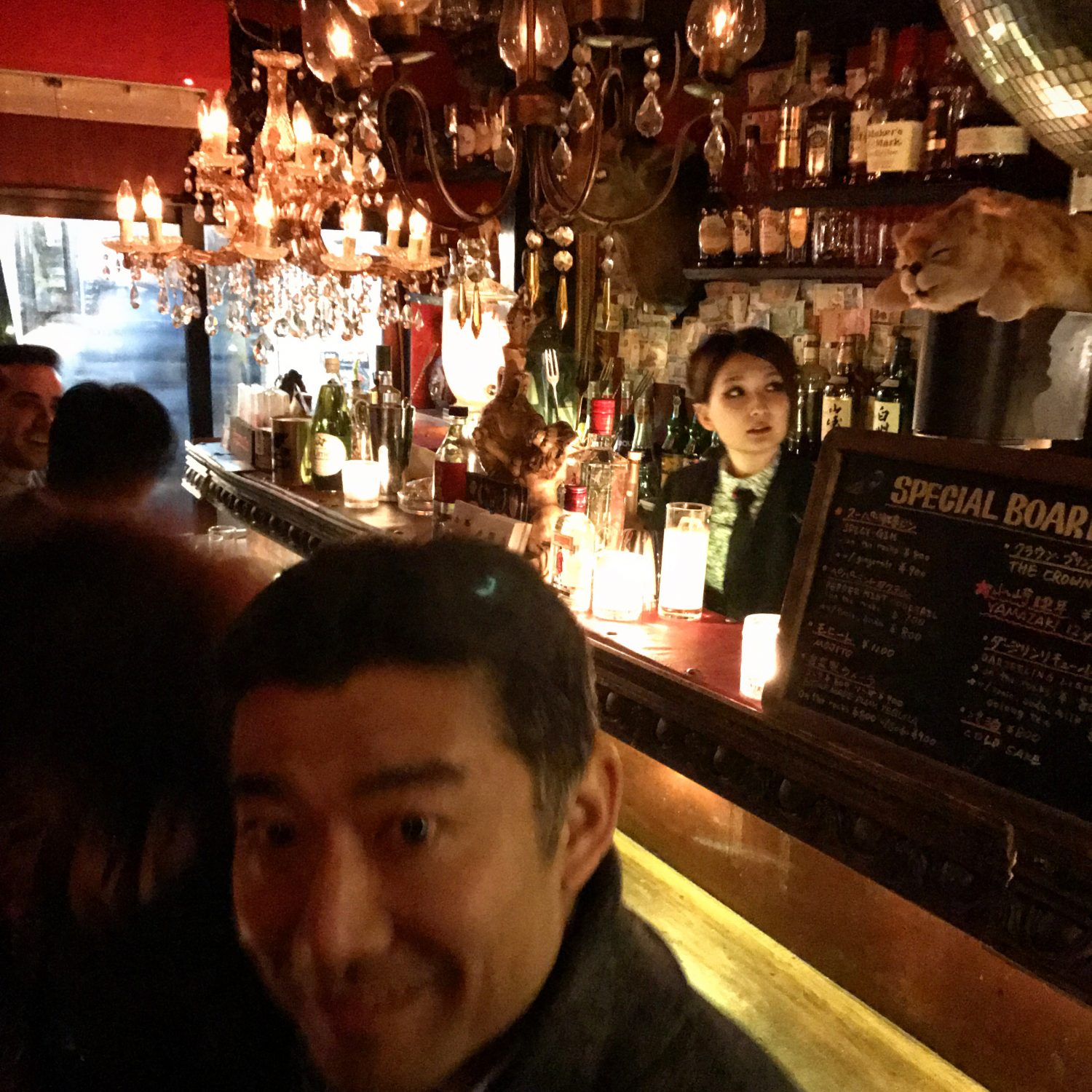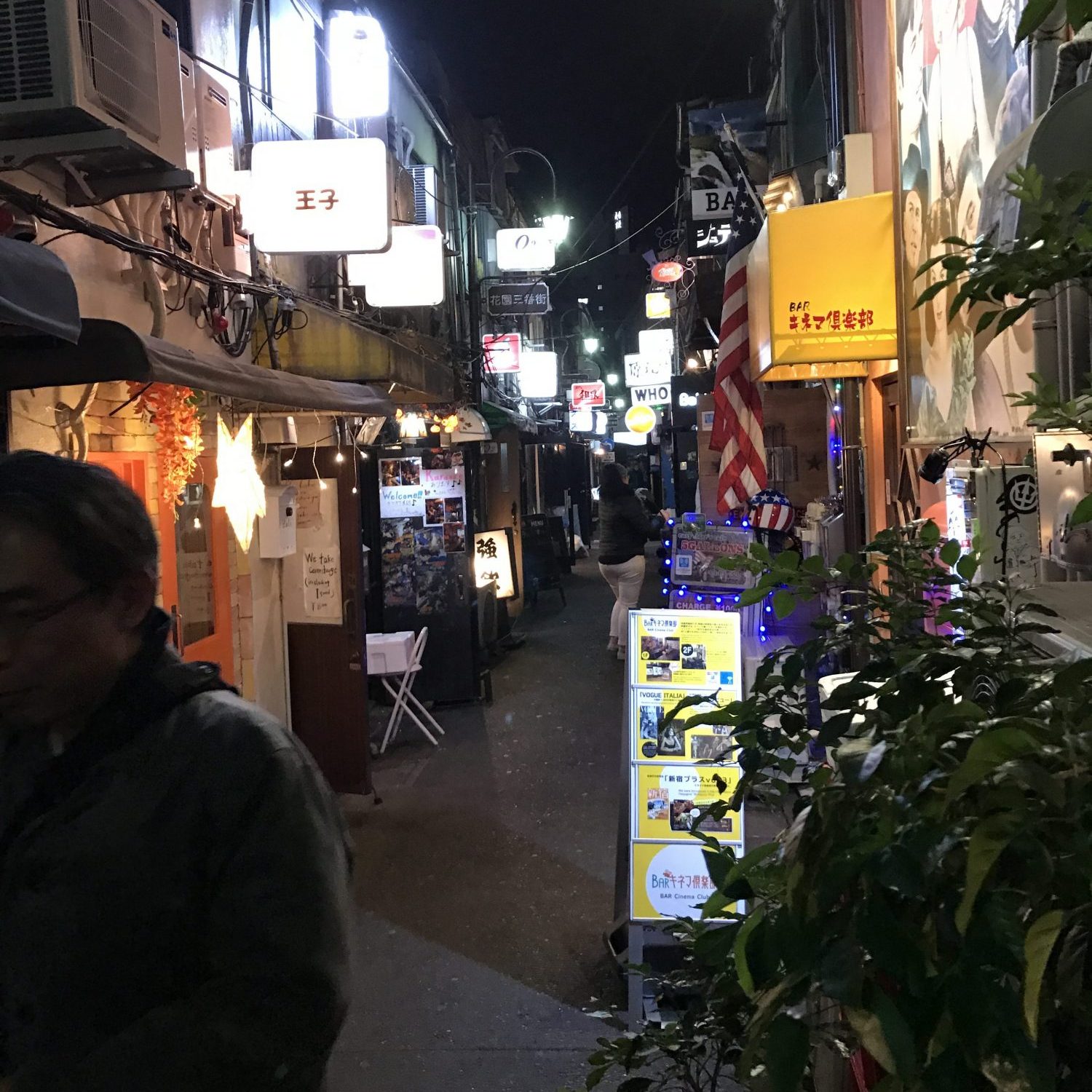 Lastly is making your way to one of the most unique bars in all of Tokyo: Bar Benfiddich. Bartender Hiroyasu Kayama has adopted the cultivated, suited look that will take you back to vintage days of class and high fashion, while taking on the demeanor of an alchemist with a flare for the unknown. A good portion of his drinks are concoctions of herbs and spices ground using a mortar before marrying them with syrups, bitters, liqueurs or their ever notorious housemade Campari and Chartreuse. Bar Benfiddich also happens to be home to some prolific pours of absinthe. The dark ambiance inside give off the allure that you've stepped back in time into a secret club that few know about. I'm confident at one point there was a secret knock. Either way, allow the mixologists to do what they do best: create. They have a master book that looks like it dates back at least a hundred years but inside that book are recipes, folklore and instructions that definitely lean towards alchemy and cocktail science experimentation. This is precisely why it's one of the most noted bars in all of Japan.
Bar Benfiddich | Japan, 〒160-0023 Tokyo | 新宿区Nishishinjuku, 1 Chome−13−7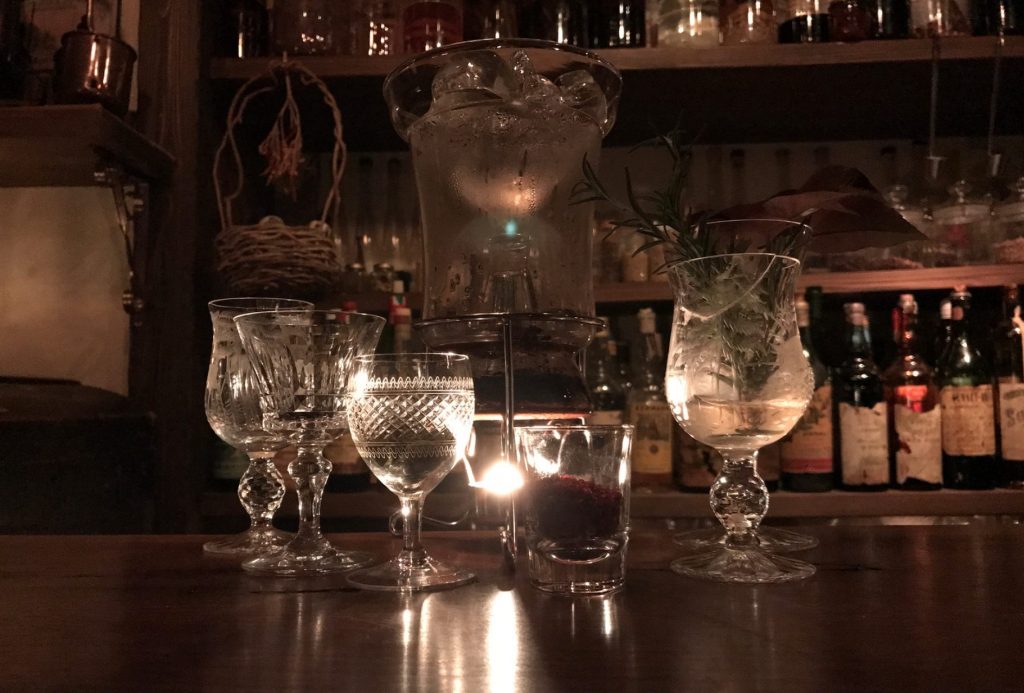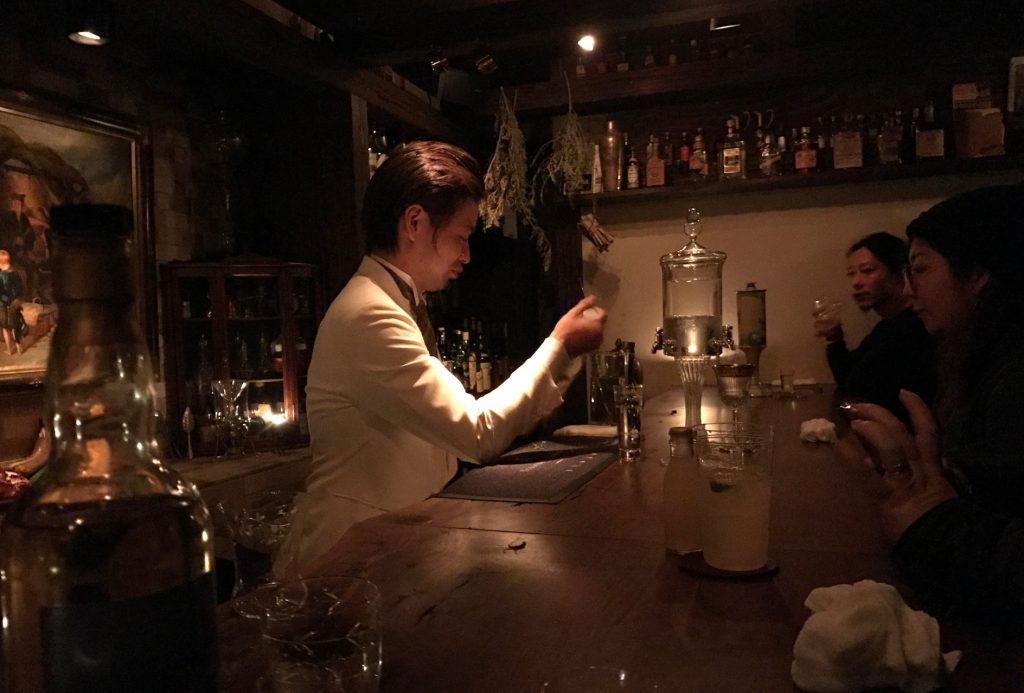 For the final suggestion on where to grab a drink, I'd be remiss to forget to share the most fun bar of all: Shugar Market – aka Liqueur Innovation. Imagine walking into a bright, cheery space that almost makes you feel like Hello Kitty yourself (because it's that happy and fun) where you pay one flat fee and drink as much as you want. No questions asked. Well, that is Shugar Market in a nutshell. With a hundred or so options of fruit liqueurs, rice based spirits and even coconut ice cream to use as a base should you feel the need, Shugar Market is probably the bar that should refer to itself as "joy". Everyone is laughing, talking, drinking and the place is filled, wall to wall, with locals and travelers alike.
Shugar Market | 2-9-2 Dogenzaka | 3F, Shibuya 150-0043, Tokyo Prefecture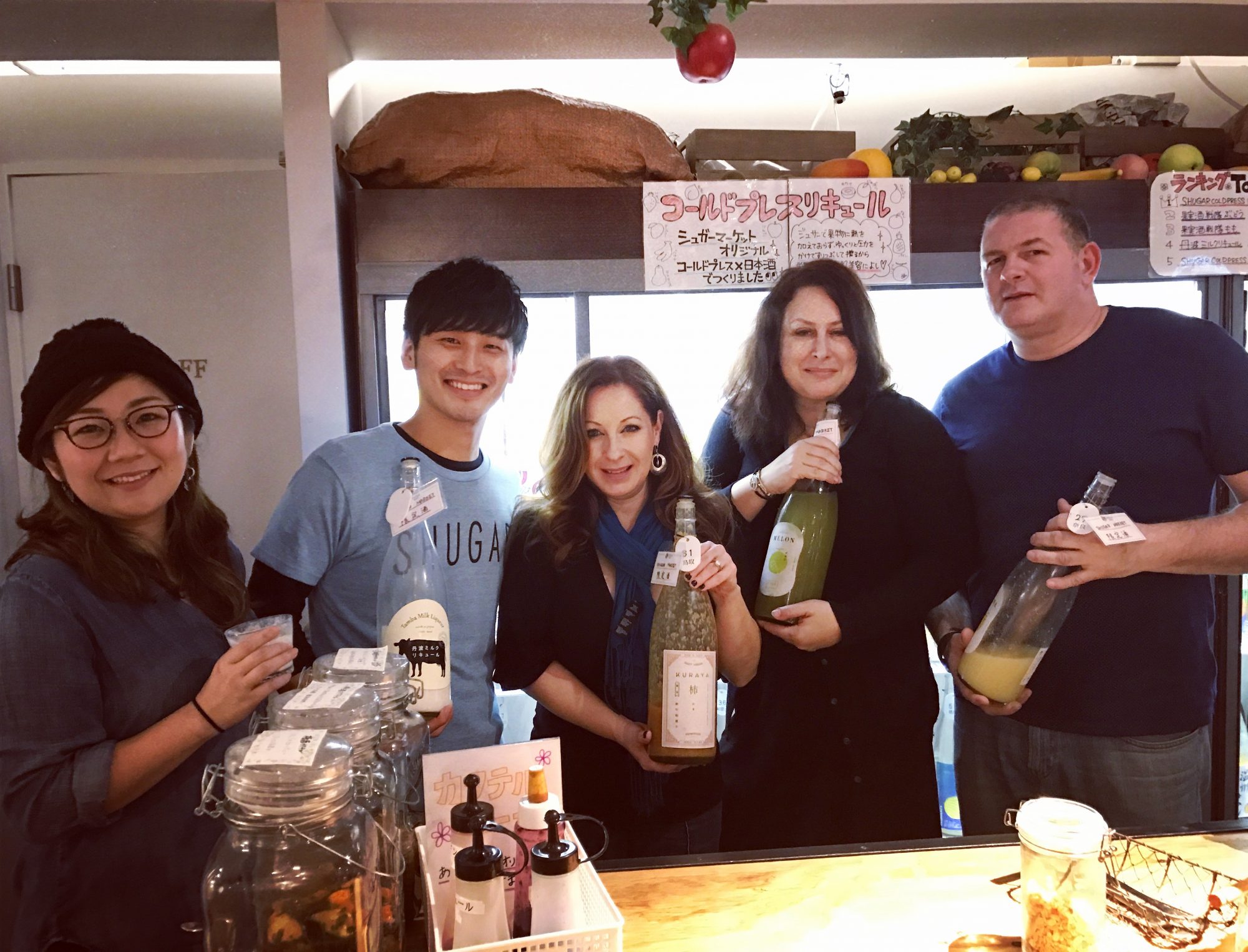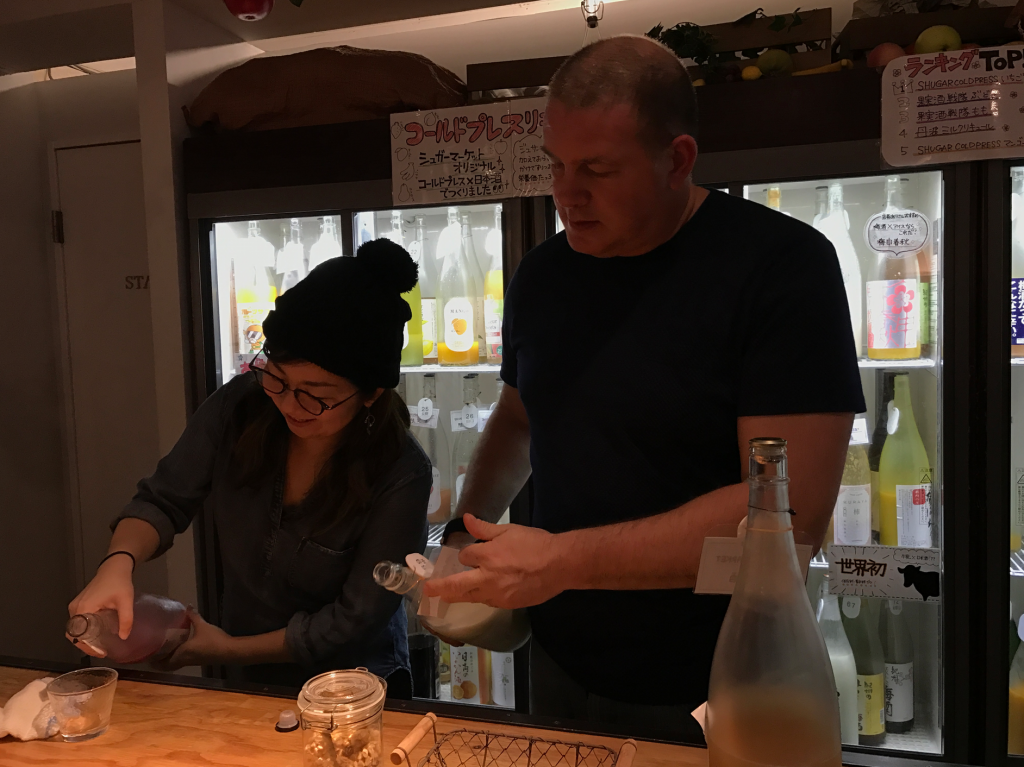 There are thousands of reasons to eat and drink your way through this marvelous city. From cafes that will surprise you, French bistros that will call your name by way of fresh baked chocolate pastries, the power of a good ramen, the need for the best sushi in the entire world, or bars that will make you feel sexy and playful at the same time – you will never be at a shortage of options. Best advice is to come hungry and be daring. Every experience is one worth having and should you find yourself uncertain, just take a look at the menus with photos. It won't steer you wrong.
I also highly recommend partaking in the live octopus in a well known sushi restaurant at least once (I did this in Akasaka). A baby squid is brought to the table, the legs are chopped off and in your mouth it goes! My advice? CHEW FAST! It's odd and weird and chewy but it's a story you will tell over and over and over again. (Trust me, it was the greatest birthday dinner I've ever had!)
As an aside, if you can manage to wake up early (and I mean before 5am) make your way to the Tsukiji Market for the seafood auction. Not only will see why bluefin tuna sells for a whopping $150,000 a fish, you'll gain a much deeper appreciation for how intricate and delicate sushi  really is. The process is something rather artful hence why sushi to this day remains one of the true culinary art practices.
All in all, Tokyo still is one of the most exquisite cities on the planet. GO!
Check out our Photo Gallery of the insatiable cuisine we devoured and the libations we happily imbibed: