HOSHINOYA | Tokyo | Chiyoda-ku
Finding bliss and Shizukesa in the heart of Tokyo
1-9-1 Otemachi, Tokyo 100-0004, Japan
PHOTOS by Dawn Garcia
There are places that you go to that invite you into a mindset that is so ethereal and tranquil, you enter with complete submission. That is precisely what happened when I traveled to the gorgeous Hoshinoya Hotel in Tokyo.
Hoshinoya is a luxury boutique hotel located in the heart of the city's economic center. With prominent financial and media giants working in the neighboring buildings, Hoshinoya emits a sense of architectural simplicity with the 17-story hotel deeply rooted in traditional Japanese hospitality.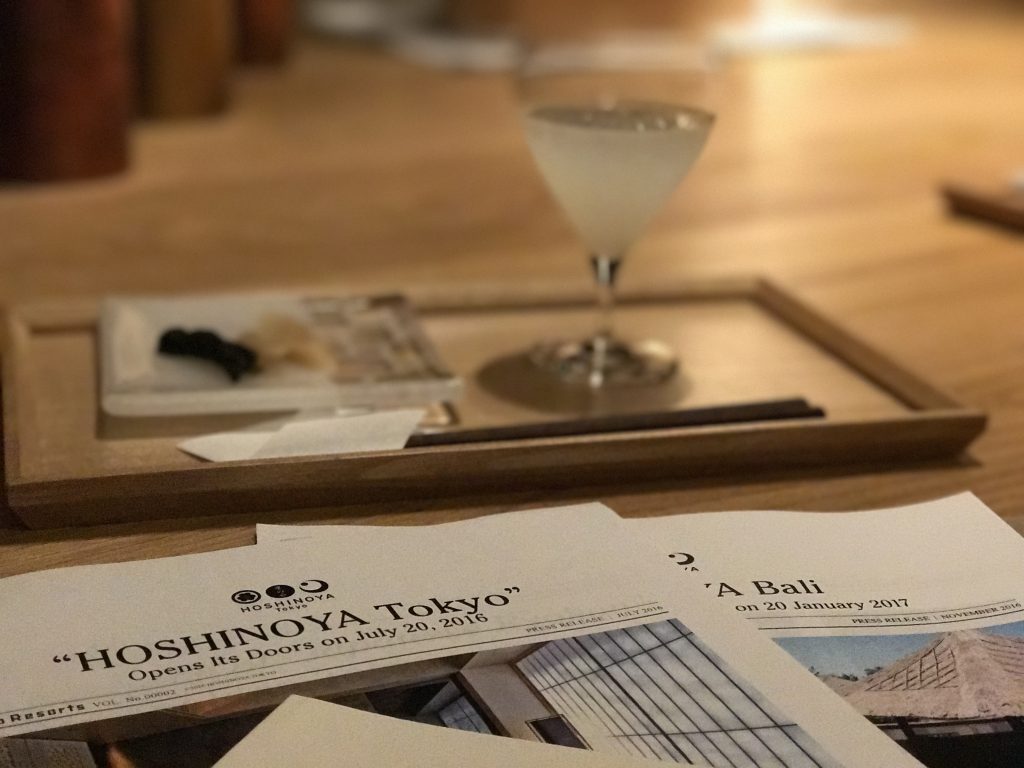 Hoshinoya Tokyo incorporates Japanese tradition with pristine design and simplicity that is so beautiful and exquisite, it takes your breath away. Located in the neighborhood of Otemachi, Hoshinoya is authenticity redefined. Otemachi is known as the economic center of Tokyo, surrounded by wealth, innovation, tradition and history.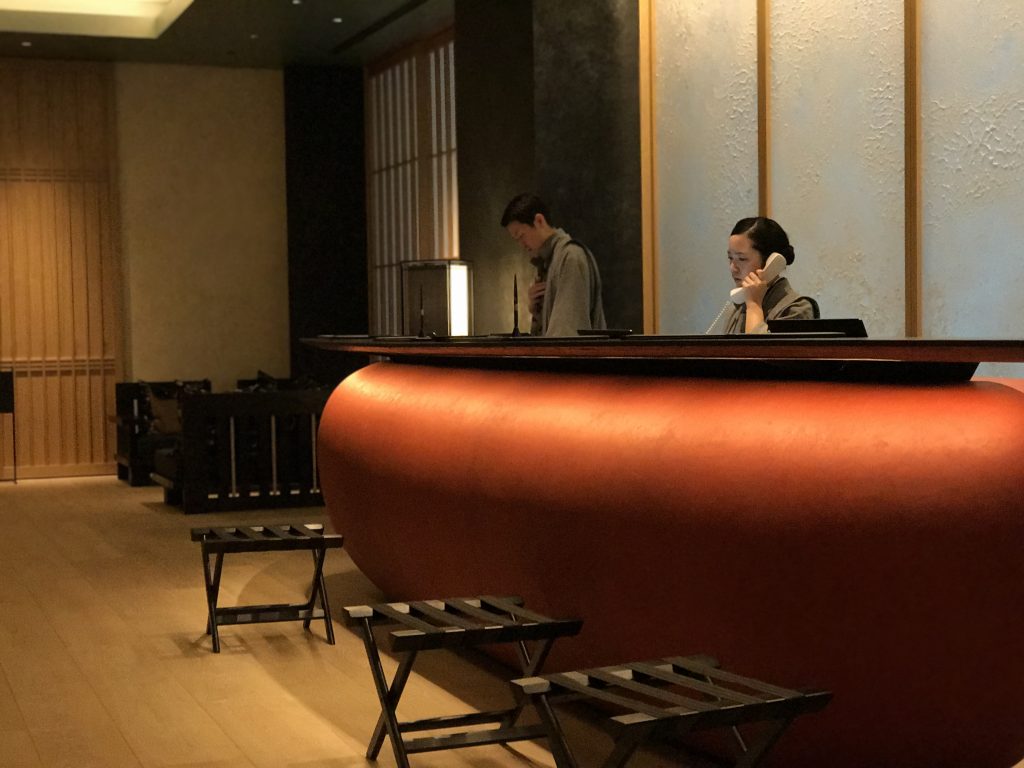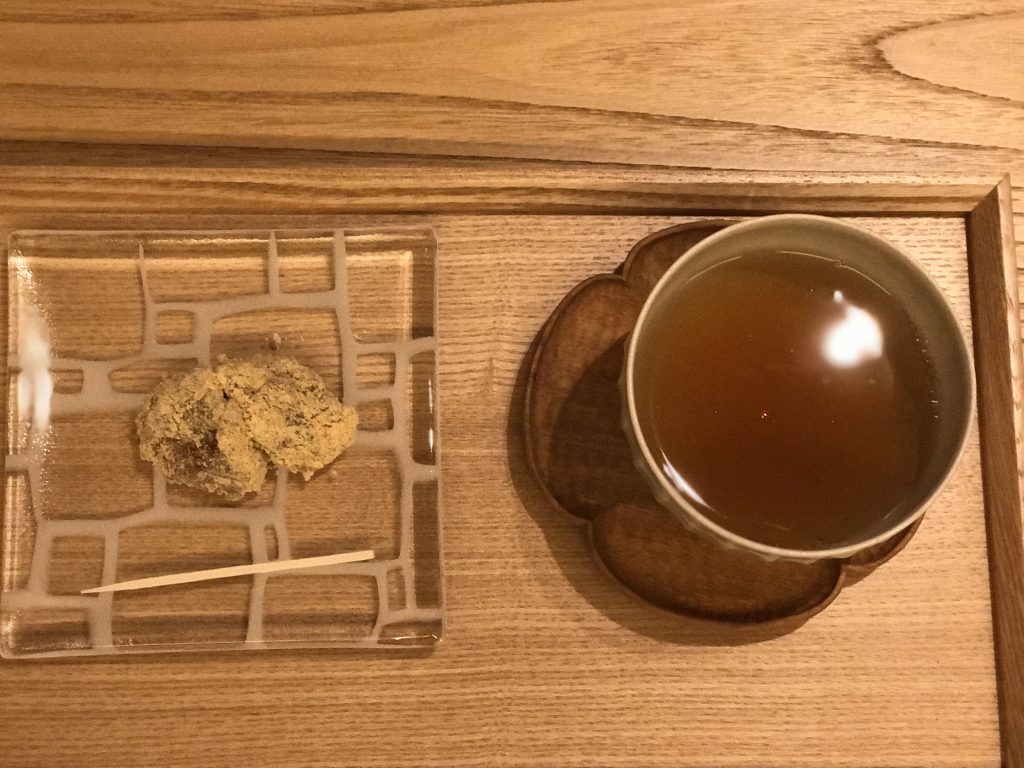 The minute you enter the ryokan inn (a traditional Japanese style inn with tatami-floored rooms, hot springs baths and seasonal cuisine), you are greeted by members of the staff that are dressed in a traditional Japanese kimono. The entire process unfolds moment by moment, like the cadence of a song. First, remove your shoes at the stones that separate the cold floor to the tatami squares lining your walk inside. It is standard to spend your time here without shoes as to not disrupt the flow and homage to traditional custom. Your shoes are then kept in the individual, inconspicuous straw baskets lining the walls that create an invisible installation of boxes, perfectly snug and discreetly concealed. You are then escorted up to the room floor and this is where it becomes very apparent that you are about to embark on a truly magnificent ryokan journey.
A ryokan is a compact universe built from the history, traditions, aesthetics, skills, creativity, and customs that define its locality.
The moment the elevator doors open, a dimly lit hallway with rich tones of dark woods awaits as does the Ochanoma lounge. Waiting is your host, also dressed in a kimono, with an array of sakes and teas, a traditional bite of local fare and frozen tangerines (a newfound treat I now make at home). The lounge itself is gorgeous. It's as if you've been taken back in time. The true nature of luxury in Japan exists in the details of design, simplicity, exquisite quality, and a deep respect of Japanese culture and that is precisely what the Ochanoma lounge embodies. Our Ochanoma lounge had colors of purples and greys with accents of bamboo and natural woods. One of the more decadent aspects of the lounge is that in the morning, you are treated to a breakfast fit for kings. A series of wooden bento boxes stack much like a clever game of Jenga and in each box, a masterful array of culinary delights.
Inside? Spring salad with rainbow beets, a crisped cut of salmon, paired with crispy tofu, a Japanese rolled omelette (tamagoyaki), yuba (tofu skin), seaweed, miso soup, and steaming hot rice or rice balls, with a sweet finish of crème brûlée. I also asked for a cup of coffee and that itself was pretty impressive! All of their coffee is a story in and of itself and I had the pleasure of trying the SM+ San Miguel Dark coffee from Guatemala by way of Coffee Hunters. The coffee comes in an unconventional plastic bottle and once you twist the cap? The aromas of rich coffee fills your nose. It's the perfect accompaniment to the beautifully composed breakfast.
Once you've chosen your sake or tea, you are taken to your room. The room key itself is beautiful as a thick silk Japanese fabric pouch houses the magnetic key (unseen). Swipe it and you enter into your own individual haven. Once again, the tatami floors greet you. The room is beautiful with a large Japanese bath tub, a bench to rinse off, a shower with multiple shower heads, and every amenity you may need, including a toothbrush and toothpaste (all individualized). Each room (Yuri, Sakura or Kiku) is designed with bamboo closets (with your very own kimono to wear while here with instructions on how to wear it, which is super fun) and handmade bamboo chairs, large beds and the most incredible aspect: the intricately carved artistic windows that allows the crisp air to filter in (if you want) with the option of privacy screens to darken the room (all at the press of a button). Even the TV is concealed inside the wall. Once you do decide to turn on the TV, you can lay in bed and watch without it ever obstructing the calm flow of the room. (Though I can't imagine you'd ever need to watch TV while here!)

Ok so now you're settled into your room. What's next? How about heading upstairs to the hot springs for a dip in one of the most spectacular experiences you'll have? The hot springs baths, known as onsen, are perhaps one of the most calming and rejuvenating things a person can do. Onsen are large hot springs baths with curative waters. It is a form of healing and each onsen, depending on location and the source of water has its own purpose. This one helps with swelling, stress and muscle tightness so basically it's like a water massage! This onsen is located on the top floor with an open view of the sky above.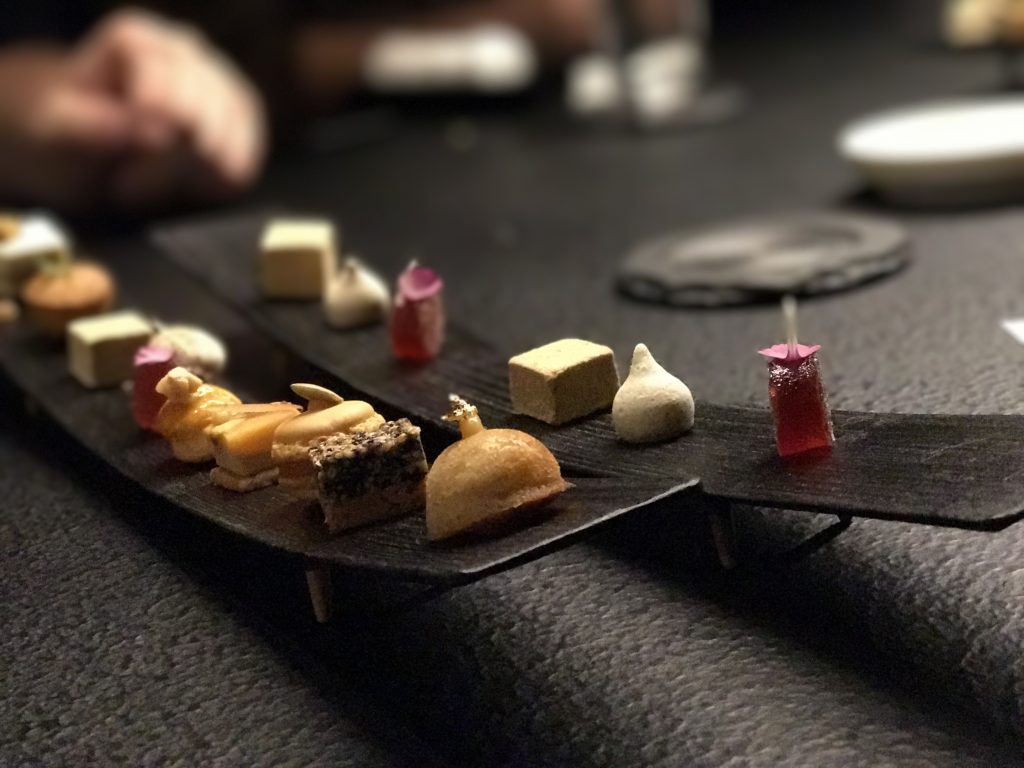 Lastly, the dining at Hoshinoya is Michelin worthy. Chef Hamada Noriyuki is a young chef whose travels abroad, specifically to France, have influenced his approach to Japanese cuisine. He believes in preserving the integrity of ingredients so his techniques are very minimal. In fact his love of ingredients has allowed him to take seafood, vegetables and fruits not often utilized and doing something so beautiful and simple, the naturalness of whatever he presents to your palate is never compromised or masked. He is a culinary purist and the result of his cuisine is nothing short of magnificence.
Our dinner unfolds one artful dish after another, each one speaking to us like culinary poetry. You can taste the delicacy he uses in his preparations. You find yourself anticipating each new piece of art that's going to come from his kitchen to find itself before you, but it's the stone display that is thoughtful, naturally impressive and ever so devoted to the palate's journey. Each bite is place atop a stone and each one is distinct. The temperature on each ball varies based on the dish so when you touch it? You feel a range of both heat and cool and it is mesmerizing!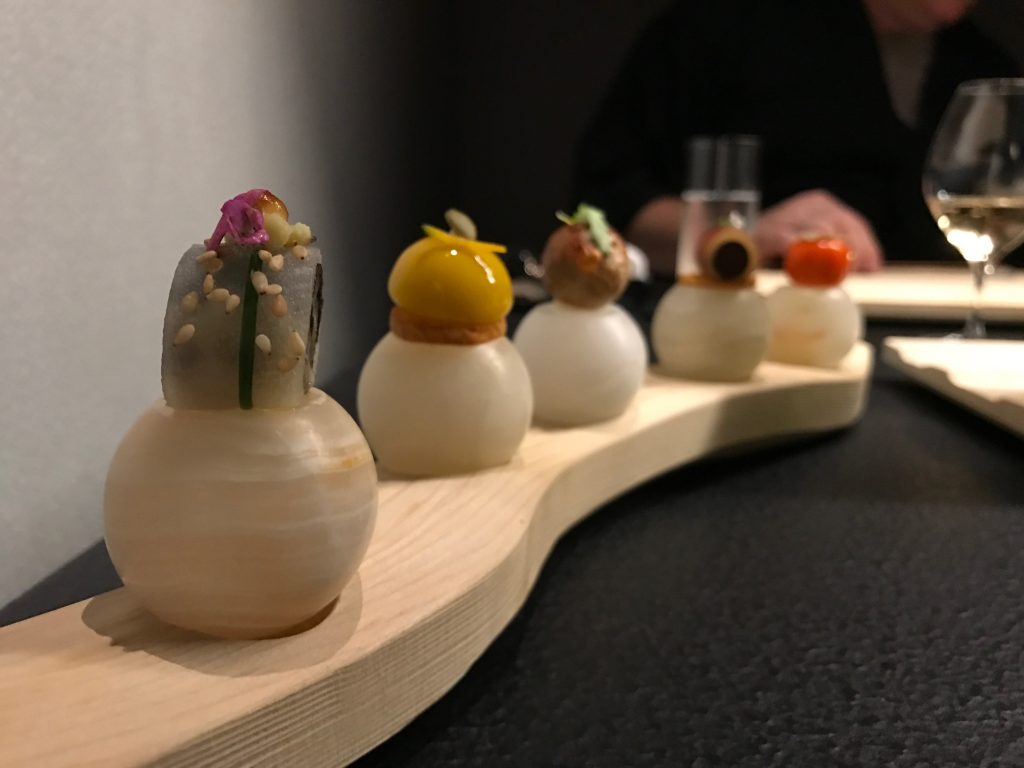 Dining here is a captivating experience, the decor is unobstructed and invites the earth inside with large pieces of stone, minimal plants and a culinary canvas awaiting your tastebuds. It will awaken your palate in ways you didn't think possible. Hoshinoya Tokyo is an immersive boutique hotel that offers you an opportunity to slip away for a while and find yourself lost in a paradox of times past and cultural modernism.  This is a hotel I could have spent a week in! It's something words cannot embody and your soul will thank you for.
There are also several other Hoshinoya Hotels around Japan and abroad, each with their own unique take on culture and tradition. Be sure to check out our PHOTO GALLERY of Tokyo (coming soon)! A big thank you to the entire staff at Hoshinoya Tokyo and GoTokyo!
LOCATIONS: Hoshinoya Kuraizawa, Hoshinoya Kyoto, Hoshinoya Taketomi Island, Hoshinoya Fuji and the brand new, Hoshinoya Bali