The Beauty of Bourbon | Days 1 + 2
Experiencing the 5th Annual Bourbon Classic in Louisville, Kentucky
All Photos ©Dawn Garcia
[dropcap letter="B"]ourbon making is an art. A process of distilling that requires patience, time, and a whole lot of tasting (which as I've learned, is a real perk!). That said, when one wants to delve deep into the world of bourbon, there's only one place to go and only one event to be a part of:
Louisville, Kentucky
(bourbon capitol of the world) and
The Bourbon Classic
(where you will be schooled in prohibition bourbon all the way to those who are new in the game and playing with ingredients).
The Bourbon king was the first ambassador of reason and human happiness.
Either way, prepare to sip, drink, eat and experience an American staple that will open your eyes to this dangerously delicious spirit. My total immersion began the minute I arrived and joined the very first event of the week: A tasting of four Pappy VanWinkle pours from 10-20 years. Yes, they started me out and set me up from the get-go to become a bourbon snob. From that point on, there was no turning back. (Thanks Seth, JT and Lorraine!)
To give you a true glimpse inside the Bourbon Classic and my entire week, this segment is going to be broken up into days.
www.BourbonClassic.com | www.gotoLouisville.com
[columns_row width="half"] [column]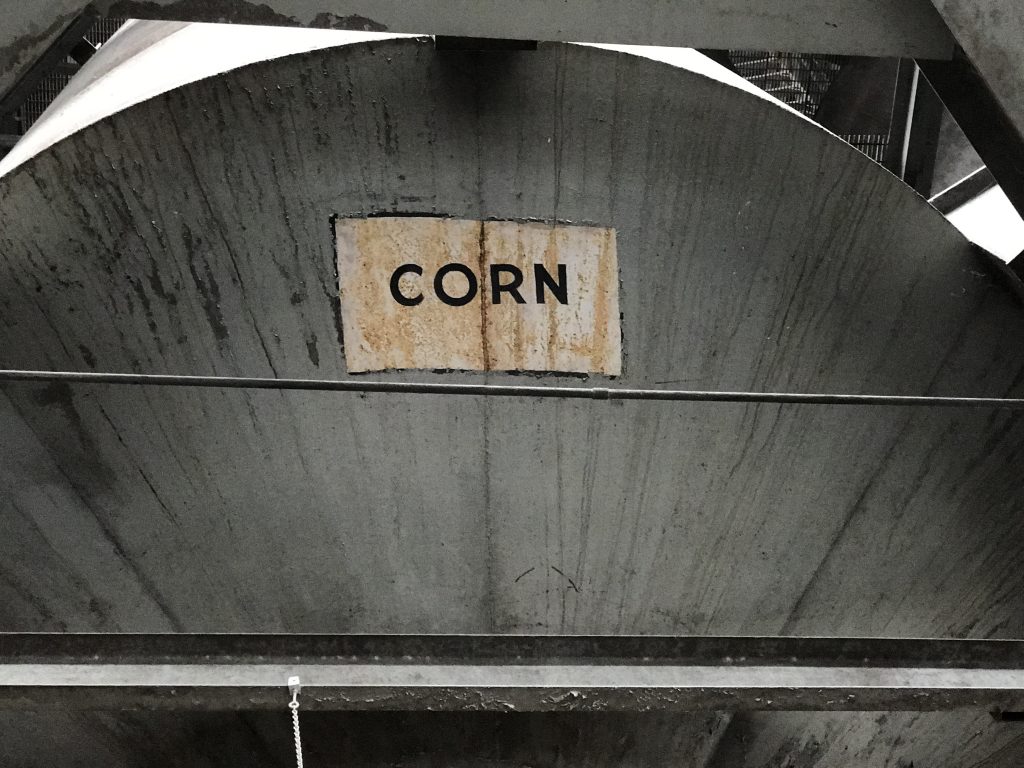 [/column] [column]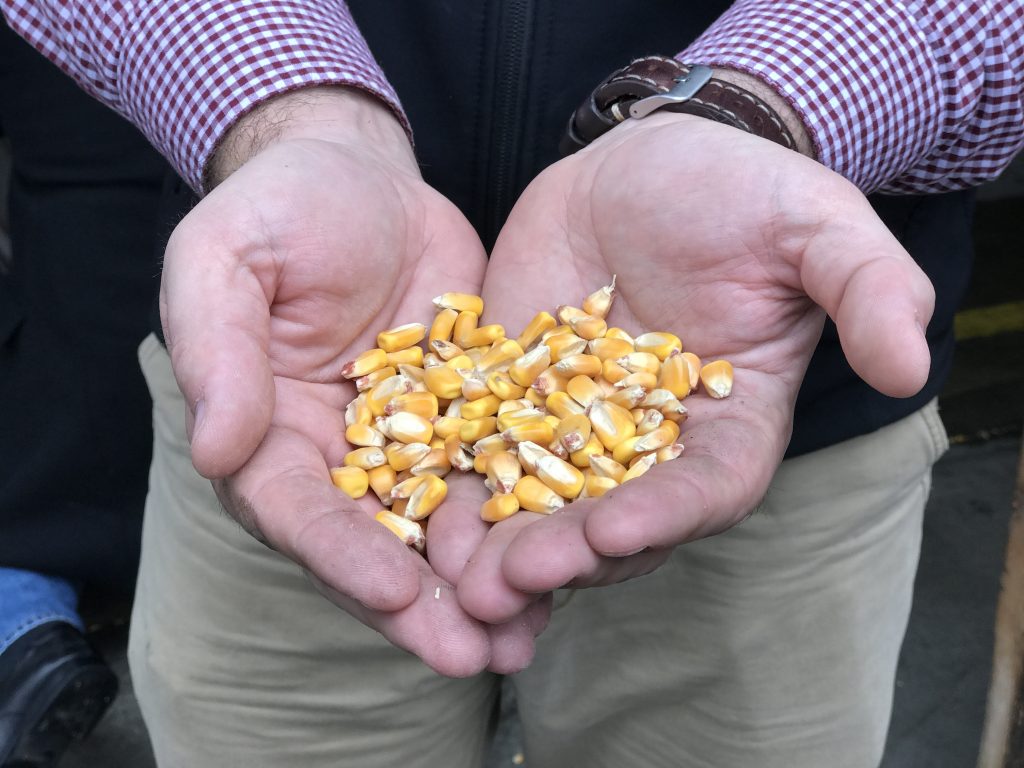 [/column] [/columns_row]
First, there are three things – the A,B, C's of bourbon – you must know before getting yourself geared up for your bourbon-ducation (made up word but one that suits me just fine):
A. Bourbon is downright American. In fact, it's actually an enforced piece of legislation from 1964 that bourbon must be made in America.
B. Bourbon is barrel aged in barrel charred white oak barrels.
C. Bourbon is 51% corn – or it's just not bourbon.
Next, there is something you should know about Louisville, Kentucky. It's known for four things: Colonel Sanders, the Kentucky Derby, the Louisville Slugger and Bourbon. In no particular order. Just rest assured when you arrive you'll be treated to some of the kindest southern hospitality you can imagine and there will ALWAYS be a drink in hand.
[separator type="thin"]
Day 1 & 2
The bourbon-ducation began when we all gathered at Lola's speakeasy to do a tasting of Pappy VanWinkle with Preston VanWinkle and as luck would have it, the Mayor, Mayor Fischer. It was an honor meeting these gentlemen and a fine way to introduce me to this grand city.
Lola's can best be described as a dark and seedy bar that's cooler than cool and there's even a photo of Johnny Cash on the wall drinking a bourbon to prove it. Chef Bobby Benjamin of Butchertown Grocery (the bottom floor of Lola's) prepared hand passed bites including a lovely gnocchi. The favorites for me were his pork belly and the gnocchi. Both had very big flavors while not being overdone and it makes perfect sense that it happens to be one of Louisville's best restaurants.
[columns_row width="half"] [column] [/column] [column]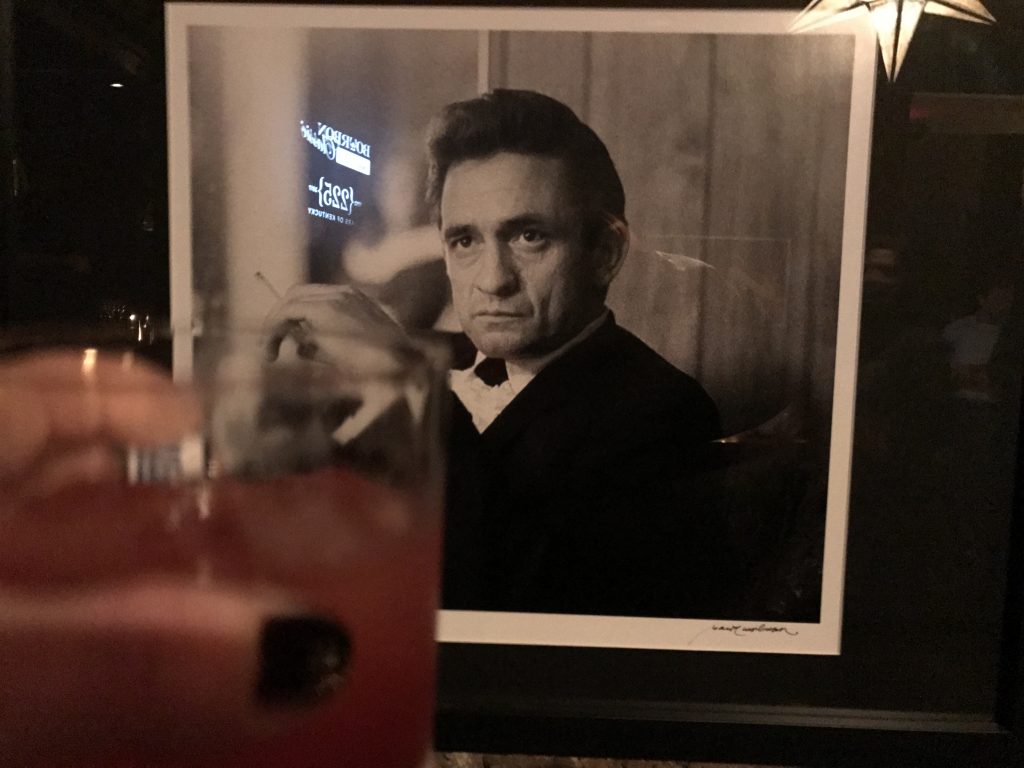 [/column] [/columns_row]
While I ate in great company, once it came time to taste some Pappy VanWinkle, I had to go in ready for something unforgettable – and get in there before it was gone! I tasted the 15 and 20 Pappy and made my decision that it's the 15 that best suits my palate. Notes of caramel, vanilla, leather and oak come to the forefront and as you allow it to take hold of your palate, you can appreciate the reason there is such a frenzy to get your hands on a bottle. For those that don't know, Pappy VanWinkle on its own isn't insanely expensive to produce but it is one of the most limited bourbon batches around, therefore increasing its value ten fold, making it the most expensive bourbon to get your hands on. And you're lucky if you can get your hands on some! Just be prepared for a hearty price tag associated with the pour.
The next step of my newfound bourbon obsession would be fostered on day 2 when we travel to Barton 1792 Distillery and Maker's Mark.
[separator type="thin"]
BARTON 1792 BOURBON DISTILLERY
[columns_row width="half"] [column]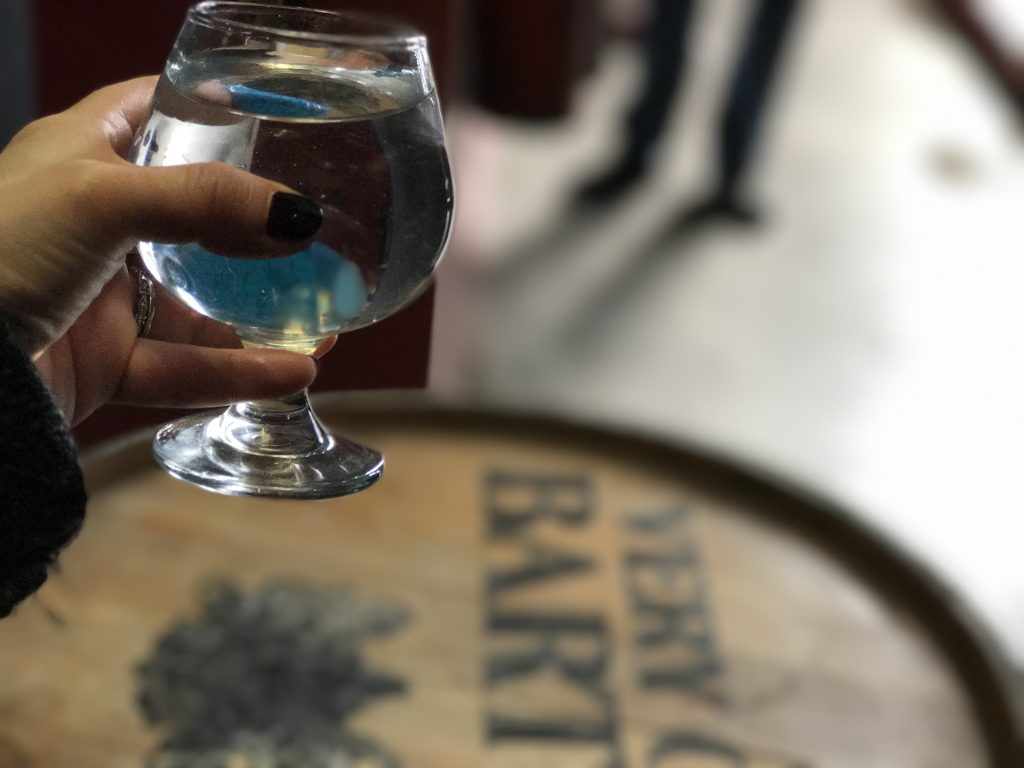 [/column] [column]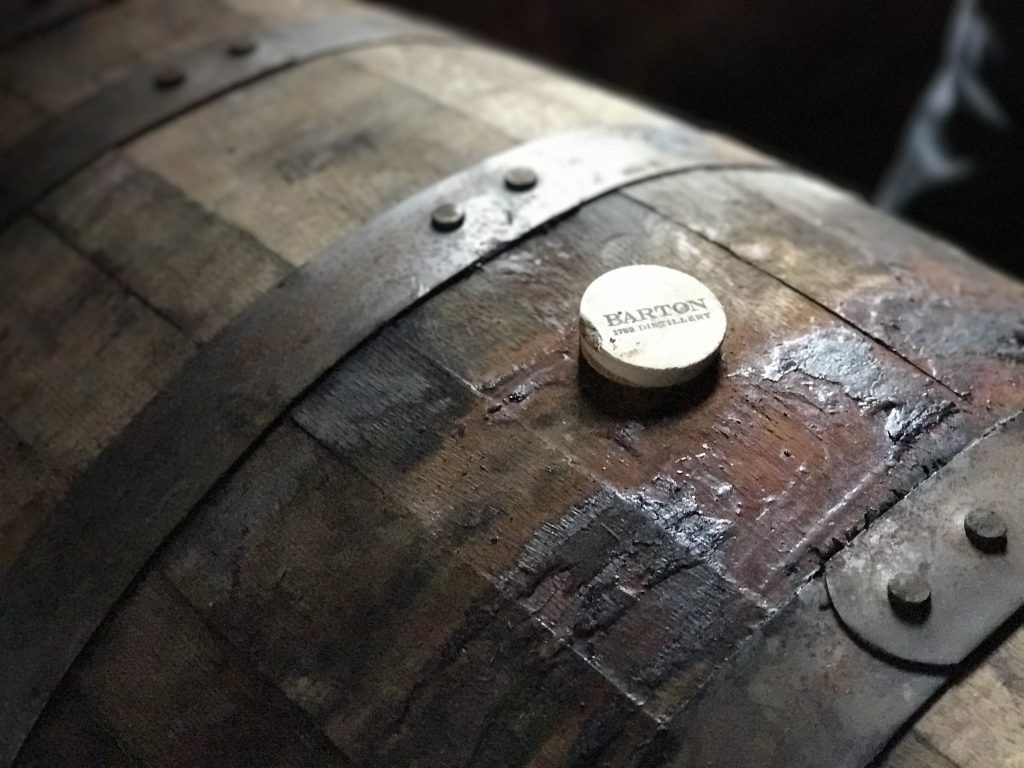 [/column] [/columns_row]
Barton 1792 Bourbon Distillery has a very rich history dating back to 1879. While it began using its distillery to make weapons grade ethanol during the war, first run by Tom Moore in 1934, then Oscar Getz took over in 1943, it wasn't until a fire erupted, burning the wooden distillery to the ground that they had to rebuild. Thus began bourbon distilling. During a time when America we rebuilding on the whole, this become a staple fixture in our nation's spirits. It also was used for medicinal purposes and it seems a lot of people felt "sick" during prohibition (who can blame them!). Now the distillery is run under the Sazerac brand (since 2009) which includes Buffalo Trace and E.H. Taylor (Day 3), Van Winkle and Southern Comfort to name a few.
A few known facts about the process of bourbon making at Barton 1792:
It's called the White Dog because it's white (clear) and it'll bite ya!
Barton Distillery goes through 30 acres of corn a day, 50 tons of a coal a day and they never run out of fuel thanks to the combination of both coal and gas. Coal, by the way, saved the distillery in 2009! The road in the middle of the distillery used to be where thoroughfare came through and now serves as a city and county line (a fun little twist when tax time comes!).
Invited into the barrel room which houses thousands of barrels to do an intimate tasting, it's the smell walking in that immediately perks you up. It smells of caramel and happily soaked staves that have their own story to tell and it's heavenly!
1792 Distillery | 300 Barton Rd. | Bardstown, KY 40004
[columns_row width="half"] [column]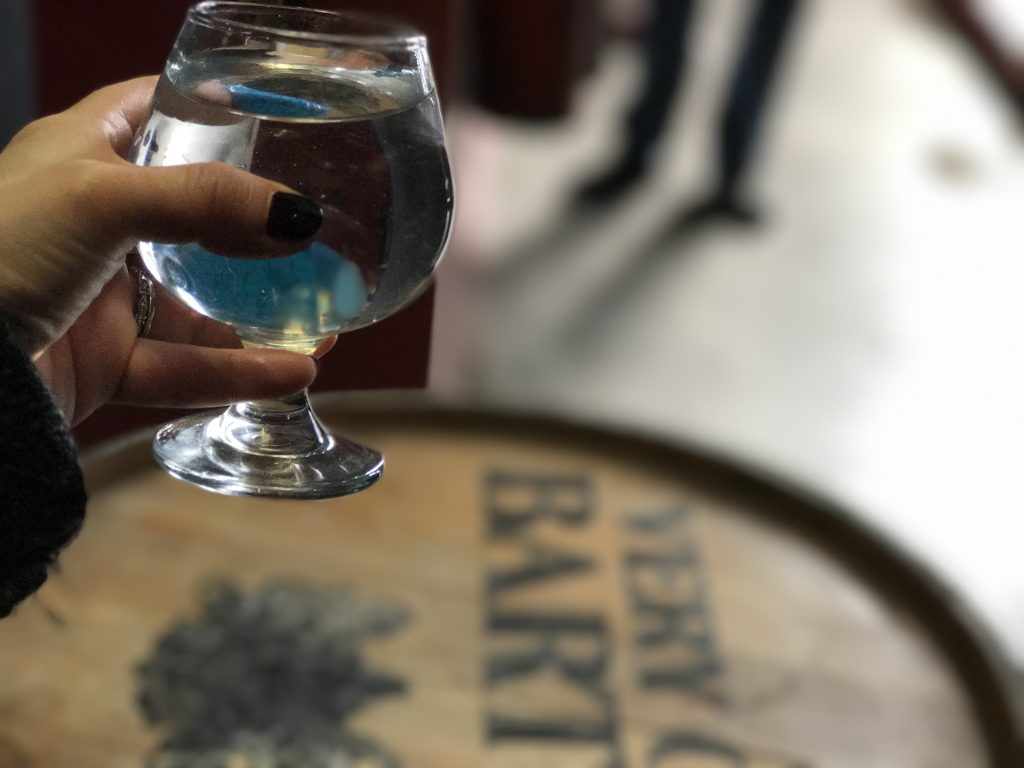 [/column] [column]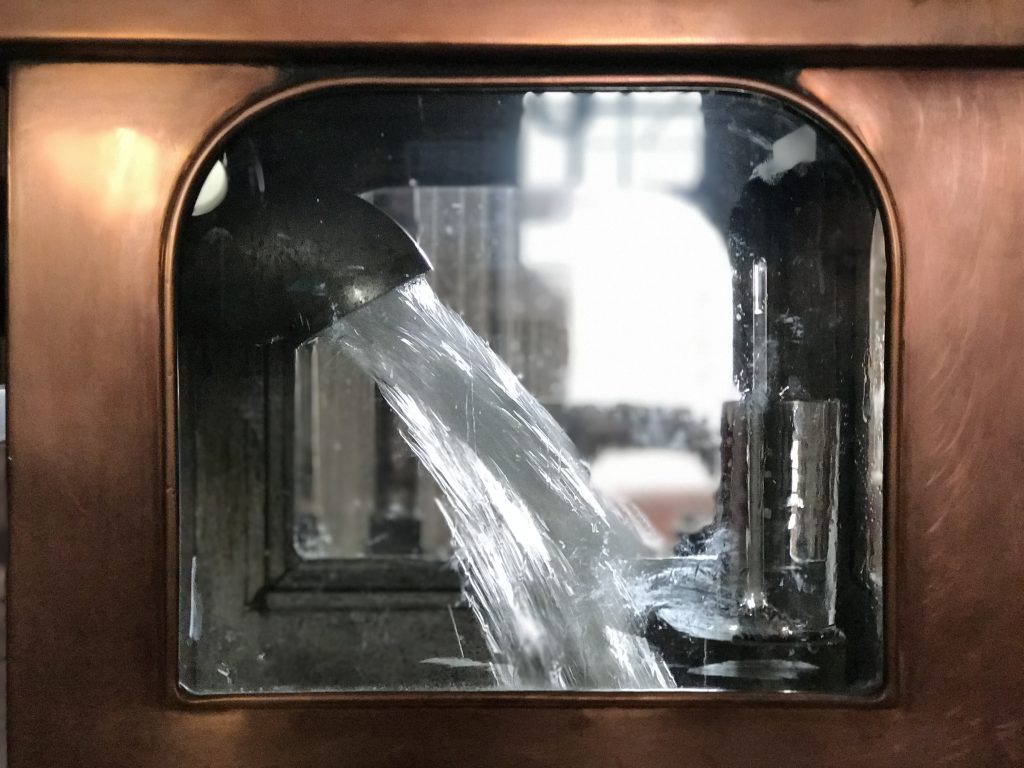 [/column] [/columns_row]
So now onto my tasting notes. Keep in mind this is my own personal experience and as a wine girl with a hearty adoration for what were once known as gentlemen's spirits like whiskey and scotch, I'm still a bit of a bourbon virgin. That said, traveling the world and eating a multitude of spices, herbs and ingredients and consuming an array of flavorful spirits has certainly prepared me for a fanciful few days of ingesting a newfound favorite (bourbon!).
Small Batch 1792|  Made in Bardstwon, the nose is of chocolate and cherries with caramel and peppercorn on the palate and a finish that's a bit more spicy like ginger.
Single Barrel 1792 | This has more of a gasoline smell on the nose with vanilla on the palate and a finish of sweet corn and cinnamon. This has more of a subtle sweetness to it, like spring brushing up against you.
Full Proof 1792 | This has a strange (but hearty and good) melody of caramel, oak, vanilla, corn pops (really), and something doughy. The finish is big and one to take in stride.
Sweet Wheat 1792 | This has a nose of black cherry, whispers of oak, nuttiness and vanilla with a finish that tastes almost of a creamy almond that catch you on the nose and eases on the finish.
High Rye 1792 | This had a surprising nose with notes of caramel, honey and vanilla with a silky finish of sweet and earthy.
Barton distillery is one of those beautiful picturesque locations located in the midst of historic Bardstown
[separator type="thin"]
MAKERS MARK
The moment you enter the Maker's Mark Distillery, you feel like you've entered a different world, it is more like a village than a distillery as multiple buildings house everything from bottling to barrel making to tastings to dining. We begin the afternoon by being greeting by the man himself, Bill Samuels, Jr. Bill is sort of a larger than life kind of man who can tell the kind of stories you'd listen to for hours over a fire, some good food and of course, lots of bourbon! The history behind Maker's Mark is one that extends to Bill's parents, T. William and Marjorie Samuels when they purchased the distillery in 1953. While you won't read much about it, it seems his mother Margie was a rather influential part of the entire process.
Maker's Mark Distillery | 3350 Burks Spring Rd. | Loretto, KY 40037
[columns_row width="half"] [column]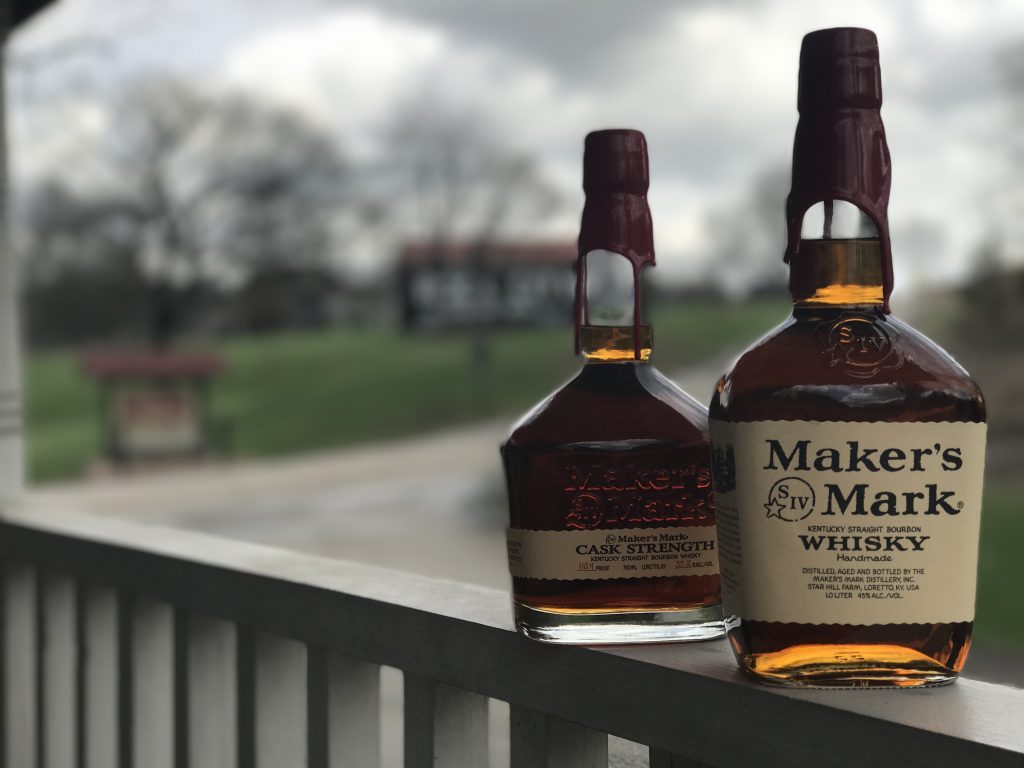 [/column] [column]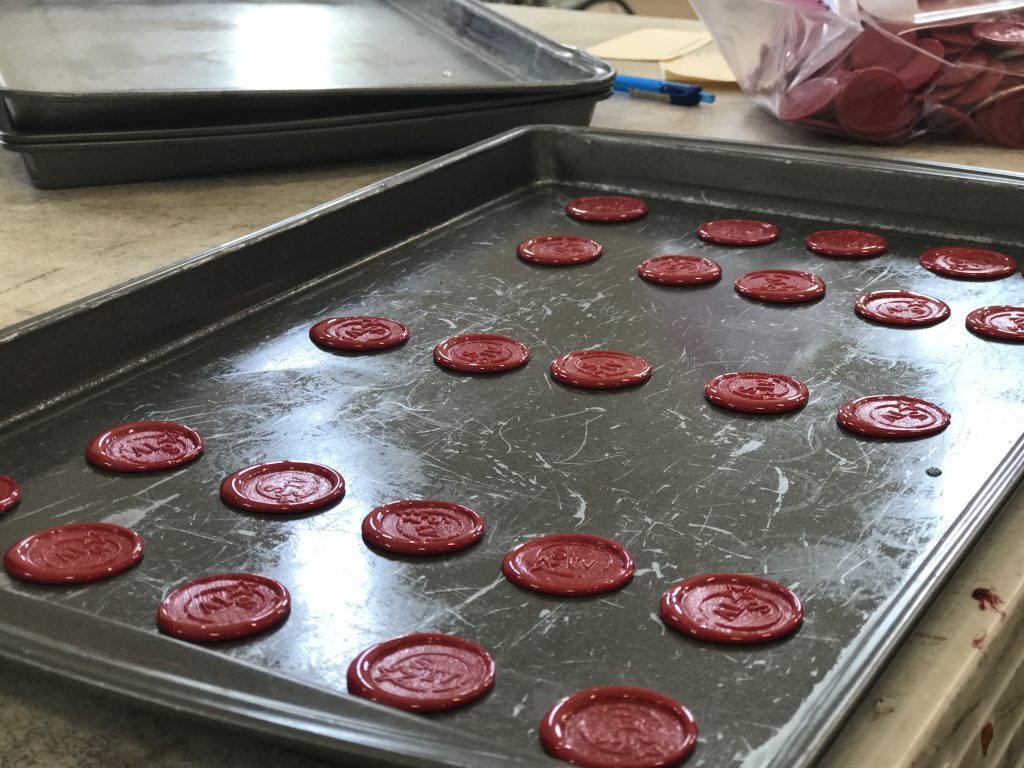 [/column] [/columns_row]
In fact she is the originator of the distinct bottle design when she made a paper mache mockup of what she envisioned, right down to the red wax dipped top, then presented to her husband and after that? The bottle became the insignia bottle that the world would come to know and love. Her vision and tenacity played a major role throughout the distilling and marketing of Maker's Mark and when you hear Bill tell the stories, well, you can't help but realize what a beautiful family they really are.
Dad says, we're spending all this time rebuilding, why not spend some time figuring out how to make our whiskey taste good. And my grandfather said, no thanks. Now this was during the Depression and my grandfather said, 'the American people are thirsty and they'll drink anything'. My grandmother called it nose-holding whiskey and she was approximately right! So as he got older, this was dad's retirement hobby. He got in the bourbon connoisseurship when it was awful. But he didn't have the pressure of the commercial demands or being successful and so he took his time making really good bourbon. And that's what we have today.
Our afternoon begins with a southern lunch prepared by Chef Newman Miller. It must be noted that chef is one truly talented young chef who is going to have the kind of fare you flock to Louisville for! Our lunch consisted of cornbread (inspired by Sean Brock), grits with beer and cheese, country greens and beans with pork, beef and tomato sauce, braised beef short rib with shallot oil and crème brûlée.
[columns_row width="half"] [column]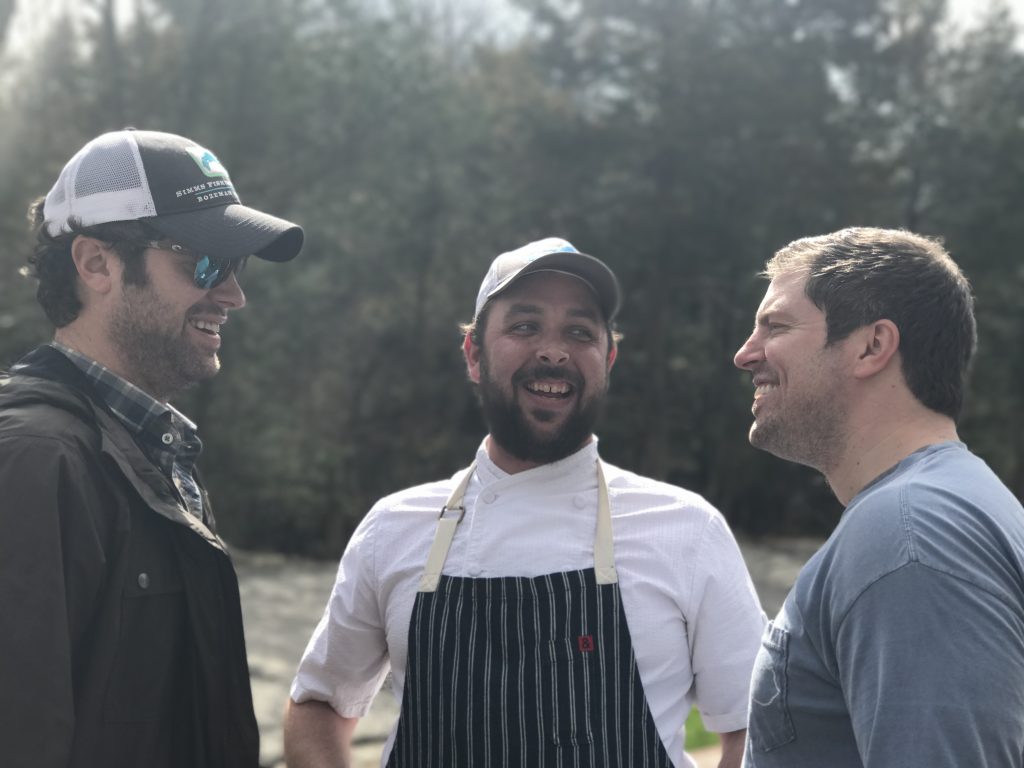 [/column] [column]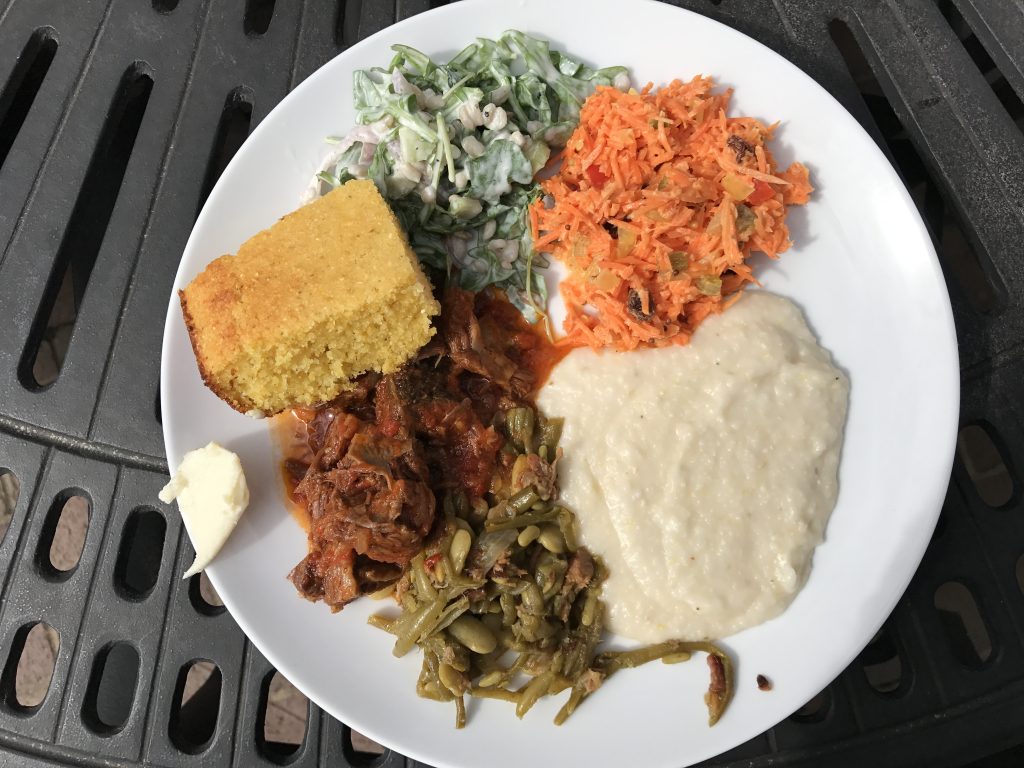 [/column] [/columns_row]
Every last bite was downright delicious, in fact I went back for seconds of that short rib and grits! After our lunch, we were taken through the various buildings on the Maker's Mark property. We tasted a variety of different tanks through various stages of bourbon-making so where one tank tasted sweet, another tasted sour and another tasted grainy. Each distinctly different and in the end, the payoff is a damn fine bottle of bourbon.
The Tasting
Maker's White | 90 proof. This one sings like a bridge across the palate with corn on the front of the tongue.
Maker's Mark | caramel and vanilla notes with a honey finish that settles on the front and middle of your tongue.
Maker's 46 | 94 proof. Everything lingers on the front of your palate. Because of the process of utilizing the wine process and understanding the whiskey maturation with air bubbles and pressure in the barrel, winter contracts the staves causing retraction. The process caused the barrel to not want to to fit properly back in the barrel so, one day, when they were barbecuing, they decided to cook the French staves the same way (hot and intense). That allowed them to lock in the flavors getting more caramel and the creation of vanilla with very mild notes of cinnamon from the French oak.
Maker's Mark Cask Strength | "This is mom's legacy from the grave", says Bill. This one is unfiltered and slides further down on the tongue and throat. It's sharper, spicier and the viscosity is more intense.
Maker's Mark Private Selection | this tastes like a story unraveling and while it lingers on the front of the tongue, it has a rather sharp finish that reminded me of smokiness and sweet corn.
We headed to the main house on the property and had the distinct pleasure of meeting Chef Dickie Brennan, his nephew and culinary team that came in from New Orleans for a very special dinner that would continue the following evening. Meeting him was a first for me and up until this point, I had no idea the dinner that would be in store the next evening would be one I'd never forget (it was the best steak of my life!). There is tremendous history in this family. And in true Kentucky form, they also happen to be a part of the other history I mentioned above. In fact, according to Bill Jr., he would ride along with Colonel Sanders when he was 15 years-old dropping off bags of fried chicken long before KFC became what it is today. Whether you listen to Bill tell tales of his schoolmates which included Little Richard, Pappy VanWinkle, or you see an original letter from Abraham Lincoln declining to be president hanging in his office, this is a place rich in folklore, history and heart.
More on Louisville:
Later this Month:
Dinner with Dickie
21C Museum Hotel Louisville  
PHOTO GALLERY | Hanging with Bourbon Review
[columns_row width="third"] [column]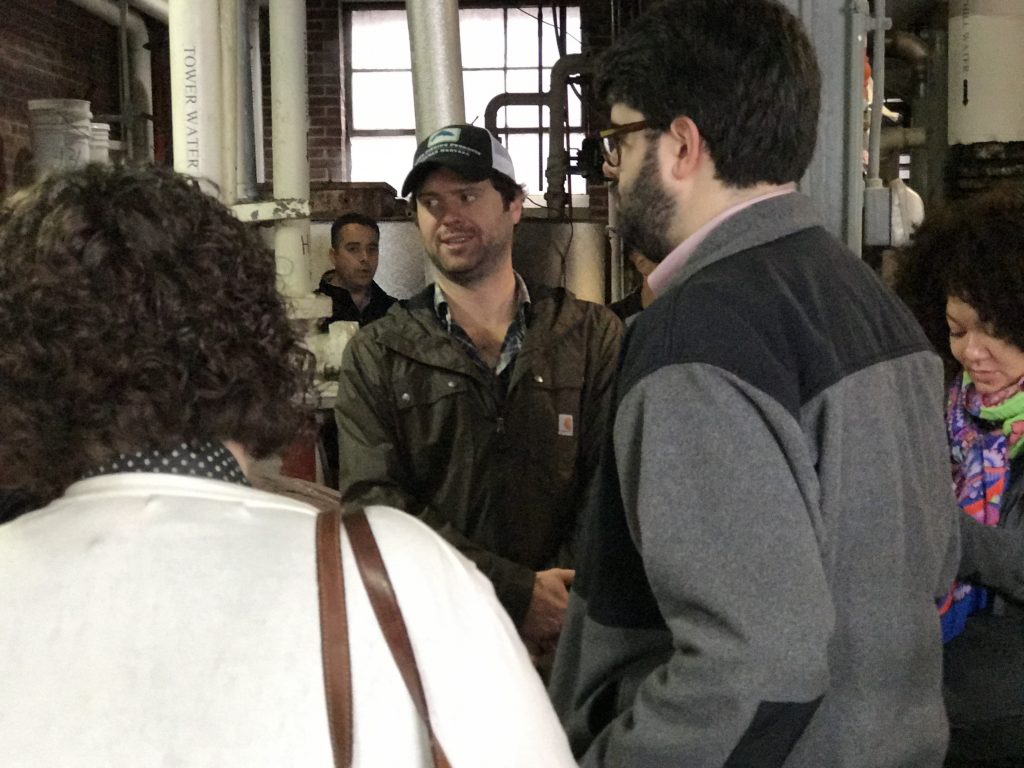 [/column] [column]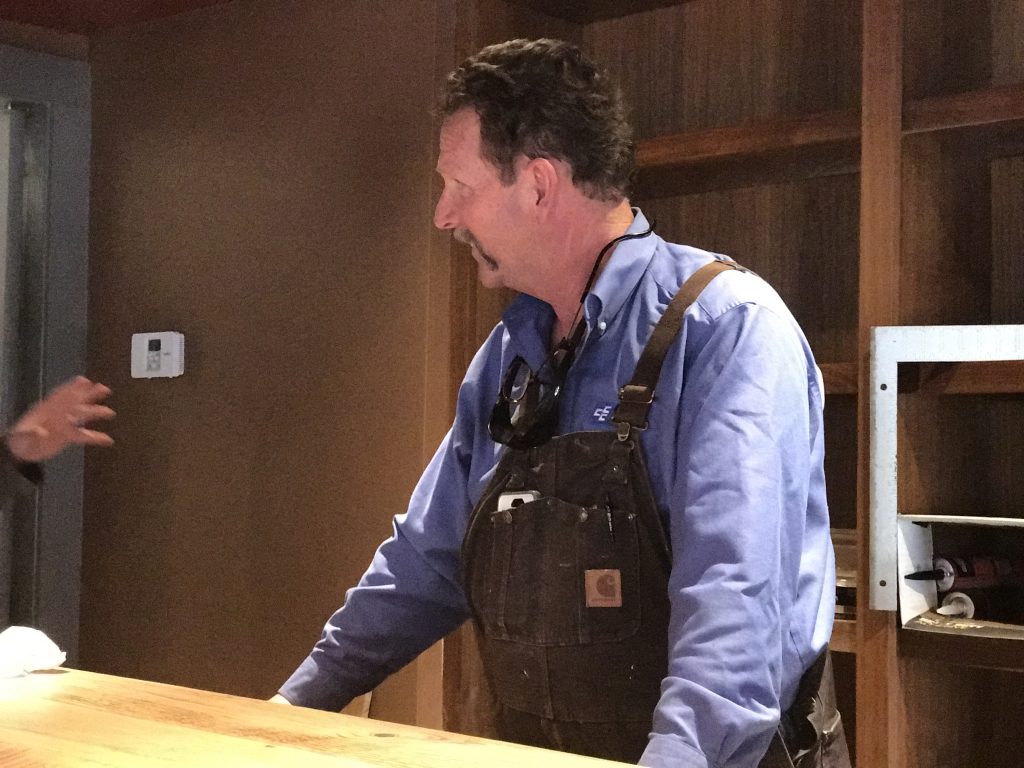 [/column] [column]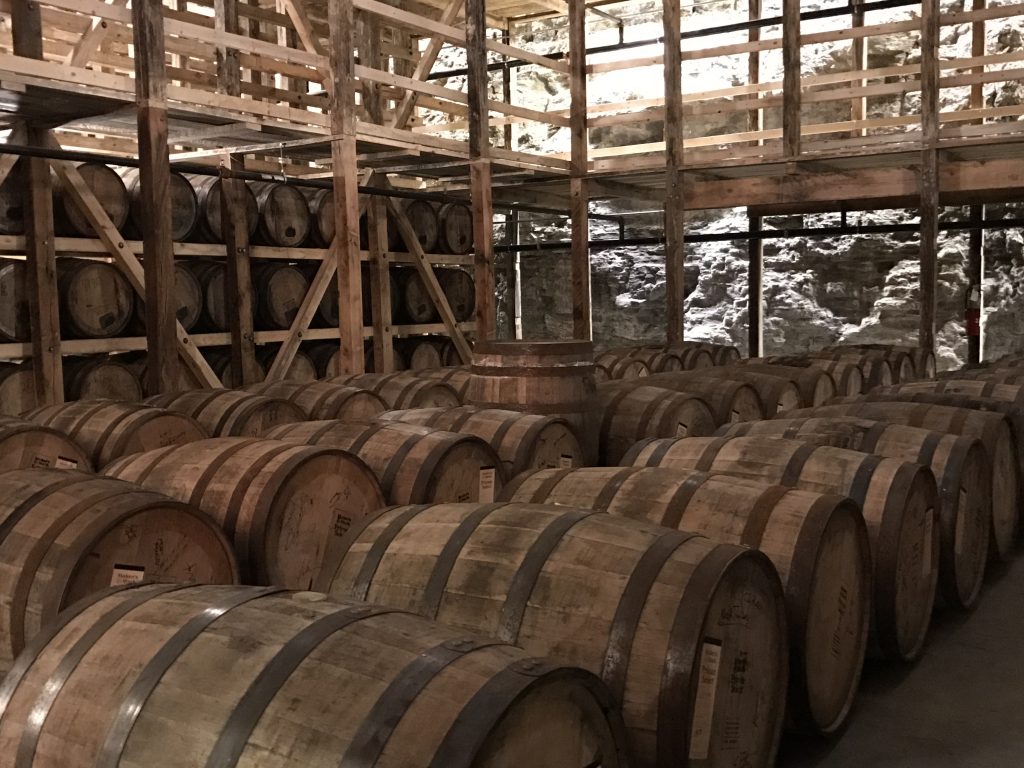 [/column] [/columns_row] [columns_row width="third"] [column]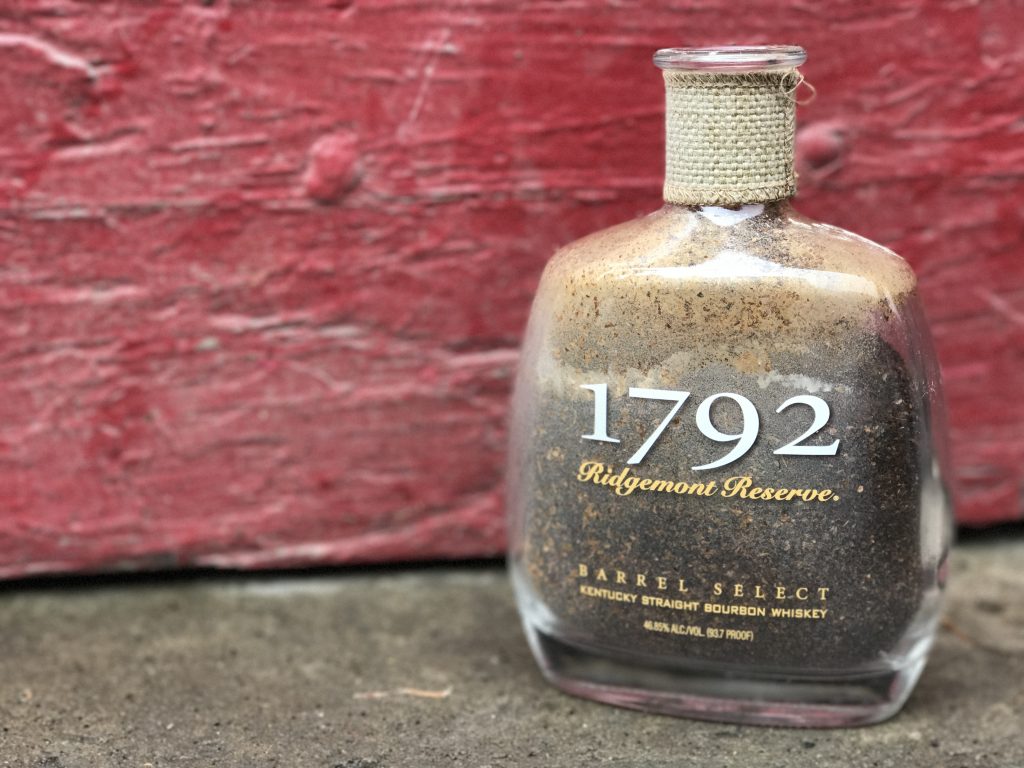 [/column] [column]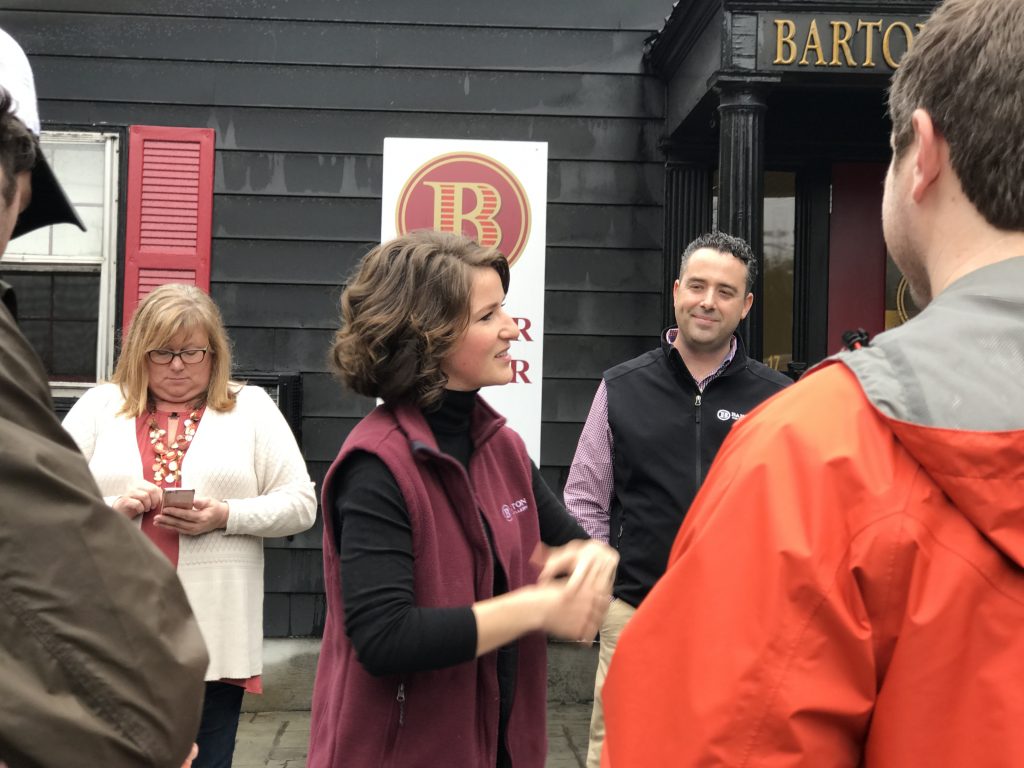 [/column] [column]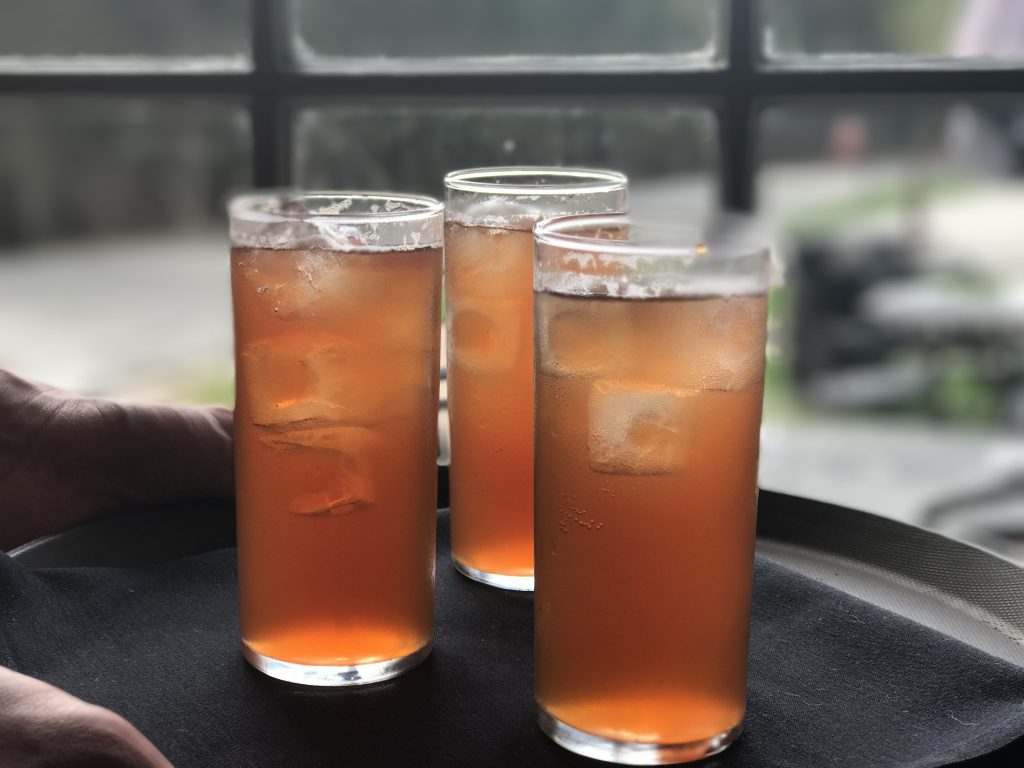 [/column] [/columns_row] [columns_row width="third"] [column]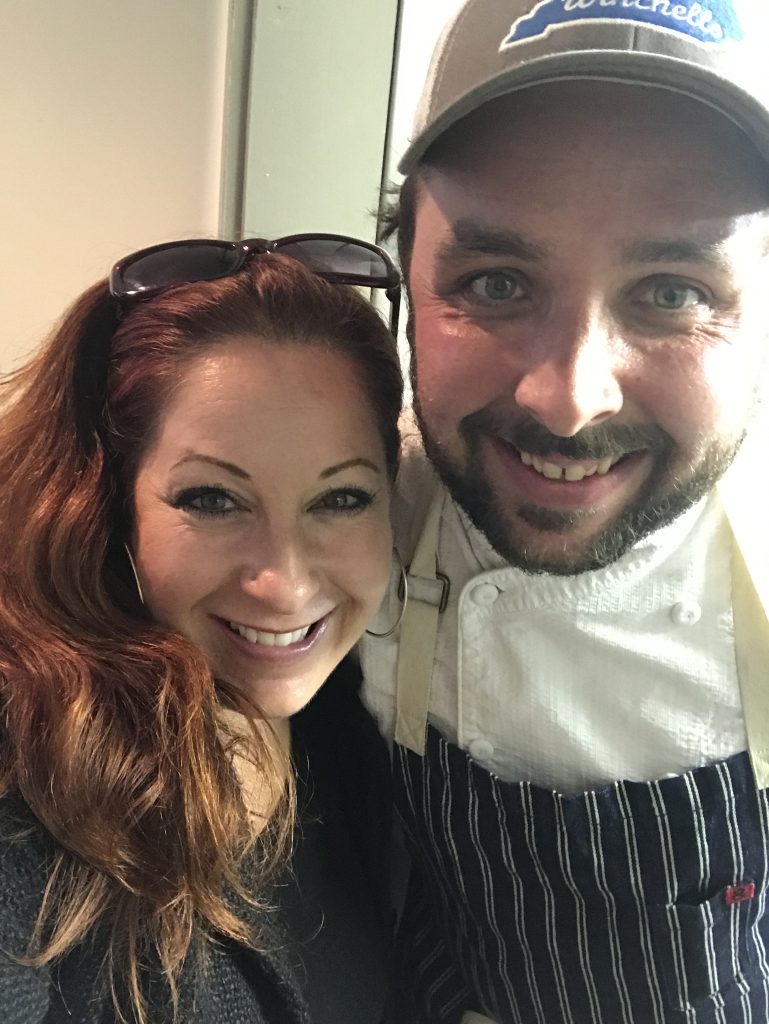 [/column] [column]
[/column] [column]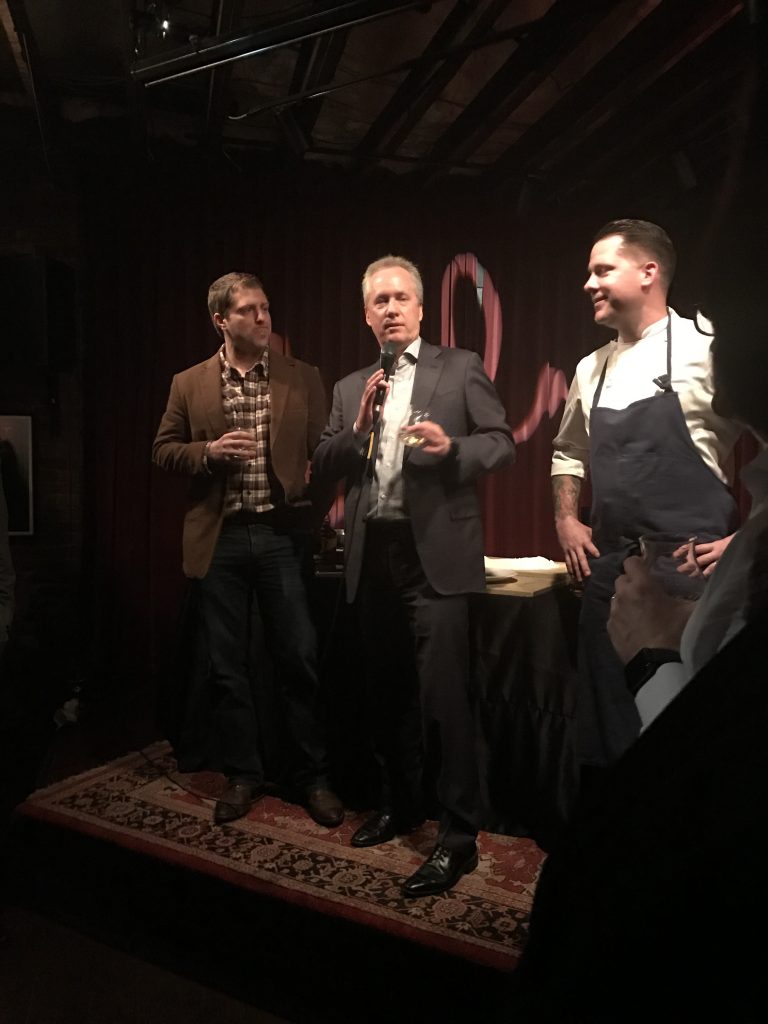 [/column] [/columns_row]