5 Spirits To Look Into
cover photo ©ATOD Magazine™
[dropcap letter="T"]hese days, it seems there are more choices for alcoholic concoctions than one can fathom but alas, as much as it can be overwhelming, it also means thirsty revelers have some very intriguing options! This year as I traveled across the country on a quest to find some fun, complex, authentic new sips at the
WSWA Convention
, I found 5 (in addition to my 2 mentioned in the
"Drink This"
article) that had heart, story, damn good packaging and taste. [separator type="thin"]
Kamiki | Japanese Whiskey
The name alone has a meaning that in its purity says everything: Kami = God and Iki = Breath. With a story that takes place on what the Japanese deem to be sacred ground of spiritual and carnal harmony exist the Nara temples. Among those temples is the Ōmiwa Shrine, a tutelary shrine of the Japanese alcohol producers; alcohol served as blessings to the Shinto temples. The whiskey made takes into account the harmonious nature of the temple and region itself. The whiskey is aged in Yoshino Sugi (Japanese Cedar) which has a fragrance that is calming and pleasing on the nose, lending to the poetry of wood undertones, honey, caramel, Japanese plum, oak and green tea. The newly released packaging sits well with the marketer within: it has the letters KI / MI / IKI separated by Japanese samuri swords in a visually stunning and clean design that immediately lets you know this is going to be a whiskey from Japan that you need to experience.
Silver Medal Winner at WSWA 2017
Nardini | Grand Marrons, Appicello, Amaretto
The story behind Enrico Nardini is one that sets itself in the rich landscapes of Tuscany, Italy. Enrico Nardini established the old Nardini Distillery in Barga, Italy which is located in the province of Lucca around the year 1890. Deep in the villas of Barga exist some of the most bold flavors around. Utilizing only locally grown ingredients, Nardini devoted himself to crafting flavors that emanated the province from which they came. When you learn the story of Enrico, the province they lived in, and the heart and soul of what they do, its impossible not to at least want to give it a taste. The distillery grew over time and changed hands nearly 20 years ago when local, Nello Iacopucci introduced his childhood friend, Claudio Santini to Giovanni Rosiello who now owns the distillery. Claudio and Giovanni because friends immediately leading to an exclusive agreement naming Claudio and his family the sole importers of the whole Enrico Nardini line. I had the pleasure of talking to Claudio (who is a true charming Italian gentleman!) and he told me a story of when they were young in the small town of Lucca. As a young child during WWII, Claudio lived across from this gorgeous 11th century stone church which had a tunnel dug beneath it to serve as a bomb shelter during times of war. Lucca fell behind enemy lines during the war and Claudio tells me he still remembers the sirens and church bells ringing. Those bells meant his family and the people of Lucca needed to seek shelter immediately underground. Sometimes they were spend days on end in that tunnel, and this went on for months. Thankfully the church still remains as does their family home and the rustic charm of the history they've endured only endears you further.
When he speaks about Tuscany and the brand, his heart and candor only brings out the enthusiasm of why this brand of spirits is so special. I had the pleasure of meeting the entire family (David and Lisa Dello Russo, Claudio and Michael Santini, and Patrick Giodano) and the devotion to sharing their love of a well crafted spirit from the inspiration of Tuscany really is something to behold. The three spirits that stood out for me were: The Grand Marrons which is made of chestnut and has a hearty base that would bode well with just about any spirit; the Appicello which is a green apple based liqueur that has all of the mild musings a fresh apple plucked from a tree would (no crazy influx of sugar, this tastes light and crisp); and lastly the Amaretto that is rich with the spirit of Italian liqueur with airy notes of almond that is wonderful for sipping alongside your favorite dessert or mixed in an adventurous cocktail.
J.J. Corry | Irish Whiskey
Much like Irish folklore, the story of J.J. Corry is a bit legendary in Ireland. One of the only Irish bonders in the 1800's,  J.J. was an innovator and a man before his time. His little shop at 63 Henry St. Kilrush was a key part of the local community and the only place where you could buy J.J.'s pride whiskey "Corry's Special Malt." It was available by the glass for 3 Pennies or by the Jar. Fast forward two hundred years to the story of Louise McGuane. After two decades in world of working in the drinks industry, she got married and found herself in a bit of a quandary. No longer wanting to spend 80% of her year traveling, she returned to the family farm in Ireland and started The Chapel Gate Irish Whiskey Company. The beauty of what Louise has done is take all of her priceless knowledge and turned it into a new tale that the people of Ireland will soon come to tell for generations to come. Now one of the only Irish bonders (in true homage to J.J. Corry himself), she has devoted herself to developing a true Irish Whiskey. While once perfected and respected amongst avid Irish whiskey drinkers, she has a long term vision to craft an array of spirits but for now? She wants to get down to the basics. So much so, they age the whiskey in the climate the barrel is stored allowing for the surrounding nature and agriculture of Ireland to seep in, even the distillery has a clay floor like they did back in the 1800's. Her whiskey is honorably named after J.J. Corry for all he represents, for his innovation and because he made something the people truly loved. This was by far one of the most intriguing stories and I love supporting a female distiller.
2nd Place Winner | Brand Battle
www.ChapelGateWhiskey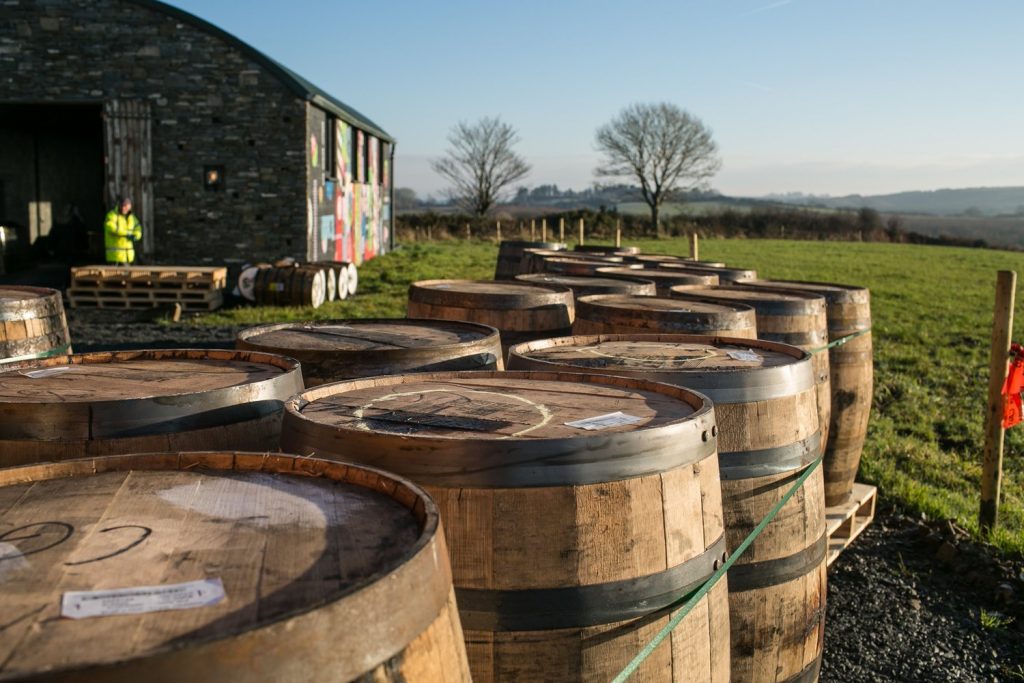 [separator type="thin"]
Shottys | All natural, party ready gelatin shots
It might seem crazy to say I found some truly tasty "Jell-O" shots but alas, what the two gents behind the development of Shottys have done is make something you can easily stock your fridge with. The perfect single serving, 8-cup package would bode exceptionally well in every college dorm, every costume party and really, anywhere you want to feel a little youthful. These individual "shots" are kosher and gluten free made with all natural ingredients. Even the dye used is made with ingredients that come from nature – not chemically engineered. Joe Block and Austin Rovetti crafted this gelatinous shot out of sheer desire to try something different and make drinking easy and fun again. It's basically a party in a cup and with 25 proof, 12.5% alcohol made with six times distilled premium vodka, they taste as fun as they look. With four flavors: strawberry, lemon, lime, orange and blue raspberry (basically your childhood favorites now made for grown-ups), Shotty's will be available in the general marketplace this year so be on the lookout.
www.Shottys.com | @shottysofficial
[separator type="thin"]
BONES | Virgin Island Rum
Once upon a time a man named Robert Louis Stevenson started a little tale that launched a little known folklore that spans the ages: "Treasure Island". He also inspired the name of "BONES Rum" … or so the story goes. Aged in oak barrels there is a range from light to dark rums, each with a very distinct flavor that arouses your inner pirate. Having played a critical role in the history of the Caribbean, creating connections between pirates and the Royal Navy, providing economic aid in times of war during the American Revolution, it also became the ideal underground bartering tool (probably still is!). While legends make pirating seem a bit more like Captain Jack Sparrow and a little less uncouth, it was a seafaring life that led to disease (scurvy causing blindness hence pirates with a patch) and often times banishment to isolated islands when a pirate disobeyed their Captain (for all intensive purposes, let's think Blackbeard). Either way, rum is its own character and rightfully so and has since solidified its place in our happiest of cocktails. That said, BONES Rum is a Caribbean rum produced on the island of St. Thomas and has notes of cinnamon, molasses and subtlety of the air of a well aged cigar box. It's certainly one to give a try.
All in all while I continue exploring the fanciful world of spirits and wines, the WSWA has opened my eyes to the evolution in the industry, the emphasis of brand identity, the essence of story and the beauty of making sure our thirst is never for want.