5 HOTELS to LOVE in the D.R.
Exploring 5 Different Hotels + Villas from the South to the North
photos courtesy Nick Argires
[dropcap letter="T"]he
Dominican Republic
can best be summed up by saying then when you're there – sunshine, beauty and culture flood through the streets in happy abandon. Streets tell stories as old as the Americas with bricks and stones worn with time and tales of war, storms, livelihood, art, passion, music, conquest and loss, but most importantly a spirit of triumph. Known as a city of firsts, the journey began in Santo Domingo.
Santo Domingo is said to be the first place Columbus discovered when coming to the Americas. I imagine what it must have been like to be on the crystal clear waters with an eye line filled with a lush green island that invokes complete submission in the purest way.
In 1496, Bartholomew Columbus, younger brother of Christopher, sailed the Caribbean isles searching for a site to build the first permanent European settlement in the New World. Here he found an unspoiled place of natural beauty and made it a sanctuary from the hardships of travel, exploration and adventure. Within a few short years, Santo Domingo was the center of cultural, political and economic activity in the European New World. Today, the original portion of Santo Domingo is known as the Colonial City and it remains the city's cherished and well-preserved heart.

[separator type="thin"]
Santo Domingo may very well be the most lively city in the Caribbean with streets crowded with locals shopping, dancing, dining, and on a regular summer night, you may find them singing karaoke in the storefront of the liquor store! Either way, it's a gorgeous city and amidst the ruins and historical architectural neighboring the Colonial District is Hodelpa Nicolas De Ovanda, a 15th century architectural landmark. Entering through the large wooden doors you will find yourself facing a large table adorned with fresh florals and a courtyard just past it. An open floorplan bringing the outdoors and indoors together in a shared space, this is a wonderful hotel with open rooms, some with canopy beds, and added details of warm, rich tones. There are two bars to choose from and the tasty restaurant, Dos Mundos that takes the beautiful vision of Chef Martin Omar and presents dishes that are simply beautiful. With a chefs garden on site, the care put into every detail is apparent from lemongrass to multiple varietals of basil, local herbs and vegetation. The food crafted by Chef Omar is something that tastes not only like the region but tastes like love as well. He takes gastronomy and traditional cuisine and blends the two worlds of old and new into an exquisite marriage of flavor and presentation. This was a wonderful place to rest my head and awaken my palate from impeccable service, the chef de cuisine, and the food itself.
HOLDEPA NICOLAS DE OVANDO | Calle las Damas | Colonial City, Santo   Domingo, DR RESERVATIONS (888) 403-2603 | www.hodelpanicolasdeovando.com
[columns_row width="half"] [column]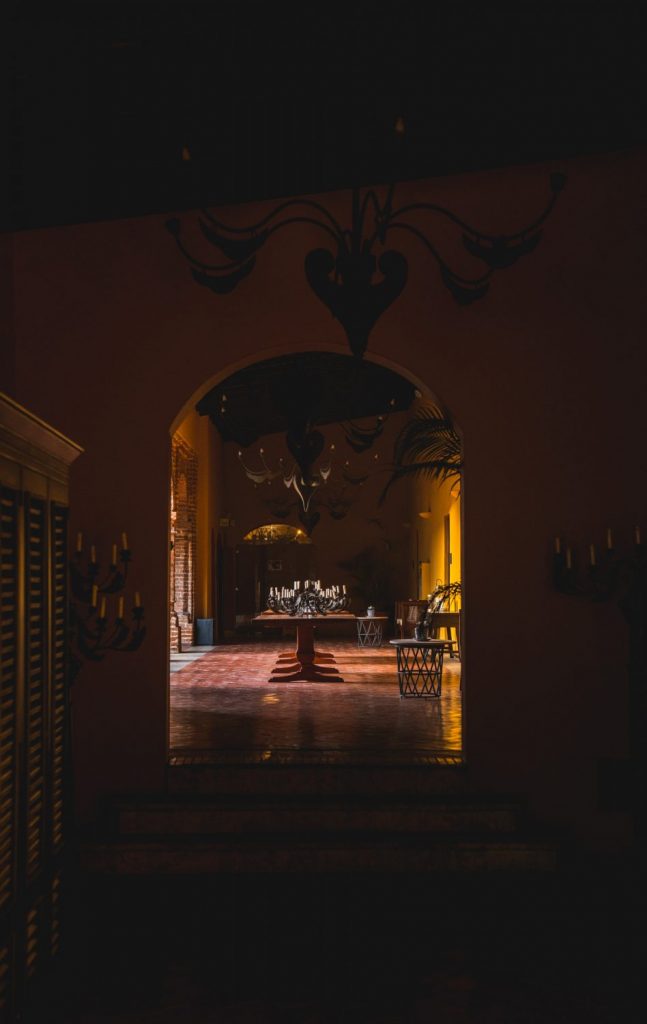 [/column] [column]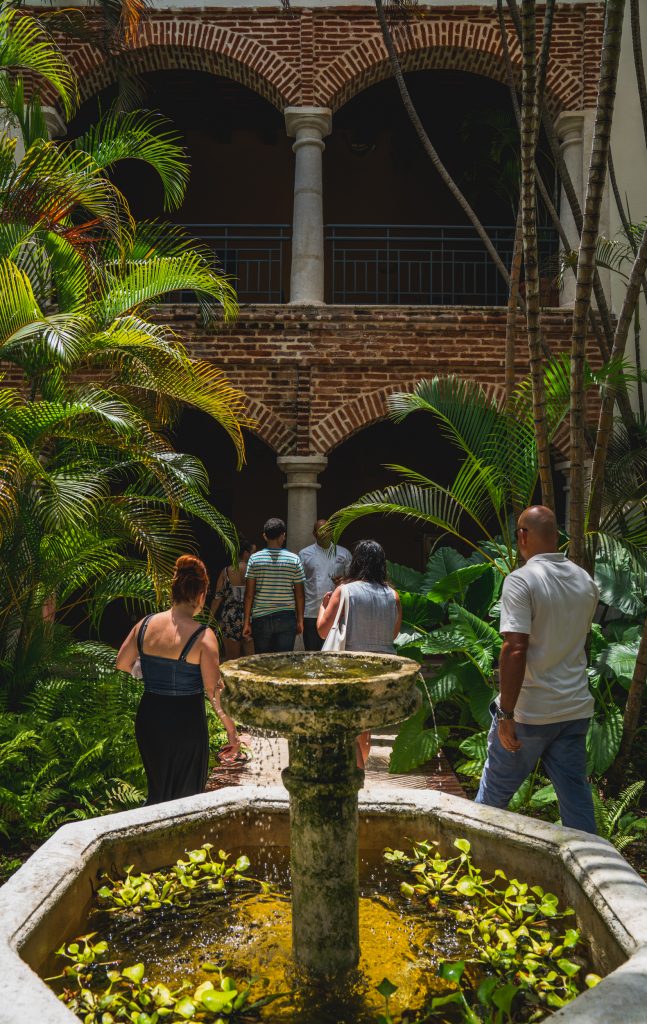 [/column] [/columns_row] [separator type="thin"]
Amidst the truly breathtaking and continually evolving Colonial District, the villas and rooms at Casas de VXI are everything you'd envision were an oasis of imagination, nature, serenity, and art unfolding carefully and melodically right before your eyes. Designed by the beautiful and immensely talented Interior Designer, Patricia Reid, each 16th-18th Century property was reinvigorated. Each "Casa" has its own charm, style, sophistication, bohemian intrigue, worldly artifacts, and an overall sense of total immersive calm. I've honestly never been to a place that was so soulfully inviting, creatively awakening, nor vibrant and mesmerizing. It's the kind of boutique hotel that transports you entirely. As an aside, Patricia's home near the villas is just as exquisite – that vivacious spirit transcends into her home, her garden, her entire being and it's wonderful and contagious to witness.  With four properties all neighboring one another, each casa has a distinguishing feature setting it apart from the rest and each villa has its own small pool, a garden,   an indoor and outdoor living space, and perhaps some of the most photogenic landscapes in the Colonial District on the whole. The attention to detail, the rich colors, intricate textures, airy luxurious ambiance, the art created by Patricia Reid herself, it really is where every creative should aspire to retreat.
CASAS DEL XVI | Calle Padre Billini No. 252 Ciudad Colonial, Santo Domingo, DR
RESERVATIONS (809) 688-4061| www.casasdelxvi.com
[columns_row width="third"] [column]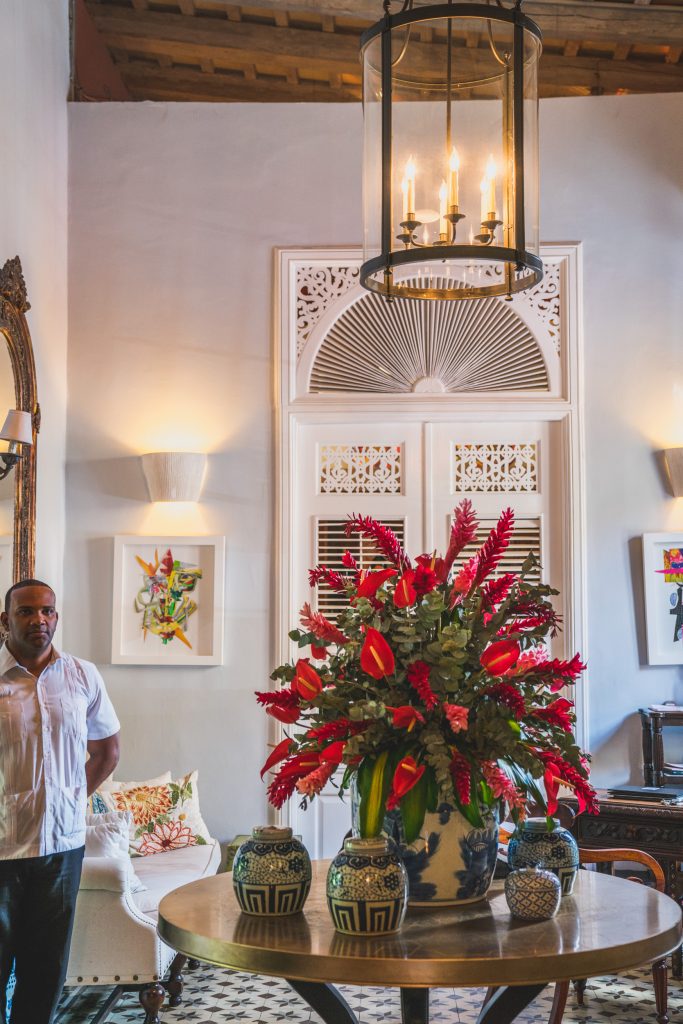 [/column] [column]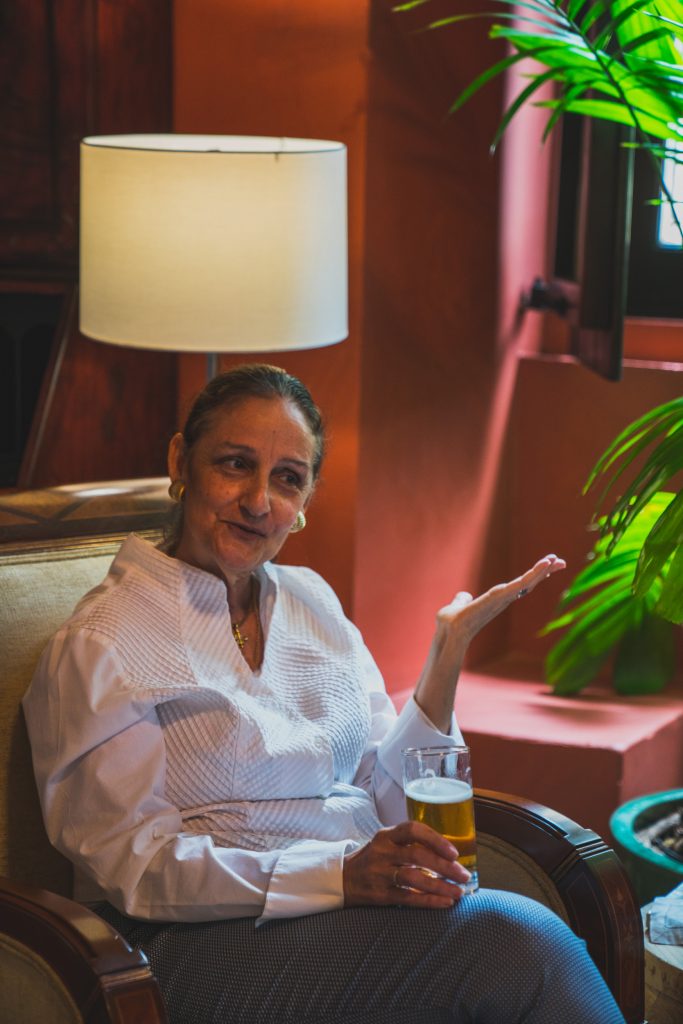 [/column] [column]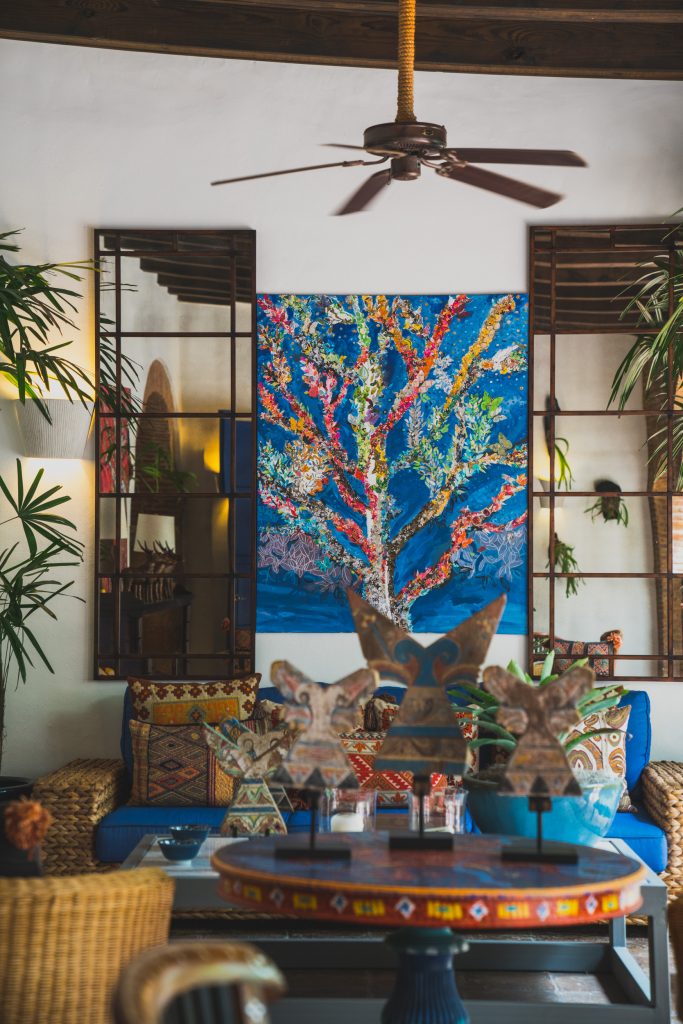 [/column] [/columns_row] [separator type="thin"]
As we found ourselves having the time of our lives – late night rum expeditions, merengue and salsa dancing, strolling the streets in love with the people, the music, the friendliness – it's a city to want to get lost in and stay as long as possible. That said, heading to Sosúa and Puerto Plata is a journey into another kind of paradise with colors that paint your visual canvas in sunshine, intoxicate you with beaches that are sheer perfection in hues of turquoise that make you want to dive right in, and locals that make you feel like you belong there.
Puerto Plata is the largest city on the northern seaboard. Since the founding of La Isabela, the first village in the New World, on January 2, 1494, Puerto Plata has been a town of firsts in the Americas. (See? A nation of firsts!) While for a short period of time in the 1800's the city was under Haitian control, it regained its independence after the Dominican Restoration War in 1863 which is when it began to rebuild explaining the clear influence of Victorian architecture throughout the city. When you do visit, stop in the square, eat fresh coconut, grab an ice cream, and be prepared to break out in dance with total strangers! It's liberating and beautiful …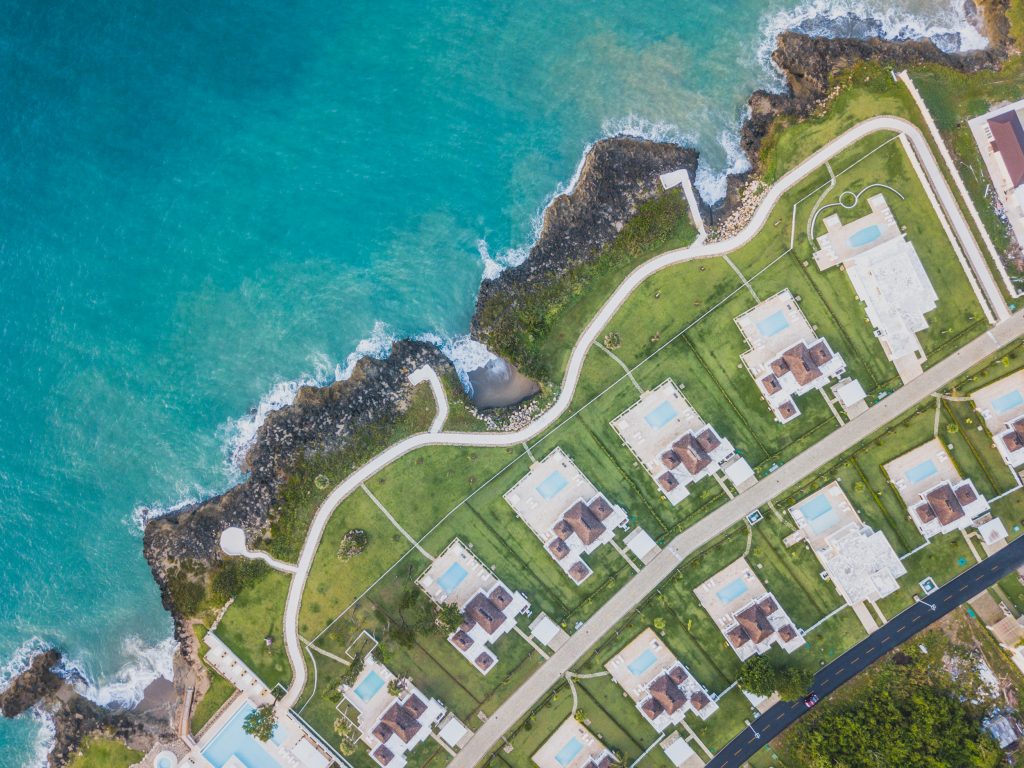 Imagine if you will a sea of solitude set amidst a backdrop of crisp white villas with dashes of bright and bold villas dispersed throughout. That is a brand new property located in the breathtaking city of Sosúa. Ocean Deluxe Villas are personalized villas with stretches of ocean and mountains that will envelop every sense of the word, "escape". Treated to a 3-bedroom villa, the luxurious retreat began upon arrival. Assigned our own golf carts, we took our luggage and headed to our villas. Crisp white villas with airy accents and lush landscapes, it's the moment you enter the villa itself that you want to close the door to the world behind you and slip away. With each villa having its own private pool, cabanas, bedrooms each equipped with their own bathrooms, state of the art kitchen appliances, living area, dining area, and ambiance you hope for, these are exceptional. With a restaurant and bar on site as well as a gym, family waterpark, and plenty of places to explore, this is a worthy stop.
SOSÚA OCEAN DELUXE VILLAS | Highway Sosua-Cabarete, km 2 |
Sosua, Puerto Plata, Dominican Republic | RESERVATIONS www.oceanvillagedeluxe.com
[columns_row width="half"] [column]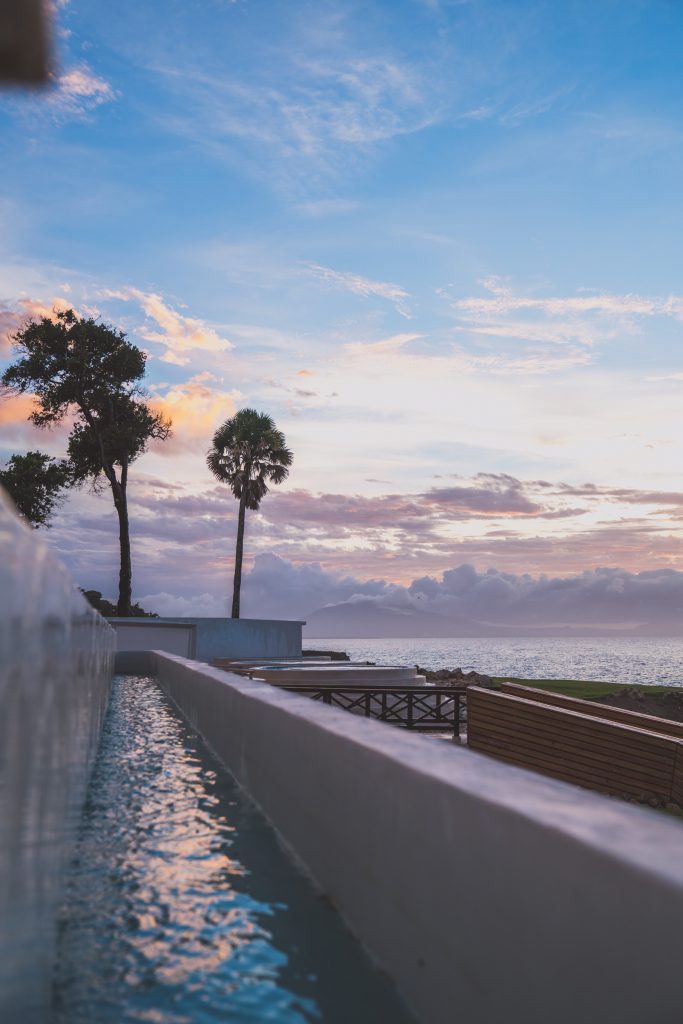 [/column] [column]
[/column] [/columns_row] [separator type="thin"]
In life we find ourselves in need of luxury and tranquility at some point. It's a feeling none of us should deny and on the northern part of Puerto Plata exists a boutique luxury resort called Casa Colonial. Designed by the architect Sarah Garcia, Casa Colonial has a fluidity of elegance and thoughtfulness that emanates all around. Taking the history of the region into account blending old world and new, Garcia managed to create a space that is infinitely open, breathtaking, thoughtful, and inviting. While a world-class resort, it doesn't feel pretentious in any way and instead feels like a welcome home you can easily melt into. Their bar program is impressive as is their selection of wines, and dining at the illustrious Lucia restaurant, the fusion of upscale cuisine blended with Dominican influence is something to appreciate. While here, visit their spa, have a cocktail on the hand carved beds on the deck, swim in the beautiful ocean, and take time to explore the stretch of sand.
CASA COLONIAL | Playa Dorada | Puerto Plata, Dominican Republic
RESERVATIONS Tel +1 (809) 320-3232 | www.casacolonialhotel.com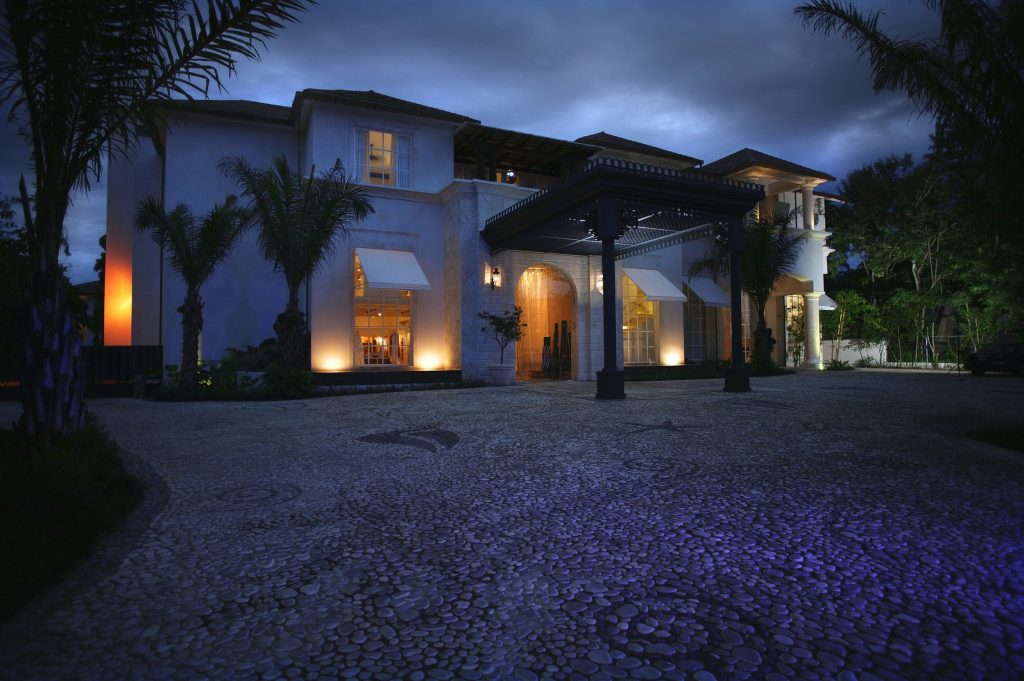 [separator type="thin"]
A full-service all-inclusive resort, Gran Ventana is the sister property to Casa Colonial. While we didn't stay here, we did tour the grounds and enjoyed a beautiful dinner on the sand while the sound of mild waves crashed against the shore in the peak of the evening summer heat. Known as one of the friendliest hotels, this is the perfect place to bring the family for a well-rounded, fun-filled adventure. With three pools, a kids club, the ocean at your beck and call, plenty of activities, and the open, airy feel of a well-constructed design, this really is a great place to come with kids, friends, and more. I highly recommend planning a dinner on the sand – it's romantic, serene, and the food is plentiful. Here there is always something to do AND its beyond affordable.
GRAN VENTANA | Playa Dorada | PO Box 22, Puerto Plata, Dominican Republic
RESERVATIONS +1.866.376.7831 | www.granventanahotel.com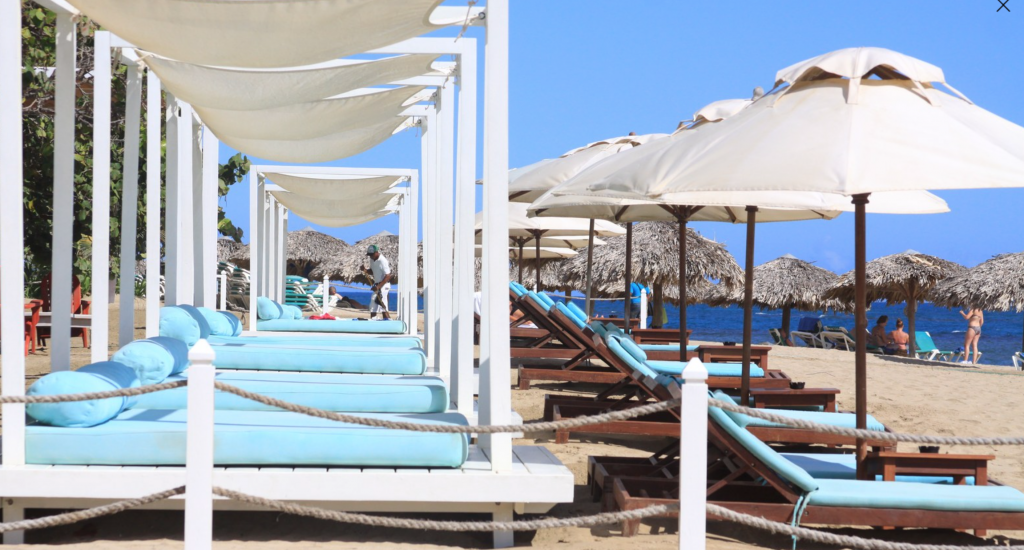 The Dominican Republic is a country that takes your hand and leads you into a world that is unlike any other place in the world. It's near impossible not to fall in love and now? While you plan your great escape, you've got plenty of options!
A huge thank you to Go Dominican Republic for sharing your exquisite nation with me. You hold a very special place in my heart, ignite my creativity, make me want to discover every inch of you, and spend as much time as possible there exploring!
www.godominicanrepublic.com @GoDomRep
[separator type="thin"]
Photos | 1st 3 by Dawn Garcia, all others by Nick Argires
SaveSave
SaveSave
SaveSave