Porktoberfest: A Night of Fine Swine and Beer
 by Cord Montgomery
Five Crowns Restaurant | FACEBOOK
3801 E Coast Hwy | Corona del Mar, CA 92625
October 30, 2013
It is Halloween's Eve, a little before 7 P.M. I pull into the parking lot outside of Five Crowns Restaurant and Steakhouse and immediately start to panic—valet parking. Suddenly I'm extremely nervous, not because I fear strangers driving my car, but because my car is literally beginning to disintegrate—rendering it almost inoperable.  After three broken door handles inside and outside, getting in and out of my car has proven to be a difficult and ridiculous affair: I have to roll down my window and open it from the outside door handle (fortunately only halfway broken) to get out. As the valet approaches, I begin telling him I don't mind parking it myself, really, but he still agrees to drive it, so I begin to explain how he will escape from my vehicle, like it's some kind of third-string Houdini routine, drawing a chuckle from my old friend Jake in the passenger seat, both of us thirsty for tonight's 2nd Annual Porktoberfest hosted by Five Crowns, a cavalcade of swine and craft brews, promising an array of pork dishes and delicious beers exclusively from one of my personal favorite California breweries, Firestone Walker.
Jake and I eagerly walk into the SideDoor, the gastropub attached to Five Crowns, and are led by staff to the back of the restaurant where a long table adorned with pumpkins and sprinkled autumn leaves border the walls. The table leads out to a back patio area with a lush garden illuminated by overhanging lights and an outdoor fire pit. The conception of the patio has a hominess to it, like I'm attending a friend's backyard barbecue (even has bean bag toss games on the back lawn) and is the perfect mood for the evening—not too refined, yet not tacky, just fun. There is enough restaurant polish to warrant the 99-dollar price tag (79-dollar for designated drivers) with odd twists to make the night fun—like a server dressed as a priest bringing guests platters of unexpected appetizers: pints of Firestone Walker's Oaktoberfest, the first, but not last, beer of the evening. Jake and I happily engage in the pre-dinner suds, discovering that Oaktoberfest is an absurdly drinkable beer with subtle caramel on the nose and malt sweetness on the tongue. As more guests arrive, we admire the pleasantry of the garden area, and recognize some familiar faces in the crowd—Mia Wallace and Vincent Vega from Pulp Fiction to name a few. They are out on the back patio sipping on beers, instead of five-dollar shakes—even Superman is flying through the crowd to serve tasty street-style pork carnitas, topped with onion and guacamole to Disneyland tourists and Wonderwoman. Not literally of course; there is a costume contest at Porktoberfest—which completely takes me by surprise, so I tell people that I am dressed as an accountant in my navy blue pants and dress shirt—totally nailed it. Snapping photos of braised pork sliders on wooden platters, I see another familiar face, Jim Colombo, the general manager of Five Crowns and the man behind the Porktoberfest event. He, along with the help of staff, reveal a 103-pound hog and lead it into the kitchen to be cooked for tonight's swine feast. He soon returns to the patio area, welcoming everyone and introduces co-founder of Firestone Walker Brewery, David Walker, who is happy to attend tonight's event and is also excited to live in an era that embraces craft breweries, a movement redefining so-called domestic beer—pointing out jokingly that MillerCoors and Anheuser-Busch are no longer American-owned. As he cheers the large crowd, everyone returns to the main hall to find seats at the harvest-inspired dinner table. I sit across the Pulp Fiction couple, as well as Justina Begemann, co-manager at Five Crowns who had a prominent baby bump when I met her last July, now with an adorable 9-week old baby girl.
To start the evening, salads with bleu cheese and bacon are set on the table—everything served family-style to further reward those looking for a more personal evening. Firestone Walker's Double Double Barrel Ale is poured in tulip glasses and I clink my glass with Jake's in a toast to good times and bright futures. A guitarist with a grey beard, dressed in a rabbi's outfit, plays and purrs jazzy, surprising covers of The Cure's "Just Like Heaven" and Led Zeppelin's "Stairway to Heaven" (an even more surprising discovery is he is not in costume, but rather a practicing African-American rabbi—adding to the welcomed weirdness of the evening). As excitement and conversations swell, a loud whistle brings the room to a murmur. David Walker emerges to explain in a friendly way what makes Double Double Barrel Ale so unique; it is aged in bourbon barrels for 9 months and also mentions with a smile that it's "dangerous" with a 12% ABV that is virtually undetectable. It'll creep on you. I dive into the salad which is simple with smoked bacon and the pungent stilton cheese; and the beer is surprisingly sweet with hints of coconut, almond and maple on the tongue, an inviting sweetness that complements the upcoming Halloween holiday.
Another whistle from David Walker whips across the room, indicating the main course and two new beers are arriving: the Double Barrel Ale, an English pale, and Union Jack, an IPA that will satisfy any hophead. The double barrel ale is amber in color with a biscuity, malty flavor; and the Union Jack has citrusy hops that prickle the taste buds with a caramel finish. The main course arrives: BBQ baked beans, fluffy biscuits with country gravy and shredded pork sliced from the hog we saw earlier in the evening; it feeds the entire room. The pork is succulent and moist and drizzling the country gravy on the biscuits proves to be an extremely rich and buttery comfort food at its finest. The bready essence of both the Union Jack and Double Barrel Ale pair delightfully with the biscuits and gravy—an odd pairing that never quite crossed my mind.
Lastly, dessert arrives, as well as two beers.  My dearest wish for a fitting Porktoberfest dessert is absolutely fulfilled: maple-frosted donuts speckled with bits of prosciutto. Admittedly, a guilty-pleasure dessert, but an appropriate addition to the oddity of the evening, and a dessert I first experienced at Voodoo Donuts in Portland, a truly genius combination—not to mention it pairs excellently with velvety, chocolaty beers. The arrival of Firestone's Velvet Merkin and Velvet Merlin is an aptly titled and fitting duo to conclude the evening with tonight's dessert. Velvet Merkin is a barrel-aged oatmeal stout that pours dark, possessing a subtle oatmeal and coconut aroma—hmm, I'm seeing a theme here. When sipped, a silky texture of vanilla and toffee flavor shake hands with you—yet it isn't as full-bodied as most stouts of the same creed; Velvet Merlin, on the other hand, although an oatmeal stout as well, smells and tastes like roasted coffee grounds with a hint of peat like a fine scotch—drastically different than its counterpart. And pairing these two beers together with the maple bacon donuts is a twister of sweet, savory and creaminess like a velvety, chocolate cake.
As 10:00pm approaches, the pork, the biscuits, the donuts and the beer fill any space my tiny stomach has left. Platters of unfinished pints, flights and chalices return back to the kitchen that makes me curl my lip in sadness—always a shame to see good beer go to waste—yet I also notice people sharing photos of their dogs or children with each other; sharing stories of exotic vacations, interesting people they've met; what they do for a living, many of these people meeting for the first time tonight—myself included—and bonding over a collective love of comfort food with a refined twist and frothy, delectable beer. It reminds me of the first time I met Jim, catching me on my way out of an Allagash Event back in July, how he explained that he wanted people to find a sense of community out of events like these—and it's evident he's succeeding. I find him before I leave, thank him for a wonderful evening—he is always polite and accommodating as usual—and make my way back to the parking lot to be joined by Mia and Vincent, me turning red as the valet brings my car to me, him struggling to reach the outside door handle that I know will soon be gone.
Thanks to Jim Colombo, Justina Begemann, Jeanine Jacobi and everyone at Five Crowns for allowing me to participate in a wonderful evening full of great food, beer and service all around.
Porktoberfest Menu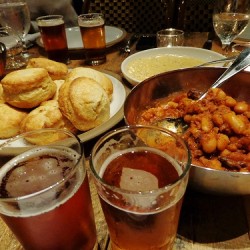 Tray Pass
Beer Braised Pulled Pork Sliders w/ Traditional Coleslaw
Pork Rilltte on Endive Spear w/ Pickled Red Onion
Beer Braised Mini Carnitas Tacos w/Guacamole, Onions and Cilantro (Traditional)
Salad
Baby Spinach w/ Stilton Blue Crumbles, Apple, Pancetta, Crispy Shallots, Candied Walnuts, Warm Bacon Vinaigrette
PIG
Sides
Homemade Buttermilk Biscuits w/ Ham Hock Gravy
BBQ Baked Beans w/ Beer
Beer Braised Black Tuscan Kale w/ Housemaid Italian Style Sausage
Dessert
Maple Glazed Donuts w/ Crispy Prosciutto Bits.
Follow ATOD Magazine™ and A Taste of Dawn™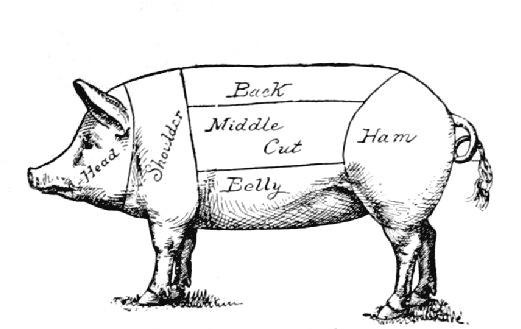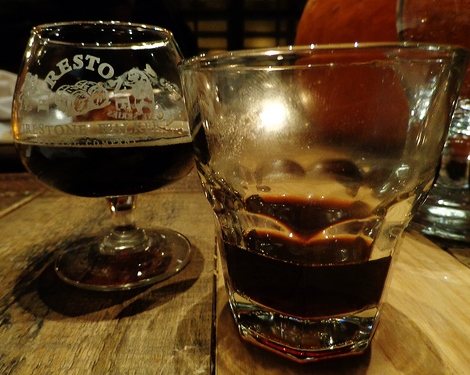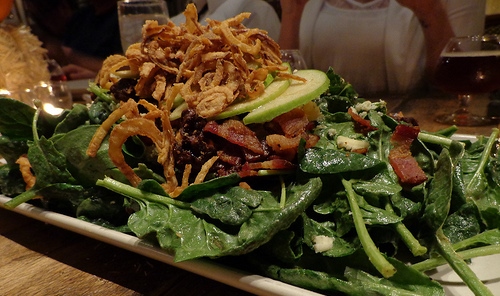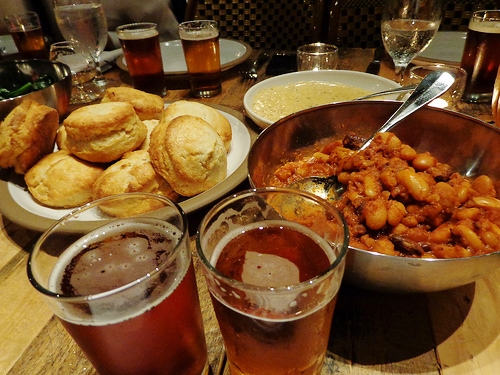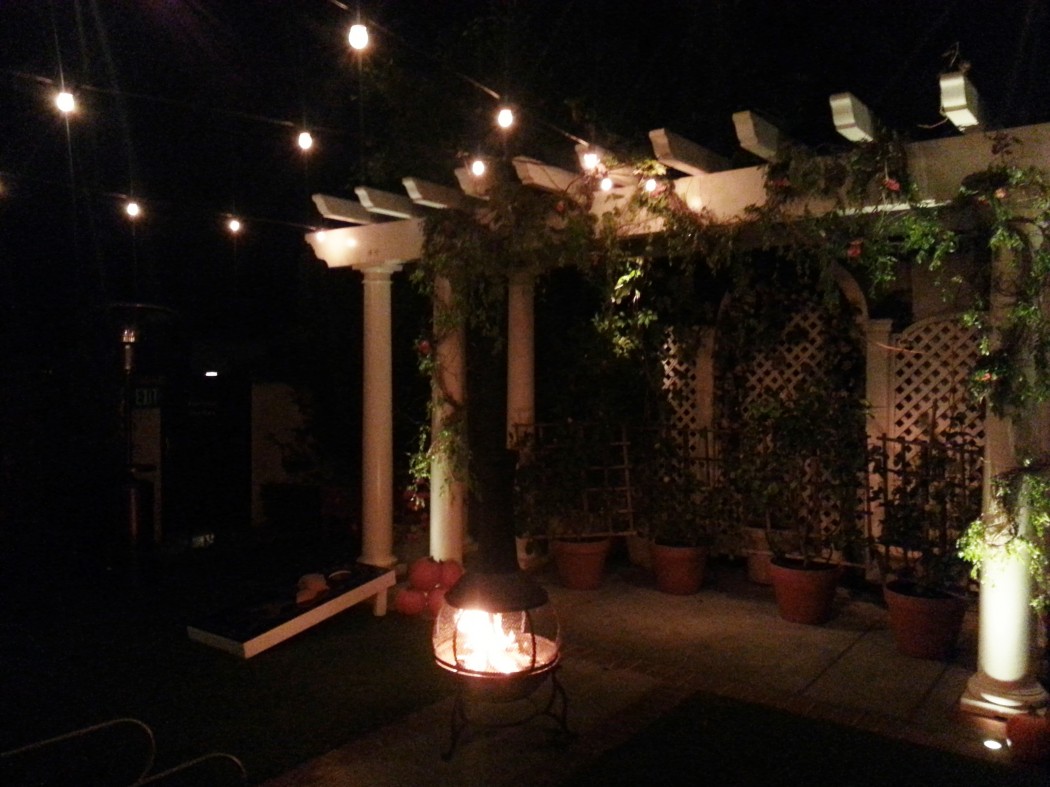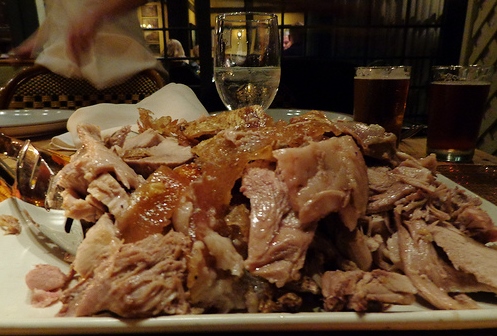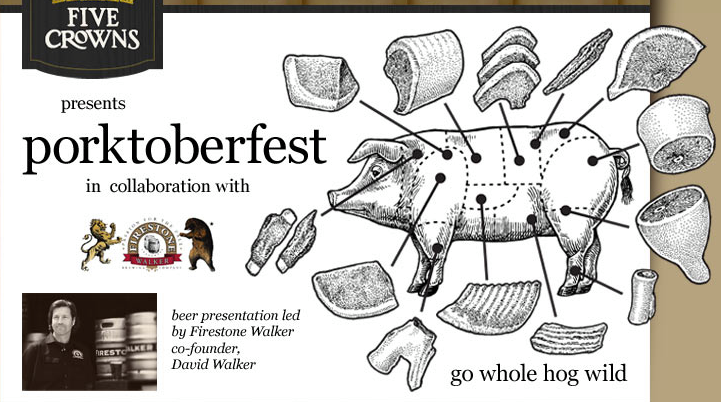 Join the conversation:
Five Crowns, a charming replica of one of England's oldest country inns and a Corona del Mar landmark, offers warm hospitality and cozy fireplaces set among authentic antiques and period paintings. Enjoy the sunlit Greenhouse and colorful English garden as well. Expect award-winning food and wine, exceptional service and distinctive style that have made it a dining destination since 1965.
Mon – Thur:  5:00 pm – 9:00 pm
Fri – Sat:  5:00 pm – 10:00 pm
Sun: 5:00 pm – 9:00 pm
Reservations recommended
All major credit cards accepted
Valet parking available
Casual attire. We strongly request no tank tops, torn jeans, shorts, hats and casual gym wear.