Date Night Downtown
Getting Downright Sexy and Sultry
photos courtesy of Acuna-Hansen | Emi Rose
[dropcap letter="O"]k sure, date night downtown sounds a little suggestive (
and I don't fault you for it!
) but after years of living in this city of angels, date night can be one of those awkward things that seem a little less than exciting – BUT –
it doesn't have to be
. In fact this week I got to experience the ideal way to spend a midweek date night in the heart of Downtown. Before delving in to the two places you absolutely should go to, let's address exactly HOW one should gear up for a night out. Whether you're planning a date night with your significant other, going on a first date, or just have a great reason to go out with that sexy object of your affection, be mindful of one thing: DRESS NICE! I don't mean gowns and tuxedos, I mean pick something that makes you feel sensual, confident, appreciated, and downright good. I'm a fan of timeless so whether you're a guy in jeans with a vest and button up or a girl in a long maxi dress that is low cut in all the right places, just remember – dates are meant to be fun! Feel good, ditch the casual tried and true, think back to the days when going out was an actual occasion – and enjoy the little extra effort it takes to feel your best.
So now that you're looking good enough to kiss, let's get down to where to get that provocative cocktail and when to transition to a sumptuous dinner.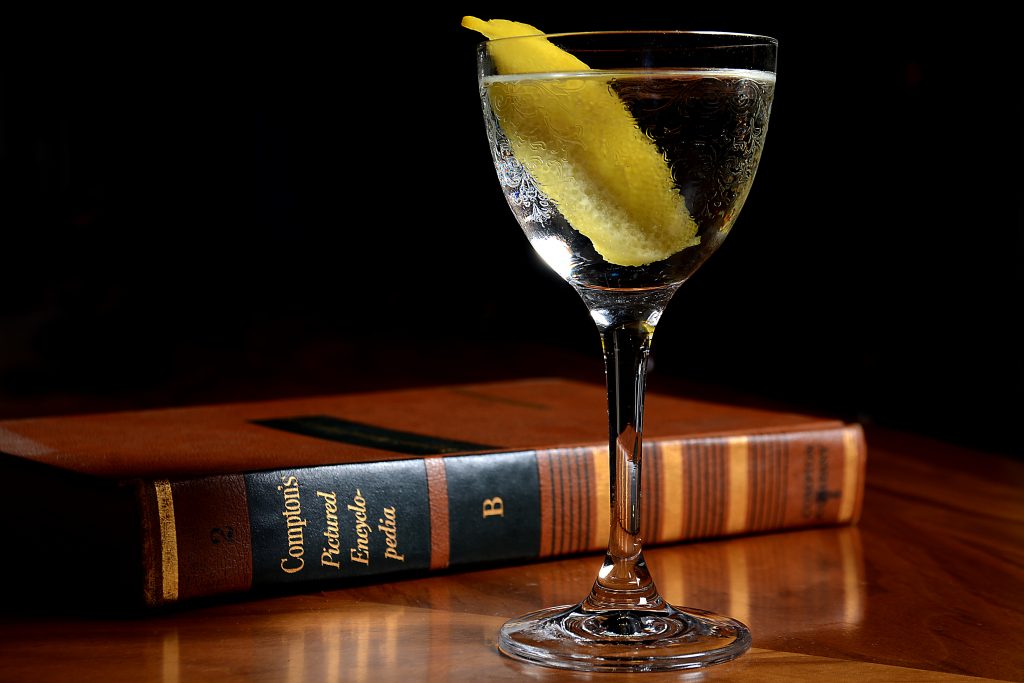 DRiNKS
Downtown has hundreds of options (literally) when it comes to bars, dives, restaurants, speakeasies – you name it – but last night I ventured into the underground of DTLA. And honestly? It was fabulous! Imagine stepping into the basement of one of Downtown's glorious architectural beauties to find you've slipped into another era. That's precisely what it's like when you go to Birds & the Bees. First off, the name alone incites a playfulness that makes any date one to lust over … and then you actually take a look around! Decorated in mid-century modern, every corner is coveted with 1960's lines, with some floor to ceiling cabinets and shelves that epitomize an era when simplicity and a Mad Men-esque charm trickled effortlessly throughout the entire space making you feel like all you're missing is a Camel Light! With concrete and exposed worn brick crawling along the walls, turn-of-the-century archways, exposed pipe, booths, tables, candles, and light fixtures that are genuine pieces of art – you want to order several libations from their well-thought-out, story driven cocktail menu and settle in for the night. This is where you come to slip away from life, get lost in conversation, and steal passionate kisses while Cole is crafting something miraculous behind the bar. In other words, it's spectacular!
[columns_row width="half"] [column]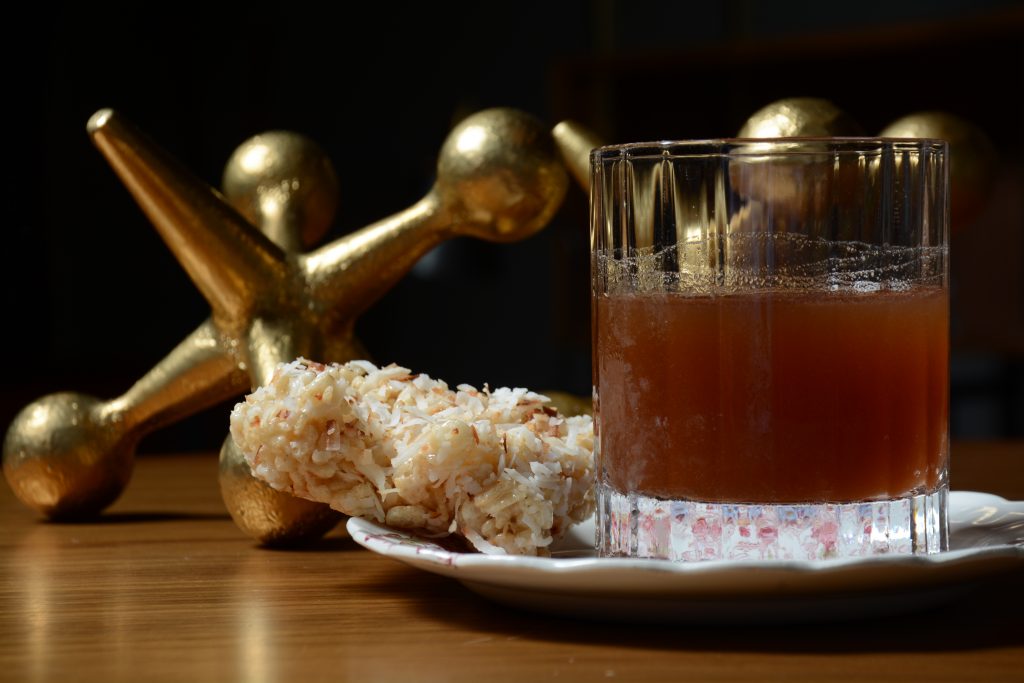 [/column] [column]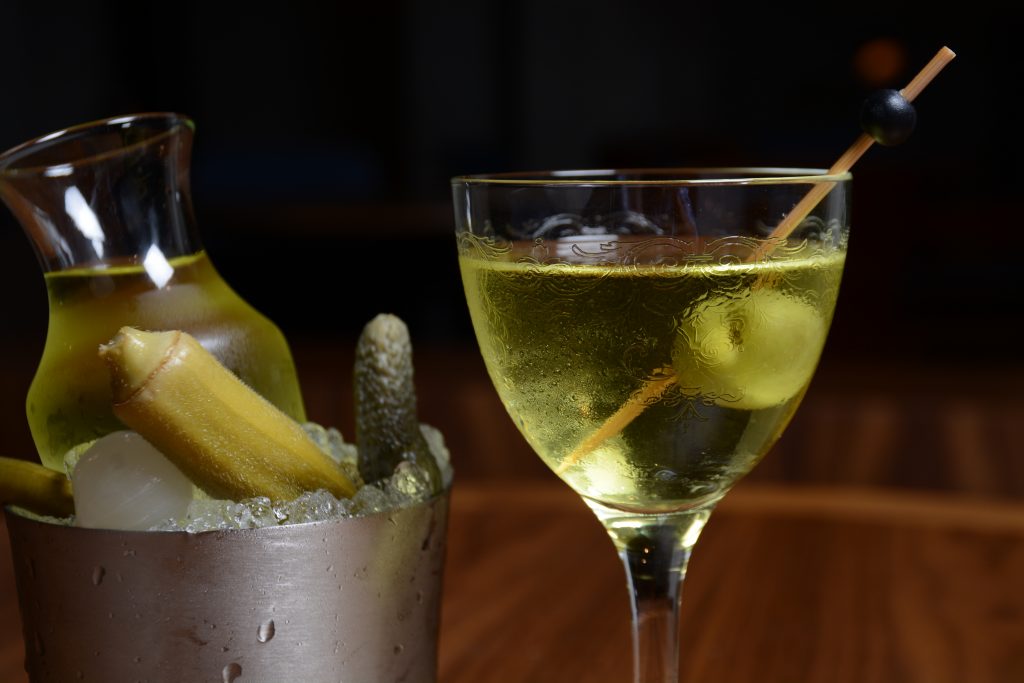 [/column] [/columns_row]
On the Menu
Ella Fitzgerald | sing it with finesse
"Ella did things her own way and so do we. Here's our dirty martini with pickle juice!"
Gin, Dry Vermouth, Pickle Juice, Fino Sherry
This is quite possibly the most interesting way to have a dirty martini – EVER. It's refreshing with garnishes of pickle, okra and pepper and that pickle juice takes it to a place on the swell of your palate that just bursts with Ella worthy song!
Danny Kaye | the sound of your own drum
"So bongo, bongo, bongo, Danny doesn't want to leave the Congo … and he won't have to with this stirred tropical Manhattan served with a tasty toasted coconut treat to keep you satisfied."
Coconut Infused Bourbon, Sweet Vermouth, Pedro Ximenez Sherry, Cynar, Bitters
This is a little escape to island paradise only it swims on your tongue like a dance. It has such a complex array of flavors that somehow marry together flawlessly in this wonderful, titillating creation meant to inspire some hip movement for sure! (Just how those hips sway is entirely up to you!)
Ocho Plata Tequila | sip in the sultry
This tequila is its own visual interlude. Served in a glass that grasps the curves of the tequila like the hips on a woman's body, presentation alone lets you know, it's on. Unaged, honoring the noble agaves of Arandas and the Camarena "Ranchos" through intense, lively and clean flavors. Made with 100% Blue Agave.
Note that on Wednesday nights, they also usually have live music that fits the swell era. 
BIRDS & BEES | 207 S Broadway, B | Los Angeles, CA 90012 | enter at rear of parking area
[separator type="thin"]

EaT
Now that you're soul is happily greased with nostalgia and sensuality, take an 8-minute drive to the Industrial Arts district and find yourself at Church & State. Once the Nabisco warehouse, Church & State is the embodiment of sexy with dimly lit ambiance, small, intimate tables, and endless (and copious) amounts of wines available by the glass or a selection of true French wines (as well as a slew of others) by the bottle. When you walk in to the restaurant you immediately feel like you're slipping into something sexy. The smells of escargot, steak frites, and pâté waft through the air and you just feel right – it doesn't feel like you're in the middle of a buzzing downtown city.
Church & State has a menu that is full of rich and flavorful options from pastry encrusted escargot, bone marrow encased in a flurry of flavor, to chocolate custard that will cap off any last minute withholdings of pleasure and set you free.
[columns_row width="half"] [column]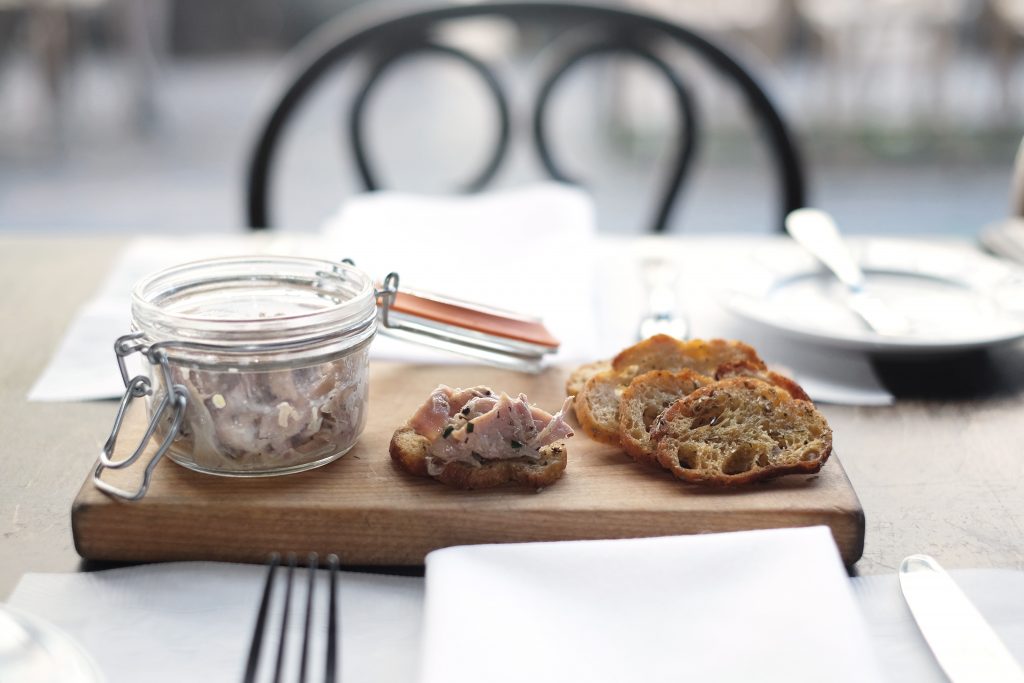 [/column] [column]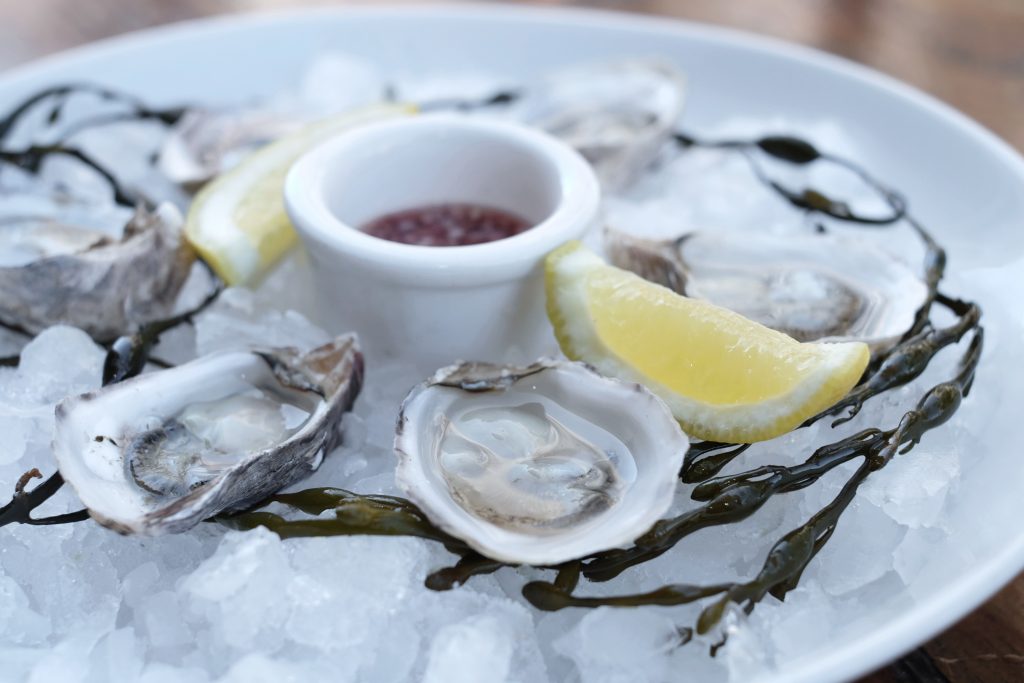 [/column] [/columns_row]
On the Menu
Bordeaux | Haut-Médoc, Château Le Borderon 2010 [Merlot, Petit Verdot, Cabernet Sauvignon]
After having spent time in Lyon, France, Bordeaux really is a pleasurable pour that bodes well with any dish. This glass was smooth with notes of berry and nuttiness that seem to find openness with each passing minute. It paired well with the dishes to follow.
endive salad | fourme d'ambert, candied walnuts, shallot, watercress, sherry vinaigrette
Few things are as satisfying as a well made salad. While it seems easy to throw some fresh lettuce on a plate, there is an art form to making a truly tasty salad and this one hits the spot. With the slight bitterness of endive diving into the sweetness of candied pecans, and the textural contrast of shallot and watercress, the sherry vinaigrette has ample room to blend in to make a light and airy crisp bite to start things off.
chicken liver mousse | port wine gelée, toasted baguette
This is a decadent starter that greases the wheels of your willingness to push the boundaries and invite in the indulgent. With a port wine gelée topping it in its mason jar, it takes the creamy punch of the liver and adds a much more inviting way to get ready for whatever's next.
roasted bone marrow | marinated radish salad
Served side by side, this duo of bone marrow is rich, succulent goodness that situates on the awaiting spoon with total ease, leaving a wake of textural tenderness on the tongue.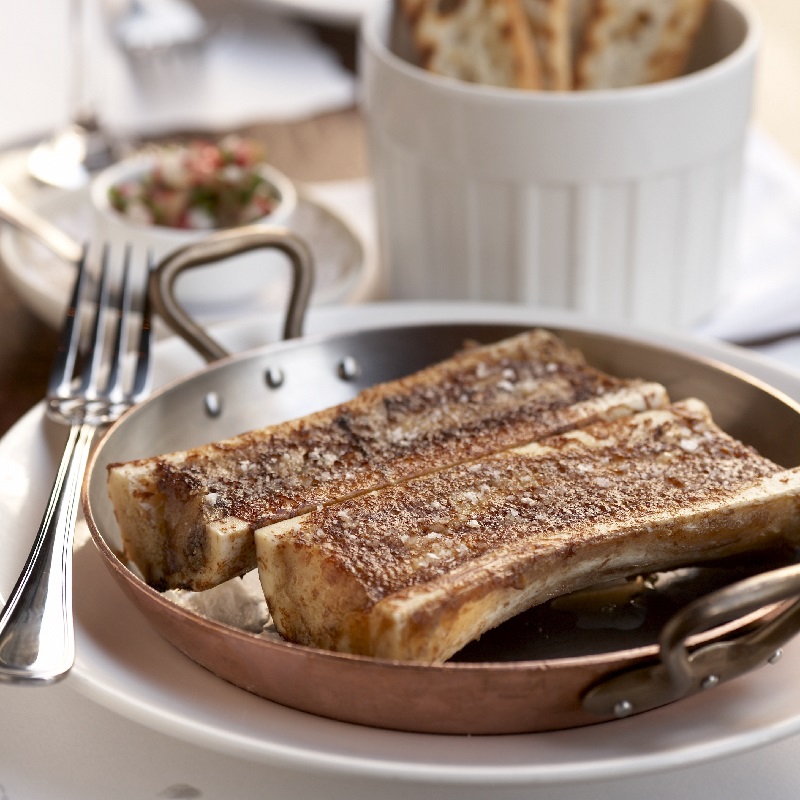 steak frites | strauss family farms grass-fed flat iron steak, french fries, sauce béarnaise
There is nothing quite like going primal with a good cut of steak – especially when the goal of the evening is to wake up the passion dying to out come out and play. The steak is served at a perfect medium rare with the pink lingering like the hand of a good lover. The french fries acts as the salty purpose of pause – to make sure you don't get too carried away! The combination of the marinated skirt steak and the crisp warmth of the fries ends up being ever so satisfying … and now time for dessert!
Pot de Crème au Chocolat et Café | chocolate coffee custard, crème chantilly
The finish is just as important as the dance itself so to wrap up this seductive evening with deep, dark decadence? It just seems apropos. This is a lovely spoonful of flavors that emit the bitterness of chocolate with the bite of coffee and the creamy balance of créme chantilly in unison.
Cappuccino | strong and frothy to round it out
Much like the name of the restaurant implies, here everything has its place and no matter who is in the kitchen, there is a synergy of taste and flirtation that makes this the right way to cap off your date night. So now – the rest is up to you …
Go forth and dwell in some welcomed seduction!
Church & State Bistro | 1850 Industrial St. | Los Angeles, CA 90021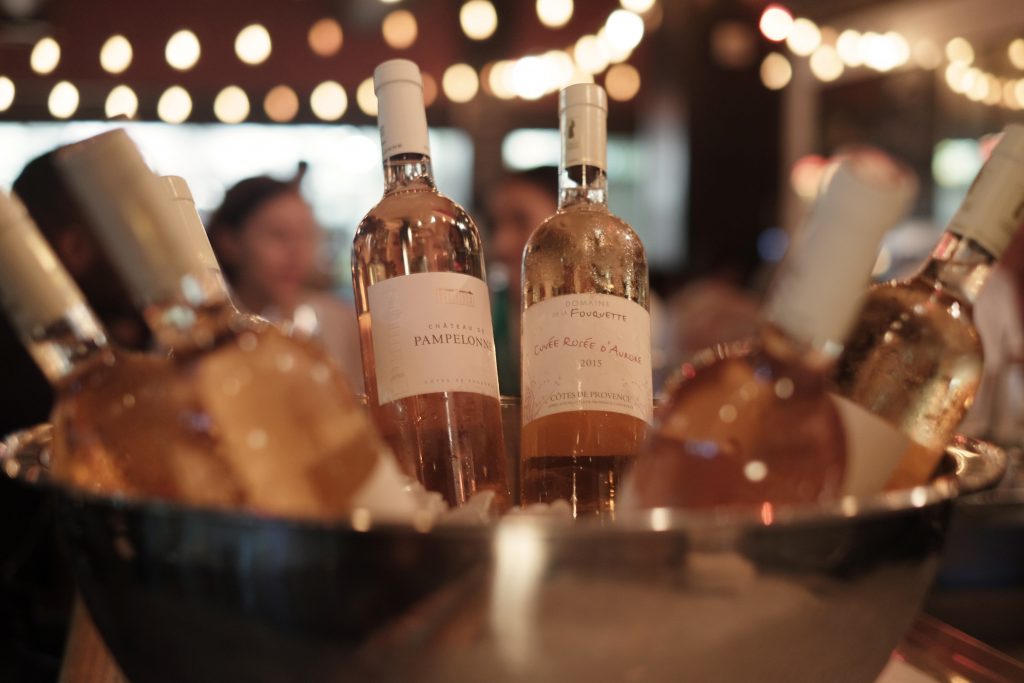 SaveSave
SaveSave
SaveSave
SaveSave