#TastyTuesday – Taix Restaurant is LA's French Go-To
Frog Legs, Escargot, and Wine Make for an Unforgettable Evening
photos courtesy of Jerome G. Favre
Recently celebrating 90 years in Los Angeles, Taix French Restaurant in Silverlake is a French staple in this amazing city that exemplifies classicism, tradition, and cuisine that doesn't lose its way (and that's refreshing). The restaurant itself is a piece of Angeleno history. The moment you arrive, you enter into a restaurant that makes you think of a different time. While they've revamped the space itself with a sports bar to catch your favorite games or the private rooms for special events, the interior has remained a place where time stands still and the way old Hollywood … remains. When you enter the dining room, booths and dimly lit ambiance await you along with a staff that seem more like old family friends than servers.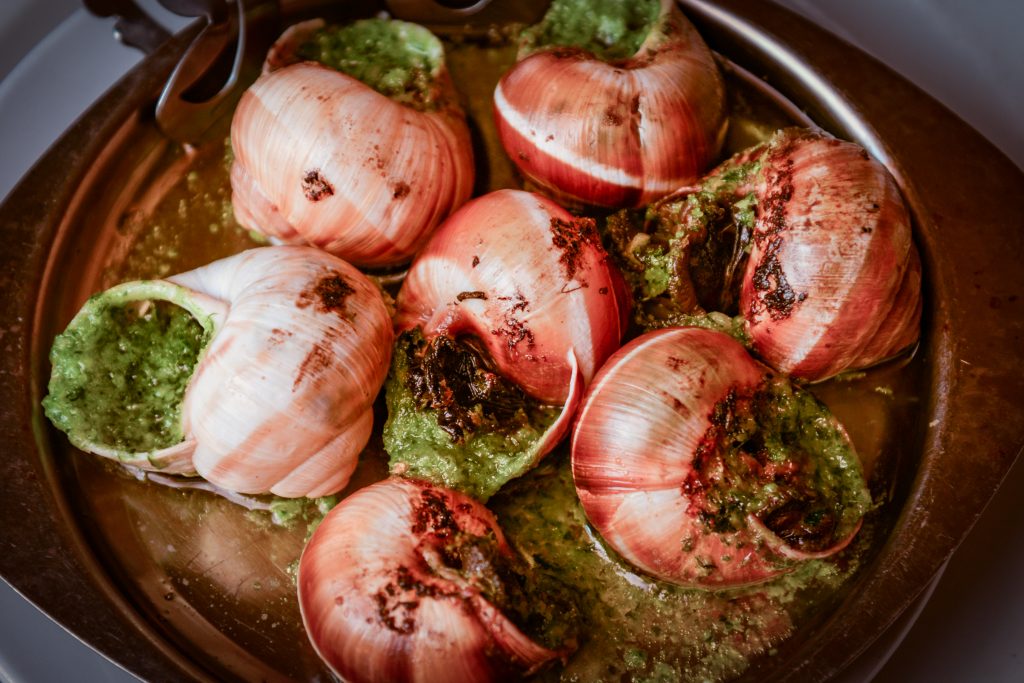 As the dinner begins, I look over at my +1 – my ten year-old daughter – and recognize the curiosity that swells to the surface knowing this will be the first time she delves in to a new cuisine: French. Ready to explore a new palate and awaken mine, this was going to be a story unfolding. We begin with something traditional but a departure from the norm (especially for a kid!): escargot. I start with a glass of a 2015 Red Bordeaux La Belle Citadelle which was a larger red than average Bordeaux's. Hints of pepper meets blackberry compliment the accompanying escargot which arrives looking beautiful with large, farm raised shells and meaty, buttery garlic immersed escargot cooked perfectly. Barcelona takes her first taste as do I. Silky smooth butter soaks the snails bite by tasty bite. This is a good start. Next up we order a tureen of the daily soup: a hearty Potato leek. As mentioned, it is served in a tureen. The soup is creamy but doesn't take away the natural essence of the leek and potato individually. The remnants of leek rest on the base while the purée harkens the potato, soft and smooth.
[columns_row width="half"] [column]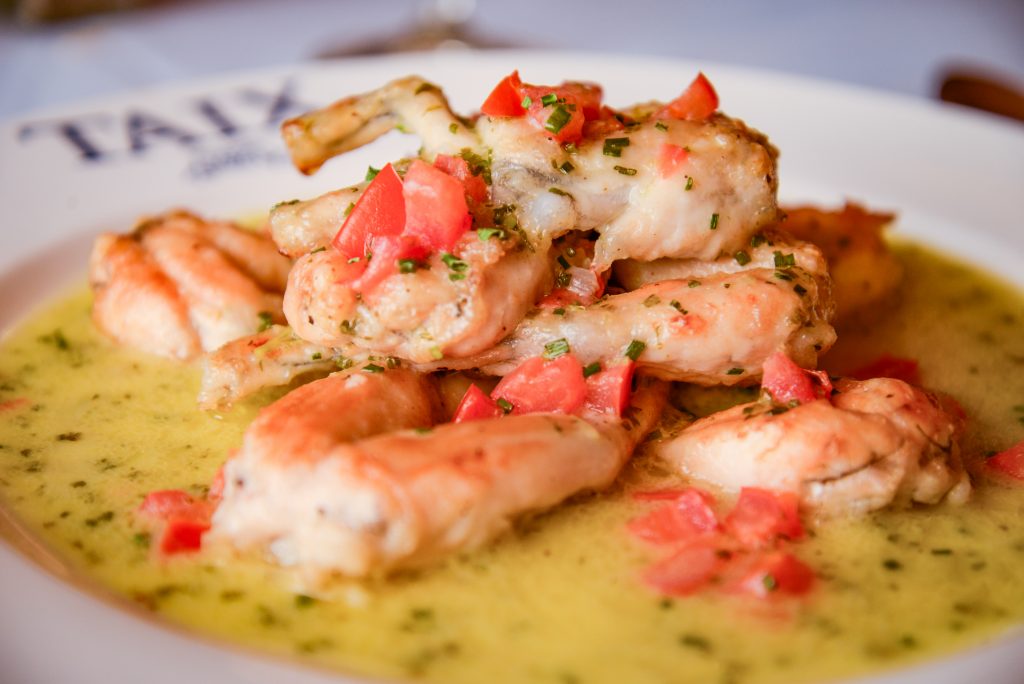 [/column] [column]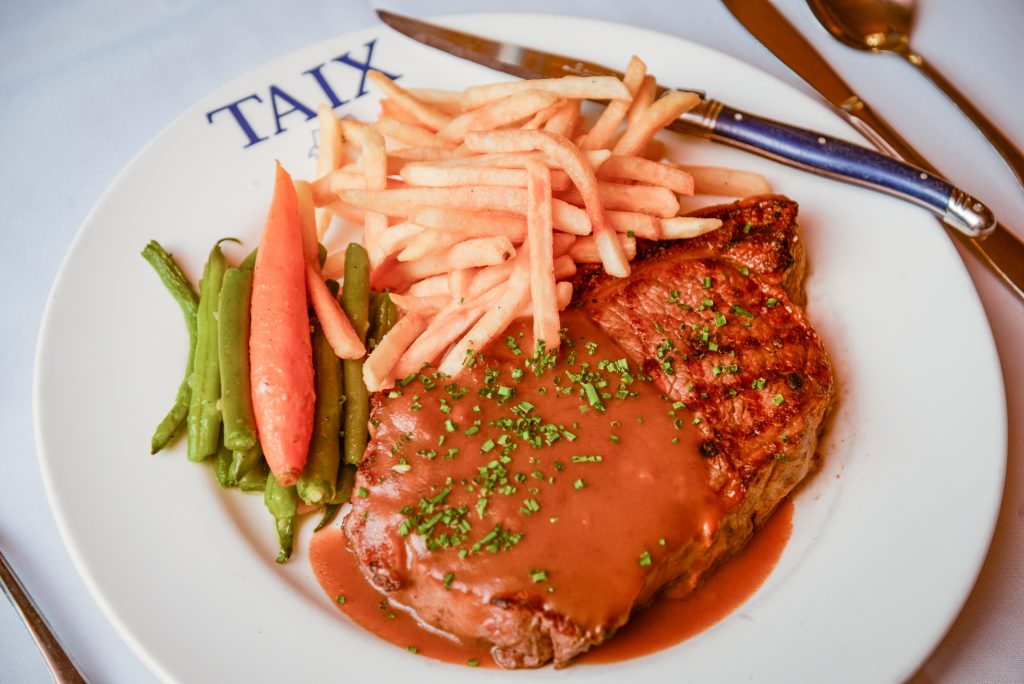 [/column] [/columns_row]
As we move on to dinner, the restaurant fills up and conversation exudes in the air. Laughter from one table, the wonderful joy of two police officers stopping in after work, families, couples, locals that have been coming here for years. It's wonderful and my daughter and I find ourselves quickly submerged, grateful to be a part of the experience. Time to order, we order the frog legs and I ask for the New York Strip but request it with peppercorn sauce. She orders a second Shirley Temple and I go with the 2014 Votes de Thongue – peach de Montfo. P. Taix.
The frog legs arrive in a beautifully arranged pile of insatiable, buttery, lightly battered sauce and my daughter digs in with total abandon. The results? She's wild about them! The sautée on the frog legs themselves gives off a wonderful flavor and profile as the meat falls off the bone easily. I can say the texture is like the perfect cook on a farm raised chicken but the subtlety of spices and herbs bring out this French staple. I take a bite of my steak and it's cooked a pristine medium rare. The steak is a good cut and the peppercorn sauce gives it that punch of flavor and intensity that compliments the dish all around. Rather than the more daring side dishes, we did go with fries and they're delicious and crisped just so! Coupled with the Votes de Thongue, my palate is balanced and serene.
All evening, our server Jerome was the epitome of phenomenal hospitality so when we rounded out dinner and it was time for dessert, we turned to him for some suggestions: "Everything is delicious but our specials tonight are wonderful!" We order the pear tart (the special) and the chocolate mousse noir (a menu must).
[columns_row width="half"] [column]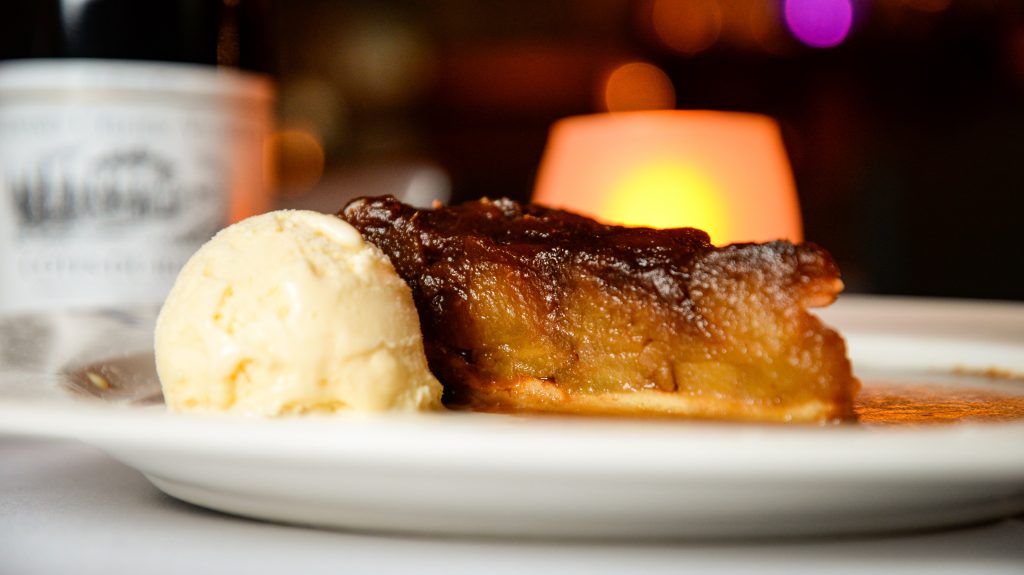 [/column] [column]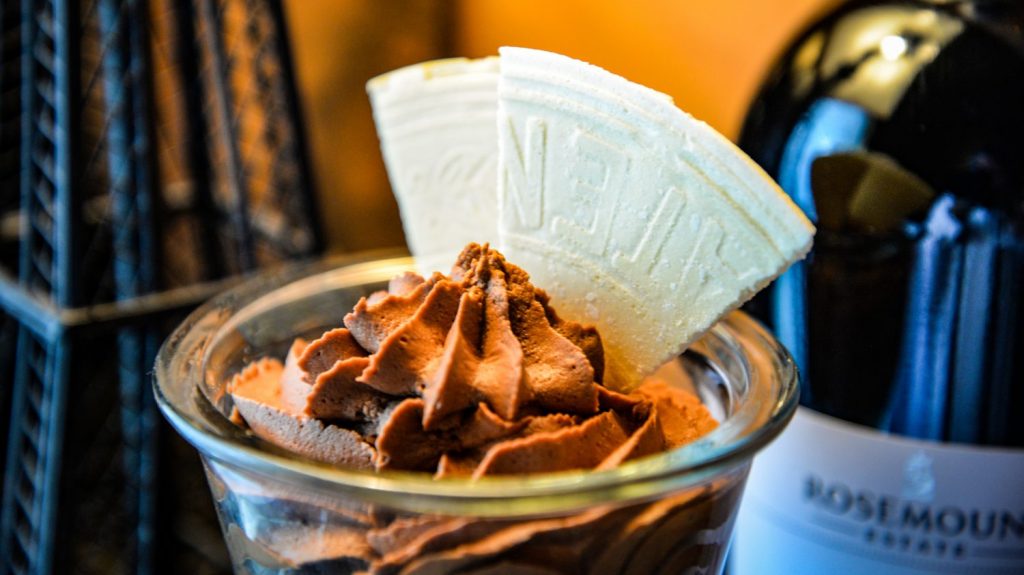 [/column] [/columns_row]
The pear tart is like biting into an orchard. The elements of pear, sugar, perfectly prepared dough, and seamless spoonfuls of homemade vanilla ice cream offset the rich, heavy meal we've just gleefully ingested. In other words, YUM! The chocolate mousse noir however is lovely and decadent with traces of passion that only the French can emit. Couple that with one fresh cappuccino and the evening rounds out as one that will inevitably remind me that hospitality and French tradition have a happy home in Silverlake. This is a restaurant we will gladly be visiting again.
Taix French Restaurant is located at:
911 W. Sunset Boulevard | Los Angeles, CA 90026 | Phone: (213) 484-1265
Mon~Thur     11:30am ~ 10:00pm
Friday             11:30am ~ 11:00pm
Saturday        12:00pm ~ 11:00pm
Sunday           12:00pm ~ 10:00pm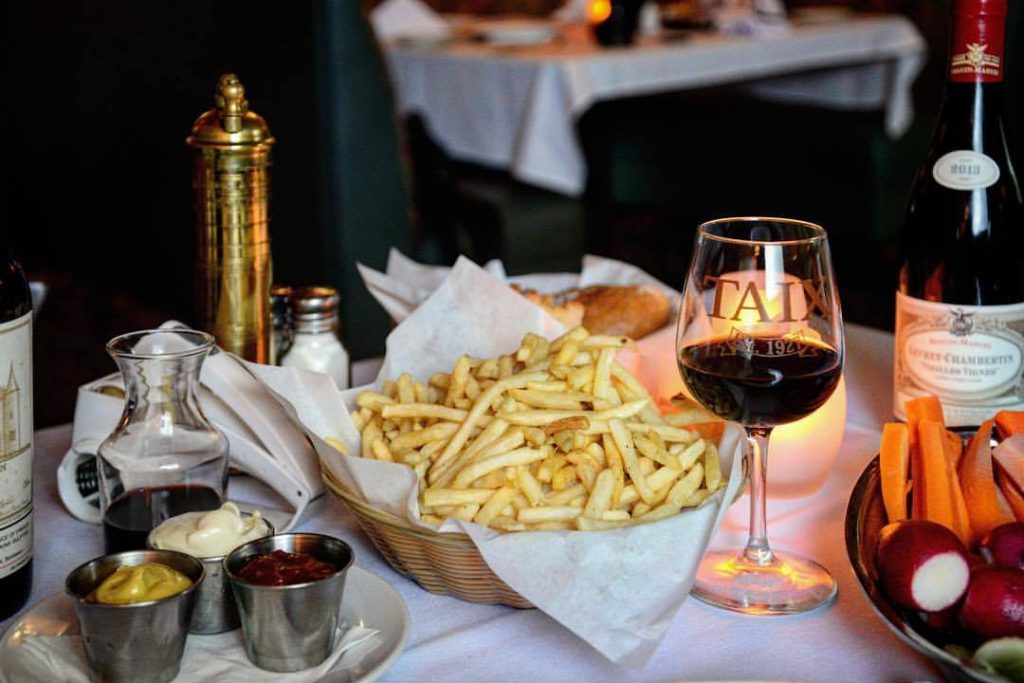 About the Restaurant
The Taix Family are the third and fourth generations of a family of sheepherders and bakers from the "Hautes-Alpes" in southeastern France who immigrated to Los Angeles around 1870.
In 1912 Marius Taix Sr. built a hotel called the Champ d'Or in downtown Los Angeles' French quarter. In 1927, Marius Taix Jr. opened Taix French restaurant within the hotel serving chicken dinners for 50 cents at long "family-style" tables. Diners could choose private booth service for an extra quarter. Taix's novel food, unique service and affordable prices make it a Los Angeles institution.
The present location opened in 1962 and continues to be a family affair. Family style service has given way to private booths, but Taix French restaurant remains faithful to the famed tureen of soup, fresh french bread, and abundant portions of French country cuisine at affordable prices. The restaurant dynasty is carried on by Marius' son, Raymond Taix, who has made sure that the character of the restaurant has remained unchanged, and his son Michael, whose passion for wines has resulted in an extensive, award winning wine list.
Taix Restaurant is proud of its' vintage staff; many can boast of serving more than three generations. We look forward to serving you and your family for many generations to come.
SaveSaveSaveSaveSave
SaveSave
SaveSave
SaveSave
SaveSave
SaveSave
SaveSave
SaveSaveSaveSave
SaveSave
SaveSave