[title maintitle="#theATOD5″ subtitle="Drinks + Eats"]
San Diego is more than the land of a whale's ____ (see Run Burgundy). In fact this mecca of social and cultural influx is home to beaches, parks, warm climate, and an incredible view of the Pacific.  In addition to the famed San Diego Wild Animal Park, it's also home to an active naval fleet, the historic Gaslamp District, and an incredible lineup of craft breweries, restaurants, mezcaleros, and more.
by Eli Dupin + Dawn Garcia
[separator type="thin"]

No. 1 – KAIROA BREWING COMPANY| www.kairoa.com
4601 Park Blvd. | San Diego
New Zealand has some of the most undisturbed landscapes around so its befitting that a fine crafted brewery set down its roots. Kairoa Brewing Company was inspired by the "sweeping landscapes, undulating hills, green pastures, lush rainforests, and snow-capped mountains" of the region. Kairoa's brewer Joe Peach is a brewer whose devotion and passion for food, beer, and his homeland has allowed him to bring thirsty beer lovers a taste of New Zealand in San Diego. When you're ready to party with class, the new rooftop bar has everything. Designed with industrial yet urban farmhouse accents, the warmth and simplicity of this modern craft brewery is ideal for pulling up a seat, downing a pint, and making new friends. Their menu is also something to lust. Drinking clean yet complex brews, the fusion of American and New Zealand's sustainable cuisine is a marriage of flavors and thoughtfulness.  Some menu items are lamb fries, the kiwi burger, French toast, and a vegan grilled cheese.
---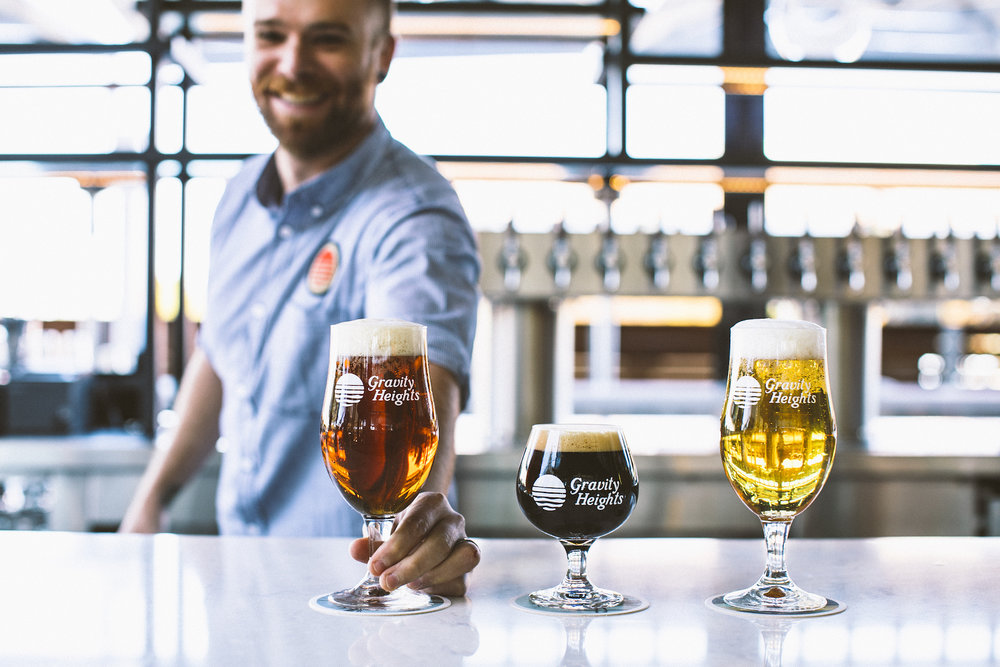 9920 Pacific Heights Blvd. | San Diego
Oh how we've waited, but now Gravity Heights is open for business! With an echelon of brews that ooze elegance, Gravity Heights shares their love of a good beer, their passion for their neighbors, and the uncompromising desire to serve beer and high-quality fare that will make it easy to settle in. Located in the Sorrento mesa, this massive 12,000-square-foot space isn't overwhelming. In fact, this energized, pretty space accented with light woods, industrial fixtures, and cheery color schemes has the charm Whisknladle Hospitality is famous for: giving you the best of the best without any of the arrogance. Working with local brewers, the beer lineup is impressive and their love of the global community is evident in their food that ranges from pizzas to tacos, Moroccan-inspired and even vegan. That said, keep your hunger at the ready. The dirty fries, grilled corn, jidori chicken, duck liver bahn mi crostinis, bhel puris, Mexican "street" cauliflower, or vegan and gluten-free Moroccan vegetable tagine tantalize the palate. They also have a happy hour and outside beer garden.
---
376 5th Avenue | San Diego
Whiskey has become the fastest growing spirit to hit the drinking scene and while it's not new, the brands and options have increased exponentially over time. One of the regions quickly making a name for itself as a pristine producer is Japan. Huntress offers the largest Japanese whiskey selection in California. They are also a steakhouse serving Japanese Wagyu among other high-quality, responsibly raised beef, so while you enjoy a flight of pristine spirits, you can feed the carnivore within, though they also carry an ample amount of vegetarian options. The décor is contemporary and sleek with infused music that makes sure your soul feels like dancing while you indulge.
---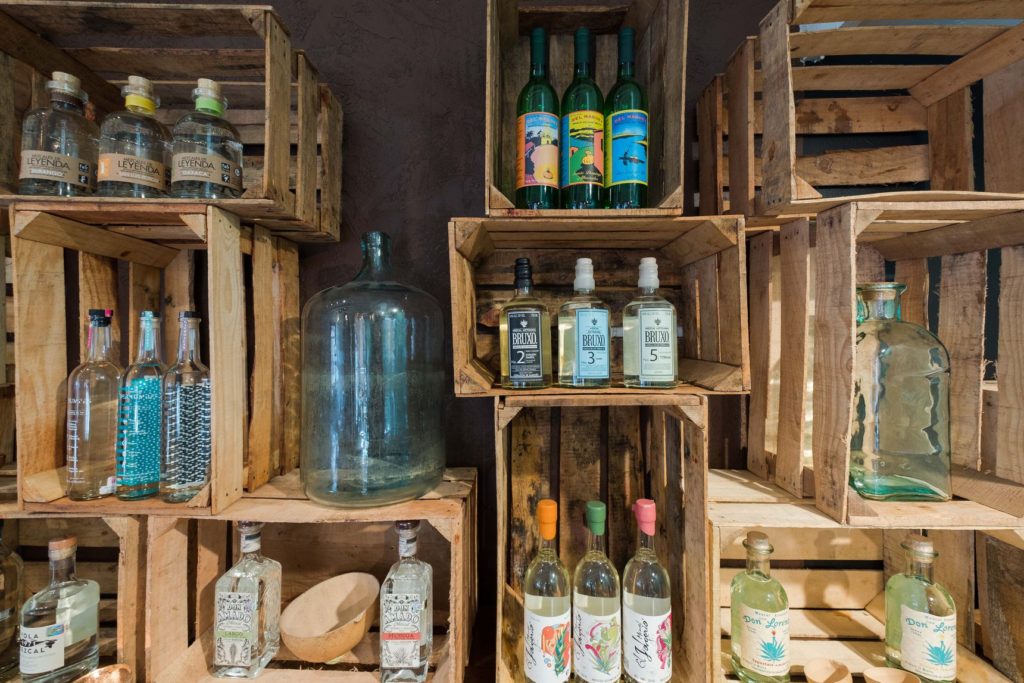 2414 San Diego Avenue | San Diego
Mezcal and a cemetery? Is that really even a question? Count us in! Tahona is more than a gorgeous taqueria located next door to one of the oldest cemeteries in Southern California, it's where you can eat some truly exquisite Mexican dishes and choose from an impressive selection of Mezcals and tequilas. Celebrating Mexíco, in particular Oaxaca and its deep roots in making some mind-blowing spirits, Tahona is calling your name. With a curated cocktail menu that invites you to dance with the devil such as Solyent Green, Head Ancho, Campo Santo, and the Oaxcan Firing Squad, all cocktails are carefully made and will give you the wakeup call you've been craving.
While it is an unassuming restaurant and taqueria, they also offer private Mezcal lockers for the true aficionado with amor for the finest pours in town. The food menu is above par Mexícan and it has the precision and careful infusion Oaxaca is synonymous with: pork belly negro with mole negro, habanero pickled onions, and smoked apple purée make this one of those stops to satisfy the insatiable.
---
548 Fifth Ave, San Diego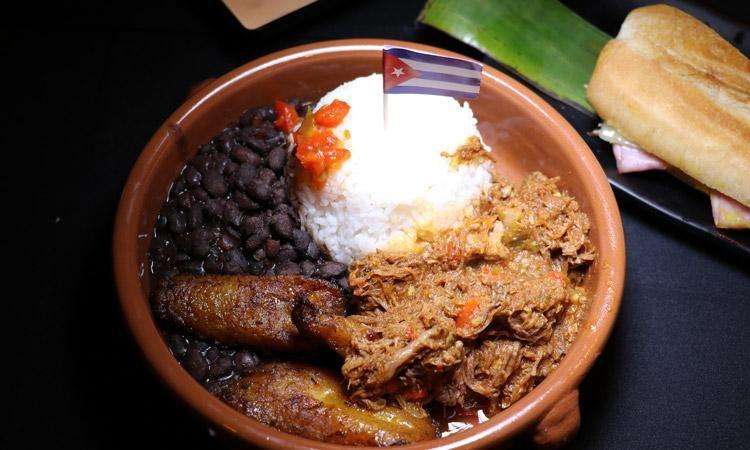 There's more to life, and rum, cigars, and Cubanos just seem like the right additive. Sure, Jon Favreau and John Leguizamo slinging Cubanos in a food truck got the frenzy going, but should you want to see Cuba in its heyday, you'll need to head to Havana 1920 in the heart of the Gaslamp district. Serving a rum collection that's on point with downtown LA's Caña Rum Bar, this bar serves authentic Cuban cuisine, over a hundred rums hailing from all over the Carribean and Latin America making it somewhere you want to end up. Paying homage to the Cuba of 1920s, Havana 1920 offers live music on select nights, plenty of food options from Cubanos, arroz con pollo, croquettas, ropa vieja, bistec Havana, to empanada vegetariana. Should you be ready to be transported into another time that's historically significant, come to Havana 1920, grab some rum, order some food, and then give yourself permission to have a hand-rolled Cuban cigar.