LA Art Show Highlights (So Far)
A glimpse at the incredible art you'll be seeing throughout LA Art Show
[dropcap letter="LA"]
 Art Show Exclusive: Legendary Mexican Muralist Jose Clemente Orozco Exhibits In United States for the First Time Ever. C
urator Marisa Caichiolo brings The MUSA Museum Guadalajara, Mexico's exhibition of Metaphysical Orozco to the LA Art Show for its US premiere.
José Clemente Orozco (1883 – 1949) is one of the most important early to mid-20th century artists in the state of Jalisco and a central figure in Mexican muralism. During the post-revolutionary years, this artistic movement based on the creation of monumental pictorial works conveyed official ideas regarding national identity, while also highlighting the principles that define human dignity and the transcendence of social struggles throughout the world. Through his work, Orozco defied his own artistic limitations to become a universal painter who addressed issues such as war, inequality and disasters arising from progress gone awry.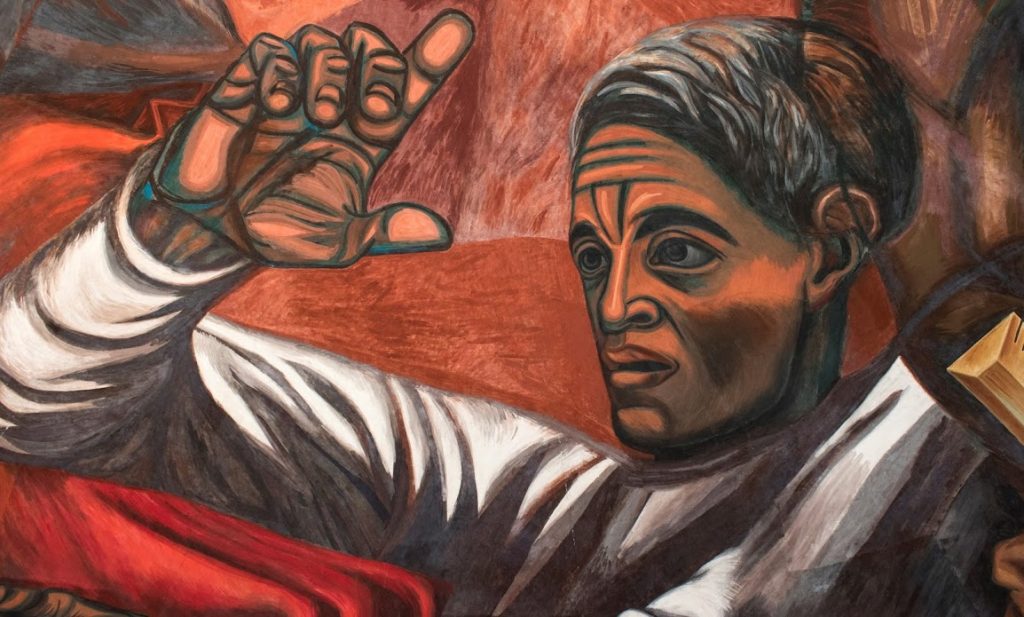 The Orozco Metafísico (Metaphysical Orozco) installation treats the public to an audiovisual exploration of the fields of thought found within the frescoes, as well as the history and themes that inspired them. The murals will be projected using 3D video mapping accompanied by a musical soundtrack, giving visitors a comprehensive sensory experience that will be complemented by informative graphic material. Metaphysical Orozco will allow for this master work—which can not be physically moved from its permanent location—to reach an international audience for the first time ever.
[separator type="thin"]
Full Metal Jacket 30th Anniversary Exhibit featuring Director Matthew Modine (Full Metal Diaries)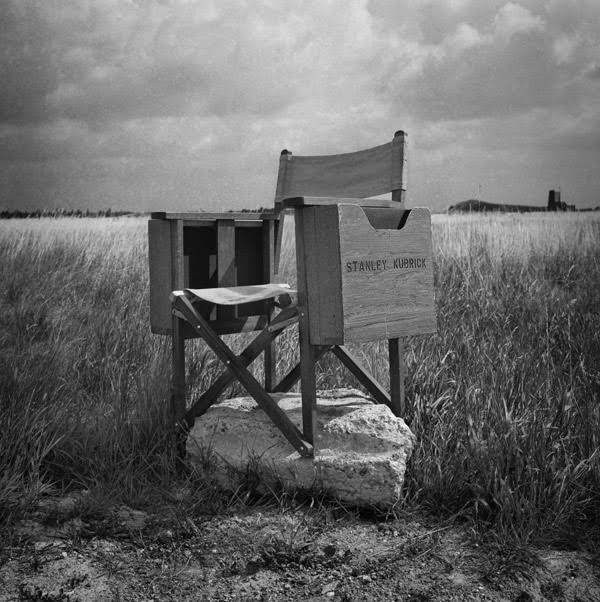 On the 30th anniversary of Stanley Kubrick's Full Metal Jacket, Matthew Modine's "Full Metal Diary" offers an incredibly rare and vibrant portrait of one of cinema's most iconic war films – by one of the industry's most enigmatic directors. The exhibition is a study of a young actor under the apprenticeship of the legend.
A combination of rarely seen, medium-format photographs taken on set are displayed alongside poetic, intimate excerpts from the actor's personal diary. This glance behind-the-curtain reveals unique insights into Kubrick's methodology as well as the complicated process of an actor struggling to come to terms with his craft. "Full Metal Diary" is an extraordinary example of art imitating life.
[separator type="thin"]
LACMA & UCLA Chicano Studies Research Center Partner to Present Leyla Cárdenas' "Espectacular" Installation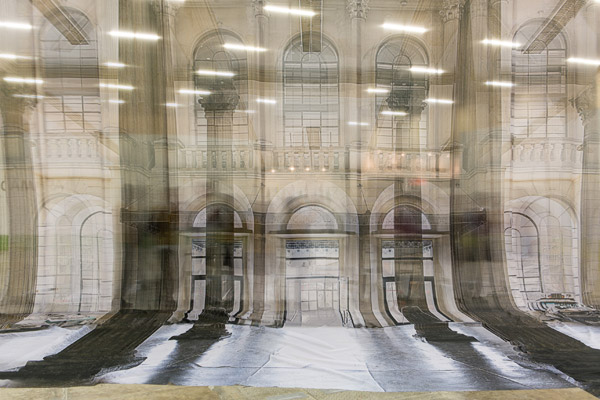 The Colombian writer Manuel Hernández B. defines his nation's capital, Bogotá, as a
permanent threshold that announces the promise of a place that never arrives. Leyla
Cárdenas's Especular provides a real-world yet ghost-like image of this insight with her set of photographic prints of Bogota's neoclassical train station façade. First built in the late1880s—concurrent with the formation of the Republic of Colombia—the station is a once-hopeful symbol of the nation that then became a long abandoned modern ruin. Cárdenas represents the façade with two printed scrims suspended back-to- back from the ceiling, over twenty feet up, and running a similar distance along the floor. These discontinuous panels are cut to match the different track gauges used in Colombia that made a unified national transportation infrastructure impossible. Especular is part of a series in which the artist documents the architectural remnants of the urban fabric. Cárdenas reflects on these artworks as illustrating:
"History repeating itself: vicious circles and accumulation of thresholds that lead nowhere."
[button content="LA ART SHOW tix" color="teal" text="white" url="https://www.eventbrite.com/e/la-art-show-2018-tickets-39739173939″ openin="_blank"]
[separator type="thin"]
Littletopia Will Honor Margaret Keane With A Lifetime Achievement Award
Margaret Keane is one of the most iconic artists of our time, famous for creating "Big Eyes" (and memorialized in the Tim Burton-directed film of the same name). During the 2018 LA Art Show, the Littletopia fair within the fair will honor her with a special Lifetime Achievement Award, presented by artist Mab Graves. Keane Eyes Gallery of San Francisco will be exhibiting a retrospective of her career, entitled "Margaret Keane: A Survivor And Woman of Two Centuries." Graves credits her as one of his biggest creative influences.
[separator type="thin"]
Antuan Rodriguez' "Left Or Right" Installation Welcomes Visitors to the Fair
This sensational, interactive, healing installation depicts different world leaders and tyrants, and will allow the spectator, through the punching of the bags, to release anger, hatred and resentment. This release of negative emotions will transform these objects into tools of detoxification and mental healing. Current global politics has created an environment of disrespect for humanity and our planet. Lack of harmony, senseless wars, violence, racism, ignorance, loss of values and principles, lack of consciousness, super egos and demagoguery, corruption, disrespect of women, false promises, and outright lies.
[separator type="thin"]
Afro-Cuban Painter Harmonia Rosales & Actor Aldis Hodge Partner to Create "Through the Looking Glass"


Through The Looking Glass was birthed from the notion of introspective cultural perception. It questions the viewer's engagement with cultures not recognized as his or her own, as well as the educational conduits to said cultures, and finally, it questions the viewer's responsibility to pursue these inquiries.Created in the spirit of social experimentation, Through The Looking Glass aims for the audience to engage in an internal conversation, allowing themselves to reveal their innermost workings.
[separator type="thin"]
Inaugural DESIGN LA ART Section Celebrates Harmony of Art & Design
In 2018, the LA Art Show will launch DESIGN LA ART, a designated area for exhibitors of modern furniture, accent decor, architectural objects and jewelry. The exhibitions in DESIGN LA ART will be displayed in a series of circular, open-area vignette spaces to highlight the increasing intersections of the fine art and design worlds. Korean artist Lee Jae Hyo's wooden sculpture will be the centerpiece.
In honor of DESIGN LA ART's inaugural presence, complimentary access to the fair will be extended to members of the Los Angeles design community on Thursday, January 11. Tours hosted by today's leading design professionals will guide patrons through the exhibits.
[button content="LA ART SHOW tix" color="teal" text="white" url="https://www.eventbrite.com/e/la-art-show-2018-tickets-39739173939″ openin="_blank"]
[separator type="thin"]
Round Hole, Square Peg LGBTQ Photo Contest Winners Premiere at the Fair
RoundSquare Peg LGBTQ
Bert Green Fine Art will be premiering the winners of the RoundSquare Peg LGBTQ Photo Contest at this year's fair. Dedicated to answering the question "What is queer photography?" the contest is an open call, juried photography exhibition conceived with the intent to question and acquire a new LGBTQ visual aesthetic for the 21st century. Over 30 amazing photographers will be exhibited.
[separator type="thin"]
International Pop Artist "Pandemonia" Takes Warholian Art Into the Instagram-Era

Mysterious, international pop artist Pandemonia will present her special exhibition: FLASH BULB presented by Art All Ways. Check out her Instagram for amazing photos and video. Pandemonia is an anonymous performance artist from London who creates all of her brilliant skin tight latex outfits by hand. She's a living Warholian blow up doll of perfection, parodying pop culture, media, fame, wealth, youth, gender, beauty & fashion.
The character, Pandemonia is a vessel for the artist to travel through society, absorbed by the media complex, appearing in print magazines, films, social media and major product advertisements, enabling her to reach and effect public consciousness as both a myth & a brand.
Throughout the fair, Pandemonia will pose and perform in a booth using various art objects & props from her perfect surreal-ideal world that echo her Pop Feminist vocabulary, always making herself available for conversation, interviews and that perfect Polaroid "Photo-Op.
[separator type="thin"]
"Bunnie Reiss' "Space Boat" Pays Tribute to Oakland's Ghost Ship Art Community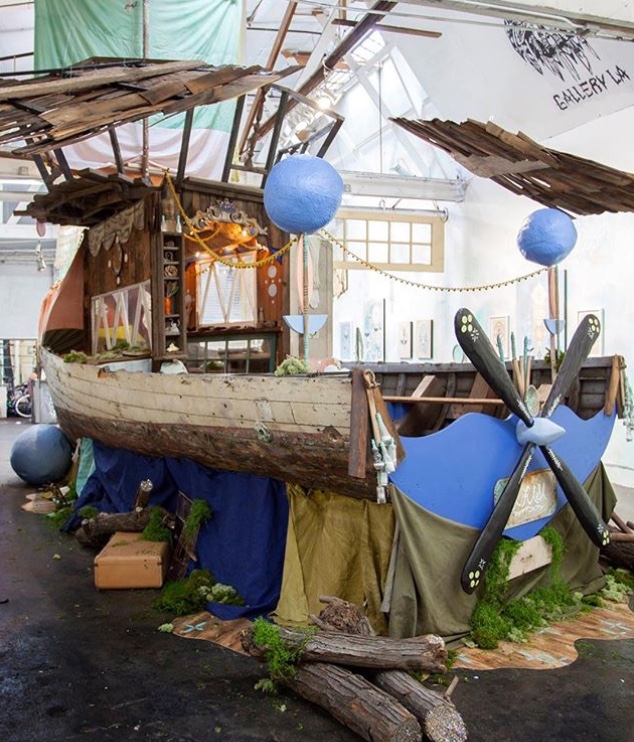 Anchoring the Littletopia section this year, Superchief Gallery LA will present the centerpiece of their most recent exhibition: a 22 foot long "space boat" created by Bunnie Reiss for her "Space Angels" solo show, made in the memory of the victims of the Ghost Ship art community fire that happened in Oakland last December.
[separator type="thin"]
Kim Tae Ho Exhibition of "DANSAEKHWA IV: INTERNAL RHYTHM" featuring Kim Tae Ho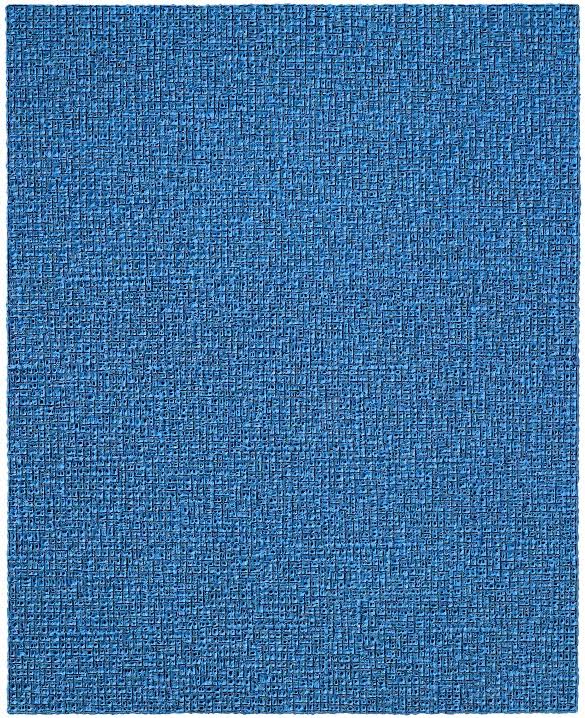 For its 2018 edition, the LA Art Show is pleased to announce the fourth consecutive exhibition of Dansaekhwa, curated by SM Fine Art, featuring the multi-layered monochromes of Korean artist Kim Tae-Ho. Dansaekhwa (pronounced "dawn-say-qua") is considered one of the most influential Korean art movements of the 20th century with works typically rendered via pushing layers of white, black, blue, or earth-toned paints across soaked canvases or dragging pencils across (sometimes ripped) pieces of traditional hanji paper. Development of Kim Tae-Ho's most recent works in this movement coincided with the turning of the millennium. Focusing on brush strokes and the application of color, for the most part, these works appear to be vastly different from his previous works.