LA Art Show
A Show of Released Oppression and Love
photos by Dawn Garcia
[dropcap letter="A"]rt is a blanket of emotion, words, liberation, and a language that exceeds any division. It awakens the most oppressive of situations, tells the truest narrative, opens the door to free expression, and allows us to see the state of humanity. Each year when I attend the
LA Art Show
, it's a window to the world. There is an undeniable plausibility to a theme that's woven ever so intricately throughout each gallery, seen in each artist, and for a while, the boundaries are non-existent and we are all free to dive in and be ourselves.
LA Art Show | Jan. 10-14, 2018 | LA Convention Center
[button content="TICKETS" color="teal" text="white" url="https://www.eventbrite.com/e/la-art-show-2018-tickets-39739173939?_eboga=1821627467.1514668321″ openin="_blank"] [columns_row width="half"] [column]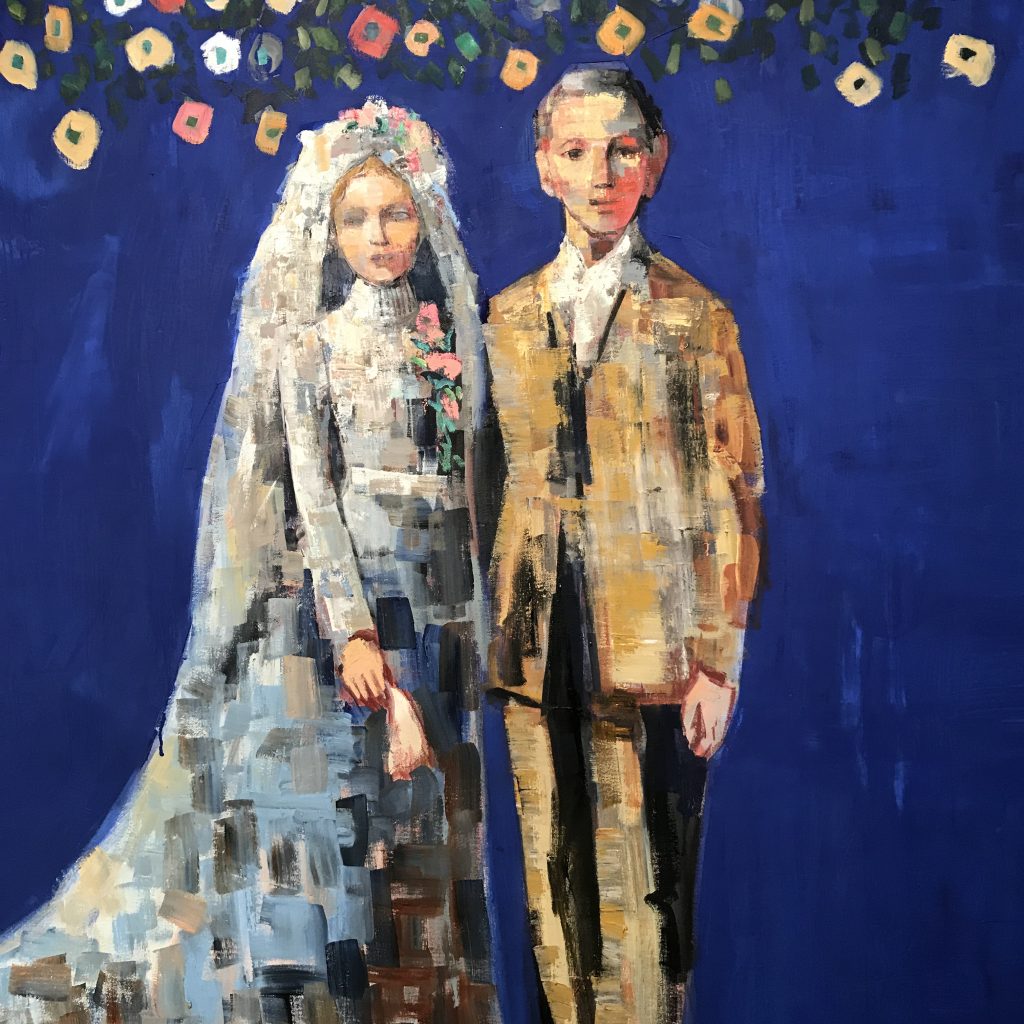 [/column] [column]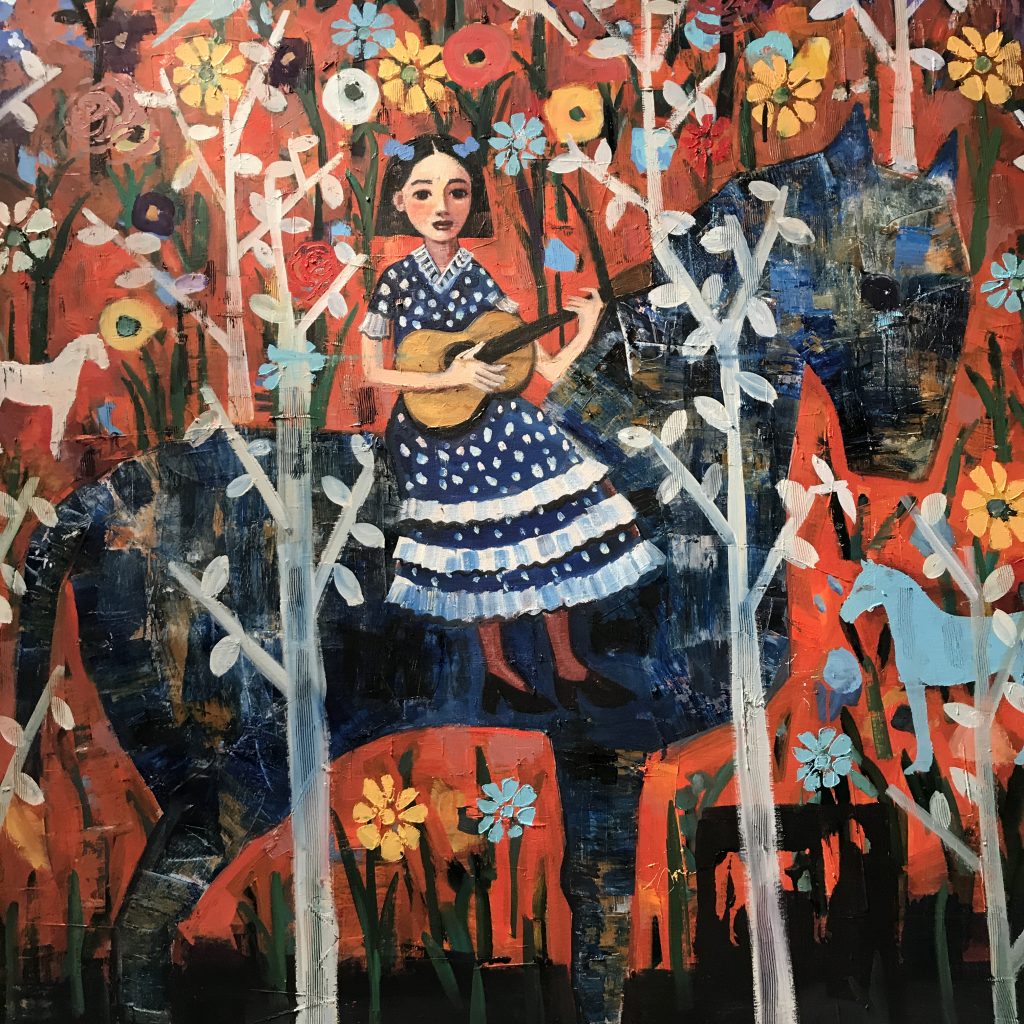 [/column] [/columns_row] As we attended the opening night preview, the sense of excitement was everywhere. Tonight art lovers and purveyors attend to hopefully discover something new, purchase new pieces for their own collections, and support St. Jude's Children's Research Hospital. It's a beautiful cause and an instrumental purpose.
This year the silent oppression found a loud bellow. In beautiful exhibitions like Afro-Cuban Painter Harmonia Rosales & Actor Aldis Hodge's, "Through the Looking Glass" we see the power of perception. With intricate layers of both material and meaning, this exhibition takes imagery and internal dialogue and places them onto oversized canvases begging viewers to ask themselves about their own perceptions. Taking difficult social and political issues we've all been stewing deep within the crevices of our minds, they piece them together in fragments that will open your eyes and invite you to question how you see things, and, just what it is you believe.
[columns_row width="half"] [column]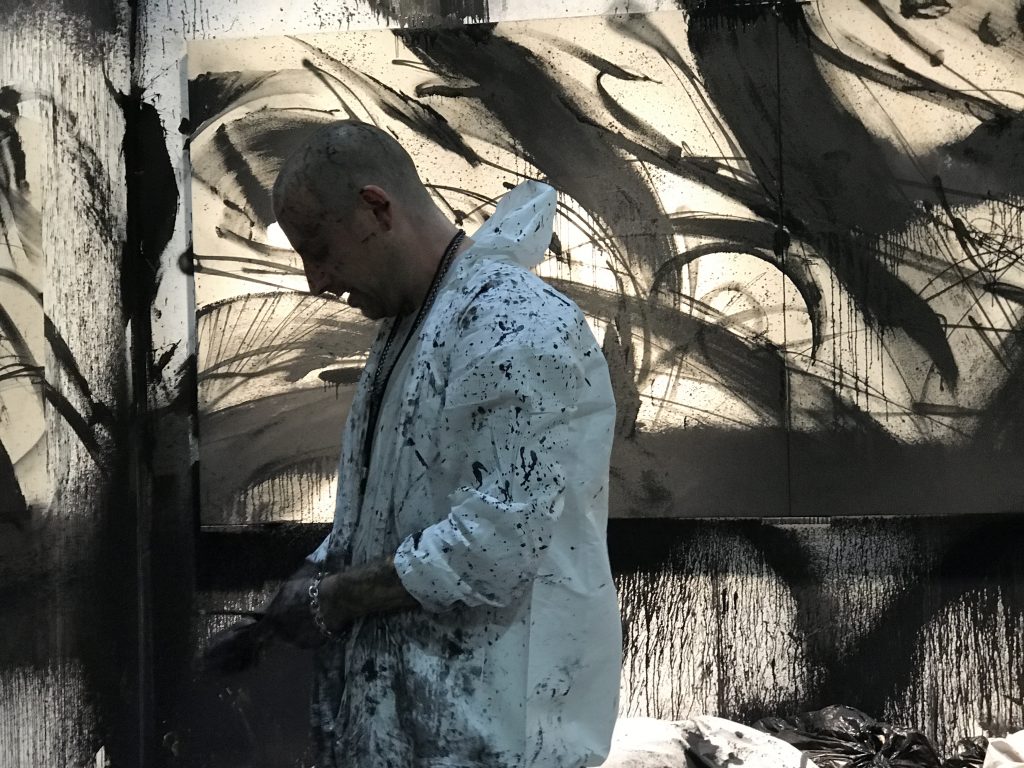 [/column] [column]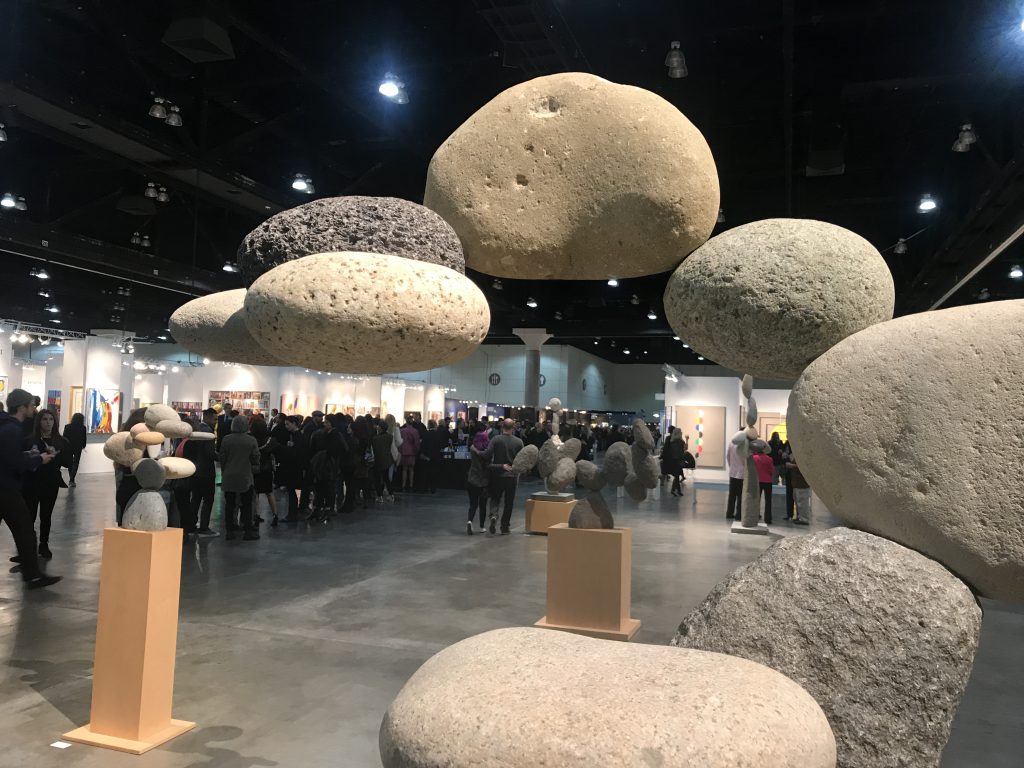 [/column] [/columns_row] Political uncertainty found a punching bag – literally – thanks to the brilliance of artist, Antuan Rodriguez. In his exhibition, "From Left to Right", art lovers can walk through rows of red boxing bags conveniently adorned with world leaders' faces we might have a little angst about, especially considering the current political and social climate. This piece gives us the release we've been craving while recognizing a rather daunting reality: we need a healthy release!
[columns_row width="half"] [column]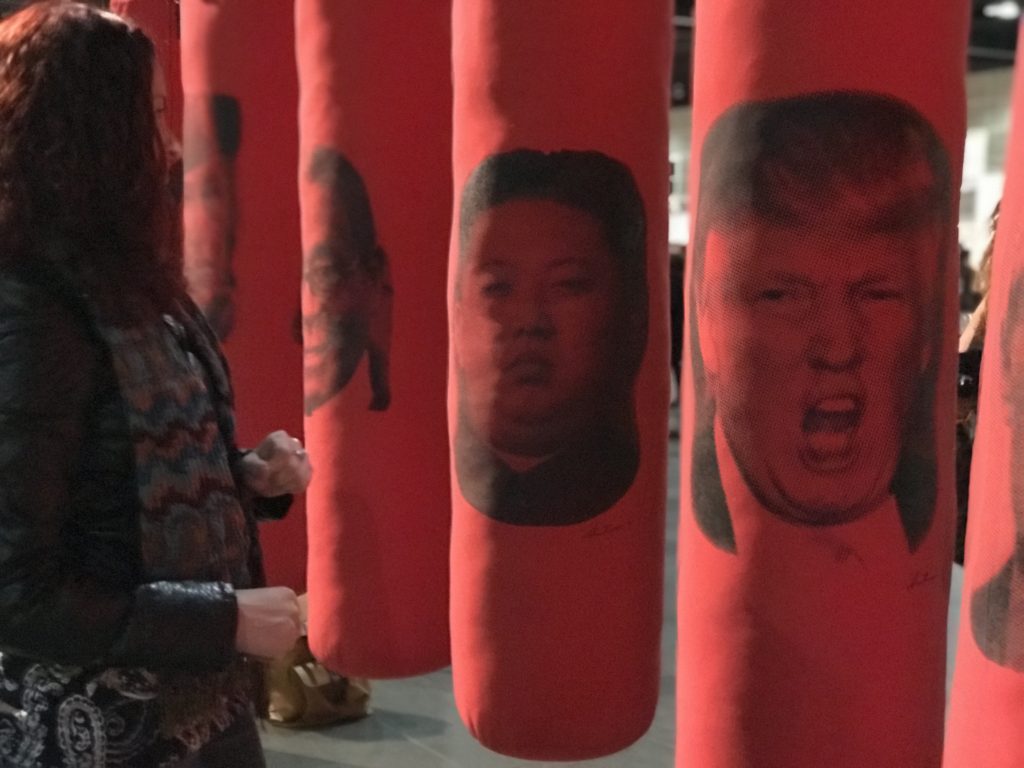 [/column] [column]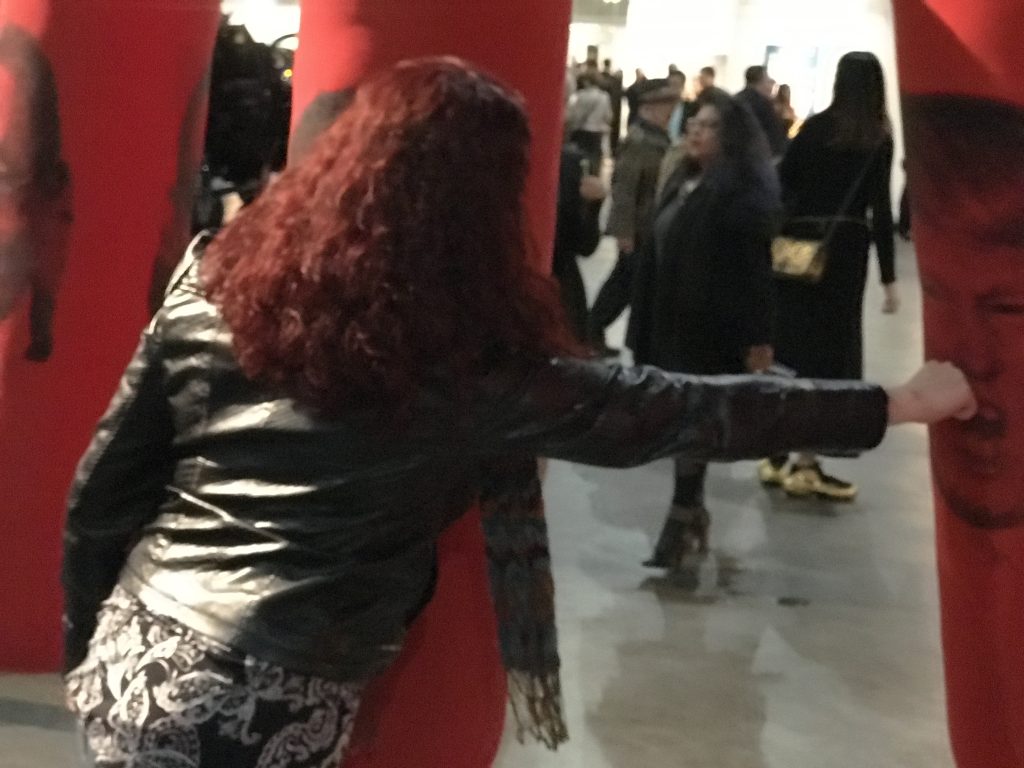 [/column] [/columns_row] Venture over to the insightful photography exhibition by
Matthew Modine
exploring the mountainous power of film through behind-the-scenes imagery of
Full Metal Jacket
and Modine's
Full Metal Jacket Diary
, thanks to
Axiom Contemporary
(stop by their galleries in Santa Monica and Venice). Glimpsing behind-the-scenes, we get a candid look at Kubrick, the genius that FMJ is, and find that what Modine has captured is a candid retrospective of filmmaking with magnificence, grace, poignancy, and truth. If you're fortunate to run into Matthew, take a minute to talk to him about the exhibition. He is so genuinely lovely, passionate, and open. These pieces were also among the
LACMA
exhibition on
Stanley Kubrick
which, to this day, remains one of the more impactful displays of art and creativity I've seen.
*Saturday at noon, you can catch Matthew Modine's talk at the Axiom booth.
[columns_row width="half"] [column]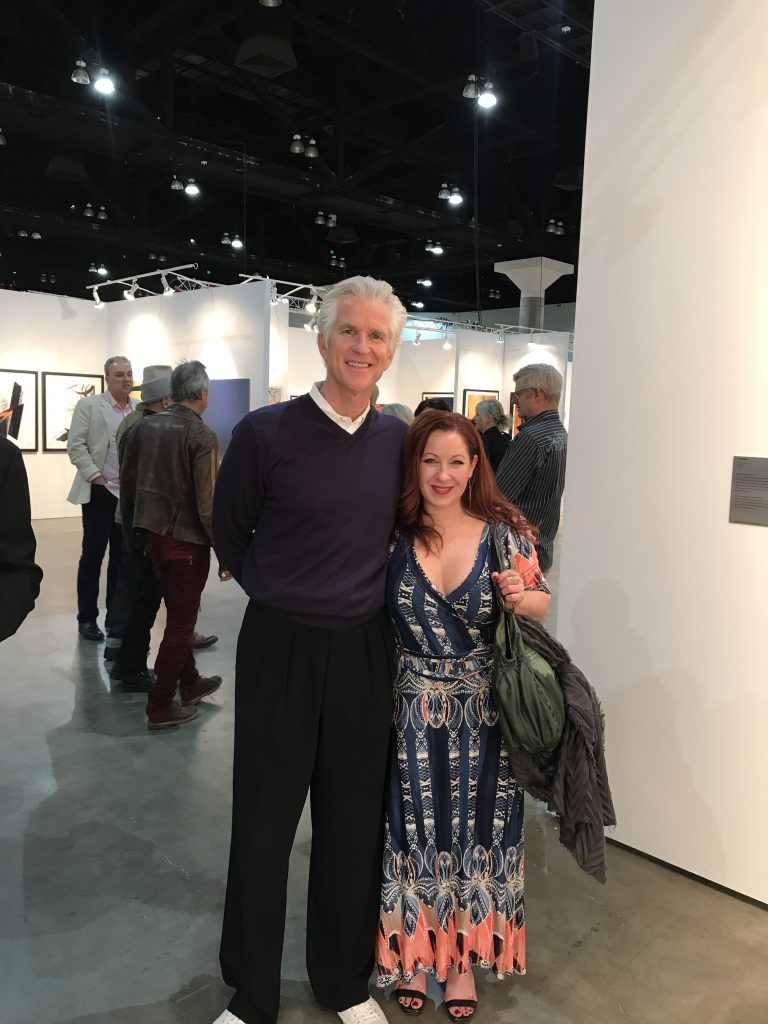 [/column] [column]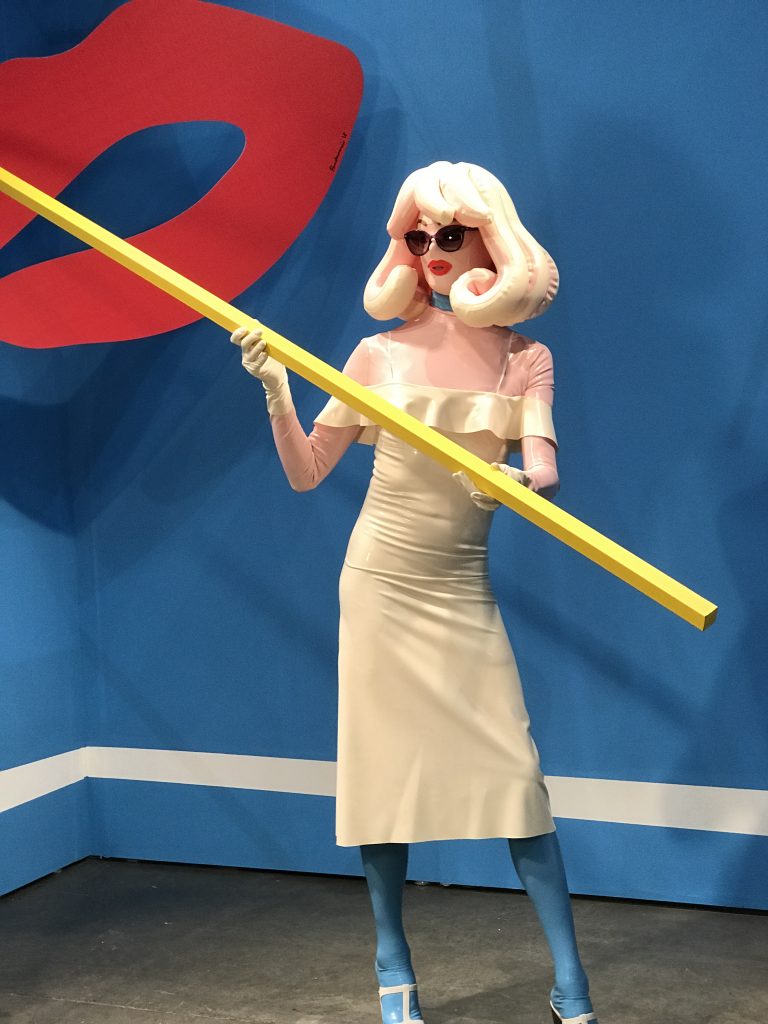 [/column] [/columns_row]
This year we are taken on a journey and as an art writer? I couldn't be more ecstatic. With an undeniable Latino presence (something I'm personally elated to see) and a significant show of local galleries, what lies beneath the paint, the images, the hand molded materials is one simple truth: We will stay silent no more. In other words, the world is ready to speak out and it's about time we listen.

Stay tuned for a full recap of the show's highlights next week.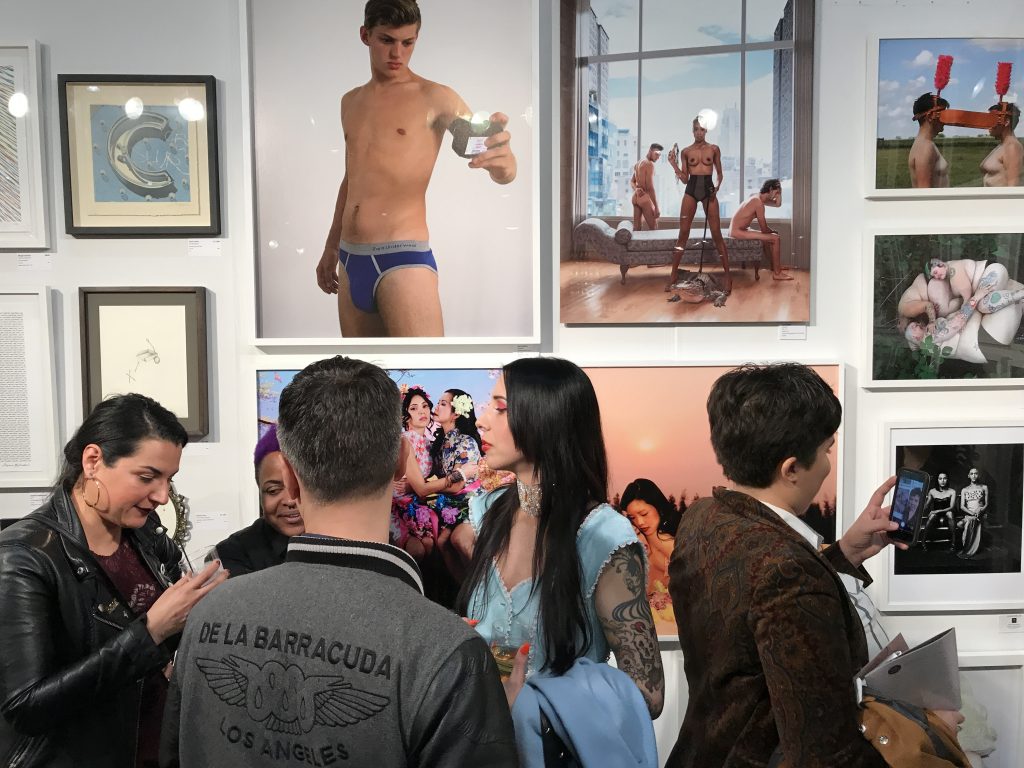 ABOUT THE SHOW
Los Angeles has emerged as a global epicenter of art & culture, with a distinct, interwoven multi-cultural influence unique to the city. Diversity is our strength and art is most impactful when it includes or transcends all borders.  As LA rises as the world-class destination for art, the LA Art Show continues to lead the way with innovative programming and one-of-a-kind experiences for an expanding collecting audience.
To celebrate our diversity as a city and a fair, we're engaging and working with local and international museum curators and galleries to develop innovative programming, engaging dialogs and cutting-edge exhibitions with an ecumenical resonance.