LA Date Night Idea No.3 | The Flats
Creative Environment, Great Play List, Phenomenal Food
photos by Dawn Garcia
[dropcap letter="W"]hile Los Angeles is in a flurry of culinary choices, finding chefs that epitomize that Michelin level is not always as easy as I'd like. So, when an actual Michelin chef – and one of my favorites – ventures in to a brick and mortar to man the helms?
Date Night became a lot more enticing. Welcoming Chef Paul Shoemaker is Beverly Hills restaurant, The Flats. I first had the distinct pleasure of feasting on Chef's vivacious culinary imagination at his popup, Experience Intro. I fell in love with every bite, awakening places on my palate I didn't even know were there – and – once having met him, find I'll be his undying fan until he hangs up his chefs coat (which better be never!).
Admittedly I don't often head to Beverly Hills to dine but Chef Shoemaker is the perfect excuse. The minute you pull in to the valet, you see a pirate flag adorning the kitchen window. In a nutshell, that one visual sets the tone for a playful space, terrific food, and another reason to love dining in LA. The Flats can best be described as a creative playground that honors understated sophistication and Los Angeles' budding art and design scene. The space is lit with industrial lighting mirrored by contemporary design. From deep dark colors to a bar top made from a found piece of oak tree that follows the direction of nature (quintessential repurposing and sustainability), you'll find a rather fitting space fluid with feng sui and edginess.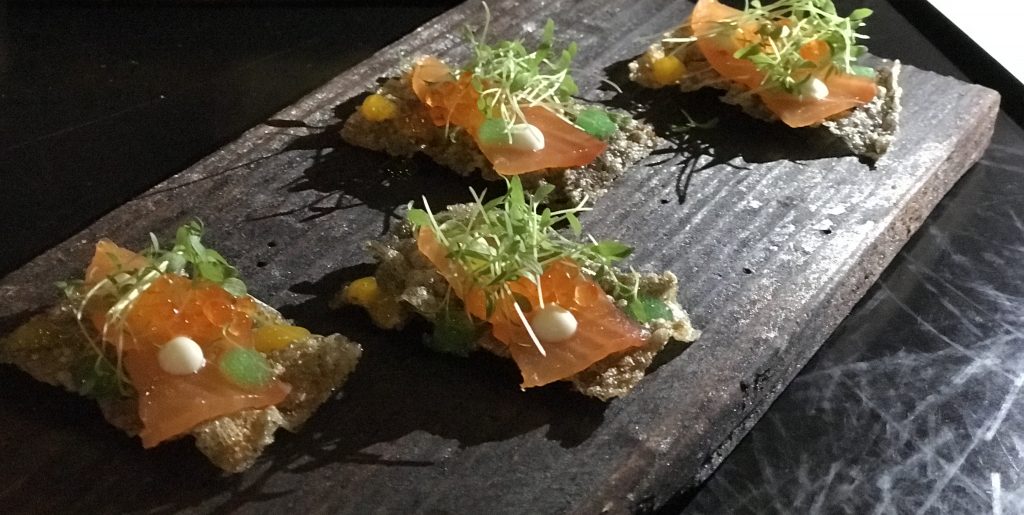 Among the layout, there is also a hanging swing chair to sit in and just above it is a fabulous piece of street art by Wrdsmth (this writer is among the most profound LA stories – reminders we are gentle human beings with hearts hungry to love and inspire). The art integrated into the space is seamless and fun as is their killer playlist easing through the sound system. The night we were there, the eighties were in full effect – and it was the good songs. That said, another favorite is the bathroom and as odd as it sounds, the décor in there is legit: subway tile, gun metal accents, rich woods.
$$ | 8400 Wilshire Blvd. | Beverly Hills, CA 90211
[separator type="thin"]
So, why pick this as another perfect LA date night spot? Because you can come here for romance but you can also come here for escape. With a cocktail program that won't disappoint, there is a finely woven story behind every sip. Whether you're thirsty for something clean and herbaceous (WINTER CITRUS), want to get lost in the woods (MUSHROOMS), feel like spicing things up with heat (WINTER SPICES), get a little saucy and go for something sensual (PEARS), or stick with your tried and true (BLOOD ORANGE), they have something for you to drink in.  This date night begins with precisely that: cocktails. Feeling adventurous we pick one a bit familiar and one way outside the realm of normal.
[separator type="thin"] [columns_row width="half"] [column]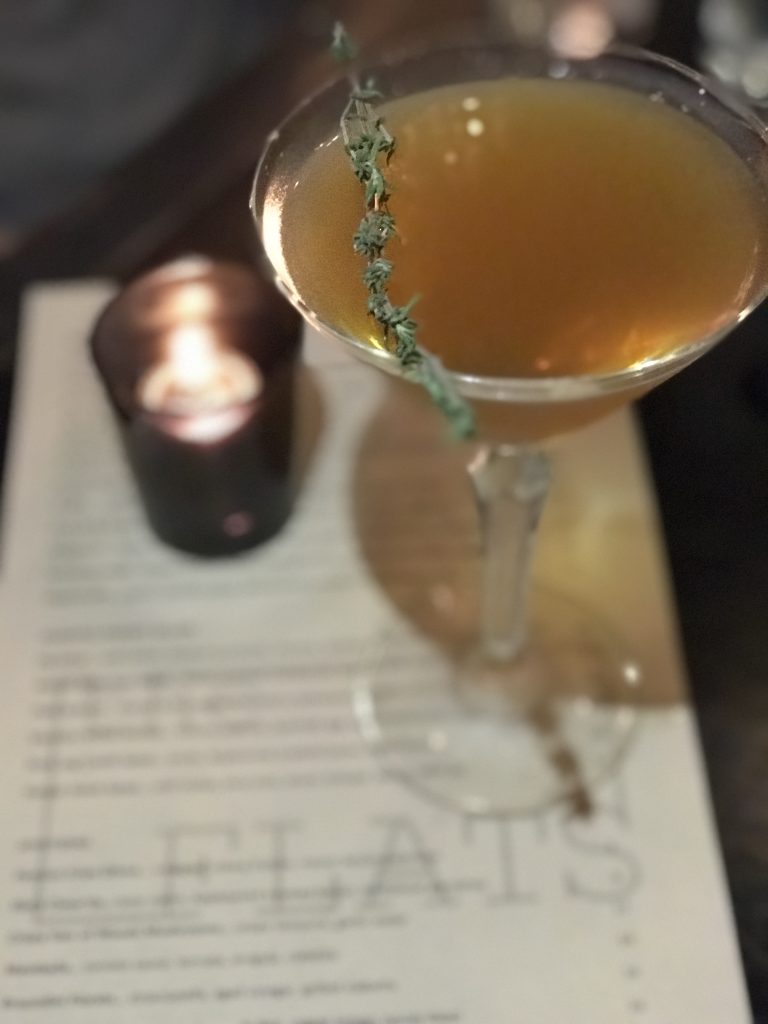 [/column] [column]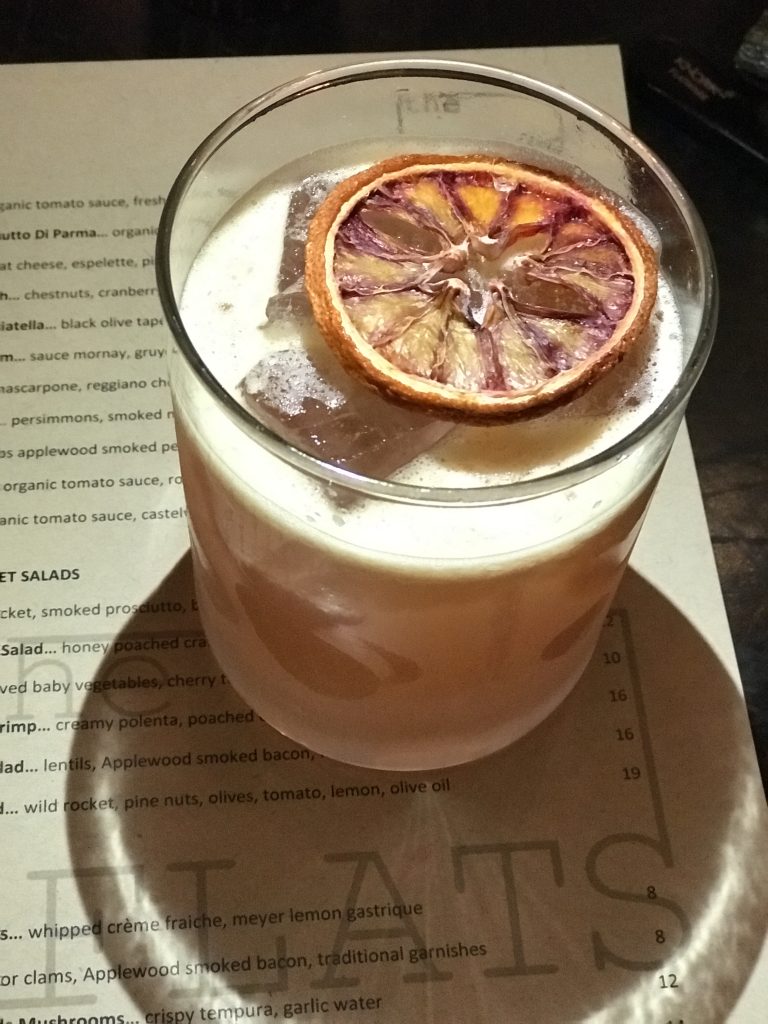 [/column] [/columns_row]
MUSHROOMS…"BROOKLYN"
candy cap mushroom infused rye whiskey, dry vermouth, maraschino liqueur, cynar
This cocktail is like stepping into a dark forest filled with herbs, spices, greenery, tree bark, and a hint of cherry. It's oddly intriguing and while it veils tangible flavors of abandon, it also appeals to those who like to unravel story, bit by bit. The flavors marry well together but this drink is one to be sipped ever so carefully as if the shadows are luring you in.
BLOOD ORANGE…"MARGARITA"
Mescal, blood orange Curaçao, lime & blood orange juices
This might very well be divinity by way of margarita. The brightness of the citrus, the smoky provocative nature of the Mescal, and the willingness of ingredients to playfully dance on your tongue while tantalizing your lips is well worth devouring.
[separator type="thin"]
Now its time to explore the menu, giving a fair range of both light and airy and heavy and verbose to awaken our palates. In true Chef Shoemaker form, the evening's bites begin with his signature am-use: Salmon Skin Chiccarone, Smoked Salmon Roe, and a touch of Crème Fraiche.With textures brimming of crispy, soft, and creamy, this is a bite I'm all too happy to partake of again and again. Something about the way the saltiness meets the texture is interesting and new and while it's my second time having it, it's still a treat. Below is a look at how the meal unraveled from start to finish. As an aside, the homemade flatbreads are something to be tasted!
"If more of us valued food and cheer and song above hoarded gold, it would be a merrier world."
MEATBALLS
tomato sauce, burrata, arugula, ciabatta |  hearty blend of flavor and richness without ever being dry
BROCCOLINI FLORETS
stracceatella, aged vinegar, grilled ciabatta | acidic, fresh, beautifully seasoned
FIG SALAD
wild rocket, smoked prosciutto, burrata, pickled persimmons, pine nuts, ciabatta
Truly love at first bite. A salad with so much heart and balanced culmination of ingredients, the unique blend of pickled persimmon (which brought out the flavor of this miraculous fruit), the salt from the prosciutto, and the crisp of pine nuts was perfection. This might be the best salad I've ever bitten into.
PORCINI MUSHROOM FLATBREAD
sauce mornay, gruyere, rosemary
There is something to be said for a biting porcini. This flatbread is generous in the pungent goodness of mushrooms but it's the gruyere that takes the earthiness to the next level with the rosemary acting as a calming conduit. This was my pick of the night.
MARGHERITA FLATBREAD
organic tomato sauce, fresh basil, house made mozzarella | refreshing, balanced, zesty with the ideal cook on the bread.
With a blend of savory components as dinner wraps up, our sweet tooth kicks in. The dessert menu changes based on seasonal availability but this month you have choices from "Yogurt & Berries" – Italian yogurt meringue with yuzu and berry sorbet to "Brown Butter" – brown butter ganache accented with bay leaf mascarpone mousseline (only a few of its elements )- to dessert cocktails like their twist on a White Russian. The presentation is simple and the two we decided on were rich and indulgent.
BARREL AGED CHOCOLATE
chocolate torte, Banyuls vinegar milk chocolate mousse, cocoa nibs, Mexican cinnamon, devil's food puree, malter milk ice cream
BUTTERSCOTCH PANNA COTTA
Templeton Rye marshmallow, graham cracker streusel
[columns_row width="half"] [column]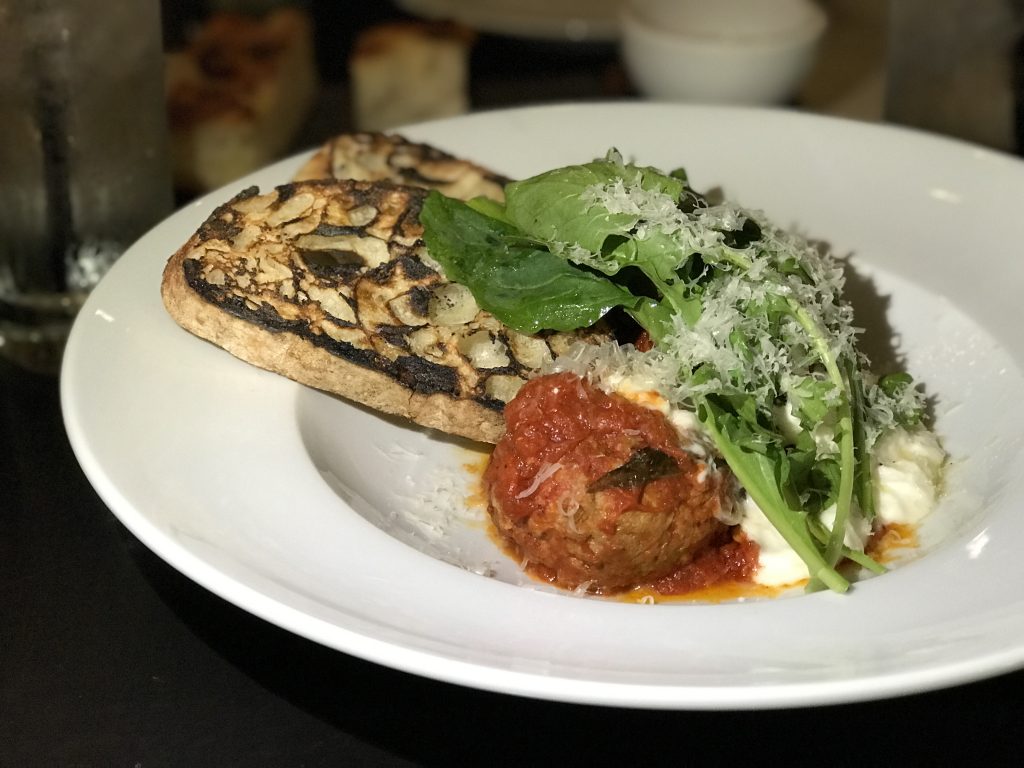 [/column] [column]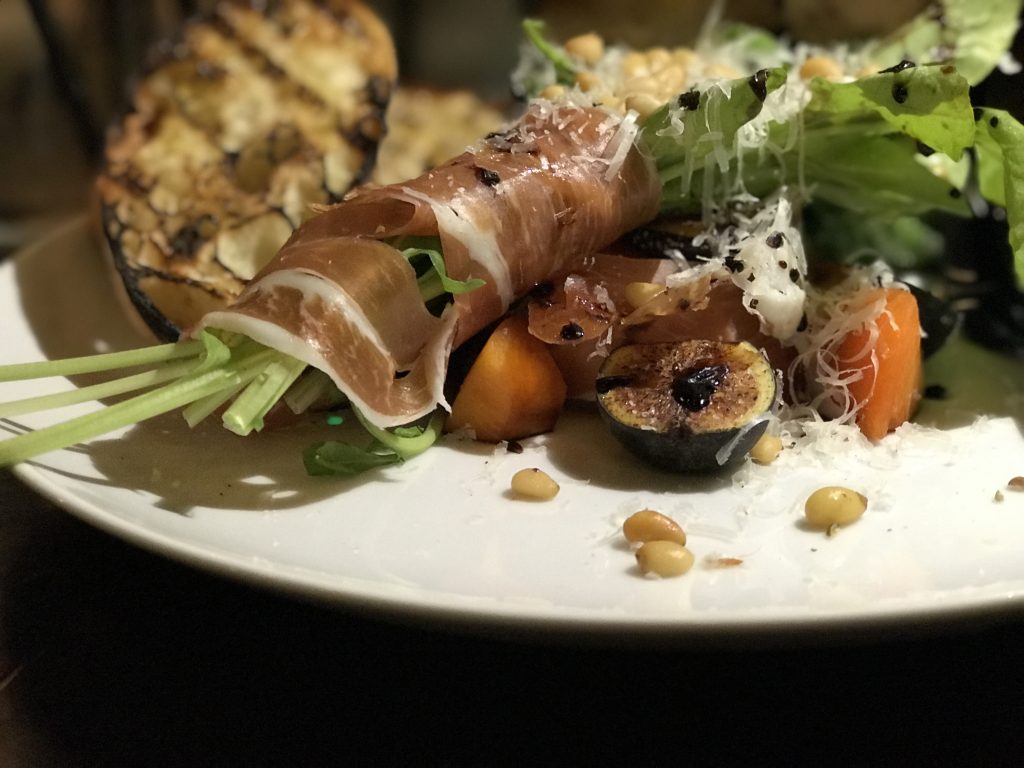 [/column] [/columns_row]
Located in the heart of Beverly Hills, the Flats is a sensational departure from the same old thing. With Chef Shoemaker and his trusty crew crafting the menu and giving it their personal touch, this is a refuge befitting a far more exciting night out. Forgo the alternative and instead prepare to drink happy, eat well, and feel inspired.
[separator type="thin"]