LA Gets Its Michelin Star Back
Chef Paul Shoemaker brings beauty and love to our cuisine
INTRO | 4200 Lankershim Blvd. | Studio City | F+S 7:30pm $125pp (wine + bubbles included)
[dropcap letter="F"]ood can be poetry. It can creep into you with sensual appeal, intoxicate your senses with traces of nature, and awaken something within that may have laid dormant for far too long. THAT is precisely what happened last night when we sat down to dine under the curated culinary guidance of Michelin Star
Chef Paul Shoemaker
. The moment you enter INTRO, the space has been curated for all of your senses.
Rob C (aka Rob Ciancimino)
is at the door dressed from head to toe with attire that makes you long to be back in the 1920s, with detail that isn't lost on the company. Rob even has a pocket watch at the ready should you need the time. He smiles with his handlebar mustache turning upward as if it's smiling too and I am handed a glass of champagne.
The lighting is dim to emphasize the allure of this very special evening and showcase the featured art adorning every one of the four walls around us. Painted canvases hang leisurely against the painted brick walls, art created by Artist Jens Schmidt that emits a careful balance of intentional strokes of vivid color spectrums and street art that doesn't come to life with reluctance. There is an air of playfulness and seduction that brushes past you as the music playing, put together by Grammy Award winning Manny Marroquin, fills the space of the room only lending to its provocation.
[columns_row width="half"] [column]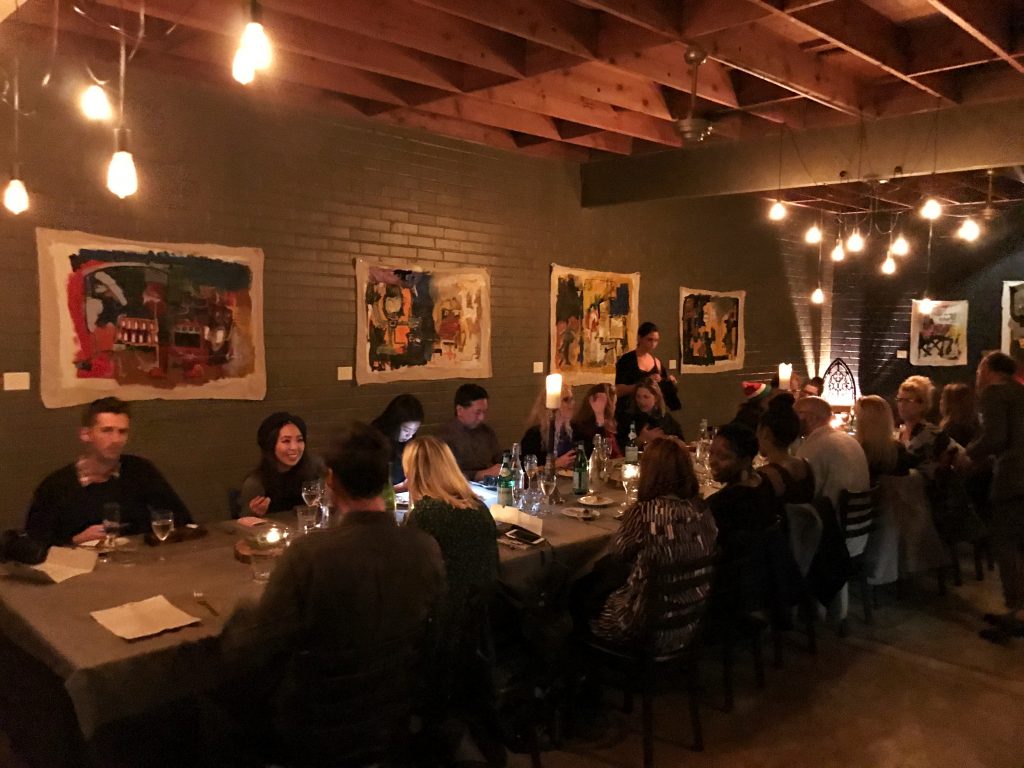 [/column] [column]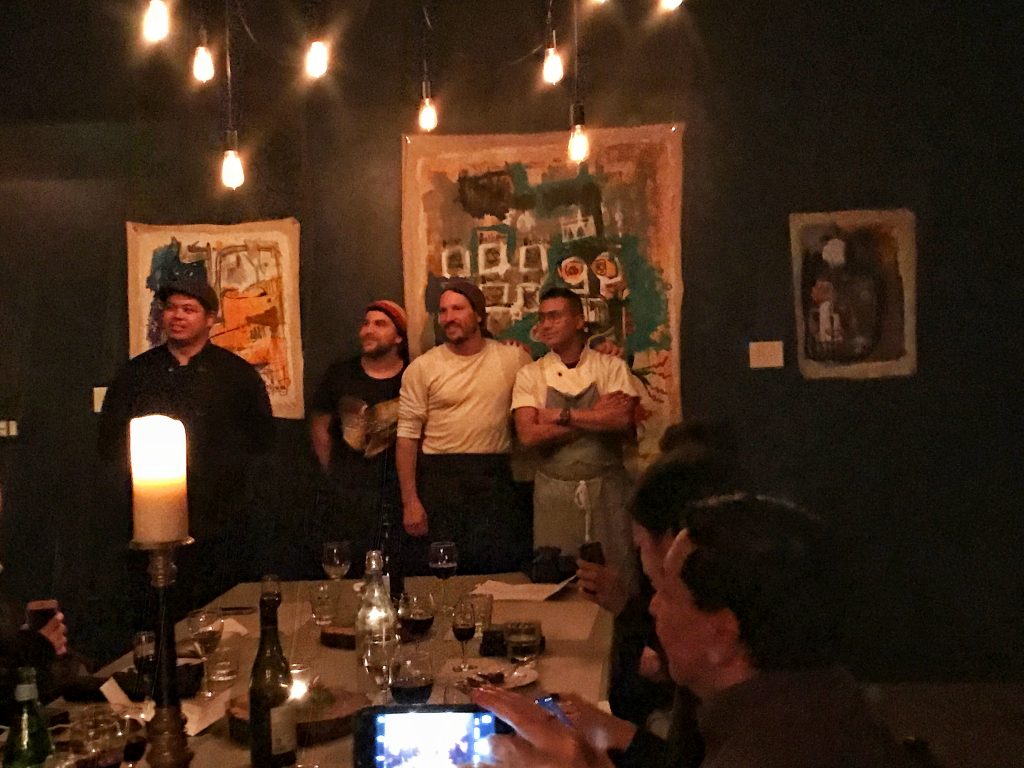 [/column] [/columns_row]
The guests, all of us eager diners utterly delighted to be there, take in the beauty of the décor:  the details like the light fixtures that hang from above with symmetrical precision in clusters of industrial simplicity or the isolated chair, backlit from below just staring out at us as if it's there to observe the musings about to unfold. Soon, Rob C invites us to take a seat and as we do, he begins to tell us the tale of how INTRO came to be.
Like a painter must paint, a chef must create and cook …
He proceeds to tell us that two doors down, a restaurant is being built and designed and, like all things in construction, delays became inevitable. All the while trying desperately to be patient, Chef was longing to be back in the kitchen. Working out of their office which is now the space serving as this illustrious popup – once a fully functioning dance studio with tales every remaining fragment could tell – one day, Rob was drawn to the smell of something cooking. Like a pied piper, chef had crafted a homemade grill and started cooking out back. When Rob asked him what he was doing, he simply said, "You've gotta eat and I have to cook!" Thus the light bulb went on and their "office" was built out, gutted and turned into the official home of INTRO Art Gallery & Chef's Table. Honoring the history of the space that existed before, when they tore up the linoleum floor, they found the wooden dance floor and so they decided to repurpose the wood and use it to build the table you'll be seated at. Sustainable and full of times we can only imagine.
---
TIME FOR DINNER TO COMMENCE
The menus are placed before us, folded and sealed with a proper wax seal. A real one … Once we open and the menu is unveiled, it's a passionate prose from start to finish. Like one would hope when dining Michelin, this experience was as if a story was imagined and the words were spoken in the subtlety of ingredients and the sensual hands of the chef himself. Nothing was lost or overstated or arrogant or forced. In fact every single one of the twelve courses were as gentle as the stroke of a lover's hand nestled along the nape of your neck with the intrigue of near orgasmic touch when they lean in to kiss you.
[columns_row width="half"] [column]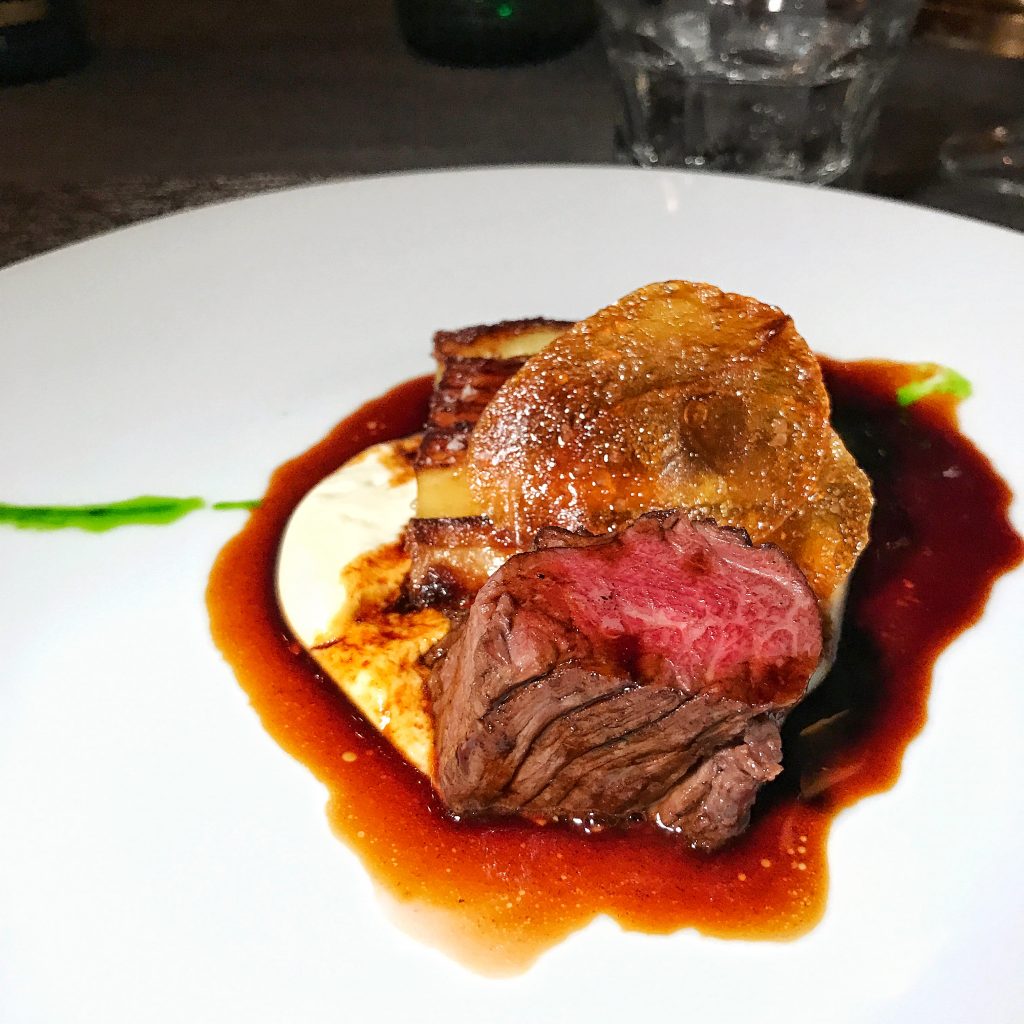 [/column] [column]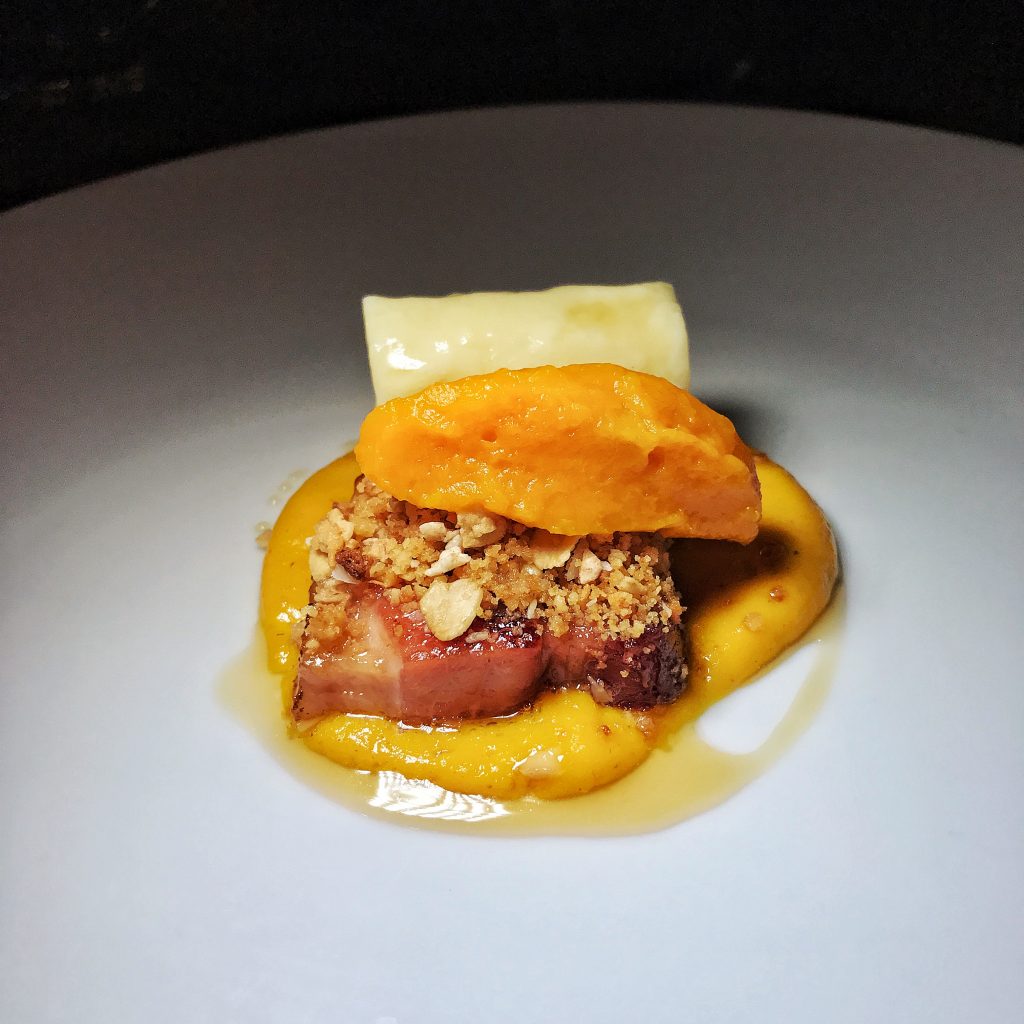 [/column] [/columns_row]
This was not a fanciful flight but rather a melodic, symbolic gesture of love, passion, wit, fascination, submission, curiosity and a twist of addiction.
HANSEL + GRETAL's POETIC CRUMBS will always lead you here …
---
The MENU
COCKTAIL
Bourbon Cider Liquid Rav | Oyster, Champagne, Beet Juice Caviar, Passion Fruit Fizz | Cold Fever, Gin Tonic
PRE-AM– — USE
Foie Gras, Truffle Mac-Daddy | Foie Gras Dime Bag
AM– — USE
Salmon Skin Chiccarone, Smoked Salmon Roe, Crème Fraiche | Salmon Cone
[columns_row width="half"] [column]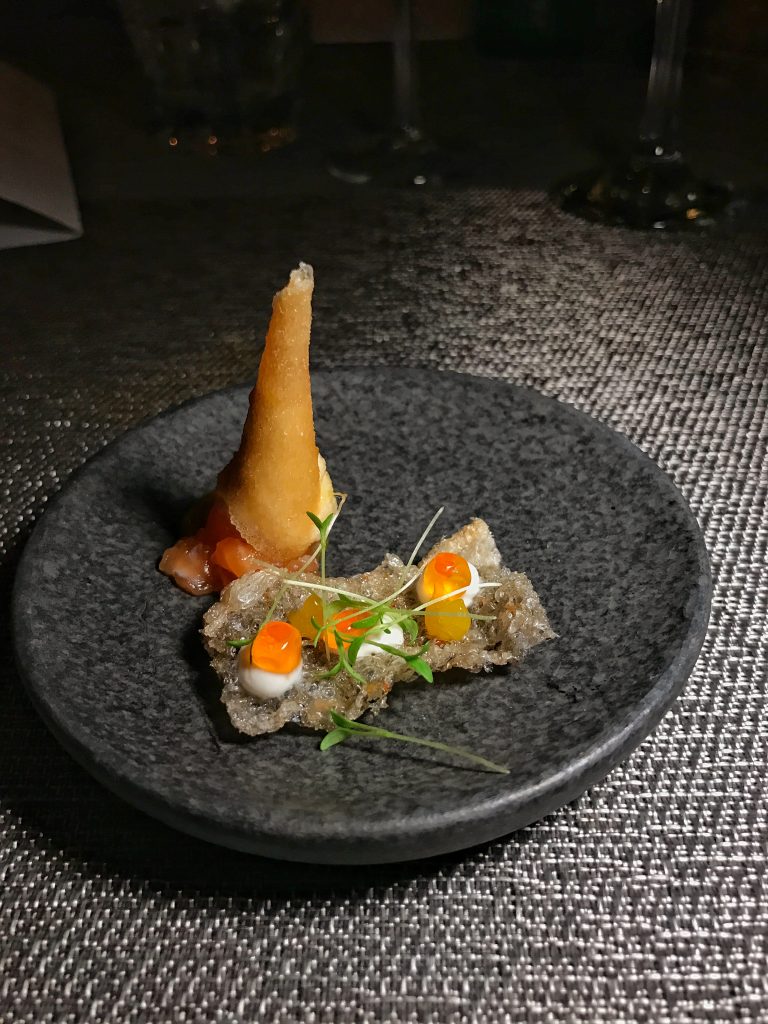 [/column] [column]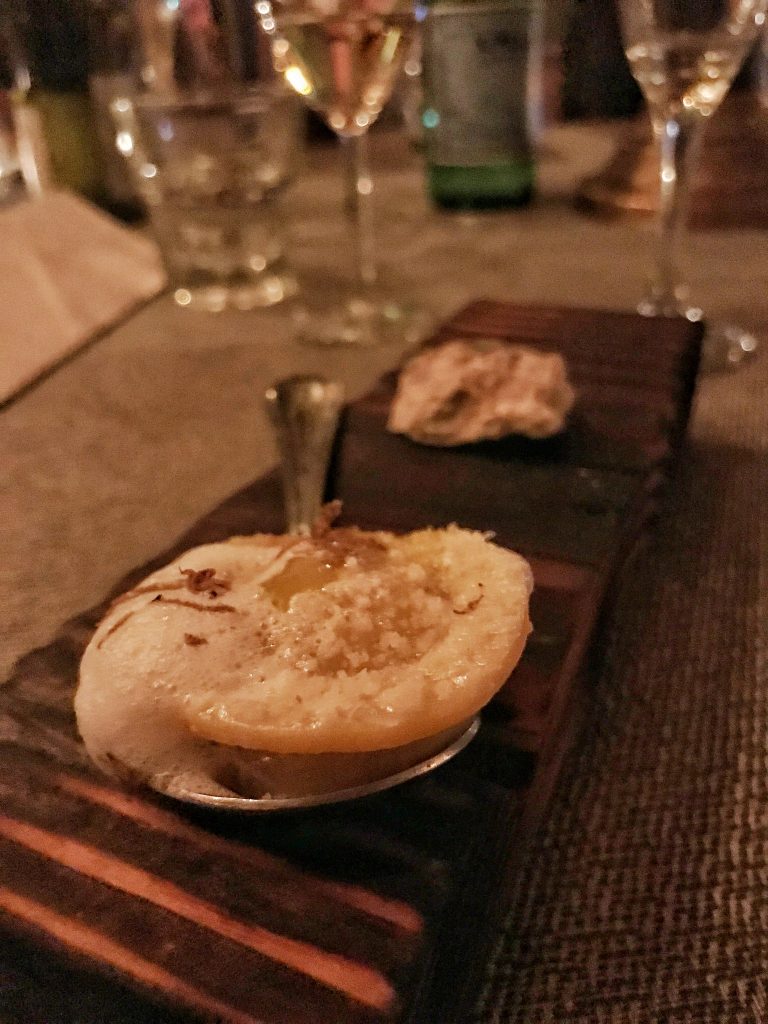 [/column] [/columns_row]
BONE MARROW + TRUFFLE RAVIOLI
Parmesan Reggiano
SCALLOP
Baked Avocado, Yuzu Ponzu, Caviar, Smoked Sesame
BUTTER POACHED MAINE LOBSTER
Coral Nage, Basil Soil
VARIATION OF RED BEETS
Goat Cheese Crumbles, Mello, Candy Walnuts, Whipped Goat, Beet Macaron, Passion Fruit
[columns_row width="half"] [column]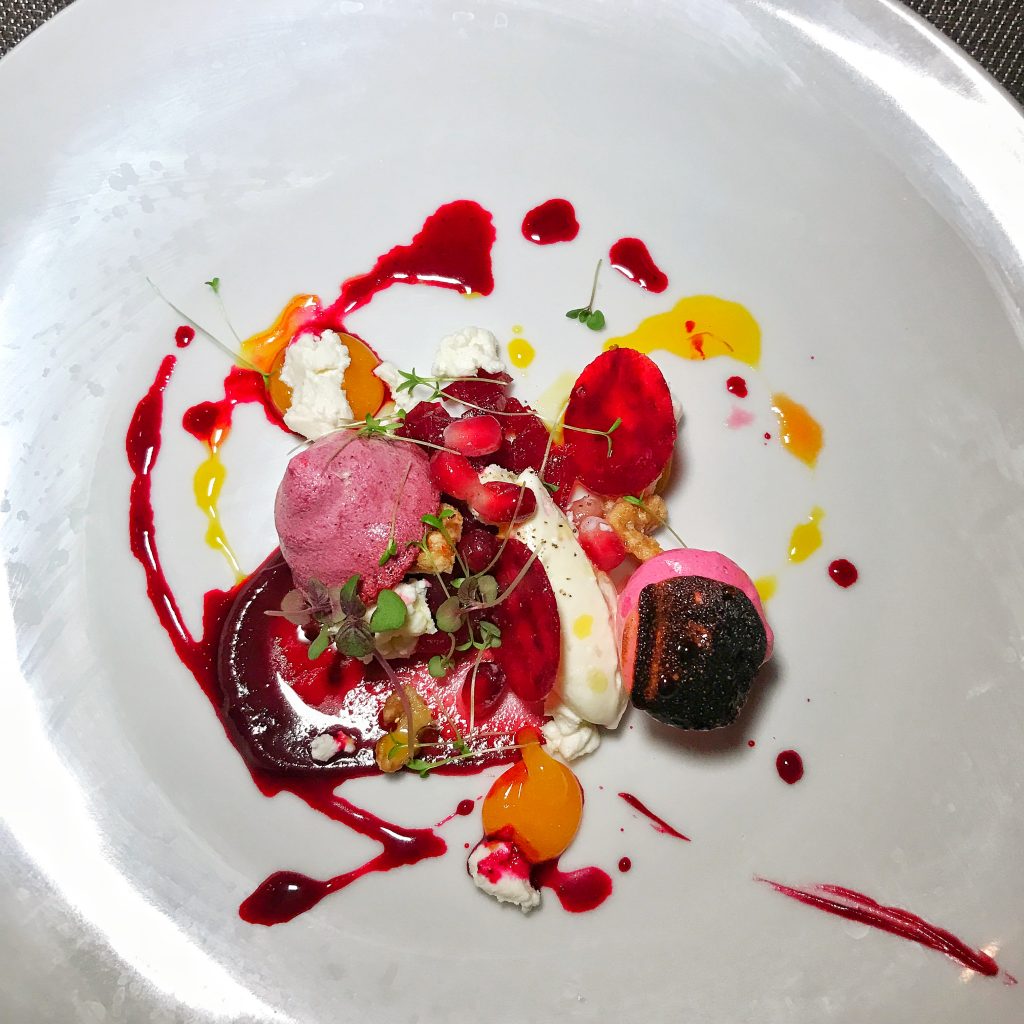 [/column] [column]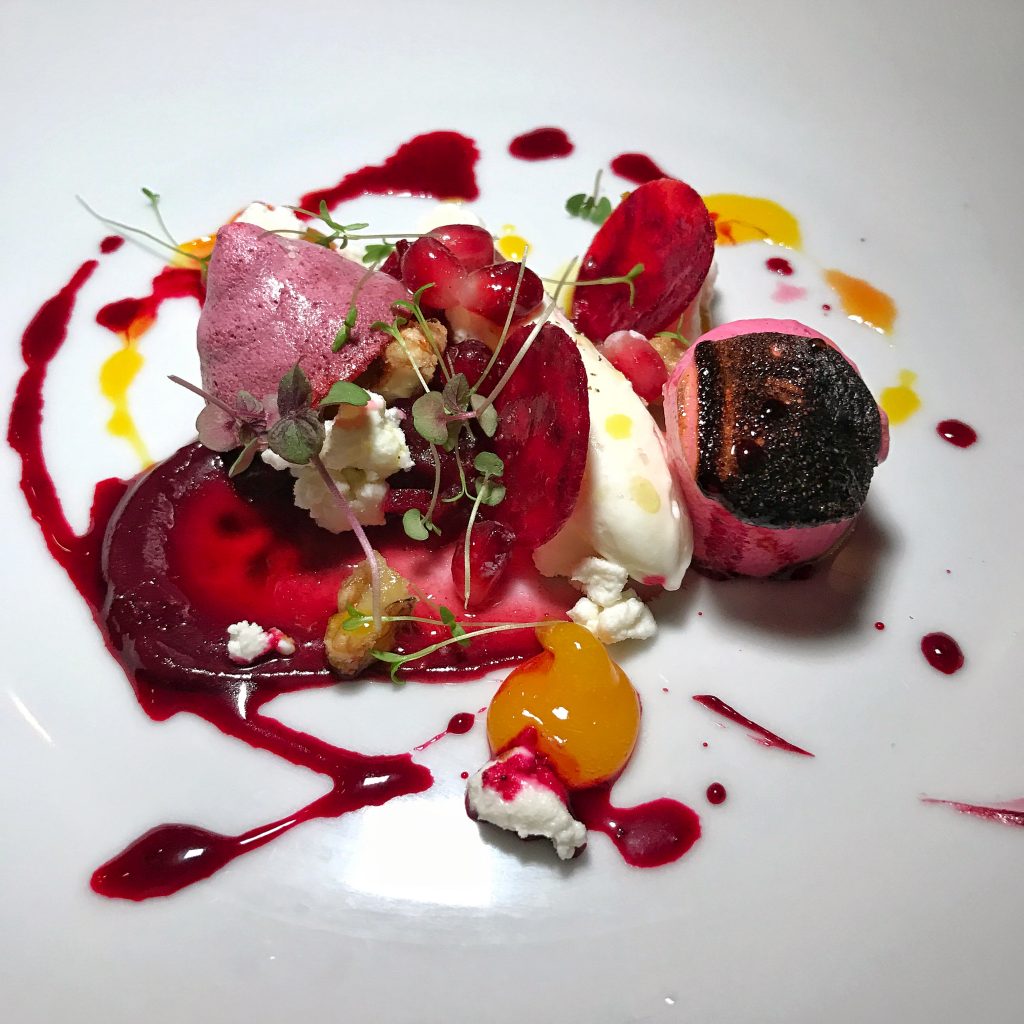 [/column] [/columns_row]
PATE A CHOUX GNOCCI
Smoked Maple Gel Pork Belly, Honey Packed Cranberries, Pine Nut Soil, Pig Skin
PASTA WITH TRUFFLES
Truffle Fondue, Espuma and Fresh Truffle
MONKFISH
Persimmons, Bottarga, Reduction of Cocoa and Ginger
[columns_row width="half"] [column]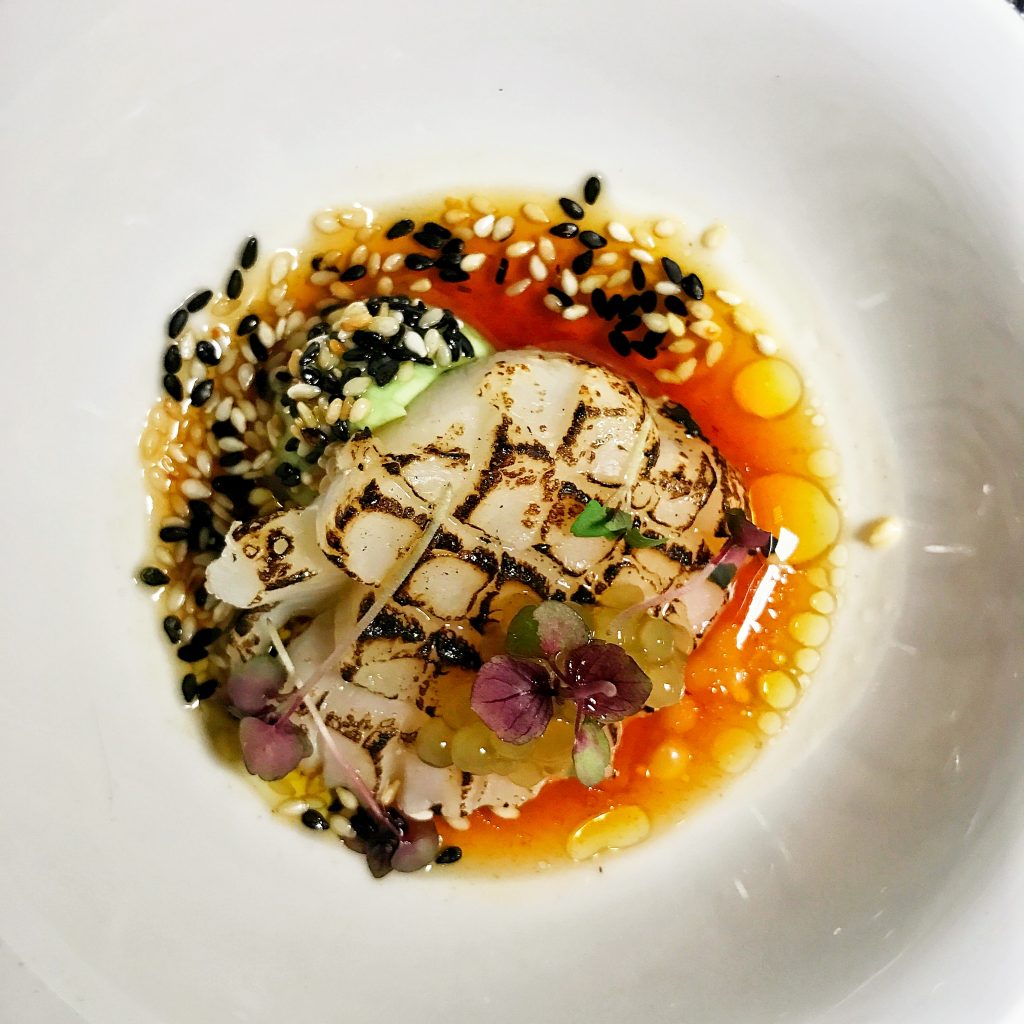 [/column] [column]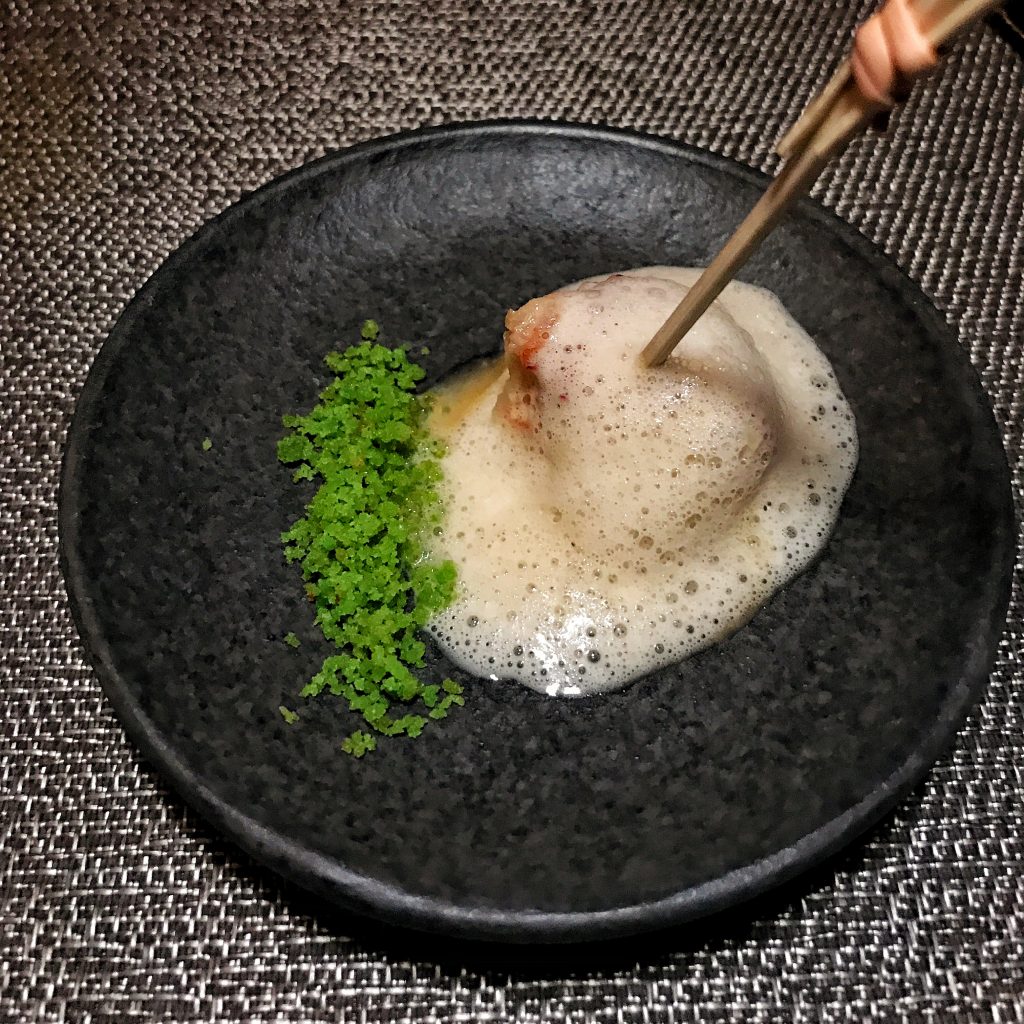 [/column] [/columns_row]
PRIME HANGER
Époisses, Potateo Fondue, Potato Chip Pistu, Sauce Bordelaise
GOLD MINE
Passion Fruit, Macadamia, Strawberry Saffron Fluid Gel
DEAD TREE
Gianduja Ganacje, Brown Butter, Chocolate Trees
[columns_row width="half"] [column]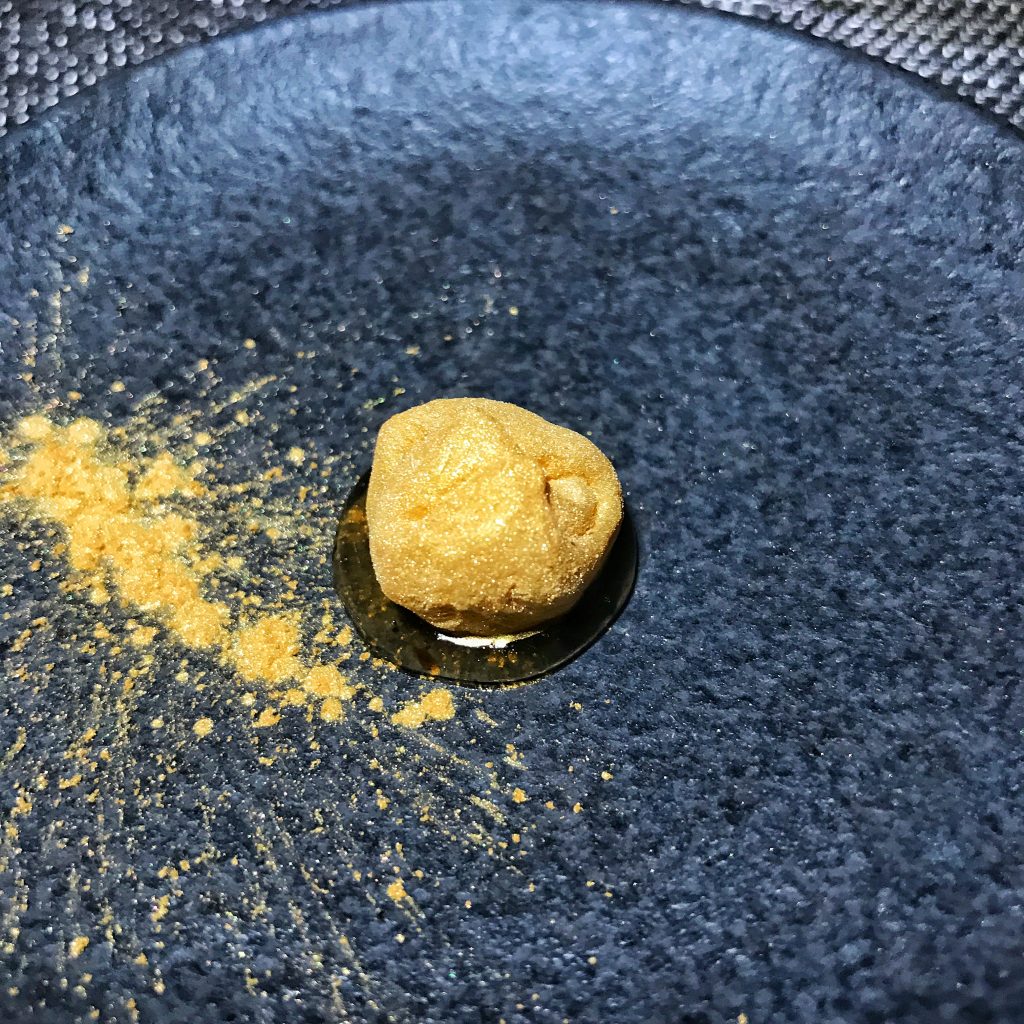 [/column] [column]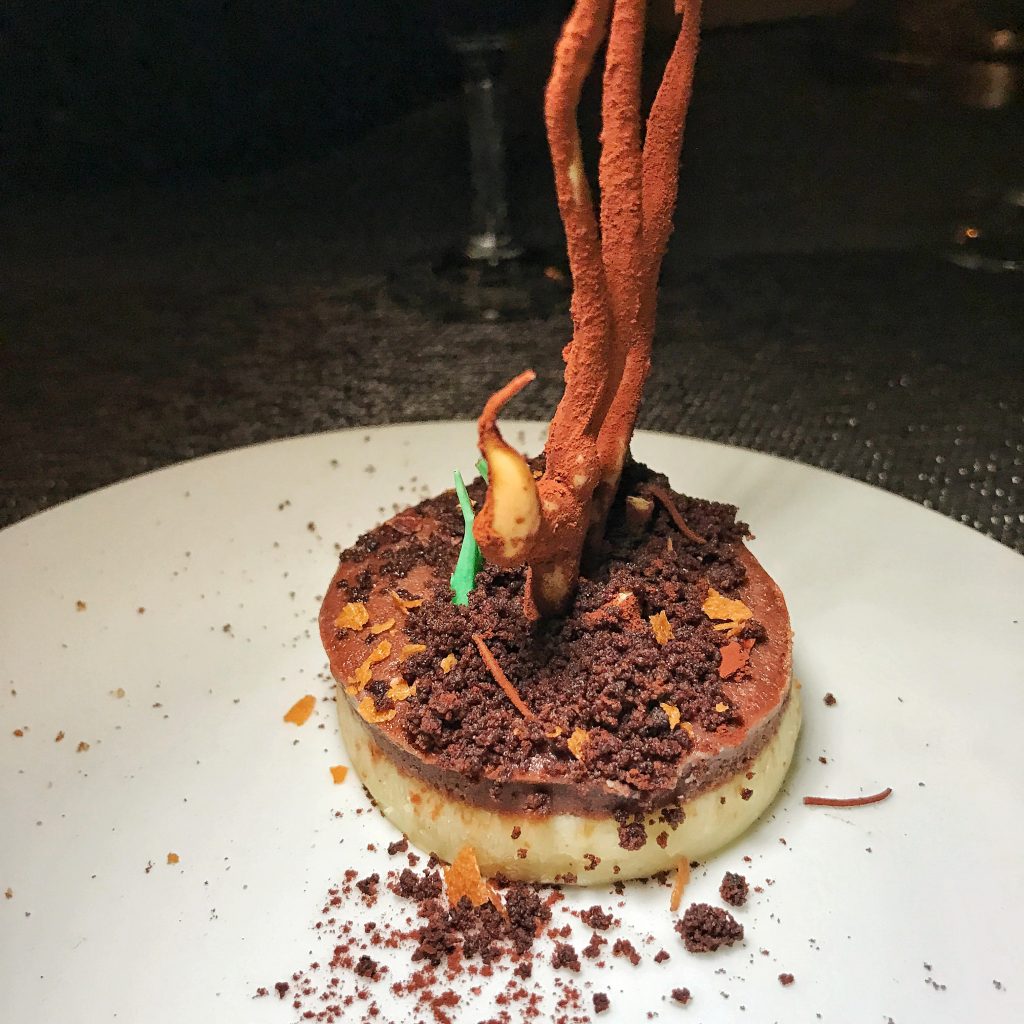 [/column] [/columns_row]
There is no ideal way to express the beauty to which we experienced. There are more surprises in store for your palate than you ever thought possible and quite honestly, the only way to describe this evening's fare is simply: BREATHTAKING.
Every bite of every single dish proved to be a story in and of itself but also part of a collective whole that will soon take hold of you so deeply, you will dream about this meal for years to come. That said, there are some that simply aroused everything inside of me.
The Oyster Cocktail was food porn. Beginning with the deep richness of pink and crimson awaiting your mouth's intake, the flavors were mesmerizing. In fact the way the beets harnessed themselves in the topic layer of passion fruit fizz, well, when you submit, you are all in. Take that already poised glass of pleasure and incorporate the oyster waiting for you? It's a culinary orgasm and there is no other way to put it.
The Bone Marrow and Truffle Ravioli was given with but one simple instruction: Do not bite. Place the entire thing in your mouth and let it take hold. When you do as you are told, the texture of the ravioli is firm but enticing with butter keeping it moist and once you take that swift bite down? You are greeted with an explosive tidal wave of flavor from the unapologetic traces of braised meat remnants oozing through the bone marrow into the pool of truffle that never overpowers the delicate nature of the ravioli itself.
The Scallop was another plane of perfection. The bath it swam in of yuzu ponzu, baked avocado and smoked sesame took it to another level. Once you placed the scallop onto your spoon and the caviar situated atop it, the flavors that followed were absolute divinity.
The Variation of Red Beets was a refined orchestra of texture and piquancy. Chef and his team designed this particular dish much like a sculptor must layout his renderings before the masterpiece can be revealed. The colors alone were vibrant and the goat cheese crumbles with the contrast of texture and flavors were a stunning exposition.
The Dead Tree was the perfect way to bid us adieu. Looking at it straight on, it was as if it was alive. The chocolate tree extended upwards while their base was covered in the color of the earth with the exception of one bright caterpillar green accent. Much like the first sign of life at the first hint of sunshine, this remarkably subtle visual leant itself to a finish that was brimming with hope and life and unending possibility.
[columns_row width="half"] [column]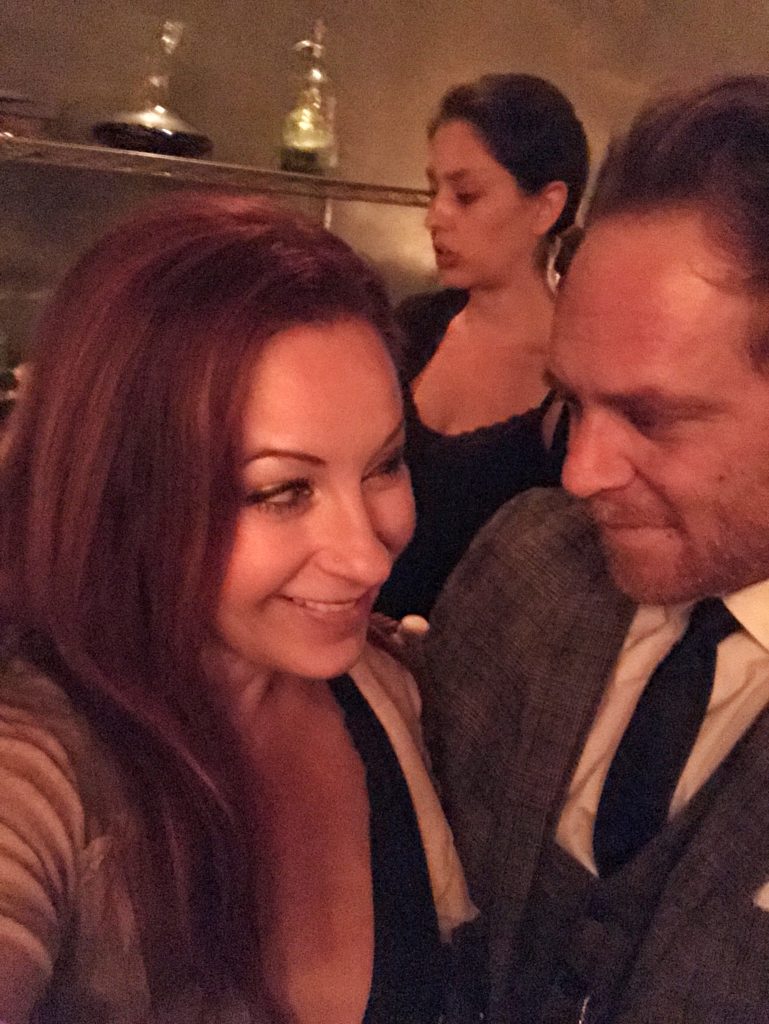 [/column] [column]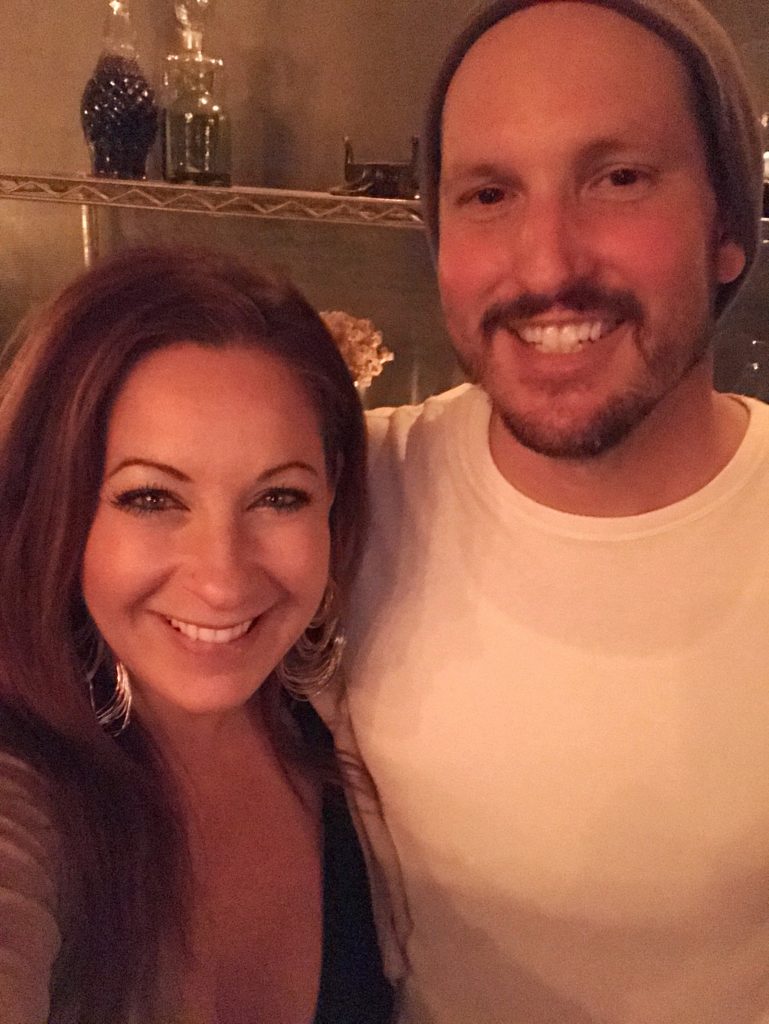 [/column] [/columns_row]
While we sat there in awe of the miraculous dining experience we all just witnessed and ingested, the chef and his team came out. The room bellowed out in thunderous applause and I had to ask them what they found most intriguing about the dishes they just crafted. One by one these are the answers they gave:
I love the amuses. They're fun and playful, the bourbon cocktail is great.
DG: If you had to summarize the amuse in one word, what would you say? PLAYFUL.
Chocolate. I just love brown butter and chocolate.
DG: And how does that make you feel? HAPPY, RELAXED and it just ZENS ME OUT.
I'd have to say the Monkfish. It's super unique and it's a different fish that a lot of people haven't ever had this way. Just the technique behind it goes back to everything we do here which is playful. We vibe off each other and whatever we put out really describes us.
DG: Ok so give me an adjective for your dish: LOVING.
My favorite was the beets just because it plays off of different flavors and techniques and preparations of just one ingredient.
DG: And your adjective? THOUGHTFUL.
With that, our evening concludes and those five words do define exactly what we all experienced tonight at INTRO: Playful, happy, relaxed, loving and thoughtful.
An infinite amount of thanks to Chef for his love and to his staff who were instrumental in bringing something so magnificent to life. To the three visionaries: Paul, Rob and Manny – what you have done here is something so eloquent, so very sexy and so completely unforgettable. And to Lawrence Moore who invited us to attend – Thank you. Truly …
Executive Chef Paul Shoemaker, the mastermind behind the outstanding 12-course culinary journey rose to recognition at Alan Ducasse and French Laundry before proving he is worth his salt in kitchens at Providence, Water Grill, his own restaurant Savory, and Firefly, but most notably, Joe Pytka's Bastide, where, in less than six months he earned himself a Michelin star. His aspiration for guests at INTRO Art Gallery & Chef's Table is elegant in its simplicity: "The pure essence of hospitality: engaging all of the five senses." With that teaser, Shoemaker then disappears and service begins.
INTRO Art Gallery & Chef's Table operates every Friday and Saturday evening from 7:30 pm to 10:00 pm and reservations are required. Door opens and Bubbles at 7:30 pm. First Course served promptly at 8:00 pm. The INTRO Art Gallery & Chef's Table menu changes seasonally and often due to the availability of the finest ingredients. INTRO Art Gallery & Chef's Table has a 24-hour cancellation policy and will do their very best to accommodate any food allergies or alcohol restrictions if communicated in advance upon making a reservation. For more information and to make reservations at INTRO Art Gallery & Chef's Table, please visit www.ExperienceIntro.com