Inn at Newport Ranch
Architectural Innovation Meets a Little Slice of Heaven
31502 Highway 1 | Fort Bragg, CA 95437 | (707) 962-4818
[dropcap letter="C"]alifornia is a state that exudes a bit of magic from the breathtaking coastline to the mountains, desserts, and National Parks.
We are plentiful in varying micro-climates, have more to offer locals and travelers than most any other state in the nation, and we genuinely appreciate where we live. So when it came time to drive from Los Angeles to Fort Bragg for a decadent stay at The Inn at Newport Ranch? The nine-hour road trip was one to look forward to.
Located in picturesque Mendocino County,  The Inn at Newport Ranch is a beautiful 2,000 acre property that is home to a coastal cattle ranch, a freshly managed vegetable garden, cliffs that overlook the ocean and a terrain covered in redwoods. In other words, this might be a bit of what heaven is like.
Thus the Inn at Newport Ranch was created for those wishing to explore old trails and the magical coast. I'm reminded of a quote from J. Monroe Thorington, who hiked extensively in British Columbia in the early 1900s. He wrote "We are not pioneers ourselves but we travel old trails that are new to us and with open hearts, who shall distinguish."
— Willard Jackson 2015
NIGHT 1.
Driving up on Highway 128 is like being in an enchanted forest from a fairy tale. Tall redwoods bend

and line the highway, lush green moss rests in thick layers, and if you roll down your window, the brisk air seeps in making you feel absolutely tranquil.
That's the road you take to arrive at the Inn and as we drove through the forest and hail rained down on us, we knew we were in for one extraordinary adventure.
The Inn rests on the coastal cliffs of the Pacific with deep greens that are reminiscent of the Irish coastline and when we arrived to check in, the fire was lit, a bottle of wine was waiting, and our gorgeous Newport Suite located in the Redwood House was ready.
Located in a two-story home, this property is made using redwood trees and has three suites, each with their own bathrooms from The Bird House, Grove, and our suite which sits adjacent to the main house with redwoods growing from the basement on through.
With an entryway lined with stones and freshly planted succulents, there is a bench once you enter, a living room, dining room, sitting room, full kitchen, bedroom, bathroom with heated floor tile, and a private hot tub. Outside on your private patio overlooking the cliffside is a table and chairs, a beautiful oversized vintage cage filled with fresh succulents, and a view of the vegetable garden.
We settle in, open up some wine and head to the outdoor hot tub for a soak while the rain gently falls just beyond. It's a relaxing way to round out time spent driving and prepare us for a stay we'll long to experience again and again.
As the evening comes to an end, a new day begins.
[separator type="thin"]
DAY 1.
The following morning it's time for breakfast. Walking into the main house, fresh brewed coffee, juices, granola, fruit, and pastries await and once we sit down at a table, breakfast arrives thanks to Patricia and Singyn Hunter. Patricia and Singyn are the Ranch's Innkeepers – two people who are as lovely as they are hospitable. Singyn however is the Executive Chef and his creations? Downright delicious!
On today's menu: Scrambled eggs with fresh chiles, avocado, and spices, thick cut bacon, and home potatoes. This was a great departure from the norm because the chef did something I haven't had: scrambled the avocado in WITH the eggs versus leaving it raw on top. It was such a simple addition but one that made for an unforgettable bite!
[columns_row width="half"] [column]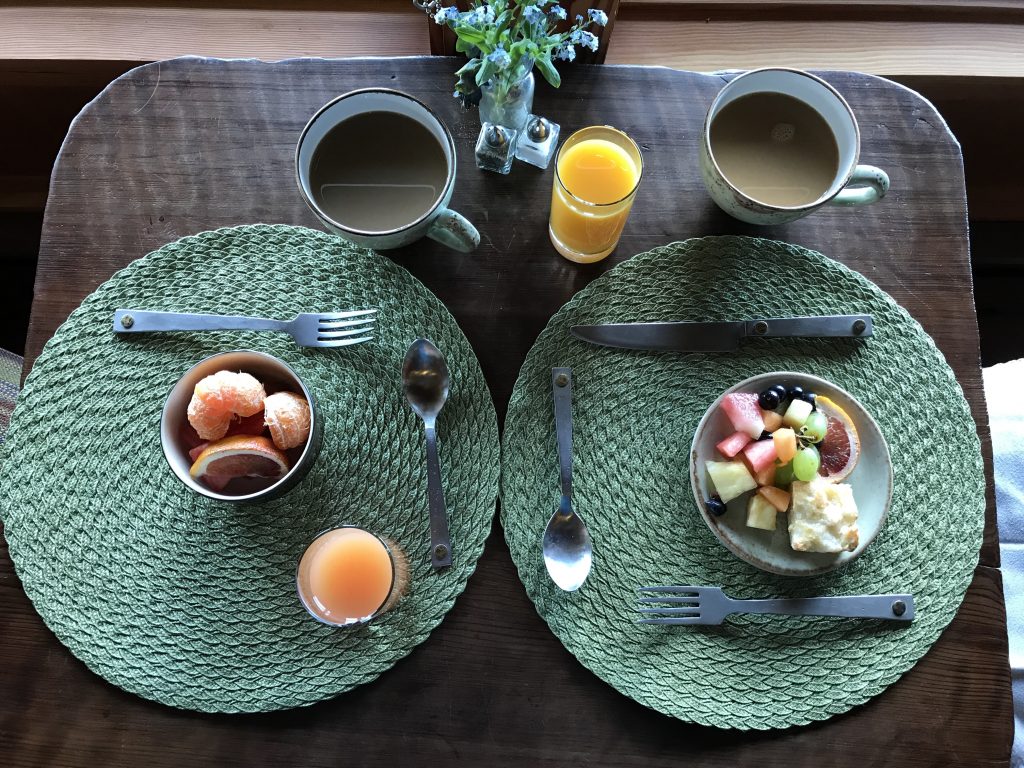 [/column] [column]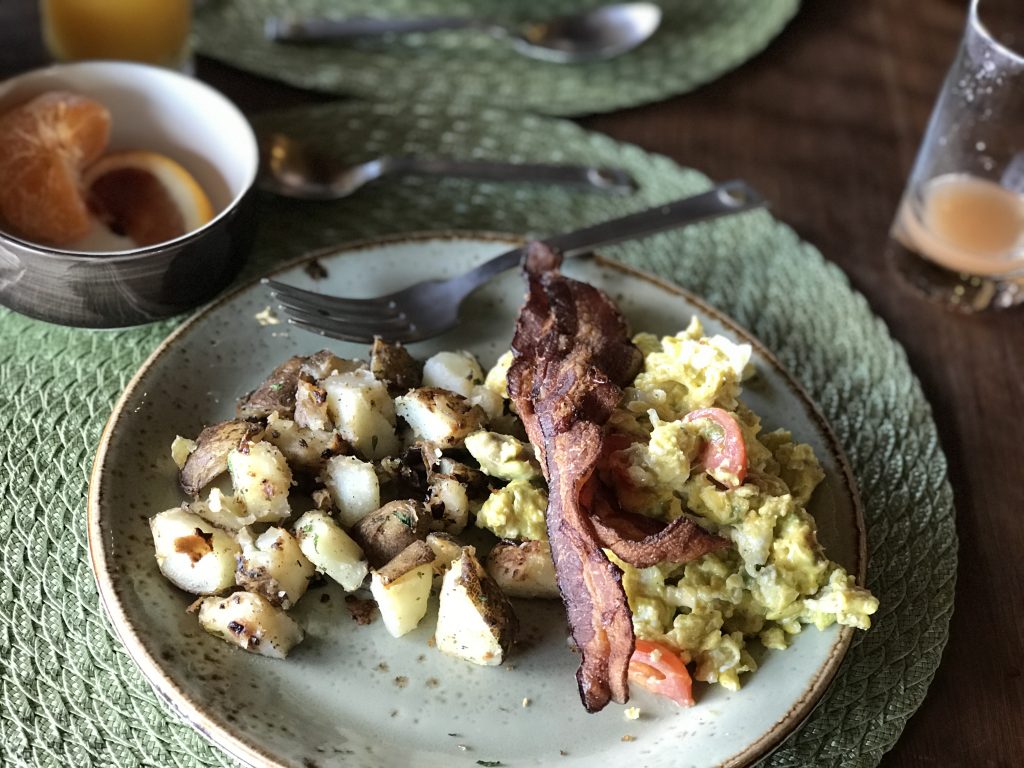 [/column] [/columns_row]
Sipping the remaining drops of coffee freshly from the Thanksgiving Coffee Company, we were off to explore the property with Otis and his ATV. Riding along the coastal range lining the ranch, we came upon grazing cows, waterfalls, waves crashing against tall yet isolated islands of rock and moss, and their iron pot used for bonfires and drinks depending on the weather. Hearing stories about the micro climates, marine biology, and watching as a few whales play just out of reach offshore, this was the kind of journey that inspires creativity, adventure, and curiosity.
Crossing over the road, we enter the vast redwoods and find it impossible not to be wowed by nature. Gentle to the forest, Otis explains the care given to the 2,000 acre property including being tasked with removing fallen trees and debris from the paths, maintaining the continual quest to log the species of plants and wildlife dwelling on the land, and making sure the forest continues to thrive and grow without fail. It's a careful balance and one that requires an environmentally conscious touch which is precisely what everyone on staff here exudes.
While we stop to explore the lush green forest, we come upon beautiful wildflowers, clovers, giant redwood stumps, bear markings, and to our surprise, a few free roaming mother cows and baby calves coming to say hello (but only while we stay in the ATV)!
[columns_row width="half"] [column]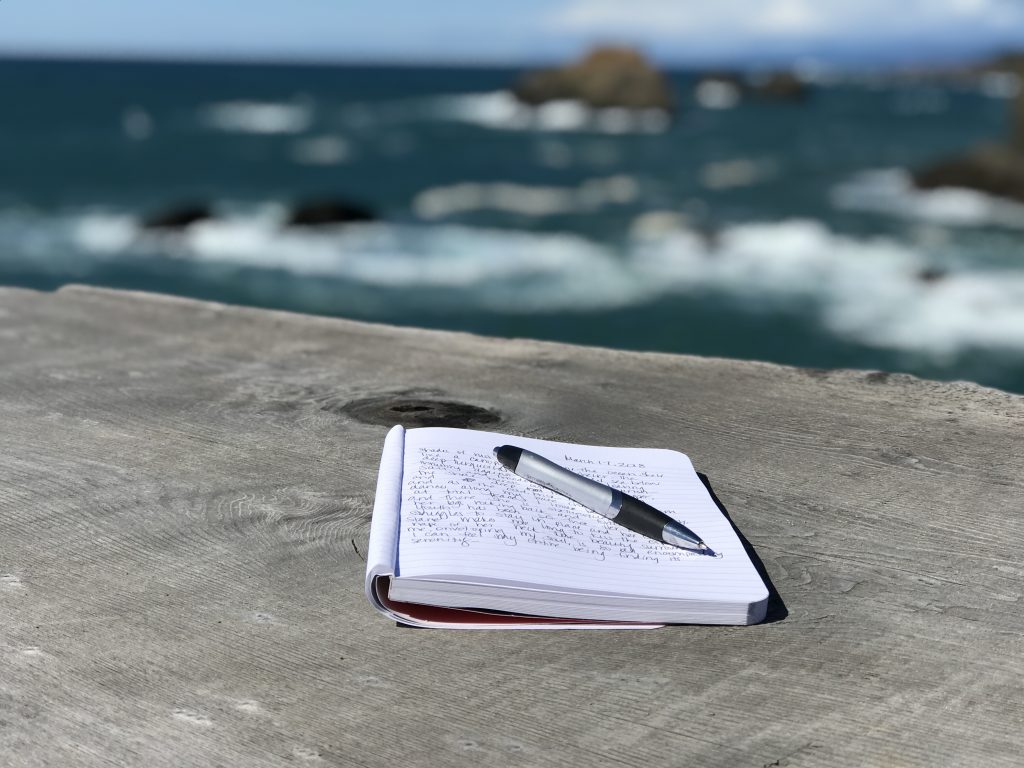 [/column] [column]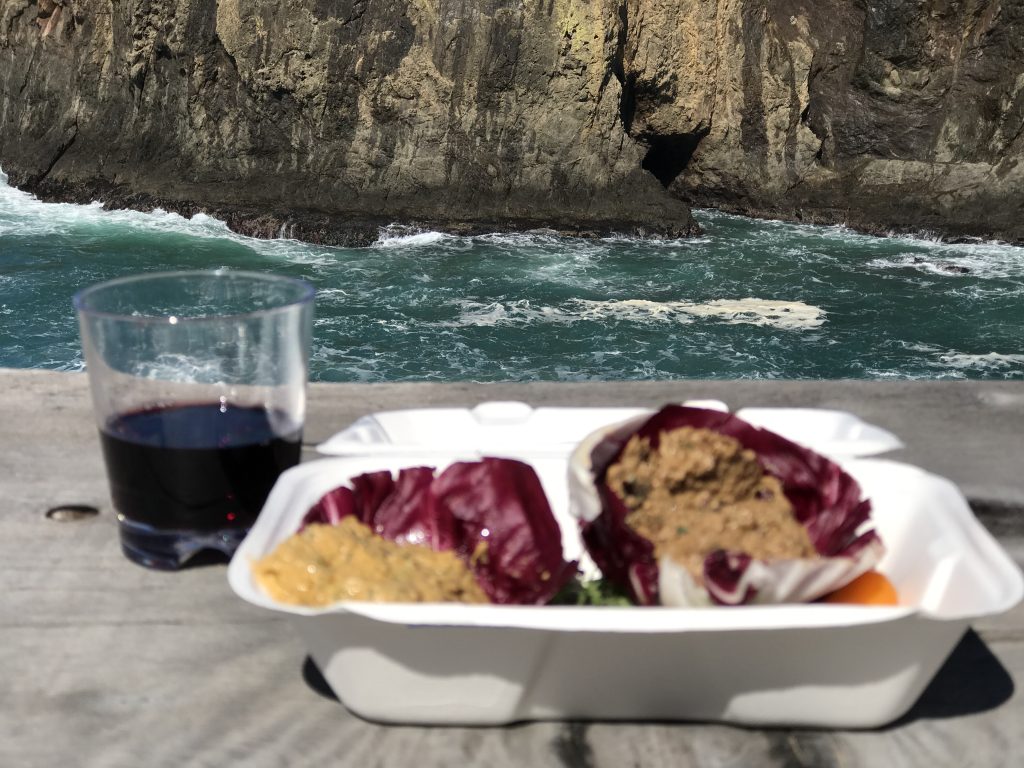 [/column] [/columns_row]
OPTIONS. One thing about the Inn is you have plenty of options. It's a piece of land that is endless in exploratory choices so whether you love to hike, explore, or get creative with a place to picnic, you won't be at a loss. The Ranch is a gorgeous place to do precisely that. You can even order lunch and they'll pack up a personal tote filled with everything you need and that's exactly what we did.
We decided to walk along the coastline to explore the numerous hand carved benches and chairs that appear almost magically throughout the property. Thanks to the vision of Mister Jackson, even the most discerning designer or art lover will find themselves in love with these creations. Each one has its own personality. Made from fallen trees and driftwood, these outdoor furnishings are art in and of themselves.
Deciding on the bench overlooking the ocean, a waterfall, and the ridge, we opened up our lunch bag and enjoyed hummus, Baba ghanoush, corn chips, vegetables, a veggie quinoa wrap, and a salad. We also brought along a bottle of Lula Cellars wine that we picked up on the way into town. The water cascades on the nearby rock into the vast big blue and once we finish our scrumptious lunch, we walk around the property, have a hot tub soak, shower, then get ready for cocktails and dinner.
Also available: horseback riding, whale watching, mini safaris, The Fireside Spa, BBQ-ing.
[separator type="thin"]
Night 2.
There is something to be said for watching the sun set while the cows graze on the rich green grass and a perfectly made cocktail is in hand while you sip on the ranch porch looking out onto the horizon.
Sunset here is nothing short of spectacular. Inside the main house, Patricia, Singyn, and the incredible staff have put out crackers (gluten free too!), meats, cheeses, nuts, fruits, bread and spreads. In the kitchen they're preparing cocktails to order.
[columns_row width="half"] [column]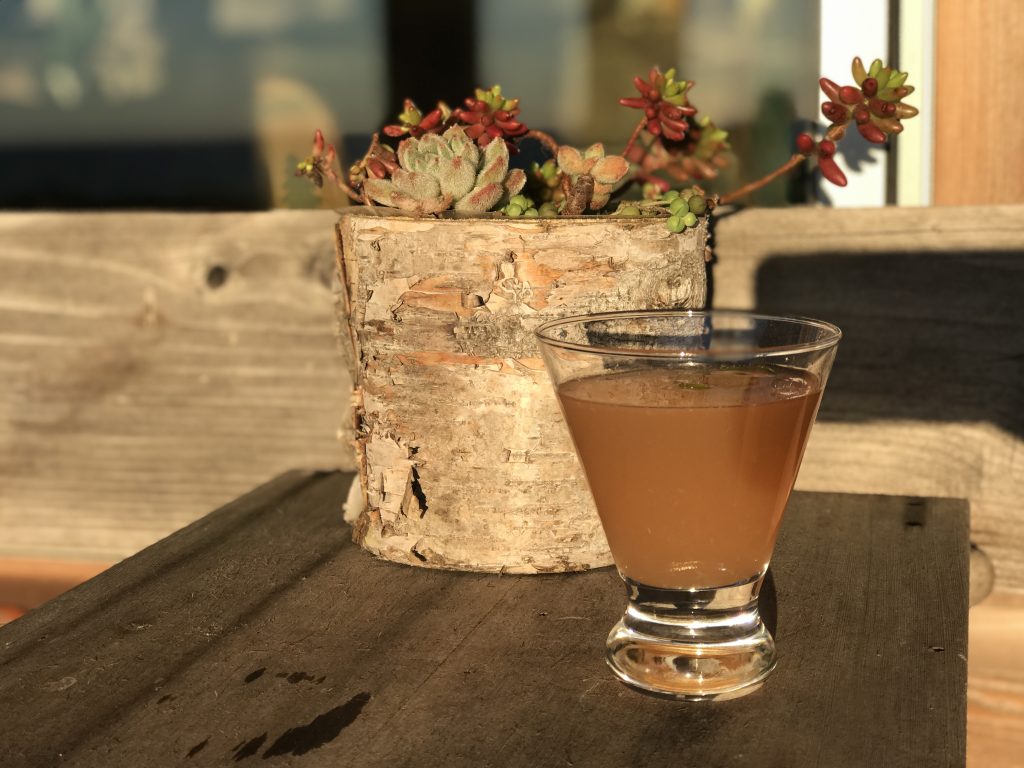 [/column] [column]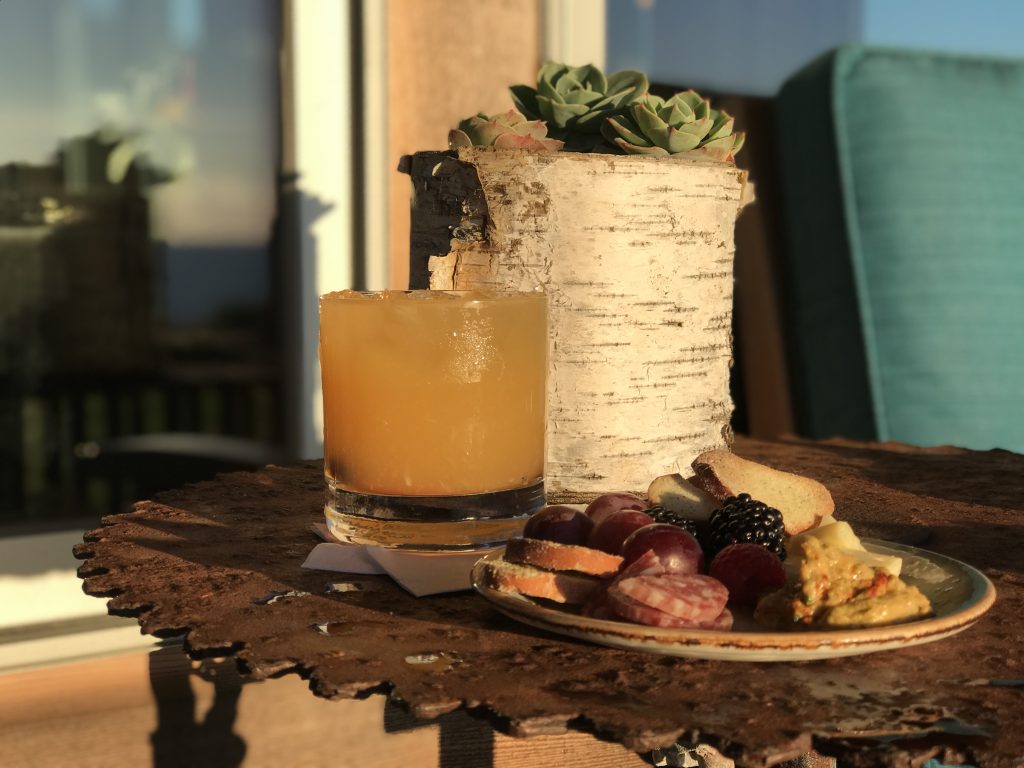 [/column] [/columns_row]
The cocktails are made with their own house made bitters, fruit, and garnishes. You can taste the citrus, gentle sugars, and spirits whirling together harmoniously in the glass. Now it's time for dinner! On the menu tonight is salmon, rib roast, a plentiful selection of options including the one that catches our eye: Ethiopian Berberre Dahl with masoor dahl, potato, carrot, brussel sprouts, injera bread, and lime cilantro raita.
I love Ethiopian food – in fact one of my favorites in Los Angeles is an Ethiopian restaurant called El Merkato in the Fairfax District. That said, I was eager to indulge. The meal begins with grilled artisan romain in a corn and tomato relish, manchego served in a sherry vinaigrette. We also are brought out a lovely bisque and moments later, a fresh cocktail arrives as does the unwavering allure of the Berberre Dahl. Hearty portions of lentil, perfectly prepared with traditional rich Ethiopian spices sit snugly in the white bowl.
[columns_row width="third"] [column]
[/column] [column]
[/column] [column]
[/column] [/columns_row]
This was delicious and the only thing I'd add is a bit more of the rich Ethiopian sauce, a dash more of salt, and perhaps even a hint of citrus (maybe on the side). All in all this was a filling, robust dinner topped with a sinfully good dessert of a mixed fruit pavlova.
Our evening ends with a return to our suite, lighting the fire, grabbing a blanket, and enjoying a little bourbon in the cozy chairs. Afterwards we head out to the hot tub one last time to enjoy the cold night air and the sky canvased with stars.
[separator type="thin"]
Day 2.
As the sun rises and the warmth of a perfect day begins, we wake up and head to the main house for our last breakfast.
Today is exceptional! Chef has created a mushroom omelet with havarti, fresh thick cut bacon, home potatoes, that deep, rich Thanksgiving Coffee, and a bowl of blood oranges, grapefruit, grapes, and berries.
[columns_row width="half"] [column]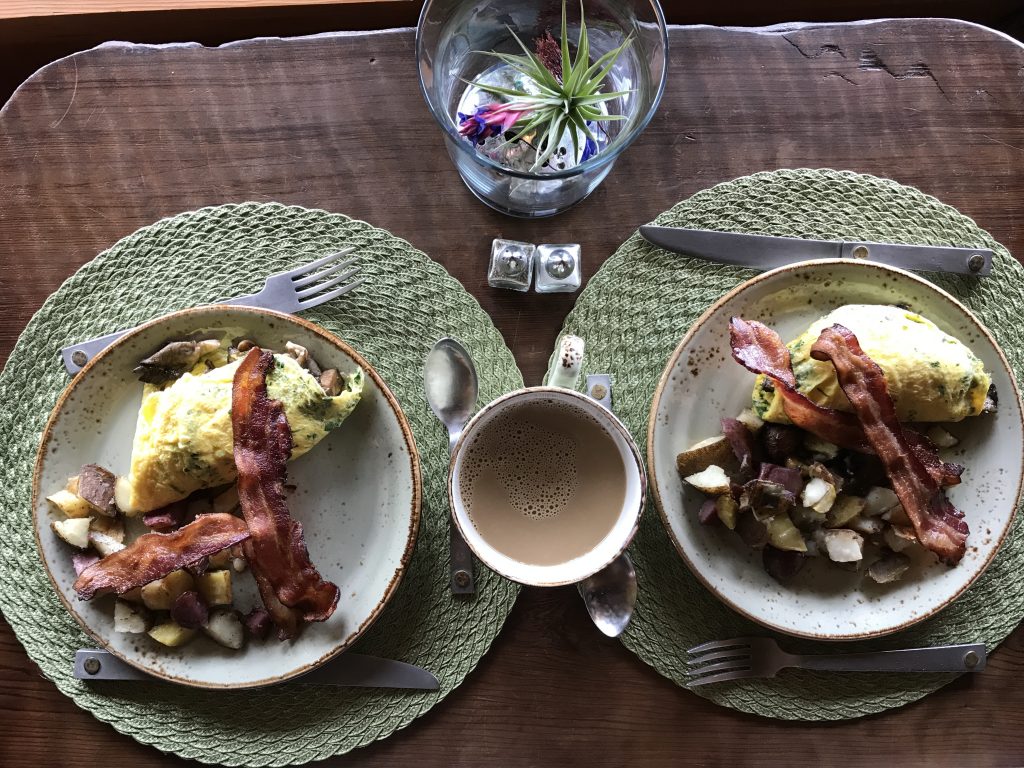 [/column] [column]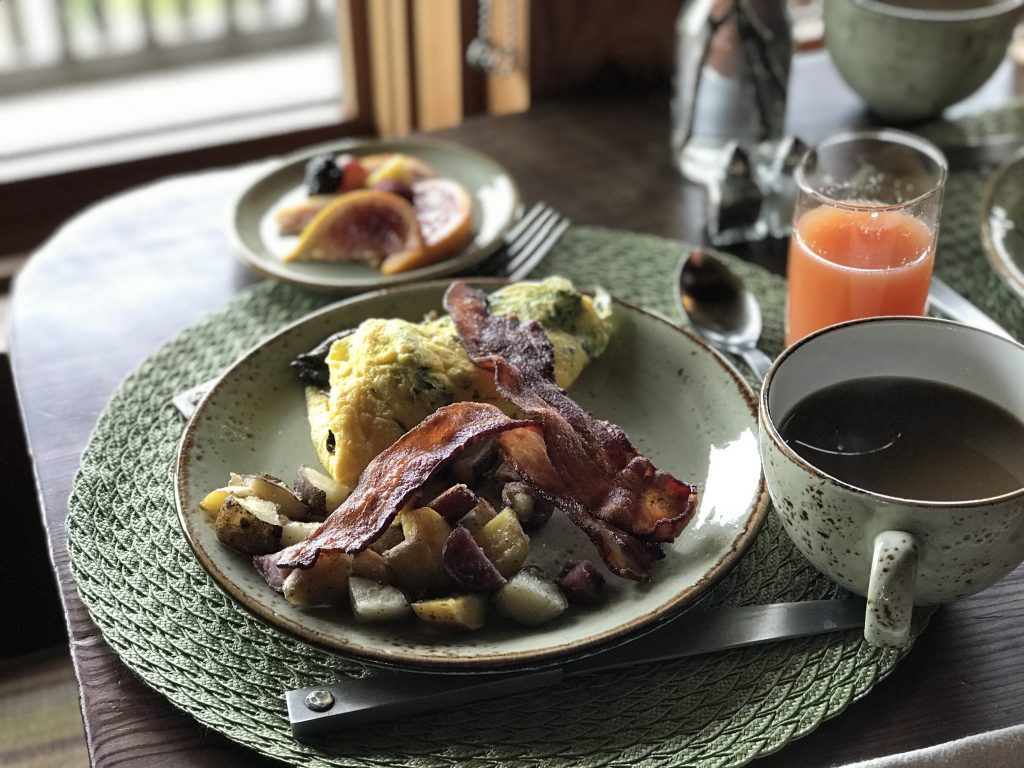 [/column] [/columns_row]
As we wrap up our breakfast, we head out for a morning hike into the redwoods. About a half mile in, we discover birds, old trees, new growth, wildflowers, and so much green it's unbelievable. We travel along the paths and enjoy an hour outdoors before heading back to walk the coastline. The ridge appeals to my inner storyteller, leaving so much to the imagination. It is the most magical place to sit, write, ponder, or simply pause for a while.
Heading back to the main house, Patricia shows us the other rooms available. Each one has it's own style and design, but it's the Captain's Quarters that I love best. With a full view of the ocean every morning, it has everything from the lighthouse lamps to the engine order telegraph, there isn't a detail left out. There are four rooms in the Main House but the house that is now at the top of my list to experience next? The Sea Drum House.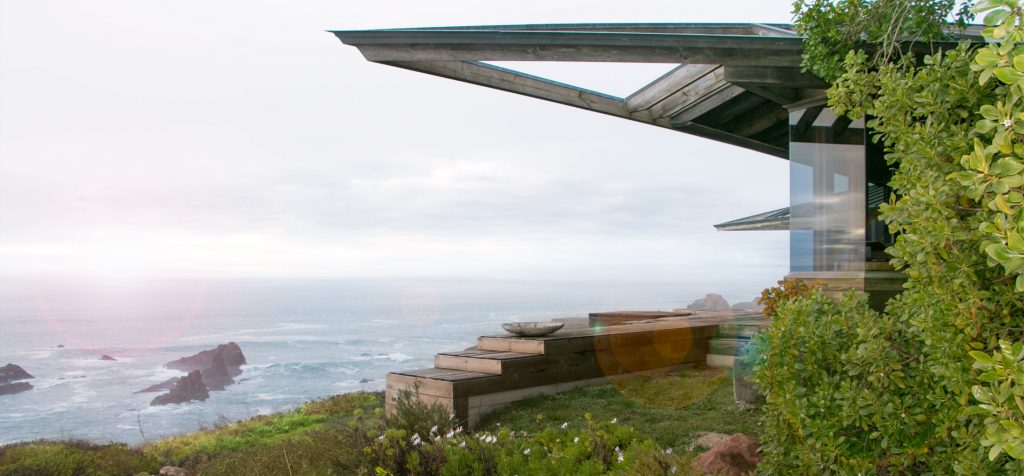 Sea Drum is the owners' ocean side vacation home designed by the same architects as the Newport Inn buildings. With endless panoramic ocean views, this home can sleep ten people. Just outside of the house are large rock formations with blow holes and when they are active, they sound like drums, thus the name, Sea Drum. The home has four bedrooms including a bunk-room with two bunks and a queen bed. Each room has a private bath. The living room has a fireplace and on the deck is a built-in hot tub. Beyond the sliding glass doors of the media room is a protected terrace and small garden.
The entire Ranch is designed a certain poetry to it that resonates on every square inch from the forest to the house itself. When you're here, you'll want for nothing. In fact the only problem you'll have is not wanting to leave!
TIPS: While here, travel into town to visit the local museums, cafes, and just a mile down the road you'll find the charming Pacific Star Winery.
For booking inquiries, visit www.theinnatnewportranch.com
photo gallery by Dawn Garcia