Scotland Highlands + Swedish Lure
Highland Park Whisky's Senior Brand Ambassador, Martin Markvardsen, Takes Us on a Journey
In the heart of Los Angeles exists a restaurant that will take you away the precise  moment you step inside. As you enter Alta Nordic Kitchen, the décor alone mirrors what one might imagine you'd come upon in the snowy winter of Alta, a small town in Norway, 800 km north of the arctic circle, known for it's rock carvings, dating back 6200 years. Rustic accents, cozy furs, beautiful furnishings and minimal seating, Alta is a restaurant that encourages an intimate atmosphere and a curious appetite.
Now imagine a man so charismatic, handsome, and passionate about whisky sitting across from you telling tales of a brand full of rich history, a region plentiful in story, and adventurous pours. That was my evening one brisk Los Angeles night when invited to explore a brand of whisky – Highland Park – that was entirely new to me and cuisine that was recently added to the city's culinary landscape. To say the night was one to remember is an understatement.
[columns_row width="half"] [column]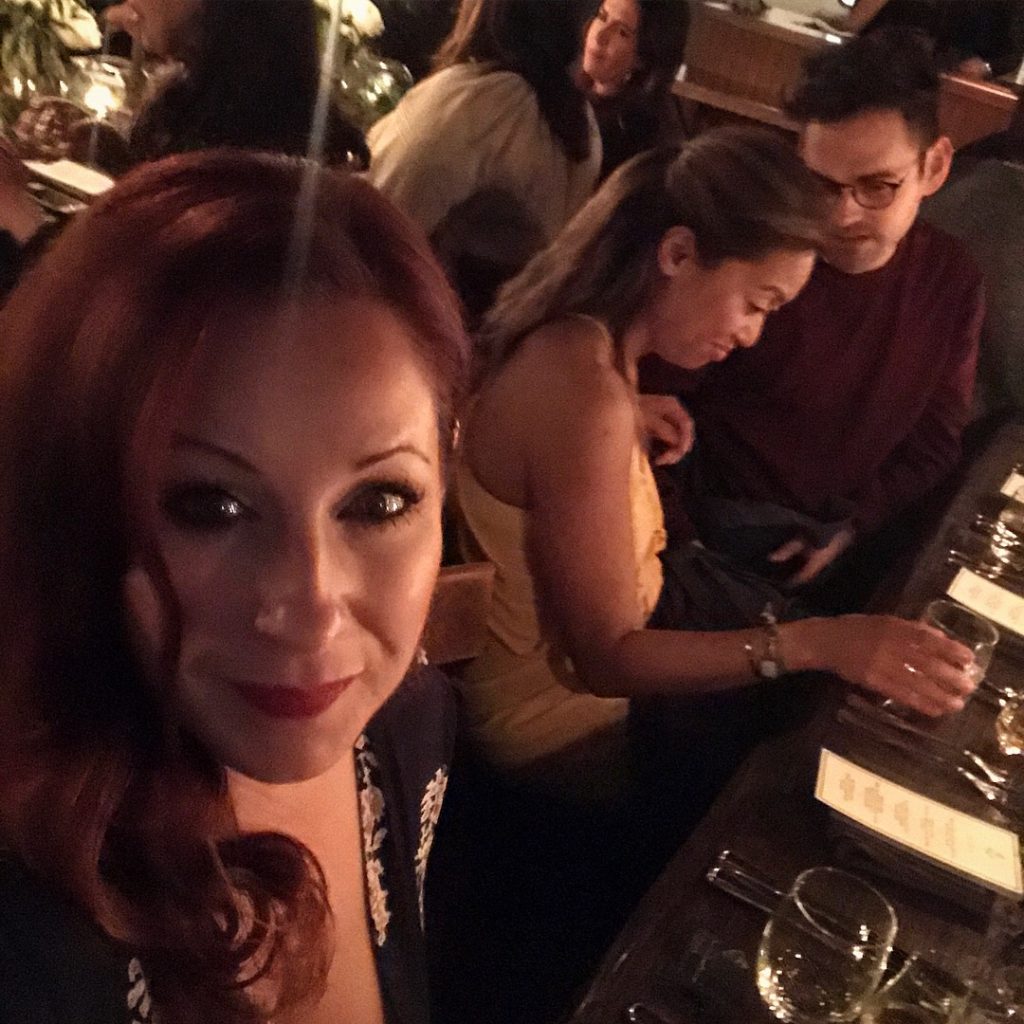 [/column] [column]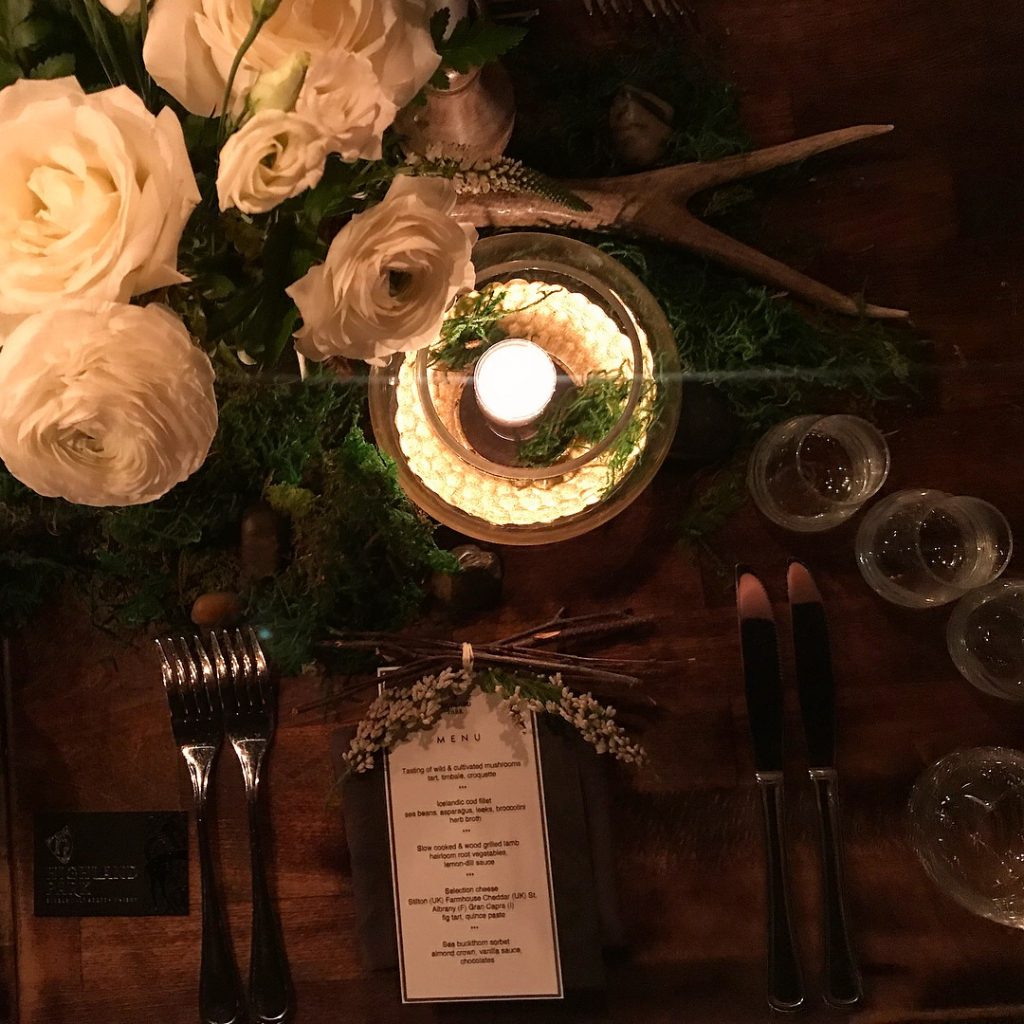 [/column] [/columns_row]
We begin with a cocktail as we find it near impossible not to be enamored by the enchanting floral arrangements designed specifically for the evening: peat moss and elements of nature all backlit by candlelight, creating an ambiance both romantic and alluring.
"My interest in whiskey started when I was 18 years old. Like most of us, the first whiskey I tasted was not the best, far from it. But it changed as I was exposed to more and a little bit further when I went to Scotland because of the passion of the people that lived and worked there … When it comes to Highland Park, it's a very old brand and the heritage of the brand is probably more important than the age of distillery. Orkney has not always been Scotland's. The Vikings came out and were there until 1472. Some would say they're still there as 1 out of 3 can still trace their bloodline back to the Vikings. The heritage is more Nordic inspired and that is visible throughout the region and is seen in street names, the language spoken (a blend of Scottish and Swedish), and the surnames. Through all of the descendants of the Vikings, the Founder of Highland Park is Magnus who was from a Swedish family – a clever man; he had three jobs: during the day he was a butcher, at night he was a smuggler and illicit distiller, and every Sunday he would work at the church. He was smart enough to put it somewhere no one would find it. He hid the whiskey under the pulpit of the church, even named his first batch 'The Devil's Dram' and continued distilling until he officially got caught in 1798. The birth also of the brand and conveniently the year on our bottles."
– Martin Markvardsen
So why is peat moss important? An homage to the region of Scotland where Highland Park is distilled, it also happens to be part of the whisky process that leaves a rather well rounded deepness that sits on the back of the tongue and entices you all the while it lingers. The cocktail we begin with is a refreshing introduction as hand passed bites are offered and the scent of the impending dinner dances under our noses making its out to us from the kitchen.
Tel: 323-746-5221 | Tues-Sun from 5:30-10:30pm | Brunch – Sat-Sun from 12-2.30pm
​[columns_row width="half"] [column]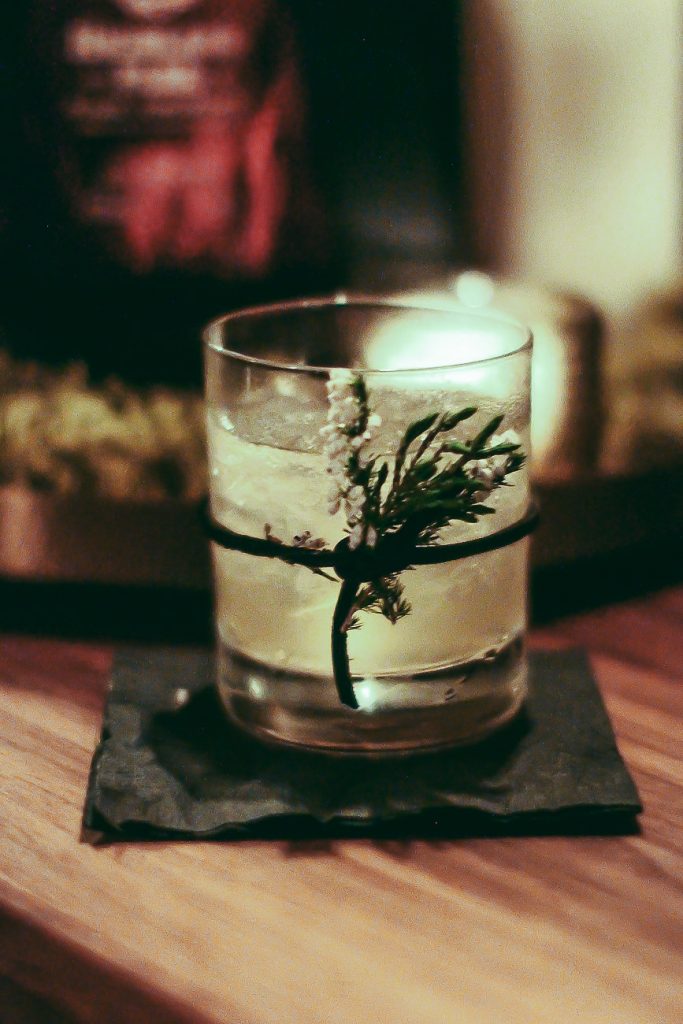 [/column] [column]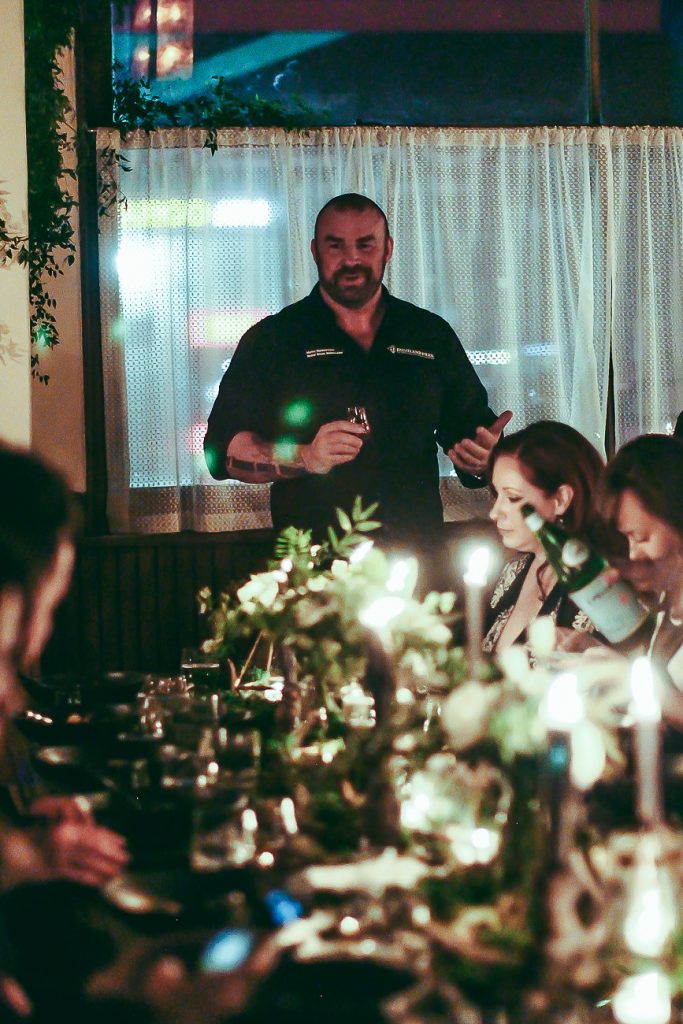 [/column] [/columns_row]
First Course
Tasting of wild mushrooms – tart, croquette, timbale & broth (presented on slate with dry grey moss)
A culinary glimpse at a Nordic inspired dish, it's easy to take one bite into this dish and be transported to the Swedish countryside where wild mushrooms grow freely and in plenty. Looking more like a designer plated it, the feel of running free in the forest, breathing in everything around you as winter creeps in translates into the bite at the edge of the fork eagerly awaiting consumption. 
Second Course
Sea bass baked in salt crust and moss, oyster hollandaise or herb oil (the individual portion of sea bass is baked in a crust of egg whites and rock salt and placed on warm fresh moss. The guest cracks the crust open with a spoon)
This is a rich dive into a bowl of flavor that emanates the depth of spice, region, and natural elements that make this experience so unforgettable. The cook is on point with the fish having the consistency of a cared for protein, as if the bite melts on the tip of your tongue before harboring itself inside the playful renderings of your appetite.
[columns_row width="half"] [column]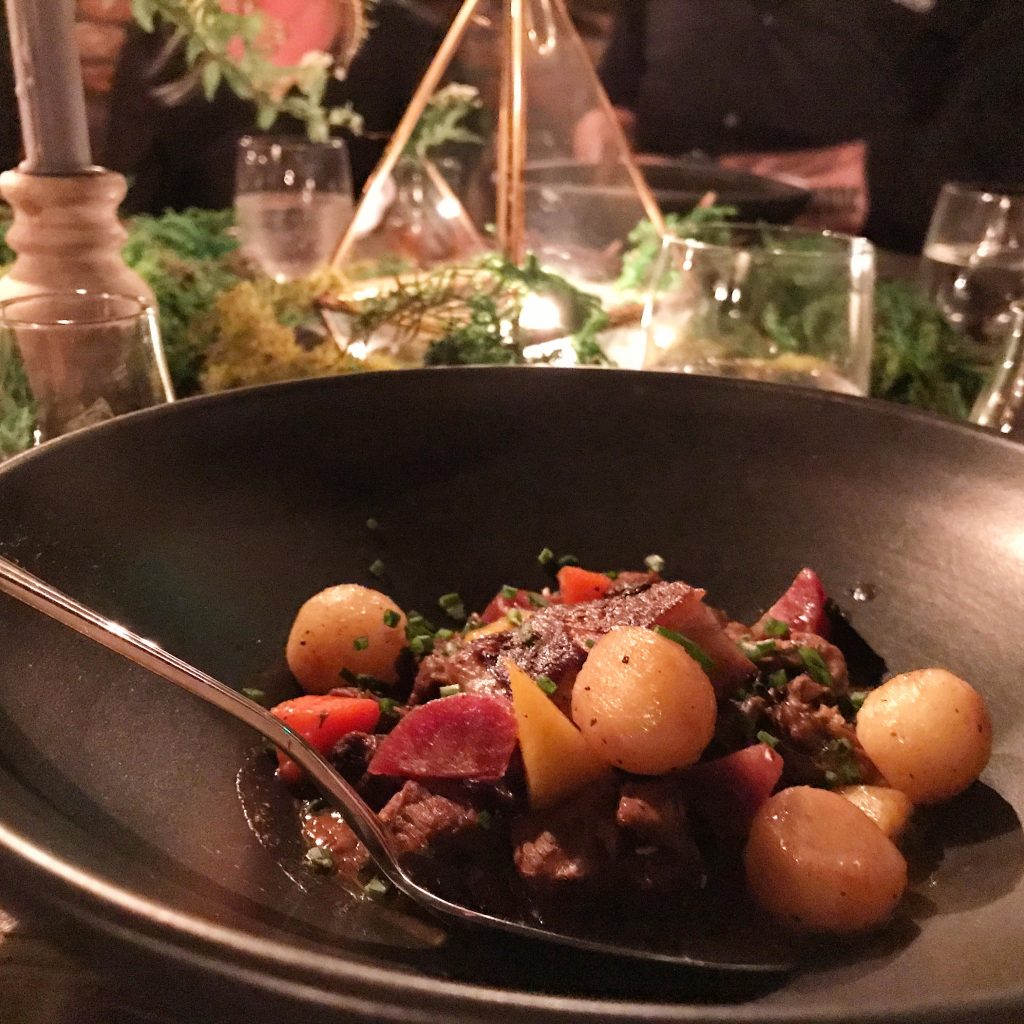 [/column] [column]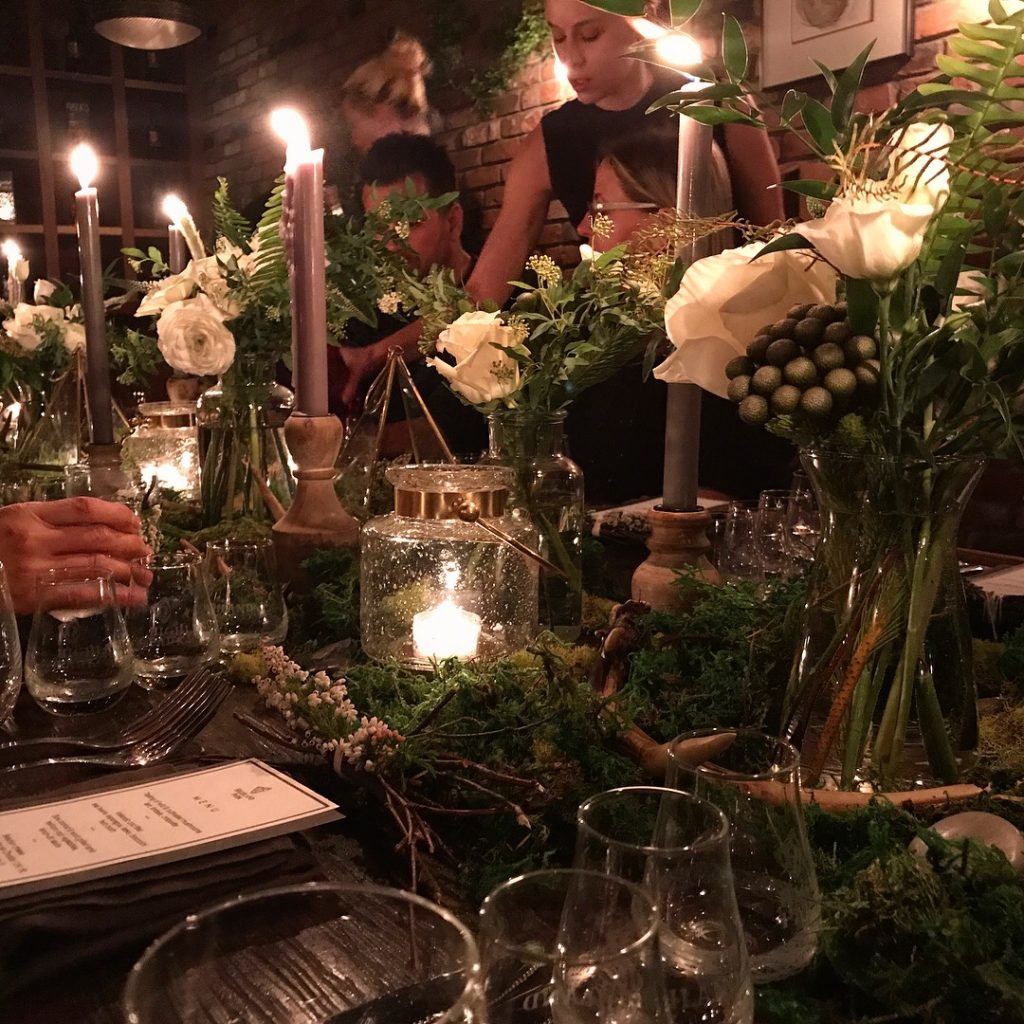 [/column] [/columns_row]
Third Course
Slow cooked Icelandic lamb – flank, loin, shank, tongue & root vegetables (the lamb in presented in an individual cast iron pan surrounded by burned peat)
Lamb is the one meat dish that demands extra attention, care, precision, and balanced seasoning. This was prepared with the flavors sealed in effortlessly. Paired with the root vegetable, it allowed the earthiness and natural elements of the meat to seep to the surface. 
Fourth Course
Ripe cheeses (to be sourced from Scotland and Nordics ) with oat cakes, fig tart  & quince paste
A creamy, sweet conclusion to a meal that took us on a culinary journey through the Nordic region, each cheese had distinct boldness that rounds out the rich plates preceding it. 
Dessert
Sea buckthorn sorbet in crown basket, vanilla sauce – chocolate lollipops and wrapped cookies on green grass
Sweet and savory is always my ideal way to finish a hearty dinner and this was not only palatable but beautiful. Presented much like art that has the foresight to envelop natural grace, the sorbet was lovely in the vanilla sauce and the cookies were like a Christmas treat.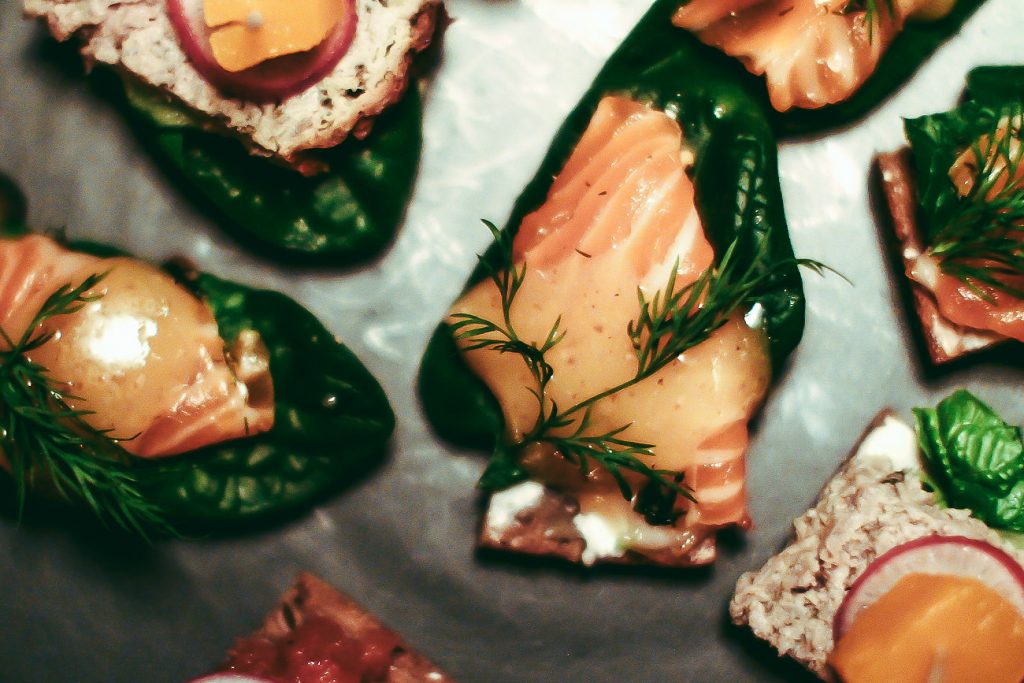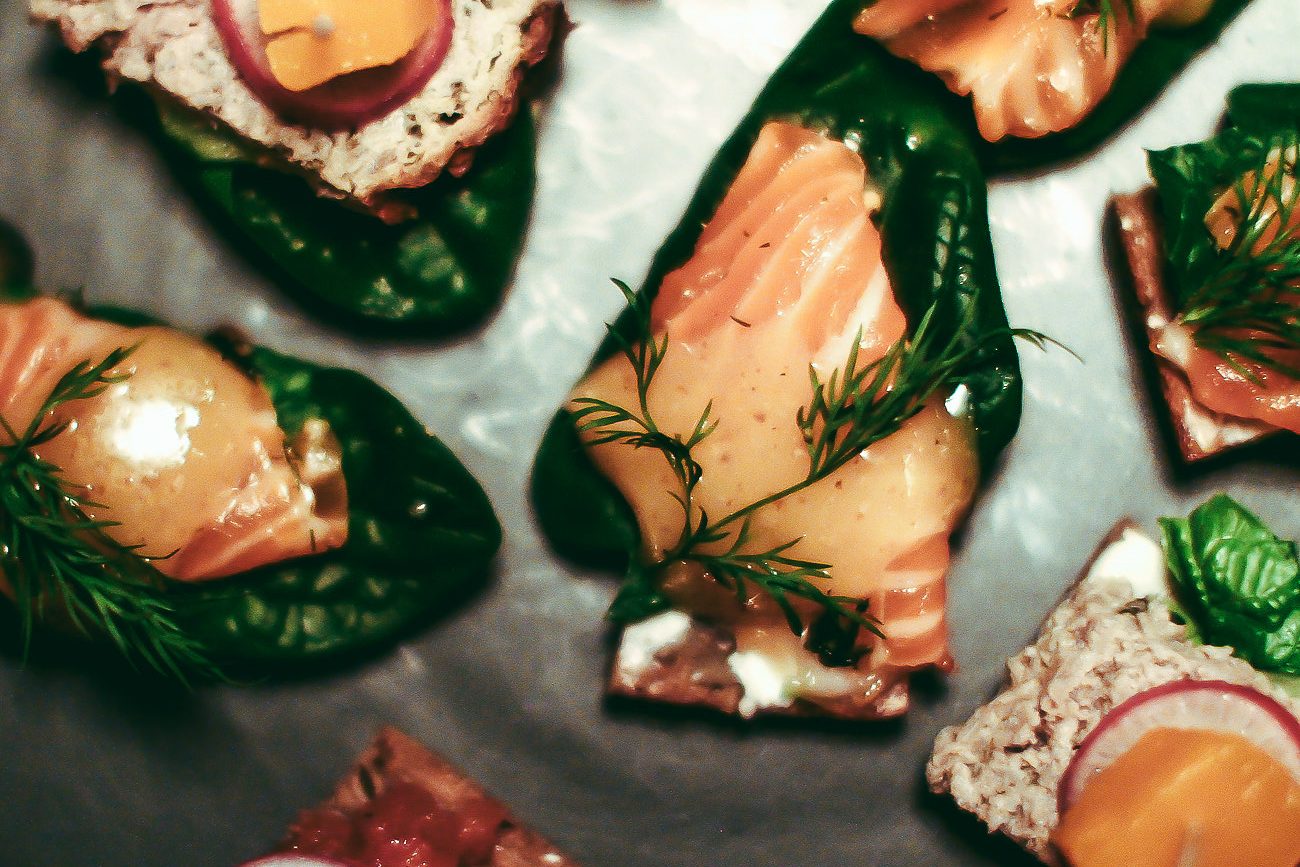 HIGHLAND PARK Tasting Menu
Aesir Gold
COCKTAIL | MAGNUS, aquavit, green tea simple syrup, lemon
Magnus is made with all American oak seasoned with sherry and has beautiful flavors that pair well with teas. This batch is made only for Canada and America. Blinking Oil aquavit (a local distillery). In using local artisans, it coalesces with the artisanship and craftasmanship Highland Park stands for. Used with 2 ounces Magnus, ounce of aquavit, ounce of green tea simple syrup made in-house, and fresh lemon juice.
First Course | FIRE Edition
Tells a bit of Nordic mythology. Fire tells the story of the fire giant, who yields his fiery sword and also the man behind Ragnarok in Asgard who destroyed everything. The whiskey here is the only one produced and made in 100% port wine casks and it goes well with dishes with an earthy, sweet flavor.
Second Course | 12 Year Old
Always used with seafood for balance. Matured in European oak, in a sherry cask, which gives you a fruit forward undertone and a taste of honey that goes beautifully with saltiness as presented in the seaweed part of our seafood dish. 
[columns_row width="fourth"] [column]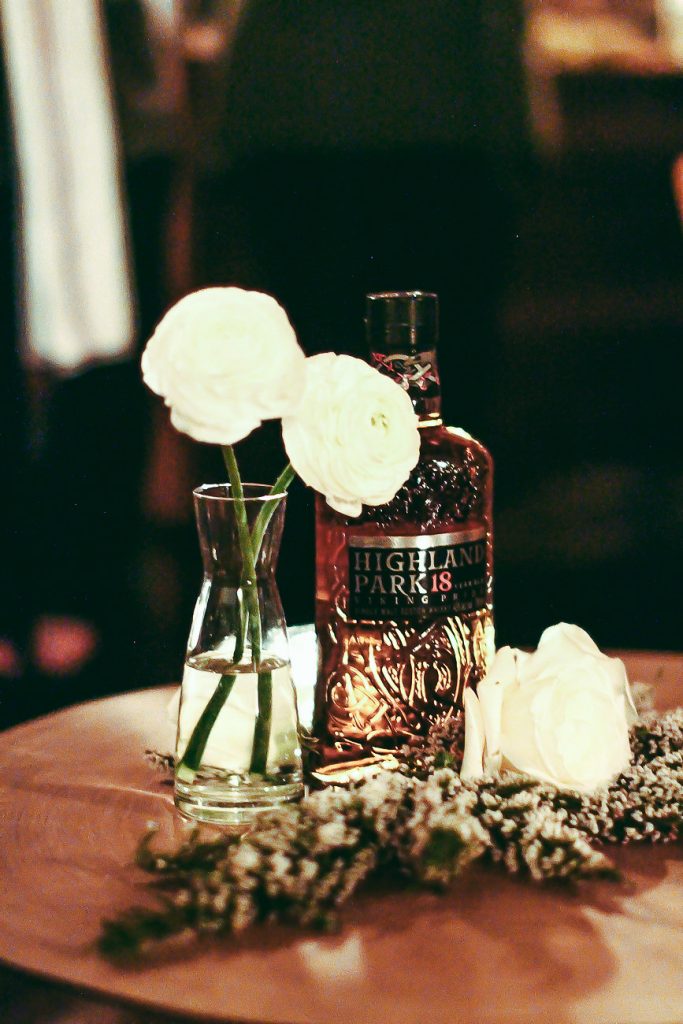 [/column] [column]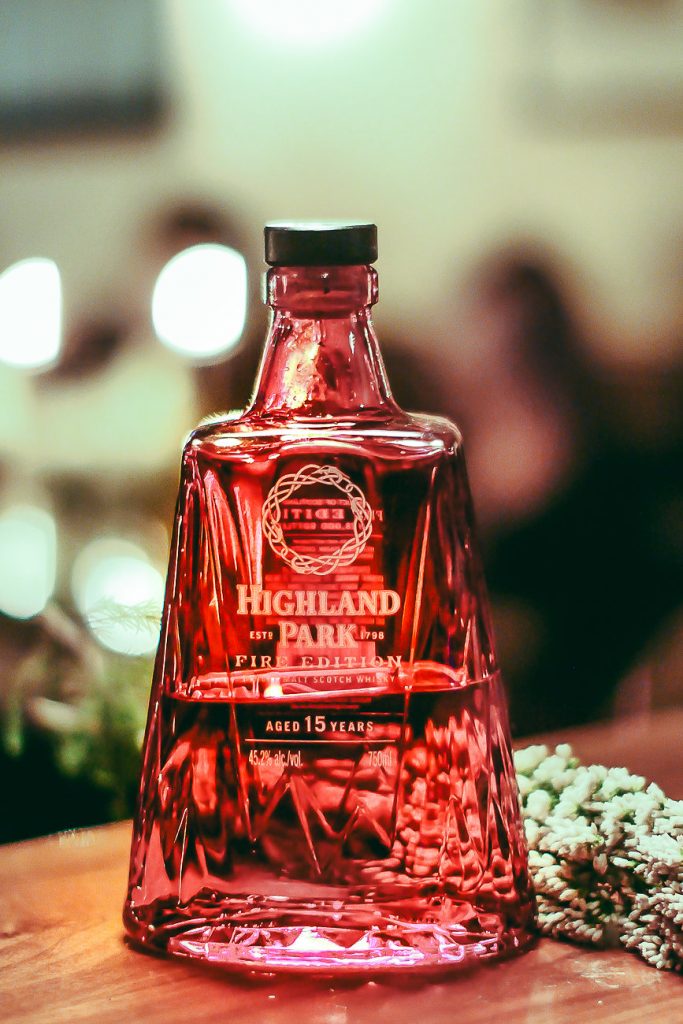 [/column] [column]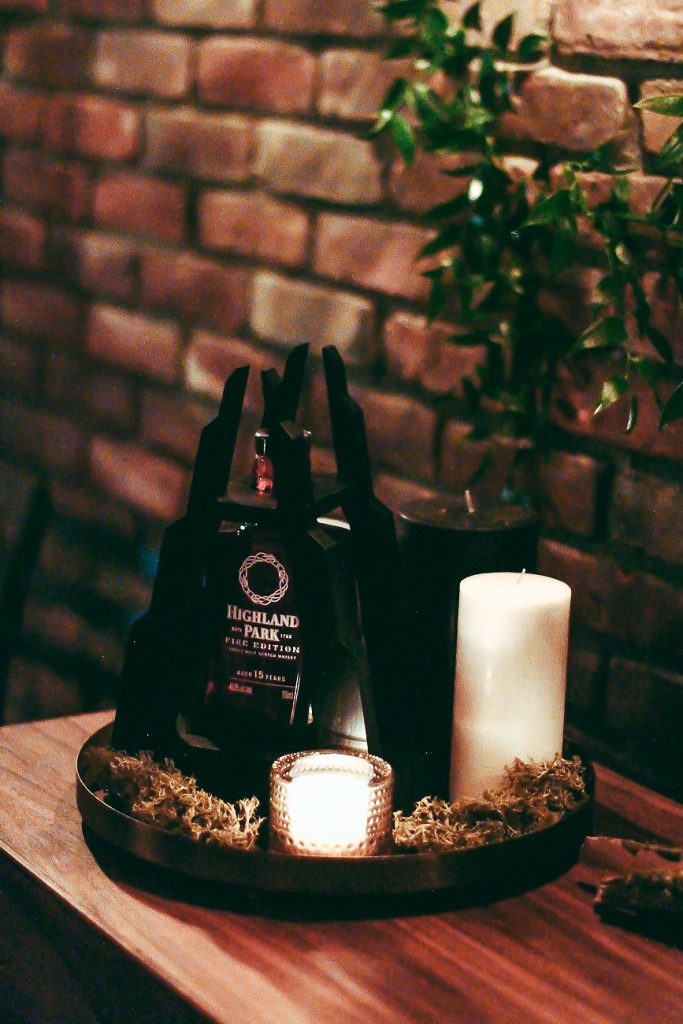 [/column] [column]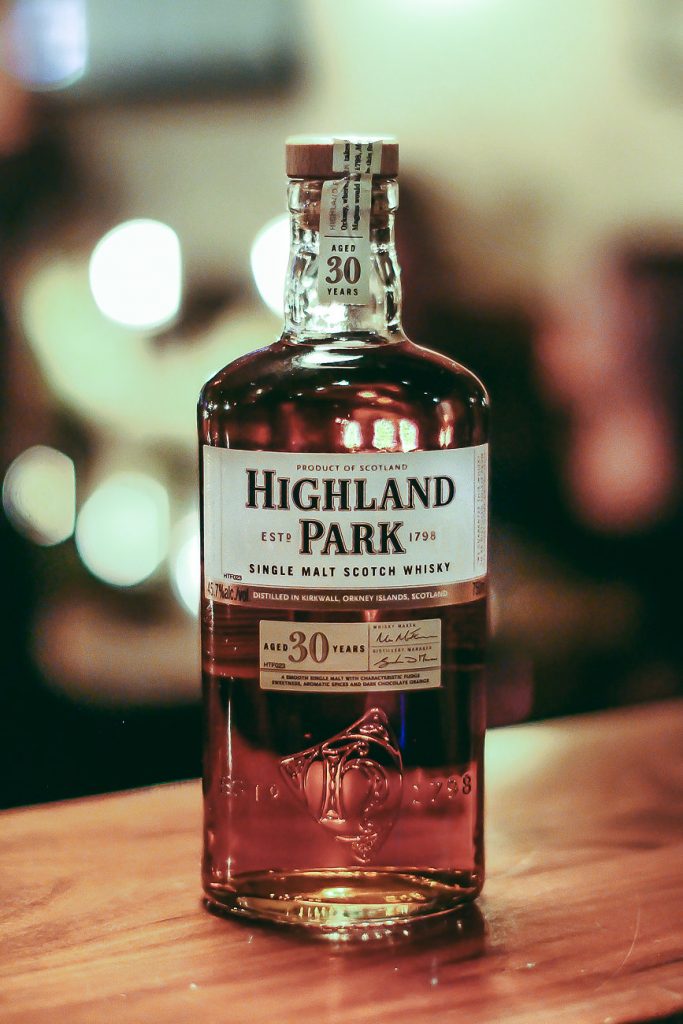 [/column] [/columns_row]
Third Course | 18 Year Old
Lamb is one of the traditional Orkney dishes and was chosen to pair with it because it emphasizes the characteristics of both the meat and the whisky so seamlessly. There is an eminent note which shows off the sweetness of the 18 year-old. This is the first whisky in history to win best spirit in the world two times in a row and the wine and spirits award five times! It is matured in European oak, 40-55% Sherry cask giving sweet, dry fruit, cinnamon, and even Marzipan notes. 
Fourth Course | The DARK
Pairs with cheeses due to its expression. Matured in Spanish oak, it really shows the breadth of the cask (60-80% of flavors come from the oak). Rendered with sherry to season it, the Dark tells the story of the winter solstice. To the vikings, the solstices were very important and required a delicate preparation for both summer and winter. The Dark embodies that mindset and the warmth required to survive – and – gives way to a bigger sip as nature perfumes the nose and heart rests on the palate.
Dessert | 30 Year Old
This is a whisky that was created with total freedom given to Max, the whisky maker. With free reign, he simply gave himself one parameter: "I don't want any flavors to be overpowering". And in that vain, he used 100% twice used casks in American oak giving this whisky a velvet feel with sweetness, orange peel, and spices dancing on the mouth. With a significantly lower alcohol content, it's a sip that will carry you through without knocking you down. 
Toast | 1968
Perhaps whisky should be deemed the nectar of the gods because this pour is one that defies greatness and encapsulates something too good for words. This is distilled 50 years ago, bottled 40 years ago. From eight casks heeding only 1550 bottles that when gone, is gone forever. The price point on this is steep but its well worth the poetry you experience when you breathe it in and allow it to situate on the tongue. Huge balance, complexity, and it dares you to ask what you were doing – or would have been doing – should you have been alive in '68! 
And thus concludes a tasting experience for the books!
As they say in Scotland …
~ SKÅL ~
[columns_row width="half"] [column]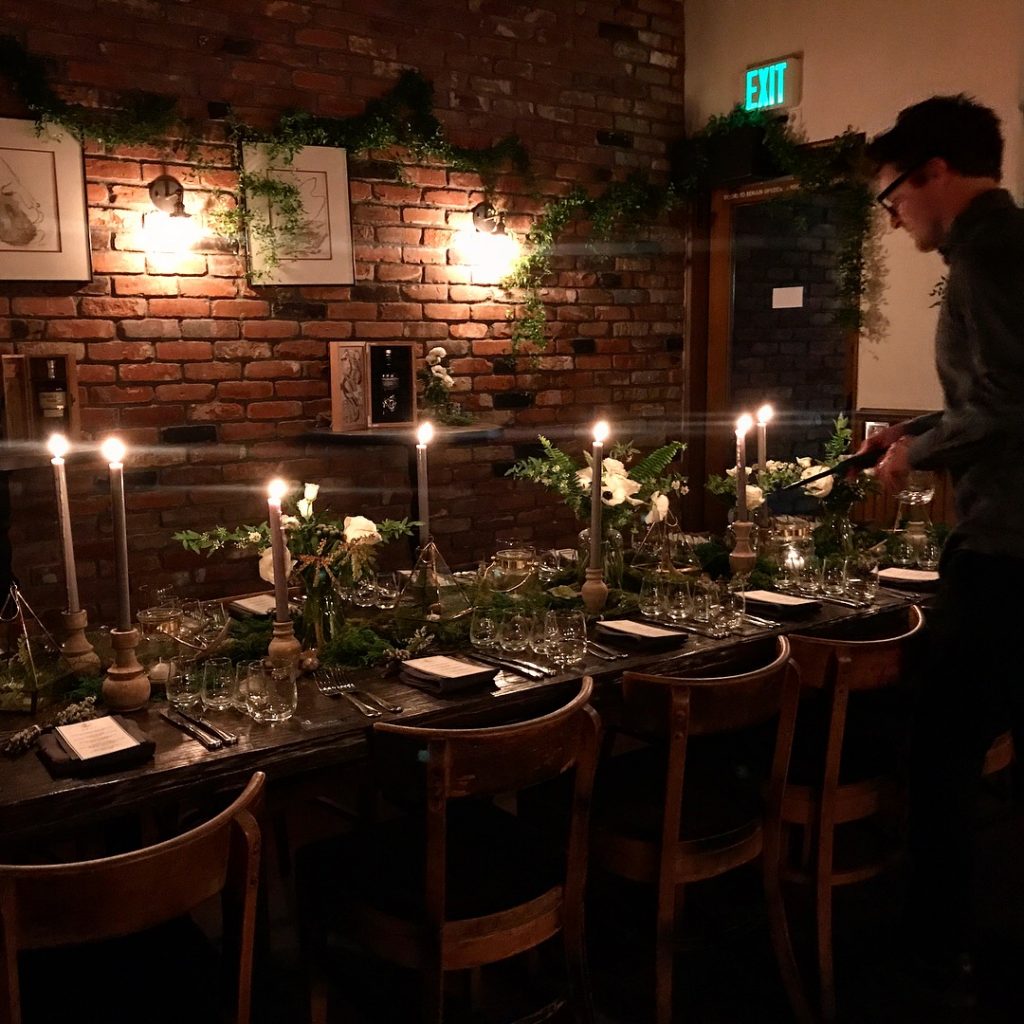 [/column] [column]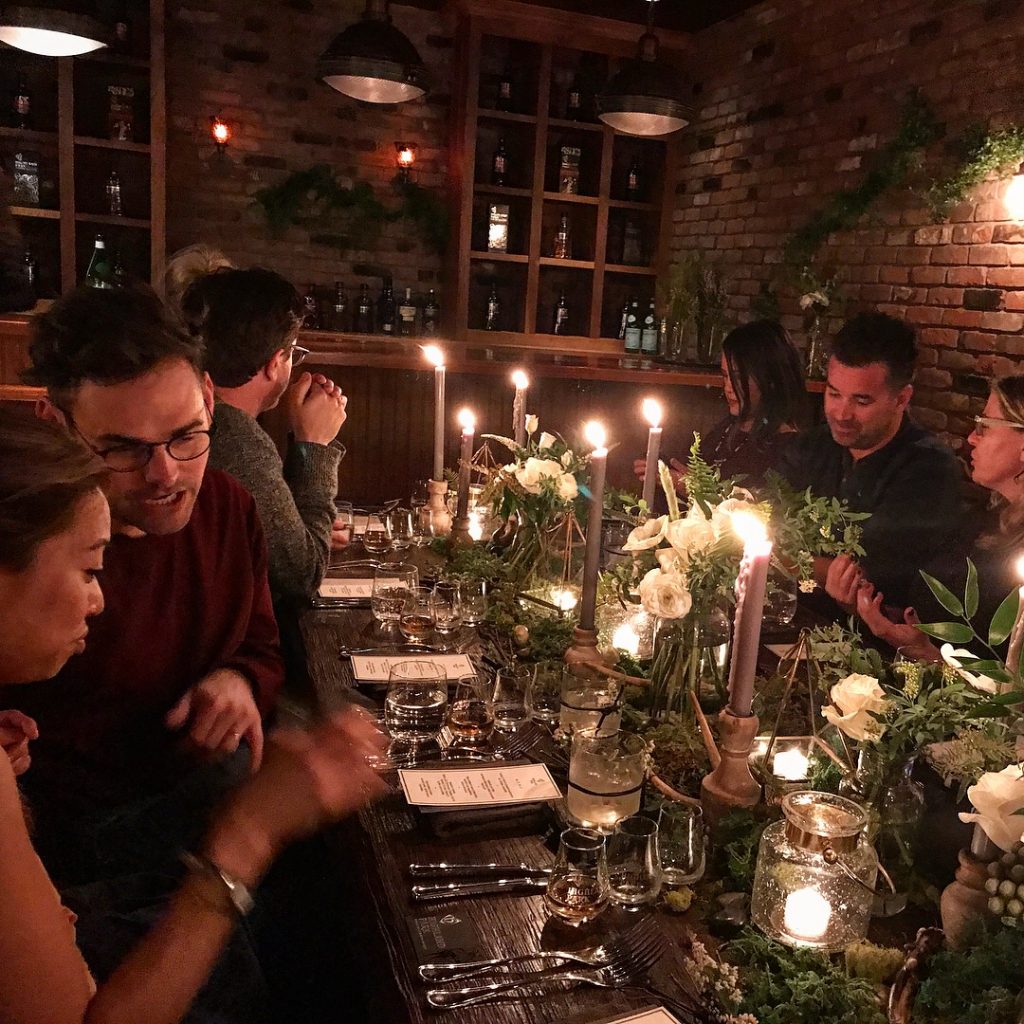 [/column] [/columns_row]
LITTLE KNOWN FACT: What differentiates Highland Park from other brands is the peat moss used which is solely orkney. Peat in Scotland varies: fergus, islay, orkney. In Orkney it's very cold but what makes it unique is there are no trees in the area because the winds are so severe, they crush everything in their wake so no trees can survive. There are purple flowers that appear in the peat and the result is something other worldly. This is the peat Highland Park uses which has a gentle smoke and hypnotic notes.
[separator type="thin"]
ABOUT ALTA NORDIC KITCHEN
ALTA Nordic Kitchen is a Scandinavian bistro from acclaimed Swedish chef from New York, Christer Larsson. After becoming the executive chef for the opening of Aquavit Restaurant in New York in 1987, Christer owned and operated Christer's in midtown Manhattan, and ALTA in Greenwich, Connecticut. He will be joined in the kitchen for the first time, by his son Ian, in a father-son culinary venture.
Scandinavian cooking traditions and well-sourced local ingredients are the foundation of our menu. Many items on the menu are grilled over live fire on our wood burning grill. Dishes include Nordic staples like Gravlax(marinated wild salmon with coarse mustard sauce and dill), Fricadeller (Danish meatballs with gravy and lingonberries), and Pytt i Panna (a Swedish meat and root vegetable hash with fried egg and pickled beets). Our menu will include seasonal specials such as wild caught Salmon from Alaska and wild game & berries from Lapland, Sweden.