The Raymond 1886
Where history breeds beauty, love stirs passion, and cocktails are in plenty
photos by Dawn Garcia
[dropcap letter="T"]here are some restaurants that exude romance, heart, and story. There are cities that embody the same and the
city of Pasadena
is one of them. Known for the
Tournament of Roses Parade
, UCLA football at the
Rose Bowl,
the best flea market in LA, Angeleno history comes alive in Pasadena, including its ample architecture of both European and decco influence. Now imagine a hotel back in the early days of Los Angeles' hay day that served as a place of solace and prestige. Owned by Walter Raymond, he rebuilt the property as a place of opulence in 1895, attracting the Hollywood elite and titans of industry.
The history of this gorgeous property has a tragic tale that ended up faltering once the Great Depression hit and Raymond, his wife and their family moved into the servant's quarters. The house they moved into now serves as the beautiful restaurant and Bar 1886.
The year 1886 is the beginning of true vision and a love story that really does live on to this day.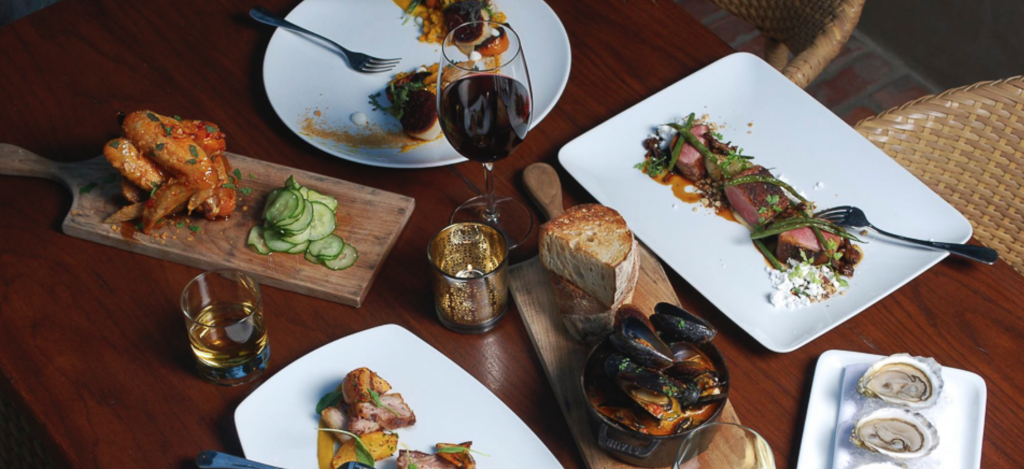 The restaurant is the last remaining piece of a rather beautiful yet tragic story of dreamers, natural disaster, economic woes, and a love that continues to thrive. With an undeniable sense of romance and times passed, heart exists in a culinary menu that emits thoughtfulness, flavor, and generous portions.
Once you step inside you'll feel like you've been invited to dine at someone's home – someone familiar and warm. You'll be greeted by your server and that is when your culinary adventure begins. From brunch to dinner, we've tried an array of cuisine and found that this little Pasadena home is the place we love to frequent.
[separator type="thin"]
BRUNCH
Chef Inspired Omelet | Japaneno bacon, avocado, cheddar cheese and salsa verde
(Vegetarian option: tomato, spinach, mushrooms, goat cheese and pesto
Dutch Baby | German style pancake with fresh seasonal fruit and sweet cream
Italian Baked Eggs | Prosciutto, potatoes and mushrooms baked with tomato and parmesan with sourdough
The chef inspired omelet is beautiful and light but it's the jalapeño bacon that sets this apart. It's the perfect combination of salt and fat and spice all wrapped into one. The eggs were cooked flawlessly and I loved that they let me add some spinach. That bit of cast iron only enhanced the flavors of the bacon, cheddar and in-house salsa verde. The Italian baked eggs remind me of shakshuka and is a hearty home for perfect eggs with the rich tomato base and the savory influence of prosciutto. Lastly, the Dutch Baby is a pancake on sweetened steroids (in the best of ways). With a healthy serving of fresh blackberries, blueberries and strawberries atop the powder sugar, it's an exceptional way to brunch! Couple that with one of their intricate cocktails and it's the beginning of a day that will be happily gluttonous.
*Go for their bloody mary should you feel bold!
[separator type="thin"] [columns_row width="third"] [column]
[/column] [column]
[/column] [column]
[/column] [/columns_row] [separator type="thin"]
HAPPY HOUR
With a bar program that continuously evolves, honoring exquisite ingredients, inventive blends, and in-house creations, you won't be wondering what to drink. In fact, you'll have a hard time narrowing down the choices! The cocktails and spirits available during Happy Hour are so good. From a generous lineup of spirits, wines, and beer to an enticing seasonal cocktail menu, you'll find the liquid courage you need to savor the moments to follow. Beginning with something herbaceous like the "Replicant" or heading straight into campfire s'mores with "The Dreamcatcher", your palate will be taken on a journey.
[columns_row width="half"] [column]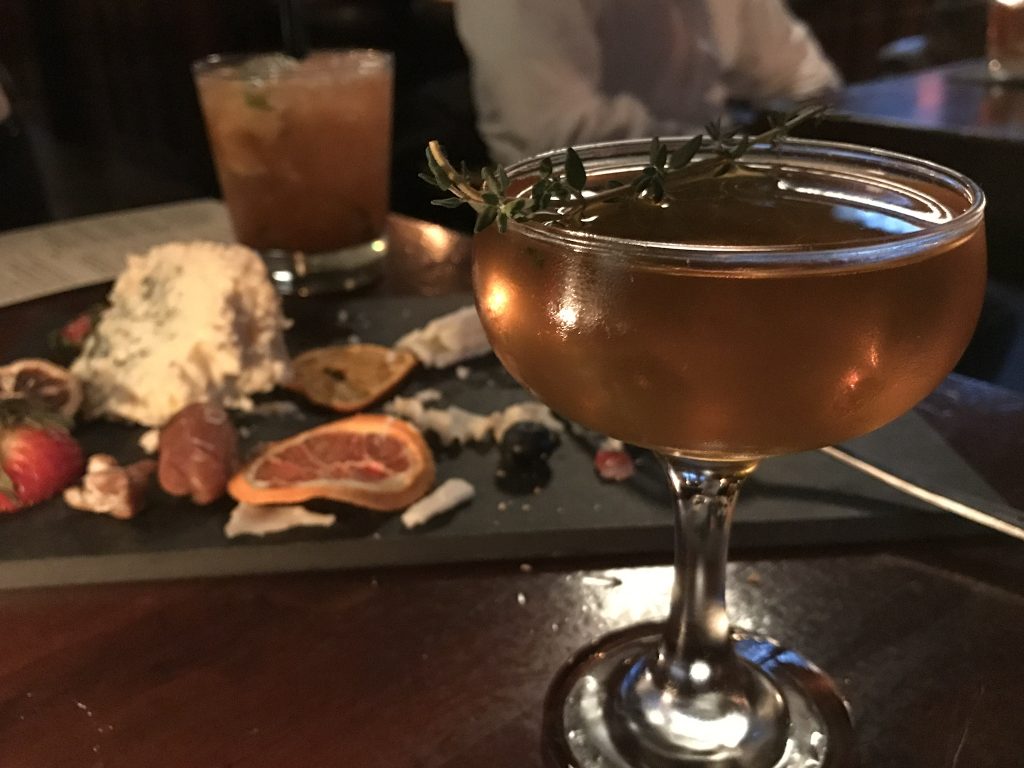 [/column] [column]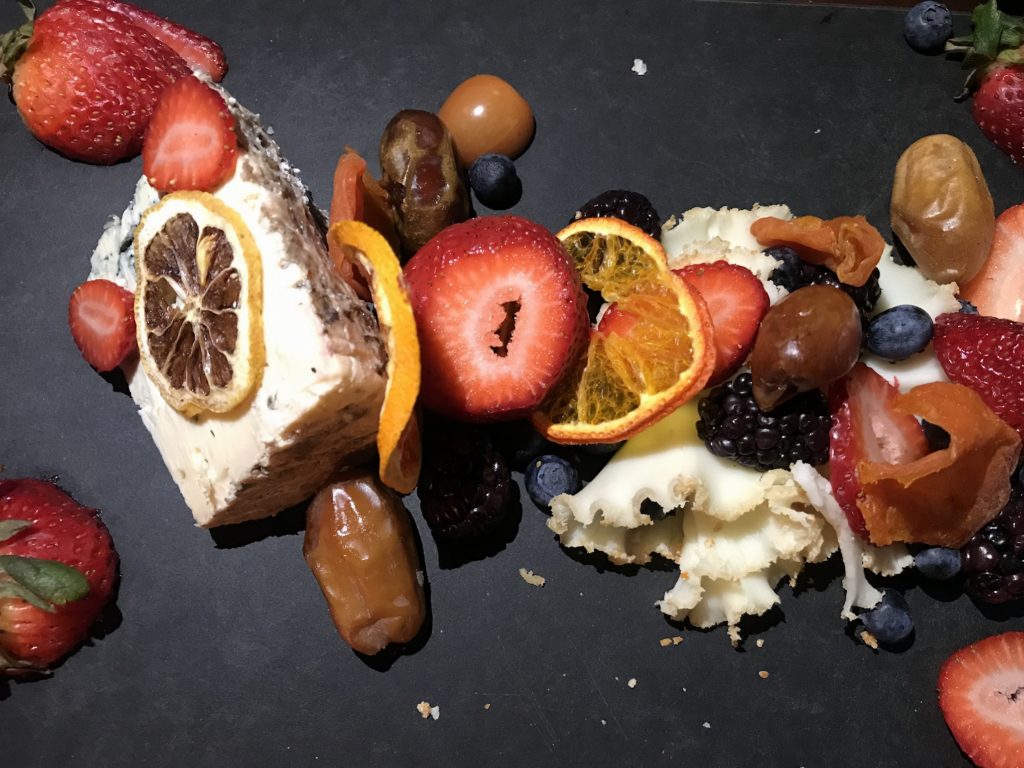 [/column] [/columns_row]
As a fitting interlude before sitting down to dinner, peruse the menu for some small plates. My picks are the micro-farmed oysters, the suckling pig tacos al pastor pineapple, avocado and salsa roja, and I also highly recommend the tater tots! It's comfort to the nines. Either way, your palate will be awakened and ready to move on to a glass of vino or another cocktail, and whether it's the same day or you come back, dinner here is delicious.
[separator type="thin"]
DINNER
Start with drinks and appetizers. Depending on the weather, the outdoor patio is idyllic for intimate conversation, playful exchange, and craft cocktails. With a hearty appetite or even a moderate one, what's to follow only lends to the romance of the restaurant, the lure of the pours, and the selection of options.
Before heading into the dining room, we enjoyed a conversation with an Irish couple in their 80's celebrating 55 years of marriage who not only shared their tater tots with us, they shared their love story. It was reminiscent of the Raymond's own story and set the stage for a dinner we won't soon forget. We ventured to try the following:
Harissa Marinated Olives | 5 olive blend, with preserved lemon and bay
Burnt Carrot Salad | avocado, pickled red onion, feta cheese, parsley, cilantro, arugula, pepitas
Grilled Hanger Steak | "Bacon & Eggs", bacon-potato puree, English peas, quail egg, fingerling
Short Rib | 72hour braise, crispy pig ear salad, French green beans, potato-butter emulsion
[columns_row width="half"] [column]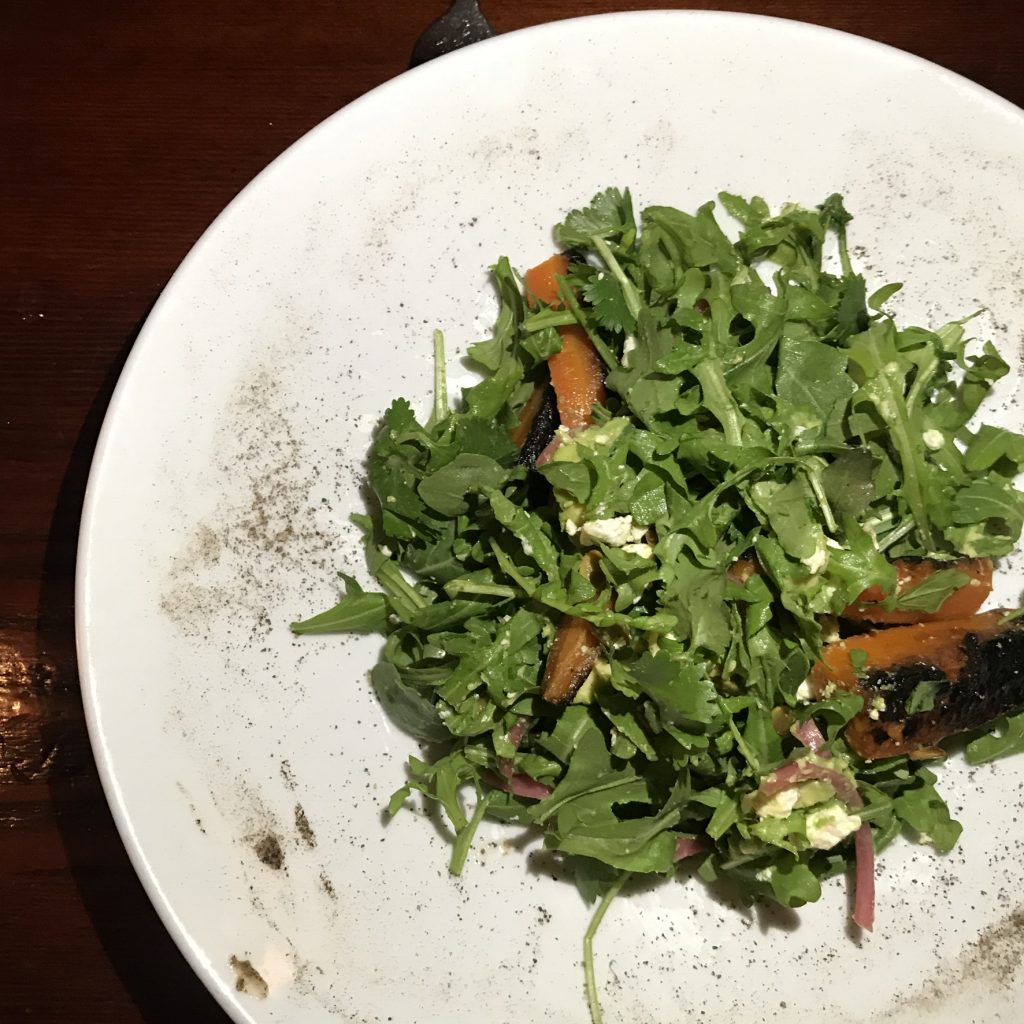 [/column] [column]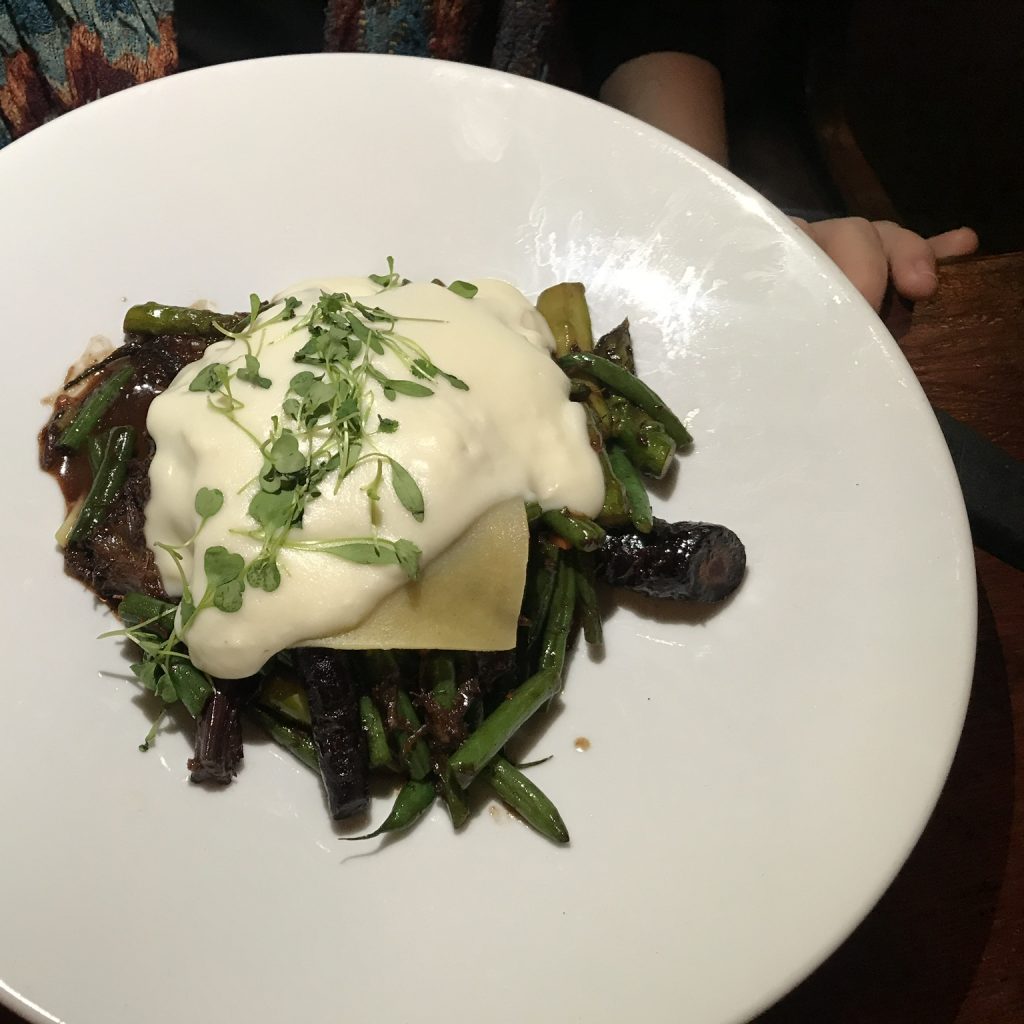 [/column] [/columns_row]
The olives, albeit a simple dish, are the savory starter you want. Not only do they have a way of clearing the palate for anything to follow, they are beautiful and warm. However, the greatest starter for me was the burnt carrot salad (yes, really!). The flavors that swoon are the blend of nature's finest, dancing in unison on the palate, while the vinaigrette nestles wildly amidst the ingredients to bring it all together. As for the main dishes, when you want something robust and meat cannot be substituted, the steak is the right choice.
Cooked an ideal medium rare, the hangar steak was comforting, well prepared, and never compromised. Its simplicity and presentation sends the signal that your hunger is going to be cured – and then some. Generous portions and considerate ingredients are what allow this to hold its own.
[separator type="thin"] [columns_row width="third"] [column]
[/column] [column]
[/column] [column]
[/column] [/columns_row]
When you're looking for a reason to have impeccable service, drink in simplicity and complexity all at once, and eat a meal that doesn't skimp on portion sizes, love, or lack in options, The Raymond is where you want to go. While Happy Hour is still my favorite (those cocktails and tacos are the BEST), the dinner is one that can echo romance and thoughtfulness but also be the perfect place to grab the kids and go eat your hearts out. As for brunch, the menu has the traditional fare but the culinary creations are ones made with a spectrum of flavor from savory to sweet that will please that weekend craving. In other words, you can't go wrong here.
The Raymond 1886
1250 S Fair Oaks Ave | Pasadena, CA 91105
Hours: M-F 11:30am-2:30pm | 4-10pm
Sat | Sun Opens 9am-2:30pm | 4-10m