[title maintitle="Drink Me Up, Scotty!" subtitle="no excuses"]
Alcohol is one of those things that makes the politically induced, vomitous intake of news from college bribery scandals to FBI investigations, tolerable. And—I think even that may be a stretch, so while we all practice the Bellow's breathing technique in an effort to stomach the present state of the nation, let us drink. And do so happy as hell. I've gathered some easy—and pretty recipes that will feed your need for cocktails that numb you in all the right ways.
Have at it.
[separator type="thick"]
Blue waters, buchata, and rum that flows like rain water from a broken dam are reasons why the D.R. is a damn fine place to get on a 737 and escape. Yah, even the questionable ones. Ron Barceló mixologists conjured up a breakfast cocktail that gets the morning going with some finesse.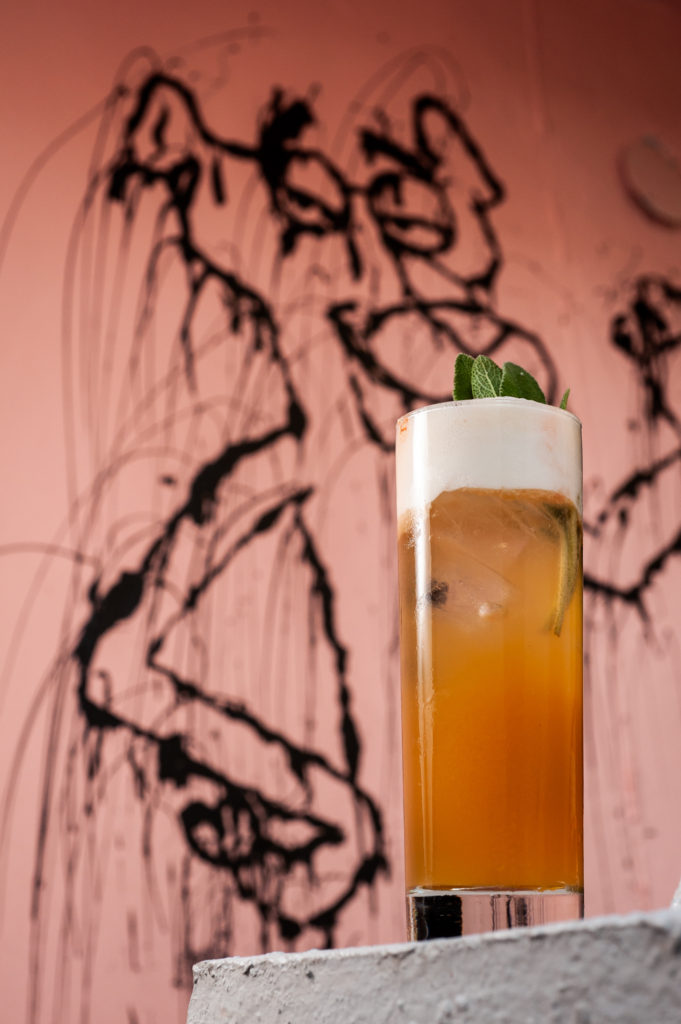 Desayuno Tropical
2 oz Ron Barceló Gran Añejo
.75 oz green tea and earl grey tea infused simple syrup
1 egg whites
1 oz lemon juice
Sage as garnish
STEP 1: Add all ingredients in shaker.
STEP 2: Shake vigorously until egg foams.
STEP 3: Pour over ice and garnish with a sage sprig. Spanish for "tropical breakfast," the exilir mixes Ron Barceló Gran Añejo, green tea and earl grey tea-infused simple syrup, egg whites and lemon juice for a delicious daytime pick-me-up.
[separator type="thin"]
Bartenders are the best paid therapists. You show up, sit down without question, choose your "medicine", take multiple doses, and talk and talk, and talk. But what if for a minute the bartenders were cool like Frank? In downtown L.A. you can roll like Sinatra at Birds and Bees and chat up bartender Jake Larowe. He's the one crafting something swanky, and he'll bend an ear for you.
"One of my favorite things about the 1950's and the midcentury in general is the aesthetic. Designers, architects, and artists all over the world moved towards modernism as a design concept, and that just makes me happy. I love the simple smooth lines of the buildings, cars, furniture, and fashion. That being said, the thing that attracts me the most is the concept of breaking with traditional norms. When making a new menu it can be very difficult to not fall back on what you know and what's safe." Larowe exclaims.
It can be very daunting to try and ignore the norms, while at the same time making drinks that not only taste great, but that people want to drink.
"The key is that the drinks still need to be fun, so that's where the inspiration from the songs and T.V. shows come in. People were spending more time relaxing, listing to music, and watching T.V. People were having more fun in general trying new things. The 1950s era folks moved away from the older generations and experimented with new types of entertainment. That is what this menu is all about, trying something new, and hopefully, fun."
[columns_row width="half"] [column]
[/column] [column]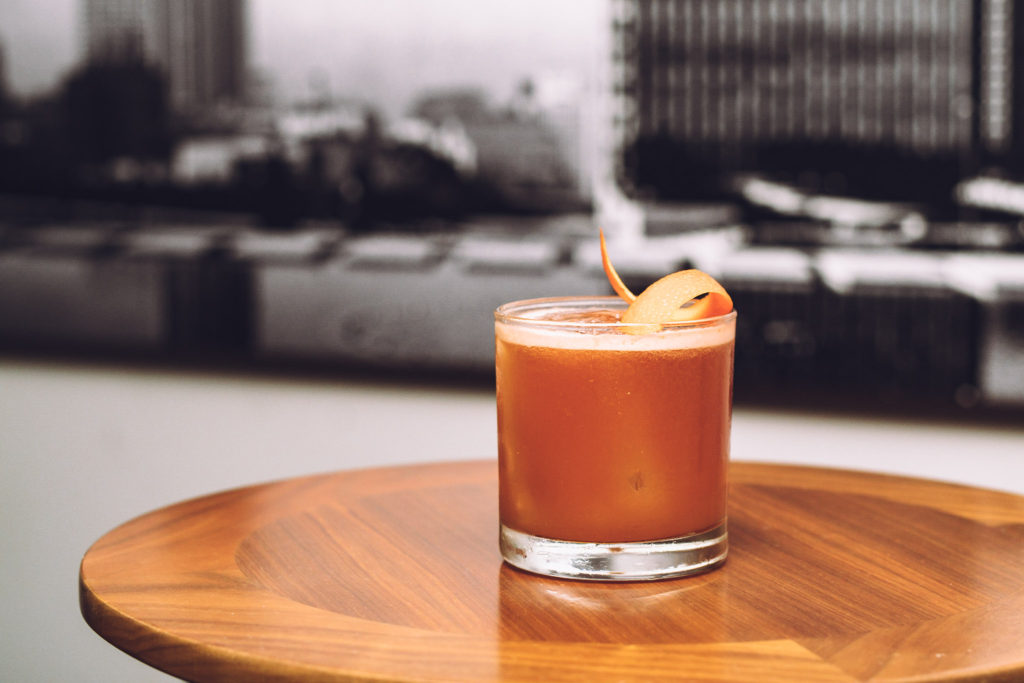 [/column] [/columns_row]
LOVE ME TENDER
1 oz Bourbon
1 oz Lairds Straight Apple Brandy
3/4 oz. Berry Vinegar Gomme (see below instructions)
1/8 oz. Licor 43
1/8 oz. Elder Flower Liquor
1 oz. Lemon Juice
1 Egg White
2 Thai Basil Leaves
BERRY VINEGAR GOMME SYRUP
(Makes large batch)
64 oz. Berries
64 oz. Water
64 oz. Sugar
1/2 tsp. Xanthan Gum
4:1 Apple Cider Vinegar to Finished Syrup
INSTRUCTIONS
STEP 1: Place the trimmed berries and water in a large pot and bring to a covered boil.
STEP 2: Lower heat to a simmer and simmer for 30 minutes.
STEP 3: Once the berries fall apart with a stir, add the sugar and Xanthan Gum, and stir until dissolved.
STEP 4: Let mixture come to a low boil and remove from heat.
STEP 5: Fine strain and add Apple Cider Vinegar, store in fridge.
STEP 6: In a shaker tin combine all the ingredients.
STEP 7: Hard shake for 20 seconds and fine strain into a coupe glass. Dot with angostura.
STEP 8: Garnish with Thai Basil Leaves and a Strawberry.
---
DEVIL IN DISGUISE
2 oz. Rye Bread Infused Vodka (see below instructions)
1/2 oz. Burnt Honey Syrup (see below instructions)
3/4 oz. Lemon Juice
1/2 oz. Orange Juice
2 Dashes Angostura
RYE BREAD VODKA
150g Dried Pumpernickel Rye Bread
150g Dried Corn Rye Bread
3 Bottles Wheatly Vodka
INSTRUCTION
Let sit for 1 day minimum. Fine strain twice and store.
BURNT HONEY SYRUP
16 oz. Honey
16 oz. Water
INSTRUCTIONS
STEP 1: In a shallow pan, bring honey to a boil while stirring with a spatula. Do not let honey actually burn or boil over.
STEP 2: Once the honey has reached a boil, lower temperature to 200-220 degrees, stirring occasionally until the color of the honey changes from light golden to a dark golden brown.
STEP 3: At this point, add water and stir until well combined. Store in the fridge.
STEP 4: Combine all ingredients and shake over ice.
STEP 5: Strain over fresh ice into a cocktail glass. Serve with an orange twist.
---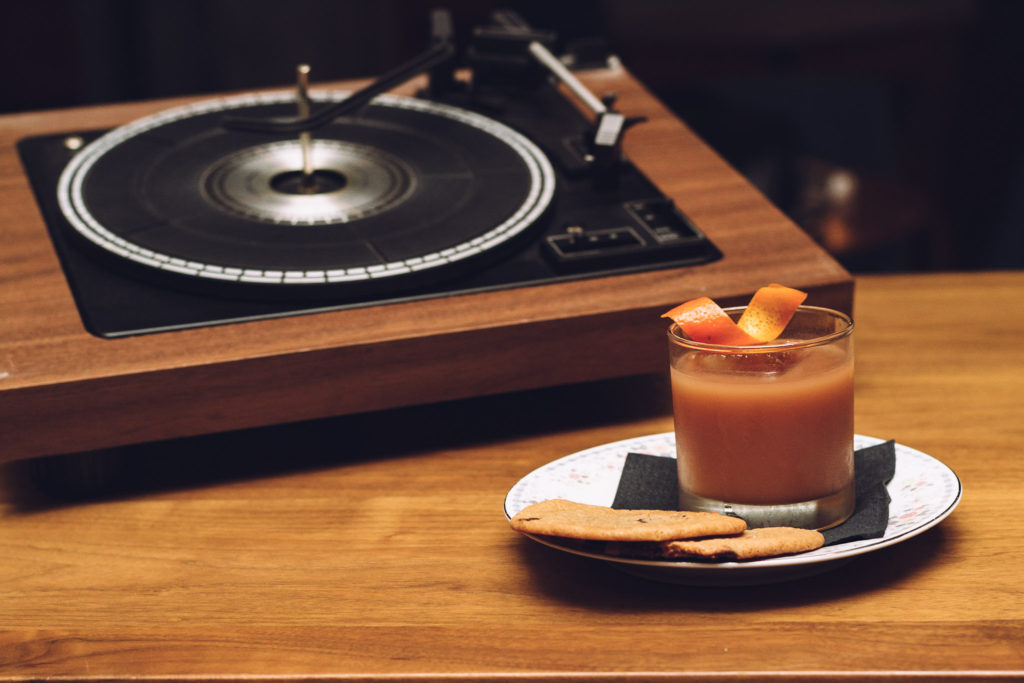 You Make Me Feel So Young
2 oz. Chocolate Chip Cookie Infused Rye Whiskey (see below instructions)
1/2 oz. Pedro Ximinez Sherry
3 Dashes Chocolate Bitters
1 Dash Angostura
Chocolate Chip Cookie Infused Rye Whiskey
3 Bags Famous Amos Cookie
1 Bottle Rittenhouse Rye
INSTRUCTION
STEP 1: Soak Cookies in Rye for 2 days. Fine strain through chinois and then again through cloth.
STEP 2: Store.
STEP 3: Combine in a mixing glass and add ice, stir until well chilled, strain into a fresh glass with fresh ice, garnish with a fresh baked cookie.
---
I'm always on the hunt for some reason to be peculiar, and a stiff drink with smoky Mezcal—it's the kind of medicina that'll do. The drink below was made by the Salt Pepper Skillet king, Justin McChesney-Wachs and will no doubt lead to me putting on a sombrero.
HOT AND SMOKE
Ingredients
2 Jalapeño slices seeds removed
Ice
1.5 oz Mezcal
1.5 oz Triple Sec or other orange liqueur
1 oz lime juice
2 teaspoons Agave nectar
Course salt
Lime wheels and additional Jalapeño slices for garnish
Instructions
STEP 1: Rub a lime wedge around the rim of a rocks glass, then role the rim in course salt to coat.
STEP 2: Fill the glass with ice and set aside.
STEP 3: In a cocktail shaker, muddle the Jalapeño slices, then add the ice, Mezcal, triple sec, lime juice and agave nectar.
STEP 4: Shake until frost starts to form on the cocktail shaker, about 30 seconds.
STEP 5: Pour into the glass through a strainer and garnish with a lime wheel and a jalapeño slice.
[separator type="thin"]
Barware recommendations.
[columns_row width="third"] [column]
[/column] [column]
[/column] [column]
[/column] [/columns_row]