[title maintitle="#Tuesday Talks with Shaan Singh" subtitle="Drax Project, Inspiration, and Life On the Road"]
With so much music flooding the radio airwaves, filtering in through Pandora or Spotify, iTunes, Soundcloud, or whatever your music choice is, when a song comes on the radio that somehow finds itself fluttering in through your senses, you know you've found something special. Drax Project's, "Woke Up Late" featuring singer/actress Hailee Steinfeld is that song. With opening lyrics that softly and sweetly entangle you, the song begins and immediately, you feel the need to sing along, move your body, and for a second, think, "damn, I've so been there".
While, "Woke Up Late" is their breakout song—one that has gone platinum—the band has been playing together since 2013. With four members, Sam Thomson, Shaan Singh, Matt Beachen, and Ben O'Leary all hailing from New Zealand, each gent brings immense talent and something genuine. Having recently released the video starring YouTube star, Liza Koshy, the video tells the story of two people, one unforgettable night, and the rush of the morning after. It embodies the energy you feel the moment you hear the words, "Woke up late, somewhere far away from home …"
Given the opportunity to interview the guys, I jumped at the chance to speak to singer and saxophonist, Shaaun Singh to gain a little more insight into this remarkable group of what seem to be incredibly good guys, who also happen to make kickass music.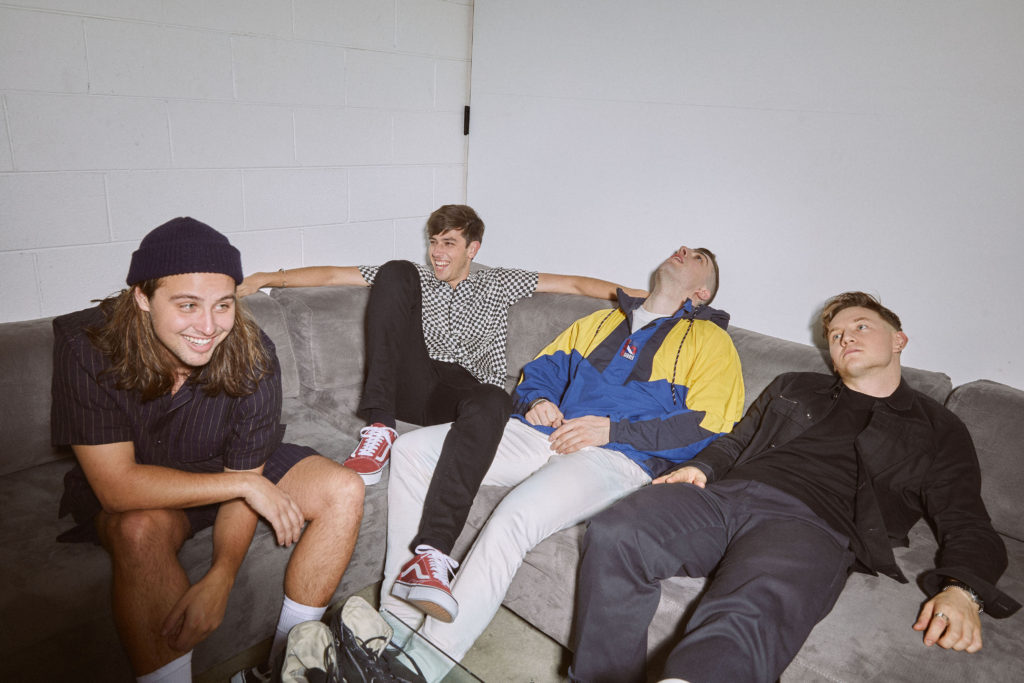 I read that in Wellington, you guys used to play small bars and clubs. What were the early band days like?
Early 2013, three of us were studying at the New Zealand School of Music, so we were at class playing jazz and writing jazz music, learning jazz theory etc. during the day. In the evenings we would go out and busk (street performing) on the streets to make some cash. We had bar managers walk past and ask us to play in their venues, which was amazing because were poor students. Suddenly we had some 'steady' income (and free drinks—woop!). We played versions of songs like Justin Timberlake – Cry Me a River, but we would take the riff and make it super heavy and play it on saxophone and bass. We took any song we could find and made them into a version we could play in a club. Ben (guitar) joined the band some months after we started and that's when we started to try and write our own music.
Influenced by jazz, blues, and pop, what artists of the past influenced you and helped you in developing your own sound?
While we were studying, our influences were probably leaning towards what we were trying to emulate at the time. So more towards Count Basie, Charlie Parker, Nate Smith, Chris Potter, Eva Cassidy, Tigran Hamasyan—there's so many we could list hundreds. Now as we're trying to write pop music we take influence from so many more like Ed Sheeran, Frank Ocean, JT, Prince, Kendrick, Drake, RHCP, Ariana, Louis The Child. Again, we could go on forever.
With "Woke Up Late" going platinum, did you guys have a plan to celebrate should that happen? And if so, what did you do to celebrate?
We actually made a promise to our producer on the track, Devin Abrams that if it ever went number one anywhere in the world, we would go to Disneyland together. We will fulfill that promise. We love theme parks a lot.
What's the craziest song title you've come up with that you scrapped?
Trisha's Pies was a pie shop near our house in Island Bay in Wellington where we live. We released a song called "Cold" on our second EP in New Zealand, and it was called "Trisha's Pies" for a long time before we decided to call it "Cold".
How did you come to collaborate with Hailee Steinfeld? And, how did that initial call or meeting go?
After the Camila Cabello European tour which we got the amazing opportunity to open for we were back in New Zealand in our studio. We heard through mutual friends that Hailee had heard the song. Our manager asked us if we wanted to feature Hailee Steinfeld on the song, and of course we were freaking out and said yes immediately! We were all massive fans of her music so it was a very surreal moment for us.
If you could summarize what you want to experience in terms of your life and music career, what would you say?
Travel the world, be friends, play music.
What did your family say when you started playing gigs a few years ago?
"Get a real job". Not really though, all of our families have always been extremely supportive of us as individuals, and as a group. They were all a little relieved when our song "Woke Up Late" starting to go well and we could all quit our day jobs.
Anything you want to tell other musicians just starting their journey?
Write as many songs as you can, learn songs from your favourite artists, and find out what they're doing. Figure out how they arrange their songs, how they structure melodies and chords, and just go for it! The more songs you write, the higher the chances are of you making something amazing.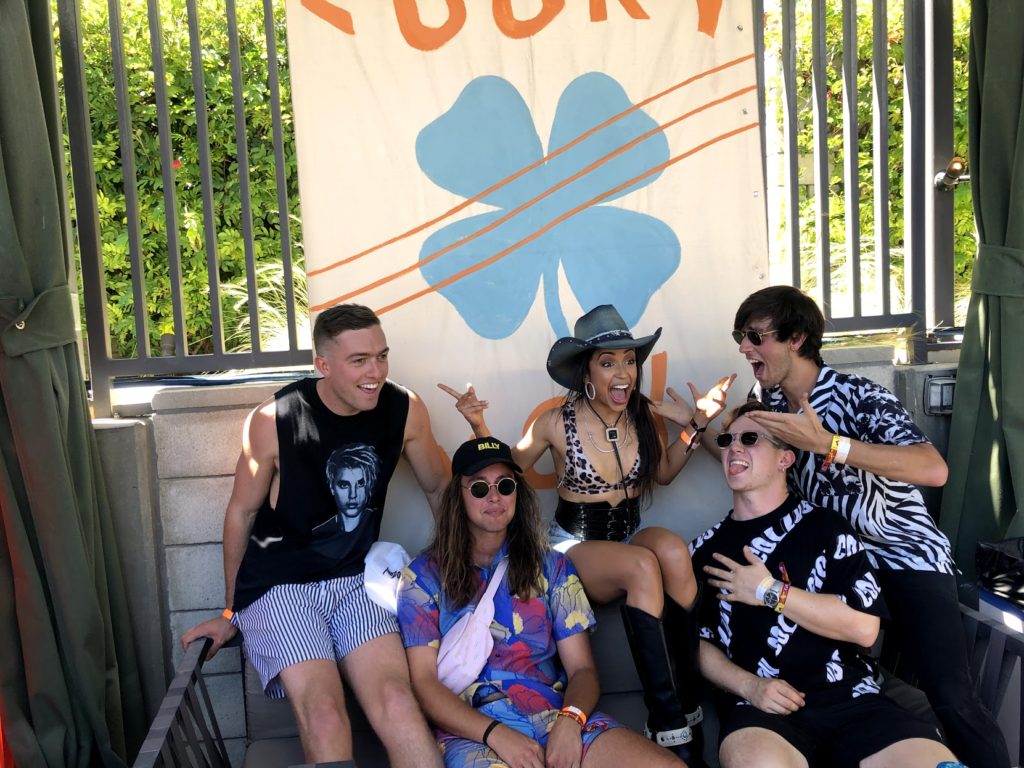 What's been the biggest challenge so far? And the most surprising moment?
Being away from our families, friends and girlfriends for such long periods of time while we're touring and writing in the US and Europe is definitely hard. Everyone back at home has been so incredibly supportive so far and we really appreciate that.
What is something about each of you that fans might be surprised to know?
Sam has really nice handwriting, Ben can peel a kilogram of potatoes in three minutes, Matt has two miniature ponies at his house back in New Zealand, and Shaan is a massive Dota 2 fan.
What can you tell us about working with Liza Koshy?
Liza is probably the most energetic and fun person we've ever met. Her attitude is contagious and we have had the most amazing experience working with her on our latest video for "Woke Up Late". We can't thank her, and everyone involved with the video enough. It was just incredible.
Tell me about what it was like playing Coachella this year.
This year we got the opportunity to play the Rolling Stone Pool Party. It was epic. Plus, we got to attend Coachella which was a dream for all of us. Hopefully some day we'll be playing on one of the main stages!
Lastly, what three things do each of you have to have (creature comforts) with you while you're on the road?
Shaan – Nintendo Switch, a neck pillow and noise cancelling headphones.
Sam – Exercise bands, somewhere he can cook and noise cancelling headphones.
Matt – Fanny pack, running shoes and noise cancelling headphones.
Ben – Coffee, acoustic guitar, and noise cancelling headphones.
[separator type="thin"]