[title maintitle="Phantom of the Opera" subtitle="Exceeds Expectation"]
The Hollywood Pantages Theatre has a summer calendar that is bringing Broadway favorites to Los Angeles. This month as theatre-goers launch into an incredible lineup, among them is the long awaited return of "Phantom of the Opera". A perfect blend of opera and theatre, the production is abounding.
Located in the historic theatre that has been home to legendary performers, the streak continues with Andrew Lloyd Weber's masterpiece, "The Phantom of the Opera," made bigger and better thanks to director Laurence Connor and the brilliant scenic design of Paul Brown, Tony Award-winning lighting designer Paule Constable, and Tony Award-winning costume designer Maria Björnson in a critically acclaimed limited run. Invited to attend opening night, the stage was set, and for the next two hours audiences—present company included—gasped, quietly sang, marveled and were swept away by the magic and horror of this theatre classic.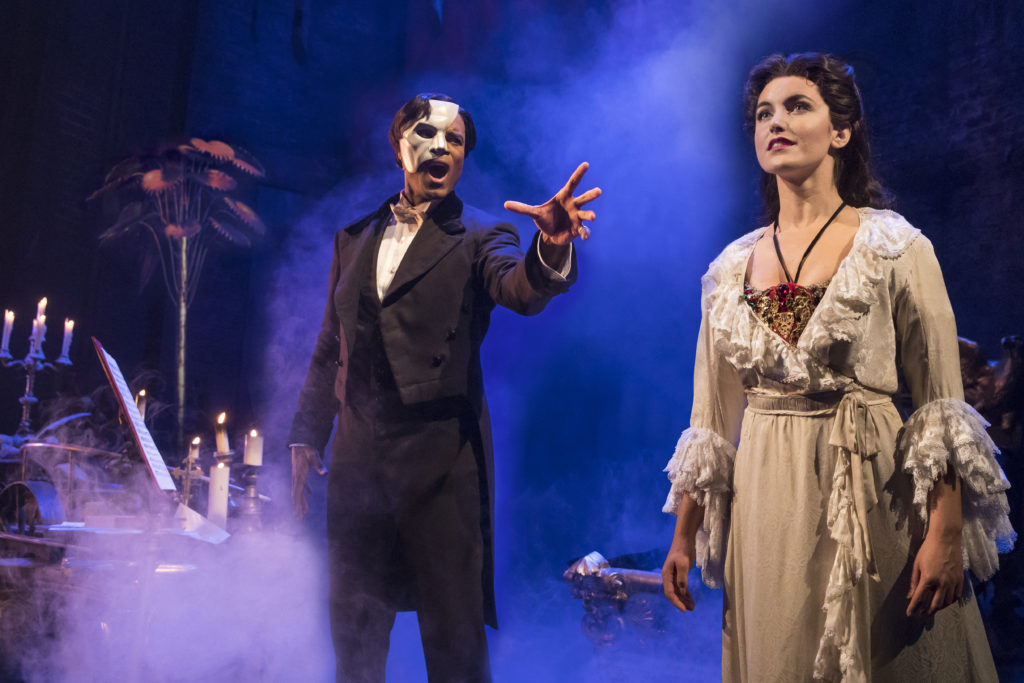 [title maintitle="Utterly Bewitching" subtitle="A Smashing Success From The Moment It Begins"]
Starring Derrick Davis as the Phantom, Eva Tavares as Christine, and Jordan Craig as Raoul, the first act is spellbinding. Tavares shines as Christine. Tavares' ability to show Christine's vulnerability and pain is exquisite. Her portrayal of innocence, purity, strength, love, compassion, and confusion command the audience from beginning to end, and her operatic voice is so powerful, melodic, and grandiose, it will stay with you long after the performance. The devilishly handsome Craig as Raoul is equally engaging as he embodies love, lust, protector, and powerhouse. His voice stays with you as each note is sung with conviction and intention, and his presence on the stage is undeniable. However, it is Davis who plays the famed Phantom of the Opera that rips at your emotional heartstrings with no mercy—and you willingly allow it. A man born to a world that would never accept him, the Phantom's misplaced sense of belonging and his love of song transforms the monster into a man all while the audience is treated to the transcending sound of his voice. Davis' performance as he towers on the stage is enthralling.
Every scene, every set change, every powerful display of characters including performances by the exquisite dancers and ballet chorus, Carlotta (Trista Moldovan), Monsieur Firmin (David Benoit) and André (Rob Lindley), the quiet yet impressive Madame Giry (Susan Moniz), and a terrifically talented cast make this one production among those genuinely captivating experiences.
[title maintitle="SET DESIGN" subtitle="Visual stunner"]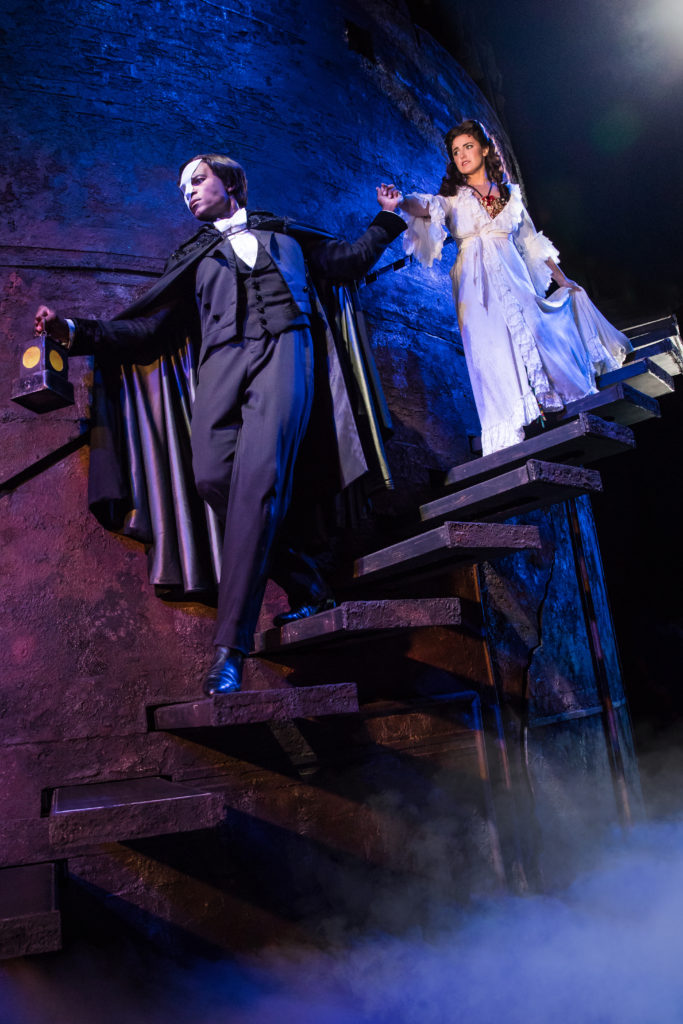 The set design surpasses any other musical I've seen at the Pantages with elaborate set dressings, quick prop switches, a cascading stairway, mock opera stage, statuaries, and backdrops that tell the tragic tale of a harrowing love and a man whose life is less than optimal.
The set design by Paul Brown accompanied by ingenious stage lighting by Paule Constable is cinematic in quality and magical in aesthetics. Creating a highly functional doll-house-esque design, this clever stage setting is like nothing I've ever seen. The Phantom's towering stage walkway leads to a secret staircase that animates as they descend down it is sheer marvel. The gondola, the stage office in deep shades of crimson; the Phantom's lair, the masquerade, the graveyard, and the town square with remarkable sculptures are not only impressive but imaginative and designed with such intricacy, it feels a world-class architect and engineer must have had a hand in its execution. In other words, it is one-of-a-kind and something you have to witness first hand.
The performance runs from now until July 7, 2019.
Photos by Matthew Murray | Cover Photo by Bruno Passigatti
[button content="GET TICKETS" color="black" text="white" url="https://www.hollywoodpantages.com/events/detail/thephantomoftheopera" openin="_blank"] [separator type="thin"]
The next summer performances include, "Rent," tackling AIDS, love, creativity, and friendships in a modern reimagining of Puccini's "La Bohéme"—and you don't want to miss seeing it. The month rounds out with the illustrious love story of Kim, The Engineer, and her interlude with an American G.I. With one of the most memorable scores ever, "Miss Saigon" is a powerful display of song, story, and beautiful set design. Among the productions coming is also a special show by the Blue Man Group, Anastasia, Summer, and a production of "Frozen". With the glee and heart of the original film, "Frozen" the musical is making its way to Los Angeles and our hearts will warm and after having been invited to a preview of the show, I can assure you it will be one to watch.
New York isn't the only city with theatrical prowess anymore. This year the Hollywood Pantages Theatre has joined forces with several of the most popular Broadway shows of all time and Los Angeles is going to be marquee ready.
For ticketing information, visit HOLLYWOODPANTAGES.COM