[title maintitle="SEYMOURS + MR. LYONS" subtitle="Speakeasy Drinkin' + Dinner Divine"]
Envision walking in through a back entrance where a perfectly designed bocce ball court is nestled in the corner under strings of lights no doubt adding an ambient vibe once the sun sets. Shuffling through a well-decorated outdoor patio where there is ample seating, fire pits and a wall of fire there is an element of intrigue–and a nondescript back door. Seymour's. Step inside this speakeasy to find a darkly lit bar with black and white 1930s-esque flooring, and a bar top with a smaller more refined pattern of the same that looks as if its made of ivory. Behind the bar beckon rows of fine spirits—all the visual cues of a place to land. Located in a darkened corner of Mr. Lyons restaurant in Palm Springs, Seymour's is a departure from most everything Palm Springs is known for. Evading the mid-century modern design, it is a true homage to times of prohibition. With the swanky encased absinthe glassware and serving spout, and collectibles from various stages of time, amid a wall adorned with vintage art that reminds me more of art that would have once lined the dark, sultry bars of the 1920s with secret entries and coded knocks, Seymour's is an exceptional place to slip into.
[columns_row width="half"] [column]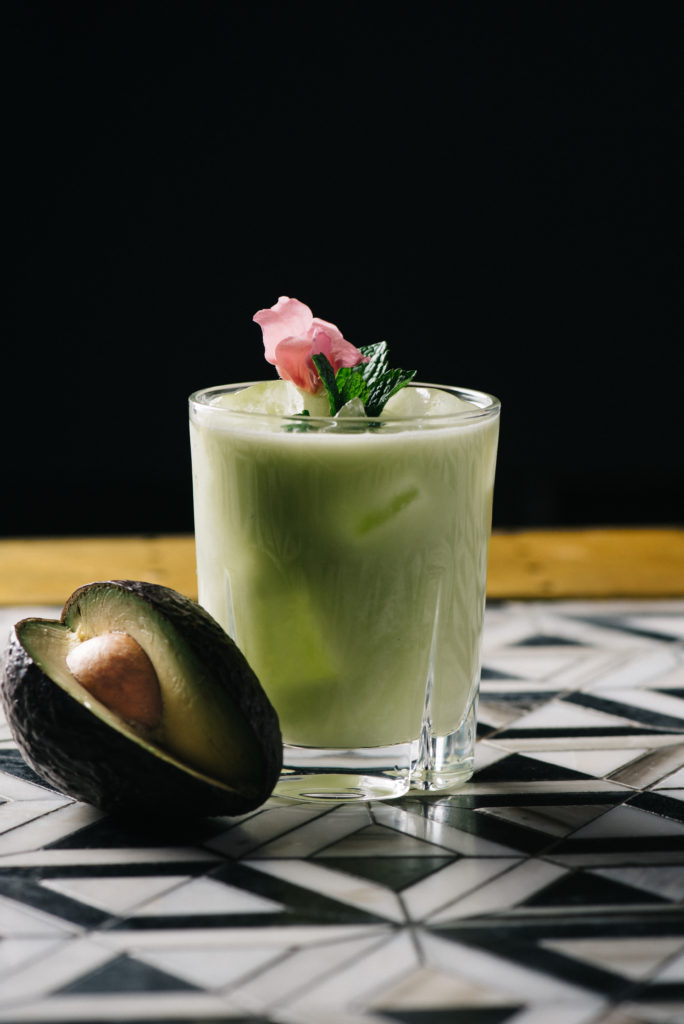 [/column] [column]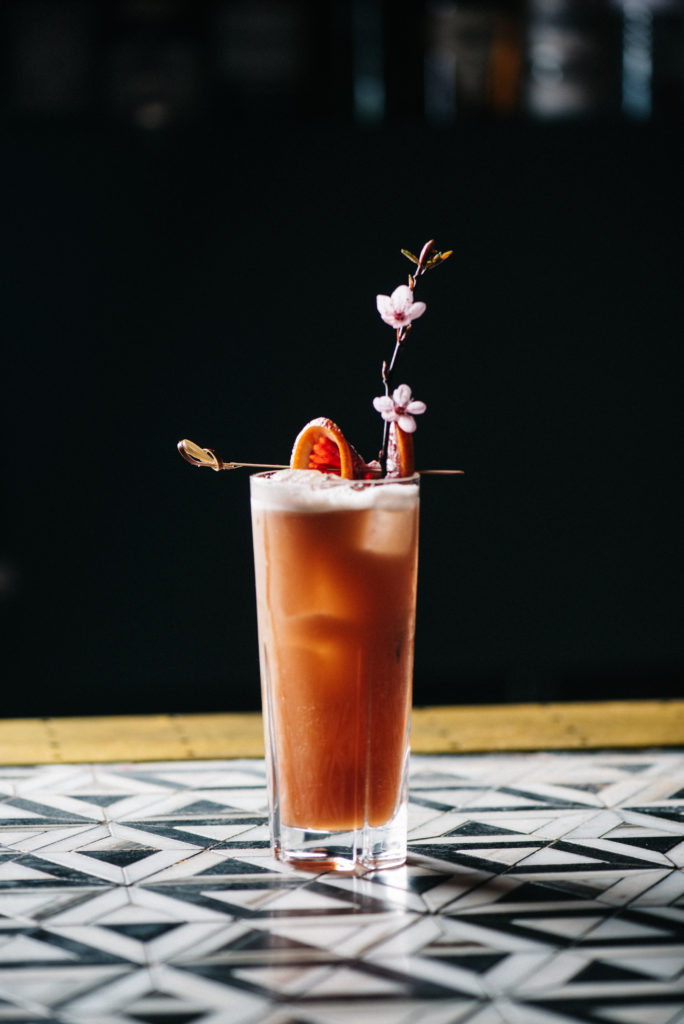 [/column] [/columns_row]
Pulling up a seat at the bar, I notice planks of wood creating a diagonal pattern on the flooring past the black and white tiles. It leads to quaint booths and tables leading my eye up the wall towards interesting sconces and lighting fixtures. Sitting alongside Seymour's co-owner and F10 beverage director, Steen Bojsen-Møller, we dig into the menu that is crafted with a clear map of spirits from top-shelf and small batch to some new to my repertoire of knowledge. Zane, the man behind the bar is slinging cocktails and pouring visual works of art into a variety of glassware.
"What is your spirit of choice?" Zane asks. "Bourbon." I reply. With a few more follow-up questions gauging my flavor profile, off he went to pour, mix, stir, and position in front of me and what can best be described as a bit of brown-spirited perfection. It's a Zane original and is deemed the Zaney Zane made with Four Roses bourbon as its base, blueberries, mint, lemon and a dash of simple syrup. Steen orders the Little Owl from the main menu. The drink is made with Rittenhouse rye, Charbay walnut liqueur, IPA syrup, and angostura amaro. Jade, sat to my left, orders a beautiful 47/75 made with Monkey 47 gin, lemon juice, simple, and G.H Mumm champagne. Zane also pours me Big Trouble in Little TJ that is made up of of Ilegal mezcal, lime juice, simple syrup, muddled cilantro, black and white peppercorns. Every libation is a delicate balance between fiction and art, all with a twist of aromatics, herbs, spirits, and a passionate take on a fine cocktail.
The bar program is one that takes patrons on a literal journey through time. Offering intentional design and impeccable service, when the cocktails round out your need to settle in and have some dinner, walking into Mr. Lyons just a few steps past the door, you'll enter a different realm. All that's missing is the sound of brushes hitting the drum kit with a cool blues band of musicians playing in a cadence that lures you in like the Pied Piper.
Seymour's | 233 E Palm Canyon Drive
[separator type="thin"]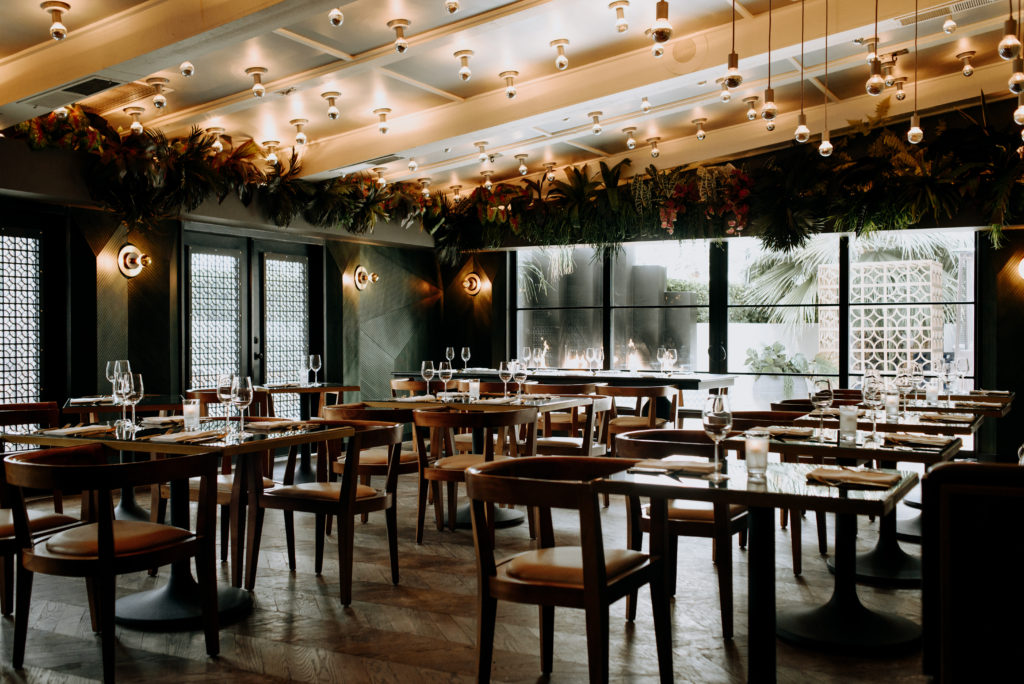 Mr. Lyons is where you go in Palm Springs for fine dining under the culinary prowess of Chef Eddie Moran. With three options of where to dine in the restaurant, you have the choice of the salon, the lounge, or the deco room in the back. Each has their own charm and intrigue. The salon is a bit more high brow in terms of lighting, décor and design that includes round tufted dining upholstered in a subdued seafoam velvet green, and finely crafted wooded seating. It has a mirrored ceiling that narrows to lend a bit of that 1920s vibe, and minimalistic design in terms of limited art and visual obstruction. It's for those looking for a more pristine environment free of youth and noise.
The back room is open and airy with neutral tones of black from the marbled back wall to simple seating. The colors of this room are rich woods and black with the contrast of some tropical greenery and minimal art showcased by the backsplashes and wall designs, and it's the glass doors and large windows that make this more of a community space that can double as a night out with friends or some productive business.
As for the lounge, where I chose to dwell, its ideal for the socialites, the extroverts and those who like a little more intimacy without inhibition. It's where you gather with friends to laugh, have a cocktail or three, and indulge in chef's warm menu without worrying if you're using the proper fork. The lounge also houses the restaurant bar so if you're looking for a quiet dinner, head into the salon instead. Much like Seymour's, the bar program at Mr. Lyons appeals to the tried and true but also dares to take you far outside your comfort zone. There is a wealth of choices in wine, beer, and bubbles as well. Keep in mind that the salon menu and the lounge menu slightly differ.
Chef Moran begins the culinary dance, and what's to follow is robust and filling, with hints of decadence, comfort, and intention. For dinner, each item is meant to be shared and so what followed was a tasty walk through Moran's culinary journey. Three of us sat at the table, we devoured each dish leaving but crumbs behind.
[columns_row width="half"] [column]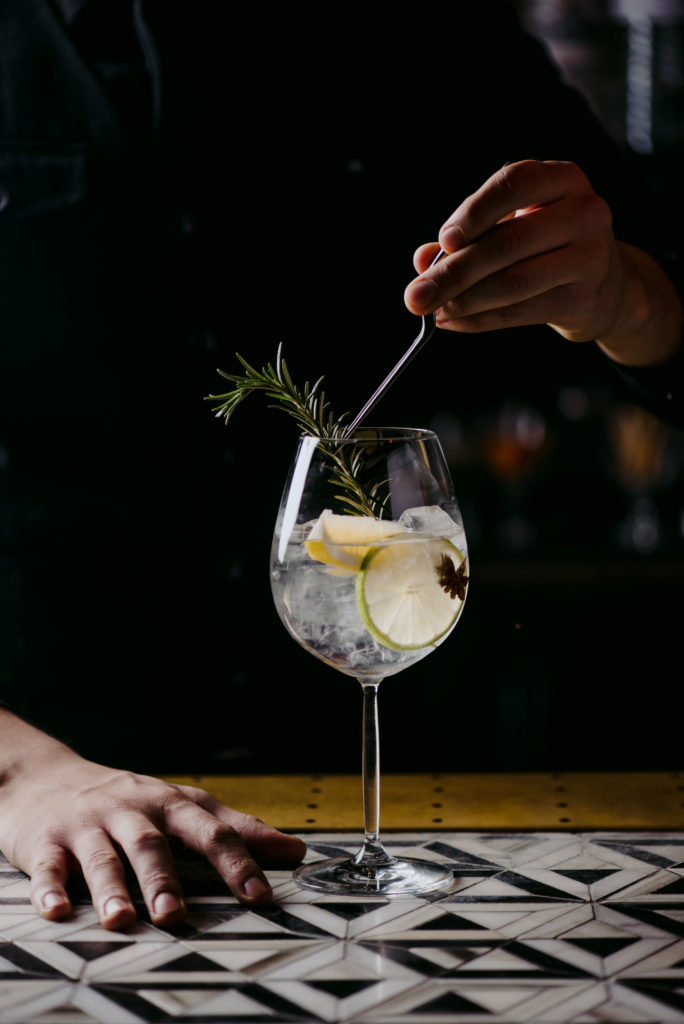 [/column] [column]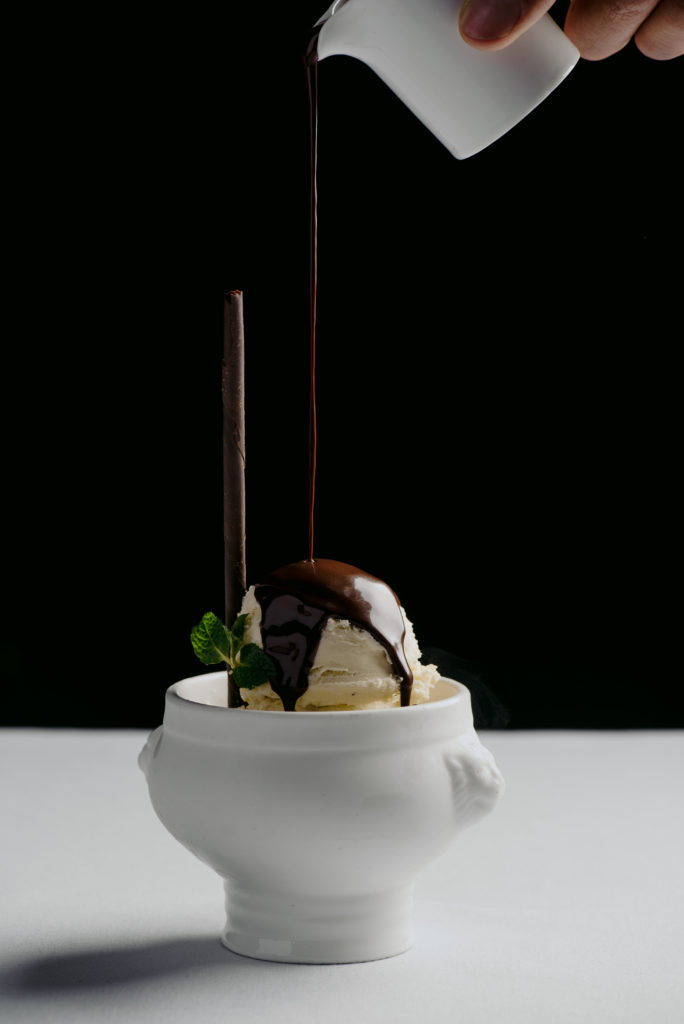 [/column] [/columns_row]
Twice Baked Sweet Potato | Haas avocado / ramp top chimichurri. Made with a completely different take on twice baked potatoes, the sweet potato mixed with avocado adds a dreamy, creamy texture while the contrast of herbs and spice from the health-conscious ramp top chimichurri strikes a fine balance of texture and flavor.
Coachella Valley Corn | Jalapeño bacon / corn nut gremolata. Corn can be an underwhelming dish but this particular corn will change your mind. Grown in the neighboring Coachella Valley, this corn dish serves up a local staple and lends a nudge to the tastebuds with the heat and savory inclusion of the house-made jalapeño bacon and crunchy corn nut gremolata. It is a much needed departure from traditional street corn, and the variants of flavors coming from the bacon, parsley and lemon in the gremolata, and the sweetness of the corn take this tri-labeled vegetable/grain/fruit to the next level.
Chilled Beetroot Gazpacho | Shaved red cabbage / chioggia beet / orange supreme / chia seed. Beets are earthy and certainly a root vegetable that appeals to a more discerning diner, but having it as a gazpacho is something to experience. With hints of citrus woven through and through and an interesting component of chia seed, this surprising chilled soup made with what is often referred to as candy cane beets (a beet with a distinguishing interior of red and white stripes) is tangy, clean, and refreshing.
Crispy Berkshire Pork Belly | Fennel and crimson rhubarb / smoked bacon jam. Fennel and rhubarb are like the herbal bedfellows for elaborate palates. Two seemingly simple ingredients when separate, but when thrust together create a sweet, herbal combination that's worth sinking your teeth into. Add the buttery succulence of crispy Berkshire pork belly and a smoked bacon jam, and it's a marriage of wonderful gluttony.
Farm Greens Salad | Shaved vegetables / radish / fines herbs green goddess / fennel pollen butter crostini. A good, herbaceous salad is as necessary as a true aperitif. It cleanses the palate, extends our tastebuds, and allows what's next to flourish in the comfort our mouths.  Incorporate radish and a scrumptious green goddess drizzle atop freshly shaved and locally sourced veggies and it's a match made in farm-fresh heaven. Put that on top of a crisp crostini brushed with fennel pollen butter (similar to a bitter honey butter) and voila! Delicious.
Scottish Salmon | Summer vegetable succotash / pickled green tomato relish / jalapeño bacon vinaigrette. Scottish salmon, for those that haven't tasted it before, is one of the more beautiful salmons. It is perfectly balanced in flavor, meaty in texture, and a clean taste that is unique. Served with the summer veggie succotash, the succotash boasts fresh zucchini and summer squash with just the right trace amounts of salt—and tang and punch, as is evident from the pickled green tomato relish and spicy bacon vinaigrette.
Mr. Lyons Fresh Mint Sundae | House-made mint ice cream / hot fudge / Valrhona cacao nibs. A sweet finish is a must when indulging in so many rich dishes—and mint ice cream is the ideal anecdote to settle ones stomach and round out an evening with a youthful favorite. With the fragrant scent of mint upon first bite, the ice cream tastes homemade without being overly laden with sugar. The hot fudge infuses the childhood sundae dream we remember so fondly, while the elevated structure of the Valrhona cacao offers a crispy crunch. The only left to do is submit.
Mr. Lyons | 233 E Palm Canyon Drive
[separator type="thin"]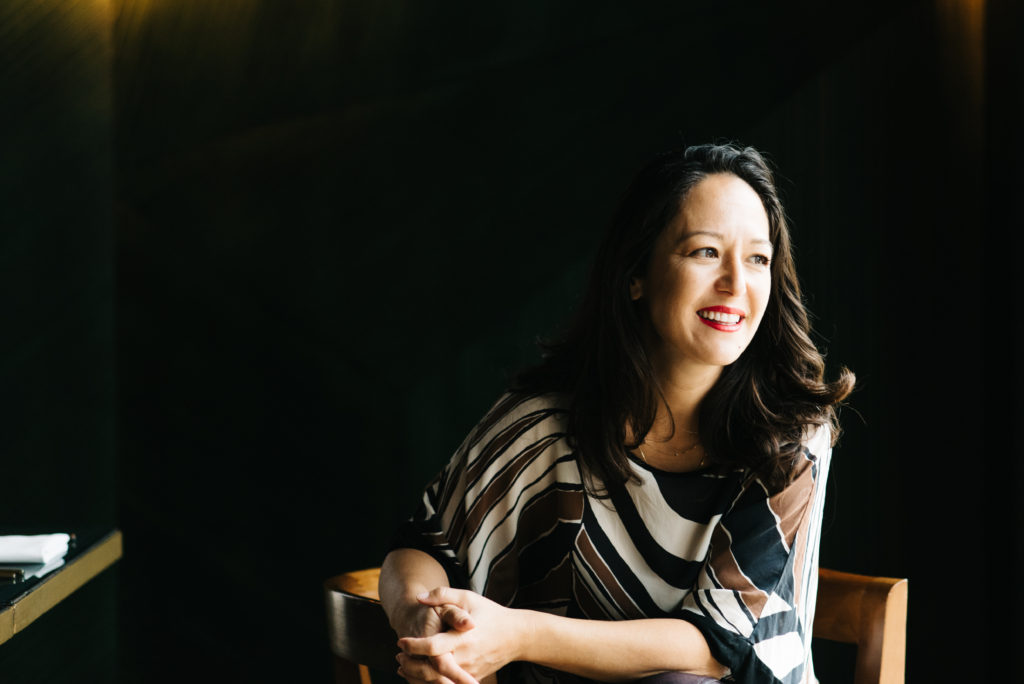 Mr. Lyons and Seymour's is a creation of F10 Creative Founder, Tara Lazar. Lazar returned home to Palm springs 10 years ago after working and living abroad in Costa Rico—where she and husband Marco enjoyed a myriad of travel and culinary adventures.
Her vision was simple: Create a a beautiful, fun space for everyone to come, hang out, and feel at home. Thus began her journey which started with Cheeky's— homemade breakfast with no fuss, fresh local ingredients, + everything made from scratch. "Always an avid eater, born of will-travel-for-food gourmands, Tara began building her small empire of restaurants, and bars (+ a hotel!) from an endless appetite of cravings, tastes, sights, sounds + colorful spaces found around the globe." – F10creative.com
Palm Springs became the heart of where she and Marco would lay their roots and stay. You won't find a more unpretentious, welcoming, engaging, warm, simply designed wealth of eateries, bars, and hotel like those curated and realized by Lazar and F10 Creative.
[separator type="thin"]
photos courtesy of Audrey Ma + S. Dickenson