[title maintitle="HAVING GROWNUP FUN " subtitle="Letting go in a boobietrap you'll want more of."]
booby trap; noun – a trap for the unwary or unsuspecting
[dropcap letter="I"]f you've ever wanted to leave the world behind if only for a couple of hours and indulge in pure cirque-worthy joy with the wit and appeal of Monty Python,
Scot Nery's Boobietrap
is well worth braving the SoCal traffic. Nery is an entertainer through and through. One of Nery's favorite quotes is by Mario Andretti, "If everything is under control, you are not going fast enough." Boobietrap reflects that mentality, but Nery's life as a performer started before he would fully understand his purpose. Falling in love with magic at the age of seven, he found something that changed his perception of reality, and it was only up from there. "I was taught by a very formal magician, a tuxedo kind of guy. I loved magic early on and started doing paid shows at age 11. One day when I was 13, I just thought, what if I get goofy. It felt awesome. Engaging the magic that I loved with my true personality was a blast." That essence of silliness, professionalism, and good old-fashioned joviality is everything that Boobietrap embodies. "I started professional shows when I was 11 and there have been a thousand chapters in my life to learn more of what this means. Lots of people will go see concerts and if they see a bad one they will still listen to music again. But if you go see a bad juggler, you'll likely say that jugglers aren't for you. I can't wait to prove you wrong and show you 14 more reasons why you'll love them!"
Having trained as a street performer, Nery traveled the country setting up public shows taking cash payments for groups of 50 up to as many as 300 guests. Learning the art of entertaining by paying close attention to how people responded led him to getting the schooling he would need to fully understand what it is an audience wants. So what do they want? Nery says, "I think audiences want to be excited, motivated and challenged, and to feel safe. The other frills included in shows are often useless, and that inspired me to build a show around that precise idea."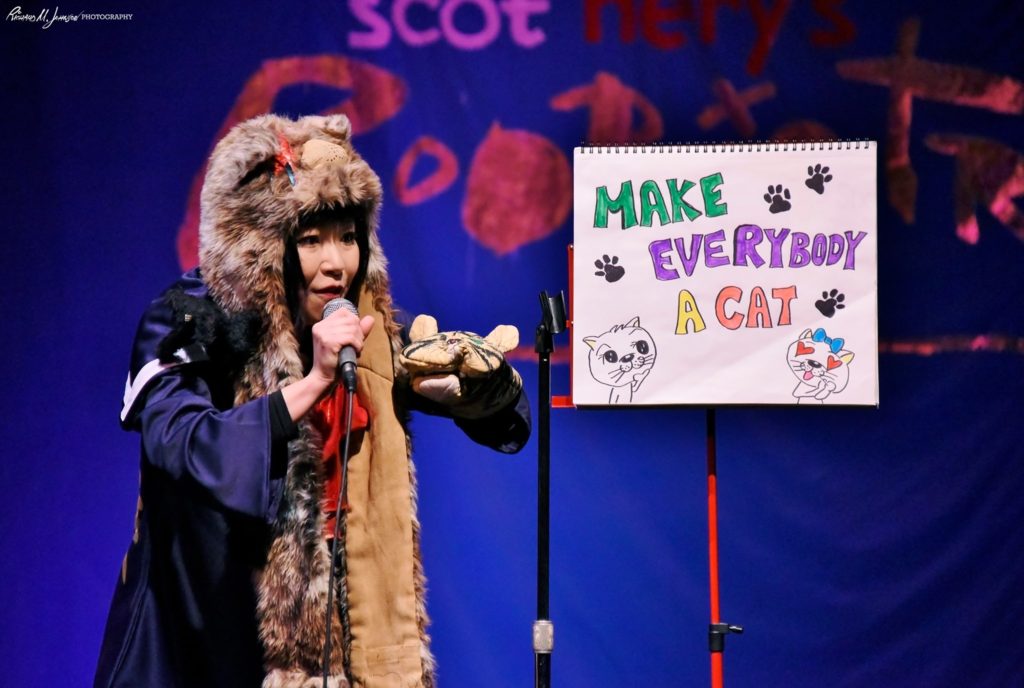 Boobietrap is a variety show featuring an array of performers, many of which Nery has performed with in various shows around the world throughout his career. The show features music, comedy, and acrobatics. It is highly entertaining and contagiously energetic! The show is like nothing you've seen and that makes it refreshing and exciting. Asking what inspired the creation of Boobietrap, Nery emphatically replies, "L.A. is brimming with world-class talent that you'll never get to see. These performers are either traveling or working in places that aren't open to everyone. I wanted to create a world where all of that incredible talent is accessible to audiences that live here." Nery continues, "Boobietrap gives a home for the people that live here and feel isolated, an environment built for performers to feel fulfilled, and it's become a phenomenon where people can open up and identify with more than just a concert. It's a feat of fun, beauty, weirdness, and love from the world's best entertainers."
While Los Angeles may be plentiful in vacant buildings and a range of options, finding a home for Boobietrap didn't come easily, but once it did? All the pieces fell into place. "In the beginning, my friend had access to a warehouse the size of a city block in Echo Park. It was incredible. We had access to this huge space, and a bunch of equipment including lights, sound, stage—perfect for building an underground show. I brought in my experience of producing theater shows, as well as my network and my friends' networks of amazing world-class and weird-class entertainers. We started throwing together these warehouse shows and acting like it was a real thing. The show stood out because we could handle huge circus acts as well as standup comedians, and we took care of the audiences and the entertainers in a way that is uncommon in most shows."
The cast of performers in Boobietrap is like a creative family, and when you're there witnessing their talent, you can feel the community of love and synergy flowing. Nery says, "The goal wasn't to squeeze the most out of everyone, but to give people an amazing playground and watch what happens when they get to give as much as they want to something fun." His love of performing started when he was young, and he was open to learning from anyone open to teaching. He was mentored from a variety of people around the world, and he also learned a lot by watching bloopers.
"Traveling the world and performing all the time is a crash course in both performance and events. Looking at what killed with an audience, what could have changed in an environment to help the performer connect better, it really formed what mattered to me. I learned so much by just watching as much comedy as I could, taking notes, and trying new things all the time while I was street performing. Continuing to be curious about what matters to people allows that curiosity to manifest into something more."
No stranger to hard work and aiming to be the best, Nery is adamant about hiring the world's best acts. "I've performed all over the world working with the best performers in circus, comedy, and variety. So, in the beginning it was all about texting some friends to come out for the show. Then it became asking them for recommendations and it just kept growing like that. The show has also gained its own momentum and now people submit their acts to us, and we do our best to find a spot in the show for those world-class acts. Our lineup spots are usually booked out a month in advance, which is insane, minus a few specific types of acts we are always looking for."
Set on creating opportunity for performers to be seen, Nery treats every performer with the utmost respect and adoration. "We love to take care of Boobietrap performers and do what it takes to give them a really fulfilling experience. We're looking for something unique. A lot of the times we don't really care about the content of the performance—we just look at what the audience is doing. Are they loving it? Is the entertainer doing their job?" As a result, the audience is awed and amazed, leaving the outside world behind for a little while, and laughing their asses off in the process.
"People are amazing! From Michael Rayner rolling flaming cheeseburgers on a parasol to a contortionist that has trained from basically, birth—both can make people feel equally bodacious. Humans are amazing and when they are supported, loved, and listened to. They make even more amazing audiences and killer performers. Being able to create a culture where that can happen is so important to me and our message has always fought to keep this part of our mission in tact—no matter how much growth we encounter."
While it seems Nery just oozes happiness and optimism, it took many roads to get here. Now, producing Boobietrap every Wednesday, joy has taken on deeper meaning. "Joy comes from so many aspects of my life now. I love being able to get up on stage and kill it every single Wednesday because we've put so much work into making it a space that performers can enjoy. I take joy in connecting entertainers with opportunities, and creating fulfilling experiences for everyone involved with show-business. Making these wonderful experiences for people is how I show a lot of love. Being able to grow Boobietrap into a fully-fledged business is incredible. However, I used to be only focused on show craft, performance, and leaving an audience with joy. It consumed me and it was really unbalanced. Now, I'm married and have a dog, and finding balance with that gives me an even deeper joy."
Boobietrap is a show that is good for the soul, motivation to laugh out loud and act like a fool, and remember that isolation isn't what we're made for. When I asked Nery to tell me what keeps him motivated, he said, "This awesome community surrounding Boobietrap. The show couldn't be done alone. I feel so thankful that I can call experts about things we need help with. If we need to sew a stuffed wacky inflatable guy, we call an expert costume designer to see if it would be fun for her to make! And now we have stuffed t-shirt mannequins for our merch booth! It reminds me that isolating yourself is never the answer and I isolated myself a lot in the past. Remembering that everything I'm doing is about fun—and part of that is havingfun, even if it seems unrelated because you never know where your next idea is going to come from."
Should you still need convincing about whether or not to brave the traffic and head to Los Angeles on a Wednesday to see Boobietrap, in true form, Nery spouts off things you may not know. "The fingerprints of a koala are so indistinguishable from humans that they have, on occasion, been confused at a crime scene; slugs have four noses; giraffes have no vocal chords; kangaroos can't fart If you don't believe these wild facts? Come to the show this week and I'll prove it!"
For tickets, visit BOOBIELA.COM| Every Wednesday from 7 p.m. to 10 p.m. | $25
[separator type="thin"]
Rapid fire random facts about Scot Nery.
I became a fundamentalist Christian as a way of rebelling against my atheist/agnostic parents.
I lived in a small town with a lot of old people.
I ran from the cops for fun.
I built sled ramps.
I decided to street perform so I traveled all over the world doing that.
I started a cooking show in San Francisco.
I found my community.
I produce killer shows every single Wednesday.