[title maintitle="Entertaining On and Off the Stage " subtitle="Sitting down with singer/songwriter, Shana Halligan."]
[dropcap letter="T"]here's a good chance you've heard a few songs by the band Bitter:sweet or some killer tracks by
Thievery Corporation
featuring a female vocal you fall in love with. The allure of seductive bridges and lyrics heard on the radio, TV shows, and a few films is the sound of songwriter and front-woman
Shana Halligan
, whose sultry voice calls you like a siren to the shore. With a presence that's impossible to ignore, new music dropping, and a new TV show in the works, her ability to entertain and create is undeniable. That also happens to be a skillset that transcends the stage and takes her into the kitchen, making her one hell of a home cook and hostess. I sat down with the statuesque Halligan to talk about getting ready for performing on stage, and she shared tips and ideas for throwing the perfect summer party.
When it comes time to perform in front of a large audience at the Greek Theatre or an intimate show at LA's Peppermint Club, Halligan's focus is, first, finding her center. "I always try to take some quiet time to just breathe. I like to warm up my voice when no-one else is around, slowly sip just the right amount of red wine to take any edge off but not mess with my voice, and have some me time. It's not always easy backstage when a steady stream of people seem to be constantly coming in and out, but I really try to have my space and ask for a no-people zone for at least five minutes. That way I feel centered and calm before I really give my entire self and put forth all that energy on stage." When it comes to cooking for the people she loves? She has a ritual for that, too!
When planning for a dinner party, she admits red wine is a part of that, too. So is what her husband Eric Kaufman calls tinkering.
I sort of float around the house, adjusting every little detail. Any mess I have no time for goes in the closet. I may restyle a book shelf, clip greens from the garden, set the table, light tons of candles in every room, make sure most of all the food is prepped, and then I throw everything together at the last minute.
With a playlist ready, in spite of seeming cool and collected when guests arrive, Halligan admits a lot goes into prep and planning.
"The first thing I do a day or so before the event is scour all of my cookbooks for inspiration. It's an addiction, really. I get giddy whenever I have the opportunity to bathe in those gorgeous recipes and photos. From there, I start stringing a menu together. Many times, I don't even use the recipes, but I love to have ideas thrown at me for inspiration. Once the menu is in place, I forage. Another great joy of mine. I do my best to cook with the season's bounty and gather as much deliciousness as I can from the farmers markets. Then, I fill in the blanks at the local butcher, seafood monger, grocer, and even Trader Joe's! Can't beat their prices and selection of wine and pantry items. Depending on how exotic my guests' taste buds are, I base the theme of the menu and the décor on that, but summer chic is my favorite with a sexy twist of Moroccan and a little influence of comfort in Italian cuisine."
A big part of her routine these days include her 3-year-old son Otis. Otis is so used to cooking with his mom, he can shell fava beans, pluck leaves off herbs, crack eggs, and even mix a sauce. He's like a mini Gordon Ramsay. "He loves to cook with me, and he's very open minded when it comes to eating what we've created together, which makes my heart sing." When I ask about how she plans such an immaculate spread—and it is beautiful—Halligan talks about making the outdoors summer-ready and ideal for entertaining.
As far as décor, I keep things pretty natural. We are lucky enough to have a beautiful garden, so I will grab a few sprigs of lavender and place them on linen napkins. I use branches from our olive tree, simple flowers and herbs casually placed in a variety of vases, bottles and bowls, and scatter them around the table.
"We have these beautiful vintage glass bottles we collected from our wedding day, and I fill those up with drinking water with a sprig of mint, thyme, or rosemary and place a few within arms' reach for thirsty guests. If you don't have your own garden, I'm a big fan of grabbing simple greens like eucalyptus or one bunch of peonies, ranunculus, or even baby's breath and throwing in a glass container. They're simple, easy, and look gorgeous. Candles are also a must. Candles, votives, candelabras, and everything else on a dimmer. I find that people feel more beautiful, more intimate, and more willing to let go in that atmosphere."
A fan of supporting local farmers and utilizing what you can grow on your own, Halligan and Kaufman have a vegetable and herb garden they use whenever available. "Using what we grow ourselves teaches my son where food comes from, how to nurture it, cook with it, and have gratitude for what we put into our bodies." Admittedly, Halligan says in opposition to performing on stage, the rush to make sure food is cooked and on plates, the house is decorated indoor and out, having enough time to get dressed and feel ready for guests can be a challenge—but it's one she embraces.
On stage, Halligan has a clear indicator to the audience that its show time: the shoes come off, and you know she's going to give you the performance of a lifetime. At home, it's a little different, but it's the little things like kitchen tools that make her feel performance-ready. "I can't live without my mandoline. It's my secret weapon for making anything and everything a stunner on the plate. Shaved radish, fennel, ricotta salata, zucchini ribbons, potatoes, you name it! I will bust that out at every event. Just be aware, it can easily shave your finger off too! Especially after some wine. Lordy. Use with caution! My other go-to is the Vitamix blender. Nothing will purée more flawlessly. A soup will never have to be strained first when using that beauty! It's a beast!"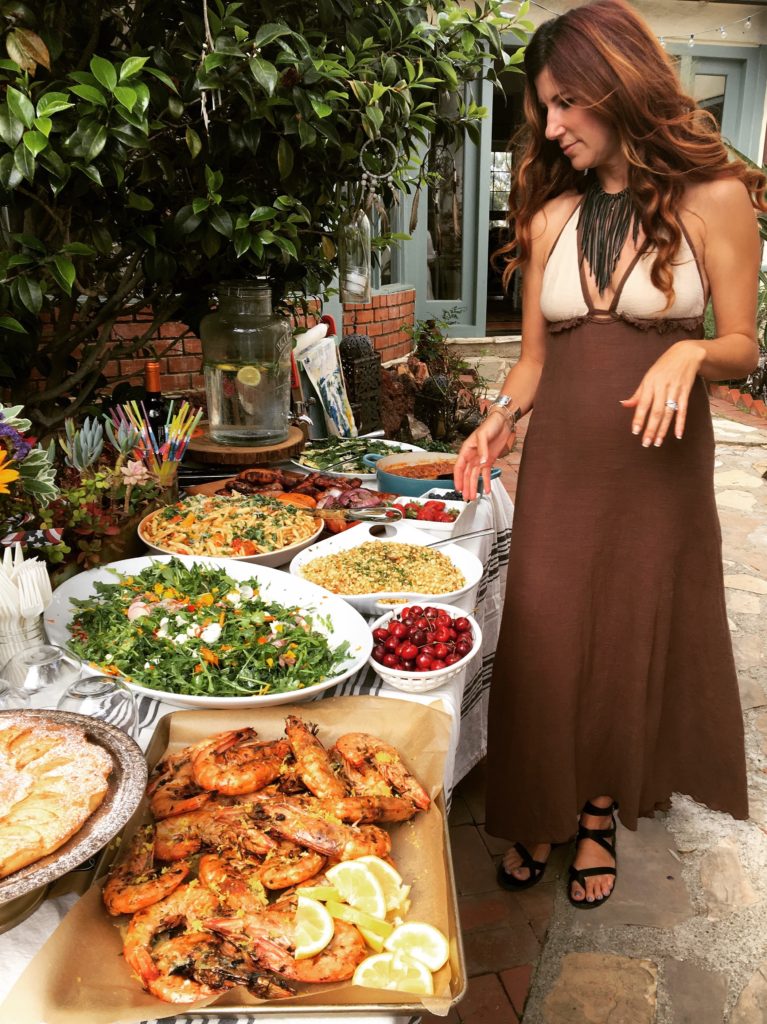 When it comes time for preparing the summer menu, being mindful of the heat is crucial. "When it starts to get super hot, I keep things light. I can't get enough of the sweet, insanely delicious and very pretty tomato variety we are so lucky to have. I love cutting up all varieties in different shapes and sizes, drizzling with a spicy, grassy olive oil, fresh basil, mint, tarragon, little blobs of burrata cheese, lemon zest and malden salt. Summer on a plate is so colorful. I do a similar salad with fruit using fresh apricots, nectarines, peaches, and plums. You can also add burrata or fresh mozzarella, some arugula gently seasoned with lemon juice, olive oil and kosher salt, prosciutto beside it, and a drizzle of great quality balsamic or honey over the fruit. I love to keep things easy, effortless, but really amazing to look at as well as taste in the super hot months. Add smoked corn—I make one inspired by the Venice restaurant Gjelina—and holy fucking … delicious! Oh, and salmon, salmon, salmon. It's so good for you and magical when an entire side of it is very slowly cooked on the grill. Toss a few sliced blood oranges on there with fennel fronds, and people go crazy.  A family staple, for sure. We aren't big dessert pushers, but summer to me is our local farmer Harry's Berries crazy- sweet strawberries with homemade whipped cream."
While entertaining at home during the summer months is one of her favorite things to do, nothing is quite like singing and songwriting. Halligan gives her heart on stage and in the music she creates, but like everything she does, she doesn't do it half ass. "One of the many challenging things I deal with after putting 200 percent into everything I do is waiting. I often have to rely on so many people. Producers, other musicians, business execs, labels. It gets a little frustrating. The old 'hurry up and wait' thing is real! That's one reason I adore executing a dinner party. I have a vision, I grab the goods, I make it, it's as I visualized it, and I don't need anyone else to make it happen. Instant gratification, and it makes people so happy! In music, I've had to prove myself over and over again. I had a band called Bitter:Sweet that sold over half a million albums, and upon going solo, it's been one rebuild and reinvention after another. It does force me to stay humble, be grateful for every new door that opens, and keep stretching my musical muscles however necessary."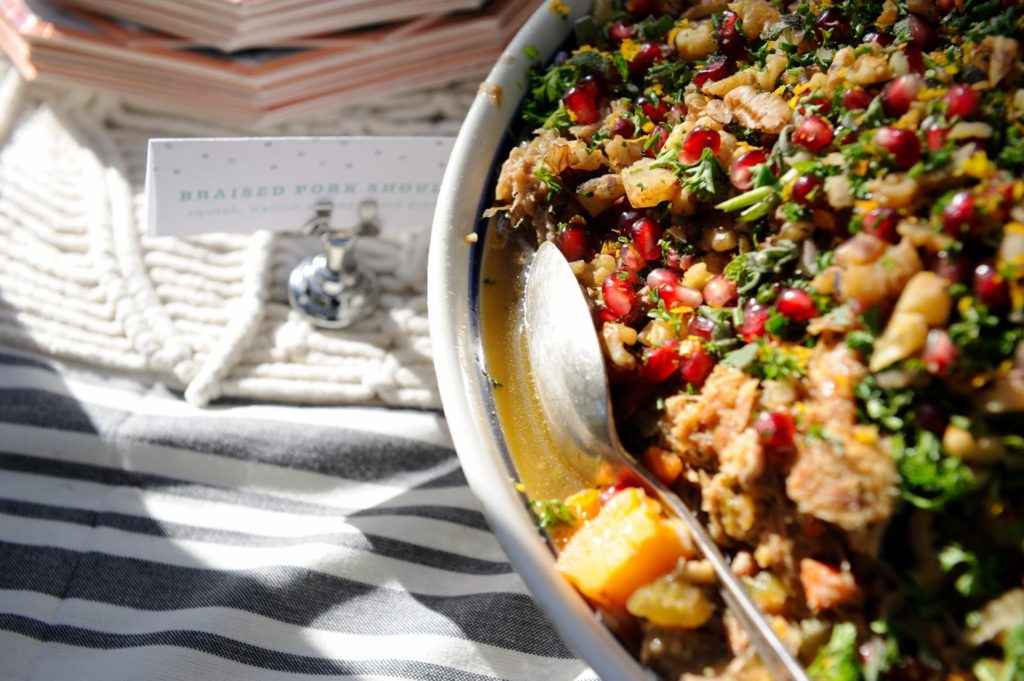 "What has been so rewarding is all of the loving feedback I have received from the fans of my music," she continues. "That moves me deeply. When I'm sharing a personal and very vulnerable side of myself, and someone else cries or writes telling me that I brought hope and inspiration, I'm blown away. Performing live is my instant gratification moment, for sure. It's the big reward. The payoff for all of those hours in the studio. Real, physical energy. Nothing feels more incredible than the energy of a crowd showering you with love."
After an amazing string of live shows in Havana, Cuba, in April, this summer Halligan can be found showcasing new music. From playing with an orchestra to playing some sexy electronica in local clubs to playing a few amphitheater shows, expect to hear the purity of her voice in a whole new light.
"With the new music, I have a lot to say, and I'm singing it loud and proud. There is minimal production, but it has that James Bond, cinematic, sultry swagger that I love. I'm leaving the girl from the past in the dust. It's all about embracing my power and embodying the confident woman within. Finally! As for writing, I continue to write music for film and TV and am currently working on a pilot for a food show I'm hosting. So, I've got a lot on my plate. That being said, being a mom is the best job I have going. That little guy keeps me sane." | @shanahalligan
This article was originally posted in print | SENSI Magazine
[separator type="thin"]
According to Shana Halligan, it's the little things that make all the difference.
Want to make your bathroom pop? A lovely scented candle, a Turkish hand towel, and a fresh flower or sprig in a vase are all you need to make it feel more special.
When you want to connect with your guests, always make sure there are nibbles and appetizers on the table, drinks poured, music on, sauces made, what needs to be in the oven in, and any last-minute additions are neatly lined up near the stove, chopped and ready.
Lanterns are a must. Summer nights call for flickering pillar candles in bamboo, glass, iron, or any style you're vibing on. Put them on tables, on the ground, or create pathways. String lights are an absolute must too. (TIP: You can get lovely bistro lights from Target).
Cute outdoor pillows clustered on blankets, rugs on grass, or on furnishings are so inviting. WorldMarket has a ton of gorgeous outdoor entertaining essentials at reasonable prices.
Use oversized matching trays to carry out plates, Moroccan-style tea glasses, linen napkins, and silverware. A large mason jar is perfect for a vat of Aperol Spritz or your drink of choice. Pottery Barn and Anthropologie have beautiful ones.
TIP: Having loads of platters outside for your food can minimize trips inside so you can spend more time with your guests under the gorgeous Cali sky.