[title maintitle="Culinary Consciousness" subtitle="Clever ways of eating out, supporting local businesses"]
Amid the recent weeks of the coronavirus, a word we're all painfully used to hearing, restaurants are among those taking the biggest financial hits. While the opportunity to adhere to the 50% capacity rule, still offering diners a great escape and tasty cuisine has passed, and as their bottom line dwindles, some Los Angeles eateries are stepping it up to offer incredible choices to those of us who still want alternatives to feeding our families.
Reading the mass amount of posts on Facebook from restaurants pleading with the government to give them a break so they don't have to close their doors, this pandemic has affected most of us financially. The uncertainty of job security for those of us who work as contractors in publishing or entertainment to those ingrained in hospitality, wondering if a paycheck is going to come in weighs heavily on us all.
And as we find ways to maximize the money we do have, eating at home seems to be the most reasonable option. Thankfully, some LA restaurants and chefs are getting creative with affordable menus. These options are available for takeout or curbside delivery, including grocery programs, freezer ready meals, and a few luxury dishes so, when we make it through this—and we will— we will remember the grace of many and wonder of how lucky we are that we could dine out so often pre-pandemic (something many of us didn't grow up with the luxury of having).
If there is one thing about being born and raised in Los Angeles that I can say for certain is, people support one another and we always find a way. From opening rec centers as shelters for the homeless to places like Pizzeria Mozza packing hundreds of food items for those affected in the restaurant industry, we are a strong city united in times of extreme uncertainty.
[columns_row width="half"] [column]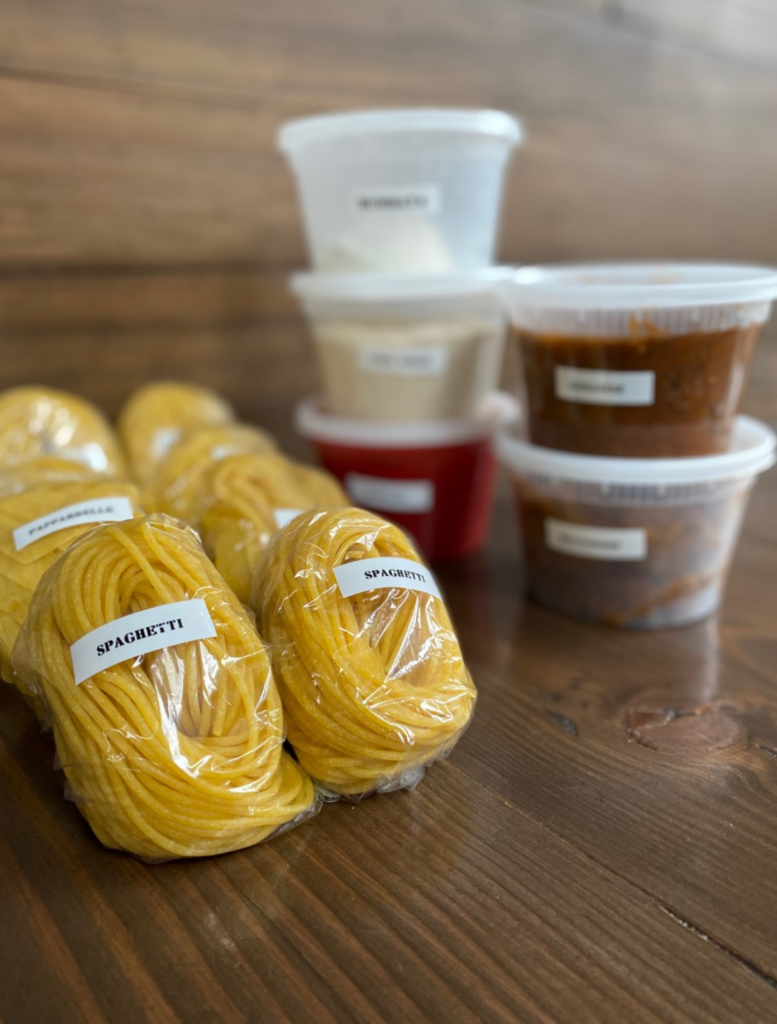 [/column] [column]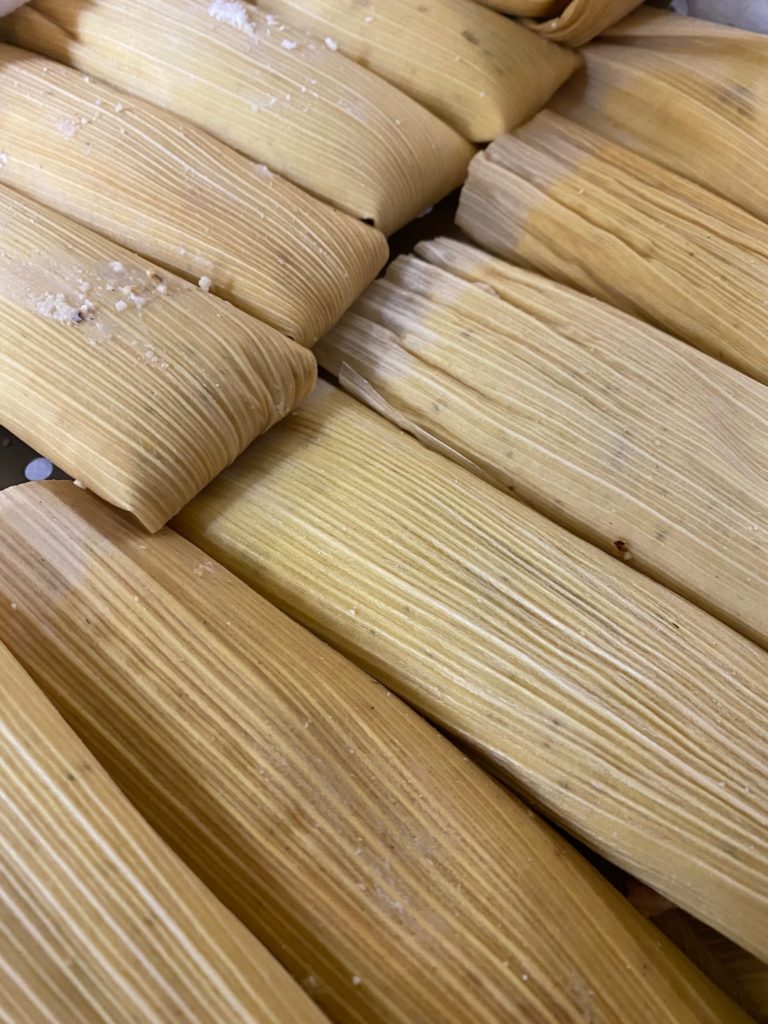 [/column] [/columns_row]
Below, find a list of restaurants offering takeout, curbside, and some still offering delivery with contact info and menu picks.
Broken Spanish: Chef Ray Garcia is offering tamales—and you know they'll be phenomenal. Order online at Instagram @brokenspanishla | brokenspanishtamales.square.site
CURBSIDE: 1 dozen tamales, salsa: $18-$19 | Chiccarones with easy to prep instruction:
Full menu also available for delivery through Postmates.
[separator type="thin"]
VERSE LA: Under the culinary direction of 2-star Michelin Chef Paul Shoemaker, this upscale Toluca Lake restaurant has created a take out and curbside menu that still feeds your need for luxe cuisine at reasonable prices. Individual dishes of family meal. Order via IG @verse.la or at (818) 747-2135, concierge@verse.la
Individual dishes include salad, Big Eye Tuna, cheese toast, Mortadella Ham Sandy, fried rice, Arrabiata plate, Oaxacan lamb ragu | $12-$22
Family Meal includes: Bottle of JP Chene Brut Rose or Malbec Siete Fincas, 2 garden salads, 1 cheese toast, 2 Arrabiata pastas, 2 Mortadella Sandy, 1 pork belly fried rice. FEEDS 4. | $100
[separator type="thin"]
Urban Plates: Easy to eat and grab n go healthful meals, all of which can now be packaged at no additional cost. (800) 652-4788 @urbanplates
Offering "Heat and Eat" and "Ready to Eat" family meals that serve 4-7 people
Pricing average of $10 per person per meal.
Complete dinner menus that are delivered (or available for curbside and express, no contact pick-up) that include things like grilled chicken, chimichurri grass-fed steak or sustainable salmon + sides for an easy, clean eating meal spread.
[separator type="thin"]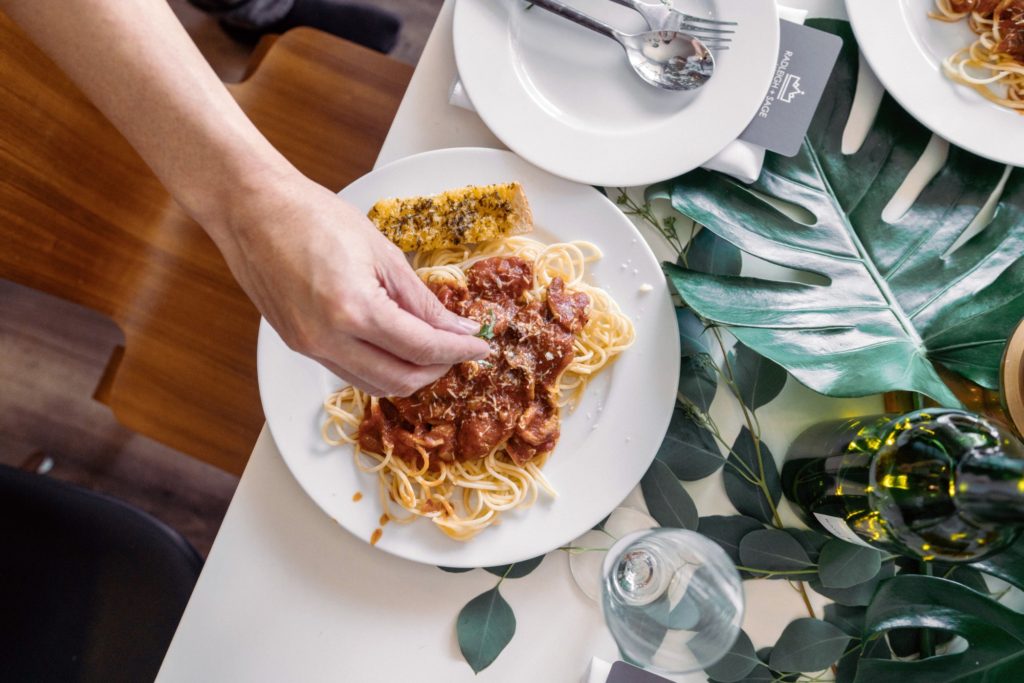 L'Antica Pizzeria de Michele: Italian made easy with meal prep, menu plans, and ease to help you get through these strange times.
Free delivery via Postmates, DoorDash, GrubHub, UberEats
Delivery, take-out (curbside and pick-up), meal prep, ingredients to go
Pasta kit & Pizza Kit | Homemade pasta, cheese, sauce $19-$25 (1-2 servings) + Pizza kits $18-$25 (4 servings)
Buy 2 pizzas, get one free (Marinara or Kasaka)
Full Menu available 11 a.m.-11 p.m.
Special Mediterranean menu plan menu which offers individual meals with options for 1-4 servings, 7 consecutive days, lunch and dinner [Call for pricing]
[separator type="thin"]
RiceBox LA: Offering take out items cold/frozen for easy reheat and freezer storage. Call (213) 988-7395 or DM them on Instagram @riceboxla
10% off bulk meats and dishes (curry beef stew and Mapo eggplant included)
Bao Boxes | RBX Baos (6) $19.50/(12) $39, OG Baos/Shrooming Baos (6) $19.50/(12) $36
Cheesy Pork Eggrolls (6) $15/(12) $28, Shrimp Dumplings (6) $13/(12) $23
[separator type="thin"]
Sonoratown Taqueria LA: Neighborhood Mexican eatery in DTLA's Fashion District is offering some incredible takeaway meals. Order via (213) 628-3710 @sonoratownla
1 pound grilled carne asada/chicken/chorizo: Includes 12 homemade flour tortillas, 6 chile arból salsas/6 avocado salsas, and the fixings (cabbage, grilled green onion, lime, radish) | $27
2 pounds carne asada/chicken/chorizo: Includes 24 homemade flour tortillas, chile pint arból salsa + avocado salsa, and the fixings | $48
Chivi Party: Includes 6 chivichangas (mix/match beef/chicken), 2 bean/cheese burritos, 2 pints chile arból + avocado salsas, side radish + grilled green onion | $30
Vegana: Includes grilled pablano chile + green onions, 8 corn tostadas, pint frijoles de la olla, fresh guacamole, cabbage, raddish, lime | $18
A la carte: dozen homemade flour tortillas | $4, chipotle salsa $0.50 cents
[separator type="thin"]
Heirloom LA: Started with a big vision of bringing affordable, healthy comfort food to the masses, Chef Matt Poley and Tara Maxey, "zipped a pasta machine into a backpack and ventured out to set up shop in commercial kitchens around town."
Offering $12 meals, their menu for fridge and freezer is ideal during this time. They're also offering $25 off your first $100 online order. (855) 456-6652 @heirloomla

Daily Meal Plans $12 offer sustainably caught fish, fresh meats, gluten-free and vegan options.
Meal options include: Wild Line-Caught Seafood Platter, Market Vegetable Ecology Platter , Cheese Platter, Poached Pasture-Raised Chicken & Barley, Blood Orange and Beet Salad, Vegan Wild Mushroom Tacos, Country Fried Pasture-Raised Chicken, Veggie Burger, Grass Fed Beef Pot Roast, Red Sea Bass Vermilliona la Plancha, and over a dozen more options.
For a full list of restaurants offering curbside and takeout, check out this list by Mireya Lopez.
I will continue to incorporate more as the days and weeks go on. I want us all to be happily fed and reminded we're not alone.
[separator type="thin"]
As we all navigate our way through this "Quarantine" through April 19, 2020 I ask you each to be totally okay with knowing your financial limits. Like many of you, I too have been impacted by this and lost an editorial job I depended on financially–along with the entire editorial staff with the exception of two people across the country—we were all let go.
We're not only all struggling financially at this point, but I'm certain the pang of anxiety is ever present.
Let us take some comfort in knowing that we will make it through this. We will get creative. We will see more companies stepping up and valuing those who make them wealthy. Somehow some way, I believe the best of the best will step up and do what's right. And those that don't will not come back from this.
Here is to doing our best to support our families, our local businesses, and finding the hustle within.
[separator type="thin"]