[title maintitle="Age Reigns Supreme " subtitle="How Singing Changed the Retirement Game"]
If you were to ask Young@Heart Chorus Director, Bob Climan why retired seniors singing is important to the human fiber of our world, he would simply say, "Because it's good for everyone!" And we'd have to agree. Young@Heart Chorus group began when a group of senior citizens decided to put on a small performance singing songs from the past, but when Climan came on board, the music lineup got a much needed change. After successful performances in the United States and around the world, in 2007 Fox Searchlight released a documentary on this mesmerizing group of retirees that streamed on Netflix, called Young at Heart (now streaming on Amazon).
With an active group of 14 chorus members, seven musicians, and one chorus director, and growing, this talented group of positively joyful men and women (with an average age of 85 years young) took the world by storm. Singing everything from Coldplay's, "Miss You" to Michael Jackson's, "Man in the Mirror" and even a mixture of rap, Motown, hip hop, The Rolling Stones, and The Ramones, Young at Heart is more than a bunch of grandparents bellowing tunes. They are the heart and goodness of the world, and they are proving (and have proven) that getting older doesn't mean it's time to hang up your hat and call it a day!
We created a rock movie from the living rooms of our members, whose average age is 85. They were extraordinarily courageous and I couldn't be prouder." – Bob Climan
I had the great honor of speaking to chorus lead director Bob Climan and John Rinheart, the soloist member that covers  "A Change is Gonna Come". Speaking to each other from the comfort of our homes, it was as if I was talking to old friends. We laughed, I listened to stories of when they sang with the mens and womens prisons, the many adventures they've had traveling around the world, and I learned two very important things.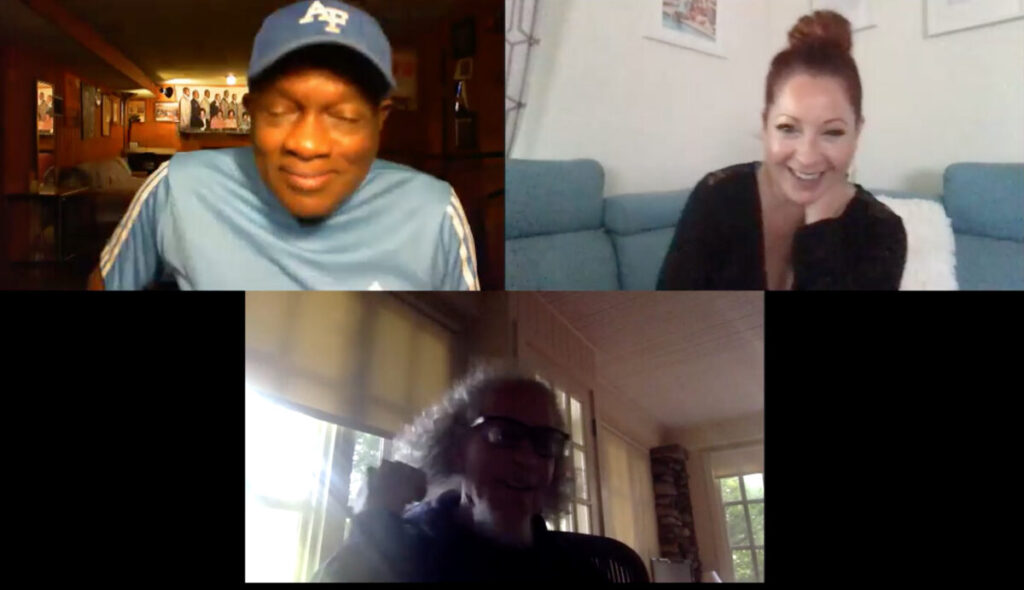 First, Rinheart is one funny man, but he was less than thrilled when he went into retirement. Bored and eager to do more, it was at the persistence of a friend (soon to be fellow chorus member) urging him to come and watch/listen to the choir perform that sealed the deal. At first he didn't think it was something for him, but after some thought, he decided, what the heck! The first song he was asked to sing? "Man in the Mirror" by Michael Jackson. That was that. He finally found out how he was going to spend his golden years: singing with a bunch of fun-loving friends (sometimes even young strangers), but Young@Heart became—without question—his exciting next chapter in life.
The second thing I learned? Climan is one of the funniest East Coasters and most devoted chorus lead directors you're likely to meet. Always willing to adapt to whatever challenges present themselves, he's  got a song for any occasion, for any generation, and a new idea to float past his choir regardless of how wild or outlandish it may seem. Luckily for him, they're always game and lucky for us, we get to watch it happen. When you listen to the chorus sing, you get chills. Not only is it the most entertaining and joyful spectacle you may witness in your lifetime, it is further proof that senior citizens are not done making their mark on the world.
So after having success and packed audiences in theaters and stages around the world, COVID threw a wrench in Young@Heart's plans. But not for long! Climan couldn't imagine pressing pause on this fantastic singing group's hot streak and so, their very first virtual benefit concert was born.
These septuagenarians, octogenarians and nonagenarians had been in lockdown since mid-March and they will be the last people to be out in the world again.  The coronavirus hindered their ability to be together. For almost 40 years YOUNG@HEART has been singing and touring, and they refused to be held back by the pandemic. By the end of March they had all learned how to use Zoom and were putting the finishing touches on their latest album, Miss You, in addition to preparing for their annual fall concert; A concert that would put them together in a virtual room, raising money to continue doing what they love, and feeling the energy they bring to one another, and viewers. 
One of the members exclaimed: "This was like something out of Hollywood — but better!" 
During COVID, this wonderfully talented and charismatic group of men and women were not sure what to do in the wake of canceled performances and tours, so…they adapted. In an effort to raise funds to continue making the world a more musical and beautiful place of connection, Young@Heart put on their very first virtual benefit concert this fall. The result is a beautiful collection of musical performances all recorded via Zoom from the comfort of everyone's home.
Audience reactions ran the gamut from "awesome, so creative" to "just beautiful" to "count me in in 12 years!" Under the guidance of Climan, the concert featured The Chicago Children's Choir and an entourage of celebrity guests. During the Miss You Benefit Concert, cameos included Paul Shaffer, David Byrne, Edie Falco, Los Lobos, Jim James (My Morning Jacket,) Steve Buscemi, Irish singer Tara Blaise, Hoda Kotb and Jenna Bush Hager PLUS a plea to join the group from Larry David.  Their latest album Miss You is out NOW:  CLICK HERE
Singing tunes by Warren Zevon, John Prine, Bob Dylan, The Talking Heads, Twisted Sister, The Rolling Stones.  Longtime fan CNN's John Berman joined them for the big all-singing, all-dancing finale, The Grateful Dead's "Touch of Grey." 
"Singing with John Berman was the thrill of my life." said his duet partner Shirley.
Encouraged by the success of the Miss You CD and virtual concert, YOUNG@HEART has scheduled a Holiday album and virtual concert  for December 12th. Come and Get Your Love is their first ever free, first-ever Holiday Concert featuring music by Madonna, Green Day, The Pretenders, Sly and the Family Stone, Bob Dylan, John and Yoko, Tom Lehrer, Phil Ochs, Redbone, Cake, and more!!
"This past fall, we were overjoyed by the outpouring of support for our first virtual benefit concert MISS YOU, and we want to provide a Holiday extravaganza to show our appreciation. For us, the holidays are all about spreading love. In 2020, everybody needs a little bit more love. So come and get it on Saturday December 12 @ 7:30 pm EST!"
The benefit concert has thousands of views, and counting, raising over $90,000 to keep these cool, old rockers moving, groovin, and singing their hearts out for all of us. "The outpouring of support means everything to us," says director Bob Cilman.