[title maintitle="Chandeliers + Comfort" subtitle="How to integrate classic and contemporary into your living/working spaces."]
As we near the end of a brutal and homebound year, trends show that the more time people spend in their homes, the more design-centric their surroundings become.
Maybe not all households are thinking about space efficiency and reflective environments, but the American Institute of Architect's third quarter 2020 Home Design Trends Survey showed, "a strong jump in the number of home offices, exercise and yoga spaces, flex rooms and indoor quality products being requested by homeowners. Interior designers across the country are seeing the same trends, all of which can be attributed to the pandemic."
For a lot of designers and architects, the demand from clients to expand upon their home spaces for purposes of work and visual appeal has never been so imminent. In fact, making sure home spaces are now suitable for conference calls weighs heavily on how we view the spaces we once saw as an escape from our everyday "jobs". Now our homes have to double as our office, our schools, our spas, and our romantic getaways. Keeping up with all of it can seem overwhelming and exhausting.
Our home retreats have taken on multi-purpose function with parents, kids, and and maybe even in-laws working, schooling, and relaxing at home (or trying). The pressure to create unique spaces for everyone is on. Barrie Spang, a designer in Cleveland says the biggest challenge he faces is when his clients learn that both they and their partners will be working from home permanently. Most homes don't have more than one office space, and now every room is a potential double-agent (office, that is)!
That's why it's time to accept our limited expertise in redesign and turn to those who are experts in their field. Take something as seemingly simple as lighting. It seems like an afterthought, but when we're spending all of our time at home, lighting can be the difference between productivity and frustration. A beautiful home wouldn't be the same without prominent light fixtures. Light is our guide in a multitude ways, so utilizing beautiful and classic fixtures like a chandelier in a modern room can add the warmth and story you've been searching for.
According to a study published in Market Watch, the lighting fixtures and luminaires market revenue in the United States was $113.4 million in 2019, and will reach $136.6 million in 2025, with a compound annual growth rate of 3.14% during 2020-2025. Light effects mood, can be used to express personal style, and inevitably becomes a focal point in any room.
The clean and striking lines of modern design lends to the openness of a home's story being told one clean, textural line at a time making it an easy addition to interiors.
But when you crave the artisanship that only a chandelier can offer, striking the perfect juxtaposition of modernism and classicism is elemental to a welcoming space. Having the opportunity to speak with Charles Poirier, Director of Creative, Design and Product Development at Schonbek, the iconic 150-year old crystal lighting company based in Plattsburgh, New York, we wanted to ask about implementing a crystal chandelier into a space that is steeped in modernism and contemporary design.
Poirier has a few tricks up his sleeve, which have proven fruitful like with Schonbek's Esteracae in the new Black (-51) finish available with the just-launched Iconics Collection. Poirier notes that the general guideline for the size of your chandelier diameter should be smaller than the size of your room. For example, if you have a 20'x 20' room, your chandelier should not exceed 40 inches in diameter.
As an avid lover of blending various design influences into a home or office, we were excited to pick Poirier's design mind for a closer look at just how to bring the classic into the contemporary spaces.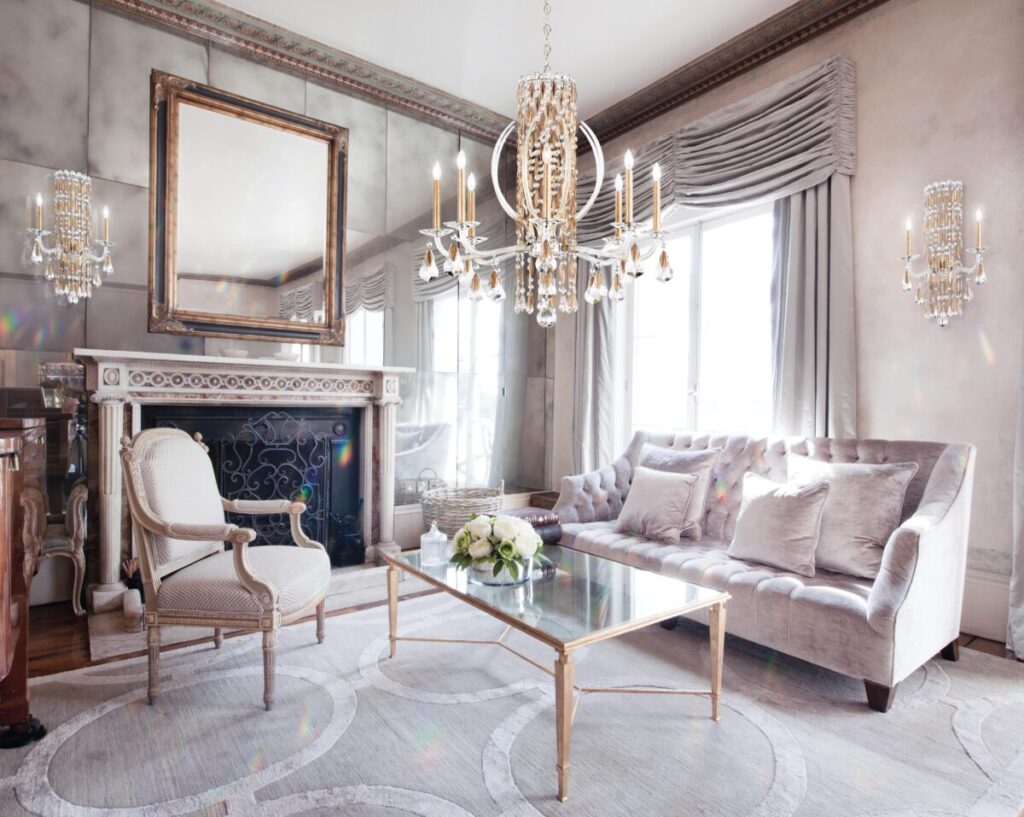 How can the delicate artisanship of a chandelier best meld with the warmth, starkness and simplicity of modern décor?
It's increasingly common in contemporary settings to use juxtaposing styles next to each other. This, of course, includes melding the modern with traditional forms typically taken on by crystal chandeliers. In many ways, the contrast between the styles becomes the central focus allowing the chandelier's design to shine in the space. It is through the differences is in the fundamentals—from the level of detail to the finishes used—the complexity of each design style comes to life. Here, the chandelier's artful curation of crystal is best visualized, set on a canvas that allows it to truly pop.
Is there a modern color pattern or texture you feel goes best with the classicism of chandeliers?
Black matte is an amazing and modern finish option that gives a nice depth to a classical fixture. Black is in fact an achromatic color, meaning it represents the absence of light. Therefore, it can capture the light dispersed from the bulb to the crystal adorning the chandelier, which reflects it, creating sparkles creating a rainbow of colors. This finish is also versatile since it works in all types of decor and environments.
Do you have your favorite modern pieces?
The Glissando line is one of my favorites in the Schonbek product library. The way the fixture's large Swarovski crystal prisms are placed on top of each other in an angular, offset fashion, allows the fixture to create an enchanting glow. It looks like the luminaire is moving even though it stays still. This product line is also clean and simple but has a twisting silhouette that makes it unique, and even more contemporary.
Suggestions for homeowners that want to transition from classic to minimalist modern?
Often the best aesthetics are inclusive of multiple schools of thought and are not limited to one style, such as classic or modern, in fact modern is becoming the new classic. For homeowners that want to transition toward a new interior design style, I recommend to first identify the elements they currently have that they like. If the style they want to transition to is minimalist modern, the first rule should be less is more and to complement their current style with a new piece one room at the time. This will create an evolution of style and the transition won't be too drastic. Think quality over quantity.
To learn more about the Schonbek line, visit them online. Final thoughts as we all envision our homes as more than just a place to rest our heads, Poirier adds, "In contemporary interior design, people use crystal chandeliers or crystal pendants in many different rooms as opposed to the traditional way of placing them over the main entrance or dining room. Bedrooms, kitchens, and even bathrooms can benefit from a chandelier or large crystal pendant luminaire. Accent walls with darker colors opposite of the window will bring the sparkling effect to its peak! Your fixture will shine throughout the day and night resulting in a slowly changing feeling of the room."
He adds, "When thinking about elaborate crystal chandeliers, many associate the grandeur of these fixtures with notions of a traditional, outdated aesthetic. Like many timeless trends, however, crystal chandeliers have evolved into the world of contemporary design. Not only have crystal fixtures themselves evolved over time to reflect a more modern form, but the modern sensibility as a whole has evolved to include and celebrate these so-called 'traditional' fixtures."
So how does one achieve this perfect balance of design paradigms in the home?
That's up to you and your inner interior designer. Regardless of what direction your style leans, have fun in your living spaces, being mindful that where you live, work, sleep, play, eat, gather and laugh can be anything you want it to be.
All it takes is a little imagination and a willingness to explore…