Art of Power
Words and Purpose with LA Artist, Eric Thaller
The power of words has proven undeniable, especially this past year.
It has been a reminder that what we say can foster love or hate, indifference or empathy, ignorance or compassion, action or narcissism, and hope or defeat. Expression of ones beliefs matter, so long as those beliefs do not harm or incite violence, malice, and hate. Art can act as a voice of healthy self expression when no other outlet will do, and that's precisely what Los Angeles artist, Eric Thaller (@ericthaller) has done with his remarkable collection, Words of Wisdom.
Much like the lyrics to "Let It Be", this collection has a message that runs deep into the heart of social consciousness.
And when the broken-hearted people
Living in the world agree
There will be an answer, let it be
For though they may be parted
There is still a chance that they will see
There will be an answer, let it be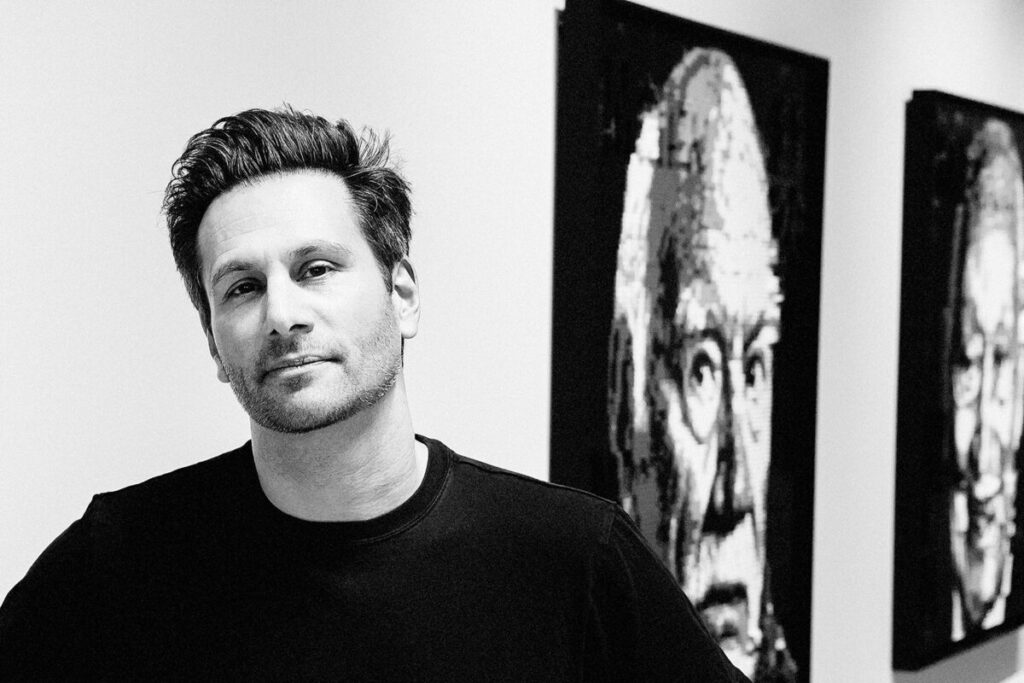 Utilizing intricacies that formulate themselves in the letters of each piece, Thaller has created a visual story that highlights pivotal people and moments in history. Each piece is resolute in asking us all to look a little closer, dig a little deeper, and realize there is always more than what's on the surface. It's powerful, mesmerizing, intricate and intentional in its social messaging and cultural significance. Each subject he's chosen to showcase is instrumental in our journey as human beings and our quest for the betterment of humankind.
In the wake of the many shakable moments we've experienced this month—those that tried to shake the state of our democracy—the time to recognize art as a relevant and powerful modality for peace and unity is now. Art is more than something we hang on our walls or display in our homes and museums …
Art is the voice of the world.
The voice of those seeking to show truth and beauty in a safe and non-violent way. It tells our history, provokes thought, and heals great divides. It's true that perhaps some view art through a romantic lens, but art is the quintessential form of putting our goodness and hope on display for everyone to see. The thrill of seeing what mindful and innovative creations artists, designers, and visionaries have brought to life during such times of uncertainty is elating. In spite of all of the odds stacked against those with free-thinking creative minds, artists, non-profits, and cultural organizations continue to pivot and innovate during the pandemic.
In a study by The ArtsFund Fall 2020 on the economic impact of COVID in the arts, they explored the impacts on the arts, cultural, and scientific nonprofit organizations. They conducted the study with 47 groups that represent parts of Washington state: Central Puget Sound Region including King, Pierce, and Snohomish Counties. The survey looked at three specific areas impacting organizations including the employment impacts, digital programming, and reopening.
[separator type="thin"] [columns_row width="third"] [column]
[/column] [column]
[/column] [column]
[/column] [/columns_row] [separator type="thin"]
Since the pandemic's start, 91% of organizations have developed new programs and 46% have formed new partnerships, mostly all taking their programming online for full digital access. And while the revenue stream has been cut deep, many have found ways to adapt in the face of adversity.
While the impact of the pandemic on the arts has been daunting, art and its ability to heal us hasn't changed, and one would argue is more important than ever. Did you know that the act of viewing various forms of art do wonders for our mental well-being. "Art influences society by changing opinions, instilling values and translating experiences across space and time. Research has shown art affects the fundamental sense of self. Painting, sculpture, music, literature and the other arts are often considered to be the repository of a society's collective memory," said a wise staff writer at Reference.com.
In a forward by ListenToTheWorld.net they write, "When we talk about the relevancy of art, we first need to observe the two concurrent subcultures that dominate the art world; namely, Popular and Serious. By being aware of this, it makes us realise that the true function of art is not to make us understand it, but rather how to comprehend how truthfully it corresponds to the surrounding context it arises from. This context in itself, is something composed of multiple layers, which makes it indescribable and unquantifiable in itself, although it is something we can sense at any given moment if we allow ourselves to experience it."
That context is something Thaller can speak on. Art is a language spoken that spans barriers and its power to awaken, enliven, and educate is ever-present.
Creativity is the power to connect the seemingly unconnected." —William Plomer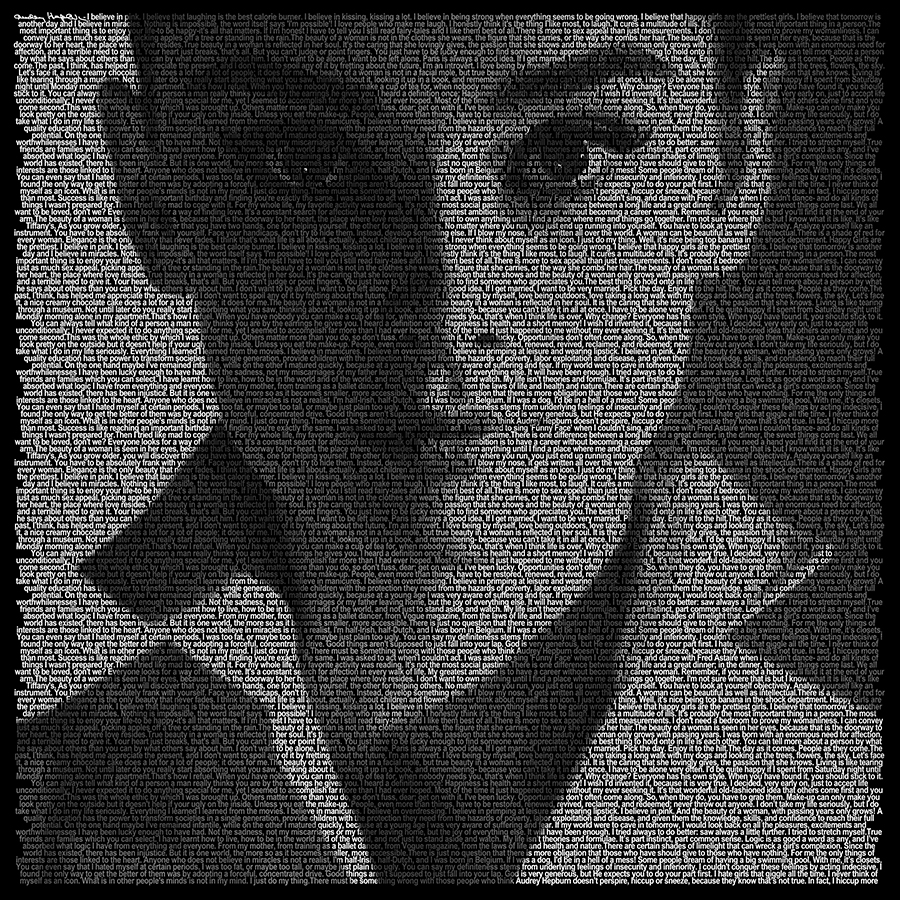 ATOD: What inspired Words of Wisdom's subject matters?
Eric Thaller: Our historical icons are often portrayed in very simple ways.  What we know about them is often limited to the public persona and some details around their most notable achievements.  Einstein, for example, is known as this professor with crazy hair who came up with the Theory of Relativity.  Most people don't really know much beyond that and this simple description inherently fails to capture who they were when the spotlight wasn't on.  This series of works is intended to reveal—pun intended—the person behind the icon.  And I thought there was no better way to do that than with their very own words.
What is the story behind the Martin Luther King, Jr., Audrey Hepburn, Anne Frank, JFK, and Einstein pieces*?
These are all incredibly fascinating people who have made real contributions to our culture in one way or another.  And they have all transcended fame because of their impact.  Each piece is unique in its own way.
Martin Luther King's words are so beautifully poignant and they resonate in today's imperfect social justice climate as strongly as they did fifty years ago.  He is, in the purest sense, timeless.  Audrey Hepburn truly surprised me.  Although she really did love the finer things in life—who doesn't I guess—she routinely expressed a desire for deep human connections and love, and a more simple life. Her favorite activity was reading. Anne Frank's brilliance is her unblemished youthfulness and ability to see humanity in the face of unimaginable loss and hardship.  The words are that of a child, but the lessons resonate with even the oldest adults.
[separator type="thin"] [columns_row width="third"] [column]
[/column] [column]
[/column] [column]
[/column] [/columns_row] [separator type="thin"]
Kennedy revealed himself deeply flawed but with an unwavering commitment to duty, country and fellow human beings.  His instincts around the importance of equality, his desire to push boundaries and his wish to bring people together are notions that echo loudly in today's divided America.  Einstein showed himself to be more than a scientist.  Yes, he clearly understood nature, gravity, light, nuclear physics, but he also showed an unusual understanding of human nature.  His awareness of our behaviors, biases and imperfections was uncanny and is reflected throughout the piece in often humorous quotes.
*Other subjects include Mohamad Ali, Frank Sinatra, Elizabeth Taylor, Nelson Mandela, Abraham Lincoln, Marilyn Monroe
How has art guided you in times of uncertainty?
I find that in times of uncertainty like today, there is an elevated level of anxiety.  Worries really seem magnified and fear about what lies ahead can feel overwhelming.  For me, art, or more specifically creating art, provides a steadying counterbalance.  The creative process allows me to be in the moment and relax.  I'm not looking ahead or looking backward. I'm making something that speaks to me personally, but I hope shares an element of the human experience that is universal.  This is a deeply fulfilling and calming experience … even in times like these.
What place in Los Angeles most gives you a sense of understanding when you're in need? And why?
When I'm in need?  You mean everyday?  Jokes aside, my place is the Santa Monica mountains.  I've found hiking the trails is a great place to practice mindfulness.  Closing my eyes, listening to the wind, hearing the buzz of the insects or the birds chirping is really peaceful.  And I love getting to a crest and taking in that view that has downtown LA on one side and goes all the way to the beach on the other.  There's something about it that grounds me.  Maybe it's knowing that there are all those people out there, some with real struggles, and the realization that I'm pretty damn lucky.
What quote keeps you motivated and inspired?
One can't escape the enormity of what we are all going through in 2020, though we often experience it alone these days.  I think Einstein captured it perfectly.
Although I am a typical loner in daily life, my consciousness of belonging to the invisible community of those who strive for truth, beauty, and justice has preserved me from feeling isolated.