3 COVID Safe Travel Destinations
A few destinations that are taking every precaution to ensure your stay is safe during COVID.
Is there such a thing as COVID safe travel? Travel used to be a genuinely elating reward for working hard, putting in endless hours, and enduring long months of burying our heads in whatever project we were working on. And then COVID hit the world, and in stark contrast, travel became the forbidden fruit; the thing we were no longer allowed to do freely because a virus swept in challenging everything we thought we knew about illness and isolation. While it's a bleak view of how things have unraveled since last February, the notion of getting back out and traveling has never been more endearing to those of us who thrive on a little cultural immersion.
If you're a fan of luxury travel and need a travel fix, "Bubble Travel Destinations" newly launched by Naya Traveler—curators of unique and luxurious travel experiences—offer itineraries for getting you into travel safe bubble destinations. Designed for multigenerational families, groups of friends, or couples, these trips are guaranteed to bring joy back into your travels. All of these destinations have been carefully selected to focus on what is open for travel, using properties and services that have heightened measures for COVID in place. They each offer in-house testing, properties with private accommodations that have open-air amenities, extra safety and hygiene measures, and itineraries focused on group configuration to ensure a seamless travel experience.
Naya Traveler plans to release itineraries to 'bubble' travel destinations every week or so. So far on their agenda they're offering locales that are off-the-beaten-path, designed with deep connection, social distancing and natural immersion in mind. The itineraries have all been vetted by experts, and customized to meet individual needs and preferences of each guest. All of the chosen destinations include luxury accommodations, excursions with private English-speaking expert guides, daily activities, some of your meals, with fees and taxes includes in the fees.
New flexible booking conditions allow for rebooking or postponing your trip free of charge should circumstances change. To book: +1 301-358-5096, or www.nayatraveler.com.
[separator type="thin"]
 [separator type="thin"]
ANGUILLA
An Island Haven welcoming locals, peaceful retreats, vibrant cuisine, and low-key coastal elegance.

The island of Anguilla is open for pre-approved visitors. Find out more about pre-travel requirements from the Government of Anguilla or review the specifications for guests arriving via St. Maarten.
A dream-like escape on the breathtaking shores of Anguilla, this destination is spread out across the Caribbean's most beautiful beach. Imagine feel the breeze blowing across your private terrace looking out onto a beachfront haven. From your locale, discover an island famed for pristine sands, broad coral reefs and an unmissable culinary scene. Or … if you need to slow down, simply breathe the sea air, relax, and let the hours float by.
From the moment you land, private transfers are ready to whisk you away to this secluded spot in Maundays Bay. Space, safety and privacy characterize a space to this Caribbean sanctuary, now with extra measures to make sure your trip remains carefree. Tuck into divine dining at The Cap Shack, take time for self-care with wellness rituals, and discover the natural majesty of Anguilla.
Highlights
Over 30 white coral-sand beaches
Boat trips to secluded areas
Luxury wellness rituals
Snorkeling & diving in protected coves and reefs
Wildlife explorations at East End Pond sanctuary
Protected heritage site Big Spring Cove will uncover the ancient rock carvings by original inhabitants.
STAY: BELMOND CAP JULUCA
Located in the British West Indies on the serene shores of Anguilla, Belmond Cap Juluca is a sanctuary for total escapism with 108 guest rooms and suites, all with large private verandas or balconies, located just steps from the white sandy shores of Maundays Bay.
COVID Testing
After visiting the property, a PCR test will be administered prior to departure and coordinated with the assistance of Belmond Cap Juluca's Host Desk. The test is administered on property (guests just need to give 72-hour advance notice). Test results are then given to travelers by the Anguilla Health Department, which they may present to authorities at their next destination. The cost of this test is included in the original Anguilla entry fee, which varies depending on group size and length of stay.
Naya Traveler organizes private, tailor-made trips to Anguilla starting at $700USD per person per day. Rates do not include international airfare.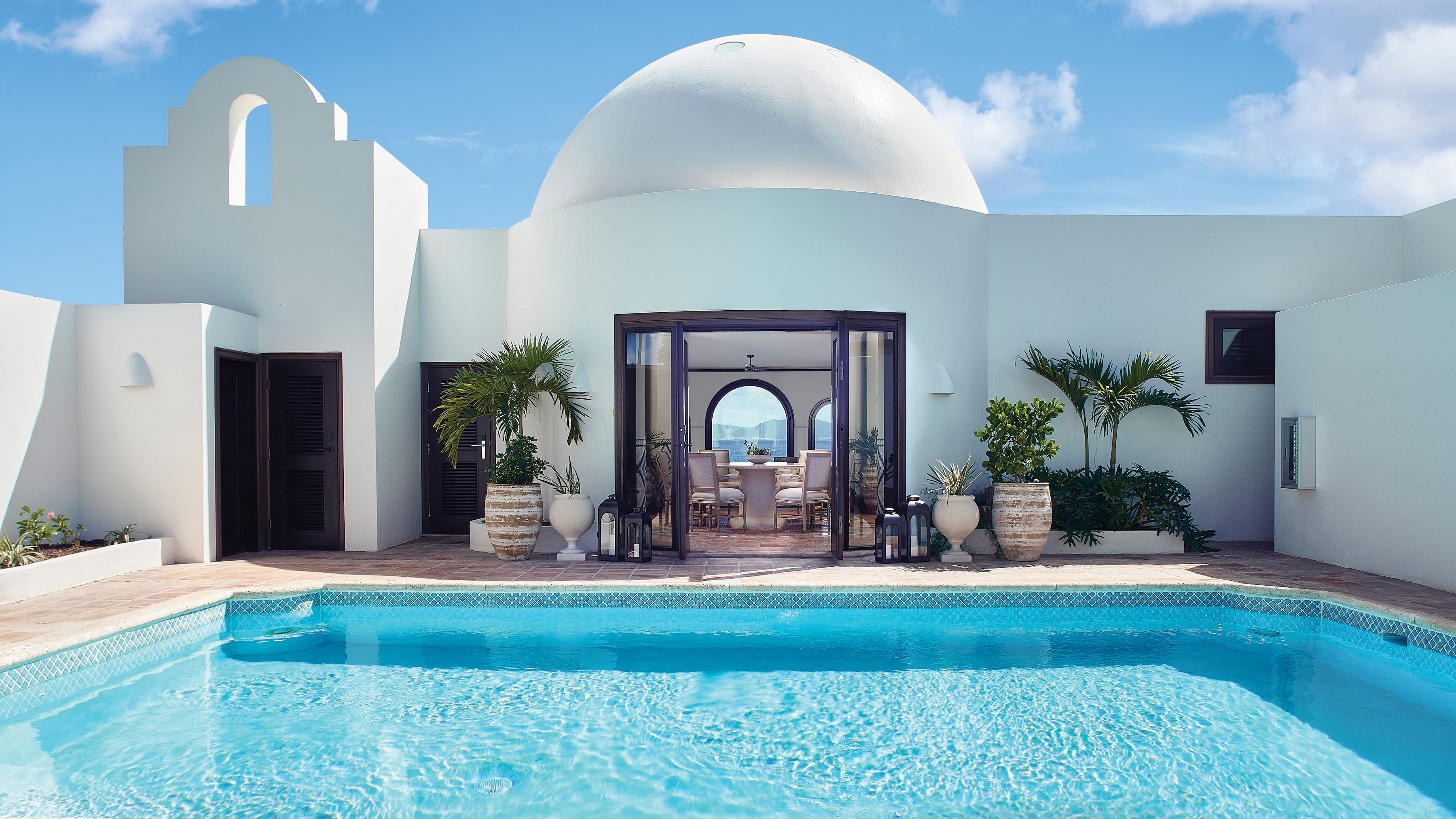 [separator type="thin"]
Retreat in the Wild: a once-in-a-lifetime experience at Arenal Volcano National Park underpinned by stunning natural beauty, intimate spaces, and connecting with nature.
[columns_row width="half"] [column]
[/column] [column]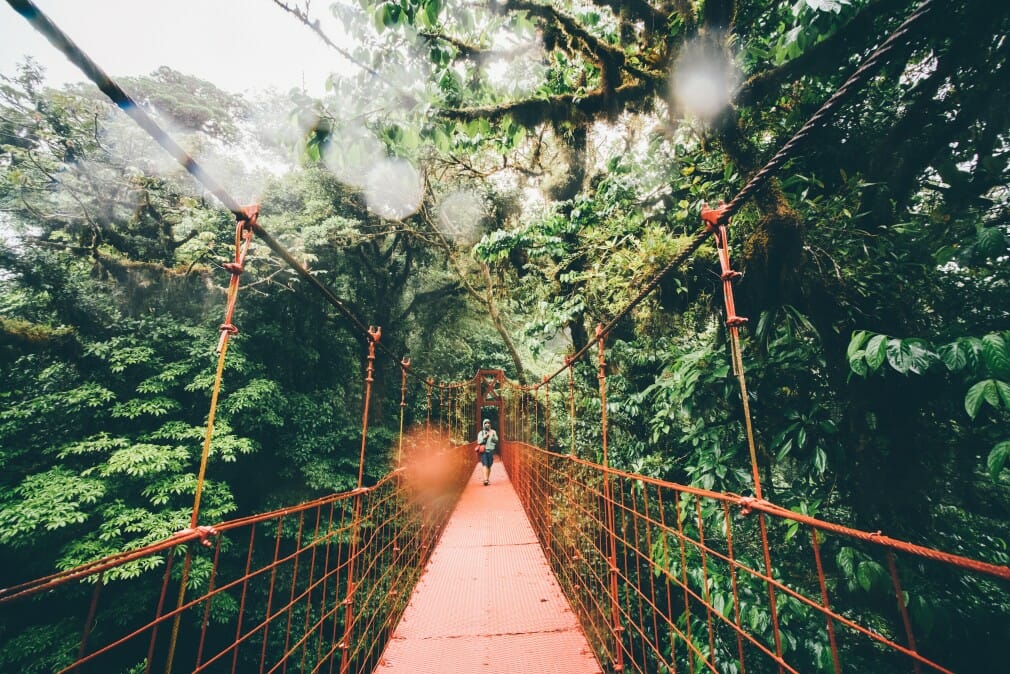 [/column] [/columns_row]
Known as the 'Rich Coast', Costa Rica is a land of mist-shrouded cloud forests, rivers, wild beaches, exotic wildlife and majestic volcanoes. Costa Rica straddles the heart of Central America and is touched by both the Caribbean and the Pacific Ocean. The jewel of Central America is at the forefront of eco and adventure tourism and is home to endangered sea turtles, hundreds of species of birds, mischievous monkeys and jungle cats.
Highlights
Natural Thermal Waters
Arenal Volcano walks & treks
Explore Caño Negro Wildlife Refuge on a boat across the Rio Frio, accompanied by a naturalist guide to uncover countless species of flora and fauna.
Mintico Hanging Bridges, a jungle canopy traversing a series of trails and exciting suspension bridges. Perfect for of hiking, bird watching and adrenaline.
Exciting local cuisine
STAY: NAYARA TENTED CAMP
Nayara Tented Camp, one of the first luxury camps in Central America inspired by the luxury canvas lodges of Africa and Asia, is in the Arenal Volcano National Park. The luxurious 1,700 square-feet spacious tents are built at a higher altitude on the hillside to provide unobstructed views of the Arenal Volcano.
[separator type="thin"]
[separator type="thin"]
Multigenerational travelers and like-minded groups can opt for a set of two connecting identical tents while couples and privacy-seeking guests can book standalone units. The indoor/outdoor design of the Camp blends contemporary, barefoot-luxe touches and unique-to-location design. Suites, created in a traditional African safari style tents fused with a Costa Rican sense of place, feature canopy beds with a botanical headboard mural, private plunge pools fed by natural mineral hot springs, and double-head outdoor showers.
COVID Testing
Nayara Resorts is collaborating with a private lab to offer on-site tests. Guests can make appointments with the Nayara team. The test will be administered to the guests and their social bubble in their room and will receive their results between 24-48 hours. The cost is $275 per person. This will be offered to guests on an ongoing basis as needed due to travel guidelines.
Naya Traveler organizes private, tailor-made trips to Costa Rica starting at $700USD per person per day. Rates do not include international airfare. 
[separator type="thin"]
A Palatial Hideaway located in the High Atlas Mountains and the Agafay mineral desert.
[columns_row width="half"] [column]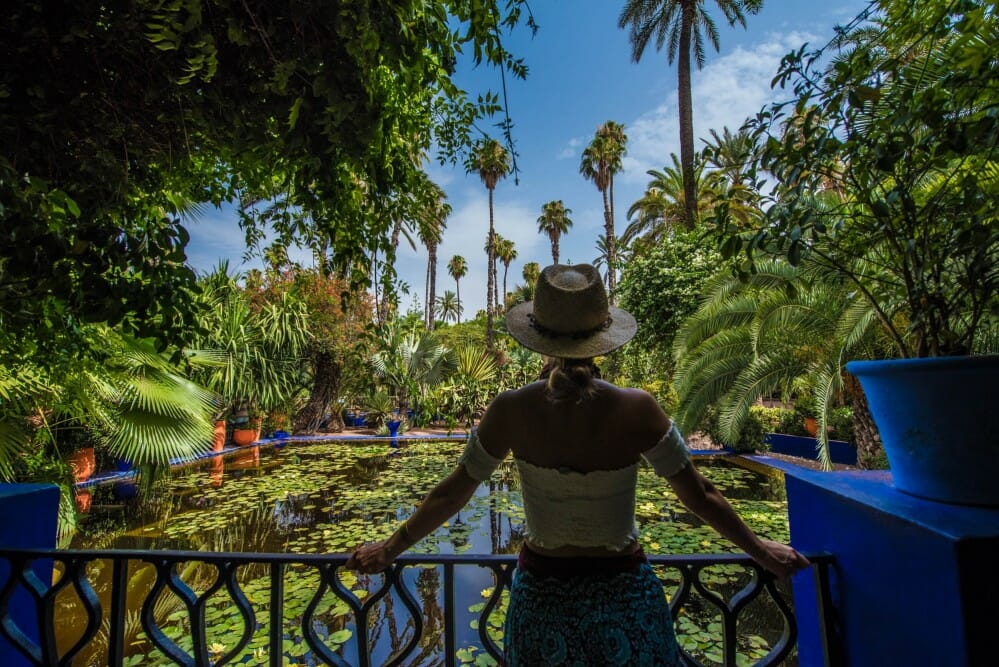 [/column] [column]
[/column] [/columns_row]
Marrakech attracts travelers through its colors, fragrances, palaces, markets and art centers. It's historical heritage, iconic medina and uniquely charming gardens embody the sweetness of the south.
Highlights
Jemaa el Fna is the main center of the imperial city. Every day, acrobats, storytellers, dancers, poets and musicians create a captivating setting, made mythical by its presence on UNESCO's exclusive Oral and Intangible Heritage of Humanity list.
Stroll through the narrow streets of the irresistibly charming medina, entangled alleyways invite beauty-lovers and curious explorers to have a taste of the sensory experience once amazed the likes of Delacroix, Majorelle and Yves Saint-Laurent.
History & Heritage: To visit Marrakech is to retrace no less than ten centuries of history. Ben Youssef Madrasa, the Bahia Palace, Dar Si Saïd museum, Saadian tombs, Koutoubia Mosque and historic city walls tell the tale of the stormy history of the dynasties that forged the Pearl of the South's identity over the centuries.
Vibrant Secret Gardens: The shaded Eden of the Majorelle Garden, fantasy paradise of the Anima Garden, delicateness of the Secret Garden and privacy of the 18-hole golf green will show that the imperial city certainly does not lack in greenery.
Art & Culture: Take in the emotions stirred by the Yves Saint-Laurent museum, debate over picture details at the Photography Museum and get a taste of the new art scene at the Al Maaden museum. The Ochre City reveals an unexpected side through its art galleries, designer shops and artist collectives.
STAY: THE ROYAL MANSOUR
Born out of a desire to share the Moroccan lifestyle with the world, the Royal Mansour Marrakech plunges travelers into a timeless atmosphere where confidentiality is key. At peace from the buzz of the city through the enchanting décor, the mind is free to wander in this prestigious, perfectionist universe. Listen, feel, observe, experience, resonate … allow yourself to be carried away by the pure magic of this unparalleled palace.
Just a few steps away from the famous Jemaa El Fna square beats the heart of the Marrakesh Palace, offering travelers the unique concept of a medina within a medina. Each area has been designed to intuitively take guests on a sensory journey. Take a step into the secret and sumptuous history of one of the most beautiful hotels in the world.
Owned by the King of Morocco, Royal Mansour is a palatial oasis crafted by over 1,500 local artisans and a quiet retreat with an open-air courtyard, nearly four acres of lush gardens and private multi-story riads dotted along petal-pink pathways.
COVID Testing
In partnership with a local laboratory, Royal Mansour has made PCR tests available to its guests since reopening on October 16, 2020. A nurse comes to Royal Mansour to administer the test in the privacy of the guest's riad the day prior to their departure. Appointments can be arranged through the concierge and cost 700 MAD (approx. $78) per person. This will be offered on an ongoing basis due to travel restrictions.
Naya Traveler organizes private, tailor-made trips to Morocco starting at $700USD per person per day. Rates do not include international airfare.