An Honest Conversation + Celebration
Time to celebrate the 2021 Queerties Awards, the Equality Act and media's responsibility to tell authentic stories.
This week marks the 2021 Queerties Awards honoring the amazing talent and change-makers in the LGBTQ community. Reaching over 250 million households and devices, free Queer TV Network, Revry, Q.Digital and Lexus come together to honor the best in queer programming, celebrating the best in LGBTQ culture and media.
Hosted by RuPaul's Drag Race Season 12 Miss Congeniality Heidi N. Closet and Queerty Editor-in-Chief Dan Tracer, the Awards Show celebrates not just the queer community, but the progress and movements that will lead us forward and end discrimination. With the Equality Act in the hands of Congress, Queerties is a reminder that while there is still a lot of work to be done, there are also so many extraordinary people and shows to celebrate.
"We couldn't be more excited to broadcast the Queerties this year," shared Revry CEO and CoFounder, Damian Pelliccione. "To showcase such incredible, diverse queer talent across all our channels, over 250 million households and devices, will allow everyone to tune-in and enjoy the fantastic show Q.Digital produces!" 
We couldn't agree more, and we wanted to get a little deeper about what the Awards Show means to the LGBTQ community, as well as digging into the Equality Act now sitting with members of Congress. The Equality Act is a legislative measure that would ensure that the queer community no longer faces discrimination and protects the rights of all LGBTQ, making it the next largest piece in the legislative puzzle that could make inequality illegal in this nation on a federal level. That's monumental and long overdue.
We had an opportunity to talk with Heidi N. Closet, Dan Tracer, Israeli model, actor, businessman and TV personality On Mekahel and his husband, Producer David Cederberg about the Awards Show and the Equality Act.
[separator type="thin"]
As the nation tries to make its way back towards progress, tell me one of the most important messages the Queerties Awards sends?
Heidi: I believe it shows off just how inclusive, diverse , and talented the LGBTQIA+ community is.
Dan: It's been a rough year for so many of us. I'd say it's been unprecedented but I don't want to break the promise I made to myself to stop saying the word unprecedented. But throughout it all, LGBTQ artists and creators have consistently been turning out work that's kept us informed, connected and entertained. It's so easy to focus on the negatives of 2020 (and 2021, let's be real), so we're thrilled to have the opportunity to shine a light on some of the LGBTQ stars who help us stay inspired.
On + David: We think it reminds us that the "underdogs" are still here, still creating, still thriving. We will be seen and heard. The political climate may change, but the artistry amongst our community, and the desire to express ourselves and be heard remains constant.
How can media continue to support the LGBTQ community?
Heidi: The media can continue to support the LGBTQIA+ community by continuing to shine a light on the community and creating more platforms and avenues that allows the community to share its stories.
Dan: One way the media can show up for the LGBTQ community right now is to help ensure that when life gets back to something resembling normal, we still have safe, physical spaces to enjoy. That's why Queerty, along with Q.Digital's other sites, LGBTQNation and GayCities, is partnering with GoFundMe to help queer bars across the country that are struggling due to the pandemic. You can head to Gay Cities COVID Relief Fund on GoFundMe for more info.
On + David: The best way for media to continue to support us is to share our stories exactly as we tell them. People (especially the media) have so many filters and lenses that they try to  siphon us through in order for us to make the most sense to the general public. Giving us a fair shot and allowing people to see us for who we really are can make all the difference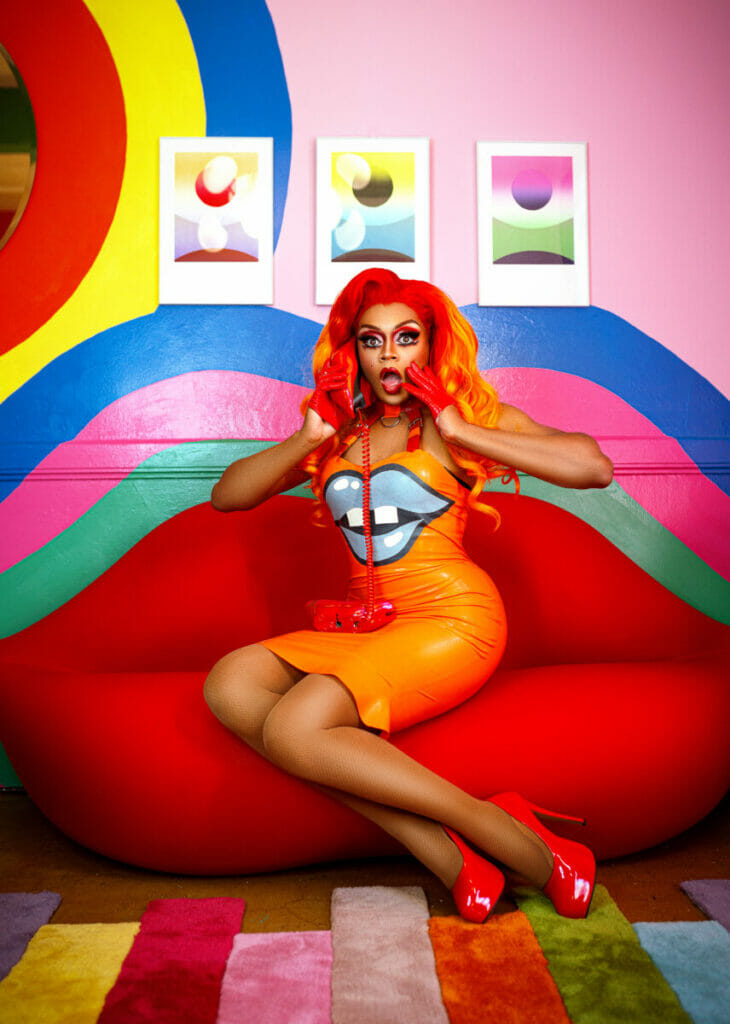 What does the Equality Act mean to you?
Heidi: Being someone who has dealt with discrimination in the work place many times, I got to a place where I was "OK" with it because it had became the norm— whether it was for my race, or sexual orientation. Looking back at it, me basically becoming numb and accepting it as that's just how the world works is wrong. And the Equality Act to me means that no one will ever have to think that just because they are who they are that it's ok for them to innately be treated unfairly.
Dan: Nobody should lose a job or lose their housing for being LGBTQ—that seems like the easiest concept imaginable to grasp. Getting the Equality Act passed, and having a president who won't veto it as 45 suggested he would, will be cause for celebration and inspiration to keep pressing forward.
On + David: The Equality Act is a long time coming. In theory, it is the great equalizer, finally adding a severely marginalized group to those that are protected.
We are excited for the future, as it is our hope the Equality Act will save more people from undeserved—and often times damning—discrimination … or worse.
What has been one pandemic splurge you've given into?
Heidi: Allowing my waist to expand!!!! I love food, but the waist is slimming back down.
Dan: Just one?! When I realized the pandemic was going to last more than a couple of months, I bought an electric piano to brush up and give myself another hobby that wasn't watching TV (I've done a LOT of that, too). It was a good investment!
On + David: Home decor! Early on in the pandemic we literally got rid of every piece of furniture and did an entire over haul on our place. We figured if we're gonna spend a great deal of time confined to our home, we may as well make it as nice and inviting as possible!
How has the network world changed over the years, and now that we have networks like RevryTV, what shows would you like to see produced/shows you'd also like to see more of?
Heidi: I remember growing up not seeing anyone on TV like me. I love being able to watch as so many people in the world today get to see someone that is similar to them; someone that can represent them and allows them to know they can do whatever they set their minds to. What I would like to see more of is more Lesbian and Trans stories spotlighted and represented.
Dan: Queer representation on television is at an alltime high and that's certainly an amazing thing. You look at shows like Veneno on HBO or P-Valley on Starz, they would have been almost inconceivable ten years ago. I'd love to see more LGBTQ gatekeepers deciding what gets produced, and networks like RevryTV are so incredible in the ways they're able to foster and elevate new, queer voices and perspectives.
On + David: We are so thankful for how the wonderful world of TV and media has changed! Gone are the days of the white and old, patriarchally-ran network conglomerates. I mean yeah, they still exist, but they are no longer the dictators and only voice of media (thankfully)! Now, with networks like Revry, viewers really have the chance to see themselves and their experiences reflected, without all of the biased, one-dimensional, judgmental portrayals of our people and experience. I would love to see more shows created by, and featuring, LGBTQ members and characters, rather than our straight counterparts acting on our behalf. ♥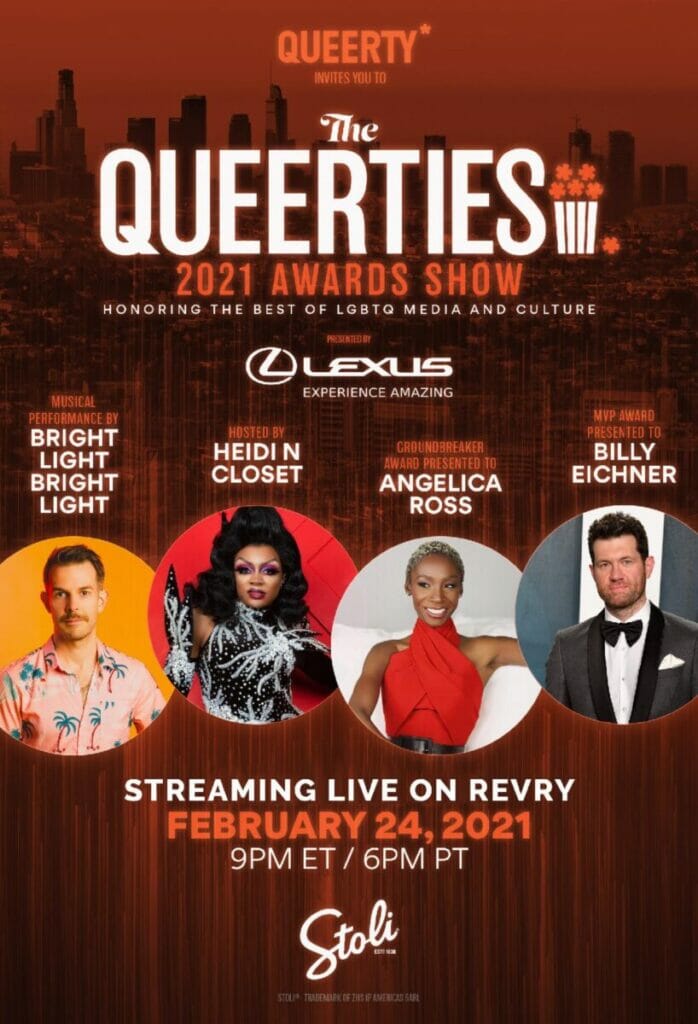 With a musical performance by Bright Light Bright Light, this virtual ceremony will present American businesswoman, actress, and transgender rights advocate Angelica Ross with the Groundbreaker Award, and Billy Eichner will receive the MVP Award. With virtual red carpet celebrity appearances by Nicco Annan, James Bland, Isis King, Jai Rodriguez, Cameron Esposito, Shangela, Jinkx Monsoon, HBO's Veneno star Isabel Torres, Netflix's The Prom star Jo Ellen Pellman and many more, the Awards is sure to be exquisite, elating, and empowering.
"I've been voting for the Queerties as a fan for years, so it's very exciting to not only be a nominee this year but the host of the show!" said Drag Race star Heidi N. Closet. "I'm honored to help celebrate so many amazing and diverse members of our community, and the incredible work they put out during such a challenging year."
Fans broke records with well over 1.5 million votes in 23 categories, including Drag Royalty, Closet Door Bustdown, Favorite Podcast, Favorite Instagram and TikTok Follows,  Best Documentary, and Badass of the Year, presented by Stoli. "Our readers are incredibly tuned-in to pop culture, so the Queerties provide a perfect outlet to make their voices heard," said Tracer.
This year is extra exciting because the show is streaming, so voters from all around the world will get to attend for the first time!"
---
The awards ceremony will stream live at 6pm PST / 9pm EST on February (including Revry's third-party channels on Samsung TV Plus, Roku Channels, Xumo, Stirr, Apple TV) as well as on Queerty's homepage, Facebook, and YouTube pages. The Awards show will be available for FREE On-Demand on Revry after the broadcast.
As an LGBTQ owned-and-operated, National Gay and Lesbian Chamber of Commerce & ANA certified business enterprise, Q.Digital is the trusted voice for news, entertainment, and travel in the LGBTQ community, reaching a highly engaged audience of more than 9.5 million per month. Q.Digital connects brands to the market through its digital properties—Queerty, the popular entertainment and pop culture site; GayCities, the travel site covering 238 destinations worldwide; and LGBTQ Nation, America's most-followed LGBTQ news source.
Q.Digital is an indispensable resource for individuals seeking inspiration for their life's experiences. Q.Digital enables major brands such as Hulu, Gilead, Lexus, and MasterCard to connect with an LGBTQ audience on a personal and credible level through branded content, custom video, events, and promotions. Digital programs and custom events include the Queerties (February), Pride 50 (May to July), Heroes (September), and Best of GayCities (December).
ABOUT DAN TRACER
Dan Tracer is the Editor in Chief of Queerty and former Managing Editor of GayCities. He studied theater at UCLA and has been living up and down the California coast his whole life (except for that one year in Hawaii). When he's not behind a computer he prefers to be somewhere with trees, or sand, or both. You can find him on Instagram at @Daniel_Tracer.
ABOUT ON MEKAHEL
On Mekahel has appeared in various commercial ads, movies and TV shows. He is also the central character in the Reality TV show about his life, Putting On. On was born in 1993, in Rehovot, Israel. His father is a CPA and Lawyer, and his mom is a Naturopath Doctor. On is the youngest child of four (two brothers and a sister). After finishing his army services in Israel, On moved to New York to study acting at The Lee Strasberg Theatre and Film Institute in 2014.
During his studies On took part in modeling campaigns and acting appearances and in 2016 he launched his own underwear line, MOUNDERWEAR. During part of his time in NYC, on was also personal assistant to supermodel Naomi Campbell. In 2018, the reality TV show Putting On aired its first episode. The series follows the ups and downs of On's personal and business life, as he navigates the entertainment and fashion industries. In 2019, Prior to locating to Los Angeles with his partner, David Cederberg, they got married Paris. Based on the West Coast, they continue to work together on the underwear company reality show, and a non-profit endeavor which benefits the LQBTQ Community.
About Queerty
Queerty is the leading entertainment brand for and inspired by the LGBTQ community. It is the most-visited website in the United States LGBTQ market and the #1 website for U.S. LGBTQ Millennials. Queerty is owned and operated by Q.Digital, Inc. For more information, please visit www.queerty.com, and find @Queerty on Facebook, Instagram, and Twitter.
ABOUT LEXUS
Lexus' passion for brave design, imaginative technology, and exhilarating performance enables the luxury lifestyle brand to create amazing experiences for its customers. Lexus began its journey in 1989 with two luxury sedans and a commitment to pursue perfection. Since then, Lexus has developed its lineup to meet the needs of global luxury customers in more than 90 countries. In the United States, Lexus vehicles are sold through 242 dealers offering a full lineup of luxury vehicles. With six models incorporating Lexus Hybrid Drive, Lexus is the luxury hybrid leader. Lexus also offers eight F SPORT models and two F performance models. Lexus is committed to being a visionary brand that anticipates the future for luxury customers.
ABOUT REVRY
Watch Queer TV 24/7 with the first LGBTQ+ digitall cable TV network. Revry offers free live TV channels and on-demand viewing of its global library featuring LGBTQ+ movies, shows, music, podcasts, news, and exclusive originals all in one place! Revry is currently available globally in over 250+ million households and devices and on seven OTT, mobile, and Desktop platforms.
Revry can also be viewed on nine live and on-demand channels and Connected TVs including: The Roku Channel, Samsung TV Plus, Comcast Xfinity X1, Dell, XUMO TV, Zapping TV, STIRR, TiVo+, and as the first LGBTQ+ virtual reality channel on Littlstar (available on PlayStation devices). The company–an inaugural member of the Goldman Sachs Black and LatinX Cohort–is headquartered in Los Angeles and led by a diverse founding team who bring decades of experience in the fields of tech, digital media, and LGBTQ+ advocacy. Follow on Facebook, Twitter, and Instagram @revrytv, Revry.tv