Revry Network is creating the best in LGBTQ programming and this month is offering an outstanding lineup
Revry celebrates Easter and Oscar season with an entire April calendar highlighting incredible Queer content made by and for the community including multi-award winning festival favorites God's Own Countryand TransMilitary.
Revry kicks off April Fools with it's hysterically charming, absurdist, original game show, Versus, hosted by RuPaul's Drag Race icon, Deven Green, where instincts and fun override smarts and knowledge. As Jesus rises on Easter, step into conversations about religion and sexuality with films like Mercy's Girl, Hell or High Water, Deviant … or the powerful documentary Call Me Troy, about the first gay Reverand who started the queer friendly Metropolitian Community Church, now, with over 200 congregations.
Throughout the month, Revry will continue to celebrate special holidays including the World Premiere of the dark comedy series Pet Peeves on National Pet Day (4/11) about pet psychic and ex-con Milton Michaels; the mockumentary comedy series Dope State on 4/20; Denial, a documentary about electricity, identity, family on Earth Day (4/22); for Perfect Date Day the comedy Sweater on 4/25; and on Lesbian Visibility Day 4/26, the appropriate I Lesb You.
Also this month, a week before the Oscars is the annual star-studded Dorians Film Toast, the official GALECA (The Society of LGBTQ Entertainment Critics) awards show highlights the best films and performances of the year. And starting on April 20th, Revry will launch its first weekly news show, Culture Q starting every Thursday.
The full calendar of events is below, including hyperlinks on titles available to watch immediately.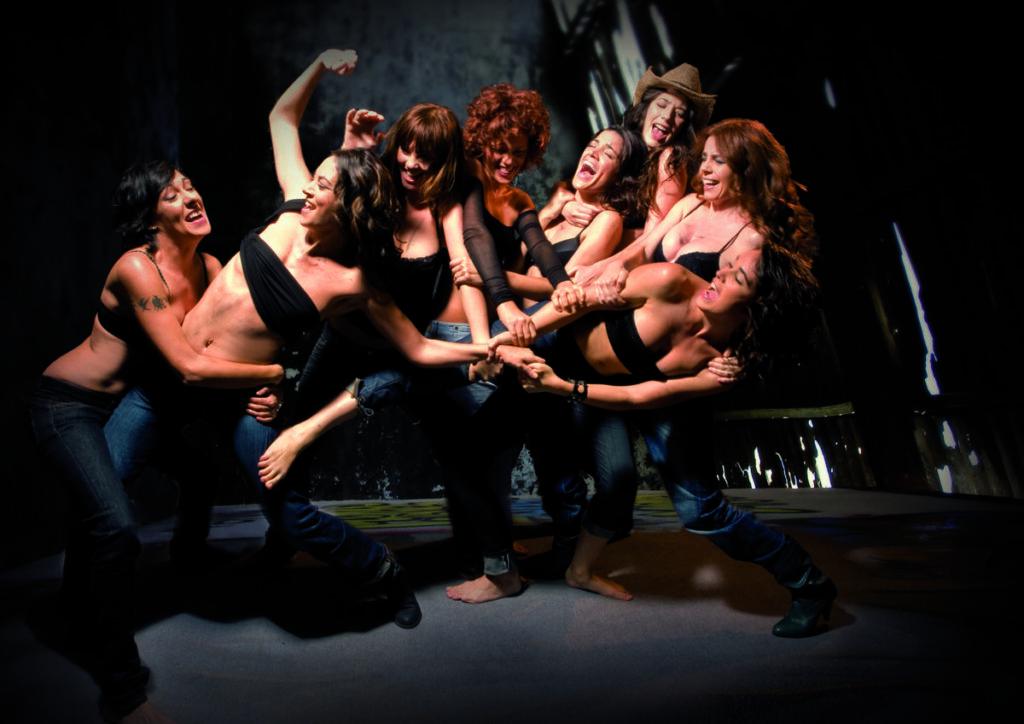 APRIL HIGHLIGHTS CALENDAR ON REVRY
Thursday, April 1, 2021 (April Fool's Day)
Boys Town (s1) – BoysTown is a modern day gay episodic drama about friendship, sex and relationships, exploring the everyday lives of seven friends and lovers. In a cross between a gay Desperate Housewives and Sex in the City, the guys are always getting themselves into messes they can't get out of.
Versus (s1) – From Ru Paul's Drag Race icon Deven Green and musician Ned Douglas, VERSUS pits contestants against each other in six rapid-fire challenges that will test their trivia skills, memory, and even knowledge of their own social media. Each episode features a new set of mini-games that no-one can prepare for!
Chica Busca Chica (OML on Revry) – This hot and hilarious lesbian soap opera takes you on a wild ride through the mixed up love lives of a group of sexy Madrid lesbians including the unbelievably gorgeous Spanish TV star Celia Freijeiro. Think: The L Word meets Almodovar.
Haunters – Iggy is a jerk who takes pleasure in other people's pain and embarrassment. But when Iggy suddenly dies and is sent to her version of purgatory – she gets a taste of her own medicine.
Sunday, April 4, 2021 (Easter)
Mercy's Girl – Mercy lives a double life. In one she is dating a sexual and loving college student named Jesse. In the other she is living by her family's religious standards. As her two world's begin to collide she must find her identity in both.
Chance – Trevor's life has become a void, following the passing of his wife and long term companion, Doris. Days run into weeks, as Trevor slowly finds himself isolated and alone, and unconcernedly slipping towards death. A chance encounter in the park with a mysterious stranger equally troubled by his own dark past jarringly reawakens him, and forces both men to once again start to live.
Call Me Troy – Call Me Troy is a truly inspirational story about a remarkable and dynamic individual whose activism was decades ahead of its time. Rev. Perry is perhaps best known as the founder of the Metropolitan Community Church – the first church to recognize the spiritual needs of the gay community – but his "firsts" don't stop there. In 1969, Perry performed the first public same-sex wedding in the U.S. setting the stage for a lifetime of activism of behalf of the LGBT+ community.
Deviant – In the early sixties, a sexually conflicted teenager finds faith and acceptance after escaping the tortures of electrotherapeutic conversion therapy.
Room to Grow – Room to Grow is a Revry Original film which chronicles the lives of LGBTQ+ youth and their families across North America, offering a raw, intimate glimpse into their daily lives as they endeavor to find their identity and a place in their communities.
Hell or High Water – Hell or High Water is a short film that tells the story of a young pastor loved and adored by the people around him. Things change for him when he must confront a hidden truth about himself, a truth that could make or break him psychologically. But, whatever decision he makes, he is still going to crash and burn, for life as he once knew it would never be the same again. The story explores the reality of sexuality amidst spirituality, exorcism, blackmail, and family life. "Hell or High Water" challenges stereotypical narratives about sexuality.

Monday, April 5, 2021 (American Music Awards)
Indiana Queen (Music Videos for "Walk with Strength", "I Don't Know What To Do") – Fronted by Kevin James Thornton, Indiana Queen is a queer-folk band blazing a new path in a traditionally conservative genre.
Faultlines – (Music Videos for Rain, Wooden Bridges, If You Only Knew, Starting at the Finish Line) – Faultlines, an acoustic folk-pop group known for their three-part harmonies that warm like the California sun and lyrics that speak to the gritty, universal interhuman experience.
Seeking Dolly Parton – When Charlie (Kacey Barnfield) and her partner Cerina (Anya Monzikova) decide to have a baby, they go to Cerina's estranged ex-boyfriend Josh (Michael Worth) to help fill in the "blanks". But when old feelings return to the surface, the new feelings are not coming in without a fight. This unique threesome must each confront their own "closeted" emotions before allowing a new light to shine into all their lives.
Queens & Cowboys – Roping and riding across North America, the International Gay Rodeo Association's courageous cowboys and cowgirls brave challenges both in and out of the arena on their quest to qualify for the World Finals. Along the way, they'll bust every stereotype in the book.
Paisley Fields (Music Videos for "How Low", "She's No Angel", "Not Gonna Be Friends", "Windows Fogged Up In Your Pickup Truck")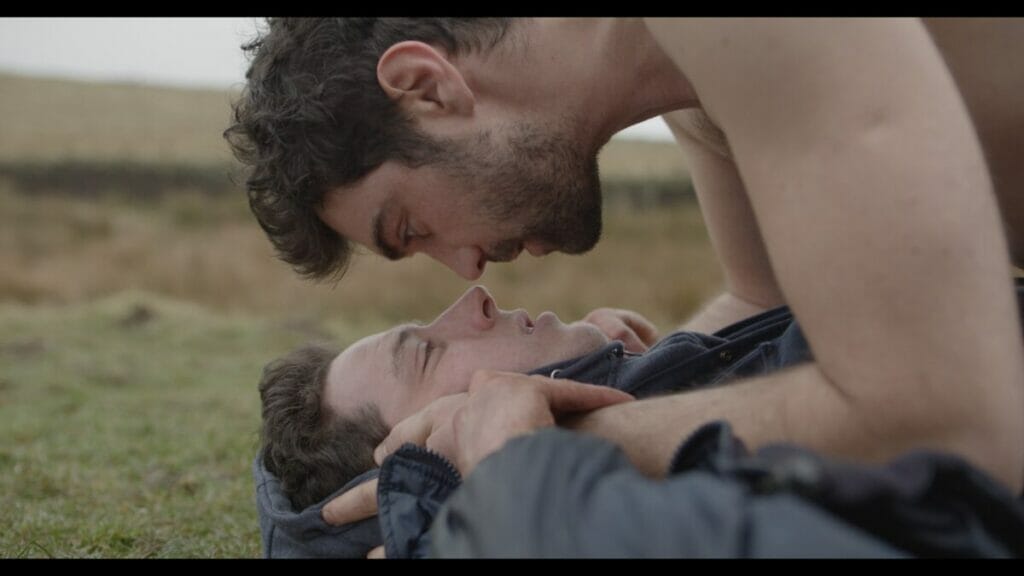 Tuesday, April 6, 2021
Twenty (OML on Revry) – Twenty follows the story of Maya, her girlfriend Catalina, and her group of eclectic friends as they navigate careers, love, and life in their early twenties.
Wednesday, April 7, 2021 (National Beer Day)
Beer, Beer – "Beer! Beer!" is an "anti-romantic comedy" set in the early morning following a wild party in Berlin. When Tao, a Chinese guy, meets Sebastian, a local German. As they seem to get more and more intimate with each other, suddenly a mattress changes everything…
Sunday, April 11, 2021 (National Pet Day)
Pet Peeves – After spending 15-years behind bars in a Florida prison, Milton Michaels (Jonah Blechman from "Another Gay Movie") moves in with his sister in California to restart his pet psychic career. While there Milton reconnects with his childhood dog, as he discovers the urn containing his ashes. But Milton is torn from the beloved ashes when his childhood tormentor, Candice, comes to visit. Candice tricks Milton into a dog-napping scheme that could jeopardize his freedom, just as he starts to connect the dots in his love life. Watch the trailer.
Tuesday, April 13, 2021
Dorian Film Awards – The Dorian Awards are film and television accolades given by GALECA: The Society of LGBTQ Entertainment Critics, founded in 2009 as the Gay and Lesbian Entertainment Critics Association.
Tuesday, April 20, 2021 (4/20)
Dope State – Dope State is a mocku-comedy that chronicles a modern day gold rush, a civil rights movement and, potentially, the end of a prohibition. From stoner celebrities to politicians and corrupt cops, a marijuana journalist documents the daily life of producers, distributors, and consumers in the California weed industry.. From the mind of comedic tour-de-force Gabriel Sunday (who stars as all of the lead characters), Dope State is a dreamy, absurd love letter to pot culture.
Twenty (OML on Revry)
Culture Q – Culture Q is the world's first weekly queer-centric news series brought to you by the leading global queer streaming network, Revry. This innovative, weekly news series creatively features entertainment, pop culture, lifestyle and political news with wit and insightfully nuanced perspectives. Emphasizing the queer millieu, Culture Q stands to be the penultimate, weekly forum for boundary-pushing discussions and commentary.
Thursday, April 22, 2021 (Earth Day)
Denial – DENIAL is a documentary about electricity, identity, family, and the many ways we lie to ourselves when faced with overwhelming facts. It is the story of a family coming to terms with complex personal truths against the backdrop of a global crisis.
Friday, April 23, 2021
TransMilitary – TransMilitary chronicles the lives of four individuals (Senior Airman Logan Ireland, Corporal Laila Villanueva, Captain Jennifer Peace and First Lieutenant El Cook) defending their country's freedom while fighting for their own. They put their careers and their families' livelihoods on the line by coming out as transgender to top brass officials in the Pentagon in hopes of attaining the equal right to serve. The ban was lifted in 2016, but with President Trump trying to reinstate it, their futures hang in the balance again.
Sunday, April 25, 2021 (Perfect Date Day)
Sweater – Corey's day couldn't be worse. Then he gets a free coffee.
God's Own Country – In Yorkshire a young unhappy farmer is living with his grandmother and sickly father. He numbs his frustrations with drinking and casual sex until a Romanian migrant worker sets him on a new path.
Monday April 26, 2021 (Lesbian Visibility Day)
I Lesb You – Alcohol, music, and one wild night take control of 4 parallel stories in a lesbian bar in Santiago de Chile.
The Night Is Ours – Tomboy Morgan is shattered by the sudden death of her best friend Olivia. But when Olivia mysteriously comes back to life, the two go on a final road trip that takes them beyond friendship into a special place that Morgan learns can't go on forever.
Suicide Kale – While having lunch with another couple, new couple Jasmine and Penny stumble upon an anonymous suicide note and proceed to work to uncover the identity of the author.
Tuesday, April 27, 2021
Thursday, April 29, 2021 (Billboard Music Awards)
Boy Untitled (Music Videos for "Skin", "Spark", "Sacrifice") – Boy Untitled is a L.A-based queer artist exploring the boundaries of music, mixing vulnerability with world pop-inspired tracks that jump from ethereal to vibrant, dancey electronica.
Music Artists: John Chandler, Keekai, Gabby B., Jack Rayner, Malou Beauvoir, Chelzzz and Yaeji
Friday, April 30, 2021 (Arbor Day)
The Millennial Experience – The Millennial Experience is one part dance-for-film and one part documentary. The film explores cultural appropriation vs appreciation, LGBTQIA+ culture, feminism and how these topics impact the Millennial generation.
ABOUT REVRY
Watch Queer TV 24/7 with the first LGBTQ+ digital cable TV network. Revry offers free live TV channels and on-demand viewing of its global library featuring LGBTQ+ movies, shows, music, podcasts, news, and exclusive originals all in one place! Revry is currently available globally in over 280+ million households and devices and on seven OTT, mobile, and Desktop platforms. Revry can also be viewed on nine live and on-demand channels and Connected TVs including: The Roku Channel, Samsung TV Plus, Comcast Xfinity X1, Cox, Distro TV, Plex, Galaxy TV, Local Now, VIZIO, Zapping TV, STIRR, TiVo, and as the first LGBTQ+ virtual reality channel on RAD (available on PlayStation devices). The company–an inaugural member of the Goldman Sachs Black and LatinX Cohort–is headquartered in Los Angeles and led by a diverse founding team who bring decades of experience in the fields of tech, digital media, and LGBTQ+ advocacy. Follow on Facebook, Twitter, and Instagram @revrytv, Revry.tv