Art Heals and Empowers
Talking with artist and Twist Out Cancer board member, Anna Feneis
In times like these, it seems the arts have never been more essential to the wellbeing of our minds, bodies and souls. Something about the act of self-expression that can take pain or trauma, or fear or excitement and turn those emotions into something tangible is a godsend for many. That is especially true for those battling cancer. Recently made aware of an organization, Twist Out Cancer, this extraordinary group of people and artists are providing a supportive and creative outlet for patients who need it most.
Anna Feneis is an artist with a passion for helping those in need, and so she started utilizing her art for something bigger. Her paintings utilize intense colors while subtle immersions of hope, lines of displacement and control, and profound story rise to the surface. After doing work with Inspiration in Brushes With Cancer alongside her friend who was facing an ongoing battle with Leukemia, she knew immediately that she had to be a part of something more.
In a research paper done by BMC Cancer, they looked at the psychological impact cancer and the benefits of art to ease the distress that patients were facing. Working chemopatients 18 years and older of different ethnicities, their conclusion to the study was this: "Art therapy improved the emotional distress, depression, anxiety and pain among all cancer patients, at all time points. While depression scores were higher pre-intervention for Hispanic patients, Hispanic patients were noted to derive a greater improvement in depression scores from art therapy over time, compared to non-Hispanics patients. Discovering simple, effective, therapeutic interventions, to aid in distress relief in cancer patients, is important for ensuring clinical efficacy of treatment and improved quality of life."
My philosophy on art is that it is profoundly healing and should be accessible to everyone who needs/wants it. Because of that, I have always tried to create art with a purpose and I have gravitated towards making paintings for people who are on a journey (large or small).

— Anna Feneis
The more Feneis dove into the organization of Inspiration in Brushes with Cancer, it led her to the heart of it all—Twist Out Cancer. The more she realized the classes weren't just about painting, the more drawn to being a larger part of it she became. "I quickly saw that it was about a community devoted to helping others heal. It aligns perfectly with what I believe art and humans have the power to do. That is why I continue to participate, and also why I joined the Board."
A fan of Feneis' work and of everything Twist Out Cancer is doing, we caught up with Feneis to discuss the impact of the organization as well as get in depth about a few pieces that really speak to us.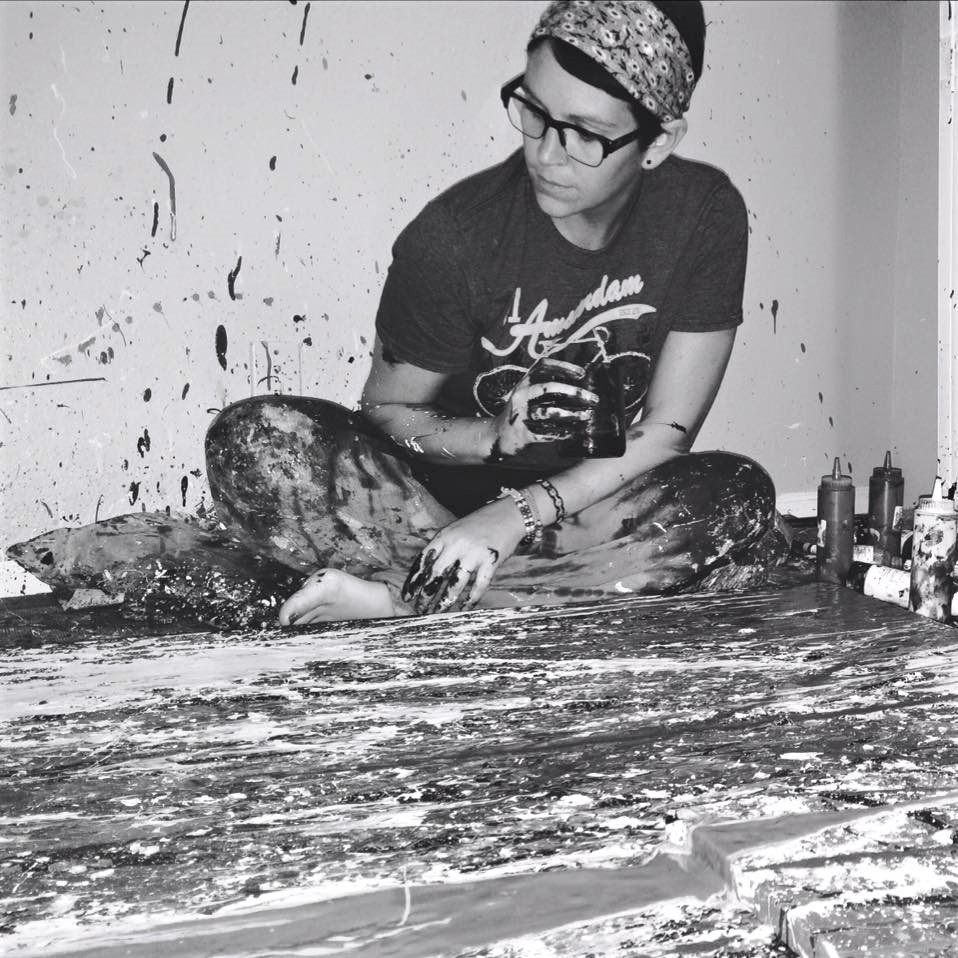 Let's dive right in. The first piece of yours I feel insanely drawn to is "Heart Attack".
Thank you so much. I painted Heart Attack for a dear friend who lost multiple family members under horrific circumstances. She found healing through the love of her children, her husband, and adventuring through the mountains—something I completely relate to. I have seen natural beauty before, but nothing like the exquisite majesty of the Rocky Mountains. I believe, firmly, that if you allow them into your soul they can heal you. They ground you, challenge you, educate you, and honor you. They demand respect – and when that respect is given, the reward is unmatched.
I wanted her to remember the feeling of looking into a blazing sunset in the Rockies. We take mental snapshots and hold onto them in our souls so that, as we get older, we continue to have those reviving swells of bliss.
The other two pieces I'm obsessed with are "Rose Point" and "The Camino". I find your use of color, paint drips, mattes and movement in both to have fluid poetry to them. They emote a feeling of being fully alive and in contrast, an idle invitation into introspection (obviously that's just what I experience). What inspired those pieces and how have they helped you in your own mindfulness journey?
You chose two paintings that are very close to my heart and your experience is exactly what I was hoping for. Rose Point was inspired by memories of growing up in a small town outside of Cleveland, Ohio. My Dad and I would sit on a set of benches located on the edge of Lake Erie, called Rose Point, and watch thunderstorms roll over the city. I remember the way the sky turned yellow and the dwindling sun would reflect vibrant colors into the puffy, water soaked clouds. When we closed our eyes, the fresh air smelled like raindrop covered rose petals. Now that I have daughters of my own, I do my best to create those special memories for them. Sometimes the most impactful moments are small and seemingly insignificant at the time.
The Camino was the first painting I did for Brushes With Cancer, and one of my favorite pieces I have ever created. It is named after the Camino de Santiago,a pilgrimage in Spain that stretches 500 miles. Many follow the Camino for spiritual growth, as it leads to the shrine of the apostle Saint James the Great. Others view the Camino as a turning point in their own personal journey—a place to end one chapter and start anew. My inspiration that year—my friend Megan—fought a fierce battle with Hodgkins Lymphoma. She talked about how she did not look back at her journey with contempt but, rather, with gratitude. She had learned to appreciate life with a new zest. And although her struggles were great, her relationships were stronger and her connection to the world had grown because of them.
Included in The Camino is a rectangular cutout of a separate painting. I included it to represent Megan's hospital room, which became a very safe space for her during her treatment. I actually created that painting for another friend whose daughter, Nora, was battling lung and liver cancer. Unfortunately, at the age of 17, she passed away before I had the opportunity to send it. Her parents also talked about how safe Nora felt in her hospital room, which is such an incredible testament to the men and women who spend their days treating and caring for people who are suffering from such an awful disease. I included that painting in The Camino to represent that comfort, but also to show how so many of us are connected even without knowing it.
As we celebrate Women In History Month, and you mention a strong influence from Joan Mitchell, Mary Abbott, Perle Fine and female abstract expressionist artists, as women take their place (long overdue) as leaders in multiple disciplines, how have those artists influenced you (as a woman and an artist)? And what do you think is going to continue opening the platform up to give female artists more visibility?
I was raised in a family chock full of strong female influences and minds, so the idea that women are powerful and capable was never foreign to me. But beyond that, I am also surrounded by men who are beyond supportive and unabashedly encouraging of finding (and shouting) our voices in this world. My Dad, a fellow artist, is the reason I started painting. He took me to The Art Institute of Chicago and sat me down in front of a large Joan Mitchell painting entitled City Landscape. Her art, like all Abstract Expressionists, was driven by the movement and feeling of color. My Dad said, "you could do this."
I remember looking at that painting for what felt like an hour. Joan (and the rest of the women mentioned) was a free-thinking, strong, sexy, and rebellious woman. I believe we all need to channel our inner Joan Mitchell and stop being afraid to blaze our own trails. Take the energy that is inside of you and use it to tell stories that are important for the world to see.
Women are fiercely intelligent. Use the fervor inside your mind to create a piece that inspire other women to look at it and say, 'I could do this.'
Most importantly, women need to relentlessly encourage other female artists and especially artists of color. When you look at the women mentioned above, all of them are white. Women of color are creating insanely poignant, passionate, and inspiring art. It is time to amplify their work! This is something I, personally, have made a priority and I encourage other women to do the same.
Tell me about the Twist Out Cancer program and what projects you're currently working on in the coming months? 
Currently we are working on rolling out our Brushes With Cancer programs for the year! Brushes with Cancer strategically matches artists with those touched by cancer to create unique pieces of artwork reflective of their journey. Typically, the program finishes with our signature celebratory art exhibition, gala and auction where the artwork is revealed. However, due to the nature of the pandemic and for the safety of our participants, all Brushes with Cancer programs will be held virtually this year.
We have three separate events: Northeast; which will take place on Sunday, October 10, 2021, Midwest; Saturday, November 13, 2021, and Southern; Sunday, March 20, 2022. Personally, I am participating in the Northeast program this year, which I am very excited about! I just received my "match" (my Inspiration) and I will start getting to know her and her story soon. Once I learn more and the creativity starts flowing, I will put that energy into a new painting based on her journey with cancer. The process and the event is truly life changing.
How can readers help support the mission and champion not just art as a form of cancer therapy, but art on the whole? How can they/we support cancer patients that need access to more progressive forms of art therapy? 
We welcome everyone to get involved with Twist Out Cancer, as there are so many ways to join our community!  We have monthly Twistshops, which are art therapy-focused workshops that promote healing, relaxation and emotional recovery through art therapy based interventions. They are designed to reduce symptoms of depression, anxiety and stress related to cancer. All future dates and more information is available here:  twistoutcancer.org/twistshops/.
We are also still accepting applications to be part of the Brushes With Cancer program in the Southern Region, which will take place in March 2022.  As I noted earlier, I can say from experience that this is a transformational experience for everyone involved.
There is a genuine moment of healing when our Inspirations see the artwork that represents their journey with cancer for the first time. And as an Artist, there is nothing better.
This is our tenth year in which we have held Brushes With Cancer programs, and each year there are new Inspirations and Artists that come together.  I really enjoy seeing all of the unique artwork and reading the stories behind them, and I encourage everyone to check it out!
To follow Twist Out Cancer on social media for up-to-date information on all of our upcoming events, visit: