A Social Commentary Inspired by Mary Shelley, Created by Bomani J. Story, Starring Laya DeLeon Hayes
"The true horror is what happens within our communities."
Death is a disease.
Those haunting words are the opening for this modern rendition of Mary Shelley's classic novel, Frankenstein. Written and directed by Bomani J. Story starring the captivating actress Laya DeLeon Hayes, the story takes this tragic tale of madness and hope and places it an incredibly relatable story world. Through the juxtaposition of gang life, socioeconomic inequality, and the lack of cultural representation in our systems of education, Story is able to weave together a tale that is both ominous and impactful with messaging of social justice and thoughtful commentary woven throughout this film. By confronting systemic issues such as racism, classism, sexism, and the all-too-familiar truth of violence that plagues this world, The Angry Black Girl and Her Monster is a clever take on a notable piece of classic literature.
DeLeon Hayes and Story talk to ATOD Magazine about the film, the power of how the genre of Horror has become the new modality of social commentary, and the importance of father figures in the Black community. The story explores aspects beyond the screen through implied nuances that shine a light on current racial, economic, socio-political, education, and social injustices. In a powerful unraveling of these entangled societal and systemic issues that impact (and harm) entire Communities of Color, DeLeon Hayes delivers a performance that is unshakably honest.
In The Angry Black Girl and Her Monster, 18th Century Geneva becomes modern-day North Carolina, and scientist Victor Frankenstein becomes a scientifically gifted schoolgirl, Vicaria. The film takes the core premise of the Frankenstein plot and makes it applicable to the Black experience in urban communities where the cyclical nature of violence and death—and the imbalance of access to non-colonized education is so prevalent. Story explains the inspiration of Mary Shelley's novel to tell his own unique story.
"When I read the book I was blown away by the anxiety it gave me, the themes it was going for and how bold it was! It was between that and being raised and mentored by my older sisters when I was a kid. Those two things coming together inspired this movie."
Leading the film as the anti-hero, DeLeon Hayes plays Vicaria who is best known for voicing the beloved character, Doc McStuffins, and she stars alongside Queen Latifah in The Equalizer as Delilah. This film is a departure from both of those shows and explores the depth of one young woman's relationship to death, loss, inequality, family, and community. This marks DeLeon Hayes's first lead role in a movie, but it was an enticing prospect to tackle such a unique approach to a classic story.
DeLeon Hayes notes, "We haven't really seen any Black teenager playing the role of a Victor Frankenstein or mad scientist. When I auditioned, I was super interested in Vicaria. I was fascinated by the first line in the script 'Death is a disease and I believe I can cure it.'"
The young actress has come from a primarily television background, having just wrapped the second season of The Equalizer when she took on the role of Vicaria. Inevitably there were challenges in adapting from big-budget TV to an Indie film, especially taking on the lead role. "When you work in TV it's like a well-oiled machine, especially with The Equalizer. With this film, there were so many other things that you just had to go with the flow with and be completely open-minded. It was a testament to how present you can be in the moment, trusting in your own abilities and just letting go of what you may not know—and be okay with that. On top of that, working every day and staying in the mindset of Vicaria, there wasn't a lot of time to just be Laya, I was Vicaria from June through July. I spent a lot of time just being in that headspace and it was a very dark headspace to be in." She adds that she is beyond grateful for the opportunity to play Vicaria as it was an invaluable opportunity to learn and grow as an actor.
She adds, "When you're working on a show and it's so fast paced and fast moving you don't get a lot of time to play around with what you've learned or try things out or spice things up a little bit. Angry Black Girl, in many ways, was used as a playground and Bomani was super open to collaboration and making sure that the script was simply a blueprint. When we got to set, we could have fun and share ideas and that nothing was off limits in terms of what we could try."
In recent years there have been a number of movies that have used the horror thriller genre to capture certain aspects of the Black experience, from the likes of Get Out and Nanny. These films delve into the psychological warfare that results from systemic racism in America and in utilizing this genre of film, filmmakers are better able to expose the social injustices and inequities through a far more impactful modality. While Jordan Peele was among the first to utilize horror films to make social statements that will hopefully enact social change, Story too took risks with his version of Victor Frankenstein. It is an homage to the original novel, but attests to the power of many current political and social issues that are dehumanizing far too many people and communities.
The Angry Black Girl and Her Monster enters this space as the cyclical nature of violence in urban communities is explored. Explaining why this is such an effective genre, DeLeon Hayes says, "There's a real horrifying aspect in the film that is completely separate from the monster. There are a lot of horrors that happen within the Black community period, whether that's systemic oppression or systemic pressures that we have to endure." She continues, "It's important to show this horror aspect because the true horror is what happens within our communities … and it's the societal pressures as opposed to anything else."
Bomani J. Story echoes this sentiment as the reanimated corpse becomes monstrous because that is how society sees him. He comments, "It circles back to systemic pressure and systemic prejudice where they are judging and seeing one thing without looking at another, and making decisions based on preconceived notions." This persisting aspect of institutionalized racism has been perpetuated over and over again through blatant sterotypes and lack of transformative policy change.
In addition to the intricate issues facing the Black community, Story also brings audiences into a space that discusses the importance of father figures and the impact of the family dynamic and how critical it is to have that structure. This is demonstrated beautifully with the performance by Vicaria's father, Donald, played by Chad L. Coleman whose rolls as Corey in All American and Tyreese in The Walking Dead have engaged audiences everywhere. His gentle spirit blended with strength is what made his role as Vicaria's father so beautiful. He stands up for his daughter in times of uncertainty and racially motivated disciplinary action that takes place in a predominantly white school, educates one of her teacher's on the role education must play for exceptionally bright students such as his daughter, and insists that the teacher never takes physical action against his child or retribution will be had. These moments become the catalyst for Vicaria's fascination with death, her deep desire to reanimate her brother Chris, and her misled but understandable desire to lessen the violence in her own community, and feed her intellectually motivated curiosities.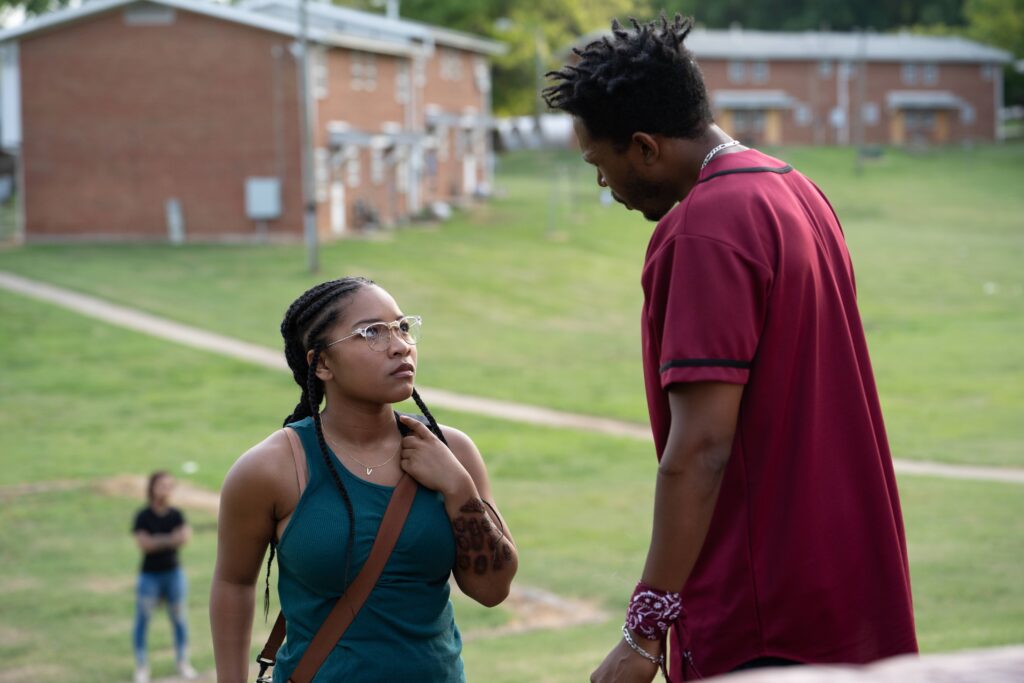 DeLeon Hayes talks about the importance of portraying this relationship. "I almost feel as if they pulled that scene right from my family history because that is something my Dad would constantly do. Any time I would get in trouble at school or anything happened, he would be there for me. I think it's important we show vulnerability for Black men but also just to show that support. You can see in the film that when Vicaria knows she has that support from her father, it mirrors itself in the confidence that she has within herself. That's why she is good with marching to the beat of her own drum and going to the extreme lengths that she goes to, because she knows that nothing can stop her … and that all stems from that relationship she has with her Dad."
It's worth mentioning that the special effects makeup in this film was on point, and the entire cast is well chosen from Denzel Whitaker, Reilly Brooke Stith, Jeremy DeCarlos, Keith Holliday, Ellis Hobbs IV, Amani Summer, Robin Michelle Lee, and Tracie Frank.  The story is naturally written, dialogue has some shining moments, especially when discussing the honesty of how broken and white-leaning our education system is (in particular our lack of cultural representation in history), and the lingering hardship of loss, poverty, and institutionalized violence will undoubtedly leave audiences acutely aware of the systemic oppressions that continue to plague far too many.
THE ANGRY BLACK GIRL AND HER MONSTER will be available in Theaters on June 9, 2023 and it will be on Demand and on Digital on June 23, 2023. It will also stream on ALLBlk and on Shudder at a later date. 
PHOTO CREDIT: RLJE Films, Trevor Stevens, Jackson Miller.