No Straight Lines
Confronting the power of art reflecting injustice, racism, and civic responsibility with artist, Darrell Black.
Art tells our truths, our fears, our mistakes, our conditioning, and it asks us to look inward.
The recent years have shed light on a great many failings and, in opposition, the resilience of the human condition. Issues of racism deceptively thought to be fading have risen to the surface in a fury of boiling tensions in America. With the Civil Rights Movement of 1968 behind us, too many took for granted that issues of racial injustice were far from resolved.
Movements to stop racial injustice and gender discrimination were reanimated. As a result, Black Lives Matter was launched in 2013 soon followed by the Women's March Foundation in 2017 bringing conversation of injustices back into the daily echoes of our lives. The fight to implement reform through compassionate legislation that demands equality and ends discrimination has rooted itself into the very fabric of our existence.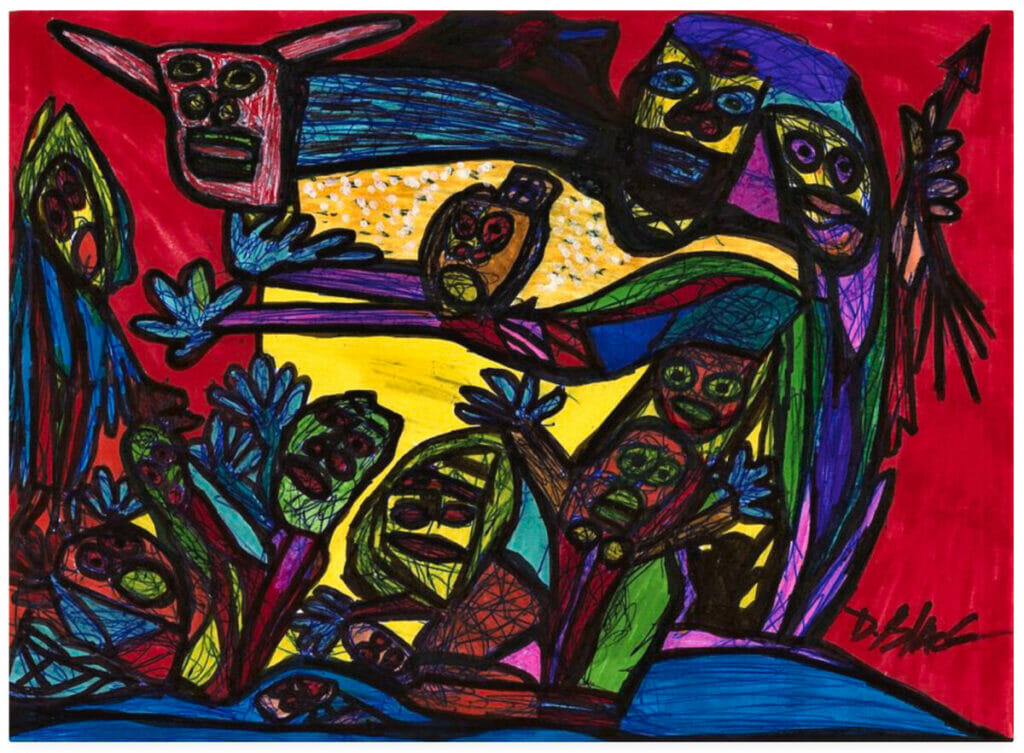 The time to change the narrative has struck hard and loud. And so it is left in the hands of those unwilling to stay silent. The artists, filmmakers, designers, and activists capable of bringing levels of awareness to the forefront.
Art has always been the true equalizer of human history.
For many artists, creativity is healing, cathartic, and empowering. That has been true for Brooklyn born, Frankfurt based artist Darrell Black. Black is an artist and veteran with a degree in Criminal Justice. He also happens to be a beautiful example of how art can be a reflective tool to wake up society.
As a young man, Black spent much of his time drawing. He had a collection of countless pieces and to his dismay, they were all lost. When Black enlisted in the military, he was transferred overseas where he started a new life in Germany. Ultimately that is where his love of art was reignited. We talked with Black about his journey, his art, and the importance of how you see and interact with the world around you.
Let's begin with what happened once you realized your drawings had been lost, and were stationed in Germany after enlisting in the military. 
This new military life overseas preoccupied me with responsibilities, friendships  and undiscovered European Culture. The reawakening of my artistic ability happened by accident, while fully engaged in my life as a soldier. I was sorting through a box of photographs and stumbled across ten images of my early artwork with only a vague memory of what I created in the past. It intrigued me so I attempted to draw again, and after weeks of many failed attempts, recognizable images started to appear. At that moment I vowed never to give up my art practice again.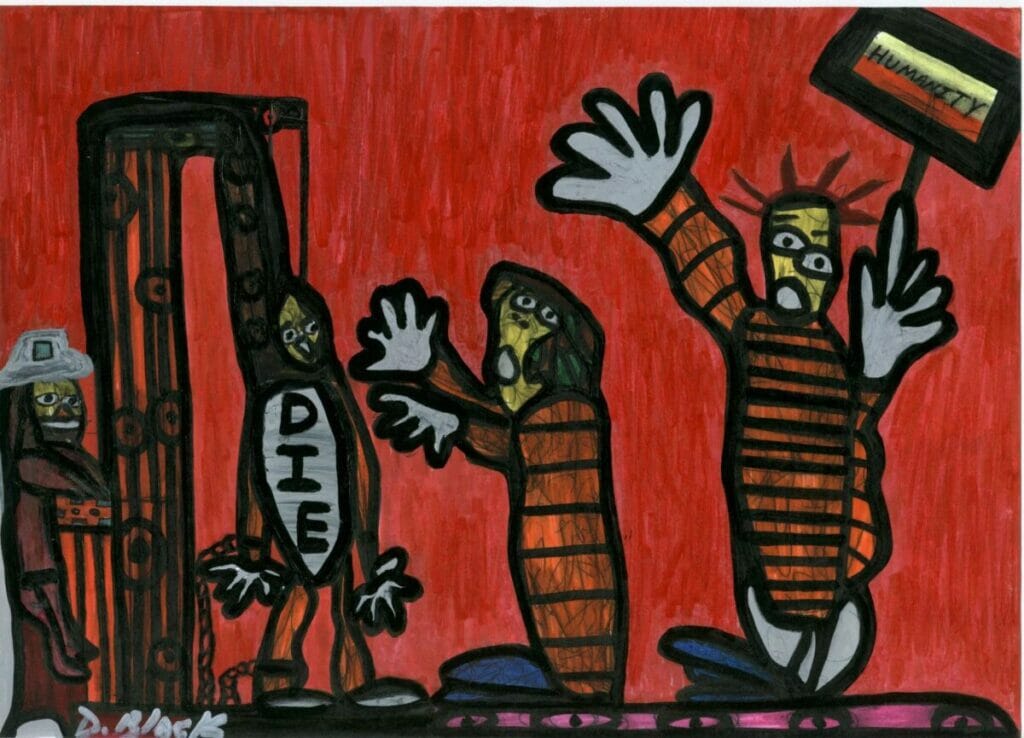 How does Frankfurt compare to Brooklyn? What similarities are there, what vast differences? What cultural influences from both places seep in to your art?
Frankfurt and Brooklyn have one immediate recognizable feature. They are both multicultural melting pots steeped in history, and both communities have visual artists with multiple languages spoken outside of the native tongues of English and German. The only differences are subtle at best which is reflected in the food and driving culture, providing me with new and familiar experiences that are reflected in my artwork.
How has art proven healing after you returned from your military tours?
After rediscovering my artistic talent while serving in the US Army, my artwork  became an outlet of self exploration with therapeutic value that helped explain hidden feelings and emotions that proved very difficult to express in words, but made obvious and straightforward in images.
What art and culture have you experienced in your travels that led to the new works?
Since living in Germany, I've traveled throughout Europe which has impacted my creative process in many different ways. For example, when I visited the city of Barcelona in Spain and viewed the architectural marvels of the artist Antoni Gaudi, it left a deep and lasting impact on me. As a visual artist, also learning about the different art movements, art styles and beliefs by such renowned artist like Friedensreich Hundertwasser, who believed that artwork should not be perfectly geometrical.
He is quoted as saying, "All straight lines are the work of the Devil" and it gave me multifaceted creative ideas to work from.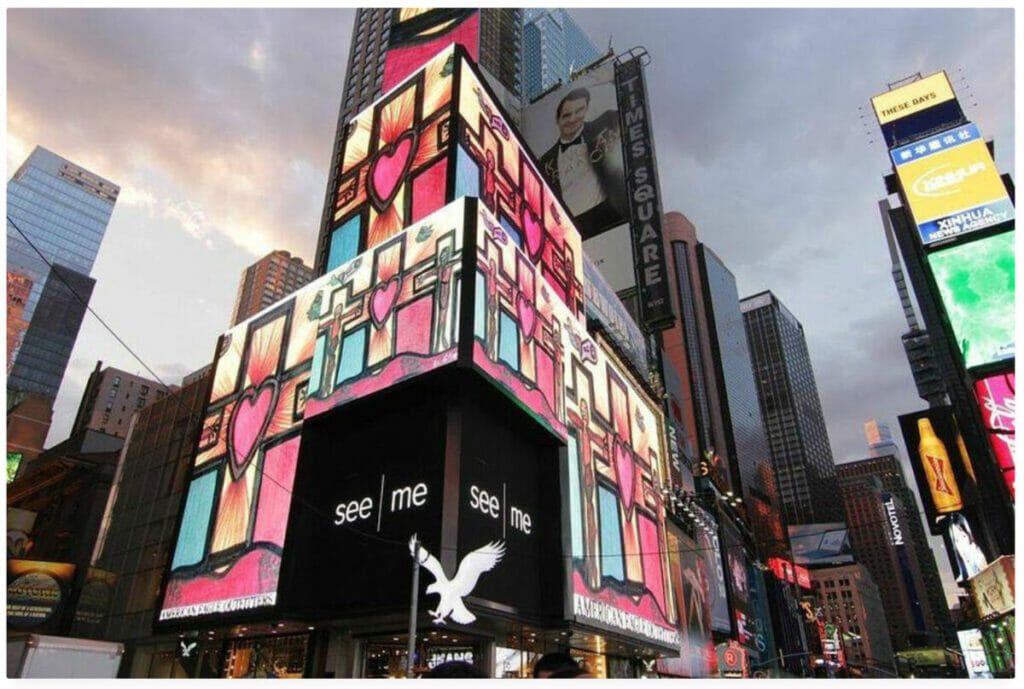 Does your degree in criminal justice factor into your present art?
Earning my University degree was merely a personal goal and had nothing to do with my artistic aspirations. I just wanted to challenge myself by earning a degree in a field of study which proved to be hard work and sacrifice —much more than I anticipated.  This was at a time in my life that was fraught with much personal difficulty. Overwhelmed, I made the decision to break off my studies only to return later. In the end, I persevered and completed my degree program which proved to be a real victory for me.
When was a moment you had that challenged your perceptions … Of life? Politics? Social and racial justice?
During my early childhood I was mostly sheltered from most social and racial injustices. My parents were both educated professionals with very good incomes which kept me and my siblings away from all the upheavals happening in the United States at that time.  But, we were still keenly aware of the many injustices surrounding us, and as I got older our family faced and witnessed firsthand bouts of racial injustice. These memories of unfairness stayed with me into adulthood helping to transform my artistic platform into a tool to reveal the many racial injustices that plague minorities in society today.

While I could assign my own interpretation of your "Definism" series, I would love to learn what inspired that and what messaging you hope is conveyed?
Definism, portrays various differences in human nature from life's everyday dramas to humankind's quest to under-standing self.
The Art of Definism is rooted in an optical artistic illusion that transports the viewer from the daily routine of life to an alternative life or non-reality. Definism creates imagery of people, places and objects that can't be found in the real world but when presented on paper or canvas seem so real and disturbing at the same time. Definism, presents an unseen world found only in the mind's eye.
What artist, alive or deceased has played a hand in your own inspiration?
Three visual artists who continue to have an impact on me and my artwork are Mark Rothko, Jean Michel Basquiat and Jacob Lawrence. These artists in my opinion are the most daring and provocative of the 20th century.
Basquiat had a very revealing, gritty and poetic style that exposed the indignities against minorities that instinctive human behavior helped to proliferate.
Mark Rothko used pure color to invoke emotion and meaning beyond the human senses. Jacob Lawrence documented the Black American migration experience into a visual language that was both vibrant and informative, which inspired me years later to create my own series of artworks depicting the lives of Black Americans.
What invokes the fearlessness that seems evident in your use of such bold paint colors?
In my opinion, fearlessness is only the perception of reality. The lack of fear most artists put forth is only a ruse. In fact, there is a great deal of fear and self-doubt in every artist. Many creatives overcome this fear mostly through the help and support of others—mainly friends or family. For example, my early drawings consisted of four primary colors: red, blue, green and black on paper. I never ventured for years beyond this color scheme—at least not until I met my soon-to-be-wife Christina. She is a lover of fashion and decorating, and she took a look at my early drawings and suggested that I broaden my palette and use more vibrant colors. This idea mortified me and at the same time peaked my curiosity resulting in my present artworks consisting of bold and bright colors.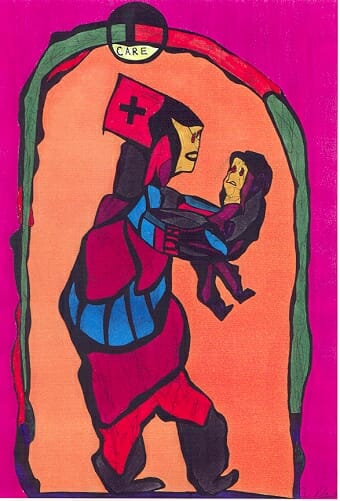 What is ahead, what are you working on, and what does the future of art look like to you?
I believe the future of art will be in digitized form which, in my opinion is indistinguishable from actual artwork created on paper or canvas.
So I'm very hopeful that online exhibitions will become the new normal which would be a big help to struggling artists unable to afford the cost of transporting and insuring their artwork.
How has the pandemic affected your creativity?
Creativity needs something to mimic and interpret such as personal or social interactions, and the lack of this necessary ingredient in creation has caused many artists, including myself, to look inward and discover a new direction in art creation. For me, the current crisis awoke a level of introspection that helped produce a series of images on paper documenting the COVID-19 pandemic and the medical staff on the frontlines.
What quote is one you defer to when you need a reminder?
I have two quotes in mind written by me.
"Anyone claiming to be perfect at what they do is proof they don't know what the hell they're doing."
This quote is a constant reminder that no one is perfect and all we can do is our best.
My second quote: "The making of a champion is one not given the benefit of the doubt on rumored abilities" Which means one should never rest on your laurels. The struggle of achievement is a daily effort to get things right, and today's accomplishments should not be carried into tomorrow's victories.
How can art impact the societal narrative?
All forms of art can invoke all types of emotion in people which in turn guides the social narrative.  My artwork attempts to do two things. First, highlight a particular issue or subject matter that interprets the present happenings into a visual language. The second is confronting the viewer with the ongoing history of our planet that's non-combative and personal at the same time, helping the viewer to experience multiple viewpoints simultaneously.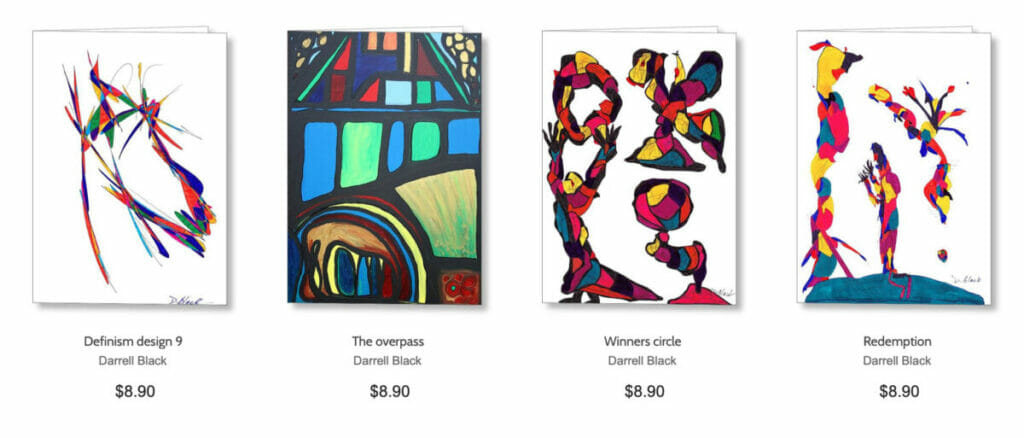 Growing up, what childhood memory introduced you to painting?
Growing up, my parents had a miniature sculpture of artist Rodin's "The Thinker" and abstract paintings by various artists on the walls.  At the time I never took any real interest in the artwork. My main focus and interest was space and science. As I got older  I started to notice some comparisons in modern art and space which caused me to gravitate towards the arts. This could be the springboard that started me on my life's journey to becoming a visual artist.♥
Throughout time, it is the continuum of art and its capability to transcend into activism that makes it so prolific. Art and action intersect more often than one may realize. That intersection is mirrored and freed in the lyric of a song, the stroke of a paintbrush pressing against the canvas, the pen writing furiously onto a vacant page or the imagery that seeps into our eyes by way of film and television. It is also evident in the erected architectural structures surrounding us every day.
Art is hope, truth, action, activism, education, and most importantly … it is the connected tissue that will tell all humanity's stories. Black is among those telling stories that should live on forever.
Darrell Black Online | Lifestyle Store | Home Decor | Stationary | Tech | Apparel
---
ABOUT DARRELL
Darrell Urban Black, is an American visual artist presently living in Frankfurt, Germany. He works in a variety of formats that include Pen and Ink drawings acrylic paintings on canvas wood and Mixed media objects. His creative process is a mixture of works on paper, acrylic paint, found objects and non toxic hot glue which creates a three-dimensional effect on any surface that gives a sense of realism and presence in his artwork. Darrell, refers to this optical artistic illusion as "Definism" in his opinion.
Definism, portrays various differences in human nature from life's everyday dramas to humankind's quest to under-standing self. "My artworks transport viewers from the doldrums of their daily reality to a visual interpretation of another reality."
Darrell Urban Black born in Brooklyn, New York, grew up in Far Rockaway and Brentwood Long Island New York. In high school, he excelled in science with an affinity for outer space. In June 1969, as America fulfilled J. F. Kennedy's dream to put the American Stars and Stripes into the dusty surface of the moon Darrell's fascination with spaceships grew. As a child he made spaceship models eventually placing his artistic visions on paper resulting in some 500 drawings. Phantasmal spaceships that eventually carried Darrell to a unique wonderland of strange forms and colors.

In 1982, he joined the National Guard. During this time his previous drawings were lost – but not his passion. In 1988, Darrell, joined the US Army and served another four years. Earned his Bachelor Degree in Science of Criminal Justice Administration at the University of Phoenix. In April 2001, Darrell, was nominated by the German government as a "candidate of the year's prize for promising young artists" for his artwork titled "The Invasion" in the exhibition "The Zeppelin in Art, Design, and Advertisement," shown between May and July 30, 2000, in the Frankfurt International Airport. Another piece referenced in the nomination letter, was titled "The Cosmic Shroud," executed with a unique glue and acrylic on linen technique. The image was described as "universally appealing and representing a topic which concerns all of us – The Universe." Darrell, had many local, national and international group art exhibitions. He has artwork permanently displayed in a number of art Galleries, Museums and other Institutions Worldwide. Darrell's artwork has also been displayed on billboard in New York's Times Square for the exhibition titled: "SeeMe Takes over Times Square 2014"
Darrell lives in Frankfurt, Germany and continues to draw and paint in pursuit of his artistic dreams. He's a member of the Veteran Artist Program abroad (EuroVAP). darrell-black.pixels.com/