Pacific Symphony's "Rodrigo's Concierto" Demands Attention
by Cord Montgomery | Photographs by Cord Montgomery
3631 S. Harbor Boulevard, Suite 100 | Santa Ana, CA 92704
While I could never say that I am an aficionado of classical guitar or classical music, I profoundly appreciate and respect the art form, often finding myself rhapsodic whenever I take the time to listen. It often provides a fluid, silken sound that trickles, reminding me of a rippling pond after a stone is dropped into it. Similar to classical music, I find myself lost walking into venues like Renée and Henry Segerstrom Concert Hall. With its subtle aquatic-inspired decor of overhanging lights that resemble waves creeping on shore, or the marble floors that spiral in a pattern reminiscent of seashells plucked from a sandy beach, the concert hall's design blankets you like an ocean breeze. It brings me fond memories of riding the elevators of this building every morning to work with a passionate staff in the Education department during my last year as an undergraduate. And I am absolutely elated that my first return to the beautiful venue in over a year is to relish in the Pacific Symphony's performance of Rodrigo's "Concierto de Aranjuez,"  William Bolcom's "Canciones de Lorca" and Manuel de Falla's "El Amor Brujo" (Love, the Magician), an evening of a wonderfully poetic fusion of Spanish guitar and flamenco.
I trot up steps of the main hall where a large crowd in velvet jackets, pea coats and sweeping dresses surround welcome tables providing information and souvenirs. In the center of the lobby, classical guitarist Joseph Yashar crawls his fingers across guitar strings in a masterful rendition of Romance Anonimo, one of the most gorgeous and recognizable Spanish guitar pieces of all time, yet sadly attributed to an unknown composer. Others in the lobby are creating their own poetry with large magnetic tiles boasting phrases from Federico García Lorca's poetry. The activities are an enticing precursor to the night's main event and a burst of applause and the raising of wine glasses begin to emerge as the guitarist concludes, echoing the last note with precise fingertips.
Ushers in grey vests and orange ties begin to lead the crowd into the main concert hall where flutists and cellists sit underneath a large pipe organ and thumb through sheet music. The main auditorium retains the aquatic imagery found in the lobby—seats and walls reflecting a design evocative of an undulating sea. There are chuckles, whispers and the tapping and shuffling of shoes and high heels as people continue to file in, many stopping to admire the intriguing design and shimmer of polished woods throughout the concert hall.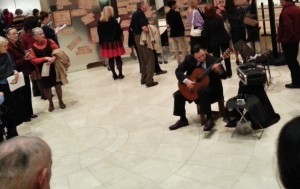 As everyone finds their seats, the lights dim and the stage illuminates, the tuning of instruments indicating the performance is about to begin. The conductor, Carl St. Clair, and a young woman adorned in a red silk dress, Chinese guitarist Xuefei Yang, walk onstage to a wave of applause. They both bow before taking their places at center stage. Yang sits and cradles a guitar in her lap with a firm yet gentle caress similar to a mother with child and spares no time to begin shrouding the audience with melodic plucks of her guitar. St. Clair energetically whips his baton over the orchestra, prying passionate performances that draw images of vibrant flowers bathed in dew and colorful birds whistling from treetops as Spring blossoms.
Viewing the Pacific Symphony's command over Rodrigo's "Concierto de Aranjuez" is something of sheer marvel and ecstasy, often feeling like every sense is being approached through the roars of trumpets and the slow purr of cellos. Each instrument can be felt, can be heard, and Yang's commanding skill with the guitar allows the imagination to mold the music into something seemingly concrete, like you can reach for the notes and sift through them with your fingers: Yang does this until the very last note. She concludes and rises to much-deserved applause, taking her final bows and exiting the stage for the rest of the evening.
The second performance of the evening, Manuel De Falla's "El Amor Brujo," is to be sung by mezzo-soprano Ola Rafalo. She joins the orchestra onstage in a gorgeous dress and bright red shoes, accompanied by a classical guitarist. She sings with a confident presence, her voice reverberating through the auditorium and raising the hairs on my arm as she forges through a multitude of songs telling the Spanish ghost story of a woman haunted by a former love. There is an array of emotions, and Rafalo skillfully captures each one with her vocal range, culminating into an aesthetic finish where the sun finally emerges and, to compliment and surprise the audience, the lights in the theater also slowly brighten to a vibrant, visual finale.
There is a break in the evening where Musical Director Carl St. Clair is joined on stage by William Bolcom to help introduce and discuss "Canciones De Lorca," a song-cycle inspired by the poetry of Frederico García Lorca. The Pacific Symphony decided to perform the piece in honor of Bolcom's 75th birthday, and to help sing the piece is guest tenor René Barbera. He struts on stage and sings through an erotic, unrestrained song-cycle illustrating the complexities of the human experience. There is a building sense of dread and beauty exemplified by the range of Barbera's vocals, and the skillful instrumentals help channel the tumultuous emotions of love and loss. The depth of the heart is stripped bare; blending timid moments of quiet violin with thunderous trumpets and horns as heartbreak is unclothed, conveying the horrific beauty of uncontrollable feeling that pain brings us. The beautiful lyricism of Lorca's poetry is captured magnificently, spanning from locales such as Harlem and Cuba, communicating the musical identities and conflicts of each culture veraciously. A triumphant and jubilant close leads to a maelstrom of cheers. Everyone on stage rises to receive standing ovations, the night proving to be a wonderful coalescence of heartbreak and beauty found in the most unexpected places. The poetic lyrics illustrate thoughts and feelings hardest to convey in coherent terms; the classical instruments convey powerful and subtle emotions alike — and there is wonder to be found in performances like this, something often overlooked in a modern music world where profit often trumps passion: truth and raw feeling. The Pacific Symphony has the talent and passion that demands to be seen and even to an unfamiliar audience, manages to uncover something new to be found in the old.
ATOD Magazine would like to thank our friends at the Pacific Symphony, particularly Mike Kerr and Jayce Keane. It is always an honor to attend a performance.
__________________________________________
Follow ATOD Magazine™ and A Taste of Dawn™
__________________________________________
Brought to you by …