My Fare Story + Eat Your Words No. 5
Written by Dawn Garcia | Photographs by Clarence Alford
I was honored when NPR's "The Moth" favorite and host/creator of "Eat Your Words", Greg Walloch asked me to be among a truly sublime group of storytellers at the December 5th performance at The Standard Hotel, West Hollywood. The line up would include Greg Walloch, Foragers Mia Wasilevich, Pascal Baudar, Radio Host, Author and Comic Frank DeCaro, and Host, Actor, and Writer Chris Gorham. And then I was sprinkled into the mix and I thought, "WOW! This is seriously spectacular!"
Greg's Story
Greg Walloch is always a tried and true storyteller but tonight he shared a story that really crept into me. He shared a story of being locked in to Tompkins Square Park in New York. He was walking through and as he got to Gate B, it was locked. He figured he had plenty of time to make it back to Gate A to get out but alas, when he arrived back at the other side, the gate was locked. He was stuck. All he had was to rely on the kindness of strangers and in New York, well, that could be a little tricky. A few passerby's walk on and ignore his plea for help. Eventually two drunken twenty-somethings come by and "agree" to help but after their tragically bad plan to get him out fails, they swear they will come back to help him once they get to their party. Hours later, the police arrive and the situation is certainly one that would beg some questions. In a comical and compassionate way, Greg tells how the police officer helped him and their conversational exchange. Somehow in that moment, while he is telling the audience his story, you feel your heart plummet and leap and it's his delivery that keeps you wanting more. He is a masterful and gifted storyteller to be sure.
Frank's Story
Frank DeCaro begins his story by talking about how food persuades so much of what he does. While, like everyone, he has attempted dieting and such (and recently lost 60 pounds!), he loves the idea of food. He loves the way it tells you who someone is and as the Author of "The Dead Celebrities Cookbook", there is always a really funny twist on how its done. His ability to share tales of growing up and eating things like cheese whiz are not only relatable but hysterical in a "practical, holy cow I used to love cheeze whiz on Triscuits" kind of way and watching him up there with such a presence was a sheer treat!
Foragers Mia Wasilevich + Pascal Baudar
Chefs and Foragers Mia Wasilevich and Pascal Baudar introduced us to the multiple facets of what foraging is and educated ALL of us on the incredible array of foods available in the wild grown areas of Los Angeles. It was not only eye opening but entertaining. They created the foraging courses when asking themselves how one would actually "survive" in Los Angeles if left to our own devices of relying solely on the land. Apparently there is quite a bit of food in this land of smog and movies! They teach Foraging Courses and I'd highly encourage you to sign up! You can get more info here: RESERVE.
Christopher Gorham
Christopher Gorham is a recognizable face for sure but it's his boyish charm and sheer love of his wife and kids that were the catalyst of tonight's story. He dives right into the birth of his first child; the labor, the excruciating graphics, the hospital, the forceps (oh yes, the forceps), the cringing agony of the "push" and the "pull" on his son's noggin! Yes, Chris gives us all a fully elaborated point by point account of what it is like watching your child be pulled from your wife's vagina. It's – well – entertaining. As a mother who was in labor for 3 days only to be in hard labor for WAY too long, push for 2 and a half hours and end up in a C-section anyway, I felt his empathy. The story ends with him talking about all 3 of his kids and how different each of their births were, how much of a badass his wife is for doing it all, and then he reminds us all to really take in every moment and appreciate even the littlest of things. It was an ideal finish to the evening. Catch Chris on The Covert Affairs on USA.
Dawn's story
I have to say I typed out my story to share with you. As a storyteller, the possibility of sharing the things we are most passionate about, the way we experience life, and the awakenings that happen along the way – it is why we do what we do. I began with a quote by Nelson Mandela as December 5th was the date of his death and as such an immensely influential in my world, it was only natural to start with him.
"A good head and good heart are always a formidable combination. But when you add to that a literate tongue or pen, then you have something very special."
― Nelson Mandela
An excerpt from my book, "My Fare Story: How I Fell in Love With Every Bite"
I believe food can heal a great divide in

any culture, any situation, pause war,

unite families, instill passion, provoke

sensuality, engage courage, and remind

us why it is we're supposed to be living.

It's our connection to one another. This

Series is my "farey tale" about how I fell in

love with food, became impassioned

with culture, inspired by tradition,

intoxicated by innovation, awakened by

art, and ignited by the seduction of

our five senses.

Touch. Taste. Sound. Sight. Smell.
I begin by asking the audience to say the first thing that pops into their heads: Touch (Flesh). Taste (Spicy). Sight (Cream). Sound (Pleasure). Smell (Indian). In the words of my friend, an auditory Wonderland.
Excerpt "My Fare Store: Part 1 – Belize" by Dawn Garcia

The first time I left the US, I was in my early twenties and I went to a third world country … and it opened me up in ways I never imagined. I went to Belize. The rich soil, the mutli-cultural landscape, the poverty that somehow did nothing to silence the joy, acres of green, huts, houses on stilts – and I stayed in the rainforest. Granted it was a beautiful location but every night my body was eaten alive by thousands of mites, I could hear the sound of pumas and jaguars roaming just outside the open luxury huts, howler monkeys would be the first sounds in the morning, rain would fall, butterflies would come to say hello, mahogany wood enveloped the room I slept in. It was beautiful and scary and for the first time in my life, I finally took a breath. I paid attention to the little things. Suddenly the taste of food danced on my tongue in a provocative way, I could literally smell every herb, every blossom, the difference from fresh rainfall to the scent of lingering dew. I bathed in rainwater that caressed every inch of my skin and somehow, that gentle touch of water awakened my sensuality.

Being in this unspoiled landscape taught me so much about food and culture. This was the first time I understood what fresh fish meant as the local tribe speared it daily and to our pleasure, it was prepared for us. I tasted REAL molé … not chalky or grainy but rich and exciting and spicy and it nestled itself in my mouth in a way that lingered like good sex. I tasted wines and rums and tequilas and libations I had never had.

This was when I truly fell in love with every bite. And from then on, food was no longer the nutrients I shoved into my mouth or the odd nostalgic scent of food my Spanish/Mexican grandmother would make. I became fascinated and while I had dabbled in home cooking the moment I was 18 and on my own, it was this trip, this introduction to foods and flavors that sent my mouth soaring.
To the audience:
The thing is, food is sexy. It triggers memory and while we may never remember the details of a dish, we ALWAYS remember the moment, the conversation, the look, the emotion, the memory. It doesn't matter if it is a $5 taco or a $500 plate of fare. The experience and how you choose to enjoy it is literally pure sultry.
So that said, let's delve into the notion of food porn. I don't mean pretty pictures. I mean food that just turns you on. And I don't mean bananas or cherries or any other phallic food. I mean things like honey that when you think about it drizzling onto flesh it just makes you imagine all sorts of scenarios. The way it needs licking, the way it drips ever so gently onto the plate or the crème or the flakey crusted baguette. Honey is foreplay. And it's just one of many.
So now, I am going to take you to that place.
My favorite kind of tasty erotica is dark chocolate infused with chilies and Vosges Haut Chocolate makes some of my favorites. Tonight Vosges Beverly Hills has provided all of you with their Super Dark Chocolate Bar: Guajillo & Chipotle Chili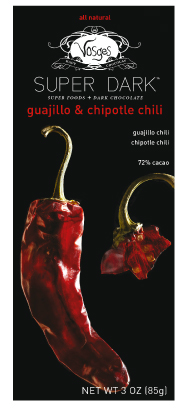 Guajillo & Chipotle Chili Super Dark Chocolate Bar
Our all-natural Super Dark Collection combines deep, dark chocolate with fellow super food ingredients, resulting in healthfully delicious haut-chocolat. Seventy-two percent cacao dark chocolate is rich in antioxidants and vitamins, boasting benefits including stress reduction, heart health and improvement in brain function. Guajillo and chipotle chilies tease your taste buds with a warm slow heat while delivering capsaicinoids – known for their extraordinary anti-inflammatory, analgesic and heart-healthy effects.
Your palate will indulge while your body and spirit enjoy a bonus boost.
I'm going to pass around bars, take a small chunk and DO NOT put it in your mouth. Instead when you have it, hold it in your fingertips. Your index finger and your thumb should gently rub it.
Before you do anything else, think of eating like sex. If you have sex without any touching or kissing or foreplay, it is really pretty boring – Unless its primal then that's different but that can't be the case all the time. When you have really good sex, you are touching every inch of flesh, rubbing, kissing, lips dragging over as much of the other person as possible and they, you. Their hands exploring every part of your body and that first moment of entry, well, you gasp because god it feels good. That is how that very first bite should be. It should sit on your tongue and play with you.
That is what I want you to pay attention to with this chocolate and chili bar.
The purpose is, yes it's arousing and  intoxicating, but if you pause long enough to enjoy it you'll realize that every one of your senses is awakened when you eat. Much like eating, life is our main event. Take the time to really engage all five of your senses as often as possible and the next time you pause to take a bite, let it linger on your lips and dance on your tongue. Follow that up with a sip of wine and you may find a blissful eroticism you never imagine.
Thanks to Greg Walloch for this unforgettable time in my career. Being able to stand in front of a live audience was a first and while my stomach was fluttering with butterflies, it was the most liberating moment for me. You are, as are all of those I was up here tonight with, a thing of beauty.
A special thanks to Donna Chindamanee at Vosges Haut Chocolate Beverly Hills.
To every storyteller out there … open your mouths, give in to your pen, free your fingertips. Find your voice.
– Dawn Garcia
---
 FOLLOW each Storyteller on Twitter
Follow Dawn on #Twitter @atasteofdawn
Follow Chris on #Twitter @ChrisGorham
Follow Greg on #Twitter @GregWalloch
Follow Mia + Pascal on #Twitter @MiaInABox
Follow Frank on #Twitter @frankdecaroshow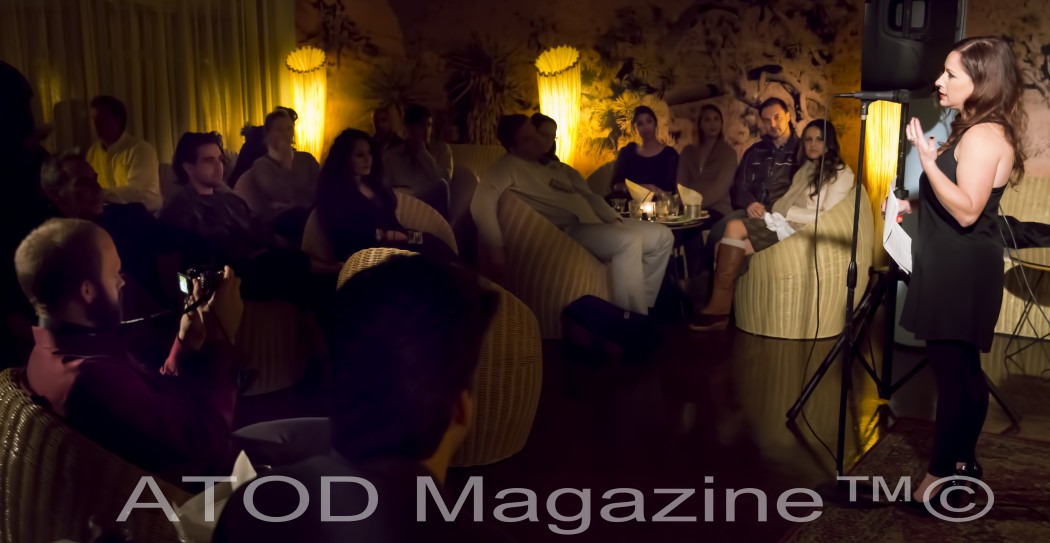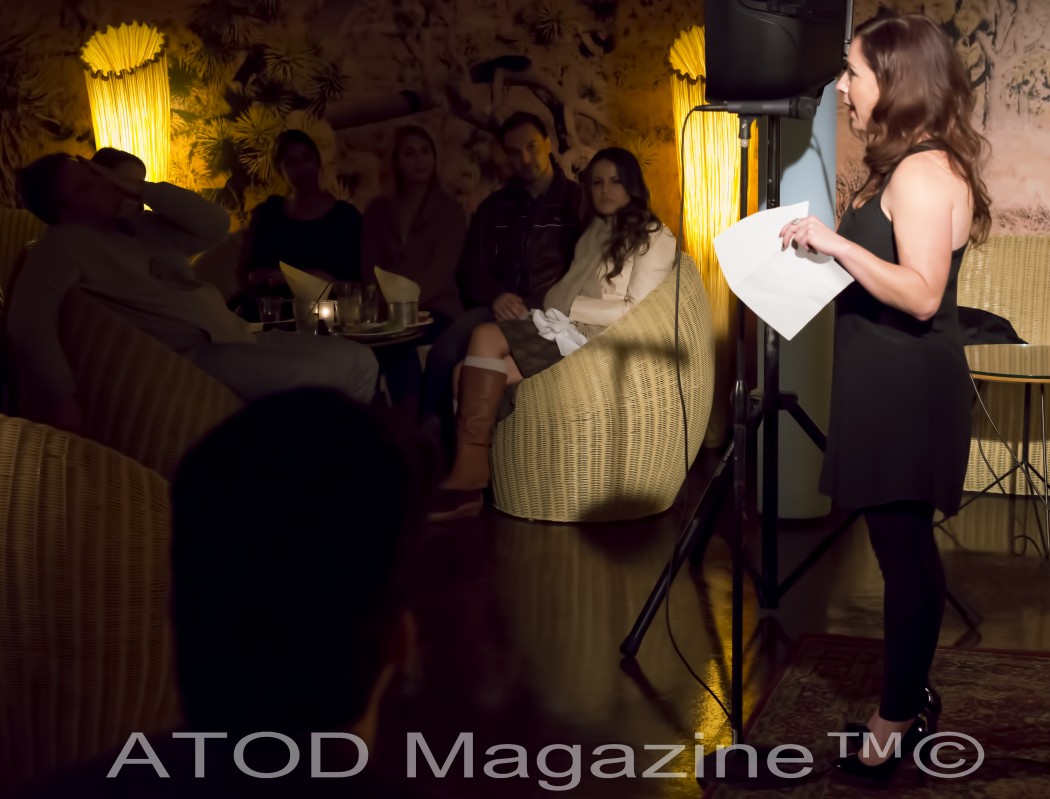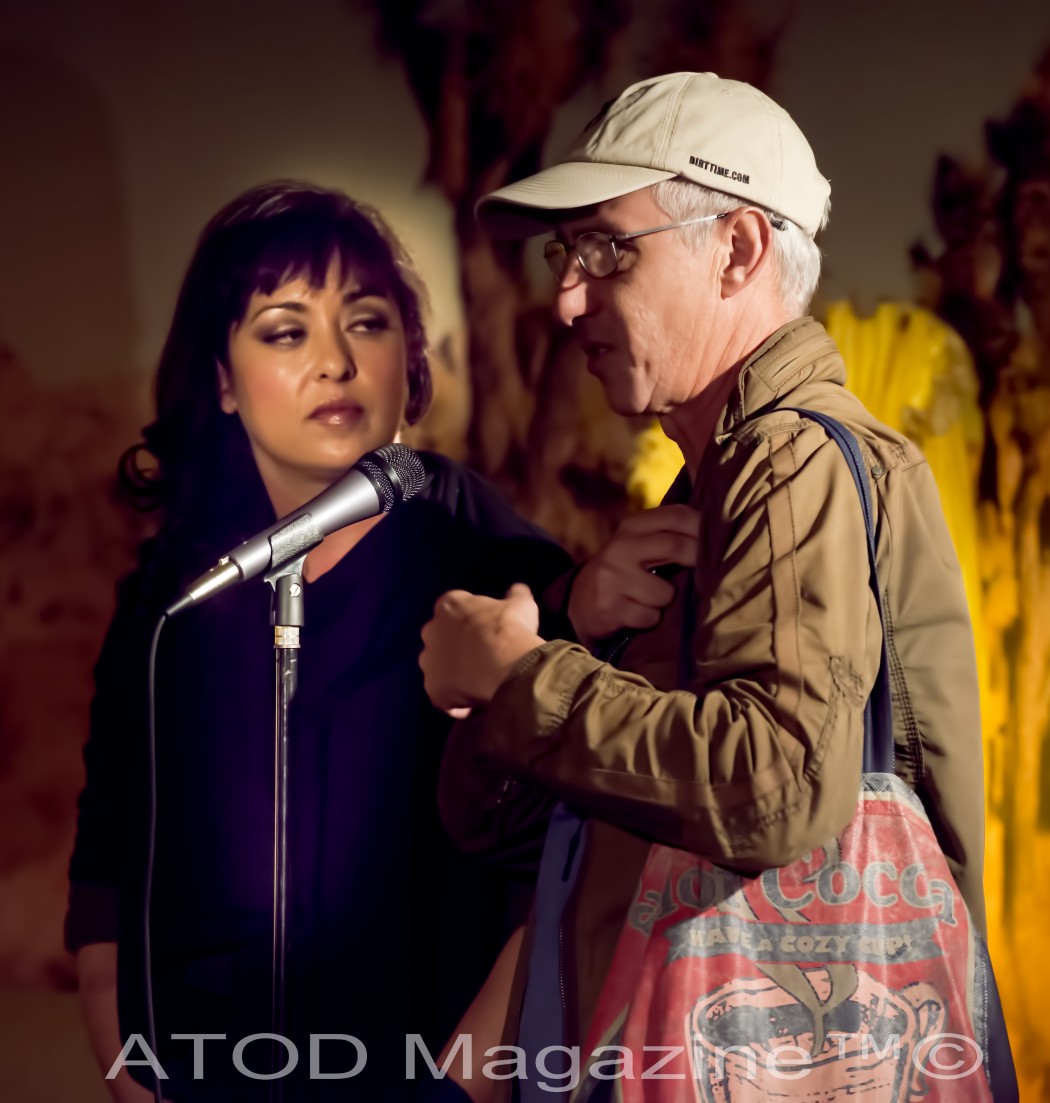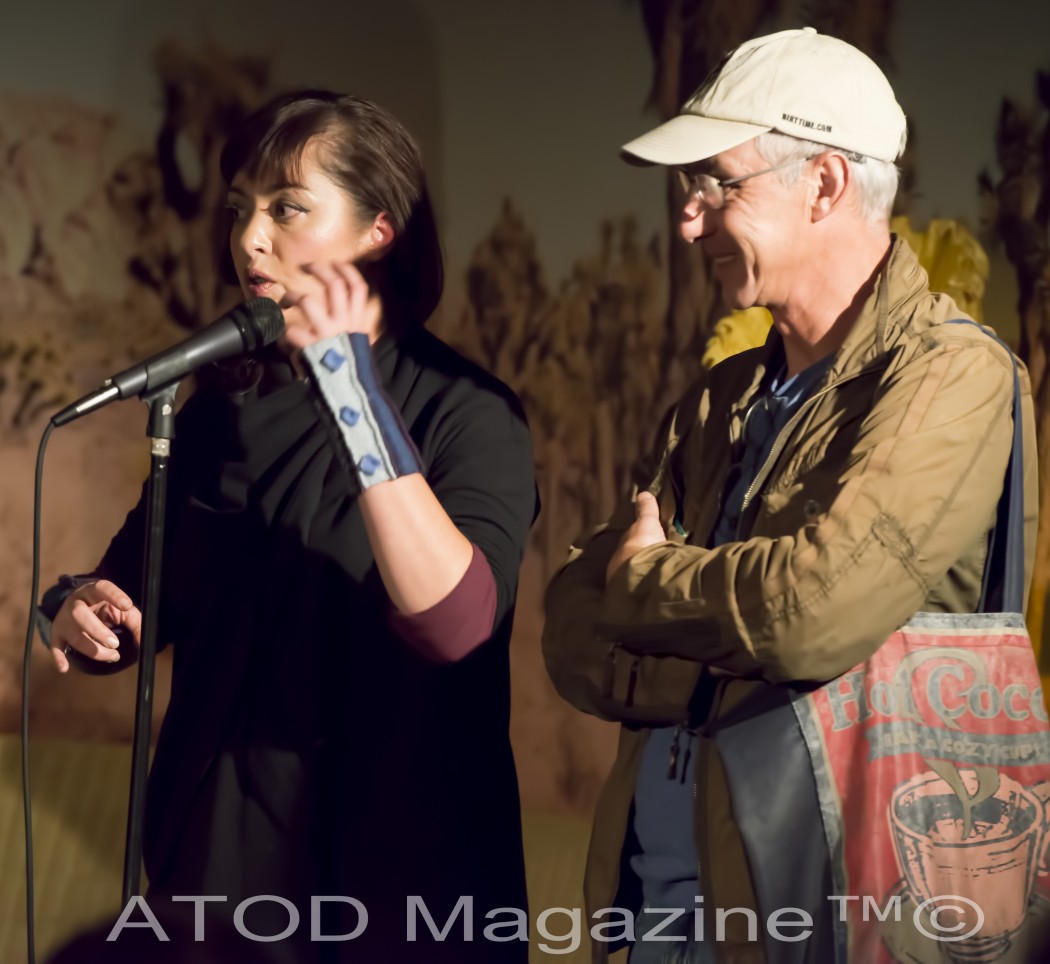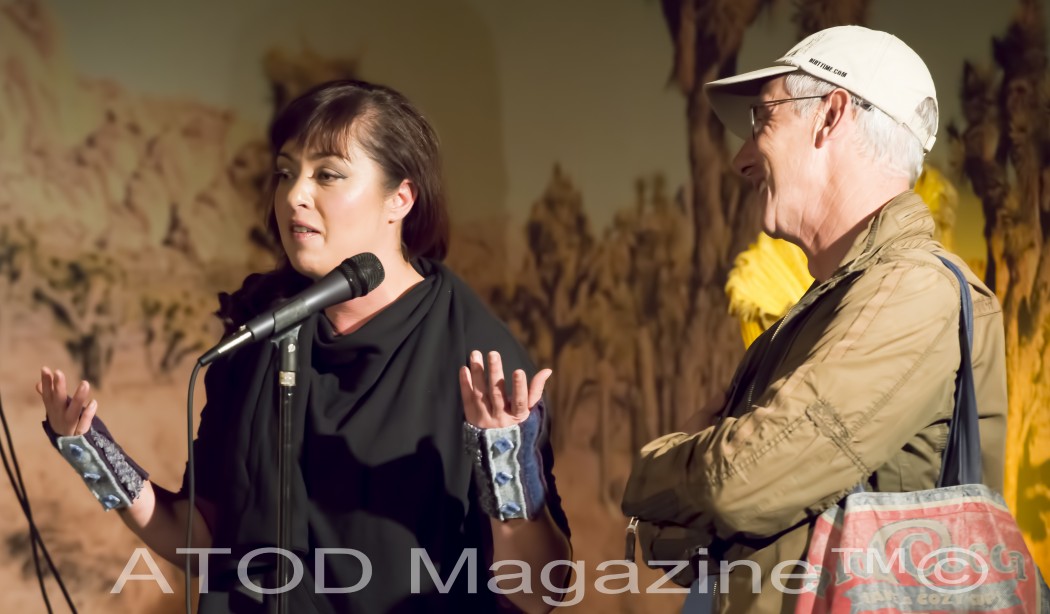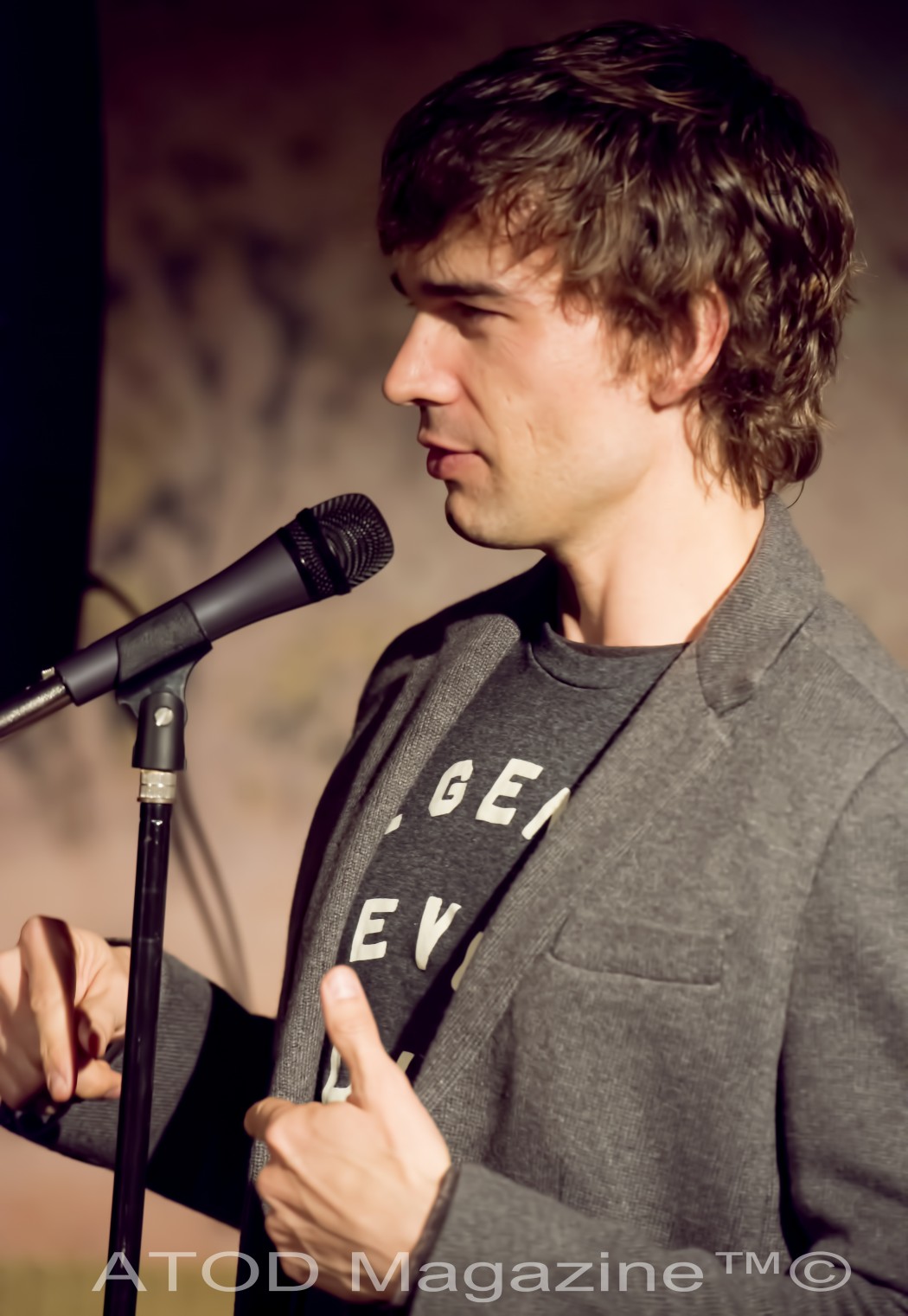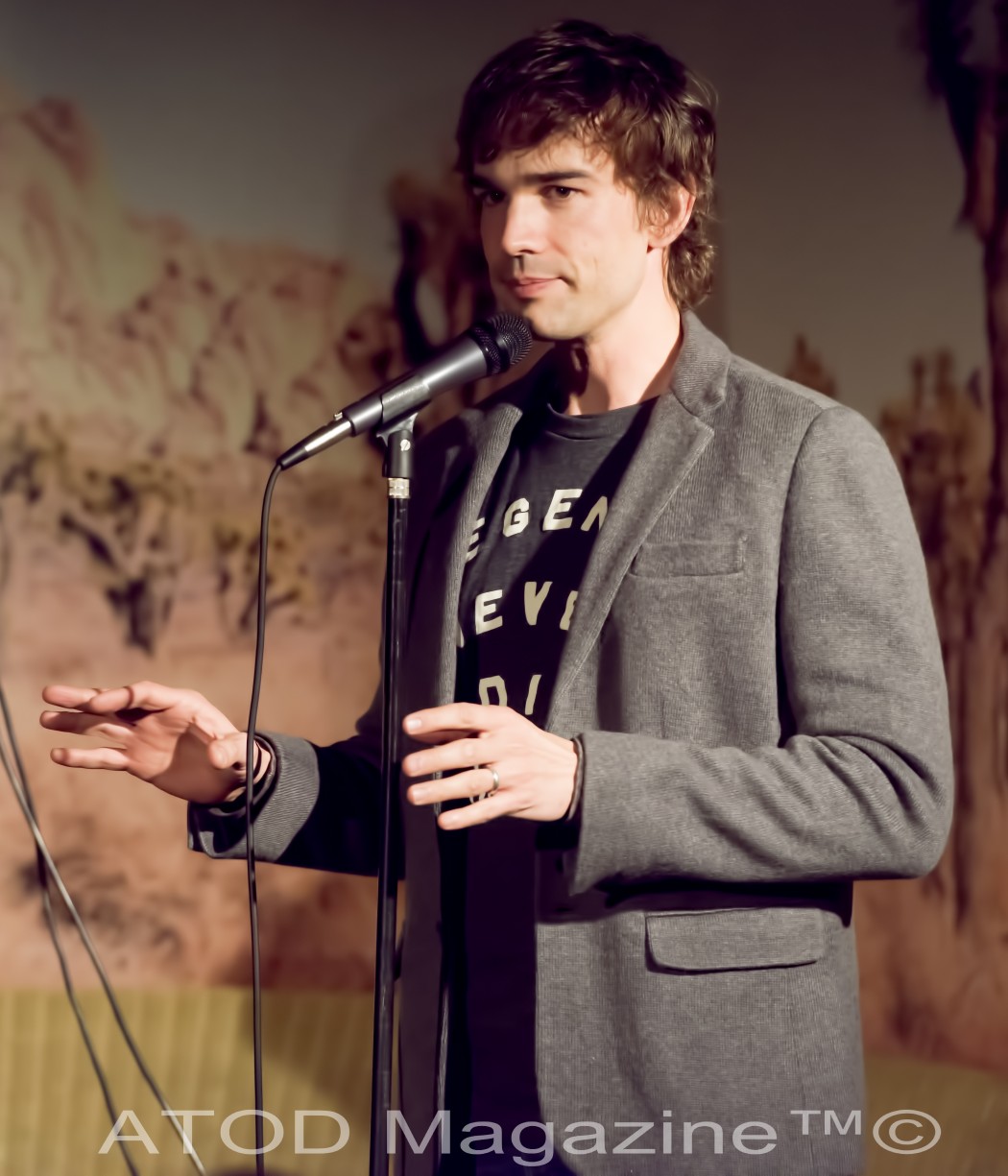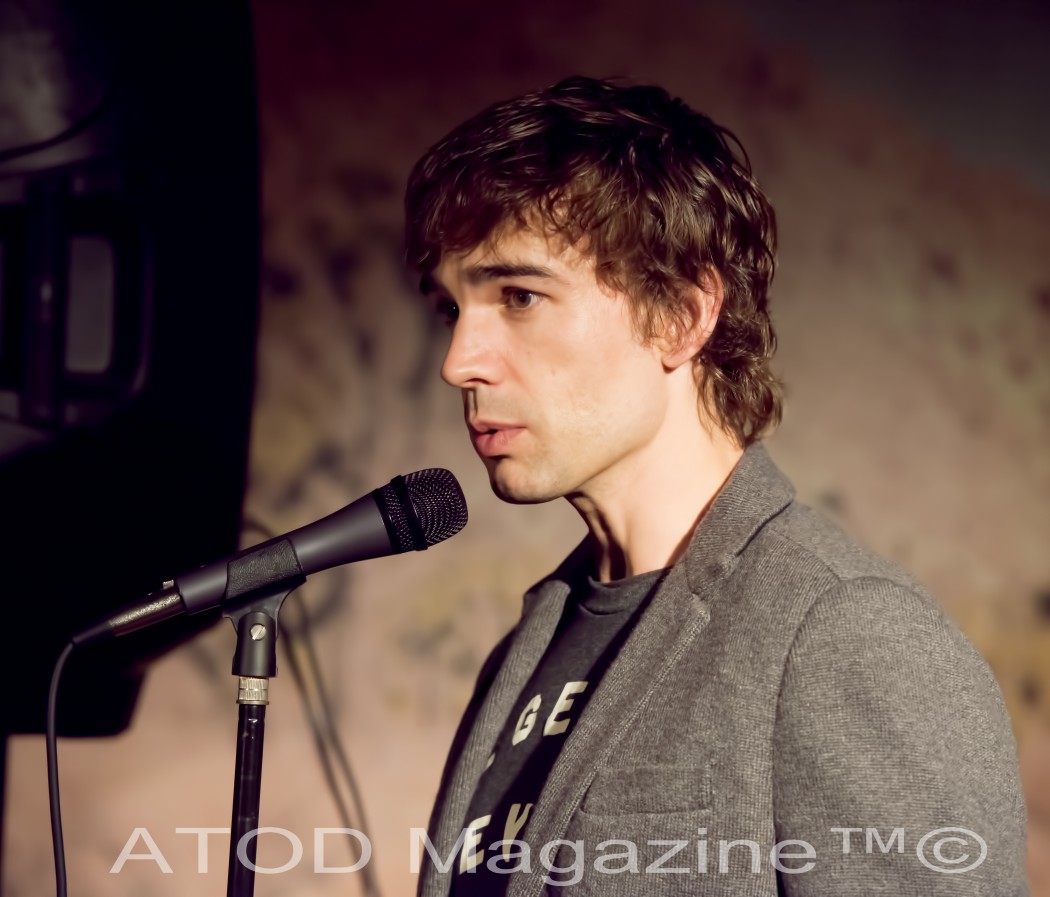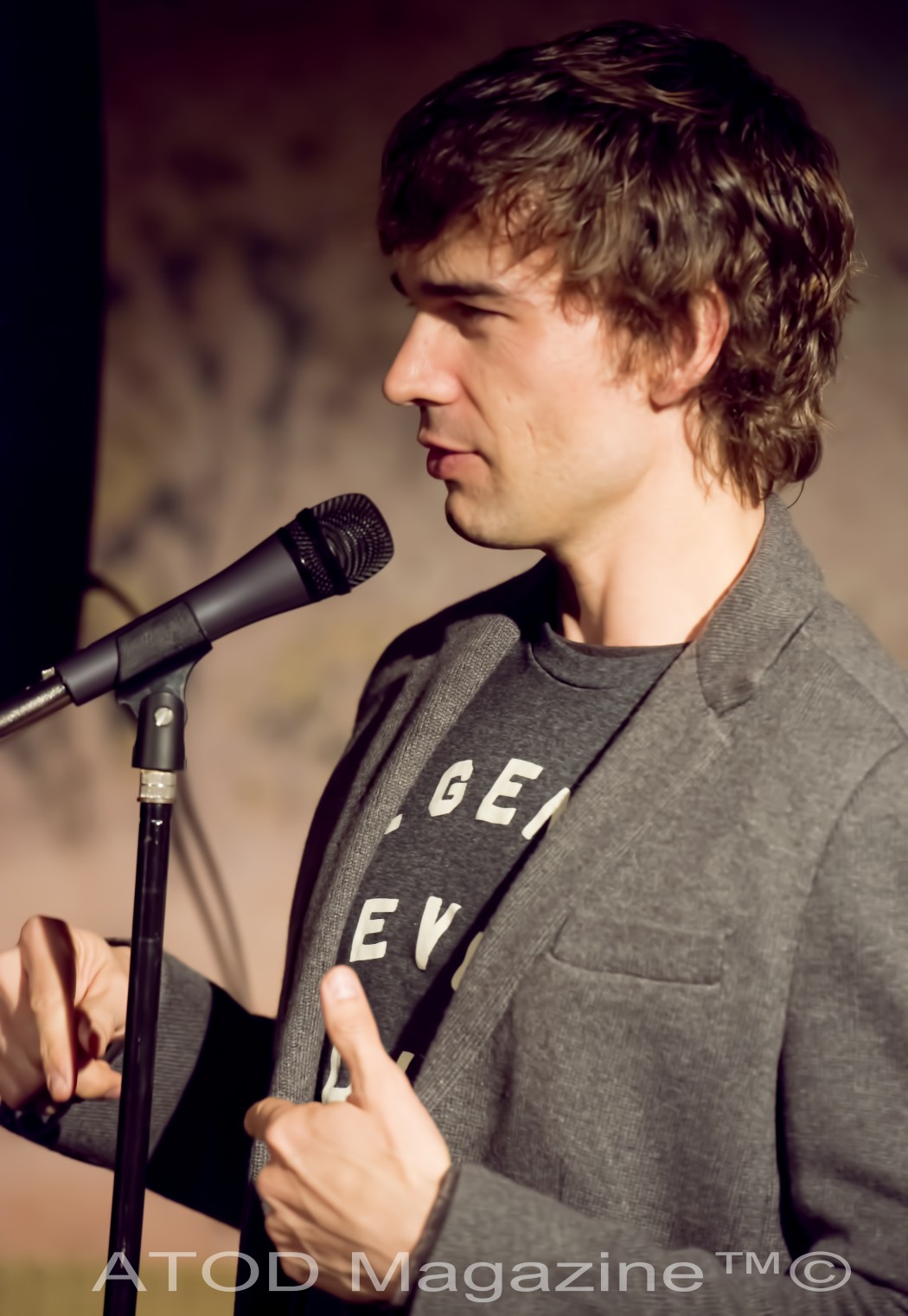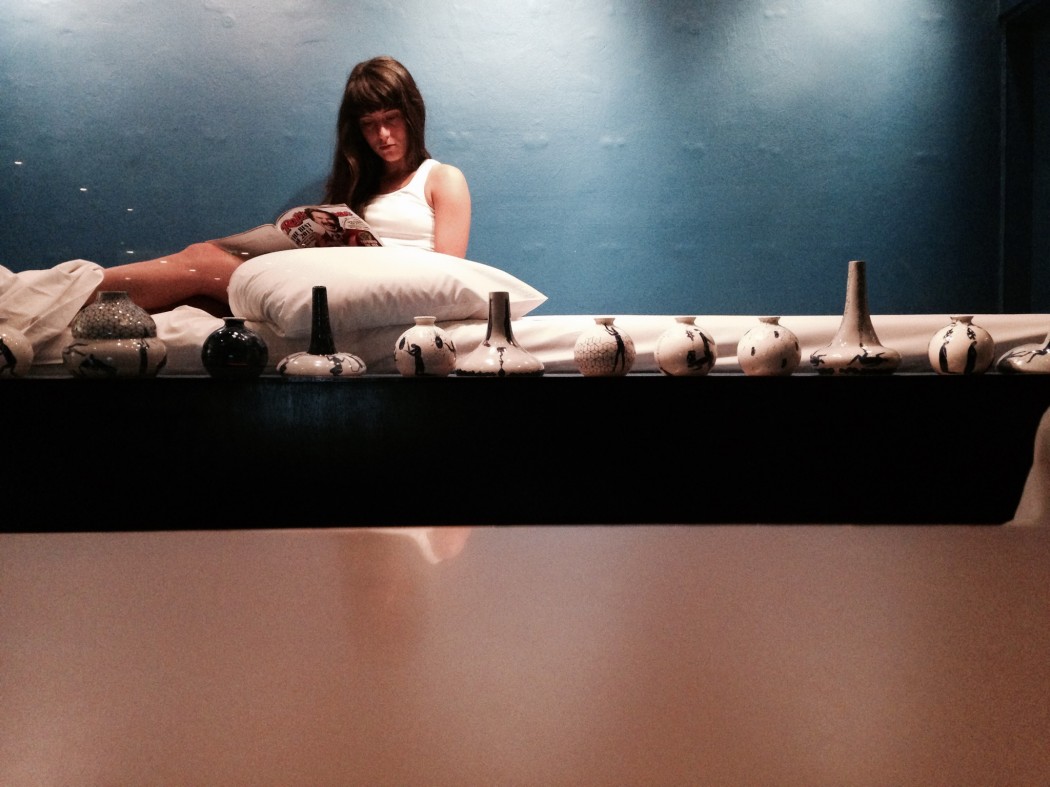 ---
This post has been brought to you by our friends at Vosges Haut Chocolat Beverly Hills:
When taste cannot be compromised.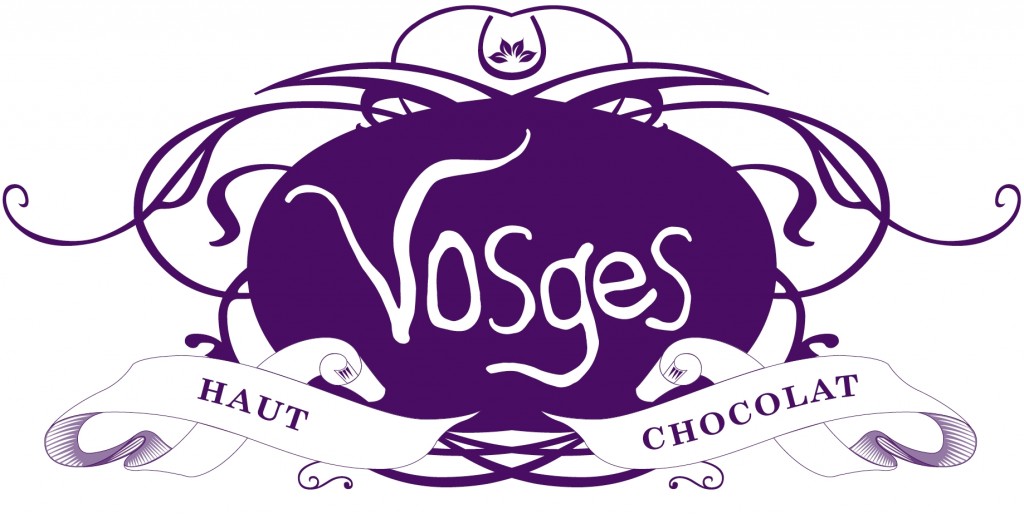 Follow ATOD Magazine™