Thomas Hill Organics with Chef Ryan
Photographs by Dawn Garcia©
THO | 1313 Park Street| Paso Robles, CA 93446 | $$
When one hears the words "exquisite" and "dining", it's safe to assume that Paso Robles wouldn't be the first city to spring to mind. Then again, perhaps those people may not have never been to Paso Robles, "Paso". Located in Central California, Paso is one of the most booming areas for food and wine in California. It is quite possibly the most surprising cuisine I get to encounter.
All of the chefs (for the most part), Award Winning Chefs hailing from different parts of CA or NY or Chicago. The créme de la créme in the culinary world who leave the big cities, the hustle and bustle of Hollywood and New York, and decide that quaint and free is the life they're looking for. So, they pack their knives and take their illustrious skill set and begin a life in Paso. And the people of the city? Why they get the greatest fare one could hope for.
The very first time I came to Paso, I met Chef Ryan Sims. I was here to meet a winemaker and she took me out to one of her favorite local restaurants, Thomas Hill Organics. At the time, Ryan was an apprentice and Sous Chef, and as luck would have it that was the one time I was able to meet owner, Debbie Thomas. This time around however, Chef Ryan is the Executive Chef and the food he creates? Sheer brilliance. From the complexity to the candor of local ingredients, every single dish is a tasty art piece worthy of pause. Crafted with the local produce in mind, tonight's dinner was nothing short of spectacular, and Chef? The best thing to happen to the region in my opinion.
Stay tuned as summer rolls around. THO will be doing woodfire pizzas and barbecues outside on the patio!
The WINES
An impressive wine selection, you are certain to find an array of varietals that you will be grateful to be introduced to.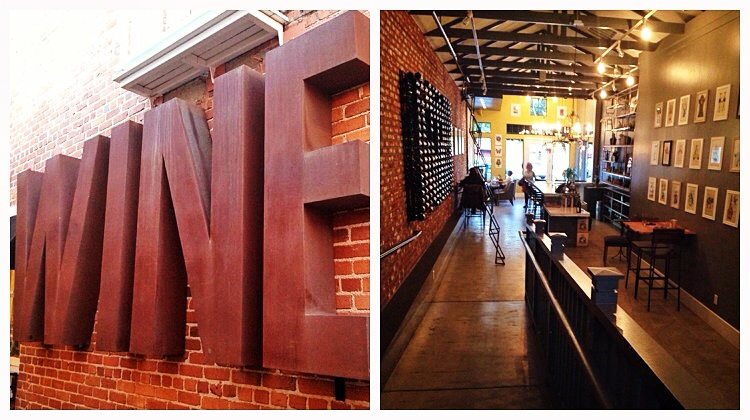 Lumen '10 Pinot Noir
Easy light with shades of garnet. Pleasant on the palate and would pair well with a well rounded charcutterie plate.
Enfold '11 Jazzin' Zinfandel Blend (Zin/Syrah)
My choice. It is a beautiful blend that pairs well with every dish and as it opens up, it continues to get more pristine.
---
The FOOD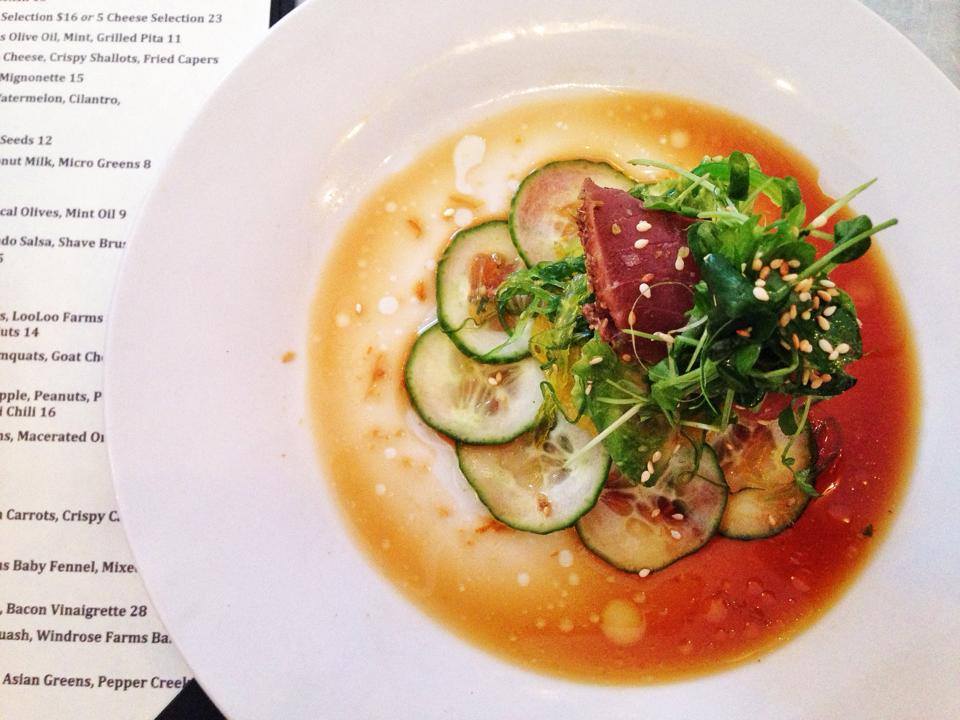 Ahi Tuna Tataki

Cucumbers, sunflower sprouts, avocado, citrus, wakame, ponzu sauce, green onion & ginger relish
*This was a fresh, well balanced plate. The seaweed salad added texture with zest of orange, the smooth appeal of the sliced avocado alongside the microgreens bathing in the natural base was a grand beginning.

Stuffed Peppadews

Happy Acres Farm goat cheese, provencal olives, mint oil
*Topped with a pea tendril, this was an explosion of flavor with a tangible spice at the finish. The composition of the peppadews with the creamy fill brought this all together.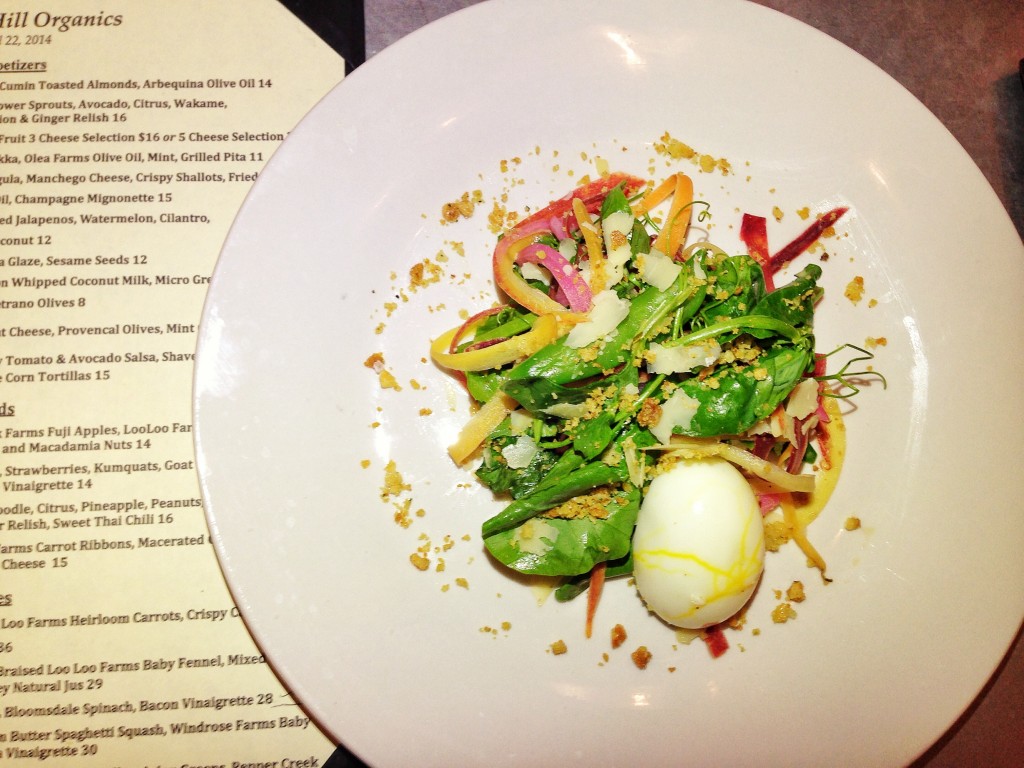 Jewel of Spring Salad

Windrose Farms pea tendrils, Le Fort Farms carrot ribbons, macerated onion, spring peas, faberge egg, asiago cheese.
*A refreshing intermission before the next course. The faberge egg was a nice added bit to a rather brightly flavored salad.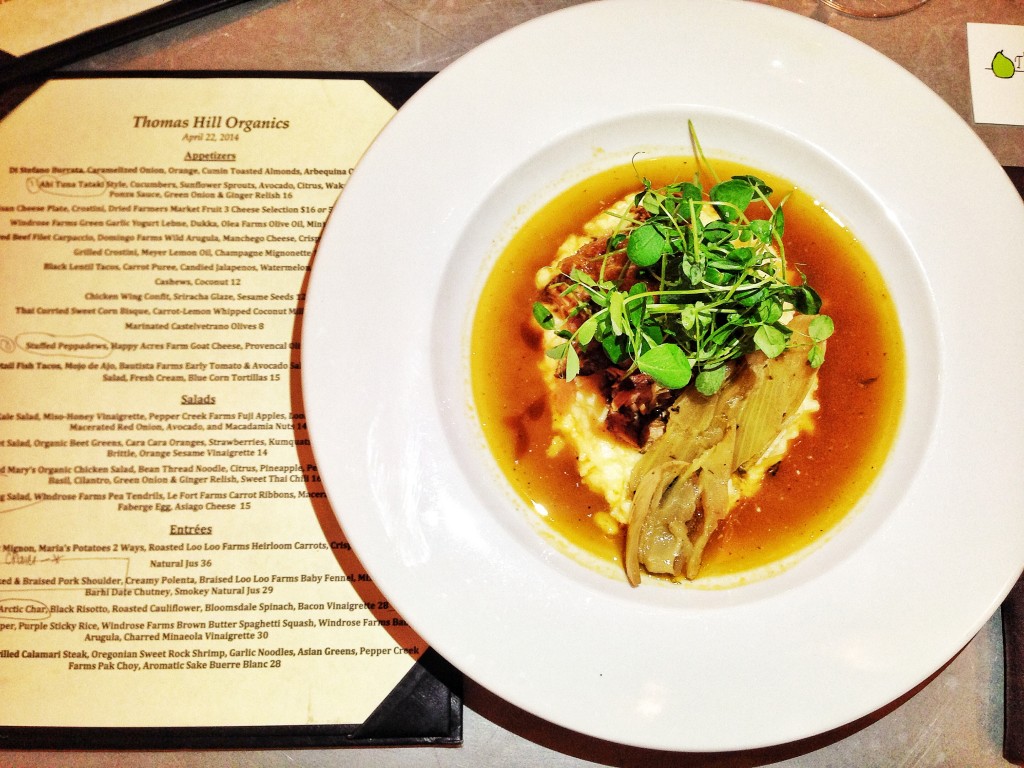 Chef's Choice: Mesquite Smoked & Braised Pork Shoulder

Creamy polenta, braised loo loo farms baby fennel, mixed sprouts, Barhi date chutney, smokey natural jus
*Pork is tender and the chutney in contrast with the natural jus balances it out. The combination of salt and sweet, with the texture and kick of mesquite smokiness makes this a hearty transition to the Char to follow.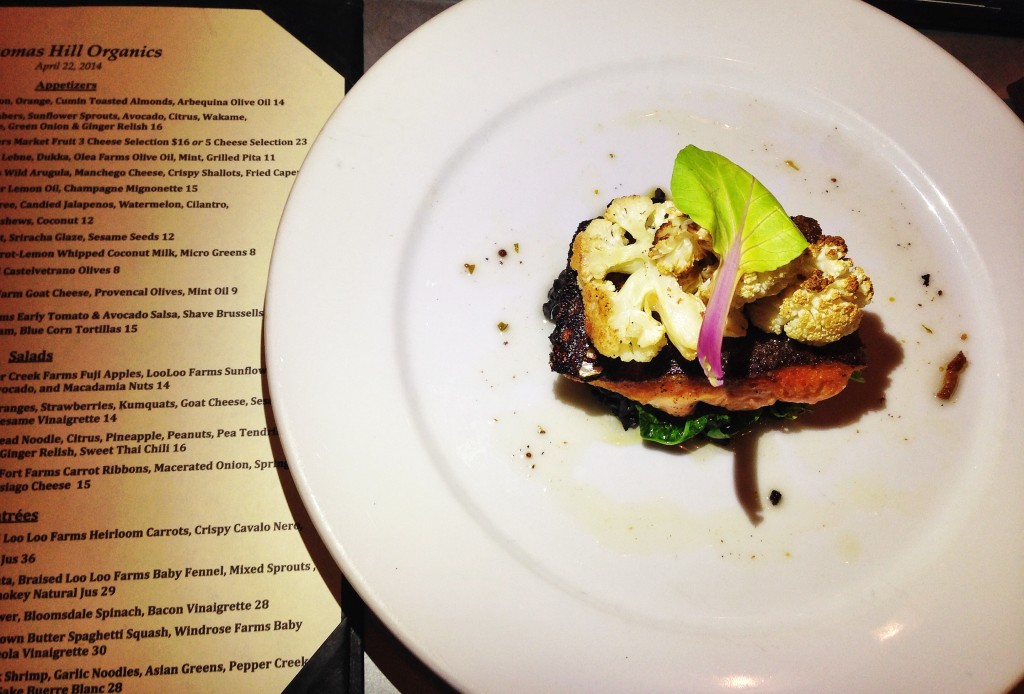 Crispy Arctic Char

Black risotto, roasted cauliflower, bloomsdale spinach, bacon vinaigrette
*Char is beautiful! Smokey traces, salty remnants laid out over the black risotto that is cooked flawlessly with hues of cauliflower that allow every ingredient to meld together like the palate hopes for. The salmon is done with a thoughtful approach as not a bit of it is over or undercooked.
Lemon Tart | Olive Oil Cake
*This duo was the lightest and most ideal finish. The cirsp bite of the lemon tart amidst the unexpected cream of the olive oil cake's texture allowed the culinary curtain to fall with grace.
Overall, I must give Chef a standing ovation. This was a delightful surprise. Every dish graduated the dish to follow with an orchestrated refinement that I was all too pleased to partake of. My server for the evening was Ellie, a girl that I believe should be the standard for every single restaurant in the nation. Her service was impeccable, knowledge breathtaking, and never once was she imposing or overbearing or up-selling. Everything was natural and effortless without any sense of arrogance or "snootiness" so often found in restaurants these days which goes to show how good at her job she really is. (And how smart the restaurant is for knowing that THAT is precisely what diners really want. They don't like being treated like they're "lucky" to be walking in the door, so … well done Thomas Hill!)
For RESERVATIONS: (805) 226-5888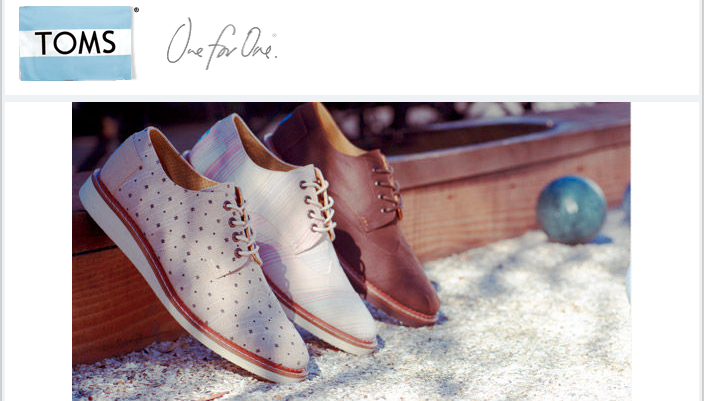 15% off any TOMS branded purchase with code SUMMERFUN at checkout! Valid 6/12-6/18 at TOMS.com. Exclusions apply.
---
Follow ATOD Magazine™