Who Wants DINNER and DRINKS?!
THIRSTY for something sublime? HUNGRY for something unforgettable?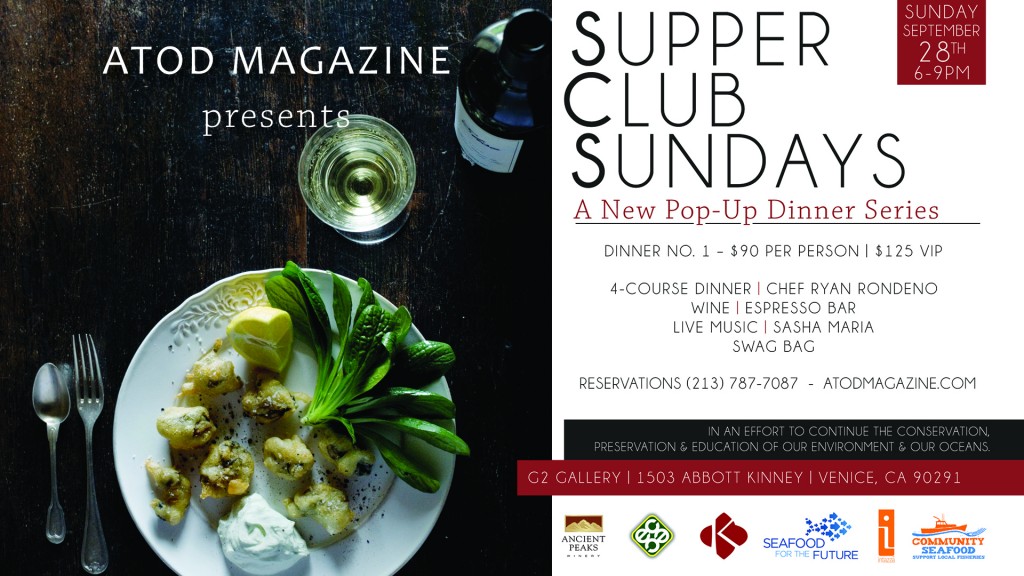 I've got you covered. If you are in Los Angeles, Orange, County, or San Diego and you want a Dinner to remember, ATOD Magazine has created a brand new DINNER SERIES! And it just got even better!
Located in Venice Beach, on historic Abbott Kinney Avenue, guests are invited to dine at one of the most prestigious private Art Galleries in Los Angeles. G2 Gallery. The G2 Gallery is a nature and wildlife photography gallery dedicated to using art as a tool for conservation. The gallery has exhibited such luminaries as Ansel Adams, Robert Glenn Ketchum and Art Wolfe, among many others. As an eco-conscious photography space, G2 donates 100% of art sale proceeds to environmental charities – more than $1 million since 2008.
"We all eat, and it would be a sad waste of opportunity to eat badly."
Dinner should NEVER be dull. And for those that appreciate an exquisite dining experience that leaves you craving the next one? This is it.
These dinners are the culinary bliss your tastebuds have been longing for and so far, in all of the truly mind blowing Los Angeles experiences, I wanted guests to have the sense they were sitting down with friends in a sophisticated environment that also happens to be doing something to better this world.
Supper Club Sundays on September 28th (and October 12th) ANNOUNCES COCKTAILS!
Ebanos Crossing will be on site to Host an exclusive COCKTAIL HOUR with some insatiable drinks prior to dinner from 6-7pm – SO – make sure you are MAKING YOUR RESERVATIONS! We are almost SOLD OUT for September 28th so CALL (213) 787-7087 to confirm. There will not be any tickets sold after September 20th.
*NOTE: There will be non-alcoholic options as well.
DINNER
6-7pm: Cocktail Hour
6:30-7:30pm: MUSIC by SASHA MARIA
7pm-8:15pm: 4-Course Dinner
8:30pm: ESPRESSO Bar
9pm: SWAG Bag
RESERVATIONS (213) 787-7087
---
FOR superior quality beauty, KRIMSON HAIR STUDIO: