Of All The GIN Joints …
"Stumbling Through Hollywood History"
A sober account by Dawn Garcia
Growing up in Los Angeles and surrounded by Hollywood, one can't help but grow into a healthy dose of Alice in Wonderland whilst landing in the heart of days gone past. Here's the thing: a girl with the inevitability to want to tell stories tends to be a girl steeped in imagination, fascinated by curiosities, and most definitely lost in eras that appeal to her every whim. ENTER: Of All The Gin Joints.
Hollywood is a sort of echelon of wonder. Upon legal drinking age, it seems almost certain a young, drunk-seeking newbie will stumble upon a Hollywood gem. Like Chateau Marmont or Musso and Frank's. The stories of Hemingway, F. Scott Fitzgerald, Claud Rains, Humfrey Bogart, Sinatra, Marilyn, Audrey, Rita, Bette, Rock … the stories go on and on and wonderfully so. Hearing of gin joints during times of prohibition or secret underground Speakeasy's where Valentino slipped away into anonymity? Well, these are the tales I always found myself drawn to – and ones that are quite true in the paradoxical world of old movie stars and centerfold-worthy cocktails.
"Here's the thing: Bogart was a gregarious man with a keen sense of humor, but he was only comfortable among friends – and his social circle was tight-knit. The Rat Pack, later so closely associated with Frank Sinatra, was in fact Bogart's creation, with Bogart at the center."

– Excerpt: Part Three, POSTWAR ERA on Humphrey Bogart
How many times have we heard the notorious Casablanca line, "Of all the gin joints in all the world …" Well, Mark Bailey and Ed Hemingway decided to take that line and bring it to life with the help of bartending consultants, Drew Jacobson and Paul Keo of Luminosity Entertainment. The gents have tapped into drunken gems that feed a glorious desire to sip with panache.
Invited to attend the Los Angeles Book Launch at Downtown's Ebanos Crossing, it goes without saying that once you meet the 4 men behind the book, well, let's just say they are the perfect "cocktail" of cool.
The Book is on SALE now for $22 USD and will be available for purchase via ATOD Magazine soon. We have 15 copies available with a personalized autograph from consulting bartender, Drew Jacobson.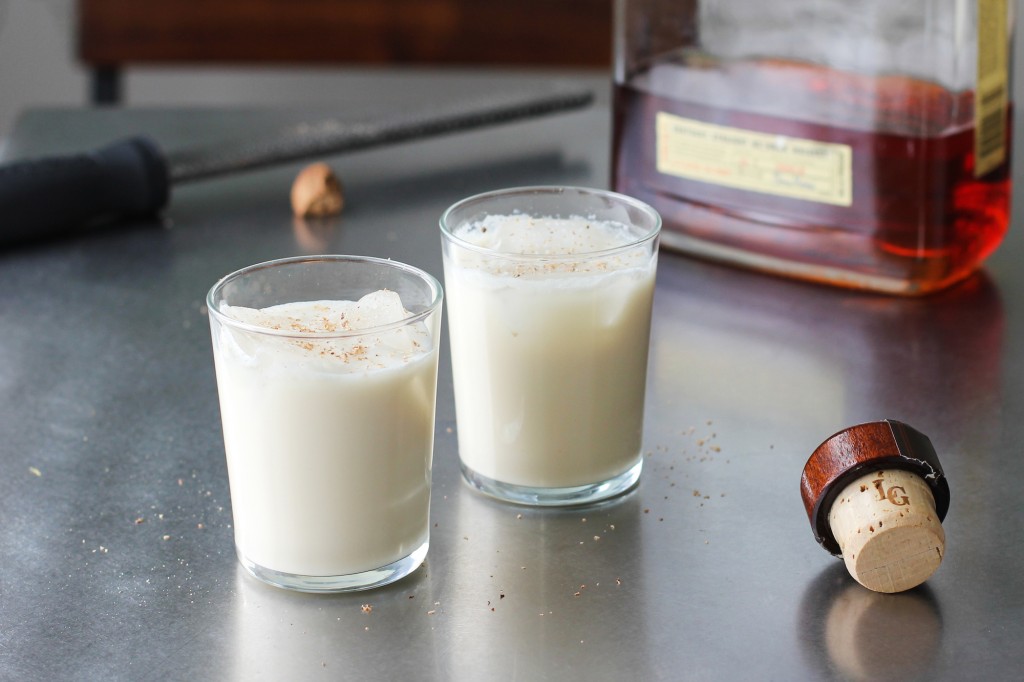 THE COCKTAIL: BOURBON MILK PUNCH
Serving Size: 10 cocktails
INGREDIENTS
16 oz. Bourbon
1 Quart of Half & Half
2 1/2 tblsp. Vanilla Extract
2/3 cup Confectioners Sugar (Powdered Sugar)
Freshly Grated Nutmeg
INSTRUCTIONS
Pour ingredients (except nutmeg) into a large pitcher and stir until sugar is dissolved. Cover with tinfoil and let sit in refrigerator for a couple of hours. Stir again to re-combine ingredients and serve in an Old-Fashioned glass (ice optional). Sprinkle freshly grated nutmeg on top. Pitcher should provide for about 10 cocktails.
---
PRESS
"This book is like being at the best dinner party in the world. And I thought I was the first person to put a bar in my closet. I was clearly born during the wrong era."
– C H E L S E A  H A N D L E R
"The perfect cocktail of a book: sweet enough to go down easily, sour enough to cleanse the palate, and strong enough to leave you giddy. When I finished I still wanted more!"
—WALTER KIRN, author of "Blood Will Out" and "Up in the Air"
Mark Bailey has pillaged the Hollywood vaults of history from the frontier days of silent film up to the psychedelic 1970s to dig up the true—and often surprising—stories of seventy of our most beloved actors, directors, and screenwriters. Edward Hemingway's stylized portraits complete this spirited look at America's most iconic silver-screen legends and the decadent, alcohol-soaked world of Hollywood fame and fortune. Humphrey Bogart got himself arrested for protecting his drinking buddies, who happened to be a pair of stuffed pandas. Ava Gardner would water-ski to the set of Night of the Iguana holding a towline in one hand and a cocktail in the other. Barely legal Natalie Wood would only let Dennis Hopper seduce her if he provided a bathtub full of champagne. Bing Crosby's ill-mannered antics earned him the nickname "Binge Crosby." And sweet Mary Pick-ford stashed liquor in hydrogen peroxide bottles during Prohibition.
Bite-size biographies are followed by ribald anecdotes, memorable quotes, and favorite cocktail recipes. Outrageous stories about film sets drenched in booze (From Here to Eternity, !e Misfits, Apocalypse Now) are paired with the legendary watering-holes of the day and their signature drinks, like Musso & Frank's martini, Don the Beachcomber's Zombie, and Café Trocadero's Vendome Special Sling.
A great gift for film history buffs and mixologists, Of All the Gin Joints is an invitation to the glamorous party scene in Tinseltown and the drinking that made it shine.
---
MARK BAILEY is an author and Emmy-nominated screenwriter. His previous books include American Hollow, Hemingway & Bailey's Bartending Guide to Great American Writers, and the children's book Tiny Pie. His films have appeared on HBO, PBS, and Lifetime. Bailey lives in Los Angeles with his wife and three children. Learn more at www.markbaileywriter.com.
EDWARD HEMINGWAY has written and illustrated several children's books, including Bump in the Night, Bad Apple, and Tiny Pie. He has done feature writing for GQ magazine and written comics for Nickelodeon. He has been featured twice in American Illustration, and his artwork has appeared in the New York Times and other publications. Learn more at www.edward-hemingway.squarespace.com
www.algonquin.com