Getting away for 4 days in Paso Robles wine country felt like winning a vacation to the Bahamas for a month
Travel has been one of my favorite aspects of life, primarily because there is something so beautiful about leaving home for a little while and enjoying new (or lovely and familiar) surroundings. And while there are far bigger issues happening in the world with travel restrictions low on the list, the four walls of our home have certainly tested our limits. Having had my fourth COVID test and testing negative—and getting my first vaccination—it was time to take a real trip away (but safely). Not quite ready to hop on a plane, my partner and I decided to celebrate a great escape by taking a drive up to Paso Robles for four wonderful days and nights.
A short, yet eventful vacation with masks and hand sanitizer at the ready, Jason and I hopped into the 2021 Buick Enclave Avenir, a luxury crossover loaned to us by General Motors heading North towards Paso Robles. Driving anywhere in California is a vacation in and of itself, with landscapes and seascapes that can genuinely take your breath away, but doing so in the high end luxe of the Enclave was an added bonus. We packed up our suitcases with everything from jeans to dresses and a suit (for him) knowing all too well that we planned on getting into the role of childless adults, under the illusion of something resembling some sense of normalcy. We connected our phones to the in-car wifi, place one on the wireless charger, and let the playlist I created begin.
Cozy in our 7-passenger Enclave, we found ourselves looking up every detail of this new sleek Buick (it's one we are seriously considering buying)! While it may not be a hybrid, it feels like it as the volt battery feature keeps fuel costs down by toggling between fuel and battery power. the Enclave Avenir also has all the modern bells and whistles including overhead navigation (think bird's eye view) and a massage feature on the seats. Oh yes, you read that right. Vacation started the moment we sat down and got behind the wheel. Sinking into our custom stitched tan leather seats, A/C on (because California started heating up) once Jason realized the driver seat has the ability to give you next level comfort with a built-in massager, the three-hour road trip was a vacation.
Driving along the Pacific, in through the mountains, and then onto Highway 46, having been rule abiders and staying home most of this past year, we'd forgotten how beautiful driving through Santa Barbara, Los Olivos, and Paso really is. The rolling green hills, the majestic blue sky and the Bose surround sound playing all around us took the pressures of life and work away with the simple opening of the window. Below is a glimpse at the highlights of the road trip.
DAY 1
We stopped in the tiny and mighty small town of Los Olivos on our way to Paso to pop in and buy some of my favorite aged balsamic vinegar and olive oil, and to our dismay the store was closed. A small yet darling little town square, we wandered along the streets to explore. Los Olivos has a modest population of 791 making it one of the rare little gems along the Central Coast, and while small in theory it packs quite a punch with wineries, breweries, restaurants, artisan shoppes, design and architecture. Established by Allen March Boyd of Allen, New York in 1895 when he paid eight-thousand dollars for 187 acres of the land, he planted olive trees, laid down roots, and began what we now know as Los Olivos. True to its name, the region is known for spectacular olive oils.
Thirsty, we found our way into Eleven Winery. Sure, we were drawn to the name because we love Stranger Things, but I took a small sip of two varietals that were surprisingly unique and we ended up purchasing a bottle of the rich, blackberry-forward, ultra jammy 2017 Cabernet Sauvignon ($26) made in Santa Ynez Valley. Then we walked over to Figueroa Mountain Brewing Company tasting room where we met the woman who became an instant friend, Hana. Jason bought some of his favorite IPA's to take back home with us, we took one quick stroll around, bought some local olive oil and got back on the road excited to get to Paso.
In light of COVID we reached out to our friends at Allegretto Resort and Winery. Open and practicing COVID compliance, we booked three nights and owner Doug Ayres and our dear friend Linda Sanpei arranged for a dinner at Cello restaurant, starting with wine tasting in the ornate and rustic tasting room. Arriving just by dinner, we checked into our suite where a bottle of wine and a hand written card welcoming awaited, and then we descended down the staircase and through the serenity garden straight to the tasting room. Paso is known for its award-winning Cabernet Sauvignon and is home to the Cab Collective where the best in cabs are celebrated and enjoyed. A flight of reserves and reds, sitting on the patio in the courtyard we sat under a heater, took in the courtyard view and talked to a sweet mother and daughter while sipping on the big yet rounded cabs and blends. Allegretto has several varietals but its their 2017 Malbec ($85) and 2010 Cab Sauv ($120) we loved most.
We then went straight to dinner and for the first time in over a year, sat at the bar for a cocktail and food. The bartenders (masks on) were full of lively banter and sitting there—the two of us—with a safely spaced out crowd, well it was better than we remembered. Laughing with other grownups, having engaging conversation, and sipping a proper mezcal spicy margarita while he enjoyed an IPA felt like we were experiencing dining out for the first time. We skipped moving to a table and holed up at the bar where I ordered the Atlantic salmon filet pan-seared with citrus Beurre Blanc, and opted for veggies and mashed potatoes instead of cous cous. He ordered the in-house Parpadelle Alla Bolegnese made with certified black Angus ground beef, pork sausage, roasted red peppers, fresh tomatoes, and garden basil. Both were delicious, sourced using local ingredients, and bountiful in portion size.
The resort and winery is one of the rare places in Paso, with Ayres' personal family collection of globally curated unique art, sculptures, and photos dispersed throughout the property. The sense of calm one feels when wandering the property, especially as night falls is unparalleled. From the hills lined with grapevines to the labyrinth, every corner of the property has been thought out to bring serenity and connection through art and nature. We capped off our night with a stroll through the property and then back to our room for a nice hot bubble bath.
Day 2
Waking up early to enjoy some coffee, we got dressed and ready to head out on an adventure. We had an appointment at the Paso Market Walk (several miles away) and then Tin City to introduce Jason to some of the local breweries, distilleries and wineries including Barrell House Brewing Company, Wine Shine, and Tin City Cider Co. The journey to the Market Walk was an adventure because we walked the entire way, and apparently were living on the edge because we walked a highway (without realizing it) but when the local sheriff rolled by us without saying a word? No way we could have known. Our lawbreaker moment was epic and so was our time at the Paso Market Walk. You can read all about that magnificent place: HERE.
After an afternoon of tasting and eating at the Market Walk, we grabbed a Lyft (first one since lockdown) to Tin City where we would lull the afternoon away with him trying some award-winning brews at BHBC and late afternoon tacos for dinner from the DeBilz Family Mobile Kitchen, but first—spirits at Wine Shine.
At Wine Shine, we are committed to blending age-­old distillation techniques and innovative nuanced infusions that will entice your palate. Our crew collectively has over a century of experience in mixology, culinary arts, and wine making that shines through in every bottle.
Arriving at Wine Shine, co-owner Patrick Brooks and mixologist Mike Blash were there with massive smiles on their faces serving up fresh made cocktails to customers and we grabbed a spot in the outdoor seating area. We ordered a margarita and their drink of the day. Made with the balance we'd expect from top notch mixology bars, Wine Shine specializes in brandy and use local, sustainable and organic ingredients. They are that wonderful place you stumble upon and return to over and over … and over. We left with a bottle of the walnut brandy and have placed an order for the Dirty Martini set online.
We walked over to BHBC, I pulled up a table, he went inside to grab a few beers to try and as we sat in a crowded outdoor area while the sound of chatter, kids laughing, and music could be heard all around, it felt like … normal. I'm sure every reader can relate to the statement that to feel some semblance of normalcy considering the year we've all had is ideal, and while we practiced a little more caution than most, it was exhilerating to be in anything resembling a busy Spring day. Beers to try are Beercation, PacMan, Oatmeal Nitro Milk Stout, and Raise Your Standard Ale.
On the way back to the hotel we made one pit stop to The Backyard on Thirteenth for some of their famous Thai Fries. The place was crowded and buzzing with happy eaters and thirsty drinkers.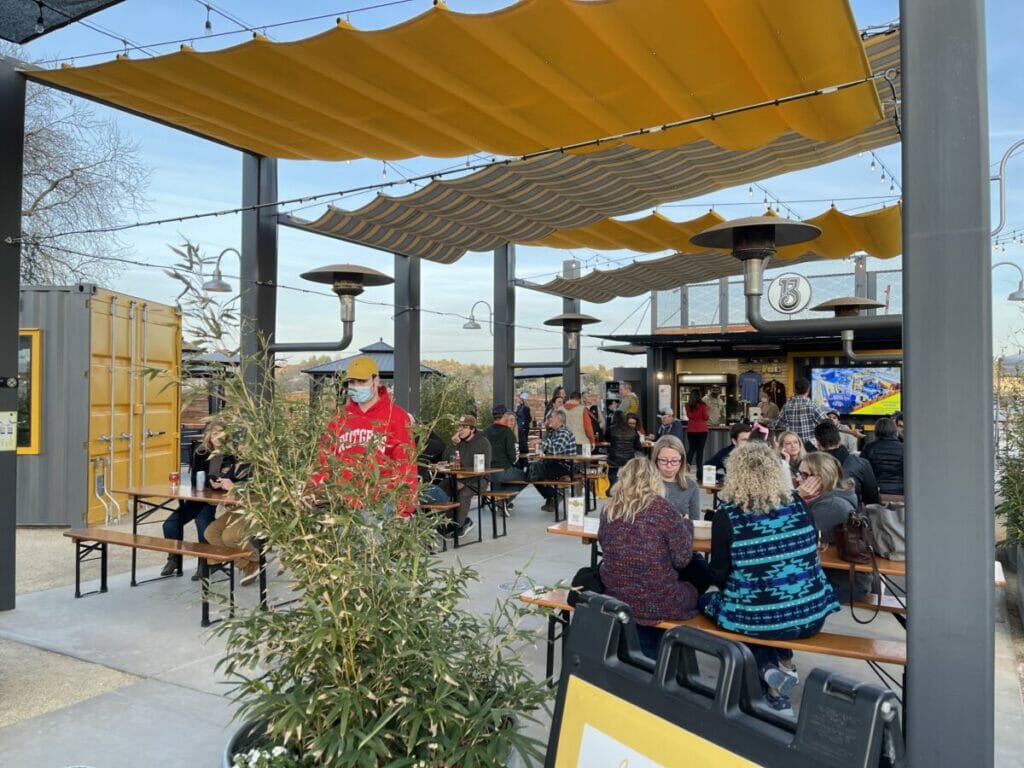 Day 3
Rising and shining to a gorgeous view of the pool and vineyard from our balcony we start with coffee and avocado toast at the hotel before visiting wine country with our sweet and fiercely smart friend Linda (owner of Parker Sanpei Lifestyle & Hospitality Marketing Firm). The day begins with calling a driver to take us for a perfect afternoon of wine tasting beginning at Niner Winery for lunch and a luxurious wine flight. As we sit down at a table dressed with 5 wine glasses that would take us on a palatable journey, the most tranquil view ever stares back at us. Rolling vines and the heart shaped oak trees merging as a symbol of unison, Andy Niner comes by to say hello. The Niner Winery is special for a number of reasons but its commitment to sustainability is one of our favorites.
We are LEED certified on the winery and property, 100 percent solar powered, we collect all the water that drains out front and then we pump it into a covered pond next door so we don't lose anything to evaporation. And then we use that for irrigation.
Niner goes on to say, "We collected about half a million gallons off of this past and only storm that's came through and that is meaningful for sure. We use water conscious appliances, same thing for electricity. All the engineers and architects all went to Cal Poly which is a testament to the area." Utilizing local resources is a strength of the area. Niner adds, "On the operations side we are SIP Certified*, which goes into the operations side, how you treat your employees and staff. They cast a wide net. We try to take what they offer a step further. A practical example of that is this year we got 6 1/2 inches of rainfall and we had to either pump the sh*t out of our ground water or cut canopy size, so that means half our fruit, half our canopies, half the production utilizing a lot less water and hopefully just cycling through until next harvest."
Making the decision to do half the production of seasons past may seem risky, but Andy is confident making that decision keeps their waste down, works with nature, and will produce quality wines, just in lesser batches. For him its better to make a smart decision that may mean less production than to overextend and risk doing damage to the environment or compromising their commitment to sustainability.
Once wine was poured, tasted and our mouth literally swimming with beautiful wines, we decided on a bottle of their 2017 Grenache and the three of us looked over the Spring Menu to choose what we wanted to share. Lunch is served bento-box-style inside a wired basket as a way to avoid any direct contact and keep customers safe during these times, and yet the presentation is so endearing, it all seems to fit. We order (1) grilled Mushrooms, chestnuts and kale over wild rice, (2) roasted baby beets, endive, walnuts and Rogue River blue cheese, (3) sourdough focaccia, leavened and baked daily, served with butter, (4) roasted chicken thigh, fennel, pan sauce spike with house vinegar and cream, and French Fries for good measure. Everything tastes to high end restaurant scale, and isn't overtly heavy or drenched in sauces. It's delicate, well prepared, and that homemade bread is sinfully delicious.
Niner Winery is a mountainous harmony of love and comforts, with gorgeous event space, a commercial grade kitchen, an outdoor barbecue that would make Gordon Ramsay want to grill, and an on-site garden of herbs and fresh produce. The Central Coast of California is truly a spectacular place to experience, and Niner believes that good people are the key to a memorable experience, so all events are designed to be interactive and educational. "Chef might decide to teach you how to shuck fresh oysters during a class; the Winemaker may lead a blending seminar with his favorite barrels; the Vineyard Manager might take you to the top of Heart Hill to geek out about rootstock". Regardless, their goal is to have guests walk away loving this place as much as they do.
Before moving on to Justin Winery downtown for dessert and more vino, it must be said that the menu served at Niner is exceptional. This was also our first time tasting the wines and we were fans from the first sip. We took home 2 bottles of their 2016 Reserve Square Root ($37.50) and a bottle of the 2017 Grenache ($35). And then we headed to downtown Paso to the Justin Winery Tasting Room. A funny thing did happen on the way. Our driver realized as we were driving to the actual Justin Winery (not the downtown tasting room) that we were about out of gas and with no gas station in sight, we had to make alternate plans and in true Paso form, the Justin Winery team was more than accommodating.
Eventually we got to a gas station and fueled up and made out way to the tasting room. With all outdoor seating, we were incredibly blessed to run into an old friend (and amazing Cambria Tula Yoga Fitness and Retreats Founder, Terri Harrington) who also happens to work at Justin. Her bright blue eyes and contagious smile greeted us and it was genuinely a treat. From the onset Justin't notable hospitality was only amplified with Terri. She grabbed us some Fiji water bottles, and began our flight of reserves and decadent chocolate pairings made by chocolatier Sarree.
For those of you who bask in the complex beauty of a glass of delightfully composed wine, you know that wine is one of life's greatest pleasures, but so is its worthy counterpart chocolate. When you marry the two together what you find is a gateway to heaven awakened by your senses. As the sun started its descent and the town square got bustling, we took in each sip and each indulgent bite of artisan chocolates, and as hunger crept in, we ordered the roasted Shisito peppers made with Togarashi and Upethi Balinese sea salt and the Angus beef sliders on a brioche bun. Everything was satiating and as we wrapped up our evening, we took 3 bottles home: 2017 Reserve Malbec ($45), 2017 Reserve Tempranillo ($45), 2016 Isosceles ($76).
WINE + CHOCOLATE FLIGHT: 2019 Sauvignon Blanc + Passion Fruit White Chocolate, 2019 Rosé + Strawberry Basil White Chocolate, 2017 Justification + Smoked Sea Salt Caramel Milk Chocolate, 2016 Isosceles + JUSTIN Cabernet Sauvignon Dark Chocolate
Be sure to stop in at Paso's co-op art space, Studio on the Park. The artists are usually there which is an experience to behold. Nothing quite compares to watching artists create right in front of you. It's an intimate moment that connects us all as people.
*SIP Certified is a rigorous sustainable vineyard, winery, and wine certification with strict, non-negotiable standards based on science and expert input, independent verification, transparency, and absence of conflict of interest
Day 4
One final morning at Allegretto, we had a leisurely morning and then packed up the car to head back towards Tin City to pick up a few bottles of wine and cans of beers to add to our collection. Do check out:
Nelle Winery | Our latest find and new obsession, Cordant/Nelle Winery is spearheaded by California native Tyler Russell whose devotion to wine and the relaxed customer experience is like no other. The winery is nestled in an industrial area next to Anarchy wines, but what Russell has done is built an outdoor deck right on the hill under oak trees that make one feel as if they've happened upon a teeny haven. And rest assured, you have. His wines are epic including the 2018 Bedlam ($34) and the 2017 Nelle Grenache ($40).
(Look for a devoted story on this winery in the coming months)
End of the Day Winery | This winery is part of Caliza Winery's Paso Project devoted to the hard-working men and women with "dirt beneath their fingers and sweat on their brows".  End of the Day line of wine is meant to highlight their tremendous efforts and contribution to the wine community. These wines aren't meant to age, they're meant to drink … at the end of the day. We picked up a bottle of the 2018 ZM Cuvée ($28).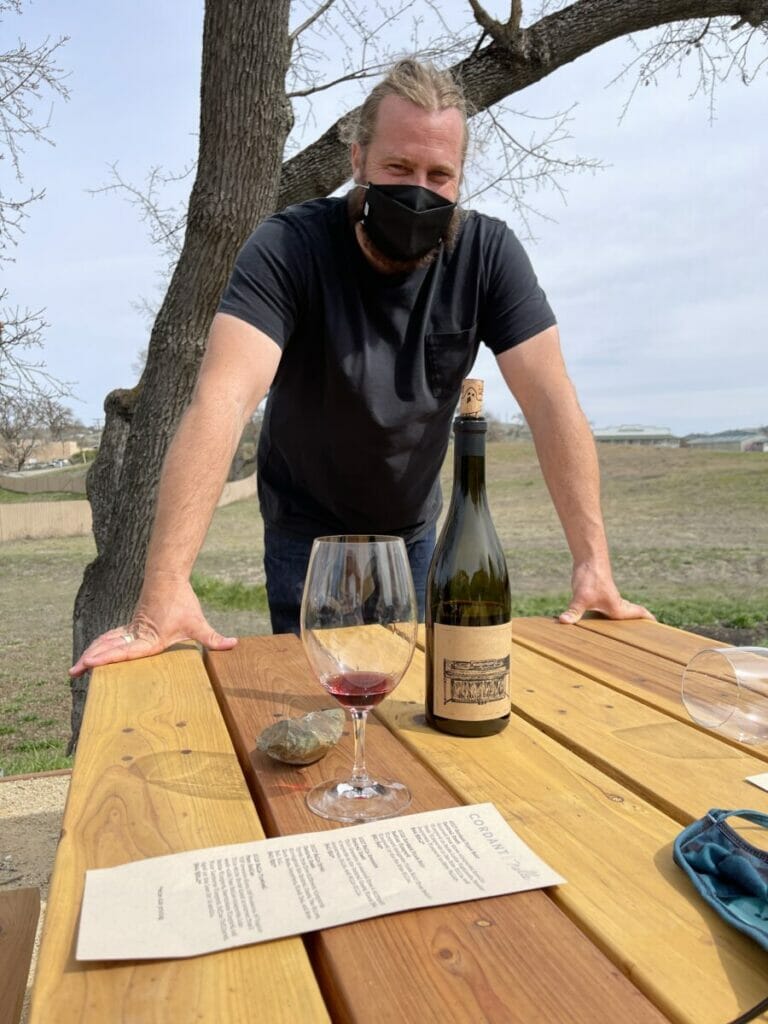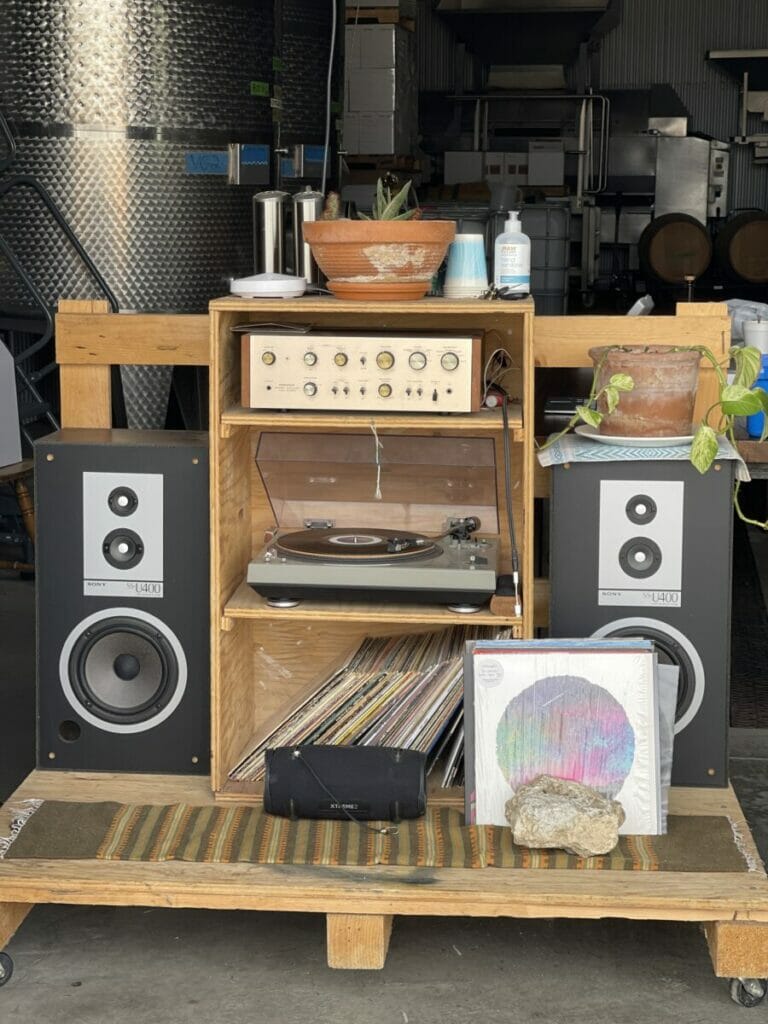 Hayseen and Housdon Tasting Garage | Perhaps the most unique aspect of this winery is that not only is the tasting room in a transformed garage, every bottle has a purpose. The wines are sourced sustainably from local farms and they donate a portion of every sale to a local charity. Firm believers in giving back to those that help them grow, this is the downtown place you come to wind down, make fast friends, and feel the weight of a busy day melt away. Try Pray For Love ($45, profits shared with Wine4Paws to help raise funds for Woods Humane Society) and La Macha ($42 – helps raise funds for 805UndocuFund – a non-profit organization that provides financial assistance to working families within the Paso community that due to their immigration status are not eligible for government programs). Worthy wine, indeed.
We hit the road and take in the lush greenery, the peaceful drive along Highway 46 and then the 101 coastline, the comfort of the Enclave and its exceptional features including the way it hugs the road, the blue moon exterior, and the comfort of those massage driver and passenger seats wrapped up a perfect vacation getaway. And we needed it more than we realized.
Thank you to everyone in Paso for always being like family and being our home away from home.
FINAL THOUGHTS
I love wine, but mostly I love the experience of drinking good wine. That said, no two people taste wine the same which is one of the most elating aspects of drinking it. The taste is dependent on how evolved your personal palate is, what cultural culinary experiences you've had, how many spices you've tried, what mood you're in, how much sleep you've had or how exhausted you feel, so how I taste one wine won't be how you do. So while I'd like to run through the wine terminology like how the tannins were or what fruits or tobacco or leather mouth feels rose to the front of my tastebuds, it won't convey just how much I enjoyed it. So to you I simply say: sip, smell, taste, and then pause. The way wine ruminates on your tongue will tantilize your senses based on what other flavor profiles exist in your personal repertoire. The key to wine is to enjoy it, not bust out some literary prose describing its minerality.
My suggestion is ask questions, be mindful of the manual labor and artisanship that goes into every wine you try (even the obvious bad ones) because to get wine into a bottle is a labor of love. Winemakers in Paso are the poster children for that. And one of the things you should absolutely know about the area is that everyone here looks out for one another. Unlike so many wine regions, Paso winemakers, brewmasters, distillers, artists and restaurateurs are there should anyone need anything. They'll grow your grapes if something happens, they'll lend a hand if a fire breaks out, and they won't be worried about competing because they're too busy making sure you're okay.