RECIPE: 3-Courses of Culinary Goodness
by Mimi Thorisson of MANGER
FROM THE EDITOR: I am utterly fascinated by Mimi Thorisson. A mom, a cook, a lover of beautiful ingredients and fresh cuisine. She was raised in Hong Kong, spending much of her childhood vacationing in the South of France, which she now calls home with Icelandic husband, Photographer Oddur, and their 6 children and 14 dogs. Her recipes are meant to awaken you and they will. (And do!)

Below are recipes from her incredibly colorful and resourceful Culinary Website, MimiThorisson.com. All photographs by MANGER.

ENJOY!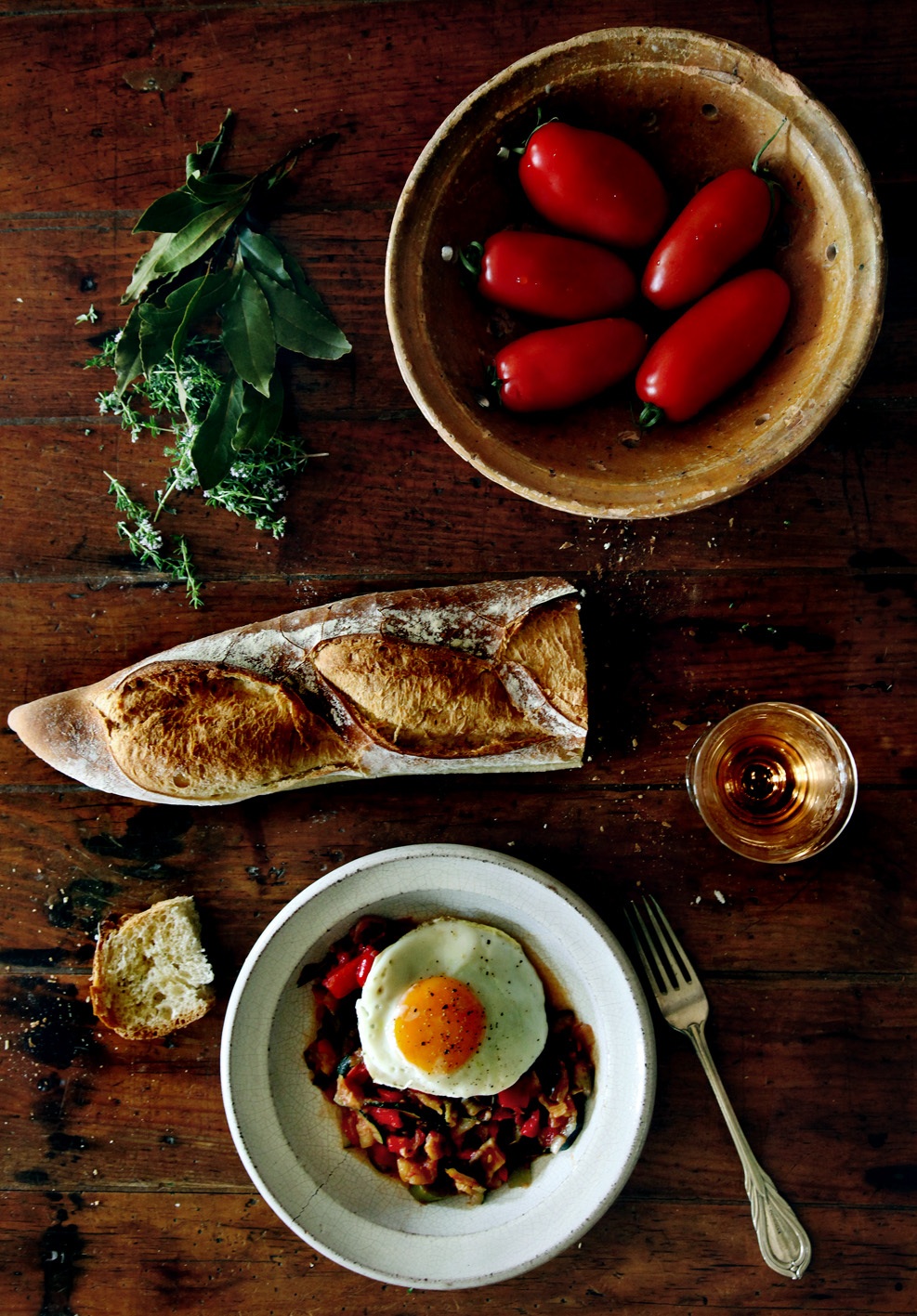 Ratatouille
(serves 4)
Whenever I cook a ratatouille, my kitchen smells like a Provençal market, filled with Mediterranean scents. Even though ratatouille is a grand classic French dish, you won't often come across it in the restaurant menus. This is a true 'home-cooked' meal, to be eaten in the best traditional way, with a golden fried egg on top. I always feel invigorated when I cook this meal, not only is the scent uplifting, but the deep and rich colours of the mixed vegetables give you a sense of culinary wisdom – as if your body was a temple and you are about to make a healthy offering.
Ingredients
2 medium-sized onions, sliced
1 red pepper, sliced
1 green pepper, sliced
3 courgettes/zucchini, sliced
1 large aubergine/eggplant, cut into cubes
3 medium tomatoes, chopped
3 cloves garlic, finely sliced
2 sprigs of fresh thyme
1 bay leaf
40 ml red wine (optional)
4 tbsp olive oil
Salt and pepper
Slice all the vegetables accordingly.
Heat the olive oil in a large pan and cook the onions until they are transparent. Add the peppers and cook for 3 minutes. Then add aubergine, courgettes, garlic, thyme and bay leaf, season with salt and pepper, and cook for 3 minutes. Finally, add the chopped tomatoes and the red wine (optional), stir gently, cover and cook for 25 minutes on a low heat.
Serve with a fried egg, sunny-side up.
Note: Fresh thyme makes a world of difference for this dish.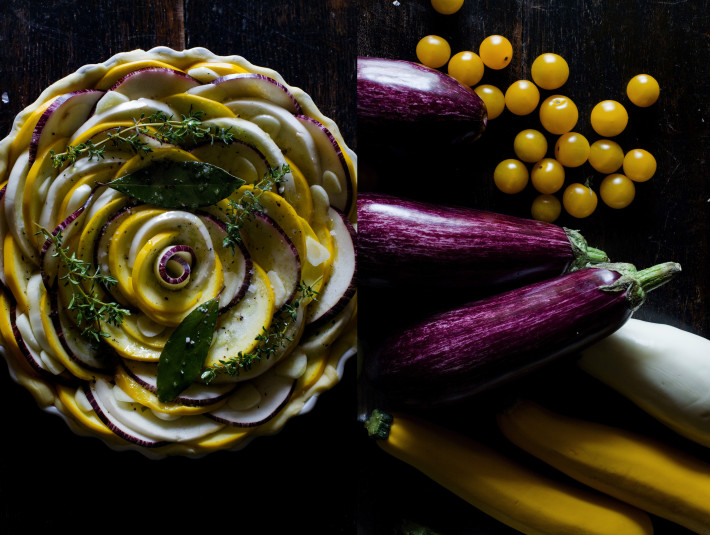 Zucchini & Aubergine Tart
(Serves 4-6)
Ingredients
2 zucchini
1 large aubergine
A few sprigs of fresh thyme
2 bay leaves
Olive oil
Sea-salt & black pepper
For the pastry:
250 g/ 2 cups plain flour
125 g/ 1/2 cup unsalted butter (cubed & at room temperature)
1 egg
1-2 tbsp cold water
1/2 tsp salt
Mix all the ingredients together, start kneading until you get a good soft dough. Make into a ball, cover with cling film and store in the refrigerator for 2 hours. On a clean surface covered with parchment paper, add a dash of flour and roll out a disc to line your tart dish.
For the filling:
Slice zucchini, aubergine and garlic finely.  Line slices alternating zucchini/aubergine to create a rose-like patter until you reach the center.  Slide in garlic slices. Drizzle olive oil all over, sprinkle salt, pepper, fresh thyme and 2 bay leaves (see photo).
Bake in a pre-heated oven 180°C/ 350F for approx 30 minutes. Drizzle with little bit of olive oil before serving. (optional)
Blackberry ice-cream
(serves 8-10)
400 g/ 2 cups blackberries
75 g/ 6 tbsp granulated sugar
1 tbsp lemon juice
2 tbsp water
250 ml/ 1 cup heavy cream
Rinse blackberries and drain. In a saucepan, place blackberries, sugar, 2 tablespoons water and lemon juice. Cook for 10-15 minutes on a medium to low heat, stirring frequently. Pass half of the mixture through a sieve so remove pips (or all of the mixture if you don't like pips). Set aside and leave to cool completely. Then place in the refrigerator for a least 1 hour.
Combine blackberries mixture with the heavy cream. Switch your ice-cream maker on, pour in cream mixture. Churn in your ice cream maker according to manufacturer's directions.
Transfer ice-cream to an air-tight container and place in the freezer for a few hours or overnight.